Trump endorses Romney in run for U.S. Senate seat in Utah

Reuters
Olympics raking in money, not fans
© AP Photo/Julie Jacobson, File FILE – In this Thursday, Feb. 2, 2012 file photo, Donald Trump greets Republican presidential candidate, former Massachusetts Gov. Mitt Romney, after announcing his…WASHINGTON, Feb 19 (Reuters) – President Donald Trump on Monday endorsed former Republican presidential candidate Mitt Romney's run for a U.S. Senate seat in Utah, despite Romney often being critical of Trump.During the 2016 presidential campaign, Romney excoriated Trump as a "fraud" who was "playing the American public for suckers." Trump responded that Romney had "choked like a dog" in his 2012 campaign against President Barack Obama.Trump said on Twitter that Romney "will make a great Senator and worthy successor to @OrrinHatch, and has my full support and endorsement!" Romney announced Friday he would run to replace retiring Senator Orrin Hatch.Romney thanked Trump for the endorsement in a Tweet posted soon after the president's statement. "I hope that over the course of the campaign I also earn the support and endorsement of the people of Utah," Romney said.Despite Romney's prior criticism, after Trump won the presidency in November 2016, he briefly considered picking Romney as secretary of state.Republicans hold 51 of the Senate's 100 seats but many legislative issues require getting the support of 60 senators.Trump has repeatedly said that he needs more Republicans elected during the 2018 congressional elections to win approval of more of his agenda.Romney said last week he generally approved of Trump's agenda, but would not hesitate to call out the president if needed."I'm with the president's domestic policy agenda of low taxes, low regulation, smaller government, pushing back against the bureaucrats," Romney said. "I'm not always with the president on what he might say or do, and if that happens I'll call'em like I see'em, the way I have in the past."Trump had lobbied Hatch to run for re-election in 2018, in what was viewed as an effort to prevent Romney from getting into the Senate. Trump and Romney spoke in January after Hatch announced his retirement, a White House official said.Romney, the son of former Michigan Governor George Romney, helped found the buyout firm Bain Capital and gained prominence after stepping in to lead the organizing committee for the 2002 Salt Lake City Winter Olympics after a bribery scandal. He served as governor of Massachusetts from 2003 to 2007.Romney first sought the presidency in 2008 but lost the Republican nomination to Arizona Senator John McCain. Four years later, Romney won the party's nomination but was defeated by incumbent Democratic President Barack Obama. (Reporting by David Shepardson; Editing by Grant McCool and Clarence Fernandez)
U.S.
High School Students Lead Protest Against Gun Violence In Front Of White House
Hayley Miller HuffPost•
Dozens of students gathered in front of the White House on Monday to demand changes to gun laws, just days after a deadly mass shooting at a Florida high school left 17 people dead.WASHINGTON ― Dozens of students gathered in front of the White House on Monday to demand changes to gun laws, just days after a mass shooting at a Florida high school left 17 people dead.The demonstration was organized by Teens For Gun Reform, an organization created by students in the Washington, D.C., area in the wake of Wednesday's shooting at Marjory Stoneman Douglas High School in Parkland, Florida.Protesters participated in what they said would be a three-minute lie-in, which began around 12:30 p.m. on Presidents Day. They lay down in front of the White House "in representation of the victims of school shootings," according to a post on the group's Facebook page.
Demonstrators on the ground during a lie-in demonstration supporting gun control reform on Monday. (Zach Gibson/Getty Images)"By doing this, we will make a statement on the atrocities which have been committed due to the lack of gun control, and send a powerful message to our government that they must take action now," the group wrote on Facebook.Following the lie-in, protesters continued to hold signs in support of stricter guns laws and shouted phrases including "Shame on you" and "Disarm hate" toward the White House. The group also chanted "No more deaths," "Am I next?" and "Hey, hey, NRA, how many kids have you killed today?"
Protesters hold signs during the demonstration against gun violence. (Zach Gibson/Getty Images)Last week's massacre at the South Florida high school, in which a 19-year-old former student opened fire using an assault-style rifle, sparked protests and calls to action from students nationwide.A group of students who survived the Parkland shooting have been outspoken in their criticism of Trump and lawmakers who receive financial contributions from gun lobbying groups such as the National Rifle Association.On Sunday, the students announced plans for a march on Washington to demand congressional action on gun violence. The event, dubbed "March For Our Lives," is scheduled for March 24.Whitney Bowen and Eleanor Nuechterlein, both 16-year-old high school students from the D.C. area, started Teens For Gun Reform just two days after the Parkland shooting.We might be 16 now and we might not be able to vote, but we can protest and we can use social media and we will make our voices heard. Whitney Bowen, co-founder of Teens For Gun Reform"You never wake up thinking it's going to be your school or it's going to be your friends or family," Bowen told HuffPost. "The Parkland kids didn't either. … They woke up and went to school for the last time because there's not enough gun control."Monday's protest at the White House was planned on Presidents Day for symbolic reasons, Nuechterlein said. It's not enough for President Donald Trump and other politicians to say "sorry" after school shootings, she said, they also need to start taking real legislative action to prevent them from happening.Both Bowen and Nuechterlein said they plan to attend next month's march on Washington."We might be 16 now and we might not be able to vote, but we can protest and we can use social media and we will make our voices heard," Bowen said. "At the end of the day, it doesn't come down to politics. It comes down to kids dying in classrooms."Elodie Camus, a 15-year-old student at the British International School of Washington, D.C., participated in the White House protest Monday with her mother.U.S. gun laws "have put so many people in danger over the years in this country and there needs to be reform," Camus told HuffPost, adding that she no longer feels "safe at all" at school."Something needs to be changed so not as many people are harmed," she said.Felicia Garber, whose two daughters survived the Parkland shooting, was in D.C. with her family when she heard about Monday's protest and decided to attend the demonstration."We felt it was important to be present and thank the people who felt it was worth coming out here on this cold, dreary, rainy holiday to help let whoever is in this beautiful White House know that we will not take this any longer," Garber told HuffPost."These legislators need to step up for our children and not just for these lobbyists," she continued. "[Parkland] kids are smart, educated, savvy … and they are outraged. These are young adults who are ready and unforgiving, and I can only hope this is the beginning of the change they can create for our country."Several other student-led protests against gun violence erupted across Florida on Monday. Students staged a walk out at Olympic Heights Community High School in West Boca Raton, while parents joined their kids in front of American Heritage School in Plantation just 30 miles to the south.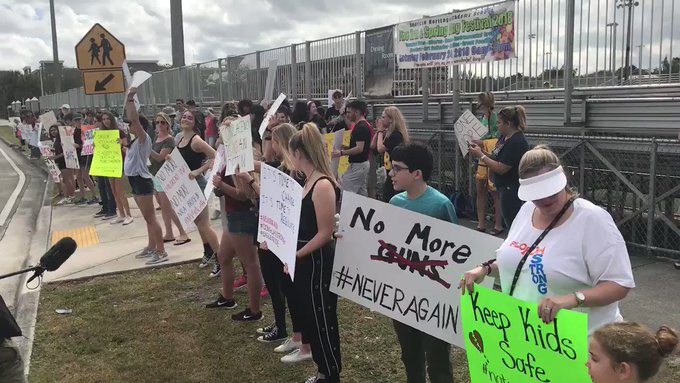 Ari Odzer@ariodzernbc6Another student-led protest in response to the Stoneman Douglas High massacre. This one is happening now outside American Heritage School. The kids, joined by some parents, are demanding more gun control. @nbc6See video and more photos of the D.C. protest below:(Zach Gibson/Getty Images)Protesters lie on the ground during a demonstration supporting gun control.
(Zach Gibson/Getty Images)Demonstrators chant during Monday's Demonstrators chant outside the White House.(Bill Clark/CQ Roll Call via Getty Images)Students and supporters gather on Pennsylvania Avenue.
Politics
Trump Spent His Sunday Night Watching '60 Minutes' And Hate-Tweeting About Oprah
President Donald Trump capped a long weekend of hate-tweeting by taunting an "insecure" Oprah Winfrey over her latest appearance on "60 Minutes."President 
Donald Trump
 capped a 
long
weekend
 of 
hate-tweeting
 by taunting an "insecure" 
Oprah Winfrey
 over her latest appearance on "
60 Minutes
." And he practically dared her to run for president.Winfrey first appeared on the CBS news program last autumn to talk politics with a group of Michigan voters. On Sunday, 
she revisited the group
 to continue the discussion.Trump was apparently watching ― and fuming. He stewed over what he called "biased" questions, tweeting:

Donald J. Trump
@realDonaldTrump
Just watched a very insecure Oprah Winfrey, who at one point I knew very well, interview a panel of people on 60 Minutes. The questions were biased and slanted, the facts incorrect. Hope Oprah runs so she can be exposed and defeated just like all of the others!
Winfrey was mentioned as a potential 2020 candidate last month after a show-stopping speech at the Golden Globe Awards. However, she previously said that she didn't intend to run for president. "I don't have the DNA for it," Winfrey told InStyle last year. "That's not for me."Winfrey appeared to reaffirm that sentiment last week. 
"Because if God actually wanted me to run, wouldn't God kind of tell me?" she said on "60 Minutes Overtime." "And I haven't heard that."
Trump's defense budget is a wishlist for a massive military buildup — these are the planes, ships and missiles he wants Business Insider Ben Brimelow
#Country/Region   Gold   Silver   Bronze   T
1

NOR              11       9          8       28
2

GER              10       6          4       20
3

CAN               8        5          6       19
4

NED               6        5          2        13
5

USA               5        3          4        12
Ex-workers at Russian 'troll factory' trust US indictment
NAIRA DAVLASHYAN and IRINA TITOVA Associated Press• Ex-workers at Russian 'troll factory' trust US indictmentYahoo News Video
Scroll back up to restore default view.ST. PETERSBURG, Russia (AP) — While Russian officials scoff at a U.S. indictment charging 13 Russians with meddling in the 2016 U.S. presidential election, several people who worked at the same St. Petersburg "troll factory" say they think the criminal charges are well-founded.Marat Mindiyarov, a former commenter at the innocuously named Internet Research Agency, says the organization's Facebook department hired people with excellent English skills to sway U.S. public opinion through an elaborate social media campaign.His own experience at the agency makes him trust the U.S. indictment, Mindiyarov told The Associated Press. "I believe that that's how it was and that it was them," he said.The federal indictment issued Friday names a businessman linked to President Vladimir Putin and a dozen other Russians. It alleges that Yevgeny Prigozhin — a wealthy restaurateur dubbed "Putin's chef," paid for the internet operation that created fictitious social media accounts and used them to spread tendentious messages.The aim of the factory's work was either to influence voters or to undermine their faith in the U.S. political system, the 37-page indictment states.Putin spokesman Dmitry Peskov told reporters Monday that while the indictment focuses on "Russian nationals," it gives "no indication that the Russian government was involved in this in any way." Peskov reasserted that Moscow did not interfere in the U.S. election.Mindiyarov said he failed the language exam needed to get a job on the Internet Research Agency's Facebook desk, where the pay was double than the domestic side of the factory. The sleek operation produced content that looked as if it were written by native English speakers, he said."These were people with excellent language skills, interpreters, university graduates," he said, "It's very hard to tell it's a foreigner writing because they master the language wonderfully."The English test he took asked for a writing sample about Democratic candidate Hillary Clinton's chances of winning the U.S. presidential vote, Mindiyarov recalled."I wrote that her chances were high and she could become the first female president," he told the AP.Mindiyarov said he took a job at the troll factory in late 2014 because he was unemployed and curious. At the time, about 400 people occupied four floors of an office building and worked 12-hour shifts, he said. Most of the operation focused on the separatist insurgency in eastern Ukraine and Western sanctions against Russia, not political races in the West, he said.The factory had video and photo departments, Mindiyarov said. The trolls received their wages in cash and operated in teams as they tried to foment public interest with fake discussions, he said."We worked in a group of three where one played the part of a scoundrel, the other one was a hero, and the third one kept a neutral position," he said. "For instance, one could write that Putin was bad, the other one would say it was not so, and the third would confirm the position of the second while inserting some picture."After only a couple of months, Mindiyarov quit. He said he hated the work."The world in those comments was divided into black and white: America was bad, Putin was good," he said. "They praised whatever had to do with Putin and criticized anything related to America, 'gay' Europe, and so on. That was the principle of the work."Another former worker at the St. Petersburg workshop, Lyudmila Savchuk, also described it as an efficient venture that churned out posts around the clock.Like Mindiyarov, Savchuk was employed in the domestic department of the "troll farm," not the international division. Nevertheless, she said her experience there corresponds with what she knows of the allegations made by American authorities."The posts and comments are made to form the opinion of Russian citizens regarding certain issues, and as we see it works for other countries, too," Savchuk told the AP.Paid trolls used carefully crafted fake identities that made them come across like real people, she said."The most important principle of the work is to have an account like a real person," Savchuk said. "They create real characters, choosing a gender, a name, a place of living and an occupation. Therefore, it's hard to tell that the account was made for the propaganda."Prigozhin, aka "Putin's Chef," owned restaurants and catering businesses that hosted the Russian leader's dinners with foreign dignitaries. He used his relationship with Putin to expand his business to include services for the Russian military."I'm not at all upset that I'm on this list," Prigozhin said of the indictment in comments carried by Russia's state RIA Novosti news agency. "If they want to see the devil, let them see him."Along with producing social media supporting Donald Trump's candidacy and disparaging Clinton, the Internet Research Agency purchased online advertisements using identities stolen from Americans and staged political rallies while posing as American political activists, the indictment alleges. The agency also paid people in the U.S. to promote or ridicule the candidates, the document states.Analysts and journalists have found that some of the Russian-run accounts accrued national followings in the United States, while far-right Americans and several members of Trump's team retweeted posts created in St. Petersburg.It reportedly used doctored videos to spread false reports about a supposed Islamic State attack on a chemical plant in Louisiana and a purported case of Ebola in the state of Georgia. Seeking to sow division and mistrust ahead of the U.S. election, the agency apparently whipped up a fake video of an African-American woman being shot dead by a white police officer in Atlanta."All of the trolls knew that it's Prigozhin who stands behind this all," Mindiyarov, the ex-commenter who left the organization in early 2015, said. "But nobody had any evidence."He said that the employees disliked Prigozhin, in part because he didn't set up a cafeteria or canteen in the troll factory building even though he owned a sprawling catering business."People had to bring food boxes from home," Mindiyarov said. "Prigozhin did not treat the trolls well. He could at least feed them."While the U.S. indictment mentioned 13 people, many more must have been involved in the effort, according to Savchuk."Here they laugh about the news that 13 people could influence the elections in the U.S., but there were many more people doing that," she said. "These technologies are unbelievably effective."She added that she learned how effective the troll farm's work was when she saw regular people sharing opinions and information that she knew were planted by trolls."They believed it was their own thoughts, but I saw that those thoughts were formed by the propagandists," she said.The Internet Research Agency has reportedly changed locations, moving to another business center in the northern part of St. Petersburg. It's unclear whether it still goes by that name.Andrey Zakharov, an investigative journalist with Russian RBC outlet who co-reported an investigation of the troll factory, said the list of indicted Russians looked "quite random" to him."They simply included in it all the names they could find," Zakharov told the AP. "According to our information, some of these people don't work at the factory now and did not even work there during the (U.S.) elections. This does not look like a result of a solid investigation."Although the U.S. indictment is detailed, it makes assertions without providing evidence outright. Russian officials have seized on that, including Foreign Minister Sergey Lavrov, who dismissed the charges as "just blabber."_Mstyslav Chernov in St. Petersburg, Iuliia Subbotovska, Nataliya Vasilyeva and Vladimir Isachenkov in Moscow and Raphael Satter in Paris contributed to this report.
NBC analyst incurs wrath after calling domestic violence charge 'unfortunate incident'
8 / 19

The Washington Post
Salma Hayek goes blonde in London — see the pics Video by USA Today Sports

Slava Voynov's presence on the Olympic Athletes of Russia ice hockey team is a topic perhaps best avoided, as NBC discovered during the game between the United States and the Olympic Athletes from Russia team.On Saturday, hockey analyst Mike Milbury drew fire on social media for attempting to add his two cents about Slava Voynov, the former NHL player who was convicted of domestic abuse in 2014 and sentenced to 90 days in jail on a misdemeanor charge of corporal injury to a spouse.Subscribe to the Post Most newsletter: Today's most popular stories on The Washington Post"Here's Voynov, who won two Stanley Cups with the Kings," play-by-play broadcaster Kenny Albert began, summarizing Voynov's history in Los Angeles neatly. "He was arrested on domestic violence charges, subsequently suspended by the National Hockey League, now playing in the KHL [Russia's Kontinental Hockey League]."To that, Milbury chimed in, "He left a huge void in the Los Angeles Kings' defense, otherwise [they] may have gone on to win more than the championships they did already. This guy was a special player, and an unfortunate incident left the Los Angeles Kings without a great defenseman.""Unfortunate." Really? Milbury admittedly is on the scene to cover hockey, not to opine on domestic violence, but, in this case, perhaps saying nothing would have been smarter, as social media reaction showed.Milbury later defended his comment, saying he had supported Voynov's suspension and was merely adding the context of what the loss of Voynov meant to the Kings. "After my colleague laid out the facts about Voynov — which included being arrested, suspended by the NHL, and leaving the U.S. to return to Russia — I provided the on-ice impact of his being thrown out of the league," he said in a statement emailed to The Post. "As I said at the time when he was suspended, the league made the right call, 100 percent."Since his conviction and suspension, Voynov has had little to say publicly, and he continued that practice in PyeongChang. "I know that he's a good player and obviously he deserves to be here," teammate Mikhail Grigorenko told the Associated Press. "He's one of our leaders on defense, so I'm not surprised he's here. The around-hockey stuff, there's people that decide that."And sometimes they decide poorly, especially at a time when, as NBC and others know, social media means that every word is subject to instant scrutiny. The blowback has left the network apologizing a few times since these Games began.Bode Miller apologized for blaming an Olympic skier's struggles on marriage, saying he made an "ill-advised attempt at a joke" when he said, "it's historically very challenging to race on the World Cup with a family or after being married. Not to blame the spouses, but I just want to toss that out there, that it could be her husband's fault."Katie Couric apologized for saying Dutch speedskaters are so dominant because "skating is an important mode of transportation" in the Netherlands.Shaun White apologized after dismissing sexual harassment claims against him in 2016 as gossip, admitting later, "It was a poor choice of words to describe such a sensitive subject in the world today."It isn't easy to supply the words that accompany 2,400 hours of coverage, particularly when every word carries so much weight. Still, sometimes the smartest way to lend a voice to something is simple silence.Related slideshow: Best of 2018 Winter Olympics (Provided by photo services)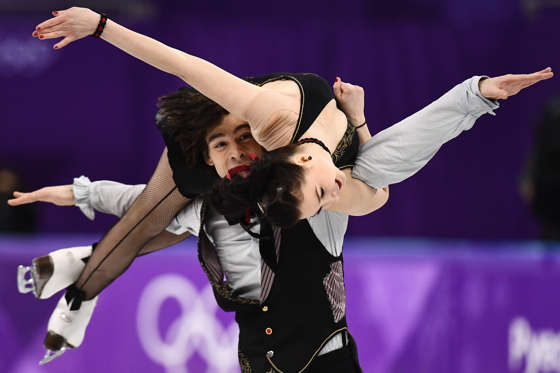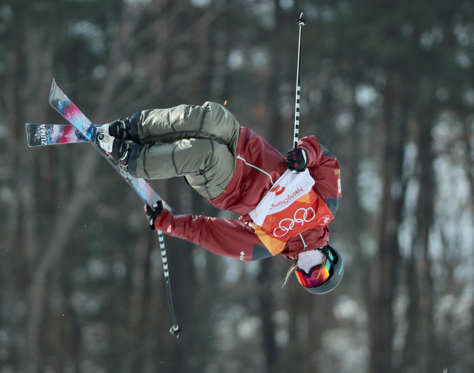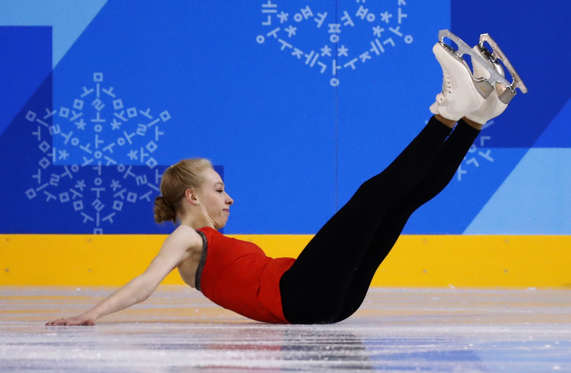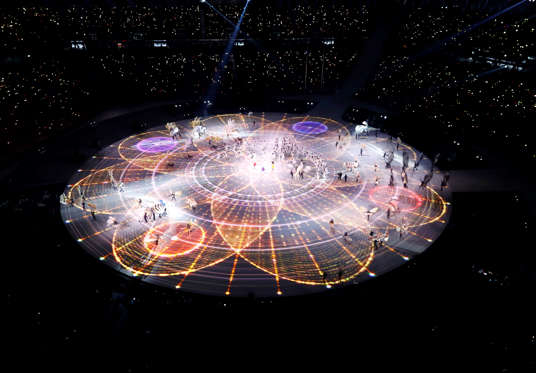 Slide 1 of 110: Slovakia's Lucie Mysliveckova and Slovakia's Lukas Csolley compete in the ice dance free dance of the figure skating event during the Pyeongchang 2018 Winter Olympic Games at the Gangneung Ice Arena in Gangneung on February 20, 2018.
1/110 SLIDES
© ARIS MESSINIS/AFP/Getty Images
Slovakia's Lucie Mysliveckova, right, and Lukas Csolley compete in the ice dance free skate Feb. 20 in Gangneung, South Korea.