News Storms dump rain across U.S. Midwest, kill Kentucky woman
Reuters
•
(Reuters) – A band of thunderstorms reaching across the lower Mississippi Valley into Ohio on Saturday killed a Kentucky woman in her home and threatened more flooding in an area that has already seen evacuations because of high water.The storm system packing hail, high winds and possible tornados was forecast to drop from 2 to 4 inches (5 to 10 cm) of rain by early Sunday from Arkansas into the Ohio Valley.Much of the area was under flash flood warnings or watches after being saturated by rain in the past week or so, the National Weather Service said."It's a pretty high-impact event over a very large area," Bob Oravec, a forecaster with the agency's Weather Prediction Center in College Park, Maryland, said by telephone.Indiana Governor Eric Holcomb issued a disaster emergency for 11 counties because of damage from widespread flooding, especially from the Kankakee River in northern Indiana.In Ohio, Governor John Kasich declared an emergency in 17 counties along the Ohio River and in the southern part of the state because of high water and storm damage.A 79-year-old woman died in her rural home near Logan, Kentucky, when it was struck by an apparent tornado, Nashville, Tennessee, TV station WKRN reported.Quoting emergency management officials, the broadcaster said the woman and her husband, who was unharmed, did not hear any siren.County officials did not respond to a request for comment.Kentucky Governor Matt Bevin said on Twitter late Saturday, "We've lost multiple Kentuckians today due to severe weather events in the western part of our state.""The Potential for similar weather continues to move into Kentucky overnight," he said in a tweet.The governor asked that all citizens to take weather warnings seriously.Flooding has claimed at least three lives this week, including a 1-year-old girl in Michigan, according to media.A 52-year-old woman was found dead in her car that was submerged in a ditch in Illinois and a 53-year-old man was killed in Oklahoma when his car was swept away by flood waters, media reported.Hundreds of people have been evacuated over the last several days as rising waters reached their homes and nearby roads. Communities provided sandbags to home and business owners and set up dozens of shelters to house displaced residents.(Reporting by Brendan O'Brien in Milwaukee and Ian Simpson in Washington and Steve Bittenbender from Louisville, Kentucky; Editing by Mark Potter)
News
Reports: Deadly storms trigger flooding and tornadoes across Mississippi, Ohio valleys
chaffin.mitchell
AccuWeather
•
Two people have died and multiple structures have been damaged in severe weather hitting the central United States.Damaging thunderstorms are targeting an area that has been hit by heavy rain and rising floodwaters in recent days.Through the early morning hours on Sunday, the greatest risk to lives and property will stem from strong straight-line wind gusts and flash flooding across the Ohio and Tennessee valleys.However, there is also a risk of isolated tornadoes being spawned by the strongest thunderstorms.
9:45 p.m. CST Saturday:
There is a Flash Flood Emergency for Louisville, Kentucky.The 
NWS said
 with the new downpours working in, severe to potentially catastrophic 
flash
 flooding will be possible.
Torrential rain and severe flash flooding are expected, especially across southern Indiana and north central Kentucky. Louisville, with its reduced drainage efficiency typical of urban areas, has already seen severe flooding.Emergency management personnel are doing water rescues.8:10 p.m. CST Saturday:Tornado debris signature northeast of Paris, Tennessee. It is moving northeast. If you're in Henry County between Paris and Paris Landing, take cover now!View image on Twitter

NWS Memphis@NWSMemphis810pm: #tornado debris signature NE of #Paris. Moving NE. If you're in Henry Co between Paris and Paris Landing, take cover now!7:50 p.m. CST Saturday:Dangerous tornado warned supercell with strong rotation is approaching Clarksburg and Parkers Crossroads, Tennessee. Take cover now!7:45 p.m. CST Saturday:Still multiple tornado warnings in northwest Tennessee and southwest Kentucky including west-southwest of Murray, Kentucky and heading toward McKenzie, Tennessee. If you are in a red box, take cover!7:00 p.m. CST Saturday:Severe storms are approaching the Memphis metro are now. Wind gusts of 60 mph or more are likely, as well as flash flooding as these storms move into western Tennessee.Screen Shot 2018-02-24 at 8.11.35 PM.png6:30 p.m. CST Saturday:Particularly dangerous situation radar indicated a large tornado on the ground in Luxora, Arkansas moving northeast. Take cover now!
Screen Shot 2018-02-24 at 7.42.20 PM.png6:06 p.m. CST Saturday:There are reports of two deaths in the Logan County, Kentucky after an unconfirmed tornado swept through the area.According to New Channel 5, the sheriff in Logan County, Kentucky confirmed an elderly woman was killed when she was hit by debris.The second fatality was in Franklin, Kentucky due to drowning in a submerged vehicle.BREAKING: The @wbkotv newsroom confirms two are dead in the Keysburg community of Logan Co after an apparent tornado this afternoon. #kywxShane Holinde (@Main_Event_Wx) February 25, 2018These fatalities are the first tornado related deaths in the United States since May 16th, 2017.View image on Twitter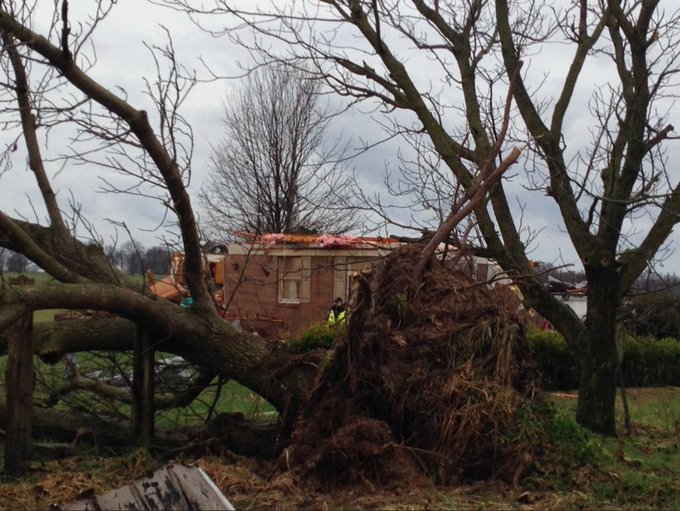 Medina StormCast@MedinaStormCastA fatal tornado has been confirmed in Logan County, Kentucky. The twister destroyed a home, killing at least one person in its path.  · Ohio, USA5:20 p.m. CST Saturday:Damaging winds tore parts of a roof off of a building in West Memphis, Arkansas. 

Trey Stafford@Trey1049CR 136 near Westside School W of Jboro @NWSMemphis @ryanvaughan @Coulter_wx @arwx · West Memphis, AR
5:20 p.m. CST Saturday:
Numerous tornado warnings are in effect northeast of Jonesboro, Arkansas up to the southeast Missouri border as of 5:15 pm CST.
4:30 p.m. CST Saturday:
Due to the saturated soil, trees will be especially susceptible to falling even in moderately windy conditions. This could lead to blocked roads and damaged power lines across the affected region.
3:30 p.m. CST Saturday:
There is a tornado warning in northeast Arkansas for a strong rotation heading in the direction of the Mountain View, Arkansas area.
A Tornado Warning was issued for Franklin, Kentucky.
 OKLAHOMA CITY (AP) — A tornado watch on Saturday has been expanded to include five additional states in the central United States as a strong storm system moved from the Plains states and across the Mid-South.
The latest watch was in effect until 9 p.m. Saturday and adds northeastern Arkansas, southeastern Missouri, northwestern Mississippi, western Tennessee, western Kentucky and southern Illinois.
The previous watch remained in effect until 6 p.m. and already included most of most of the remainder of Arkansas in addition to northeastern Texas, southeastern Oklahoma and northeastern Louisiana.
The National Weather Service said the system was also capable of producing wind gusts of up to 75 mph (120 kph) and hail up to 2 inches (5 centimeters) in diameter, or about the size of an egg. Heavy rain and flooding is also possible.
In northeast Arkansas, an 83-year-old man was killed after high winds toppled a trailer home. Clay County Sheriff Terry Miller told KAIT-TV that Albert Foster died Saturday night after the home was blown into a pond.
About 50 miles away, the weather service said the roof was blown off a hotel in Osceola, about 160 miles (257 kilometers) north of Memphis, Tennessee.
Missouri Gov. Eric Greitens signed an executive order earlier Saturday declaring a state of emergency ahead of the anticipated storms and flooding in parts of southern Missouri. The order activates the resources of the Missouri National Guard and ensures state resources are available in the event of weather damage.
A levee breach along the Kankakee River in northwestern Indiana had local officials urging about 30 homeowners to evacuate.
Keener Township Volunteer Fire Chief Randy Woods said the breach was relatively minor when it was discovered about 3 p.m. Friday near Demotte, about 50 miles southeast of Chicago. Local residents tried to sandbag the breach "to get it under control, but it just got bigger and bigger," he said. Local firefighters were called to help them, but eventually everyone had to pull out for their own safety.
No injuries were reported.
The weather service said record flooding was occurring along the Kankakee following several days of heavy rains and snowmelt that sent streams out of their banks from the Ohio River to Michigan and Wisconsin.
___
Ken Kusmer in Indianapolis and Margery Beck in Omaha, Nebraska, contributed.
If persistent bands of snow set up, travel may become slow and slick in the mountains between Olympic Village and Gangneung Olympic Park on Sunday.
The strong winds and bitter cold that made headlines earlier in the Olympics will be absent for the remainder of the weekend.
Drier weather will return to the PyeongChang Olympic Stadium before the closing ceremonies.
While strong winds and cold dominated weather headlines at PyeongChang, South Korea, during this Winter Olympics, snow is expected during the final day of competition.
Friday brought one more day of gusty winds to PyeongChang. Calmer winds are expected to continue on Sunday, albeit snow will return.
Fans leave during a snow storm after the men's nordic combined team cross-country skiing event at the 2018 Winter Olympics in PyeongChang, South Korea, on Thursday, Feb. 22, 2018. (AP Photo/Kirsty Wigglesworth)
At the Alpensia Olympic Park and the Alpine Centres, the snow may leave a fresh coating through Sunday.
The snow at the Gangneung Olympic Park during this time will occasionally mix with rain, but can fall heavy enough to leave a slushy coating to 2 cm (1 inch) on roads and sidewalks.
"During the midday and afternoon hours of Sunday, temperatures should rise enough to lead to mostly rain at the coast," AccuWeather Meteorologist Adam Douty said.
The greatest travel issues may arise in the mountains between Gangneung and PyeongChang.
If the snow is persistent, there can be enough accumulation that plows will be needed on the passes. Those traveling to compete in or watch the gold medal games for men's ice hockey or women's curling may encounter slick conditions.
Impacts will be limited if the snow is faster to sweep through the mountains and off the coast.
Regardless if the snow lingers longer in the mountains to the east, drier weather is expected to return to PyeongChang for the closing ceremonies on Sunday evening.
Spectators attending the open-air Olympic Stadium will want to bundle up as temperatures will be around 4 below zero C (25 F) during the ceremonies.
The good news is, that harsh winds will be absent and will not lead to even lower AccuWeather RealFeel® Temperatures.
For those heading home from PyeongChang on Monday, weather-related travel delays are not expected as high pressure will build overhead and allow dry weather to dominate South Korea.