World PNG troops respond to major 7.5 quake as aftershocks feared
AFP•
PNG troops respond to major 7.5 quake as aftershocks fearedPapua New Guinea sent troops and rescue workers Monday to respond to a powerful earthquake in the Pacific nation's mountainous interior, with unconfirmed reports of fatalities and warnings of aftershocks and landslides.Assessment teams were heading to affected areas near the 7.5-magnitude quake's epicentre, which the US Geological Survey said was some 90 kilometres (55 miles) south of Porgera in Enga province."It is advisable to stay out of multi-story buildings, to be aware of the potential of landslides, and to be prepared to move to open ground in the event that an aftershock is felt," the chief secretary to the government, Isaac Lupari, said in a statement.The tremor hit at a depth of 35 kilometres around 3:45 am local time (1745 GMT Sunday), US seismologists said, adding that there was no tsunami threat.The region is home to oil and gas production. ExxonMobil PNG said buildings at its Hides Gas Conditioning Plant were damaged but all its staff were "safe and accounted for", with non-essential employees to be evacuated.Australian resources company Oil Search said its operations in the area were being shut down as a precaution and for damage assessment, and there were no injuries reported among its staff so far.Felix Taranu, a seismologist at the Geophysical Observatory in the capital Port Moresby, said social media posts reported blackouts and damage to buildings at Porgera, although he was not aware of any injuries.He told AFP the quake was felt strongly at Mount Hagen, some 168 kilometres away from the epicentre."It will take some time to get assessment teams out there and get a clear picture of what's happening," he added.The director of the Geohazards Management Division, Chris McKee, told AFP he had yet to receive any reports of damage, although there was an unconfirmed report of fatalities."There's an unconfirmed report of some deaths from Mendi (in the Southern Highlands), but I'm not exactly aware of where the fatalities occurred, and this will have to be corroborated," he said.The quake's epicentre is in rugged terrain about 612 kilometres northwest of Port Moresby.USGS said earlier that some casualties and damage were possible and recent earthquakes in the area had caused landslides.It said homes in the region were "a mix of vulnerable and earthquake resistant construction".The impact should be relatively localised, it added.Earthquakes are common in PNG, which sits on the so-called Pacific Ring of Fire, a hotspot for seismic activity due to friction between tectonic plates.
Powerful quake hits central Papua New Guinea, disrupts oil and gas operations
By Charlotte Greenfield and Sonali Paul Reuters•
A supplied image shows a landslide and damage to a road located near the township of Tabubil after an earthquake that struck Papua New Guinea's Southern Highlands A supplied image shows a landslide and damage to a road located near the township of Tabubil after an earthquake that struck Papua New Guinea's Southern Highlands, February 26, 2018. Jerome Kay/Handout via REUTERBy Charlotte Greenfield and Sonali Paul WELLINGTON/MELBOURNE (Reuters) – A powerful 7.5-magnitude earthquake struck Papua New Guinea's Southern Highlands province early on Monday, the U.S. Geological Survey (USGS) said, prompting oil and gas companies to immediately suspend operations in the energy-rich interior.The tremor hit near the center of Papua New Guinea's main island around 560 km (350 miles) from the capital, Port Moresby, at around 3.45 a.m. local time (1545 GMT Sunday), according to the USGS. It was about 35 km (22 miles) deep.A spokesman at Papua New Guinea's National Disaster Center said by telephone the affected area was very remote and the agency could not properly assess damage until communication was re-established. He said there were no confirmed casualties.Udaya Regmi, the head of the International Red Cross in Papua New Guinea, said communications were "completely down" in Tari, one of the larger settlements near the quake's epicenter.The Pacific Tsunami Warning Center in Hawaii said there was no risk of a tsunami in the aftermath of the quake.ExxonMobil Corp said it had shut its Hides gas conditioning plant, close to the quake's epicenter, to assess any damage."All of ExxonMobil PNG Limited's employees and contractors at its Hides facilities have been accounted for and we are pleased to report they are all safe," ExxonMobil's PNG spokeswoman said in an email.Gas is processed at Hides and transported along a 700 km (435 miles) line that feeds a liquefied natural gas plant near Port Moresby for shipping.PNG oil and gas explorer Oil Search said in a statement it had shut production in the quake-affected area and there had been several aftershocks with magnitudes greater than five.It said there were no reports of injuries.Several aid and missionary agencies said poor communications in the densely forested area made damage and injury assessment difficult."The bush structures that they build tend to handle earthquakes extremely well," Christian missionary Brandon Buser told Reuters after contacting several remote villages by shortwave radio.Earthquakes are common in Papua New Guinea, which sits on the Pacific's "Ring of Fire", a hotspot for seismic activity due to friction between tectonic plates."This is the Papuan fold-and-thrust belt, so it's a typical movement of faults in that region, but it's big," said Chris McKee, acting director of the Geohazards Management Division in Port Moresby.(Reporting by Charlotte Greenfield in WELLINGTON and Sonali Paul in MELBOURNE; Writing by Jonathan Barrett; Editing by Daniel Wallis, David Evans and Paul Tait)
News
UK weather: Met Office warns of snow, strandings and mobile phone outages as 'Beast from the East' looms
Sarah Knapton The Telegraph•
Northern exposure: Sunday walking at the frozen edges of Red Tarn on Helvellyn in the Lake District, already covered in deep snow and ice – © North News & Pictures – northnews.co.ukBritain is braced for four days of widespread snow from Monday which could reach eight inches deep in some areas, the Met Office has warned.Severe weather warnings were extended to cover most of the country this week with bitterly cold winds leaving some areas feeling colder than the Arctic Circle at a bone-chilling 5F (-15C).Forecasters cautioned that heavy snowfall could bring down power lines causing mobile phone services to fail as the so-called 'Beast from the East' weather system arrives in the UK.Tuesday is likely to to see the worst of the weather, with an 'amber' warning issued in the Midlands and south east England,  just one level below the most severe 'red' conditions. 'Yellow' alerts are also currently in place for Monday, Wednesday and Thursday.Motorists were warned they could be stranded in vehicles after snow begins to fall from around 2pm on Monday. Major disruption is also expected on the rail network and at airports while rural communities were advised they could be cut off.Weather warnings – 26 February Met Office meteorologist Charlie Powell said: "We don't want to scare people, but people should make sure they are prepared for some seriously cold weather."By Thursday evening, there are growing signs there could be some significant snowfall across southern England."Unusually for Britain, the snow is going to be quite dry, so it will blow around and gather in drifts and we could see some blizzard conditions."Winds are then going to strengthen and we could see some easterly gales through the eastern Channel and east Anglia by the middle of the week."That's going to make it feel really cold, daytime temperatures on Wednesday and Thursday will be struggling to get above freezing for most of the country." 2602 Weather The forecaster said that by the end of Wednesday, more than 8 inches (20cm) of snow may have accumulated in some parts of eastern England, Scotland and Northern Ireland.Lows of -5C (23F) recorded over the weekend marked the lowest temperature in the week leading up to March 1, the first day of spring, since 1986.The wind chill, which could see parts of the UK feeling as cold as -15C (5F), rivals the temperatures forecast for parts of northern Norway and Iceland.Public Health England also issued fresh health warnings advising householders to keep indoor temperatures at a minimum of 64F (18C) and asking people to check on over 65s, young children and people with lung or heart conditions.Dr Thomas Waite, of PHE's Extreme Events team, said: "Cold temperatures, indoors and out, pose real health risks to many and every winter we know that thousands of people get ill and even die following exposure to cold conditions."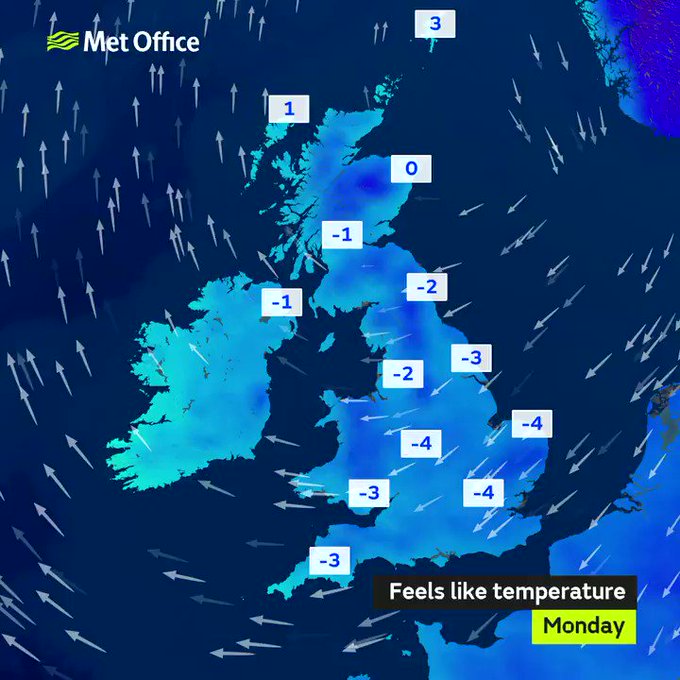 Paul Gunderson Chief Operational Meteorologist at the Met Office added: "During Monday and Tuesday, snow showers are expected to move into eastern areas, before spreading westwards across England."These will also be accompanied by bitterly cold temperatures, and a significant wind chill. These cold, wintery conditions are then expected to continue Wednesday, and likely beyond."The Local Government Association (LGA) said councils were prepared for the weather with 1.5 million tonnes of salt stock piled across the country.They also urged neighbours to check for milk bottles left outside, newspapers stuck in the letterbox of curtains drawn all day which could be a sign that something is wrong inside.
Gritters are being deployed across the country to tackle the snow  Credit: South West NewsIn addition to gritting roads and clearing snow drifts, the LGA said councils will be assisting the elderly and vulnerable in their areas, from delivering hot meals to carrying out emergency household repairs and providing heating.Cllr Martin Tett, LGA transport spokesman, said: "Highway teams are monitoring high-tech weather forecasts with highly-trained staff on standby around the clock."Gritters will be out treating thousands of miles of council roads as the big chill bites and councils will be keeping people up-to-date about weather forecasts, road conditions and gritting activity."As the freeze sets in we need everyone in our communities to be on the look-out for signs that something might be wrong. Whether it be milk bottles left outside, newspapers stuck in the letterbox or curtains drawn all day, any sort of unusual activity could be a sign that something is wrong and that someone is in need of help."