Latest nor'easter starts to slam storm-battered Northeast

  Associated Press

House Republicans end probe, say 'no collusion'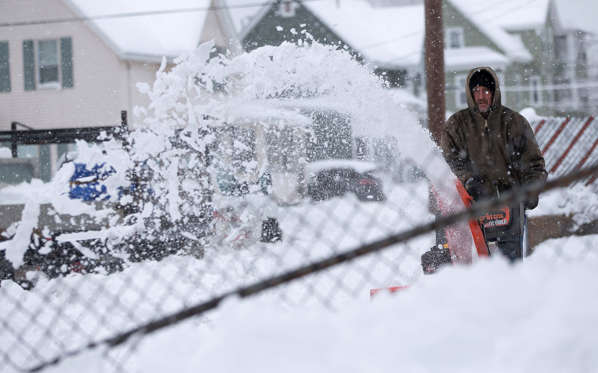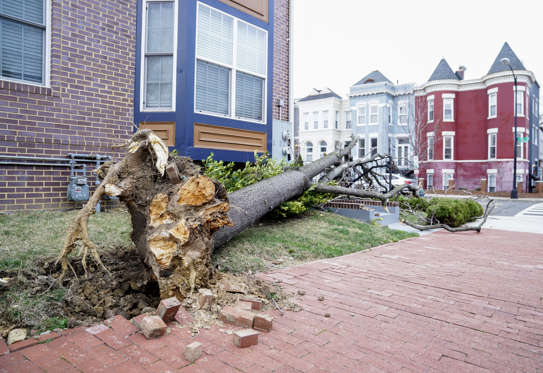 A man clears a driveway in Lowell, Massachusetts, USA 08 March 2018. A second snow storm in less than a week left over 24 inches (61cm) in some areas of the state of Massachusetts. Snow storm in Massachusetts, Lowell, USA – 08 Mar 2018SLIDES © CJ GUNTHER/EPA-EFE/REX/ShutterstockA man clears a driveway in Lowell, Massachusetts, on March 8. A second snow storm in less than a week left over 24 inches (61cm) in some areas of the state of Massachusetts.Gallery by photo servicesBOSTON (AP) — The third major nor'easter in two weeks started to slam the storm-battered Northeast Tuesday morning with blizzard conditions expected in some areas.The National Weather Service issued a blizzard warning for much of the Massachusetts coast, a winter storm warning for most of New England and a winter weather advisory for portions of New York, Pennsylvania and New Jersey."Three nor'easters in less than 2 weeks isn't easy on anyone — and we are extremely grateful for the hard work of our first responders, utility and road crews, and municipal officials who have been working nonstop to clean up after these powerful storms," Republican Massachusetts Gov. Charlie Baker wrote on Twitter Monday night.The storm is expected to last through most of the day Tuesday, disrupting road and air travel.The flight-tracking site FlightAware already is reporting more than 1,300 canceled flights within, into or out of the U.S. on Tuesday. Amtrak suspended service from Boston to New York's Penn Station until 11 a.m.While the first two storms of the month brought coastal flooding and hundreds of thousands of power outages, this one is expected to be different."This one's main impact is going to be snow," said Kim Buttrick, a meteorologist with the National Weather Service office in Taunton, Massachusetts.More power outages are possible, but they are not expected to be as widespread as last week. Only minor coastal flooding is predicted.The blizzard warning means sustained winds of greater than 35 mph (56 kph), along with visibility of less than a quarter mile for prolonged periods, according to the weather service. Wind gusts as high as 65 mph (104 kph) are forecast in coastal areas.
© The Associated Press A resident of Duxbury, Mass., views flooding near her home, Sunday, March 11, 2018, in Duxbury. The Northeast is bracing for its third nor'easter in fewer than two weeks. The National Weather Service reports Sunday that a…Boston and eastern Massachusetts, as well as Rhode Island, could get a foot and a half of snow, with less to the west of the city.Schools across the region announced they would be closed on Tuesday including in Boston and Providence."I feel that we haven't really seen this type of storm since 2015," Democratic Boston Mayor Marty Walsh said at a Monday night news conference. "We've had storms in '16 and '17 and a couple this year, but it seems like this one is gonna be a big one."Maine also is bracing for a hard hit. The Portland International Jetport has had 75.5 inches (1.9 meters) of snow, far above the normal for the date of 51.8 inches (1.3 meters) with another 12 to 18 inches is on the way, said James Brown, of the National Weather Service.In New Hampshire, where as much as 14 inches of snow is forecast, the storm is wreaking havoc with the age-old town meeting tradition. But Secretary of State William Gardner and Attorney General Gordon MacDonald said under state law, town meeting elections must go on.More than a foot of snow is expected in parts of Connecticut, where Democratic Gov. Dannel P. Malloy is urging people to "take it slow and remember their winter weather driving skills."In New York, heavy, wet snow is forecast for Long Island, which could get 5 to 10 inches of accumulation, while 2 to 4 inches are possible in New York City.In New Jersey, the storm is expected to start out as light rain before changing over to all snow by early Tuesday, leaving behind up to 4 inches.
News Argentine soy scorched beyond return, season 'dead': experts
By Hugh Bronstein Reuters•
Soy plants are seen in a drought-affected farm near Chivilcoy Soy plants are seen in a drought affected farm near Chivilcoy, Argentina, February 28, 2018. Picture taken February 28, 2018. REUTERS/Martin Acosta By Hugh Bronstein BUENOS AIRES (Reuters) – Hope has withered for any recovery in Argentine soy yields hit by a four-month drought that shows no signs of abating, farmers and analysts said on Monday, prompting China to step in to fill the gap in soymeal exports from the world's No. 1 supplier.The dryness that has blighted the Argentine Pampas since mid-November has forced producers to repeatedly slash their estimates for the 2017-2018 crop. The light rains that are forecast for the days ahead will not be enough to restore fields baked by an unrelenting southern hemisphere summer sun."The current season is dead in terms of crop yields," said German Heinzenknecht, weather specialist with the Applied Climatology consultancy."The showers that are on the way are not going to help soy or corn, but they could improve planting conditions for wheat, which starts being sowed in May."China's 2017/18 soymeal exports are set to nearly double to around 2 million tonnes, traders said on Monday, lifted by lower Argentine supply. Asian countries led by Japan, South Korea and Vietnam are key importers of soymeal.Argentina is the world's third-biggest exporter of soybeans and corn, as well as the top provider of soy-based livestock feed, used from Europe to Asia to fatten pigs and cattle.Sparse showers of about 1 centimeter (0.4 inch) are forecast for Wednesday in the usually fertile Pampas grains belt, with 2 to 2.5 centimeters expected on Saturday, Heinzenknecht said."You can say, cautiously, that the weather will improve but not with the velocity needed to end the drought."Argentine soybean exports are taxed at 28.5 percent, so the fiscal impact of the drought could be hard as President Mauricio Macri prepares to seek re-election next year while trying to cut the budget deficit and fund infrastructure projects.The disaster on the Pampas has exerted upward pressure on soybean and corn futures on the Chicago Board of Trade.Farmers in the U.S. Midwest are scrambling to sell grain that has been held in storage for months to take advantage of prices rallying on Argentina's woes.Analysts have slashed their soy crop forecasts, which started the season in the range of 55 million tonnes, to below 45 million."GAME ALMOST OVER" "It's really awful around here. Yields are just falling and falling," said Pedro Vigneau, who operates a 1,400-hectare farm in the central Buenos Aires district of Carlos Casares.He now expects to harvest two tonnes of soybeans versus the 3.5 to 4 tonnes that he expected at the start of the 2017/18 crop year.Vigneau has lowered his farm's corn harvest forecast to about half of the eight to nine tonnes estimated at planting."It might rain on Wednesday but the game is almost over. The impact of the drought will be severe and the area affected is really wide. When you speak with farmers from different areas you realize their fields are almost all in bad condition," Vigneau said.Argentine is expected by the Buenos Aires Grains Exchange to harvest 42 million tonnes of soy and 34 million tonnes of corn in the 2017-18 season, down from prior estimates of 44 million and 37 million tonnes, respectively."The major area affected by the drought in the central and southern part of the farm belt has no chance of recovering yields, even if it were to start raining," said Esteban Copati, chief analyst at the exchange.When the exchange slashed its estimates last week it warned that dry, hot conditions in northern provinces could lead to further reductions.Temperatures are cooling as the Argentine summer draws to a close, providing some help to parched crops, said Isaac Hankes, a weather research analyst at Thomson Reuters' Lanworth commodities and weather forecaster. "The rainfall arrival is still about six days out in most regions," he added.That would do little to resuscitate the country's gasping soy and corn fields, according to the Rosario grains exchange."Showers are expected in the second half of March, but that's going to be too late for the most part," said Emilce Terre, head of research at the exchange, located near the soymeal and soyoil plants that dot the banks of Parana River."At this point, it if rains a lot over the next month all it would do is complicate harvesting. It would be unlikely to help soy and corn yields," Terre said.(Reporting by Hugh Bronstein; Editing by Tom Brown and Marguerita Choy)
MIAMI (AP) — The death toll from Hurricane Irma's catastrophic rampage across the Caribbean and the southeastern U.S. has risen to 44 fatalities directly caused by its strong winds and heavy rains, plus 85 fatalities indirectly linked to the storm, according to a report released Monday by the U.S. National Hurricane Center.
Eighty of the deaths indirectly linked to the hurricane came in Florida, caused by falls during storm preparations, vehicle accidents, carbon monoxide poisoning from generators, chain saw accidents and electrocutions, the report said.
Fourteen people who died at a Broward County nursing home that lost power and air conditioning after the storm were included in the tally of indirect deaths in Florida. In an email Monday, officials with Florida's Division of Emergency Management said they had counted 11 deaths at the nursing home among 84 storm-related deaths in the state. Twelve fatalities at the nursing home are being investigated as homicides.
Most of the direct deaths occurred in the Caribbean. The report said seven happened on the U.S. mainland: In Florida, two people died when their tent became submerged in freshwater flooding, one man fell in a canal while checking on his boat during the hurricane, and a gust of wind caused one man to fall and hit his head after opening his front door during the storm. Falling trees were blamed for two deaths in Georgia and one in South Carolina.
Hundreds of people were injured before, during or after the hurricane, which prompted evacuation orders for nearly 7 million in multiple states, the report said.
Irma made a total of seven landfalls, including four as a Category 5 hurricane. Damage estimates throughout the Caribbean could top $3 billion, according to the hurricane center.
The damage included leaving the small island of Barbuda nearly uninhabitable and destroying most schools and severely damaging the only hospital on the island of Anguilla. Irma was the first Category 5 hurricane to hit Cuba in nearly a century, directly causing nine deaths, damaging tens of thousands of homes and destroying hundreds of poultry farms.
The Caribbean Hotel and Tourism Association reported last month that huge numbers of hotels remained closed on islands directly blasted by hurricanes Irma and Maria.
The National Oceanic and Atmospheric Administration has already ranked Irma among the top five most expensive hurricanes in U.S. history, causing $50 billion in damage, mostly in Florida.
The damage was the most severe in the Florida Keys, where Irma struck as a Category 4 hurricane, according to the hurricane center's report. However, Irma's massive wind field and heavy rains also caused widespread tree and power line damage statewide, along with significant losses in orange groves and record-breaking flooding in Jacksonville.
Irma also spawned 25 tornadoes, according to the report: four in South Carolina and the rest in Florida.
Prime Minister Shinzo Abe led a sombre ceremony Sunday as Japan marked the seventh anniversary of a deadly earthquake, tsunami and nuclear disaster that devastated its northeastern coast and left around 18,500 people dead or missing.
The magnitude 9.0 quake — which struck under the Pacific Ocean on March 11, 2011 — and the resulting tsunami caused widespread damage and took the lives of thousands of people.
The killer tsunami also swamped the emergency power supply at the Fukushima Daiichi power plant, sending its reactors into meltdown as cooling systems failed in what was the worst nuclear disaster since Chernobyl in 1986.
Abe, lawmakers and family members who lost their loved ones in the disaster bowed their heads in silent prayer at a ceremony in Tokyo at 2:46 pm (0546 GMT) — the exact moment the quake struck.
Japanese private broadcasters also showed residents in the affected areas offering a moment of silence.
"I offer my condolences to those who lost their beloved family members and friends," said Abe, dressed in formal mourning attire.
Hideko Igarashi, one of the three residents from the disaster-hit region who spoke at the ceremony, said Japan should "never forget what we learned from the disaster".
The 70-year-old woman from Fukushima was hit by tsunami waves right after she began preparing to leave the area with her husband and uncle.
"I grabbed a pine tree but I was swamped by the tsunami… My husband got away from me and he shouted 'Hideko' three times," she said.
Igarashi survived and was later rescued by an emergency team.
"I wish I had told him to run away much earlier."
Japan's ageing Emperor Akihito and Empress Michiko did not attend the ceremony this year again, but were represented by their son Prince Akishino and his wife Princess Kiko.
The total of dead or missing from the earthquake and the tsunami stood at 18,434 people, according to the National Police Agency.
In addition, more than 3,600 people — most of them from Fukushima — died from causes such as illness and suicide linked to the aftermath of the tragedy, government data shows.
More than 73,000 people still remain displaced, while no one is officially recorded as having died as a direct result of the nuclear catastrophe.
The government lifted evacuation orders of some areas in Iitate village and the towns of Namie, Kawamata and Tomioka last spring, except for no-go zones with high radiation levels.
Authorities are encouraging evacuees to return, but a government survey released earlier this month showed that about half the residents of Namie and Tomioka are not willing to return.
Around 12,000 people who fled their homes for fear of radiation have filed dozens of lawsuits against the government and the Tokyo Electric Power Company (TEPCO), the operator of the stricken nuclear plant.
World
British river has worst recorded microplastic pollution in the world, study finds
A British river has the worst microplastic pollution in the world, researchers have found, with levels even greater than hugely built-up areas such as in South Korea and Hong Kong.
Geographers at The University of Manchester are calling for tighter regulations to prevent plastic entering waterways after finding 'extraordinarily' high concentrations in north west England.
The team examined river sediments from 40 sites across Greater Manchester including urban rivers and rural streams. They found microplastic everywhere even in the remote parts of Saddleworth Moor in the South Pennines.
But the River Tame at Denton was found to have the highest levels of microplastics recorded anywhere in the world, at 517,000 particles per m2. The level was far higher than at the Incheon-Kyeonggi beaches in South Korea or the Pearl River Estuary in Hong Kong.
Microplastics The most polluted beaches/rivers in the world
Jamie Woodward, Professor of Physical Geography at the Department of Geography, said the results were likely to be the tip of the iceberg and called for the Environment Agency to start monitoring microplastic levels in Britain's rivers.
"If you had done the work in the West Midlands or South East England I am sure you would have got similar results," he said.
"We're shining a light on a huge problem that, until now, has been under the radar. We found microplastics everywhere, even in streams high in the hills. Wherever you find people you find plastic.
"We found we had the worst levels in the world, some of which were extraordinarily high. The River Tame is a global hotspot for microplastics.
"Ultimately we need to get better at managing wastewater, and the Environment Agency urgently needs to look at Britain's rivers and see what the extent of microplastics is in the UK."
The team believe the microplastics are finding their way into rivers from a combination of industrial effluent and domestic wastewater.
It has been shown that a single polyester fleece jacket can release more than 1900 plastic fibres per wash while, until they were banned in January, plastic microbeads were common in toothpastes, shampoos and shower gels.
The test were carried out in 2015, and the team also found that around 70 per cent of the microplastics were washed away into the sea following the devastating 2015/2016 floods.
"While that is good for the river beds, because we now know they can effectively cleanse themselves, it is bad news for the oceans," added Professor Woodward.
"Microplastics in the ocean have recently attracted a lot of attention, but until now science knew little about the major sources of this pollution and the transport processes involved.
"We are only beginning to understand the extent of the microplastic contamination problem in the world's rivers. To tackle the problem in the oceans, we have to prevent microplastics entering river channels."
Plastic pledges | Five practical ways to prevent plastic entering the ocean
The researchers estimate that the flooding flushed around 43 billion microplastic particles from the River Mersey and Irwell catchments, and into the Irish Sea.
A recent global estimate put the input of plastic into the oceans at approximately 6.4 million tons per annum.
Much of the plastic floats rather than sinks, so it is swallowed by marine animals who cannot digest it. Chemicals also leach into the water, and it has been shown that even humans who eat seafood ingest 11,000 pieces of microplastic each year.  
Although it was believed that 90 per cent of microplastic contamination originated from the land – the rest coming from shipping accidents – the new study is the first to look in depth at where the source may be.
An Environment Agency spokesperson said: "We are working with the water industry and leading academics to investigate the types and quantities of microplastics entering the environment. This research will feed into plans to tackle this type of pollution at the source.
"Plastic pollution is a threat to our natural environment and by working together, we can reduce the amount which enters our land, rivers and the sea and protect wildlife for future generations."
The research was published in Nature Geoscience.