Trump, Kim agree to work toward denuclearization

Associated Press By ZEKE MILLER, CATHERINE LUCEY, JOSH LEDERMAN and FOSTER KLUG, Associated Press SINGAPORE (AP) — President Donald Trump and North Korea's Kim Jong Un concluded an extraordinary nuclear summit Tuesday with the U.S. president pledging unspecified "security guarantees" to the North and Kim recommitting to the "complete denuclearization of the Korean Peninsula."Meeting with staged ceremony on a Singapore island, Trump and Kim came together for a summit that seemed unthinkable months ago, clasping hands in front of a row of alternating U.S. and North Korean flags, holding a one-on-one meeting, additional talks with advisers and a working lunch.Both leaders expressed optimism throughout roughly five hours of talks, with Trump thanking Kim afterward "for taking the first bold step toward a bright new future for his people."Trump added during a news conference that Kim has before him "an opportunity like no other" to bring his country back into the community of nations if he agrees to give up his nuclear program.Trump announced that he will be freezing U.S. military "war games" with its ally South Korea while negotiations between the two countries continue. Trump cast the decision as a cost-saving measure, but North Korea has long objected to the drills as a security threat.Trump acknowledged that the timetable for denuclearization is long, but said, "once you start the process it means it's pretty much over."Trump sidestepped his public praise for an autocrat whose people have been oppressed for decades. He added Otto Warmbier, an American once detained in North Korea, "did not die in vain" because his death brought about the nuclear talks.Trump said Kim accepted his invitation to visit the White House at the "appropriate" time.Light on specifics, the document signed by the leaders largely amounted to an agreement to continue discussions as it echoed previous public statements and past commitments. It did not include an agreement to take steps toward ending the technical state of warfare between the U.S. and North Korea.The pair promised in the document to "build a lasting and stable peace regime" on the Korean Peninsula and to repatriate remains of prisoners of war and those missing in action during the Korean War.Language on North Korea's bombs was similar to what the leaders of North and South Korea came up with at their own summit in April. At the time, the Koreans faced criticism for essentially kicking the issue of North Korea's nuclear arsenal down the road to Tuesday's Trump-Kim summit. Trump and Kim even directly referenced the so-called Panmunjom Declaration, which contained a weak commitment to denuclearization and no specifics on how to achieve it.The formal document signing followed a series of meetings at a luxury Singapore resort.After the signing, Trump said he expected to "meet many times" in the future with Kim and, in response to questions, said he "absolutely" would invite Kim to the White House. For his part, Kim hailed the "historic meeting" and said they "decided to leave the past behind."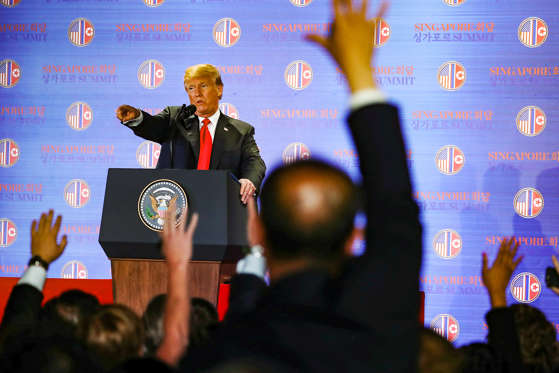 Slideshow by photo servicesIn a moment that would never happen in North Korea, reporters began yelling questions to Trump and Kim after they signed the document, including whether they had discussed the case of Otto Warmbier, the American college student who suffered brain damage while in North Korean custody and died in June 2017, days after he was returned home to Ohio.In the run-up to the meeting, Trump had predicted the two men might strike a nuclear deal or forge a formal end to the Korean War in the course of a single meeting or over several days. But in the hours before the summit, the White House unexpectedly announced Trump would depart Singapore earlier than expected — Tuesday evening — raising questions about whether his aspirations for an ambitious outcome had been scaled back.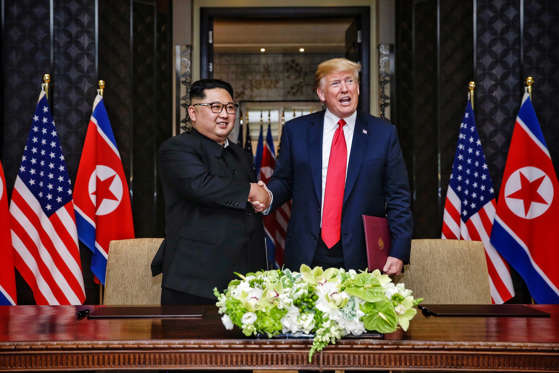 The meeting was the first between a sitting U.S. president and a North Korean leader.Aware that the eyes of the world were on a moment many people never expected to see, Kim said many of those watching would think it was a scene from a "science fiction movie."After meeting privately and with aides, Trump and Kim moved into the luncheon at a long flower-bedecked table. As they entered, Trump injected some levity to the day's extraordinary events, saying: "Getting a good picture everybody? So we look nice and handsome and thin? Perfect."Then they dined on beef short rib confit along with sweet and sour crispy pork.And as they emerged from the meal for a brief stroll together, Trump appeared to delight in showing his North Korean counterpart the interior of "The Beast," the famed U.S. presidential limousine known for its high-tech fortifications.Critics of the summit leapt at the leaders' handshake and the moonlight stroll Kim took Monday night along the glittering Singapore waterfront, saying it was further evidence that Trump was helping legitimize Kim on the world stage. Kim has been accused of horrific rights abuses against his people."It's a huge win for Kim Jong Un, who now — if nothing else — has the prestige and propaganda coup of meeting one on one with the president, while armed with a nuclear deterrent," said Michael Kovrig, a northeast Asia specialist at the International Crisis Group in Washington.Trump responded to such commentary on Twitter, saying: "The fact that I am having a meeting is a major loss for the U.S., say the haters & losers." But he added "our hostages" are back home and testing, research and launches have stopped.Giving voice to the anticipation felt around the world as the meeting opened, South Korean President Moon Jae-in said Tuesday he "hardly slept" before the summit. Moon and other officials watched the live broadcast of the summit before a South Korean Cabinet meeting in his presidential officeThe summit capped a dizzying few days of foreign policy activity for Trump, who shocked U.S. allies over the weekend by using a meeting in Canada of the Group of Seven industrialized economies to alienate America's closest friends in the West. Lashing out over trade practices, Trump lobbed insults at his G-7 host, Canadian Prime Minister Justin Trudeau. Trump left that summit early and, as he flew to Singapore, tweeted that he was yanking the U.S. out of the group's traditional closing statement.The optimistic summit was a remarkable change in dynamics from less than a year ago, when Trump was threatening "fire and fury" against Kim, who in turn scorned the American president as a "mentally deranged U.S. dotard." Beyond the impact on both leaders' political fortunes, the summit could shape the fate of countless people — the citizens of impoverished North Korea, the tens of millions living in the shadow of the North's nuclear threat, and millions more worldwide.Alluding to the North's concerns that giving up its nuclear weapons could surrender its primary deterrent to forced regime change, Secretary of State Mike Pompeo told reporters that the U.S. was prepared to take action to provide North Korea with "sufficient certainty" that denuclearization "is not something that ends badly for them."He would not say whether that included the possibility of withdrawing U.S. troops from the Korean Peninsula, but said the U.S. was "prepared to take what will be security assurances that are different, unique, than America's been willing to provide previously."The North has faced crippling diplomatic and economic sanctions as it has advanced development of its nuclear and ballistic missile programs. Pompeo held firm to Trump's position that sanctions will remain in place until North Korea denuclearizes — and said they would even increase if diplomatic discussions did not progress positively._Follow AP's summit coverage here: http://apne.ws/MPbJ5Tv
World Trump and Kim sign joint statement promising 'complete denuclearization of the Korean Peninsula'
Hunter Walker  White House Correspondent,Yahoo News•President Trump and Kim Jong Un meet for U.S. – North Korea Summit President Trump and North Korean leader Kim Jong Un ended their historic meeting in Singapore by signing a joint statement. The document promised "complete denuclearization of the Korean Peninsula" without detailing exactly what that would entail."President Trump and Chairman Kim Jong Un conducted a comprehensive, in-depth, and sincere exchange of opinions on the issues related to the establishment of new U.S.-DPRK relations and the building of a lasting and robust peace regime on the Korean Peninsula," the statement said, using the North's acronym for Democratic People's Republic of Korea.Related SearchesPresident Trump And Kim Jong UnTrump And Kim Jong Un SummitTrump Meets Kim Jong UnKim Jong Un And Trump"President Trump committed to provide security guarantees to the DPRK," it continued, "and Chairman Kim Jong Un reaffirmed his firm and unwavering commitment to complete denuclearization of the Korean Peninsula."The pair signed the document at a ceremony where, according to press pool reports, Kim said through a translator that the pair "decided to leave the past behind" and "are about to make a historic change." He also expressed "gratitude" toward Trump for joining the talks. Trump said they would begin the denuclearization process "very quickly" and, in response to shouted questions from reporters, said the two would "meet many times" in the future.Slideshow: Historic summit between Trump and North Korea's Kim in Singapore >>>
President Trump holds up a document signed by himself and North Korean leader Kim Jong Un. (Photo: Saul Loeb/AFP/Getty Images)Their statement described the initial summit as "an epochal event of great significance in overcoming decades of tensions and hostilities between the two countries and for the opening up of a new future."Their remarks echoed positive comments they made throughout their hours of meetings at the Singaporean resort of Sentosa Island on Tuesday. It was the first meeting between a sitting U.S. president and a leader of North Korea since the country's founding in 1948, when the Korean Peninsula was divided and Kim's family began its rule. For most of the ensuing 70 years, the U.S. has technically been at war with the repressive regime, because the Korean War ended in 1953 with an armistice rather than a formal peace treaty.The sight of the two men walking side by side and praising each other before the cameras was a stark contrast to the first year of the Trump administration, when the pair regularly exchanged threats as Kim conducted repeated nuclear missile tests and ramped up tensions in the region to their highest level in decades. Trump's road to the summit began late last year, when Kim made a series of overtures to South Korea, a U.S. ally, that culminated in talks between the two neighbors. Kim also made gestures toward the U.S., including the release last month of American detainees that had been held in North Korea.Despite the optimism Trump and Kim expressed at their meeting, the agreement they signed contained few specifics of how the pair would move toward peace. There was no description of which programs North Korea would have to cease to be considered denuclearized — or how its cooperation would be monitored. North Korea and the U.S. do not have formal diplomatic relations. While the statement promised that there would be "new" relations between the two countries, it did not say at what level or provide any information about any potential withdrawal of the stiff sanctions the U.S. has imposed on North Korea.
President Trump shakes hands with North Korea leader Kim Jong Un at the Capella resort on Sentosa Island Tuesday in Singapore. (Photo: Evan Vucci/AP)The joint statement signed by Trump and Kim included four key points. The pair pledged "to establish new U.S.-DPRK relations in accordance with the desire of the peoples of the two countries for peace and prosperity." Trump and Kim promised to join their efforts "to build a lasting and stable peace regime on the Korean Peninsula." Kim reaffirmed a declaration he adopted during his April meetings with South Korea to work with that country on a formal end to the Korean War. Last, Trump and Kim said they would cooperate on recovering remains of prisoners of war and soldiers missing in action from that conflict "including the immediate repatriation of those already identified."Trump and Kim's joint statement was not distributed to the press at the signing. Yahoo News was able to obtain the text by zooming in on photos of the documents the pair displayed at the event.Perhaps the most concrete outcome of the statement was a commitment to "hold follow up negotiations led by the U.S. Secretary of State Mike Pompeo and a relevant high-level DPRK official at the earliest possible date."Trump and Kim shook hands before the latter's departure Tuesday afternoon. As they bid farewell, Trump responded to shouted questions from reporters. He said they planned to meet "many times." Trump was also asked if he would invite Kim to the White House."Absolutely I will," Trump said.
Winners and losers from the Trump-Kim summit  By Callum BorchersJune 12 at 8:58 AMEmail the author by The Washington Post
Trump's 'astonishing' concession to Kim Jong Un and North Korea
James Kitfield Yahoo News•At Tuesday's press conference in Singapore following his meeting with North Korean leader Kim Jong Un, President Trump surprised America's Asian allies, and reportedly his own Pentagon, by surrendering a major bargaining chip in the form of U.S.-South Korea military exercises."We will be stopping the war games, which will save us a tremendous amount of money, unless and until we see that the future negotiation is not going as it should," Trump told reporters, referring to the annual exercises as "provocative." "At some point, I have to be honest — I used to say this during my campaign … I want to get our soldiers [in South Korea] out. I want to bring our soldiers back home."Related SearchesTrump Meets Kim Jong UnPresident Trump And Kim Jong UnTrump And Kim Jong Un LiveTrump Kim Jong Un SummitDonald Trump And Kim Jong UnAs was the case when Trump fulfilled other controversial campaign pledges in the foreign policy arena — including scuttling the Trans-Pacific Partnership trade agreement, the Paris climate accord and the Iran nuclear agreement, his comments sent shudders through the already shaky architecture of military alliances that undergird U.S. global power. Abandoning joint military exercises will immediately begin to degrade the readiness and deterrent posture of the 32,000 U.S. troops in South Korea, military experts say.Retired Adm. Harry Harris, the former head of U.S. Pacific Command and the Trump administration's chosen ambassador to South Korea, explained the logic behind the military exercises in congressional testimony last year. "We are obliged to defend South Korea by treaty. They have a strong and capable military, as we do. But if we're going to defend or if we're going to fight with them on the peninsula then we have to be able to integrate with their military," Harris told the House Armed Services Committee. "We have to maintain our degree of readiness, not only unilateral readiness, but also our combined and joint readiness with our brothers and sisters in the ROK [Republic of Korea] military."Equally surprising as Trump's military announcement was the fact that he reportedly took this unilateral step without notifying South Korean and Japanese allies, or the Pentagon. The cancellation of the exercises has been a North Korean priority for decades, and in calling them "war games" and "provocative," Trump adopted the rhetoric of Pyongyang.
Marines of South Korea and the U.S aim their weapons during joint military exercises. (Photo: Lee Jin-man/AP)"What's really disconcerting is that Trump announced unilaterally to the leader of North Korea that the United States is going to stop military exercises with our allies, without first telling our allies or even the Pentagon. That's astonishing," said Michael Green, a senior vice president for Asia at the Center for Strategic and International Studies (CSIS) and a former senior director for Asia on the National Security Council. "Then Trump says he'd like to pull U.S. troops out of Asia, which is a real heart-warming development for Beijing and Moscow, who want nothing more than to weaken and eventually unravel our alliances. So this is a pretty stunning development."Before the summit Trump suggested that Kim's two meetings with Chinese President Xi Jinping in the run-up to talks had hardened Pyongyang's positions. Some China experts believe that Xi specifically asked Kim to bring up the military exercises as a major issue for discussion. Trump's subsequent remarks about wanting to withdraw forward-deployed U.S. troops from Asia was a further boon to China's strategic aspirations. As former BBC bureau chief Paul Danahar noted in a tweet, the Chinese Foreign Ministry announced that Trump would suspend military exercises with South Korea even before Trump announced it at his own press briefing. "That suggests Kim's people were on the phone to Beijing straight after the meeting cos they recognized how big a concession it was," Danahar tweeted."Beijing was unhappy when Kim announced that he was unilaterally freezing his missile and nuclear weapons tests, and I believe the Chinese encouraged him to put the issue of also freezing the U.S.-ROK military exercises on the table in their discussions," said Bonnie Glaser, director of the China Power Project at CSIS. "Certainly it was astonishing to hear President Trump talk about these exercises as 'war games' and 'provocative,' which is language taken right out of Pyongyang's playbook. Trump's message that he wants to pull U.S. troops out was just further music to China's ears."Even in the unlikely event that North Korea actually surrenders its nuclear weapons, it will still possess large stockpiles of chemical and biological weapons, a 1.2 million man army, and enough conventional firepower to raze the South Korean capital of Seoul in the opening days of any conflict. Meanwhile, the U.S.-ROK deterrent posture against those formidable forces will continue to degrade as long as the freeze of joint exercises lasts, and will deteriorate even faster with continued talk of a withdrawal of U.S. troops.Retired four-star Gen. Barry McCaffrey is the former chief of U.S. Southern Command. "I believe it was entirely inappropriate for President Trump — who has no understanding of nuclear weapons and strategic alliances and was completely unprepared — to meet alone with the North Korean dictator without so much as a note-taker present," he told Yahoo News in an interview. "I'm very concerned that Trump signaled that if Kim gives up his nuclear weapons, then the United States will withdraw our troops from South Korea. Once you start that process it's a one-way street of retreat from the Pacific Rim, which would leave our allies to confront a belligerent North Korea and an aggressive and massively armed China alone."
House GOP reaches deal to vote on immigrant legalization bill
Romania's president considers referendum on justice system

Associated Press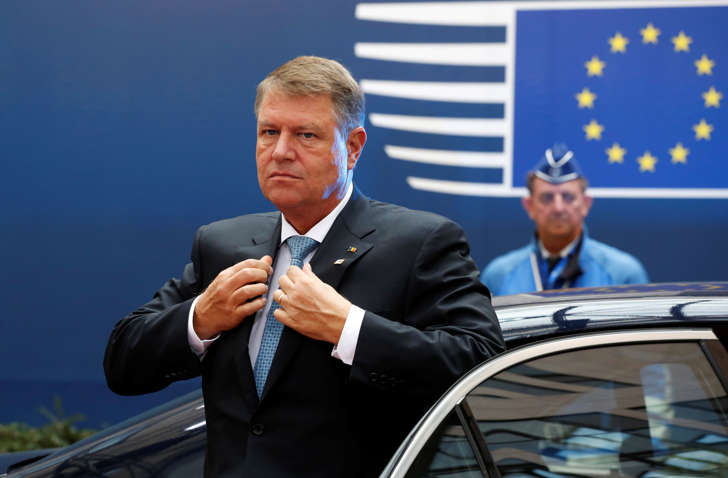 BUCHAREST, Romania — Romania's president says he is considering a referendum on the justice system amid a contentious overhaul of the country's laws and ongoing anti-corruption protests.President Klaus Iohannis spoke Tuesday about a May 30 constitutional court ruling ordering him to dismiss chief anti-corruption prosecutor Laura Codruta Kovesi after the justice minister said she hadn't done her job properly.Iohannis said the ruling raised questions about the roles of the president, the prosecutors and the justice minister.He accused the ruling Social Democratic Party of trying to diminish the role of the president with its overhaul of the justice system, which has sparked regular protests because of fears it would threaten judicial independence.
Ukraine, Russia fail to agree on UN peacekeeping mission

Reuters
Bucharest mayor booed at Halep event
The foreign ministers of Russia, Ukraine, Germany and France met in Berlin on Monday to discuss the implementation of a fragile ceasefire for Ukraine and the deployment of a UN peacekeeping mission in the country's conflict zone.German Foreign Minister Heiko Maas said after the four-way talks that Russia and Ukraine agreed in principle on a UN peacekeeping mission, but their ideas about how to implement it were still "very much apart.""Regarding the parameters of a possible UN mission for Eastern Ukraine, we agreed to instruct our political directors to continue negotiations not about if but how such a mission could happen and discuss this in the coming weeks," Maas said.It was the first meeting of the foreign ministers since February 2017, though lower level officials have met regularly in the past four years in the so-called Normandy format to try to resolve the separatist conflict in Eastern Ukraine, in which more than 10,000 people have been killed.Relations between Moscow and Kiev have been tense since a popular uprising drove a pro-Russian president from power in 2014. Russia went on to annex Crimea from Ukraine and backed a pro-Russian separatist insurgency in the country's east.A ceasefire agreement that was signed in February 2015 in Minsk has failed to end the violence, with fighters from both sides violating the peace plan on a nearly daily basis."We know that there was a lack of will to implement these commitments in the past," Maas said in a joint news conference with his French counterpart Jean-Yves Le Drian.Maas said all sides agreed that they should stick to the Minsk peace plan from now on, including the removal of heavy weaponry from combat zones and a further exchange of prisoners.France and German also offered Ukraine and Russia logistical help for the securing of minefields in the combat zones, he added."I am firmly convinced that the political negotiations today are also exerting pressure on the ground," Maas said, despite the apparent lack of progress in the negotiations.(Reporting by Michael Nienaber; Editing by Toby Chopra and Leslie Adler)
Hungary PM welcomes Italy's refusal to let migrant rescue ship dock

Reuters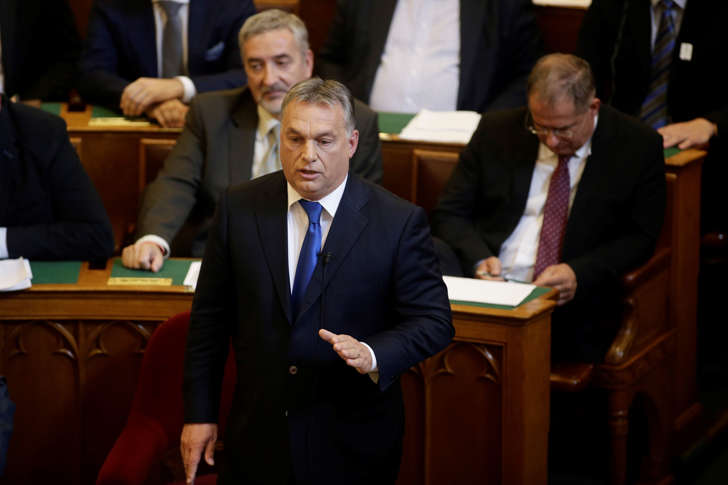 Hungarian Prime Minister Viktor Orban welcomed a decision by Italy not to allow a charity vessel crammed with rescued migrants to dock in Italian ports, saying it showed a will to protect maritime borders "at last".Italy plans to transfer the migrants onto other vessels and sail them all to Spain, despite appeals from humanitarian groups to let the group disembark immediately."It was so depressing to hear for years that it is impossible to protect maritime borders," Orban told a news conference. "Will power has returned to Italy." (Reporting by Krisztina Than Editing by Robin Pomeroy)
Romania: Cheers for Simona Halep, jeers for Bucharest mayor

Associated Press
The fans gathered on a hot Monday evening in Bucharest's giant National Arena to see Halep show off her French Open trophy.
But when Bucharest Mayor Gabriela Firea appeared on stage next to Halep, the cheers turned into jeers.
Firea hit back, claiming civic groups allied to Hungarian-American billionaire George Soros conspired to "compromise the event."
The No. 1-ranked Halep beat Sloane Stephens 3-6, 6-4, 6-1 in the final in Paris on Saturday. It was her first major singles title after losing three previous finals, including in January at the Australian Open.
Halep is the first Romanian to win a Grand Slam title since her manager, Virginia Ruzici, won the French Open 40 years ago, and the third overall.