Dear Floridians, Why Aren't You Doing Hurricane Prep?
Daniel Caughill ValuePenguin
Dear Floridians, Why ArenWaiting out a hurricane can be seen as a rite of passage for true Floridians, on par with tolerating the annual pilgrimages of snow birds and spring breakers—or seeing an alligator in your neighbor's pool.This shouldn't surprise you; 36% of all hurricanes that landed on U.S. soil from 1900 to 2000 hit Florida, according to the National Oceanic and Atmospheric Administration (NOAA). What is surprising, however, is that on the whole, Floridians aren't all that good at preparing for these storms.According to a recent survey by Origin Global, more than half of Florida's residents fail to take any of the recommended precautions to protect their homes from hurricane damage, such as installing impact-resistant doors, windows or roof shingles, or even storm shutters."Our findings show that, despite the severity of last year's hurricane season and the susceptibility of Florida to the elements, a surprising number of residents have not protected their homes against damage which could potentially cost them thousands of dollars to repair," said Joe Halsall, a spokesman for Origin Global.
| Recommended safety measure | Residents who take action |
| --- | --- |
| Emergency supplies | 30.9% |
| Storm shutters | 18.3% |
| Impact-resistant windows | 18% |
| Provision to secure outside objects | 16.4% |
| Roof protection | 14.6% |
| Impact-resistant doors | 13.2% |
| None of the above | 50.2% |
When you live in a state where named tropical storms are just another rainy day, there are certain precautions you should take to protect your home. And while you might want to replace your old patio furniture, there are more responsible ways to dispose of it than by simply allowing it to blow through your neighbor's living room wall.
Violent winds blow away patio furnitureWell, it's their problem now Of course, failing to prepare for a hurricane can put your personal property at risk. This alone should be enough incentive to take precautions and to make sure you're covered by a flood insurance policy. However, not following the recommended steps presents broader implications for the National Flood Insurance Program (NFIP) as a whole, and it means you're probably missing out on some valuable insurance discounts, too.The side-effects of not preparing for a hurricaneThe United States suffered an estimated $265 billion in losses last year from just three hurricanes—Harvey, Maria and Irma—according to the NOAA.In regions where houses were submerged by rising water, much of these losses were inevitable. However, if your house only experienced moderate flooding that could have been mitigated if proper precautions were taken, protecting your own property wouldn't have been the only benefit.Overburdening the NFIP The NFIP has run at a deficit since 2005, and to date it carries $24.6 billion of debt. Deficient premiums are a large part of the reason the program takes in less than it pays out, and despite recently announced rate hikes, it still won't be collecting enough to cover its debt and pay for 2018's anticipated claims.However, if property owners in Florida aren't doing everything they can to minimize hurricane damage, they're contributing to this burden as well, and they could be drawing funds from people who might need them more.Missing homeowners insurance discounts Some people are surprised to learn they need both a flood and homeowners insurance policy. Since flood damage can be so destructive, most homeowners insurance companies exclude floods from their coverage. Additionally, in some hurricane-prone areas, you might need separate windstorm coverage as well. However, homeowners policies still protect your home against some wind damage in addition to a host of other perils. Because of this, insurance companies my offer you a discount for windproofing your home.
Strong winds from Tropical Storm Bud hit Mexico's Los Cabos
JULIET WILLIAMS,Associated Press•
Palm trees bend in heavy winds along the ocean coast as seen from the Marquis Los Cabos Resort, in San Jose del Cabo, Mexico, Thursday, June 14, 2018. Tropical Storm Bud continued to weaken as it neared the southern end of the Baja California peninsula and its popular resorts on Thursday. (AP Photo/Juliet Williams)SAN JOSE DEL CABO, Mexico (AP) — Tropical Storm Bud lashed the southern end of Mexico's Baja California Peninsula, home to the popular beach resorts of Los Cabos, with heavy winds Thursday as locals and tourists braced for an expected landfall later in the day.The tops of palm trees whipped about in the gale and waves pounded the sand. The U.S. National Hurricane Center said tropical storm-force winds had reached the peninsula even as Bud's center was still about 30 miles (50 kilometers) south of Cabo San Lucas.Related SearchesHurricane Bud PathHurricane Bud And Cabo San LucasHurricane Cabo 2018Hurricane Bud CaboLos Cabos MexicoMemories are still fresh of the extensive damage done in 2014 by a direct hit from Category 3 Hurricane Odile, and hotel operators were taking no chances.Workers at the Marquis Los Cabos hotel in San Jose del Cabo spent the last three days battening down the hatches — anchoring palm trees and using tarps to cover large windows that had all shattered during Odile. On Wednesday evening they removed beach chairs and umbrellas, and workers said the hotel had a safe room for guests if necessary.Overall, however, there was a sense of relief that Bud had been sapped of most of its punch from when it was a Category 4 hurricane two days earlier with maximum sustained winds of 130 mph (210 kph).By Thursday wind speeds had dropped to 45 mph (75 kph), strong enough to potentially do some damage, but likely nothing resembling the devastation wrought by Odile four years ago.The international airport appeared to be operating normally in the afternoon.Rodrigo Esponda, managing director of the Los Cabos Tourism Board, said all measures to protect the community and tourists were in place.For a tropical storm that means things like securing outdoor furniture to keep it from being hurtled around by the winds, but not evacuations or putting guests in shelters."That is done when you have a hurricane that is Category 2 or 3 or more," Esponda said.Esponda said that in the wake of the 2014 hurricane, authorities reviewed storm protocols and made some changes such as outfitting certain officials with satellite phones to communicate no matter what. Authorities periodically review storm preparedness at hotels and ensure employees have the right training in how to react."There were many, many, many, many lessons learned after Hurricane Odile. … There could be some eventuality depending on mother nature, but the lessons are definitely there," he said.Bud, the second named storm of the 2018 Pacific hurricane season, was moving toward the north-northwest at 7 mph (11 kph) and further weakening was expected, but it was forecast to still be at tropical-storm strength when it reaches land later in the day.After it crosses over the peninsula, the storm is then projected to move over the Gulf of California as a tropical depression and make a second landfall on the Mexican mainland by Friday night.A tropical storm warning was in effect for the Baja coast from Santa Fe to the state capital, La Paz, and tropical storm watches were issued for a stretch of the peninsula north of La Paz and from Altata to Huatabampito on the mainland.The Baja California Sur state government said the ports of Los Cabos were closed to all watercraft beginning midday Wednesday.The hurricane center said the storm could cause dangerous surf and bring 2 to 4 inches of rain to southern Baja California Sur and Sonora states on the mainland, threatening floods and landslides.Cabo San Lucas and San Jose del Cabo receive millions of international and domestic tourists each year.Also Thursday a tropical depression formed in the afternoon off southern Mexico, about 90 miles (150 kilometers) south-southwest of Acapulco.The hurricane center forecast it to strengthen into a tropical storm Friday and approach land by the weekend. The new storm was expected to dump 4 to 6 inches of rain along the coast of Guerrero state, including Acapulco._Associated Press writer Peter Orsi contributed from Mexico City.
News National Weather Service confirms 2 Pennsylvania tornadoes
Associated Press•Raw: Possible Tornado Strikes NE Pennsylvania WILKES-BARRE, Pa. (AP) — National Weather Service officials confirmed Thursday that two tornadoes touched down late Wednesday in northeast Pennsylvania, causing severe damage to a major commercial district and destroying homes.The National Weather Service in Binghamton, New York, sent teams Thursday to two counties in Pennsylvania to determine if tornadoes were part of a severe weather system that also destroyed box stores, smashed cars and left at least six people injured.Related SearchesPennsylvania Tornado 2018Storm Damages PennsylvaniaThe National Weather ServiceTornadoes In PaPhotos and videos of the aftermath show a shopping center in Wilkes-Barre, about 110 miles (177 kilometers) north of Philadelphia, with roofs torn off, cars overturned and storefronts shattered. Similar photos surfaced Thursday morning from Granville, Franklin and Leroy townships, about 90 miles (145 kilometers) further north of Wilkes-Barre, showing collapsed structures and shattered windows.The investigators' report from Wilkes-Barre said the tornado damage was consistent with an EF2-strength tornado, meaning the average wind speed reached between 111 and 135 mph. Tornadoes are categorized from EF0, which are weaker with wind speeds between 65 and 85 mph, to EF5, which are considered violent with wind speeds of more than 200 mph.The report said winds likely hit 130 mph as the tornado traveled about half a mile after first touching down near the Wyoming Valley Mall. Investigators said "structures were sheared off near their foundation" when describing the damage.The preliminary report from Franklin Township in Bradford County said damage there was also consistent with an EF2 tornado. More details about the path, the width and damage were expected to be released later Thursday.In Wilkes-Barre, city and county officials had closed roads around the damaged shopping centers because of downed power lines and damage to a propane cylinder that was still leaking as of midmorning Thursday.Luzerne County Emergency Management Agency volunteer Garrett Hittle said crews were working to stabilize the propane cylinder Thursday afternoon. Hittle said there were reports of six storm-related injuries that were not life threatening and did not require anyone to be admitted to a hospital.Gov. Tom Wolf toured the damage with reporters and first-responders and briefly spoke about how fast storms like the one Wednesday night move. He said was working with county and state officials to determine if the storm would qualify for federal disaster aid.Joy Frie told The (Wilkes-Barre) Citizens' Voice that staff and patrons huddled in the kitchen of the bar where she works until they could escape to another business."The doors were busting open. Almost everyone's cars in the parking lot were destroyed," the 18-year-old said.In Bradford County, damage was reported in three neighboring townships, but emergency personnel said there were no reports of injuries.Jeff Scarboro, the director of public safety and emergency management for the county, said there were about 10 homes with varying reports of damage some of which appeared to be destroyed."There were initial reports of entrapments with building collapses and debris, but local fire departments helped with removal from those properties," Scarboro said.Scarboro said some of the rescues included at least one person in a wheelchair who needed help because of debris and older couples who were trapped in storm cellars by debris._Associated Press reporter Claudia Lauer in Philadelphia contributed to this report.
1. Atmospheric cooling One of the shorter-term benefits could be observed with recent large eruptions including 1991's Pinatubo eruption in the Philippines and 1982's El Chichón eruption in Mexico, which both exploded ash and sulfur gas into the stratosphere, according to Gregg."The sulfur gas combines with water in the atmosphere, creating microscopic droplets that can stay in the atmosphere for years," Gregg said. "The effect of those aerosol droplets is cooling the lowest level of the atmosphere, which is the level in which we live and breathe."Both eruptions cooled the atmosphere about over a half a degree Celsius, she said. "It doesn't sound like a lot, but when we're talking about anthropogenic global climate change, volcanoes have actually helped to keep the world about 2 to 3 degrees cooler than it otherwise may be," she added.
2. Land formation A long-term benefit of volcanic activity is seen in the Hawaiian Islands' very existence."We're seeing this right now on the Big Island of Hawaii with Kilauea's current eruption, as lava is pouring into the ocean and creating new land," Gregg said. "All of the land in the Hawaiian Islands was created this way." This land formation can take thousands of years, she added.
3. Water production Over 4.5 billion years, the amount of water that has been produced by volcanoes has actually given us the water that we have on Earth, Concord University volcanologist Dr. Janine Krippner told AccuWeather."It comes out of steam," Krippner said. "Over time, it's just built up the water that we have on this planet. Water can actually come out of magma itself, as well."Volcanoes have also helped create a large portion of Earth's atmosphere, she added.
4. Fertile land Fertile soil is another advantage of volcanic activity. "In places like Japan, Indonesia, Philippines and Hawaii, volcanic material mixed in with the soil provides a lot of important nutrients," Krippner said. "It gives us really fertile soils, which are great for farming and crops."Volcanoes also provide a good environment for the formation of new habitats for animals, plants and insects, she said.
5. Geothermal energy Hot springs and geothermal energy are additional benefits. "People use geothermal energy in places like New Zealand and Iceland," Krippner said.Places on Earth with the highest underground temperatures are located in regions with active or geologically young volcanoes, according to the Union of Concerned Scientists.The most active geothermal resources are normally found along major plate boundaries where volcanoes and earthquakes typically occur, like the Ring of Fire, according to the University of Colorado Boulder.
6. Raw materials Sulfur, copper and gold are produced from volcanic activity, Krippner said. Diamonds are also brought up to the surface from the mantle from a rare kind of magma, called kimberlite."Volcanoes also provide a lot of building materials," Krippner said. "Volcanic material can be made into blocks, and lot of the materials are mined, especially in places like Indonesia, where it's used for conglomerate building blocks."The volcanic material can be ground down to help make cement, she added.
News
Low on snow: Norway's power prices soar as dry spring gulps down reservoirs
By Lefteris Karagiannopoulos
,
Reuters
•
By Lefteris Karagiannopoulos OSLO (Reuters) – Norway, Europe's largest hydropower producer, faces higher energy costs this summer as much of the snow accumulating in its mountains evaporated or melted into the ground during a shock heat wave, its water resources and energy regulator said.Following an unusually cold winter that depleted power producers' reservoirs more than usual, companies had relied on a gradual spring melt to replenish dams, but projections now show this is no longer feasible, the NVE directorate told Reuters."Some customers may not be happy with their power bill in 2018, but that is the cost of a weather dependent power system. In wet and normal years, power prices tend to be lower," NVE adviser Martin Andreas Vik said.With about 96 percent of Norway's energy needs covered by electricity from hydropower, the expected lower reservoir levels drove spot power prices to above 45 euros per megawatt hour on average this week, double year-on-year.From mid-May to early June, temperatures in southern Norway hit records for that time of the year, exceeding 30 degrees Celsius (86 Fahrenheit) and leading many municipalities to ban outdoor barbecuing to prevent fires."This is the driest three-week period ever recorded, with measurements from 1958 until today," Vik said, as projections showed more snow had evaporated or melted into the ground than had flowed into reservoirs."The melting season is not over, but we have less snow left in Norway than normal," Vik added.By June 3, the remaining snow that had yet to melt in mountain regions corresponded to an estimated future power output of 10 Terawatt hours, as opposed to 32 TWh in a normal year, he said.By June 11, Norway's reservoirs were 56.8 percent full, still higher than last year's 54.7 percent, but with much less snow left to melt it was only rain that could significantly increase it.Last year, reservoir fillings peaked at 86.5 percent in late October. In 2018, the peak will come much earlier as Norway has so far received 25 TWh less rain and snow than normal, equal to 30 percent in reservoir capacity, NVE said.While the cold winter and subsequent smaller inflows drove Norway's prices higher, they were not the only market driver, Vik said.Increasing CO2 and coal prices, combined with low wind power production in Europe, made Norwegian electricity more competitive to export, and even during the dry period Norway continued to supply its neighbors through interconnections.
(Editing by Terje Solsvik; Editing by Edmund Blair)
U.S.Colorado wildfires displace thousands, prompt national forest closure
By Keith Coffman Reuters•
Colorado wildfires displace thousands, prompt national forest closureBy Keith Coffman DENVER (Reuters) – Firefighters battled to gain control over several large wildfires in Colorado on Tuesday, including two blazes at opposite ends of the state that have prompted the evacuation of more than 3,500 homes and the closure of a national forest.The largest and most threatening blaze, a 12-day-old conflagration dubbed the 416 Fire, has scorched more than 23,000 acres (9,461 hectares) of drought-parched grass, brush and timber at the edge of the San Juan National Forest near the southwestern Colorado town of Durango.Fire crews made some headway against the blaze on Tuesday, managing to extend containment lines to 15 percent of the fire's perimeter, up from 10 percent on Monday, despite persistent hot, dry conditions and fierce winds of up to 25 miles per hour (40 km/h).Some 2,150 dwellings remained under evacuation orders and residents of another 500 homes were advised they, too, might have to flee at a moment's notice, La Plata County officials said. Significant rainfall was not expected before this weekend.The 416 Fire and a separate blaze burning nearby, the so-called Burro Fire, also prompted state parks officials to close several wildlife areas to the public. The U.S. Forest Service shut down all 1.8 million acres of the San Juan National Forest to visitors on Tuesday.However, firefighters were counting on some relief from a promising shift in weather patterns forecast for Friday, some of it associated with Hurricane Bud.Far across the state about 60 miles (95 km) west of Denver, a newer blaze called the Buffalo Mountain fire prompted the mandatory evacuation of 1,380 homes after blackening a comparatively small area of just 100 acres, Summit County officials said.A total of at least seven major wildfires were raging in parts Colorado on Tuesday, marking the biggest concentration of roughly 30 blazes burning across nine Western states as the 2018 summer wildfire season heated up across the region.In southern Wyoming near the Colorado border, the so-called Badger Creek Fire in Medicine Bow National Forest grew up to 5,200 acres late Tuesday, from just 150 acres a day earlier, as evacuation orders were expanded to nearly 400 homes in Albany County, according to the Inciweb online U.S. fire information service.(Additional reporting by Steve Gorman in Los Angeles and Bernie Woodall in Fort Lauderdale, Fla. Writing by Steve Gorman; Editing by Andrew Heavens and Steve Orlofsky)
Science Antarctic Ice Sheet Is Melting Way Faster Than Expected, Scientists Warn
Video: How Thwaites Glacier Provides Insights Into Climate Change For more news videos visit Yahoo View."The ice sheet is now losing three times as much ice," Shepherd told NPR, adding that the annual sea level rise attributed to Antarctica has similarly tripled ― from 0.2 mm to 0.6 mm."That's a big jump, and it did catch us all by surprise," Shepherd said.It's "possible that Antarctica alone can add about half a foot to sea level rise by the end of the century," Shepherd said in an interview with The Associated Press. He noted that climate change is the only plausible cause of this increased ice melt.
Al Gore@algoreNew, startling evidence of ice sheet melt in Antarctica that poses a grave threat to humanity. We have the tools to solve the climate crisis, we just need the will to act. Make your voice heard and get involved @ClimateReality. https://wapo.st/2l5EyKT?tid=ss_tw&utm_term=.91e9cf0da66f …
Antarctic ice loss has tripled in a decade. If that continues we are in serious trouble.Antarctica lost 3 trillion tons of ice in the last 25 years – and the losses are getting faster.washingtonpost.comScientists warn that Antarctica's rapid melting could mean countries now have even less time to take action against climate change if they hope to protect vulnerable communities from rising sea levels. A separate study, also published in Nature this week, said governments will need to take action within the next decade to prevent the worst impacts of Antarctic melt. The Atlantic noted this week that millions of people on the U.S. East Coast  could be displaced from their homes by the end of the century because of melting in parts of western Antarctica ― which scientists have identified as being the source of most of the recent melting.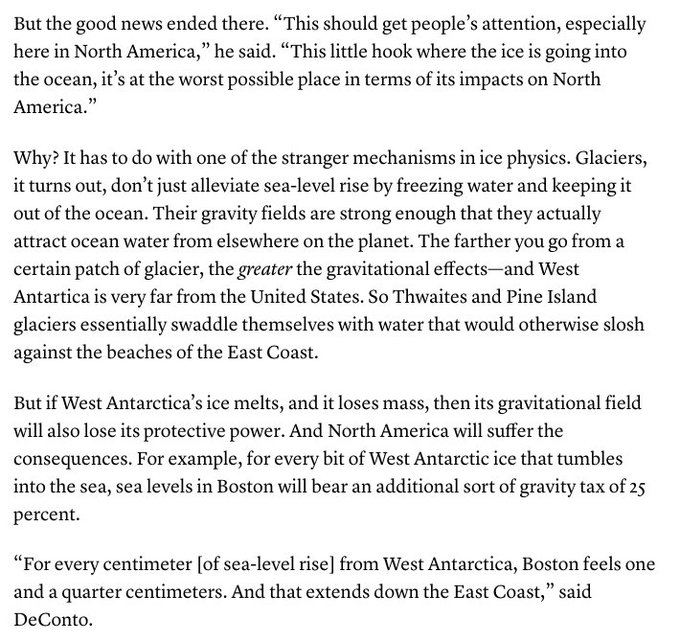 Robinson Meyer@yayitsrob Bad news: Antarctica is melting.Worse news: Antarctica's melt rate has tripled since 2012. Worst news: It's losing mass in almost precisely the spot that will most hurt North Americans. https://www.theatlantic.com/science/archive/2018/06/after-decades-of-ice-loss-antarctica-is-now-hemorrhaging-mass/562748/ …Scientists involved in the new study said people should be concerned by the findings, but there was still time to take action.  "I think we should be worried. That doesn't mean we should be desperate," Velicogna told AP. "Things are happening. They are happening faster than we expected."
'Selfie death' as British woman plummets 30 metres from picturesque sea wall
James Badcock,The Telegraph•
The sea wall is dangerous, locals have said – Universal Images Group EditorialA British woman plunged to her death, along with her partner, while taking a selfie on a picturesque wall in Portugal, according to local authorities.Perth man Michael Kearns, 33, Louise Benson, 37, his British partner, fell 30 metres off a beach wall and were found by shocked locals early on Tuesday morning.His mother confirmed to local media that she had been notified of his death in the early hours of the morning in Perth.She said the couple had left Australia in January on a holiday and had attended a friend's wedding in Portugal in recent weeks.A mobile phone was found on the top of the wall overlooking the beach in the seaside town of Ericeira, where the bodies of the couple were found on Tuesday morning.Rui Pereira da Terra, the captain of the maritime authority in Cascais, said the two victims appeared to have lost their balance while taking a photograph overlooking Fishermen's Beach.
Louise Benson fell to her death"Everything seems to indicate that the fall happened when they were probably trying to take a selfie," he said."As we found a mobile phone on the wall, our theory is that they were taking a selfie, but they dropped the phone and leaned to grab it and fell," Mr Pereira da Terra told the Portuguese Lusa news agency.Locals have said the wall is dangerous, and have asked for something to be done about it.Pedro Fernandes Tomas wrote on Facebook: "With the fall of a couple of tourists from the cliff of fishermen's beach in ericeira (30 meters high) it is urgent to rethink the security of that area. The locals know about the danger there, low wall and no protection net."With the growing influx of tourists there are measures that need to be taken, from the case I have already mentioned, but also at the level of regulation and effective monitoring of the numerous economic activities operating in the tourism sector. "
The fishing village Ericeira Credit: Martin Zwick/REDA&CO/UIG via Getty ImagesSusana Esmareldo agreed, writing: "I agree with you Pedro. I've always thought there's a protection net missing, because the wall is low. I hope that action will be taken in the resolution of a protection policy."Ericeira is a popular tourist town around 25 miles northwest of Lisbon.The accident is believed to have occurred between 1.00am and 6.00pm. The bodies were reportedly found by a council beach cleaner, who alerted the authorities at 6.30am.The police inspected the scene and quickly ruled out any suspicions of foul play, Mr Pereira da Terra said. The bodies were taken to the Institute of Legal Medicine in Torres VedrasPhotographs of the accident scene showed two bodies covered in white sheets on the sand close together at the foot of the wall near a sign warning of the possibility of loose stones falling onto the beach.  The Foreign Office confirmed the woman involved in the tragic accident was British, and told The Telegraph: "We are in touch with local authorities following the death of a British woman in Portugal and are providing support to her family'."Friend, John Keogh, paid tribute to Louise Benson on Facebook: "It can be such a cruel world we live in. RIP Louise Benson yet again another great soul took away (sic) from us far too early. My condolences to all the family and loved ones."Liz Catchpole wrote: "No words can describe what we have lost. Louise Benson you had a passion for life. I will never forget you rocking up to The Adventure Club to do your DMT.. A quiet, not for long tho, Bristol girl who just loved life. Your smile infectious, your laugh amazing, your friendship invaluable … in shock and speechless, you will be missed and I will miss you so much."
2 tourists fell to their death in Portugal after apparently trying to take a selfie at the top of a 130-foot wallBusiness Insider•
2 tourists fell to their death in Portugal after apparently trying to take a selfie at the top of a 130-foot wallA couple who are believed to be from Britain and Australia have fallen to their deaths in a Portuguese beach town. Rescue services said the evidence suggests the couple were taking a selfie next to the 130-foot (40m) tall beach wall and lost their balance. Portugal's Correio de Manha reported that their bodies were found by a beach cleaner on Tuesday morning on the Praia dos Pescadores (Fishermen's Beach) near Ericeira. Rescue service chief Rui Pereira da Terra told the Portuguese news agency Lusa: "Everything seems to indicate that the fall happened when they were probably trying to take a selfie. "Since we found a mobile phone on the wall, everything suggests the victims might have been taking