Trump to slap tariffs on nearly $50 billion in Chinese goods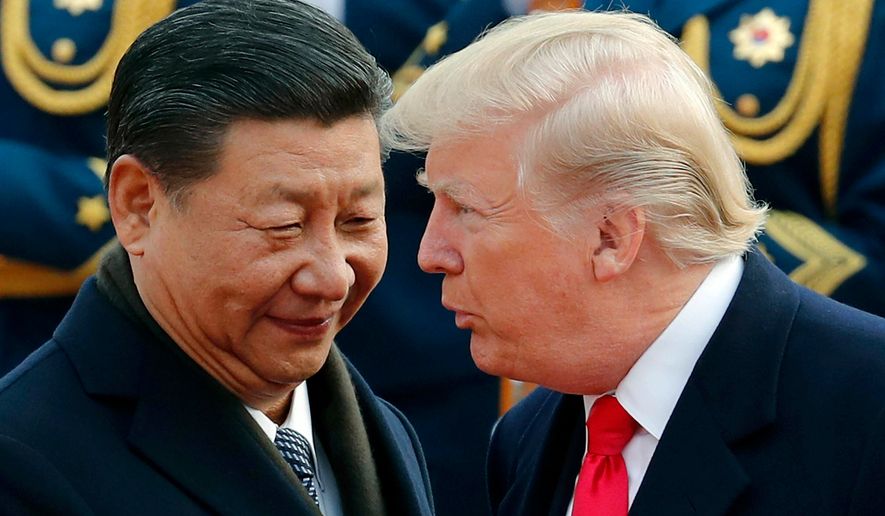 FILE – In this Nov. 9, 2017, file photo, U.S. President Donald Trump, right, chats with Chinese President Xi Jinping during a welcome ceremony at the Great Hall of the People in Beijing. The Trump administration has once again declined … more >By S.A. Miller – The Washington Times – Updated: 8:45 p.m. on Thursday, June 14, 2018 President Trump is ready to slap tariffs on nearly $50 billion in Chinese goods, according to reports, reigniting fears of a trade war between the world's two largest economies.The president is due to announce the tariffs after the original batch — on about 1,300 Chinese products — was put on hold for trade talks.The announcement is expected to slightly trim the original list that was valued at $50 billion worth of goods.China warned against proceeding with the tariffs."The first choice is cooperation and mutual benefit. The other choice is confrontation and mutual loss. China chooses the first," said Chinese State Councillor Wang Yi. "We hope the U.S. side can also make the same wise choice. Of course, we have also made preparations to respond to the second kind of choice."Mr. Trump is using the import tax to counter China's trade barriers and unfair trace practices, which the president says contributes to America's $375 billion trade defect with China.
Trump seen in awkward exchange of salutes with North Korean general on state TV
MORGAN WINSOR Good Morning America
Trump seen in awkward exchange of salutes with North Korean general on state TVU.S. President Donald Trump saluted a North Korean general in an awkward moment captured on video and broadcast by North Korean state media Thursday.The brief interaction was featured in a 42-minute-long program about Tuesday's unprecedented summit between Trump and North Korean leader Kim Jong Un. The program, narrated by North Korea's most famous newscaster, Ri Chun-hee, aired on state-run television two days after the summit in Singapore and a full day after Kim returned home to his country's capital, Pyongyang.In the video, Trump can be seen going to shake the hand of a North Korean general, who salutes the American president instead. Trump then returns the salute before the two finally shake hands, while Kim looks on as a grin spreads across his face.
PHOTO: Video shown by North Korean state television shows President Donald Trump saluting a member of the North Korean military while North Korean leader Kim Jong Un looks on during a summit in Singapore, June 12, 2018. (APTN)
PHOTO: President Donald Trump and North Korean leader Kim Jong Un are pictured at their summit in Singapore in video shown on North Korean state television. (APTN)The footage also offered a rare, behind-the-scenes look at Kim's trip, including his arrival in Singapore on a chartered Air China flight and his motorcade driving past what appeared to be a warm welcome from throngs of people crammed on the streets.In the video, Kim can also be seen lounging in his swanky room at the St. Regis Singapore, one of the most luxurious hotels on the island city-state, and heading out for an evening tour the night before the summit.North Korean viewers had to wait almost 20 minutes into the program for Trump's first appearance. The video included the lengthy handshake between the two leaders, which took place before their one-on-one meeting at the luxury Capella Hotel on Singapore's Sentosa Island.(MORE: How North Korea is portraying Kim Jong Un's historic summit with Donald Trump)(MORE: What I learned from watching a week of North Korean TV)
PHOTO: President Donald Trump and Kim Jong Un are pictured at their summit in Singapore in video shown on North Korean state television. (APTN)The summit was the first time a sitting U.S. president met face to face with a North Korean leader. On the agenda were North Korea's illicit nuclear weapons program and a potential deal to denuclearize the country.The North Korean state TV broadcast also showed Trump and Kim after the meeting, signing their joint agreement in which North Korea pledged to take steps to denuclearize, while the United States vowed to end military exercises in South Korea. Both leaders invited each other to visit their respective capitals in the future.The carefully-crafted program repeatedly showed North Korea's supreme leader smiling and depicted him as polite, confident and completely in control. Kim has ruled with an iron fist since 2011 when he assumed power following his father's death.All media in North Korea is controlled by the state and so the program's entirely positive view of Kim, the summit, and its results come as no surprise.
'Sleep well tonight!': Trump promptly declares North Korea no longer a nuclear threat
Dylan StablefordSenior Editor,Yahoo News•
President Trump and North Korean leader Kim Jong Un talk with the media as they walk from their lunch at the Capella resort on Sentosa Island in Singapore on Tuesday. (Photo: Evan Vucci/AP)President Trump returned on Wednesday from his historic summit with North Korean leader Kim Jong Un in Singapore and issued what would be a remarkable statement — if it were true."Just landed," Trump tweeted shortly after touching down at Joint Base Andrews. "A long trip, but everybody can now feel much safer than the day I took office. There is no longer a Nuclear Threat from North Korea."While Trump and Kim concluded their summit in Singapore by signing a joint statement that promised "complete denuclearization of the Korean Peninsula," it did not specify what that process would entail. According to the Washington Post, North Korea's definition of "denuclearization" is different from Trump's.The United States did, however, commit to suspending joint military exercises with South Korea, Trump told reporters before departing the summit site. It's unclear whether the president informed U.S. allies in the region of his plan to end the "war games," as he called them, prior to his declaration."We save a fortune by not doing war games," Trump tweeted Wednesday, "as long as we are negotiating in good faith — which both sides are!"Slideshow: Historic summit between Trump and Kim in Singapore >>>Trump described his meeting with Kim as "an interesting and very positive experience" and said North Korea "has great potential for the future.""Before taking office people were assuming that we were going to War with North Korea," Trump added. "President Obama said that North Korea was our biggest and most dangerous problem. No longer — sleep well tonight!"Not everyone is prepared to accept the president's reassurances."What's really disconcerting is that Trump announced unilaterally to the leader of North Korea that the United States is going to stop military exercises with our allies, without first telling our allies or even the Pentagon," Michael Green, a senior vice president for Asia at the Center for Strategic and International Studies, told Yahoo News on Tuesday. "That's astonishing."During his post-summit press conference, Trump admitted that he may be wrong about Kim's willingness to denuclearize."I think he's going to do these things," Trump said. "I may be wrong. I mean, I may stand before you in six months and say, 'Hey, I was wrong.' I don't know that I'll ever admit that, but I'll find some kind of an excuse."After arriving back at the White House, Trump lashed out at some of the television coverage of his agreement with Kim."So funny to watch the Fake News, especially NBC and CNN," the president tweeted. "They are fighting hard to downplay the deal with North Korea. 500 days ago they would have "begged" for this deal-looked like war would break out. Our Country's biggest enemy is the Fake News so easily promulgated by fools!"
Romanian drama: the mayor, the soprano and the champion

Associated Press ALISON MUTLER, Associated Press
© The Associated Press Romania's Simona Halep holds the cup at the Roland Garros stadium, Sunday, June 10, 2018 in Paris. Halep won Saturday the French Open tennis tournament women's final. (AP Photo/Thibault Camus) BUCHAREST, Romania — Romania is gripped by a political soap opera featuring French Open tennis champion Simona Halep, a world-famous soprano and the mayor of Bucharest.Following Halep's win in Paris this weekend, Bucharest Mayor Gabriela Firea — a key member of the country's ruling Social Democratic Party — held a grand ceremony at a sports arena to give her the keys to the city.Thousands cheered Halep, but when the mayor began to speak, she was booed.Firea retorted that groups allied to Hungarian-American billionaire George Soros had conspired to "compromise the event."The left-wing government has faced regular protests since it came to power in December 2016 over moves to introduce new laws that critics say would make it harder to punish high-level corruption. The Social Democrats have claimed that non-governmental organizations allegedly sponsored by Soros are behind the protests.Critics said Firea was trying to cash in on Halep's victory, and soprano Angela Gheorghiu added her voice to the fracas, claiming the mayor had done the same thing to her in the past.Irate opponents flooded Firea's Facebook page with messages, prompting her to temporarily shut it down."Now Simona has the keys to Bucharest, maybe she'll lock Firea out," wrote one protester, Corin Chiriac.Halep, who looked visibly embarrassed when Firea was jeered, posted live coverage of the moment on her Facebook page, but has not commented since. She appeared in public on Wednesday to support a Save the Children campaign to help premature babies.Adding fuel to the flames, a social media campaign orchestrated by the Social Democrats claimed it was Halep who had been booed, not the mayor.Party leader Liviu Dragnea fired the campaign coordinator late Wednesday.Responding to Gheorghiu's claims, Firea volleyed back that the soprano had received an honorarium of 145,000 euros ($171,000) for a concert in December 2017 sponsored by the city hall.She also claimed that Gheorghiu, who has twice sung Puccini's "Tosca" at the Royal Opera House in London, had asked her to intervene with local tax authorities to cancel a debt.Gheorghiu denied she owed money to tax authorities, or had requested the mayor's help.