News Photos: Cars stranded in floodwaters following downpours in Northeast
chaffin.mitchell,AccuWeather• Drenching thunderstorms brought flooding to the Northeast this weekend, causing streets to turn into rivers in Boston all the way to the North Shore area of Massachusetts.Repeating storms hammered parts of Ohio and southwestern Pennsylvania. More than 3 inches of rain fell on some of the suburbs of Pittsburgh in several hours on Friday afternoon."Rounds of heavy rain have been moving through the Northeast since the start of the weekend," AccuWeather Meteorologist Alyson Hoegg said.
Screen Shot 2018-08-12 at 11.11.06 AM.png(Image via N1EVH-Mike Naselroad – Amateur Radio SKYWARN Spotter)Some roads around Boston and Lynn, Massachusetts saw flooding as rain fell on the region. The roadways were re-opened after the flooding cleared.The National Weather Service reported there was more than 7 inches of rainfall in Lynn and Peabody."These storms have been producing localized instances of flooding due to rainfall rates of 1-2 inches per hour and the slow-moving nature of the storms," Hoegg said.More than 5 inches of rain fell in just a few hours in the town of Lynn, north of Boston, which flooded roadways and stranded cars."Areas north of Boston have received over 4 inches of rain this morning from one of these slow-moving storms. This has resulted in a flood emergency for that area," Hoegg said.On Sunday, a flash flood warning was issued for south central Essex County and eastern Middlesex County in New Jersey until 2:15 p.m. EDT."Similar storms will continue to impact the Northeast through Tuesday with very heavy rainfall that can lead to localized flash flooding," Hoegg said.A second pocket of heavy rainfall may extend from southeastern Virginia to the coastal areas of the Carolinas into Tuesday.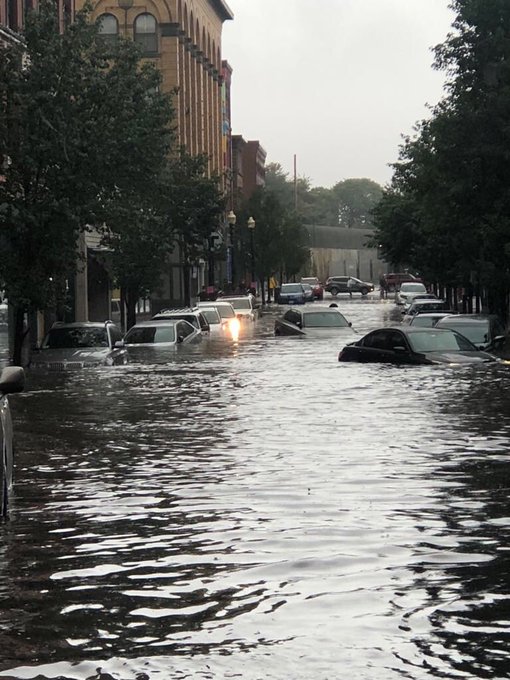 Androjp09@Androjp09 · Boston, MA