Trump crowd finds a new target to lock up: Feinstein
David Knowles Editor,Yahoo News•The chant was familiar, but its target was new.At a Tuesday rally in Council Bluffs, Iowa, President Trump took aim at Sen. Dianne Feinstein, D-Calif., for her handling of a letter sent by Christine Blasey Ford that accused Supreme Court justice Brett Kavanaugh of sexual assault more than three decades ago.The letter, in which Ford requested anonymity, leaked to the media, resulting in a contentious delay in Kavanaugh's confirmation to the high court. At his rally, Trump put the blame for the leak on  Feinstein."How about Senator Feinstein. That's another beauty. That's a beauty," Trump said as his audience erupted into a chorus of boos. The president then did an impersonation of Feinstein and the other members on the Senate Judiciary Committee who discussed whether she had leaked Ford's letter. "Did you leak the documents? Wha? Wha? No, I didn't."As Trump continued his re-creation of the exchange, his supporters started the chant that began in the 2016 campaign, when the enemy was Hillary Clinton. "Lock her up!""And I think they're talking about Feinstein, can you believe that?" Trump quipped. "Now was that the worst body language. In other words, did she leak it? A hundred percent. No, I don't want to get sued — 99 percent. See now I can't get… Now I can't get sued."During a hearing at which Ford and Kavanaugh both testified before the Senate Judiciary Committee, Feinstein addressed the claim that she was responsible for leaking the letter in an effort to torpedo Kavanaugh's nomination."President Trump and Senate Republicans are trying to deflect attention from Brett Kavanaugh's sexual assault allegations by saying my staff or I leaked the letter from Dr. Christine Blasey Ford — they're wrong," Feinstein said. At the hearing, several Republicans accused her of just that, but Feinstein was resolute in her denials."I honored Dr. Blasey Ford's request for confidentiality," Feinstein said. "It was only when reporters were knocking on her door that I referred the letter to the FBI. At no point did I or anyone on my staff divulge Dr. Blasey Ford's name to the press. She knows that and believes it, for which I'm grateful." In a speech last weekend announcing that she would support  Kavanaugh's nomination, Sen. Susan Collins, R-Maine, said she was certain that Feinstein was not the leaker."She is a person of integrity and I stand by her," Collins said. Trump's ire moved on quickly enough from Feinstein on Tuesday, and minutes later he recounted Clinton's criticism of his remarks at Kavanaugh's ceremonial swearing-in."Lock her up!" the crowd chanted at the mention of Clinton's name.
Politics
Trump predicts Democrats will vote for Republicans because of Kavanaugh stance
Dylan Stableford
Senior Editor
,
Yahoo News
•
Trump blasts Democrats over Kavanaugh allegations Trump blasts Democrats over Kavanaugh allegations
('You Might Also Like',)
Kavanaugh seeks new tone after bitter court confirmation fight
By Jeff Mason
,
Reuters
•
By Jeff Mason WASHINGTON (Reuters) – U.S. Supreme Court Justice Brett Kavanaugh sought to put a bruising confirmation battle behind him on Monday at a White House ceremony in which President Donald Trump declared him innocent of sexual misconduct and apologized for the heated process.Kavanaugh, whose bid to join the top U.S. court nearly failed after a California professor accused him of assaulting her when they were in high school, said he would enter his new job without bitterness despite a political fight that he told lawmakers had destroyed his family and his name."The Senate confirmation process was contentious and emotional. That process is over. My focus now is to be the best justice I can be," he said at the White House, with his wife and children standing nearby.Kavanaugh said he would aim to be a force for stability and unity on the court, whose other eight members all attended the ceremony."Although the Senate confirmation process tested me as it has tested others, it did not change me," he said.Kavanaugh, who served as part of special counsel Kenneth Starr's team that investigated Democratic President Bill Clinton in the 1990s and testified that the sexual misconduct accusations were funded by left-wing groups seeking revenge on behalf of the Clintons, said the Supreme Court was not a partisan body."The Supreme Court is an institution of law. It is not a partisan or political institution," he said. "The Supreme Court is a team of nine, and I will always be a team player on the team of nine."Kavanaugh's confirmation proceedings exploded in controversy after Christine Blasey Ford went public with allegations that Kavanaugh sexually assaulted her in 1982.Kavanaugh gave a forceful, emotional denial of those allegations during testimony before lawmakers that some Democrats said showed a lack of judicial temperament.The U.S. Senate voted 50-48 on Saturday to confirm him, with just one Democrat supporting him.His confirmation to the lifetime job was a victory for Trump and locked in a conservative majority on the court.
TRUMP APOLOGIZES FOR PROCESS
"On behalf of our nation, I want to apologize to Brett and the entire Kavanaugh family for the terrible pain and suffering you have been forced to endure," Trump said at the start of a ceremonial swearing-in."Those who step forward to serve our country deserve a fair and dignified evaluation, not a campaign of political and personal destruction based on lies and deception," he said.Trump, under pressure from moderate Republican senators, had ordered a brief FBI investigation, whose results Republicans viewed as failing to corroborate the allegations and which Democrats saw as insufficient.Trump, who drew criticism for mocking Ford at a rally, said Kavanaugh had been cleared."A man or a woman must always be presumed innocent unless and until proven guilty," Trump said to applause. "And with that I must state that you, sir, under historic scrutiny, were proven innocent."Kavanaugh has cited his mother, a former state judge in Maryland, as an inspiration, and emphasized his commitment to the advancement of women. He noted that his newly hired law clerks were all women, which he said was a historic first at the Supreme Court.He will hear his first arguments as a justice on Tuesday.(Reporting by Jeff Mason; Additional reporting by Eric Beech, David Alexander and Mohammad Zargham; Editing by Peter Cooney)
Politics
Nikki Haley To Step Down As United Nations Ambassador
Hayley Miller
,
HuffPost
•
U.N. Ambassador Nikki Haley resigns: Source U.N. Ambassador Nikki Haley resigns: Source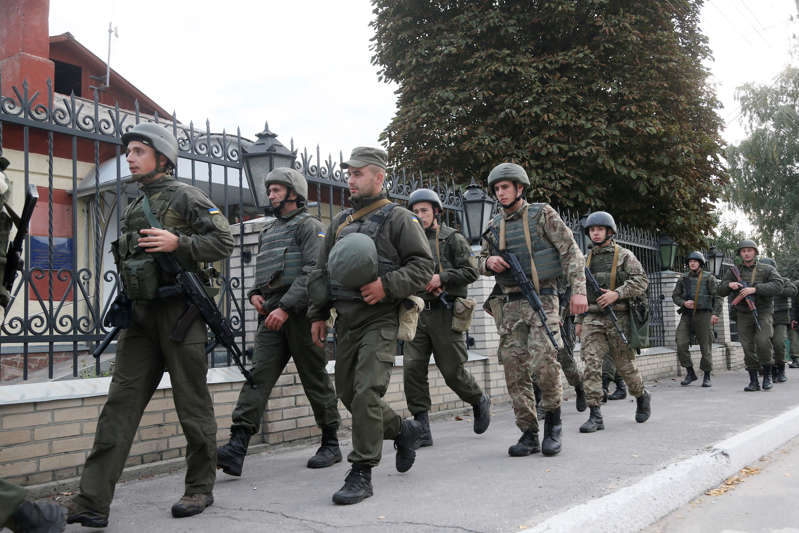 KIEV (Reuters) – Around 12,000 people were evacuated after a fire and explosions at a rate of two to three a second hit a Ukrainian Defence Ministry ammunition depot early on Tuesday morning, officials said.No casualties were reported.Ukraine's state security service said it was investigating possible sabotage, and the defense ministry's spokesman said the fact that explosions were set off in different parts of the depot pointed to sabotage.The depot is located in the Chernihiv region, 176 km (109 miles) east of the capital, Kiev. A woman who lived 50 km away told the TV channel 112 she could hear the explosions."There are no victims, wounded, injured or killed among military personnel, personnel of the Armed Forces of Ukraine and the local population," a Defence Ministry statement said. "As of 7 a.m. (0400 GMT), the intensity of explosions is two to three explosions per second."The airspace in a 30 km radius was closed and road and rail transport suspended. The emergency services reported gas and electricity supplies to the area have been disrupted.Hundreds of people and equipment were deployed to the site, a statement by the emergency services said, joined by Prime Minister Volodymyr Groysman and the head of Ukraine's armed forces Viktor Muzhenko. The president has called for a report.Several large fires have hit ammunition and weapons depots in recent years, an additional drain on Ukraine's military. Fighting between Ukrainian troops and Moscow-backed separatist rebels has killed more than 10,000 people since 2014.Last year, massive explosions at a military depot in the Vynnytsya region, 270 km west of Kiev, forced the authorities to evacuate 24,000 people.Following that, a parliamentary defense committee inspected other depots. It warned that there were significant shortcomings in how the depot in the Chernihiv region was managed, according to a lawmaker who was on the committee.A "number of shortcomings, including significant ones, were identified," Dmitry Tymchuk wrote on Facebook,."As a result of this trip, I sent an address to the heads of the Ministry of Defence and the General Staff of the Armed Forces, which listed the shortcomings identified with a request to intervene in the situation and solve existing problems."The defense ministry did not immediately respond to requests for comment from Reuters.Writing by Matthias Williams; editing by Darren Schuettler and Michael Perry
Poland's interior minister is recommending Warsaw quits a U.N. migration pact before its final approval as it may encourage more illegal migrants, the ministry said on Tuesday.Hungary has already announced it will not sign up to the Global Compact For Safe, Orderly and Regular Migration, which was approved in July by all 193 U.N. member nations except the United States, which pulled out last year.The pact, due to be adopted in December, addresses issues including why people migrate, how to protect them and how to integrate them into new countries.Poland, along with Hungary and Czech Republic, has taken a tough stand against resettling migrants, putting it at odds with the European Union, but striking a chord with voters by arguing that irregular immigration threatens European stability."I will recommend to Prime Minister Mateusz Morawiecki to opt out from the Global Compact (GCM) deal, which is due to be signed in December in Marrakech," Joachim Brudzinski was quoted by the Interior Ministry Twitter feed as saying."In our opinion the draft of the agreement does not guarantee Poland's safety. It may also encourage illegal immigration."Related slideshow: News in pictures (Provided by Reuters)

The government's press office had no immediate comment on the recommendation.Brudzinski was speaking at the G6 summit in Lyon, France, where he met his Italian counterpart Matteo Salvini, among others, the ministry tweeted. Brudzinski retweeted the Tweet.Poland's ruling nationalist Law and Justice (PiS) party built its 2015 parliamentary election landslide victory in part on kindling the fear of migrants. That year, Europe saw the biggest influx of refugees and migrants since World War Two.Nonetheless, Poland, with a population of 38-million people and record low unemployment of 5.8 percent, has taken in a large influx of foreign workers, mainly from Ukraine, but also from Belarus and parts of Asia, as the fast developing economy struggles with a lack of workers.(Reporting by Marcin Goclowski; Additional reporting by Anna Koper; Editing by Alison Williams)
Oil prices gain as Iranian crude exports fall, Hurricane Michael nears