News Rain breaks, easing search for remains of California wildfire
Reuters
PG&E crew work to repair damage caused by the Camp Fire in ParadiseFILE PHOTO: PG&E crew work to repair damage caused by the Camp Fire in Paradise, California, U.S. November 21, 2018. REUTERS/Elijah Nouvelage(Reuters) – Teams searching for remains from the deadliest wildfire in California history were able to comb through wreckage in dry weather on Saturday, but rains are expected to return next week and officials warned of a threat of mudslides.The so-called Camp Fire all but obliterated the mountain community of Paradise, 175 miles (280 km) northeast of San Francisco, on Nov. 8, killing at least 85 people and destroying nearly 14,000 homes. The death toll was increased late Saturday night by one, according to the Butte County Sheriff's Office.Some 475 people from Paradise and surrounding communities remain unaccounted for, according to the Butte County Sheriff's Office.Hundreds of police officers and volunteers have searched in and around Paradise since the fire swept through the area.The 2 to 3 inches (5 to 8 cm) of rain that fell there during the last few days turned ash from the thousands of destroyed homes into slurry, complicating the work of finding bodies reduced to bone fragments.Butte County Sheriff Kory Honea has warned that remains of some victims may never be found.Teams resumed their search on Saturday, Butte County Sheriff's Office spokeswoman Miranda Bowersox said, ahead of more rains that are expected to start on Wednesday.A total of 2 to 3 inches (5 to 8 cm) of rain is forecast for areas burned by the Camp Fire from Wednesday through Saturday, said meteorologist David Roth of the federal Weather Prediction Center.Rainfall earlier this week did not trigger any large debris flows, but Roth said the danger of a mudslide will remain far into the future for hillsides that flames have stripped of vegetation. "Any heavy rain event really for the next few to several years would be a problem there," he said.Authorities said they would lift evacuation orders in some areas south of Paradise on Saturday.The city of Paradise was a popular destination for retirees, with people ages 65 or older accounting for a quarter of its 27,000 residents. Most of the victims of the fire identified so far were of retirement age.With help from rainfall, firefighters have contained 98 percent of the blaze, which torched 154,000 acres (62,000 hectares) – an area five times the size of San Francisco, officials said.Investigators have yet to determine the cause of the fire.Thousands of people forced to flee Paradise spent Thanksgiving in warehouses in the nearby city of Chico, or with friends or relatives in nearby towns.(Reporting by Andrew Hay in New Mexico, Alex Dobuzinskis in Los Angeles and Gabriella Borter in New York; Editing by Leslie Adler and Daniel Wallis)
If you're hitting the roads this holiday weekend, be mindful of storms coming to central, eastern US
DANIEL MANZO and EMILY SHAPIRO,ABC News If you're hitting the roads this holiday weekend, be mindful of storms coming to central, eastern US originally appeared on abcnews.go.comTwo different storms are set to create hazardous travel conditions for those heading home after the holiday weekend in the central and eastern parts of the country.The first worry is a storm expected to quickly race up the East Coast, bringing bring both ice and flooding threats.The second concern is a developing winter storm in the central U.S. for Sunday that could deliver near-blizzard conditions on a busy travel day.
PHOTO: Alerts are in place for two storms moving into the central and eastern U.S. over the holiday weekend. (ABC News)(MORE: How to stay safe as frigid weather takes over this Thanksgiving)Storm No. 1 This storm is bringing widespread precipitation Saturday morning from Minnesota to the Carolinas.The immediate concern is that some of the precipitation will be either freezing rain or an icy mix in the Appalachians, from western North Carolina through western Maryland.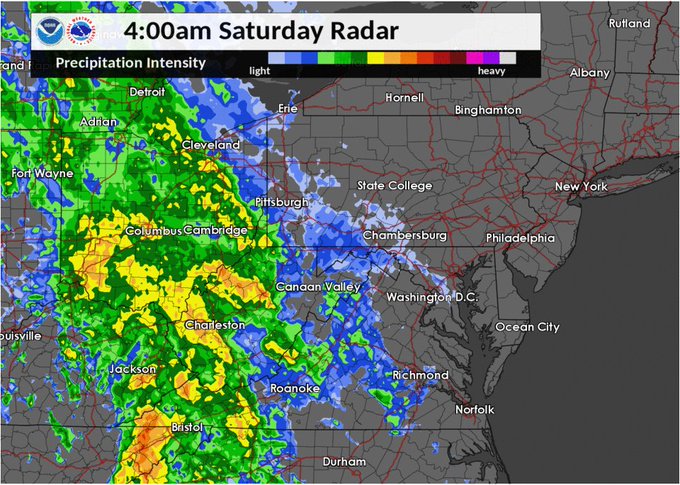 NWS DC/Baltimore@NWS_BaltWash Precipitation will begin to overspread the area throughout the morning. Some freezing rain will be possible early, primarily west of I-95. Expect some slick spots on roads this morning. #DCwx #MDwx #VAwx #WVwx This precipitation is moving north and east, and the icy mix will spread into parts of Pennsylvania and southern New York later this morning.
PHOTO: Rain is moving through the Midwest on Saturday morning, with some icy conditions possible in West Virginia and western Virginia and North Carolina. (ABC News)Temperatures Saturday morning are near freezing in places like Boone, North Carolina; Roanoke, Virginia; and Hagerstown, Maryland.View image on Twitter
Jaclyn Shearer
@JaclynWSOC9
Check this out! We have icicles on our Lake Norman cam this morning! What are you seeing in your neighborhood?
This can be a particularly dangerous situation as roads will appear wet, but actually be covered in ice.The threat for icy conditions will wind down late in the morning as the region warms up.
(MORE: Thanksgiving parade-goers brave record-low temperatures: How long the cold will last)Meanwhile, a coastal low will become stronger during the day on Saturday and rapidly spread heavy rain toward the Northeast.Heavy rainfall and possible flooding will spread toward the major Interstate-95 cities Saturday night and into early Sunday.Rainfall is expected to be between 1 and 2 inches in northern New Jersey, southern New York, Connecticut and Massachusetts.
PHOTO: Heavy rain is likely in New England on Sunday morning. (ABC News
As the storm intensifies, it'll also bring with it the chance of some coastal flooding, especially along parts of Massachusetts.The storm should be gone by late Sunday morning.Storm No. 2 A new storm that has been dumping mountain snow onto parts of the Rocky Mountains will develop into a winter storm as it moves across the central Plains on Saturday night, taking snow to parts of Kansas, Nebraska and Iowa by Sunday morning.That storm is expected to quickly race toward the north and east, hitting southern Wisconsin and most of Illinois and Michigan by Sunday afternoon, with rain turning into snow.Snowfall totals will mostly be between 3 and 6 inches from northeast Kansas to Michigan.
PHOTO: As much as 6 inches of snow could fall in northern Illinois through Monday. (ABC News)
News 190 Sea Turtles Freeze To Death After Being Caught In 'Freak' Weather System Off Cape Cod
As NBC News reported, the massive number of deaths were discovered on Friday and announced by the Mass Audubon Wildlife Sanctuary, which said that the turtles were caught up in a "once-in-a-lifetime" combination of freezing temperatures, gale force winds, and high tide. The freakish weather conditions made it impossible for the turtles to escape, experts said."A lot of the turtles were found frozen in the water still," Mass Audubon's director Bob Prescott told NBC News. "I picked up two to three myself that were still in the water, the slushy water."
1:30 p.m. EST Saturday:
A crash was reported on Interstate 80 eastbound 2.8 miles east of Exit 178: PA 220 north near Lock Haven, Pennsylvania.
There are also reports of flooding northeast of Williamsport, Pennsylvania on secondary roads after heavy rain hit the area earlier on Saturday.
12:00 p.m. EST Saturday:
A crash on U.S. Route 322 westbound between Newport and Millerstown, Pennsylvania, has all lanes closed. There is no information on injuries at this time.
Crews were working on the field as ice encased Beaver Stadium, The Pennsylvania State University, Pennsylvania, on November 24, 2018. (Cheryl Anderson)
Temperatures had climbed above freezing over much of western Virginia. However, in much of central Pennsylvania and western Maryland, freezing rain and sleet continued.
Up to 0.20 of an inch of ice glazed elevated and cold surfaces in Jefferson County, Pennsylvania.
Up to 0.25 of an inch of ice had glazed trees and power lines in Mineral County, West Virginia, during the morning hours, according to a trained spotter. Roads were currently treated and passable.
11:00 a.m. EST Saturday:
A crash on I-99 southbound near State College, Pennsylvania, between Exit 73 and U.S. 322 was causing a traffic disruption.
Ice was accruing on elevated surfaces and making colder sections of roads and sidewalks slippery in State College, Pennsylvania, as of midday Saturday, Nov. 24, 2018. (Photo: AccuWeather)
Up to 0.10 of an inch of ice glazed surfaces in Hancock, Maryland, according to a NWS employee.
10:00 a.m. EST Saturday:
A crash on I-80 westbound between exit 123 and 133 in Clearfield County, Pennsylvania, has all lanes closed. There are no reports of injuries at this time.
A crash on U.S. Route 22 eastbound between Gallitzin an Hollidaysburg, Pennsylvania, is causing traffic disruptions. There are no reports of injuries at this time.
Approximately 5,200 utility customers are without power in Chautauqua County, New York.
9:00 a.m. EST Saturday:
Crews were seen applying ice melting compounds on area highways in central Pennsylvania ahead of the storm and as the rain was beginning to fall.
Ice had accrued on elevated surfaces in Greene County, Virginia, according to a trained spotter.
8:00 a.m. EST Saturday:
In portions of central and eastern Pennsylvania, temperatures are in the middle to upper 20s F ahead of the rain. Not everywhere will have a chance to warm up before ice forms.
Ice was glazing elevated surfaces in Grand County, West Virginia, according to a trained spotter.
A glaze of ice was visible on trees on Paris Mountain, Greenville County, South Carolina, according to local broadcast media.
Trees were downed due to an ice buildup in Lenoir, Caldwell County, North Carolina.
7:00 a.m. EST Saturday:
The temperature was hovering at 32 degrees Fahrenheit with rain falling from Roanoke, Virginia, to Martinsburg, West Virginia, along the Interstate-81 corridor.
Trees were coated in ice in Long Shoals, North Carolina, according to local broadcast media. Long Shoals is located a bit west of Charlotte, North Carolina.
Ice that weighed down trees and power lines have 47,000 utility customers without power in western North Carolina and nearly 5,000 homes and businesses without power in southwestern Virginia, according to poweroutage.us.
12:00 a.m. to 5:00 a.m. EST Saturday:
A combination of freezing rain and sleet began to coat roads and accrue on trees and power lines in parts of western North Carolina and southwestern Virginia.