News Live updates: Road conditions deteriorating as snow, ice ramp up in North Carolina
AccuWeatherA major, travel-disrupting storm is unleashing snow and ice from Arkansas to North Carolina.AccuWeather meteorologists say the heaviest snowfall with this storm is expected from the southern Appalachians into the western Piedmont of North Carolina and southern Virginia. Snowfall amounts of 12-18 inches are expected, especially in the mountains of North Carolina with an AccuWeather Local StormMax™ of 24 inches.Travel will likely be completely halted in these regions until roads have been cleared.Even though the worst of the storm will have passed by Monday, schools may be closed early this week due to poor road conditions. Download the free AccuWeather app to know when the rain and snow will start in your area.
11:55 p.m. EST SaturdayAs snow ramps up in western North Carolina, sleet and freezing rain continue to lead to treacherous travel across north-central Arkansas and western Tennessee.Little Rock, Arkansas, has switched over to freezing rain in the past hour, potentially leading to slick spots developing on the roadways. Travel is becoming hazardous across northern sections of the Mid-South. Reports that a tractor trailer jack knifed at mile marker 18 on I-55 in Pemiscot County. #mowx #arwx #tnw— NWS Memphis (@NWSMemphis) December 9, 201811:15 p.m. EST Saturday As much as 5-7 inches of snow has already fallen in southwestern portions of North Carolina as a major storm ramps up.The snow is leading to deteriorating road conditions, including as far south as Greenville, South Carolina. View image on Twitter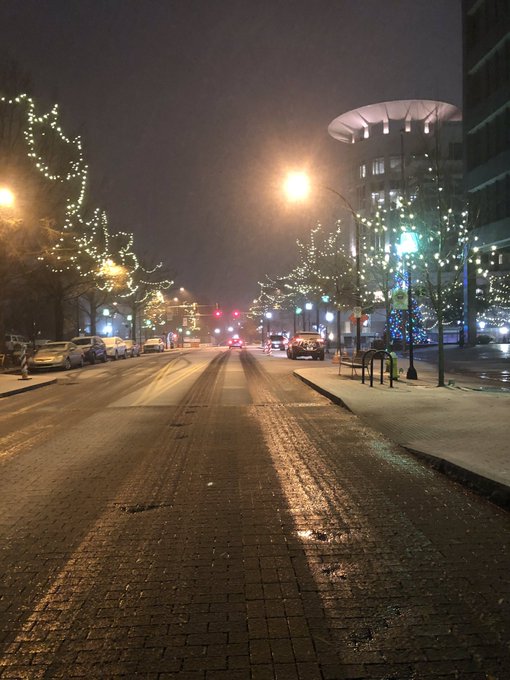 Greenville County Emergency Management
@GreenvilleCoEM
Snow and sleet coming down now in downtown Greenville and starting to stick on Main Street. Expect conditions to continue to deteriorate throughout the overnight.
#
GVLsnow
#
scwx
#
winterstorm
#
yeahthatgreenville
 · 
Greenville City Hall
Joe & Lisa
@MrandMrsBS1
White out conditions in Maggie Valley North Carolina
@
WLOS_13
@
jaynews13
@
JimCantore
@
NWSGSP
Snow conditions in Maggie Valley, North Carolina. (Image via MrandMrsBS1)6:40 p.m. EST SaturdayDuke Energy has positioned crews around the Asheville, North Carolina, area in preparation for the storm. Asheville may receive a foot or more of snow12:30 a.m. EST Thursday:The city of Asheville, North Carolina, is readying supplies and plow trucks ahead of the looming storm.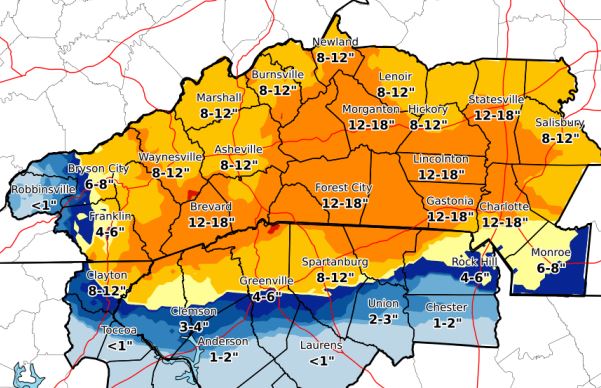 City of Asheville@CityofAsheville #Asheville Public Works has 32 trucks to deploy, including snow plows and salt/brine spreaders. The City has 4,0000 tons of salt in supply.Starting Friday morning, Public Works will begin pre-treating roads. More info: https://bit.ly/2KYhj1o  #AvlNews #avlsnOMG
U.S.Sea Lion Found Dead From Gunshot Wounds In Northern California: Officials
The male sea lion, which was often seen around the Point Reyes National Seashore area, was found by park visitors. "Markings on the sea lion allowed our marine mammal stranding network partner, the California Academy of Sciences, to identify the male sea lion," the park said in a Facebook post. National Oceanic and Atmospheric Administration Fisheries Service researchers "reported that he had been consistently seen around the island since he was born. Injuries to the sea lion were consistent with gunshot wounds."Under federal law, it is illegal to kill or harm sea lions and those found guilty of doing so face up to a year's imprisonment and/or a $25,000 fine. Yet despite this, some fishermen are increasingly using lethal force on the mammals to eliminate their competition to fish. Late last month, NOAA announced an investigation into the shooting deaths of six sea lions along the Washington state coast.
News South Carolina ups its relief request for Hurricane Florence
News U.N. climate negotiators sweat over detail and divides
By Barbara Lewis and Anna Koper
Reuters
  Participants take part in plenary session during COP24 in Katowice FILE PHOTO: Participants take part in the plenary session during COP24 U.N. Climate Change Conference 2018 in Katowice, Poland December 4, 2018. REUTERS/Kacper PempelBy Barbara Lewis and Anna Koper KATOWICE, Poland (Reuters) – Half-way through talks to breathe life into the Paris climate deal negotiators haggled over how to share the cost of curbing global warming and struggled to bridge deep political divides.The two weeks of talks, which began at the start of the week, are billed as the most important U.N. conference since the Paris 2015 agreement on climate change.The challenge is to meet a year-end deadline to agree a rule book to limit global warming, when the unity that underpinned the Paris talks has fragmented. U.S. President Donald Trump repeated his call to scrap the Paris climate pact.By the end of Saturday, negotiators aim to have a simplified a draft for high-level ministerial debate starting on Monday."We still have a lot to do," Michal Kurtyka, the Polish president of the U.N. talks, told a news conference. "It is very technical, very complex, very difficult."Delegates said a major issue was how to reassure developing countries that richer nations would deliver on promises to help finance the cost of shifting to a lower carbon economy.Environmental campaigners are concerned the Katowice talks will lack ambition, after the United States said this year it was withdrawing from the U.N. process. Saudi Arabia, the world's biggest oil exporter, in the talks on Saturday added a further challenge by blocking consensus on a major scientific report.The U.N. report published in October said it was possible to limit the earth's temperature rise to 1.5 degrees Celsius and prevent damaging levels of global warming provided radical changes in energy consumption and other steps were implemented.But Saudi Arabia refused to back a proposal from other nations to use wording to "welcome" the report.Delegates said the task of driving the process forward would fall to ministers next week."It's a question of who wins? The likes of the European Union and China with economies deeply invested in climate action and dependent on multilateralism for global trade, or the likes of Saudi dissenters of climate science, with vested interests that put us all in the firing line?" Camilla Born, senior policy advisor at E3G, a non-governmental organisation, said.On the streets of Katowice, the capital of Poland's Silesian coal-mining region, thousands of demonstrators marched to demand a deal to limit temperature rises to no more than 1.5 degrees Celsius.Environmental campaigners also marched in Paris, where violent demonstrations triggered by a fuel tax have taken place.Delegates in Katowice said the French social protests were unrelated to the U.N. climate debate, but U.S. President Donald Trump seized on them to call for an end to "the ridiculous and extremely expensive Paris Agreement".
(Editing by Clelia Oziel and Edmund Blair)