News Two technicians die at U.S. research station in Antarctica
A car travels down a snow covered street in a neighborhood in Greensboro, N.C., Tuesday, Dec. 11, 2018. Several Southern states hit hard by a wintry storm were gradually warming Tuesday, but forecasters warned that temperatures in many areas will plunge below freezing again Tuesday night. That will refreeze the melting snow, making some roads treacherous. (AP Photo/Chuck Burton)RALEIGH, N.C. (AP) — The Latest on severe weather in North Carolina (all times local):8 p.m.Officials in North Carolina have revised downward the death toll from this week's severe weather.The state's total initially included an 82-year-old woman in Haywood County whose death was reported by state officials as storm-related. They initially said she died when her oxygen was cut off due to power outages.A news release from the governor's office Wednesday said a review of the woman's death led officials to remove it from the count, dropping the death toll to two. A statement from the state's chief medical examiner said it was thought at first to be storm-related based on lack of power to an oxygen concentrator, but that proved not to be correct.One man died Sunday when a tree fell on him in Mecklenburg County. In Yadkin County a truck driver had gotten stuck along Interstate 77 during the height of the storm Sunday and experienced chest pains after shoveling and died at a local hospital._3:37 p.m.Forecasters say North Carolina can expect heavy rains and a flood threat on the heels of a winter storm that walloped the area.The National Weather Service issued a statement warning of widespread rainfall starting Friday that could total 1.5 inches (3.8 centimeters) across much of the state and 3 inches (7.6 centimeters) in some places.Meteorologists say runoff from snowmelt could exacerbate the potential for flooding.The state was just starting to thaw out from a wintry storm that dumped more than 2 feet (.6 meters) in some pockets of the state. Driving conditions remained challenging through Wednesday morning as melting snow refroze on roads.WRAL-TV reported that icy patches were suspected as the cause in a dozen crashes Wednesday. No serious injuries were reported in those crashes.
NewsWilkes-Barre, Pennsylvania, residents use Christmas spirit to bring attention to large pothole
kevin.byrne
AccuWeather
  pothole christmas tree Residents in a northeastern Pennsylvania city took a festive twist to dealing with a large pothole in their neighborhood this past weekend.The pothole on Sturdevant Street in Wilkes-Barre has continuously grown over the past several weeks without being addressed, so residents placed a Christmas tree in it to bring attention to the issue."I was upstairs in the attic and was looking for more Christmas decorations and thought that would look nice in the hole," resident Marietta Spak told 
WNEP
.Spak told WNEP she was attempting to bring awareness to drivers to avoid the pothole as they drove through the neighborhood.Following the attention it garnered on social media, the Wilkes-Barre Department of Public Works said it was aware of this issue and the hole was slated to be repaired by Tuesday.
News 4.4 magnitude earthquake rattles eastern Tennessee; shaking felt in Atlanta
renee.duff,AccuWeatherA 4.4 magnitude earthquake shook eastern Tennessee early Wednesday morning, with shaking felt as far away as downtown Atlanta.This was the second strongest earthquake to ever strike eastern Tennessee, according to the United States Geological Service (USGS). The strongest was a 4.7 magnitude earthquake near Maryville, Tennessee, in 1973.The temblor struck 7 miles away from Decatur, Tennessee, at 4:13 a.m. EST, according to the United States Geological Service (USGS). The quake was shallow at a depth of 6 miles below the Earth's surface.
earthquake in Tennessee  \Decatur is around 150 miles north of Atlanta, where people took to Twitter to report that shaking was felt in the city.Shaking was also felt in eastern Kentucky, according to the National Weather Service office in Jackson.There have been no immediate reports of damage.One aftershock of 3.3 magnitude followed the initial quake.

Brad Nitz@BradNitzWSB #earthquake felt in #Atlanta apparently. It woke me up. Did you feel it?EMSC@LastQuake#Earthquake (#sismo) possibly felt 2 min ago in #Tennessee #United States. Felt it? See https://www.emsc-csem.org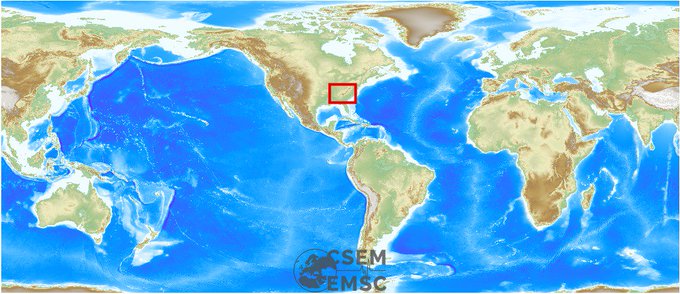 News Comet 46P to glow green in weekend sky during close encounter with Earth
brian.lada,AccuWeatherThis weekend will feature an uncommon scene in the night sky as a comet glides past the Earth.Comet 46P/Wirtanen is a small comet that has been growing brighter over the past few weeks, and it is expected to be bright enough to see with the naked eye on Saturday night and Sunday night."On Dec. 16, 46P will be only 7.2 million miles from Earth and will reach an estimated naked eye magnitude of 3 to 7.5, making this comet's pass the brightest predicted and the brightest close approach to Earth in over 20 years," NASA said.This will be the 10th-closest distance that a comet has come to the Earth since the start of the space age in the 1950s, according to the University of Maryland. Despite its close approach, there is no threat of it colliding with the Earth or the moon.
Comet 46p Comet 46p/Wirtanen as seen from Kaua'i, Hawaii. (Photo/Jim Denny)Comet 46P will not look like famous comets, such as Halley's Comet or Comet Hale-Bopp, but it should be bright enough to see from darker spots.Those looking for it in light-polluted areas, such as Chicago or Los Angeles, may have a difficult time seeing it without the help of a telescope or binoculars.The comet will look like a bright, slightly green star with a diffuse glow surrounding it."It's not expected to have a big spectacular tail; it's going to be a smear," said Matthew J. Holman, senior astrophysicist and director of the Minor Planet Center at the Harvard-Smithsonian Center for Astrophysics."It may not be obvious to people what they are seeing, and they may need to use what we call averted vision, meaning you don't look right at the thing, but you look away from it and look in your peripheral vision," Holman said."Your peripheral vision is more sensitive to light and dark, and so with a little practice, you can see a faint thing in the sky with your averted vision that you can't see when directly looking at it," Holman added.Those with a telescope or pair of binoculars will be able to glean a better look at the celestial object as it glides past the planet.Where to see Comet 46P in the night sky Since the comet is making a speedy flight past the Earth, it will appear in a different part of the sky each night.A sky chart showing the comet's location in the night sky can be found below.It will be easiest to see on Saturday night and Sunday night on its closest approach to the Earth. This is when it will be at its brightest and will be sitting between the famous constellation Orion and the Pleiades star cluster.
nasa comet viewing .gif(Animation/NASA)People hoping to see Comet 46P on Saturday night or Sunday night may want to check their local weather forecast and plan accordingly as clouds may interfere with viewing conditions."The best viewing on both nights will be found in the Rockies and central U.S., where chilly but clear conditions are expected through the weekend," AccuWeather Meteorologist Faith Eherts said."A storm moving into the eastern U.S. this weekend means many stargazers from the Southeast to New England could have trouble seeing the night sky on Saturday," Eherts said."In the West, coastal areas from San Francisco northward as well as most of the Pacific Northwest will be encased in clouds," Eherts added.
sat night.jpg Breaks in the clouds could lead to better viewing conditions in the eastern U.S. on Sunday night, but clouds could still interfere with viewing conditions, especially around the Great Lakes and mid-Atlantic."While the eastern third of the nation has slightly better conditions on Sunday night, those in the West will have no such luck. In fact, the clouds are expected to spread as far south as Los Angeles by late Sunday night as a storm moves onshore," Eherts said.If it's too cloudy to see the comet over the weekend, onlookers should be able to see the comet on the days leading up to and immediately following its close pass. However, it will gradually grow dimmer through the second half of December as it moves away from the planet.
sun night.jpgComet 46P/Wirtanen is less than a mile across, just a fraction of the size of famous comets such as Halley's Comet and Comet Hale-Bopp."Even though it's only [0.6 of a mile] across, it's coming so close to us that telescopes will allow people to observe things that they don't typically get the opportunity to observe," Holman said."This is a really great opportunity because this is far brighter than most comets that are studied," Holman said.After Comet 46P/Wirtanen passes, the next comet to make such a close approach to Earth will be 249P/LINEAR 53 on Nov. 4, 2029.A sky chart showing the location of Comet 46P in the night sky into early January:
big pictures sky and tellescope.jpg(Image/Sky & Telescope)