Trump cites Yahoo News' Michael Isikoff in claiming vindication on 'Steele dossier'
Dylan Stableford Senior Editor,Yahoo NewsTrump cites Michael Isikoff in claiming vindication over 'Steele Dossier'President Trump claimed vindication Tuesday on the so-called "Steele dossier," which helped launch the FBI investigation of his 2016 campaign, citing comments by Yahoo News' chief investigative correspondent, Michael Isikoff, that "there's good grounds to think that some of the more sensational allegations will never be proven and are likely false."In an interview with the conservative Free Speech Broadcasting podcast, Isikoff — who broke some of the original stories about the dossier in September 2016 — said that "when you actually get into the details of the Steele dossier, the specific allegations, we have not seen the evidence to support them."
President Trump, Christopher Steele (Photo illustration: Yahoo News; photos: Evan Vucci/AP, Victoria Jones/PA via AP, AP, Donald Trump via Twitter)Conservative media outlets seized on this part of Isikoff's comments, and Trump, in turn, did too."Russia Dossier reporter now doubts dopey Christopher Steele's claims!" the president tweeted early Tuesday.

Donald J. Trump@realDonaldTrump Russia Dossier reporter now doubts dopey Christopher Steele's claims! "When you get into the details of the Steele Dossier, the specific allegations, we have not seen the evidence to support them. There's good grounds to think that some of the more sensational allegations….. Twitter Ads info and privacy people are talking about this

Donald J. Trump@realDonaldTrump….WILL NEVER BE PROVEN AND ARE LIKELY FALSE." Thank you to Michael Isikoff, Yahoo, for honesty. What this means is that the FISA WARRANTS and the whole Russian Witch Hunt is a Fraud and a Hoax which should be ended immediately. Also, it was paid for by Crooked Hillary & DNC!Twitter Ads info and privacy Isikoff's reporting on the dossier was cited in the FBI's Foreign Intelligence Surveillance Application, or FISA, for permission to wiretap a Trump foreign policy adviser, Carter Page. The dossier, which was compiled by former British intelligence agent Christopher Steele, included uncorroborated intelligence about links between the Trump campaign and Russia, and allegations that Russian intelligence might have surveillance tapes of Trump's activities during a trip to Moscow that could be used to compromise him. The existence of those tapes has never been corroborated.The full context of Isikoff's interview makes it clear, though, that Trump is overstating the extent to which he can claim to have been vindicated in the matter. "In broad strokes, Christopher Steele was clearly onto something," Isikoff said in the interview, which was posted Saturday. "That there was a major Kremlin effort to interfere in our elections, that they were trying to help Trump's campaign, and that there were multiple contacts between various Russian figures close to the government and various people in Trump's campaign."The administration and Congressional Republicans, including House intelligence committee chairman Devin Nunes, have claimed that the investigation of President Trump was tainted from the outset because it was prompted by assertions in the dossier. But there is no evidence that the FBI or Department of Justice acted improperly in obtaining the warrant to put Page under surveillance. And the Yahoo News report was the first to report that U.S. intelligence agencies were investigating claims that were made in the dossier."Michael Isikoff was the first to report Dossier allegations and now seriously doubts the Dossier claims," the president added. "The whole Russian Collusion thing was a HOAX, but who is going to restore the good name of so many people whose reputations have been destroyed?"Isikoff, who co-authored "Russian Roulette: The Inside Story of Putin's War on America and the Election of Donald Trump" with Mother Jones reporter David Corn, responded in a tweet linking to the book.

Michael Isikoff@IsikoffBut here is what is true, Mr. President. https://www.amazon.com/Russian-Roulette-Inside-America-Election/dp/1538728753/ref=sr_1_2?ie=UTF8&qid=1520636584&sr=8-2&keywords=isikoff+russian+roulette … @DavidCornDC @SkullduggeryPodDonald J. Trump@realDonaldTrump….WILL NEVER BE PROVEN AND ARE LIKELY FALSE." Thank you to Michael Isikoff, Yahoo, for honesty. What this means is that the FISA WARRANTS and the whole Russian Witch Hunt is a Fraud and a Hoax which should be ended immediately. Also, it was paid for by Crooked Hillary & DNC! Corn also responded, noting a key passage in the book's conclusion: "During the campaign, Trump had encouraged Russia's hacking and dumping — of which he was the chief beneficiary," Isikoff and Corn write. "He had praised WikiLeaks releases, promoting them, and calling for more — even after he had received a secret U.S. government briefing stating that the cyber break-ins and dissemination of Democratic files were part of a Russian covert operation to undermine the election."He had spoken positively about Putin and suggested he was eager to undo sanctions and cut deals with the Kremlin — even as the Russia information warfare campaign was under way. Whether or not the investigations would ever turn up hard evidence of direct collusion, Trump's actions — his adamant and consistent denial of any Russia role — had provided Putin cover. In that sense, he had aided and abetted Moscow's attack on American democracy."
Middle-class tax cut not focus of Trump administration efforts: Bloomberg
Reuters
FILE PHOTO: U.S. Treasury Secretary Steve Mnuchin speaks during a TV interview at the White House in Washington, U.S., May 21, 2018. REUTERS/Kevin Lamarque-WASHINGTON (Reuters) – A proposed middle-class tax cut that U.S. President Donald Trump floated just ahead of the November elections is not a focus of his administration's efforts on taxes, Treasury Secretary Steve Mnuchin told Bloomberg News in an interview on Tuesday.About two weeks before the congressional elections, Trump said he was planning to push for a 10 percent tax cut for middle-income Americans, on top of the reductions he signed into law in December 2017.Trump initially said the tax cut proposal would be rolled out just before voters went to the polls, even though lawmakers were out of Washington campaigning. He later said a vote would be held after the elections.In the Bloomberg interview, Mnuchin said the administration would instead focus its efforts on fixing issues with the 2017 tax overhaul.That legislation slashed the corporate rate to 21 percent from 35 percent and temporarily reduced taxes for individuals. Democrats have criticized the bill for squeezing government revenues to provide tax cuts for corporations.Mnuchin said he was hoping to work with Congress on "some minor technical corrections," but downplayed the prospects of a middle-class tax cut, Bloomberg reported."I'm not going to comment on whether it is a real thing or not a real thing," Mnuchin told Bloomberg, referring to the middle-income plan. "I'm saying for the moment we have other things we're focused on."Kevin Brady, the Republican chairman of the tax-writing committee in the House of Representatives, said in late October that any action on the middle-class tax plan would have to wait for 2019 and would only be pushed if Republicans retained their majority in the elections.As it turned out, Republicans lost their majority in the House by a substantial amount, even as they padded it in the Senate.Spokespeople for the Treasury Department, White House and Brady did not immediately respond to requests for comment on the Bloomberg report.(Reporting by Makini Brice; additional reporting by Steve Holland and Amanda Becker; editing by Tim Ahmann and Leslie Adler)
Politics
Trump's Demand for Border Wall Could Lead to Government Shutdown
Associated Press
Time
'I Will Shut Down the Government.' Trump Makes Threat Over Border Wall Funding 'I Will Shut Down the Government.' Trump Makes Threat Over Border Wall Funding
Sarah Huckabee Sanders Gets Called Out For Being the Worst White House Press Secretary Ever
Monique Judge
The Root
On Tuesday, Sarah Huckabee Sanders gave the White House's first press briefing in three weeks. She spent about 15 minutes at the podium, didn't really give any answers of substance, and as she prepared to leave, was heckled by reporters in the room."Ten-minute briefing, Sarah?" one reporter asked incredulously."Do your job, Sarah," another called after her as she practically ran from the room.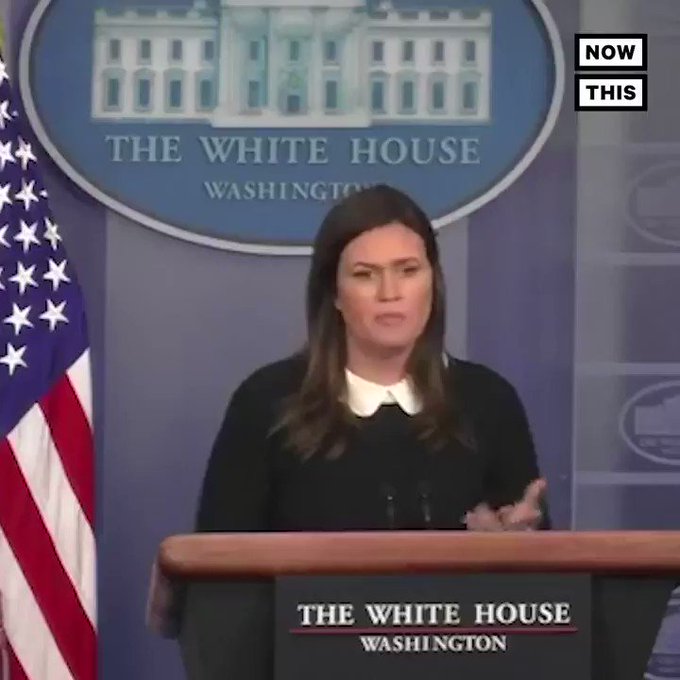 NowThis
@nowthisnews
'10 minute briefing, Sarah!?' — A reporter shouted 'do your job!' after the White House's first briefing in 3 weeks ended within minutes
What exactly does the Trump White House have against press briefings?A lot of what we learn about what "President" Donald Trump is thinking we get directly from him, in the form of knee-jerk tweets that are often puerile, antagonistic, full of exaggerations or straight out lies.The "daily" press briefing would normally be an opportunity for reporters to ask Sanders to clarify or explain any of the president's statements, but that is not how it usually goes when Sanders is at the podium.She holds tightly to the reins of the briefings. Her answers tend to be scripted and generic. She doesn't give anything up. She keeps the briefings very short and allows little opportunity for the type of question and answer session that might allow the press to keep the American people informed as to what is going on in the White House and with the administration.If the questions about something Trump has said or is rumored to have said gets to be too much for Sanders, she is not above deflecting and saying "the president has already addressed that" to avoid answering.As 
Politico pointed out in August
 when reporting on the dearth of press briefings, it's almost as though press briefings with Sanders are useless because she is not forthcoming and she has frequently given out misleading or incorrect information.Martha Joynt Kumar, a Towson University political science professor emeritus who tracks press interactions with the president as the director of the White House Transition Project, told Politico at the time that the value in the briefings is getting the White House on record.Still, it's kind of hard to get the White House on record when the person who is responsible for disseminating information doesn't seem to want to do her job on a regular basis.And that says everything about this administration.If not for the tireless work of journalists who don't stop digging and pushing until they get to the truth, we may not have any information about what is happening in the White House and in the Trump administration.It is indicative of the dishonest nature with which this administration is run.At the end of the day, Trump's lies will continue to be exposed, and Sarah Huckabee Sanders will represent the cloak of secrecy under which Trump and his cronies continue on with their dirty dealings.When they all get arrested and perp walked across the White House lawn, she needs to go right with them because she is a complicit enabler in their wrongdoing.Simply put, she is the worst White House press secretary ever.