Indonesia landslides kill at least two, leave dozens missing
Reuters
Residents carry their belongings following landslides at Cisolok district in Sukabumi Residents carry their belongings following landslides at Cisolok district in Sukabumi, West Java province, Indonesia, January 1, 2019. Antara Foto/M Agung Rajasa/via REUTERS JAKARTA (Reuters) – Landslides on Indonesia's heavily populated island of Java killed at least two people and left 41 missing, an official at the country's disaster agency said on Tuesday.The landslides, which struck a village in West Java on Monday, also injured 2 people and buried thirty homes, Sutopo Purwo Nugroho, a spokesman for Indonesia's disaster agency said in a statement."Rugged rocky roads and the rainy weather is making it difficult for our team to conduct evacuation operations," Nugroho said, adding that heavy equipment was needed to help search for survivors.(Reporting by Fanny Potkin; Editing by Neil Fullick)
News Reed Timmer details the heart-pounding moments from 5 of his most extreme storm chases in 2018
AccuWeather Extreme Meteorologist Reed Timmer was nothing short of busy in 2018. With major hurricanes, tornadoes, flash floods, and even hailstorms, whenever there was an extreme weather event happening, that's where Reed was going to be."[It was a] very interesting year, a multifaceted year in terms of the natural disasters," said Timmer. "A very sad year as well with the areas impacted along the Gulf coast by Hurricane Michael but also a very fulfilling year too by warning the people in the path of these storms."Timmer put himself on the front line of almost every major storm and natural disaster that hit the country. He lends his scientific expertise to advise people on how to prepare, but he also witnesses the aftermath and lends a hand to those hurting communities.As 2018 comes to a close, Reed Timmer joined the AccuWeather podcast team to discuss some of the year's most interesting and exciting chases and shares some of the most unusual and heart-pounding moments from the eye of the storms.Hurricane Michael Going down as one of the most intense hurricanes to make landfall in U.S. history, Hurricane Michael was the top choice for Reed Timmer as he recounted the storms he chased this year. Michael came in as the third most powerful hurricane to make landfall in the U.S and the most powerful on record to strike the Florida Panhandle.Mexico Beach and Panama City took the greatest hit from the storm, as most people along the coast lost their homes completely. Others came back to severely damaged homes and deserted neighborhoods.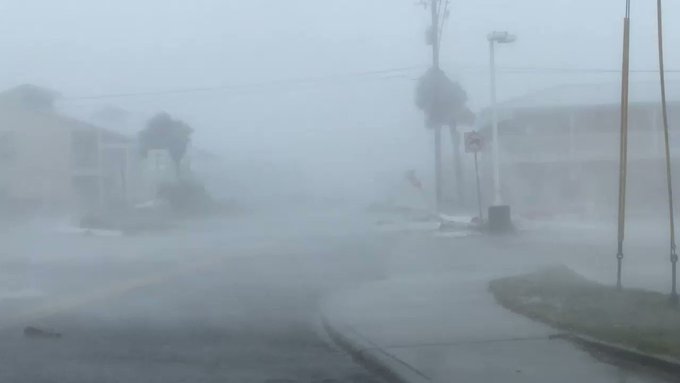 Reed Timmer@ReedTimmerAccu INTENSE eye wall east side of Panama City beach with Hurricane #Michael @accuweather @breakingweatherTimmer found himself riding out the eye of the storm in a Subaru, experiencing firsthand the mere 30 minutes of raw power and disaster that unfolded as the hurricane made landfall."The damage was just something that was devastating to see," said Timmer. "They still have a such a long road of recovery ahead down there. We certainly don't want to forget what happened in the Florida Panhandle."Tornado in Federal, Wyoming Tornado chasing is not new for Reed.Catching a tornado as it develops and makes landfall is just another day on the job, and not even a flat tire would get in the way of that. That's right, on May 27 he chased a tornado on a flat tire for about 10 miles. He knew that if he had stopped to fix it, he would have missed the storm completely.The EF2 twister was around 2 to 3 miles in length, according to the National Weather Service. Estimated peak winds were approximately 111-135 mph."Sadly, it hit some farmhouse there and I saw cows flying through the air," said Timmer. "That's the first time that I have seen with my own eyes livestock flying through the air inside a tornado."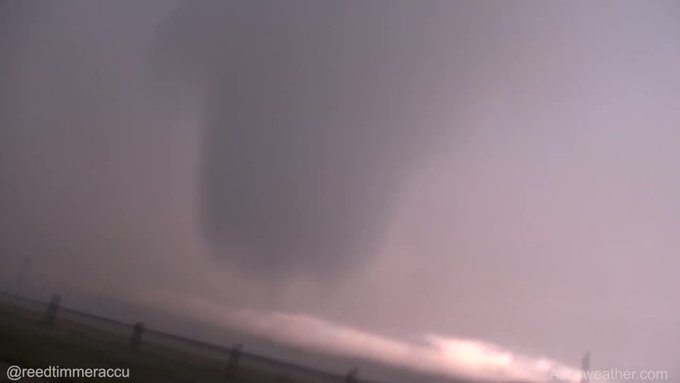 Reed Timmer@ReedTimmerAccu INTENSE damaging #tornado touches down 20 miles northwest of Cheyenne, WY and retrogrades back west as it widens into massive cone. Had to punch through hook with horizontal softballs to get to this vantage point. Thankfully everyone is okay here@breakingweather @accuweatherThe residents of Federal suffered great damage, including one man who hid under his staircase with his dogs as his house was simultaneously disintegrating around him."I allowed him to take shelter in my rental car," said Timmer. "That is definitely one of the good sides of storm chasing when you get to help out with recovery efforts like that."Sundance, Wyoming, hailstormThe end of June 2018 brought about severe storms that pounded the northwestern U.S. One storm in particular for Reed Timmer was a rarity.On June 29, a major hail storm brought hail noticeably larger in diameter than what a typical hailstorm would produced."I was in a rental car and decide to sample that hail core," said Timmer. "So I drove into it and [they were the size of] baseballs and softballs and blew all my windows out."NEW: destructive baseball hail, 70-80 mph winds busting out windows, damaging structures from Sundance, WY through Lead, Deadwood, SD. Largest hail ever seen in Deadwood the locals tell me. Here is just as #tornado warning issued east of Sundance @breakingweather #sdwx #hailThe storm was about 2 to 3 miles wide, and the area was put on a tornado warning. Wind gusts were about 70 to 80 mph.Reed wasn't the only one on Interstate 90 with shattered windows and this certainly wasn't the first rental car he was bringing back dinged up."I think I went through about six rental cars this year, mostly in terms of hail and some flash floods as well," said Timmer. "I brought that one back and returned it and the employees at the rental car company are actually clapping because they had 165 claims I think due to hail at that point."Johnson Canyon, Utah, flash floodThe North American monsoon in July brought flash flooding to parts of the southwestern U.S.A monsoon is a change in wind direction that can trigger long-duration rainfall or dry weather. The monsoon is well known in southeast Asia, but it occurs in other parts of the world as well."This was a relatively new experience," said Timmer. "I have chased flash floods before but I didn't realize the debris plug that some of these floods can have on the front side."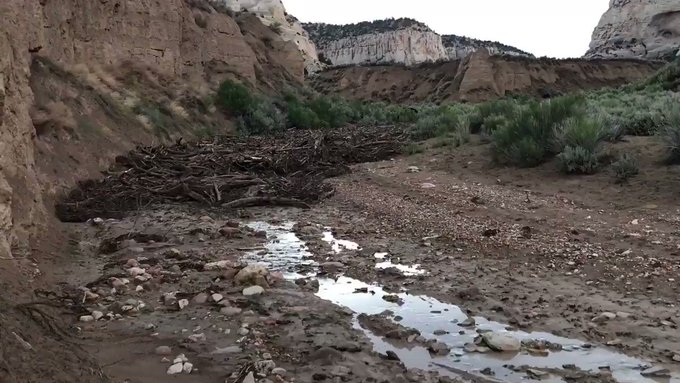 Reed Timmer@ReedTimmerAccu INSANE flash flood with big-time debris plug, massive trees in flow in Johnson Canyon just east of Kanab, UT! First solo flood intercept with @Rankinstudio currently in a different position waiting for another monster flash floodMonsoon coverage continues for @breakingweatherTimmer found himself at the Grand Staircase of Johnson Canyon as the water flowed through the dry riverbed and debris came right along with it."When they come down these creek beds that haven't flooded in a while, they can have a massive plug of debris and the way that it happens is that the debris plug moves slower than the rest of the flood because of the friction with the earth," said Timmer.Tescott, Kansas, tornado On May 1, a tornado ripped through Tescott, Kansas, spanning 14.5 miles long according to National Weather Service. Most buildings received EF2 like damage, but some had "low-end EF3 damage" toward the end of the 30-minute storm.
"Sadly it did cause quite a bit of damage there across north-central Kansas," said Timmer. "Anytime we intercept a storm in our armored vehicles and record data inside it's always a great experience."
The storm took its time developing, undergoing several cell mergers before it produced a tornado by the evening.
353 people are talking about this
Timmer and his team had to remain patient in order to properly catch and track the tornado. They stayed inside an armored vehicle prepared to handle the winds and equipped with all the technology needed to track and record the storm.
When it came time to stable the vehicle and brace for impact, however, they had a very tight window of time.
"In that case we only had about 10, 15 seconds before the tornadic winds arrived," said Timmer. "[It] can deploy in a matter of seconds and it is very important to prevent that wind from getting underneath the armored shell or else the vehicle could be easily lifted off the ground."
News New Year's Eve weather forecast: Will rain, snow, cold ruin your celebration?
Grab those umbrellas, and in some cases snow shovels and heavy coats, for your New Year's Eve celebrations tonight:
A massive storm will bring both wintry and wet weather for millions of revelers tonight, all the way from the Rockies to the East Coast.
Heavy snow, strong winds, ice and dangerous travel are forecast Monday from the Rockies to the northern Plains and Upper Midwest, the National Weather Servicesaid. Blizzard warnings have been posted in the Dakotas and Minnesota.
The heaviest snow is likely from western South Dakota to northern Minnesota, where as much as 3-6 inches of snow is possible in total, AccuWeather warned.
Along with the snow will come bitterly cold temperatures: Wind chills will reach hazardous levels (from 0 degrees to as cold as 40 degrees below zero) from Montana through Nebraska today through Tuesday morning.
Even the Desert Southwest will be on the chilly side as wind chills will dip into the low 30s in Las Vegas and the 40s in Phoenix on Monday night.
More: New Year's Eve 2018: What to expect at Times Square and other major celebrations
Folks on the warmer side of the storm will contend with severe thunderstorms, heavy rainfall and flooding in the lower Mississippi Valley, mid-South and Midwest.
The Weather Channel said that the storms could spawn a few tornadoes and damaging wind gusts, mainly from northern Mississippi and northern Alabama to middle Tennessee and south-central Kentucky.
The storm system will bring rain to much of the Eastern Seaboard Monday night.
Two storms will bring snow to parts of the North Central states, and then open the door for brutal cold into the new year: http://ow.ly/Gawq30n8Y0V 
See AccuWeather's other Tweets
While the ball drop in New York City will be in the upper 40s – a welcome change from last year's near-record of 9 degrees – rain will dampen the celebrations there.
In fact, many places in the eastern U.S. will be about 20 to 30 degrees above average on Monday evening.
This article originally appeared on USA TODAY: New Year's Eve weather forecast: Will rain, snow, cold ruin your celebration?
World
Philippine storm death toll surges to 68
Manila (AFP) – The death toll from a storm that struck the Philippines shortly after Christmas rose to 68 with the number of fatalities expected to climb even higher, civil defence officials said Monday.
Fifty-seven people died in the mountainous Bicol region, southeast of Manila, while 11 were killed in the central island of Samar, mostly due to landslides and drownings, the officials said.
"I am afraid this (death toll) will still go up because there are a lot of areas we still have to clear," said Claudio Yucot, Bicol civil defence director.
The weather disturbance locally named "Usman" hit the country on Saturday. While it did not have powerful winds it brought heavy rains that caused floods and loosened the soil, triggering landslides in some areas.
Many people failed to take necessary precautions because Usman was not strong enough to be rated as a typhoon under the government's storm alert system, Yucot said.
"People were overconfident because they were on (Christmas) vacation mode and there was no tropical cyclone warning," he told AFP.
Although Usman has since moved westward away from the country, many affected areas were still experiencing seasonal rains, hampering rescue and recovery efforts, he added.
At least 17 people are still missing and more than 40,000 were displaced nationwide due to the storm, the civil defence office said.
An average of 20 typhoons and storms lash the Philippines each year, killing hundreds of people and leaving millions in near-perpetual poverty.
The most powerful was Super Typhoon Haiyan which left more than 7,360 people dead or missing across the central Philippines in 2013.
By Fergus Jensen and Fanny Potkin
CIGONDONG/JAKARTA, Indonesia (Reuters) – As Indonesia reels from the carnage of yet another natural disaster, authorities around the globe are working on how they can prepare for the kind of freak tsunami that battered coasts west of Jakarta this month.
The Dec. 23 tsunami killed around 430 people along the coastlines of the Sunda Strait, capping a year of earthquakes and tsunamis in the vast archipelago, which straddles the seismically active Pacific Ring of Fire.
No sirens were heard in those towns and beaches to alert people before the deadly series of waves hit shore.
Seismologists and authorities say a perfect storm of factors caused the tsunami and made early detection near impossible given the equipment in place.
But the disaster should be a wake-up call to step up research on tsunami triggers and preparedness, said several of the experts, some of whom have traveled to the Southeast Asian nation to investigate what happened.
"Indonesia has demonstrated to the rest of the world the huge variety of sources that have the potential to cause tsunamis. More research is needed to understand those less-expected events," said Stephen Hicks, a seismologist at the University of Southampton.
Most tsunamis on record have been triggered by earthquakes. But this time it was an eruption of Anak Krakatau volcano that caused its crater to partially collapse into the sea at high tide, sending waves up to 5 meters (16 feet) high smashing into densely populated coastal areas on Java and Sumatra islands.
During the eruption, an estimated 180 million cubic meters, or around two-thirds of the less-than-100-year-old volcanic island, collapsed into the sea.
But the eruption didn't rattle seismic monitors significantly, and the absence of seismic signals normally associated with tsunamis led Indonesia's geophysics agency (BMKG) initially to tweet there was no tsunami.
Muhamad Sadly, head of geophysics at BMKG, later told Reuters its tidal monitors were not set up to trigger tsunami warnings from non-seismic events.
The head of Japan's International Research Institute of Disaster, Fumihiko Imamura, told Reuters he did not believe Japan's current warning system would have detected a tsunami like the one in the Sunda Strait.
"We still have some risks of this in Japan…because there's 111 active volcanoes and low capacity to monitor eruptions generating a tsunami," he said in Jakarta.
Scientists have long flagged the collapse of Anak Krakatau, around 155 km (100 miles) west of the capital, as a concern. A 2012 study published by the Geological Society of London deemed it a "tsunami hazard."
Anak Krakatau has emerged from the Krakatoa volcano, which in 1883 erupted in one of the biggest explosions in recorded history, killing more than 36,000 people in a series of tsunamis and lowering the global surface temperature by one degree Celsius with its ash.
BROKEN WARNING SYSTEM
Some experts believe there was enough time for at least a partial detection of last week's tsunami in the 24 minutes it took waves to hit land after the landslide on Anak Krakatau.
But a country-wide tsunami warning system of buoys connected to seabed sensors has been out of order since 2012 due to vandalism, neglect and a lack of public funds, authorities say.
"The lack of an early warning system is why Saturday's tsunami was not detected," said disaster agency spokesman Sutopo Nugroho, adding that of 1,000 tsunami sirens needed across Indonesia, only 56 are in place.
"Signs that a tsunami was coming weren't detected and so people did not have time to evacuate."
President Joko Widodo this week ordered BMKG to purchase new early warning systems, and the agency later said it planned to install three tsunami buoys on the islands surrounding Anak Krakatau.
The cost of covering the country is estimated at 7 trillion rupiah ($481.10 million). That is roughly equivalent to Indonesia's total disaster response budget of 7.19 trillion rupiah for 2018, according to Nugroho.
But other experts say even if this network had been working, averting disaster would have been difficult.
"The tsunami was very much a worst-case scenario for any hope of a clear tsunami warning: a lack of an obvious earthquake to trigger a warning, shallow water, rough seabed, and the close proximity to nearby coastlines," said seismologist Hicks.
In the Philippines, Renato Solidum, undersecretary for disaster risk reduction, said eruptions from the country's Taal volcano had caused tsunami waves before in the surrounding Taal Lake.
He told Reuters that what happened in Indonesia showed the need to "re-emphasize awareness and preparedness" regarding volcanic activity and its potential to trigger tsunamis in the Philippines.
The United States has also suffered several tsunamis caused by volcanic activity, including in Alaska, Hawaii, and Washington, according to the national weather service.
MORE EDUCATION
In Indonesia earlier this year, a double quake-and-tsunami disaster killed over 2,000 people on Sulawesi island, while at least 500 died when an earthquake flattened much of the northern coastline of the holiday island of Lombok.
In a country where, according to government data, 62.4 percent of the population is at risk of being struck by earthquakes and 1.6 percent by tsunamis, attention is now focused on a continued lack of preparedness.
"Given the potential for disasters in the country, it's time to have disaster education be part of the national curriculum," Widodo told reporters after the latest tsunami.
For Ramdi Tualfredi, a high school teacher who survived last week's waves, these improvements cannot come soon enough.
He told Reuters that people in his village of Cigondong on the west coast of Java and close to Krakatau had never received any safety drills or evacuation training.
"I've never received education on safety steps," he said.
"The system…totally failed."
(Additional reporting by Wilda Asmarini, Tabita Diela, Bernadette Christina Munthe in Jakarta, Linda Sieg and Tanaka Kiyoshi in Tokyo, and Neil Jerome Morales in Manila.; Writing by Kanupriya Kapoor; Editing by Raju Gopalakrishnan)