News Snowfall in Greece gives Athens a much different look
Mike Wehner,BGR News
As it always does, winter has covered many parts of the world in a dusting of snow to start the year. Last week we were treated to some lovely images of a rare substantial snowfall in Arizona and New Mexico, and now we're seeing a similarly special sight in Greece, where snow has blanketed the capital of Athens and given its historic structures a winter makeover.As Reuters reports, Greece has been slammed with record low temperatures this week, causing major problems for residents while also creating some lovely photo ops. Public transportation is seeing delays and schools took the day off while the city dealt with the bizarre weather.Don't Miss: $57 device lets you control all your home entertainment gear with a phone or AlexaIt's not often we get to see the ruins of iconic monuments like the Acropolis covered in snow, and photographers have wasted no time in capturing the beautiful sights.Good morning #Athens, you look mighty beautiful today ❤️ pic.twitter.com/JFZQCZ8tQt— Alexandros Maragos (@AlexMaragos) January 8, 2019Acropolis of Athens in snow. pic.twitter.com/NliwuuRey1— Ioannis Tz (@tzoumio) January 4, 2019 Snow at the Temple of Zeus and the Acropolis in Athens, Greece today. Jo pic.twitter.com/1EKStHCWRw— BBC Weather (@bbcweather) January 8, 2019 The Zappeion Megaron in the snowy Athens.* pic.twitter.com/q2y4oI37pq— BASILIO NOVARTI (@BasilioNovarti) January 9, 2019 The snow certainly gives Athens a special look, but it's not all smiles and snapshots in Greece this week. Officials have said that at least three people have died as a result of the cold snap, and emergency personnel have reportedly been dealing with an influx of calls from people who are stranded either in their cars or even inside their homes after heavy snow blocked their exit.Temperatures dipped as low as -9 degrees Fahrenheit in parts of the country, with snow leading to highway closings and train downtime. Temperatures in Athens have since bounced back to their more temperate norm but other areas of the country are still trying to get back on their feet. The capital isn't expected to dip back below freezing for the foreseeable future.BGR Top Deals: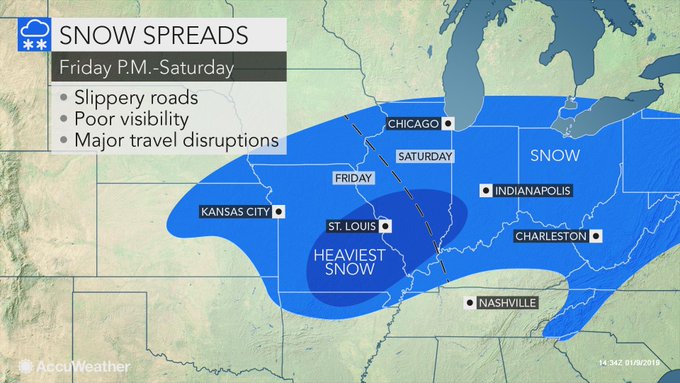 AccuWeather
@breakingweather
A gathering storm system will spread snow from Missouri to Ohio heading into the weekend, impacting travel around St. Louis, Indianapolis, Chicago and Kansas City:
http://

ow.ly/Sa4Z30nfBwl

 
The next storm follows on the heels of another winter storm that's pasting portions of the Great Lakes and New England with heavy snow on Wednesday.In New England, many schools were canceled Wednesday after a night of freezing rain caused icy roads in southern and coastal areas. Up to a half-foot of snow had piled up elsewhere by Wednesday morning. In New Hampshire, over 22,000 customers remained without power by noon.As of Wednesday afternoon, up to 6 more inches of snow was still possible "across parts of the lower Great Lakes into northern New England, where winter storm warnings and winter weather advisories remain in effect," the 
National Weather Service
 said.Gusty winds will also affect much of the Northeast, even in areas where there is no rain or snow, the Weather Channel said.On Tuesday, a swath of wild weather brought high winds, thunderstorms, hail and tornadoes to portions of Ohio and Pennsylvania. An EF-1 tornado hit Mercer County, Pennsylvania, damaging several homes. It was only the 7th tornado to hit Pennsylvania in January since records began in 1952, according to the weather service's Pittsburgh forecast office.Another tornado touched down in Cortland, Ohio, the Cleveland office of the weather service reported. That twister was also Ohio's 7th January tornado on record.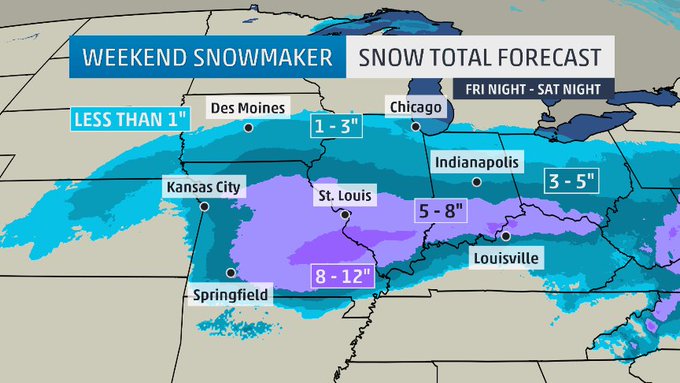 Chris Bruin
@TWCChrisBruin
Looking more and more LIKELY we will see a decent snow-maker across the OZARKS and OHIO RIVER VALLEY. Still some uncertainty farther east into the Mid-Atlantic. ST. LOUIS and LOUISVILLE just a couple cities in the path! We're going thru the different options on
@
weatherchannel
Contributing: The Associated Press
This article originally appeared on USA TODAY: Weekend snowstorm forecast from Midwest to East Coast; rare January tornadoes hit Ohio, Penn., Tuesday
Lebanese soldiers try to get their car running after it was stuck in snow, in the village of Hammana village, Mount Lebanon, Wednesday, Jan. 9, 2019. A storm packing snow and rain that has battered Lebanon for five days has left an 8-year-old Syrian girl dead, flooded neighborhoods and paralyzed major mountain roads. (AP Photo/Bilal Hussein)DAHR EL-BAYDAR, Lebanon (AP) — A storm packing snow and rain that has battered Lebanon for five days left an 8-year-old Syrian girl dead, flooded neighborhoods and paralyzed major mountain roads.Residents in some Beirut neighborhoods awoke Wednesday to find their cars immersed in water as rivers overflowed, inundating streets with muddy water.
Some of the most affected areas were the northern Beirut suburb of Antelias and Hay al-Sollom just south of the capital, where two rivers overflowed, flooding some parking lots and the ground floors of some buildings, forcing people to move to higher stories."All those who were affected by the storm will be compensated," Higher Relief Committee chief Maj. Gen. Mohammad Kheir told reporters during a tour in Antelias, where trucks were unloading sand on the sides of the Fowar Antelias river to prevent further floods.The storm, dubbed "Norma," began Saturday and was expected to end late Wednesday, forecasters said.In the northern town of Minyeh, the body of an 8-year Syrian girl who had been missing since Tuesday afternoon after she fell into a river was found the next morning in a nearby orchard.In the village of Dahr el-Baydar, several bulldozers were working on opening the highway that links Beirut with the Syrian capital Damascus after it was covered with about a meter (yard) of snow.The U.N. refugee agency, UNHCR, said in a statement that some 11,000 Syrian refugees in 151 settlements were affected by the storm. It added that some 70,000 Syrian refugees are at risk.In the eastern Bekaa Valley, home to tens of thousands of Syrian refugees, many had their tents flooded with water and mud adding to their misery. Others had their tents covered with snow as temperatures dropped.Police blocked the highway and prevented cars and trucks other than four-wheel drive vehicles from passing for safety reasons before it was opened for all vehicles Wednesday afternoon.Mohammed Assaf had waited for several hours for the road to be opened to head to his hometown of Baalbek, in Lebanon's northeast."As you can see the road is closed and security forces are not allowing anyone to pass, even those who have chains on their tires," Assaf said as he stood on the icy road next to a police checkpoint. He added that it is rare for the highway to be closed.In the impoverished Palestinian enclave of Gaza, downpours followed two days of windy, dusty weather, bringing relief to some people but adding constraints to many others, who can't afford expensive, scarce heating.Households in Gaza get about eight hours of electricity a day, followed by a similar period of blackout. This is an improvement from nearly two years ago when the 2 million residents suffered lengthy blackouts of up to 16 hours. But on Wednesday, the power distribution company said increased demand has disrupted the rotating schedule and caused more power cuts in some areas.In a poor neighborhood in Khan Younis, southern Gaza Strip, residents clustered around fires they built from cardboard and leftover timber."We suffer when the winter comes, we make fires to warm the children," said Imad Zu'rob, a local resident. Inside, he said rainwater leaks through the roof of his makeshift dwelling, forcing the family to distribute pots to contain the drops._Associated Press writer Fares Akram contributed to this report from Gaza.
'I need a blanket': Lebanon winter storm batters refugee tents
Reuters
Syrian refugees work near tents at a makeshift camp at the Lebanese border town of Arsal, Lebanon January 9, 2019. REUTERS/Zeina Alhoujeyri BEIRUT (Reuters) – At a makeshift camp in the Lebanese town of Arsal, refugees are burning their clothes trying to ward off the harsh cold as storms flood their tents."We have no fuel at all. People are tearing up clothes, burning plastic, whatever they can find to get warm," Abdallah Mokdeh said in the border town."This is the worst we've seen in years."Since 2011, more than a million Syrians have fled the war at home to Lebanon, where aid agencies say most live in severe poverty. Tens of thousands are in Arsal near the hills at the border with Syria."The roads are blocked. We called an ambulance and it did not come," said Mokdeh, a refugee who acts as a caretaker for the rows of tents pitched closely together on a patch of earth.Floods ruined mattresses and destroyed tents, forcing some people to move in with their neighbors. Many were sick or elderly. Some tents already housed three families, he said."The snow, the cold have no mercy."Mahmoud Hakouk, a 60-year-old Syrian man at the same site, has struggled to stay dry. "I need a blanket," he said, shivering. "I swear to God I don't have enough to buy bread."The U.N. refugee agency said high winds, rain and snow had "heavily impacted" more than 150 informal settlements, including some that were fully flooded or collapsed. A child was reported missing, it said on Wednesday.The heavy storm inundated hundreds of tented settlements across Lebanon and left youngsters stranded in freezing temperatures, charity Save the Children said."It's miserable here, we have tents that collapsed because of the intense wind," said Radwan Raad, standing in the snow at another ramshackle camp in Arsal.Many of the camp's residents did not receive U.N. aid and could not afford food every day, he added.Helem Amer, 85, wrapped herself in a blanket in her flimsy shelter at that camp. "I can't get up on my own, there's no fuel, nothing, nobody to help."(Reporting by Ellen Francis and Laila Bassam; Editing by Alison Williams)
Vonn record push on ice as heavy snow wipes out St Anton meet
AFP
Lindsey Vonn (pictured March 2018) was due to make her comeback from a training crash, but the races at St Anton were snowed out (AFP Photo/Jonathan NACKSTRAND)Vienna (AFP) – American speed queen Lindsey Vonn's hopes of closing in on Ingemar Stenmark's long-time record of 86 World Cup victories was put on hold Wednesday when this weekend's downhill and Super G races in the Austrian resort of St Anton were called off due to heavy snowfall"The downhill races planned in St Anton this weekend have had to be cancelled due to increased danger of avalanches and unfavourable weather forecasts," the Austrian Ski Federation (OeSV) said."Extreme amounts of fresh snow make it impossible to hold the World Cup races planned for Saturday and Sunday."Vonn, who has 82 World Cup wins to her name, was due to make her comeback from a training crash injury in November in St Anton.Around three metres (nine feet) of snow have fallen in the Austrian resort in recent days and a further metre of snow is forecast in the coming days, the OeSV said."There is a high risk of avalanches and workers' safety cannot be guaranteed," the statement said.Already around 120,000 cubic metres of snow had been removed from the pistes, "but unfortunately in vain", the federation continued.
How to avoid getting shocked by static electricity during winter
ashley.williams,AccuWeatherDuring the cold, dry months, everyday actions like handling a doorknob, flipping on a light switch or touching your car's metal frame are more likely to result in an annoying, yet harmless, jolt of static electricity shock.Static electricity, which is the result of an imbalance of positive and negative charges, results from a charge imbalance created by certain actions, including shuffling one's feet across a carpeted floor, said John Burkhauser, director of educational programs at Bolt Technology."Your body picks up negative charges, making you more negative," Burkhauser explained. "Negative and negative or positive and positive [charges] do not like to be near each other, so they push away from each other."Opposites attract, so as you reach for a door handle, the negative charge on your body continues to build up until there's enough voltage to allow the charge to jump between your hand and the doorknob in the form of a spark, according to Burkhauser.
SparkStatic shock is more likely to happen in colder, drier climates because this type of air lacks the moisture needed for static electricity to find balance.Warm air, on the other hand, holds more moisture, which is why static shock is a lot less common during summer."Dry, cold air is more of an insulator," Burkhauser said. "The charge must build up to high voltage before it makes the jump to equalize the charges.""The voltage can range from 4,000 to 35,000 volts, but with no current," he added.This explains why static shock may hurt but will not kill you, according to Burkhauser.If you find that you're often plagued with the misfortune of getting zapped every time you touch a metal object or another person, there are a few ways you can reduce the likelihood of it occurring.Alter your winter wardrobe Wearing your favorite wool sweater or socks might seem perfect for keeping warm, but your chances of being shocked will rise while wearing wool and certain synthetic fabrics, including nylon and polyester. Experts recommend choosing cotton clothing instead.Wearing rubber-soled shoes, which are powerful insulators, will also increase the likelihood of static shock and can build up static electricity in your body as you walk across a nylon or wool carpet.Leather shoes would be a better option to avoid static shock, according to experts at the University of Birmingham.Humidify your home Cranking up the central heating in your home during winter can reduce humidity levels and dry out the air even further, increasing your risk of getting zapped."[Raising] the humidity levels by deploying a humidifier can help mitigate prolonged buildup of static charges on our bodies," said Sai Sunil Mallineni, a research assistant at Clemson University's Nanomaterials Center.Burkhauser recommended aiming to maintain a humidity level of between 40 and 50 percent.Use dryer sheets The anti-static properties of dryer sheets balance out the electrons in your clothes with positively charged ions as they dry.This helps prevent them from clinging together in the dryer and also reduces your chances of static shock as you wear them.You can also use dryer sheets in your vehicle to prevent getting zapped as you touch the metal frame, according to Burkhauser."If you get a nasty shock getting out of your car, rub the seat down with a dryer sheet, and that will short circuit the static buildup," he said.Keep touching metal "Another simple way [to prevent static shock] is to keep touching a metal object as often as possible to continuously ground built-up charges," Mallineni said.Although typically harmless, static electricity can pose a significant threat if it occurs at a gas station, particularly in colder climates.To prevent it, try to avoid getting in and out of your car while you pump gas. If you have to, be sure to discharge static build-up before reaching for the nozzle.You can do this by touching something metal, such as your car door, with your bare hand in a place located away from the nozzle, according to the American Petroleum Institute.For more safety and preparedness tips, visit AccuWeather.com/Ready.