The Seattle Times Here's a bit of good news for Wednesday morning's bus commute.  SEATTLETIMES.COM As the snow melts, King County Metro will run 90 percent of its bus routes Wednesday The decision reflects confidence that the area will avoid a refreezing of the pavement, and that city, county and state crews can plow or salt major roadways if needed.
News
Wall of winter weather brings sleet, ice and snow from Seattle to New York, affecting 100 million people
A wall of winter weather rolling across a wide swath of the northern United States on Tuesday brought sleet, snow, ice and commuter headaches to more than 100 million people from Seattle to New York.
The storm was part of an even larger system that also brought tornado warnings to Mississippi and concerns over torrential rains, high winds and flooding to parts of Georgia, Alabama and Florida, AccuWeather meteorologist Tyler Roys said.
"This storm is unique in that it brought a significant storm to Seattle and a wintry mess to so many big cities – Chicago, Detroit, New York and Boston," Roys told USA TODAY. "When you include the South, the storm is impacting almost every part of the United States in some shape or form."
Over 100,000 homes and businesses were without power in Washington state alone. More than 650 flights in and out of New York's Kennedy and LaGuardia airports were canceled or delayed.
Commuters across most of the nation's northern tier were also affected. Green Bay, Wisconsin, could see 10 inches before the snow stops. Parts of Michigan were paralyzed by freezing rain.
"Expect your drive to be at least twice as long this am," Michigan's Transportation Department warned Detroit commuters. "Icy rain making for tough driving conditions. SLOW DOWN!"
Parts of northern New Jersey were bracing for up to eight inches of snow and ice, and Gov. Phil Murphy declared a state of emergency for the entire state. Upstate New York and northern New England could see up to 18 inches.
In New York City, Mayor Bill de Blasio warned that morning snow was forecast to morph into a wintry mix in the afternoon.
"Please take today's winter weather seriously," he pleaded. "Stay indoors whenever possible, use public transit if it is available to you and check on your vulnerable neighbors."
Areas north of Baltimore were hit with more than five inches of snow Monday topped by sleet and freezing rain Tuesday. In Philadelphia, a passenger was injured when a SEPTA bus jackknifed and crashed into a North Philadelphia home on a snowy, slick street.
Schools in Seattle and across much of the area were shuttered for a second straight day Tuesday. The city, which averages less than 7 inches of snow a year, already has seen three times that amount. Boston's snow total since Jan. 1: 2.2 inches. Seattle: 20.2 inches.
A mix of rain and snow continued to fall Tuesday. This has been Seattle's snowiest February on record, the National Weather Service reported.
"Here's another statistic that sets this month apart," the Seattle weather service office tweeted. "Including ALL months going back to 1894, there have been only been 5 months (including this one) in which 6+ inch snowfall occurred twice in the same month."
Even Hawaii had been under siege, with 60-foot waves and wind gusts up to 191 mph that were part of a fierce weekend storm that downed power lines and felled trees.
More: There's 'no place on the planet' – not even Hawaii – to escape climate change
This article originally appeared on USA TODAY: Wall of winter weather brings sleet, ice and snow from Seattle to New York, affecting 100 million people
1 / 2
Black volcanic cinders have a dusting of snow at the Polipoli State Recreation area on the slopes of Haleakala near Kula on the Hawaii island of Maui, Monday, Feb. 11, 2019. A strong storm hitting Hawaii has knocked out power, brought down tree branches, flooded coastal roads — and even brought snow. Snow is not unheard of in mountainous parts of the tropical island chain, but officials say the coating at 6,200 feet (1,900 meters) at the state park on Maui could mark the lowest-elevation snowfall ever recorded in the state. (Brent Edwards via AP)
HALEAKALA NATIONAL PARK, Hawaii (AP) — There's snow in Hawaii, on the highest peak of the island of Maui.
But visitors will have to enjoy it from down below. The summit area of Haleakala National Park is closed because of "extreme winter conditions."
Park officials said Tuesday that snow, ice, fallen trees and rocks are making the area dangerous.
Superintendent Natalie Gates encourages people to view the snowcapped mountain from afar.
National Weather Service Meteorologist Tom Birchard says there's still a hint of snow Tuesday. He says more is expected Wednesday night into Thursday.
There's a winter storm watch for Haleakala and the Big Island summits of Mauna Kea and Mauna Loa.
Snowfall lower down at a Maui park caused a traffic jam over the weekend from people wanting to see unusual Hawaii weather.
This Might Be The First Time This Hawaii State Park Has Ever Seen Snow Nearly every winter, the rest of the continental United States is surprised byheadlines announcing that snow has graced the summits of Hawaii's tallestpeaks
1 / 2
This Might Be The First Time This Hawaii State Park Has Ever Seen Snow
Nearly every winter, the rest of the continental United States is surprised byheadlines announcing that snow has graced the summits of Hawaii's tallestpeaks
Nearly everywinter, the rest of the continental United States is surprised by headlines announcing that snow has graced the summits of Hawaii's tallest peaks. But this week, something especially remarkable happened.
As a winter storm collided with the Aloha State over the weekend, a rare snowfall turned the much lower Polipoli Spring State Park on Maui into a wintry wonderland.
Melissa Dye, a meteorologist at the National Weather Service in Honolulu, told HuffPost that Polipoli saw 4-foot drifts of snow, though park rangers were unable to measure it due to strong winds.
"It's just real white like ice now, so it's just blowing around and drifting," she added.
Dye also said that the temperatures at Polipoli must have been at least 32 degrees Fahrenheit, the freezing point, though the National Weather Service doesn't have a temperature sensor there.
Snow covered Polipoli as a part of a storm that battered the islands over the weekend with strong winds, powerful surf and relatively low temperatures for the subtropical state.
As bad weather continues, the National Weather Service on Tuesday issued a winter storm watch for the summits of Haleakala on Maui and Mauna Kea and Mauna Loa on the Big Island, noting that there will be periods of "freezing rain and snow possible."
"Very cold air aloft will once again move over the islands beginning tonight and continuing into Friday," officials said in a notice.
Dye told HuffPost that snow in Hawaii "is not unheard of." The peaks of Mauna Kea and Mauna Loa, which reach higher than 13,000 feet, receive snow every winter, while the summit of Haleakala volcano sees snow at elevations above 9,000 feet every three to four years.
However, snowfall at Polipoli State Park, at 6,200 feet, is out of the ordinary, Dye added.
In a Facebook post, the state's Department of Land and Natural Resources said that this may be the first snow recorded there.
The DLNR's State Parks office "reports that perhaps for the first time ever, snow has fallen in a Hawai'i State Park," officials said on Facebook. "Polipoli State Park on Maui is blanketed with snow."
Dye said she couldn't confirm whether it was the first time snow had ever fallen at the state park, but she did note that it was uncommon.
 For local residents, the white-dusted mountain was a sight to behold.
The National Weather Service in Honolulu described the storm battering Hawaii over the weekend as a "historic low pressure system" in a tweet on Sunday.
Winds of up to 191 miles per hour whipped at Mauna Kea's peak on Sunday, while a maelstrom of waves up to 60 feet churned on Oahu's north shore.
This article originally appeared on HuffPost.
1 / 2
FILE PHOTO: Greenland's residents grapple with global warming
FILE PHOTO: Snow covered mountains rise above the harbour and town of Tasiilaq, Greenland, June 15, 2018. REUTERS/Lucas Jackson/File Photo
By Alister Doyle, Environment Correspondent
OSLO (Reuters) – Greenland could start to export sand in a rare positive spinoff from global warming that is melting the island's vast ice sheet and washing large amounts of sediment into the sea, scientists said on Monday.
Mining of sand and gravel, widely used in the construction industry, could boost the economy for Greenland's 56,000 population who have wide powers of self-rule within Denmark but rely heavily on subsidies from Copenhagen.
By mining sand, "Greenland could benefit from the challenges brought by climate change," a team of scientists in Denmark and the United States wrote in the journal Nature Sustainability.
The study, headlined "Promises and perils of sand exploitation in Greenland", said the Arctic island would have to assess risks of coastal mining, especially to fisheries.
Rising global temperatures are melting the Greenland ice sheet, which locks up enough water to raise global sea levels by about seven meters (23 ft) if it ever all thawed, and carrying ever more sand and gravel into coastal fjords.
"You can think of it (the melting ice) as a tap that pours out sediment to the coast," said lead author Mette Bendixen, a researcher at the University of Colorado's Institute of Arctic and Alpine Research.
Worldwide demand for sand totaled about 9.55 billion tonnes in 2017 with a market value of $99.5 billion and is projected to reach almost $481 billion in 2100, driven by rising demand and likely shortages, the study said.
That meant a rare opportunity for the island.
"Normally the Arctic peoples are among those who really feel climate change – the eroding coast, less permafrost," said Bendixen. "This is a unique situation because of the melting ice sheet."
David Boertmann of Aarhus University, who was not involved in the study, said there was already some local mining of sand for the domestic construction industry in Greenland.
Drawbacks for Greenland, common to other mining projects on the island ranging from uranium to rare earth minerals, include the distance to markets in Europe and North America, he said.
Still, Bendixen said sand was already often transported long distances, such as to Los Angeles from Vancouver or from Australia to Dubai.
"At the moment it is an inexpensive resource but it will become more expensive," she said.
The study said that sand and gravel might also be used in future to reinforce beaches and coastlines at risk of rising sea levels, caused in part by Greenland's thaw.
(Reporting By Alister Doyle; Editing by Andrew Cawthorne)
World Outrage over trophy hunter who paid $110,000 to kill rare mountain goatSarah HarvardThe IndependentAn American man reportedly shelled out $110,000 to hunt and kill a rare mountain goat while on a recent expedition trip in Pakistan's northern Himalayan region of Gilgit-Baltistan..Bryan Kinsel Harlan, a trophy hunter from Texas, was photographed on Tuesday kneeling and smiling behind the butchered goat."It was an easy and close shot," Mr Harlan told the Pakistani press. "I am pleased to take this trophy."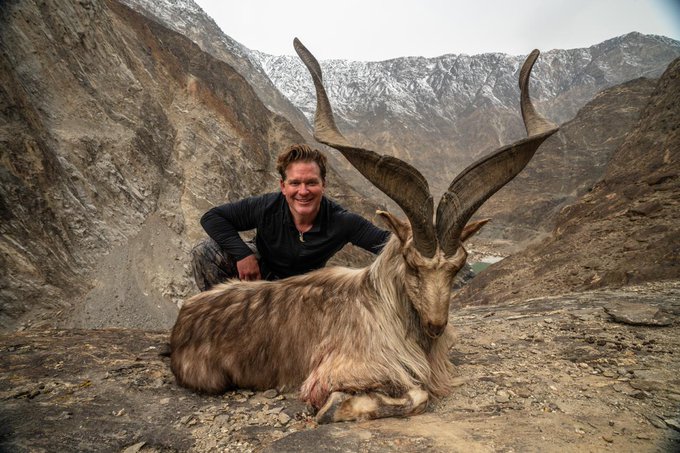 Tanveer Ahmed
@Mountain_Man007
US citizen
#
BryanHarlan
who hunted an AstoreMarkhor few days ago at GB has said that Pakistan is more peaceful country than Mexico. if govt of Pak govt could put some investment in to tourism sector they could do great for this beautiful country.Thank you
#
BryanKinselHarlan
The local press identified the goat Mr Harlan killed as a wild Astore markhor by Pakistani newspapers.It is the official national animal of Pakistan.Mr Harlan's photo prompted outrage on social media, many from people who are angered by the lack of laws banning—or regulating—the practice of hunting markhors. The Texan hunter is the third American to travel to Pakistan and kill a markhor.
A couple of years ago an American hunter paid lots of dollars to hunt a markhor – this month again 2 hunters (one American & another Swiss) have arrived in Chitral to hunt this beautiful animal – what a complete shame that we facilitate this slaughter

(Pic is from previous kill)
568 people are talking about this
Despite the swift backlash, Mr Harlan seems to have enjoyed his exotic adventure and postured himself as someone involved with animal conservation efforts.
The video footage of Mr Harlan's hunting experience shows him climbing a cliff and shooting a male marcher sitting next to a young goat before high-firing his local guides.
Another video features Mr Harlan expressing his gratitude in being "welcomed with open arms" and called Pakistan a safe destination for tourists, and urged fellow Americans to follow his footsteps.
"This is a perfect example of hunters and villagers coming together for a common goal of game conservation," he said.
Pakistani authorities told the Washington Post that, in the past month, only hunters—like Mr Harlan—who have paid large amounts of money are permitted to hunt markhors in the northern parts of its country as part of its efforts to protect the endangered species from potential extinction.
The markhor population have reportedly been diminishing in the past several years, mainly due to deforestation, military activities, local poaching, and unregulated trophy hunting among other causes.
In 2011, there were only about 2,500 markhors remaining in the region.
Pakistani authorities have attempted to make strides to protect the markhors from facing extinctions, including allocating five sanctuaries in India for the rare mountain goats to roam freely and breed.
The South Asian country also banned all hunting from local poachers with the exception of foreign hunters. Foreign hunters are only permitted to hunt 12 male goats in "community conservation areas."
About 80 per cent of the profits the Pakistani authorities made from foreign hunters are reportedly given to "isolated residents" who live in the goats' habitat, and the other 20 per cent are allocated to the government wildlife agencies.
In 2015, the International Union for the Conservation of Nature bumped up the classification for the markhor population from "endangered species" to "near-threatened."