Politics Trump and O'Rourke Duel Over Wall as Lawmakers Reach Agreement
Justin Sink and Jennifer Epstein,Bloomberg
Trump and O'Rourke Duel Over Wall as Lawmakers Reach Agreement— Donald Trump and prospective Democratic challenger Beto O'Rourke took part in dueling rallies in Texas on Monday, with each using the president's proposed border wall as an early proxy for the 2020 election.For Trump, the rally began less than an hour after negotiators in Washington said they had struck a tentative deal on border security that would avert a second government shutdown. It's unclear whether Trump will accept the deal, which offers far less funding for a barrier than he's demanded."I don't know what they mean progress is being made," Trump said. "Just so you know, we're building the wall anyway."For O'Rourke, who lost a close Senate contest in November to Republican incumbent Ted Cruz, the wall stood for all the reasons he's weighing a 2020 bid."We stand for America and we stand against walls," O'Rourke said at the rally. "We know there is no bargain in which we can sacrifice some of our humanity to gain a little more security."The rallies held just a few hundred yards from each other offered a dry run for O'Rourke ahead of what promises to be a bitter contest among Democrats to see who will get the chance to face Trump in November 2020. Trump boasted about the size of his crowd and tried to downplay O'Rourke's popularity."A young man who's got very little going for himself — except he's got a great first name — he challenged us," Trump said at the rally. "That may be the end of his presidential bid."An estimated 10,000 to 15,000 thousand people gathered at the event for O'Rourke, including iconic photographer Annie Leibovitz, who took pictures of O'Rourke before the gathering marched more than a mile to a venue within earshot of Trump's rally.A crowd of thousands, with many people chanting "Beto! Beto!" and wearing shirts and hats encouraging O'Rourke to run against Trump, marched more than a mile to the counter-rally. As the masses swelled around O'Rourke, his wife and young children, several volunteers surrounded them by forming a human chain.O'Rourke has said he will decide whether to seek the Democratic presidential nomination by the end of the month.Trump came to El Paso — O'Rourke's hometown — to make his case for building a wall along the U.S.-Mexico border. He has repeatedly claimed that crime rates dropped in El Paso after a barrier along the the border with Juarez was built a decade ago. But many locals — including El Paso's Republican mayor — challenge that assertion, pointing to crime rates that dropped before construction even began.FBI crime data shows the city's violent crime rates fell to a low in 2006, two years before construction began on the fence. Incidents of violent crime ticked up slightly during and after the installation.In a sign of how inflamed passions on the matter have become, a Trump supporter allegedly accosted members of the media covering the event. BBC reporters tweeted footage and descriptions of a cameraman being pushed by a man who got onto the reporters' platform during the rally — which, like many other Trump events contained disparaging comments about the media. The president briefly paused his speech after the incident.Trump now faces a difficult choice on a border security deal: accept a spending agreement that rolls back elements of his immigration crackdown and provides only $1.375 billion of the $5.7 billion in wall funding he's demanded; or risk plunging the federal government into another shutdown, likely to prove as politically harmful as the first.Trump's refusal in December to back a bipartisan spending deal that didn't fund construction of his wall led to a record 35-day shutdown that ended last month. The White House had given signals that he would go along with the lower spending levels. But the president has in the past reversed course without warning. Without a funding deal, nine federal departments and related agencies would shut down again on Feb. 15."We probably have some good news but who knows," Trump said, flanked by giant banners reading "Finish The Wall."The Monday rally was Trump's first since the midterm elections. The president and his team have always felt the president is most effective in his rollicking, barely-scripted rallies, and Texas offers a reliably sympathetic audience. It also provides the stage to highlight real-world examples of the human trafficking, drug smuggling, and violence that informs the president's push for a wall.Trump also has repeatedly suggested he could declare a national emergency to draw on other government funds to begin construction of the wall. That approach has little public support, and has drawn criticism from both Democrats and Republicans.Talks broke off over the weekend after Democrats insisted on capping Immigration and Customs Enforcement detention beds to force the agency to focus on apprehending undocumented immigrants with criminal records. Immigration advocates have complained that Trump administration-directed ICE sweeps of workplaces and communities have resulted in many undocumented immigrants who have obeyed the law since entering the country being placed in deportation proceedings.Republicans have resisted a bed limit on grounds that criminals shouldn't count toward the cap."Let me state very clearly to those pushing this ridiculous and radical agenda," Trump said Monday at the rally. "I will never sign a bill that forces the mass release of violent criminals."(Updates with attack on journalists in 13th paragraph.)–With assistance from Erik Wasson and Alyza Sebenius.To contact the reporters on this story: Justin Sink in Washington at jsink1@bloomberg.net;Jennifer Epstein in Washington at jepstein32@bloomberg.netTo contact the editors responsible for this story: Alex Wayne at awayne3@bloomberg.net, Joshua Gallu, John Harney For more articles like this, please visit us at bloomberg.com ©2019 Bloomberg L.P.
Trump 'not happy' with congressional border deal but says shutdown unlikely
JORDYN PHELPS and MARIAM KHAN,ABC News Trump 'not happy' with congressional border deal but says shutdown unlikelyoriginally appeared on abcnews.go.comPresident Donald Trump said Tuesday he's "not happy" with the deal announced by top congressional negotiators Monday night with just a small fraction of the money he wanted for a border barrier but he also said he did not think there would be another partial government shutdown."I'm not happy about it. It's not doing the trick, but I'm adding things to it. I will add whatever I have to add. It's all going to happen. We are going to build a beautiful, big, strong wall that's not going to let criminals and traffickers," Trump said in his first reaction to the deal since learning about the details of the agreement struck last night.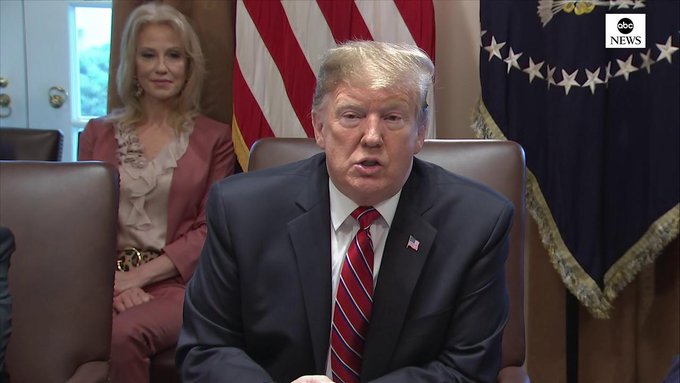 ABC News Politics @ABCPolitics President Trump on tentative deal reached by lawmakers to avert government shutdown: "Am I happy at first glance? I just got to see it. The answer is no … I'm not happy. But, am I happy with where we're going? I'm thrilled" http://abcn.ws/2Dw71lR He didn't say whether he'd sign or veto the deal if it were to pass Congress but did say he doesn't think another shutdown will happen. If it does, he said. it "would be totally on the Democrats.""We certainly don't want to see a shutdown. But you will be hearing fairly soon. The bottom line is, on the wall, we are building a wall. And we are using methods other than this. In addition to this, we have a lot of things going," Trump said.
PHOTO: President Donald Trump speaks during a cabinet meeting at the White House, Feb. 12, 2019. (Evan Vucci/AP)On Capitol Hill Tuesday afternoon, Senate Majority Leader Mitch McConnell called the congressional deal a "good step in the right direction. I hope he'll decide to sign it.""I think he's got a pretty good deal here. I think he's done just fine," McConnell said.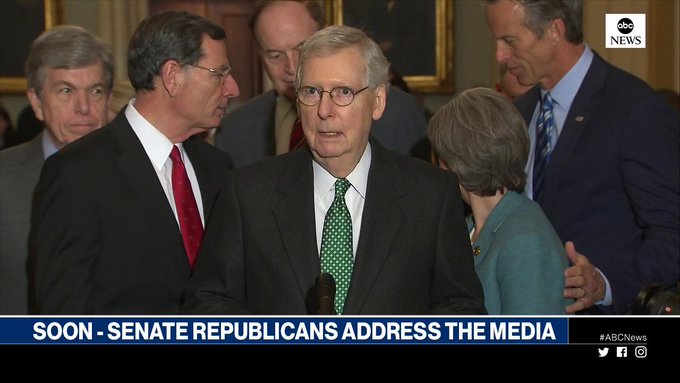 ABC News Politics @ABCPolitics Senate Majority Leader Mitch McConnell on tentative deal to avert a second government shutdown: "It's not everything the president hoped to get, but I think it's a good step in the right direction. I hope he'll decide to sign it" http://abcn.ws/2DzAM5c McConnell added that he supports the president taking executive action to "make up the difference" between the barrier money in the deal and the billions more he wants."I think he ought to be free to use whatever tools he can legally use to enhance his efforts to secure the border. So, no, I would not be troubled by that," McConnell told reporters when asked about the possibility the president might use his transfer authority to move money around.Senate Minority Leader Sen. Chuck Schumer called on the president to sign the bill as well, saying "I hope he doesn't make the same mistake he did a couple of months ago."In reiterating his determination to build his desired border barrier one way or another, Trump said the possibility of declaring a national emergency remains an option under consideration."We are supplementing things and moving things around, and we are doing things that are fantastic. Taking from far less important areas. The bottom line is, we are building a lot of wall. Right now we are building a lot of wall," Trump said."I consider everything," he said when asked specifically about a national emergency declaration. "I'm considering everything. We also have national emergencies out there. President Obama, President Clinton, President Bush — they declared many national emergencies. This is not unique. They declared many national emergencies. Many, many. You have some out there that we can use in addition to one that we can declare if we want to."The White House has also said there are options under consideration to draw from unspent funds within the government to build the wall without declaring an emergency."There are certain sums of money that are available to the president," acting Chief of Staff Mick Mulvaney said during an interview on NBC's "Meet the Press" Sunday. "What we're looking at doing with President Trump is stuff that is entirely legal, stuff that is laid out in law already … there's pots of money where presidents, all presidents, have access to without a national emergency."If the administration were to attempt to repurpose funds that were appropriated for other programs, the administration would almost certainly face legal challenges.(MORE: Negotiators reach agreement in principle to avoid another government shutdown )
The top four negotiators charged with hammering out a deal to avert another partial government shutdown emerged from a closed-door meeting last night to announce that they had "reached an agreement in principle" as the president was in El Paso, Texas, holding his first campaign rally of the year in a border city he has highlighted in his case for building a southern border wall.
Details of the agreement have not been released, but congressional sources told ABC News that it includes $1.375 billion for physical barriers at the southern border.
President Trump had requested more than $5 billion for his prized border wall.
The tentative agreement comes just four days ahead of another potential partial government shutdown.
(MORE: Negotiators hope to salvage border security talks ahead of Friday shutdown deadline)
The bipartisan deal was negotiated by members of the House and Senate Appropriations committees.
Sen. Richard Shelby, an Alabama Republican, told reporters that the agreement will also address all seven spending bills that expired during the last partial government shutdown.
(MORE: President Donald Trump holds his first campaign rally in El Paso, Texas)
"Our staffs going to be working feverishly to put all the particulars together and that's all we can tell you now without getting into numbers and everything," Shelby said. "But it's something that is the product of all of our work and we believe if this becomes law, of course, it would open the government."
"Not a single one of us is going to get every single thing we want," Sen. Patrick Leahy, D-Vt., said. "Nobody does. But we're going to get what is best for the United States."
(MORE: Citing 'post surgery medical needs,' Senate panel agrees to postpone Cohen testimony)
"I think everyone will say: 'good work,'" Rep. Kay Granger, R-Texas, added.
Rep. Nita Lowey, D-N.Y., said the legislative text of the agreement will be done as soon as they can get it, hopefully by Wednesday.
(MORE: Trump, GOP blamed for shutdown; no crisis seen but fewer oppose wall (POLL))
"Some people may think it's a great deal. Some may feel differently. But we did it together," she said.
Asked if the White House supports the deal, Shelby said: "We think so, we hope so."
(MORE: Government shutdown by the numbers: Who isn't getting paid)
The deal does not address disaster relief.
ABC News' John Parkinson and Mary Bruce contributed to this report.
EL PASO, Texas (AP) — The Latest on President Donald Trump and Beto O'Rourke in Texas (all times local):
8:40 p.m.
President Donald Trump's rally in El Paso, Texas, to push for his border wall took a strange twist when he began a tangent on dogs.
Trump says he's impressed by German shepherds and their ability to sniff out illicit drugs, but doesn't see himself getting a dog while at the White House.
Trump says he wouldn't mind having a dog, but he doesn't have the time.
He asked the crowd, "How would I look walking a dog on the White House lawn?" The crowd laughed loudly in response.
He then shook off the thought, saying, "It feels a little phony to me."
He noted that some people have told him it would be good politically to have a dog. He ended up not buying that one though, saying, "That's not the relationship I have with my people."
__
8:20 p.m.
President Donald Trump says the partial government shutdown showed the country, politicians and the world "what the hell is happening with the border."
Trump is also downplaying a potential breakthrough to avert a second shutdown, though West Wing aides have acknowledged there is insufficient support among Republicans to sustain another shutdown fight.
Trump told thousands at a rally in El Paso, Texas, on Monday that he was told lawmakers are making progress in their bids to avert another shutdown. But he says he told his staff that he didn't want to hear about it and that it was important to speak "to my people from Texas" first.
Trump says, "I had a choice. I could've stayed out there and listened, or I could have come out to the people of El Paso and Texas, I chose you."
The crowd has chanted back, "We chose you."
___
8 p.m.
President Donald Trump is ripping a proposal that some Democrats have embraced to curb global warming, claiming that it would shut down American energy and air travel.
Trump says the so-called Green New Deal sounds like a high school term paper that got a low mark.
Trump is speaking at a rally in El Paso, Texas. He claims the plan would cost $100 trillion, but no other country would follow suit. He says American companies would end up moving to China.
He says, "That's the way the system works," but adds, "Don't worry, it's not going to happen."
The nonbinding resolution outlined ambitious plans to cut all greenhouse gas emissions to net zero over 10 years while instituting massive investments in wind and solar production, energy-efficient buildings and high-speed rail.
__
7:55 p.m.
Democrat Beto O'Rourke told a hometown El Paso crowd that it's time to "show the country that there is nothing to be afraid of when it comes to the U.S.-Mexico border."
O'Rourke spoke Monday at a baseball stadium across the street from the arena from where President Donald Trump was promoting his U.S.-Mexico border wall. Cheers from Trump's fans could be heard at the counter-protest.
O'Rourke says, "The judgment of history is looking back at this moment." The former congressman is mulling a 2020 presidential run, and many in the crowd yelled for him to announce his candidacy. But O'Rourke said only, "This is where we make our stand."
Police did not give official estimates on O'Rourke's crowd size, but it appeared to exceed 5,000, in contrast to Trump's estimate of a few hundred.
__
7:45 p.m.
President Donald Trump is boasting about the size of the crowd attending his rally in El Paso, Texas, versus that for former Democratic Rep. Beto O'Rourke.
Both are speaking in El Paso. Thousands attended O'Rourke's event, but Trump estimated the crowd at 200 or 300 people. He claimed: "That may be the end of his presidential bid."
Trump says O'Rourke has little going for himself and noted that he lost a Senate race to Republican Ted Cruz. The president did credit him for having a "great first name."
The ex-congressman is still deciding on a presidential run. But treating the political world to 2020's first dueling rallies may indicate O'Rourke is ready to join the race.
___
7:30 p.m.
Democrat Beto O'Rourke says El Paso, Texas, is "one of the safest cities in America — safe not because of walls but in spite of walls."
O'Rourke headlined a protest Monday night across the street from an arena in which President Donald Trump is promoting his long-promised border wall between the United States and Mexico.
The former congressman, who is considering a presidential run in 2020, says, "We are making a stand for the truth."
He says, "Walls do not save lives, walls end lives," citing the danger to asylum seekers who are rejected by the U.S.
Protesters are chanting "Beto!" during breaks in O'Rourke's speech.
___
7:15 p.m.
Donald Trump Jr. is telling a crowd in Texas that Democratic lawmakers are fighting more for immigrants in the U.S. illegally than they are for the American people.
Trump Jr. spoke Monday night shortly before his father was due to address the crowd in El Paso.
He says he loves seeing young conservatives at the rally. He tells them "to keep up that fight, bring it to your schools. You don't have to be indoctrinated by these loser teachers that are trying to sell you on socialism from birth."
Trump Jr. is also mocking those attending the rally of Democrat Beto O'Rourke, who is marching with thousands of protesters decrying the border wall that the president is in town to promote.
Trump Jr. says that if the protesters chanted "USA" at the O'Rourke rally, "I don't know what would happen to you, but it wouldn't be good."
___
6:55 p.m.
Republican Sen. Ted Cruz of Texas says that when it comes to immigration, Texans understand something very simple: "It is time to build the wall."
Cruz warmed up a crowd in El Paso on Monday night before President Donald Trump was due to speak. At the same time, Cruz's 2018 Democratic opponent, Beto O'Rourke, marched with thousands of protesters to decry the border wall Trump was in town to promote. O'Rourke is considering a 2020 presidential run.
Cruz says the goal is to "stop the human traffickers, stop the drug traffickers and build the wall."
Cruz also says Texans welcome legal immigrants, but that they need to "stand in line" and "follow the rules." The crowd roared in agreement.
___
6:10 p.m.
Beto O'Rourke is marching with thousands of protesters through the streets of El Paso, Texas, decrying a border wall that President Donald Trump is in town to promote.
Wearing a black fleece pullover and stopping every few steps to hug supporters, O'Rourke is among a group walking close to the U.S.-Mexico border and along the city's existing border fence.
The group is heading to a venue across a small side street from the arena where Trump is holding his own a rally.
O'Rourke told the crowd, "You make El Paso proud and you make the country proud."
Protesters chanted "No wall!" and "Viva Beto!" as they proceeded.
___
4 p.m.
President Donald Trump headed to the Texas border Monday to argue his case that walls work as Democrats spurn his demands for billions to build such a barrier.
Trump is bound for El Paso, aiming to reshape the debate around the wall following a damaging shutdown fight and with his signature 2016 campaign promise hanging in limbo. In a case of pointed political counterprogramming, Beto O'Rourke, the former Democratic congressman from Texas now mulling a presidential run, planned an evening El Paso march and rally against the wall with dozens of local civic, human rights and Hispanic groups.
The rallies launch a crucial week for Trump as Democrats and Republicans remain locked in negotiations over border wall funding ahead of a midnight Friday deadline that could force another government shutdown.
The Dow rallied more than 100 points on Monday after the Trump White House whipsawed on the ongoing US-China trade war, providing the US stock market with a jolt of optimism that the two countries would arrive at a deal within the near future. Bitcoin, meanwhile, maintained its recent gains throughout the weekend but needs to see further growth to confirm that market headwinds truly have shifted.
Dow Mounts Triple-Digit Rally
Futures tracking the Dow Jones Industrial Average (blue), S&P 500 (red), and Nasdaq (orange) all climbed on Monday morning.
As of 9:01 am ET, Dow Jones Industrial Average futures had gained 101 points or 0.4 percent, implying a rise of just under 100 points at the opening bell. S&P 500 futures gained 0.32 percent, and Nasdaq futures climbed 0.44 percent to round out a solid pre-bell session for the US stock market.
Today's pre-market jump came in response to an Axios report that US President Donald Trump and Chinese President Xi Jinping might hold a summit to iron out sticking points that have prevented the two countries from reaching a new trade agreement. The meeting, which would likely take place at Trump's Mar-a-Lago resort, could take place as soon as next month.
Read the full story on CCN.com.
WASHINGTON (AP) — Congressional negotiators reached agreement to prevent a government shutdown and finance construction of new barriers along the U.S.-Mexico border, overcoming a late-stage hang-up over immigration enforcement issues that had threatened to scuttle the talks.
Republicans were desperate to avoid another bruising shutdown. They tentatively agreed Monday night to far less money for President Donald Trump's border wall than the White House's $5.7 billion wish list, settling for a figure of nearly $1.4 billion, according to congressional aides. The funding measure is through the fiscal year, which ends on Sept. 30.
It's not clear whether Trump will support the deal, although GOP negotiators said they were hopeful.
The agreement means 55 miles (88 kilometers) of new fencing — constructed through existing designs such as metal slats instead of a concrete wall — but far less than the 215 miles (345 kilometers) the White House demanded in December. The fencing would be built in the Rio Grande Valley in Texas. It actually closely mirrors Trump's original budget request from last winter, however.
The split-the-differences compromise contains plenty to anger lawmakers on the right and left — too much border fencing than many Democrats would like and too little for conservative Republicans — but its authors praised it as a genuine compromise that would keep the government open and allow everyone to move on.
"With the government being shut down, the specter of another shutdown this close, what brought us back together I thought tonight was we didn't want that to happen" again, said Senate Appropriations Committee Chairman Richard Shelby, R-Ala.
Details won't be officially released until Tuesday, but the pact came in time to alleviate any threat of a second partial government shutdown this weekend. Negotiators said it's pretty much the deal that Trump could have gotten in December. Aides revealed the details under condition of anonymity because the agreement is tentative.
"Our staffs are just working out the details," said House Appropriations Committee Chairwoman Nita Lowey, D-N.Y. She said the huge measure — which combines seven spending bills into one — measure would be publicly released as early as Tuesday afternoon.
The pact also includes increases for new technologies such as advanced screening at border entry points, humanitarian aid sought by Democrats, and additional customs officers.
This weekend, Shelby pulled the plug on the talks over Democratic demands to limit immigrant detentions by federal authorities, frustrating some of his fellow negotiators, but Democrats yielded ground on that issue in a fresh round of talks on Monday.
Asked if Trump would back the deal, Shelby said: "We believe from our dealings with them and the latitude they've given us, they will support it. We certainly hope so."
But Fox News Channel's Sean Hannity, a Trump ally, said the barrier money in the agreement was inadequate. He warned late Monday that "any Republican that supports this garbage compromise, you will have to explain."
"I would hope that Sean Hannity and all the other people you mentioned aren't running this government. This was a bipartisan deal, Senate and House, Republican and Democrat," top negotiator Rep. Nita Lowey, D-N.Y., said on CNN. "When we sat around the table and negotiated this deal, we didn't call Sean Hannity, we didn't call (Ann) Coulter." Coulter is a conservative commentator.
Trump traveled to El Paso, Texas, for a campaign-style rally Monday night focused on immigration and border issues. He has been adamant that Congress approve money for a wall along the Mexican border, though he no longer repeats his 2016 mantra that Mexico will pay for it, and he took to the stage as lawmakers back in Washington were announcing their breakthrough.
"They said that progress is being made with this committee," Trump told his audience, referring to the congressional bargainers. "Just so you know, we're building the wall anyway."
Democrats carried more leverage into the talks after besting Trump on the 35-day shutdown but showed flexibility in hopes on winning Trump's signature. After yielding on border barriers, Democrats focused on reducing funding for detention beds to curb what they see as unnecessarily harsh enforcement by Immigration and Customs Enforcement, or ICE.
The agreement yielded curbed funding, overall, for ICE detention beds, which Democrats promised would mean the agency would hold fewer detainees than the roughly 49,000 detainees held on Feb. 10, the most recent date for which figures were available. Democrats claimed the number of beds would be ratcheted down to 40,520.
But a proposal to cap at 16,500 the number of detainees caught in areas away from the border — a limit Democrats say was aimed at preventing overreach by the agency — ran into its own Republican wall.
Democrats dropped the demand in the Monday round of talks, and the mood in the Capitol improved markedly.
Trump met Monday afternoon with top advisers in the Oval Office to discuss the negotiations. He softened his rhetoric on the wall but ratcheted it up when alluding to the detention beds issue.
"We can call it anything. We'll call it barriers, we'll call it whatever they want," Trump said. "But now it turns out not only don't they want to give us money for a wall, they don't want to give us the space to detain murderers, criminals, drug dealers, human smugglers."
The recent shutdown left more than 800,000 government workers without paychecks, forced postponement of the State of the Union address and sent Trump's poll numbers tumbling. As support in his own party began to splinter, Trump surrendered after the shutdown hit 35 days, agreeing to the current temporary reopening without getting money for the wall.
The president's supporters have suggested that Trump could use executive powers to divert money from the federal budget for wall construction, though he could face challenges in Congress or the courts.
The negotiations hit a rough patch Sunday amid a dispute over curbing ICE, the federal agency that Republicans see as an emblem of tough immigration policies and Democrats accuse of often going too far.
The border debate got most of the attention, but it's just part of a major spending measure to fund a bevy of Cabinet departments. A collapse of the negotiations would have imperiled another upcoming round of budget talks that are required to prevent steep spending cuts to the Pentagon and domestic agencies.
___
Associated Press writers Catherine Lucey and Lisa Mascaro in Washington and Jill Colvin in El Paso, Texas, contributed to this report.
(Reuters) – The Pentagon will evaluate the certification for Elon Musk's SpaceX launch vehicles to determine whether the U.S. Air Force complied with certain guidelines, according to a memo on Monday. https://reut.rs/2Dzs2Mz
"Our objective is to determine whether the U.S. Air Force complied with the Launch Services New Entrant Certification Guide when certifying the launch system design for the Evolved Expendable Launch Vehicle-class SpaceX Falcon 9 and Falcon Heavy launch vehicles," U.S. Department Of Defense Deputy Inspector General Michael Roark said in the memo.
The review will begin this month, the memo stated.
In December, a SpaceX rocket carrying a U.S. military navigation satellite blasted off from Florida's Cape Canaveral, marking the space transportation company's first national security space mission for the United States.
The successful launch was a significant victory for billionaire Musk, who has spent years trying to break into the lucrative market for military space launches dominated by Lockheed Martin Corp and Boeing Co.
Musk's privately held rocket company said last month it would reduce its workforce by about 10 percent of the company's more than 6,000 employees, citing "extraordinarily difficult challenges ahead".
(Reporting by Sanjana Shivdas in Bengaluru, Editing by Sherry Jacob-Phillips)