Trump calls 'Fake Melania' conspiracy theory 'deranged'
"The Fake News photoshopped pictures of Melania, then propelled conspiracy theories that it's actually not her by my side in Alabama and other places," Trump tweeted. "They are only getting more deranged with time!"
President Trump and first lady Melania Trump stand outside Providence Baptist Church in Opelika, Ala., during a tour of tornado-damaged areas on March 8. (Photo: Nicholas Kamm /AFP/Getty Images)   If Trump meant what he usually does by "Fake News" — mainstream media organizations that he disagrees with — there's no evidence of tampering with images of the first lady by any legitimate news outlet.Conspiracy theories that a stand-in is occasionally used for the first lady date back to at least 2017, when Melania Trump appeared in sunglasses and a raincoat as the president defended his response to Hurricane Maria in Puerto Rico.The president's tweet Wednesday coincided with a "Fox & Friends" segment that criticized ABC's "The View" for its discussion of the "the fake Melania online conspiracy theory."On Tuesday's episode of "The View," co-host Joy Behar raised the issue of a Melania body double.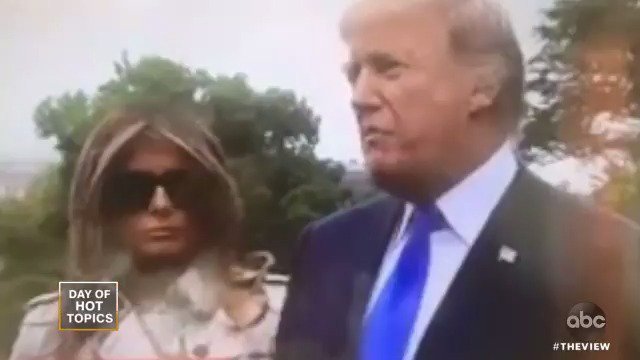 The View @TheView FAKE MELANIA CONSPIRACIES RETURN: The internet is buzzing again with theories that first lady Melania Trump is using an imposter to stand in for her — the co-hosts investigate. http://abcn.ws/2CcjBVI 1,040 people are talking about this"Some people think that the first lady is using an imposter," Behar said, mockingly, before pulling up a tweet that included screengrabs of the first couple side by side in Opelika, Ala., on Friday."That one does not look like her, sorry," Behar said. "I wasn't going to go along with this, but that one in that picture doesn't look like her."Co-host Sunny Hostin noted that Melania Trump "is a very tall, statuesque woman" yet looked "kind of short" in Alabama. (The first lady, who often wears heels, was wearing sneakers during her tour of the tornado-ravaged region.)On "Fox & Friends," contributor Tammy Bruce said the ladies of "The View" were using the conspiracy theory as "an excuse to mock the first lady.""This is an excuse to be able to mock her, to say she looks short, her face is a different shape — classic mean-girl environment," Bruce said, adding that the first lady probably looked different because she was "sad," given the setting.Stephanie Grisham, a spokeswoman for Melania Trump, called "The View" discussion of a faux first lady "shameful.""I've always found it sad that a group of women spend so much time attacking another woman, whose only goal is to help children, but yesterday's episode went beyond the petty mean-girl spirit that we've grown accustomed to," Grisham told the Daily Caller. "I watched the president and first lady hug, listen to and comfort people who had lost everything — and the 'ladies' of 'The View' instead chose to laugh and joke about a body-double conspiracy."_Read more from Yahoo News:
(Bloomberg) — Journalist Luis Carlos Diaz was released late Tuesday after being detained a day earlier and held overnight by Venezuela's intelligence police.
A top government official had accused Diaz of taking part in a plot to cause a nationwide blackout. The arrest is an escalation of President Nicolas Maduro's attempts to silence and intimidate the press, which include the recent temporary detentions of Univision journalist Jorge Ramos and U.S. freelance reporter Cody Weddle, deported last week.
Diaz's release was confirmed by the national press workers union, known as SNTP, on Twitter. Diaz was charged with instigating crime and barred from leaving the country without authorization, SNTP said. He must appear before a court every eight days, the group said.
Michelle Bachelet, the two-time president of Chile and head of the United Nations' Office of the High Commissioner for Human Rights, which is visiting Caracas, said in a tweet Tuesday that she asked the government for "urgent access" to Diaz. His wife, journalist Naky Soto, and others protested in front of the public prosecutor's office.
Since the start of 2019, 40 journalists and press staff have been illegally detained and questioned in isolation, according to SNTP.
Diaz was grabbed Monday by intelligence police while biking home from Union Radio, according to his wife. Diosdado Cabello, a top official of Maduro's socialist party, accused Diaz without evidence of being part of a far-right "blackout operation" that led to power outages lasting more than four days in some areas. Hours after Diaz's arrest, Maduro said that two people who committed a cyber attack on the electric system had been captured.
Efforts to reach a government spokesman were unsuccessful Tuesday.
To contact the reporters on this story: Patricia Laya in Caracas at playa2@bloomberg.net;Jose Orozco in Mexico City at jorozco8@bloomberg.net
To contact the editors responsible for this story: Stephen Merelman at smerelman@bloomberg.net, Daniel Cancel
For more articles like this, please visit us at bloomberg.com
©2019 Bloomberg L.P.