News  Wild weather forecast: Feet of snow in the West; severe storms in central USA, milder East
In the West, a storm more typical of winter will bring everything from rain and thunderstorms to wind and mountain snow, AccuWeather said. The storm will make for slower-than-normal travel, ruin outdoor plans and increase the risk of flooding and damage in some communities."This storm will bring unusually heavy rainfall and a flooding and mudslide threat to parts of California in what is normally a dry month," said AccuWeather Senior Meteorologist Jack Boston.Up to 5 inches of rain is possible in some areas. This amount of rain is "extremely out of the ordinary" for this time of year, AccuWeather said.In the Sierra, "total snow accumulations of 12 to 18 inches, with localized amounts up to 35 inches, are expected," the National Weather Service in Sacramento said. AccuWeather warned that "travelers through the high terrain should use extreme caution as roadways will be slippery and snow covered with lane restrictions possible."View image on Twitter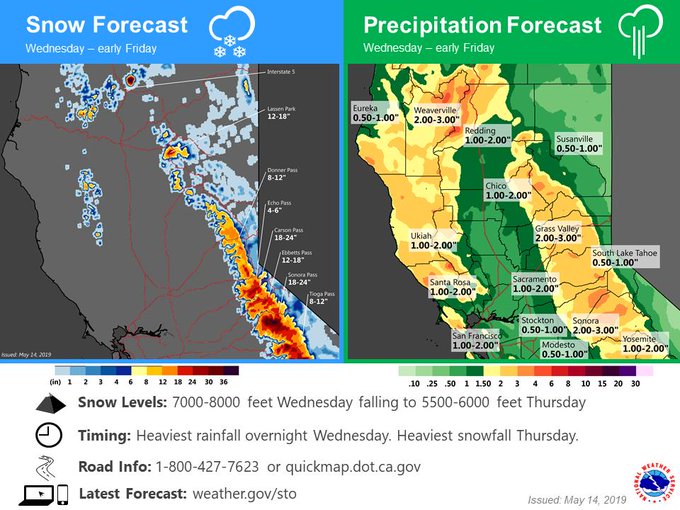 NWS Sacramento
@NWSSacramento
Widespread rain & mountain snow return to
#
NorCal
this week. Here's a look at how much precipitation is expected through early Friday. Rain begins late tonight, while most mountain locations won't see snowfall until early Thursday.
#
CAwx
44 million in path of severe storms
Severe weather will be the main concern for millions of people in the central USA by week's end and into the weekend. Devastating thunderstorms with tornadoes, damaging winds, large hail and flooding rain will batter the central and southern Plains on Friday, lasting into early nextweek, 
Weather.com
 warned.
AccuWeather
 said the outbreak will put at least 18 different states in the path of dangerous weather over the next several days. About 44 million people live in the risk zone for severe thunderstorms.The first widespread round of severe weather, which may evolve into a significant outbreak, is forecast to begin from eastern New Mexico and western Texas to southeastern Wyoming and southern South Dakota on Friday.The repeating rounds of thunderstorms and the heavy rain they contain are likely to elevate the risk of urban and small stream flooding, AccuWeather said.
A multi-day threat of #severe thunderstorms will commence in the Plains on Friday and continue into the weekend and next week: https://wxch.nl/2Hm4A7v 
49 people are talking about this
Tranquil Great Lakes, East
After an extended stretch of dreary, March-like conditions, sunnier, warmer weather will spread into the Great Lakes states and portions of the East Coast.
A change in the jet stream should be enough to allow a warmup to progress from the Midwest to the Northeast, AccuWeather said. Highs in the 30s, 40s and 50s will be replaced by highs mainly in the 60s and 70s.
At the Preakness Stakes in Baltimore on Saturday, "a bright and beautiful day is forecast," according to AccuWeather, which expects  temperatures in the low 70s.  This will be a welcome change from the sodden Kentucky Derby in Louisville two weeks ago.
See AccuWeather's other Tweets
This article originally appeared on USA TODAY: Wild weather forecast: Feet of snow in the West; severe storms in central USA, milder East
1 / 13
This aerial photo shows flooded neighborhood in Sanski Most, Bosnia-Herzegovina, Tuesday, May 14, 2019. Homes and roads have been flooded in parts of Bosnia after rivers broke their banks following heavy rains, triggering concerns Tuesday of a repeat of floods five years ago when dozens died. (AP Photo/Darko Bandic)
BEGOV HAN, Bosnia-Herzegovina (AP) — A 6-year-old boy who fell into a swollen creek on his bicycle remained missing after floods hit parts of Bosnia on Tuesday, raising fears the Balkan country could see a repeat of the record flooding that killed at least 23 people and affected about a third of the population five years ago.
The child was riding over a small wooden bridge outside his home when he fell into the water along with his bike, the boy's uncle told The Associated Press.
"His mother tried to save him. She jumped into the water," Sanel Meseljevic said, his voice trembling. "We also went in and searched….We couldn't find him. We don't know where he is, if he was swept away … or he is still somewhere in the creek."
Rescue teams in the central village of Begov Han spent hours looking for the boy and found the bicycle before calling off the search for the day, local media reported.
Torrential rains that started on Sunday caused rivers in northwestern and central Bosnia to break their banks, flooding homes and roads. Local authorities in several areas urged residents living close to rivers to evacuate their homes and launched emergency measures to respond to the rising flood waters.
A number of schools canceled classes, while electricity and water supplies were disrupted. Landslides closed local roads.
Officials across Bosnia sought to dispel alarm northern Bosnia was at risk for the kind of destruction it suffered when the heaviest rain ever recorded drenched southeast Europe for days in mid-May 2014.
"We don't expect the 2014 situation because the intensity of the rainfall was much higher then," said Dusan Vranjes, an emergency sector official in Prijedor.
Nusret Alicik, a resident of Tesanj, in northern Bosnia, said water burst into the lower part of his house, as well as his mother's.
"I was at home, I climbed up the stairs on the first floor, brought the valuables upstairs. too. Where else could I go?" he said.
In neighboring Croatia, authorities raised flood defenses in the central towns of Hrvatska Kostajnica, Korana and Karlovac.
Croatian public broadcaster HRT said firefighters rescued eight tourists, including two children, in a central area.
Science Channel to Import Josh Morgerman's UK Storm-Chasing Series 'Hurricane Man' (Exclusive)
News
Northern California storms to bring winter-like conditions
1 / 2
File – In this Feb. 28, 2019, file photo, snow, from recent storms, is cleared from the parking lot of the Strawberry Lodge at Strawberry, Calif. A cold front traveling down to Northern California from the Gulf of Alaska is expected to dump at least a foot of snow in higher elevations of the Sierra Nevada weeks before the start of summer. National Weather Service meteorologist Brendon Rubin-Oster says the first storm will arrive Wednesday, May 15, 2019, and will continue through Thursday. (AP Photo/Rich Pedroncelli, File)
SAN FRANCISCO (AP) — A cold front expected to dump rain and snow in Northern California starting Wednesday has prompted the closure of a popular road at Yosemite National Park and left outdoor businesses bracing for smaller crowds through the weekend.
The first storm heading toward the state from the Gulf of Alaska is expected to bring winter-like conditions, with up to an inch (2.5 centimeters) of rain in some areas of the Sacramento Valley and as much as 2 feet (60 centimeters) of snow in some mountain spots at elevations of about 7,000 feet (2,130 meters).
Snow could fall at lower elevations on Thursday, the National Weather Service said.
A winter storm warning has been issued from Wednesday night through Friday morning for the southern Sierra Nevada. A second system is expected Saturday.
In Yosemite National Park, spokesman Scott Gediman said Glacier Point Road will close at 6 p.m. Wednesday ahead of a series of storms expected to dump at least a foot of snow (30 centimeters) on the highest peaks.
The 16-mile (26-kilometer) road, which offers sweeping views of Yosemite Valley and Half Dome, will remain closed until the storms pass and the road can be evaluated for hazards. The park will remain open, Gediman said.
Visitors are advised to prepare for winter driving conditions for the next several days along El Portal Road (Hwy 140), Big Oak Flat Road (Hwy 120 W) and Wawona Road (Hwy 41), he said.
In Sausalito, just across the Golden Gate Bridge, some business owners braced for slower traffic and cancelations because of the wet weather.
Galen Licht, who owns Sea Trek Kayak, said the rainy forecast is forcing him to cancel a lot of the company's guided kayaking trips through the San Francisco Bay.
"It's raining here right now and there is nobody here. We don't have any business," Licht said.
He said three groups had canceled trips booked for Wednesday. He offers full refunds when people cancel due to weather.
Licht hopes some people will return Friday, when a break in the stormy weather is expected and visitors can look at herons, pelicans and other wildlife in the bay and take in views of the Golden Gate Bridge and San Francisco skyline.
A series of winter storms this year drenched California with rain and snow that has left many of its reservoirs almost full, including the newly rebuilt Oroville Dam, which was at 95% capacity Tuesday.
California Office of Emergency Services Director Mark Ghilarducci said state officials have been monitoring reservoir levels and releasing water throughout the season.
The current storm is not expected to create widespread flooding because some snow has already melted, he said.
In Butte County, Sheriff Kory Honea took to social media to reassure residents about the ability of Oroville Dam to handle inflow from the upcoming storms. Two years ago, 200,000 people had to evacuate amid fears prompted by heavy rain.
"I don't believe there is a current imminent threat," Honea said.
___
Associated Press writer Juliet Williams contributed to this story.
U.S.
Search for victims ends after mid-air crash of Alaska tour planes; probe begins
By Yereth Rosen
ANCHORAGE, Alaska (Reuters) – Searchers found the bodies of the last two Alaska seaplane crash victims on Tuesday evening, after a hunt through the debris and frigid waters following a mid-air collision that killed six people and injured 10, officials said.
The two missing, an Australian and a Canadian, had been among 14 passengers from a Princess Cruises ship who boarded two seaplanes operated by separate tour companies in the town of Ketchikan on Monday, the cruise line said.
"This is not the outcome we hoped for," said U.S. Coast Guard Capt. Stephen White, offering the searchers' condolences to the families of the dead.
The dead, three men and three women, ranged in age from 37 to 62, officials said. All the dead were identified late on Tuesday, and 14 of those on board the planes were American.
The discovery of the bodies closes the search at the scene where the two seaplanes crashed after colliding over the inlet waters near Ketchikan, in southeastern Alaska, said Matthew Schofield, a U.S. Coast Guard officer.
Work at the crash site will now shift to an investigation into what led the two planes, which were ferrying Princess Cruises passengers on sightseeing expeditions, to strike each other and fall into the waters of George Inlet.
The round-the-clock search lasted 27 hours and covered 93 nautical miles, officials said.
A team of 14 National Transportation Safety Board investigators has been sent to the site and divers will start working on Wednesday to pull up the wreckage of the two planes.
The NTSB team began investigating on Tuesday and is unlikely to determine the cause during the week it will spend at the scene, NTSB board member Jennifer Homendy told a news conference.
Ten people survived but were injured in the collision, which took place over open water during daylight, the Coast Guard said. The dead included one of the pilots.
Three of the injured were in serious condition and seven in fair condition, Dr Peter Rice, medical director of the PeaceHealth Ketchikan Medical Center, told a separate news conference.
The water temperature off Ketchikan on Tuesday was 48 Fahrenheit (8.9 C), the National Weather Service said. The expected survival time in temperatures of 40F to 50F (4C to 10C) ranges from one to three hours, the United States Search and Rescue Task Force says on its website.
The investigators will collect information from the survivors, the Federal Aviation Administration, other witnesses who might have been in the area, flight logs, training records and other sources, including the wrecked planes, Homendy said.
"We still have to recover the planes and then we have to look at those," she said. "It takes some significant work to really understand how the two came together."
All the planes' passengers arrived in Ketchikan on the cruise ship Royal Princess during a seven-day trip between Vancouver, British Columbia, and Anchorage, Alaska, Princess Cruises said.
Ten passengers and a pilot were aboard one float plane, a de Havilland Otter DHC-3, operated by Taquan Air. Four passengers and a pilot were aboard the second float plane, a de Havilland DHC-2 Beaver, run by Mountain Air Service of Ketchikan.
The crash site at Coon Cove about 300 miles (480 km) south of Juneau, Alaska's capital, is near a tourist lodge that runs excursions to the nearby Misty Fjords National Monument.
Ketchikan-based Taquan Air said the plane was returning from a sightseeing tour of Misty Fjords at the time of the crash.
(Reporting by Yereth Rosen in Anchorage; Additional reporting by Rich McKay in Atlanta and Barbara Goldberg in New York; Editing by Leslie Adler and Clarence Fernandez)
Sen. Ted Cruz, R-Texas, issued a dire warning about space pirates Wednesday in support of appropriations to fund Space Force, President Trump's proposed off-planet expansion of the U.S. military.
"Since the ancient Greeks first put to sea, nations have recognized the necessity of naval forces and maintaining a superior capability to protect waterborne travel and commerce from bad actors," said Cruz, the chairman of the subcommittee on aviation and space, adding, "Pirates threaten the open seas, and the same is possible in space. In this same way, I believe we too must now recognize the necessity of a Space Force to defend the nation and to protect space commerce and civil space exploration."
For starters, the Trump administration is seeking $2 billion in new funding from Congress for the creation of Space Force. The new military branch is projected to number about 15,000, most of whom will be transferred from existing positions. In future years its annual budget could amount to an additional $500 million over the $10 billion already being spent on unclassified space programs, Defense News reported.
Although armed Somali pirates terrorized the waters off the horn of Africa a decade ago, their activity has diminished in recent years thanks to a robust military response from several nations, including the United States. Venezuela's descent into political chaos is partly blamed for a rise in Caribbean piracy. Yet none of those threats possess the resources to — as yet — mount a credible threat beyond the confines of Earth's atmosphere.Nor is there any interplanetary commerce to present a lucrative target for pirates.
President Trump holds up the space policy directive that he signed during a National Space Council meeting in the East Room of the White House in Washington. (AP Photo/Susan Walsh  In February, Trump signed a directive ordering the Pentagon to establish Space Force as the sixth branch of the U.S. military. Months earlier, a super-PAC supporting the president asked supporters to vote on a new logo for the extraterrestrial troopers.When Democrats retook control of the U.S. House of Representatives, however, the prospects for Space Force grew uncertain. In March, Rep. Adam Smith, D-Wash., who chairs the House Armed Services Committee, tried to temper Space Force expectations."It's going to be different from what the White House proposed. Three more four-star generals are not going to make us stronger in space," Smith said.Even some of Trump's Republican defenders have questioned the premise that America needs to create a new military branch and hand over jurisdiction of space and its pirates from the Air Force."It wasn't on my list because I don't think we need it," Senate Armed Services Committee Chairman James Inhofe, R-Okla., said. "Ever since this subject came up, I've said there are two things you have to answer. One is, is it going to do a better job than we're doing today? And then two, it's going to cost more — how much more money is it going to cost?"
Sen. Ted Cruz and space pirates. (Photo illustration: Yahoo News, photos: AP, Getty Images [2])
Science The Moon Is Shrinking, and It's Causing Powerful 'Moonquakes'
Amy Gunia,Time
Scientists found evidence of seismic activity as the moon cools and shrinksThe moon is getting smaller, which causes wrinkles in its surface and moonquakes, according to a new study.As the moon's interior cools, it shrinks, which causes its hard surface to crack and form fault lines, according to research sponsored by NASA. The moon has gotten about 150 feet skinnier over the last few hundred million years.NASA posted a video on Twitter showing fault lines on the moon's surface.Astronauts have placed seismometers on the moon over a series of past missions. Scientists, who determined that the moonquakes are close enough to the fault lines to establish causality, published their analysis in a study in Nature Geoscience on Monday, according to NASA. The space agency has also recorded evidence of fault lines in a series of images.Read More: Jeff Bezos Is Promising the Moon — But There Are Plenty of Reasons to Doubt Him"Our analysis gives the first evidence that these faults are still active and likely producing moonquakes today as the Moon continues to gradually cool and shrink," said Thomas Watters, lead author of the study and senior scientist in the Center for Earth and Planetary Studies at the Smithsonian's National Air and Space Museum, according to a press release on NASA's website.Watters says that the quakes can be strong, around a five on the Richter scale, according to the NASA statement.
Just because Game of Thrones is coming to an end doesn't mean you can't get your Westeros fix after this Sunday. This Irish Castle Airbnb will give you those heir-to-the-Iron-throne vibes. Minus the gore and twincest.
As with most castles that have been around for hundreds of years, Cahercastle in Galway, has its charm, but if you're looking for modern perfection, the hosts suggests you look elsewhere. Despite a few cobwebs and a little dust, more than 1,061 guests have rated this 600-year-old castle with 5 stars.
For approximately $180 a night, you and up to four guests can stay in the castle's master bedroom, which is the highest room in the castle. This space features two beds, and during your stay you'll have private access to the top two floors, which include the bedroom, living room, kitchen, and bathroom.
Because the castle is made entirely of stone, a huge fireplace keeps the place warm, in addition to the host's "pet dragon that lives in the dungeon"-though (spoiler alert!) they hopefully won't burn King's Landing to a crisp.
In addition to a spectacular view and A+ reviews, this Galway castle Airbnb boasts plenty of quirks, including several winding staircases, sheep and cows in the field nearby, and (of course) a turret.
One reviewer, Kasi, even shared about how her trip was so much more than a vacation, but a lifelong family memory:
"What can I say? It was an experience my family won't soon forget. If you are looking for a true medieval castle experience, this is it! No, it's not a 5-star luxury hotel, but it's so much more than that. Peter and Eva opened not only their castle, but their hearts and home to us. From showing our kids how to shoot a bow, to his boys entertaining our whole family with their music and shenanigans, to all the beautiful stories Peter & Eva shared about the castle and their life experiences, this trip will surely be one our family won't forgot. We would definitely come back for another visit!"
Now, how can I not book a trip?
Follow House Beautiful on Instagram.