Trump, Queen lead emotional tributes to D-Day heroes
William EDWARDS, Jerome CARTILLIER
AFP
World leaders including US President Donald Trump, French President Emmanuel Macron and Britain's Queen Elizabeth attended the ceremony World leaders including US President Donald Trump, French President Emmanuel Macron and Britain's Queen Elizabeth attended the ceremony (AFP Photo/Mandel NGAN)Portsmouth (United Kingdom) (AFP) – US President Donald Trump and Queen Elizabeth II joined 300 veterans in paying tribute to their fallen comrades at a poignant ceremony on Wednesday marking the 75th anniversary of D-Day.Mixing sombre recitals of soldiers' last letters home with period song-and-dance numbers, the ceremony in Portsmouth drew more than a dozen world leaders including Canadian Prime Minister Justin Trudeau, French President Emmanuel Macron and German Chancellor Angela Merkel.They took turns honouring those involved in the Allied cross-Channel invasion of the Normandy beaches, the largest amphibious assault in history, that left 4,400 Allied troops dead on the first day."I was 18 and I was hoping for some sort of great adventure, but yes, I knew something big was obviously happening," former pilot Gregory Hayward, 93, told AFP."It brings back the memories and I'm grateful… to be able to survive long enough to be here on the 75th anniversary."With some in the audience shedding tears and a few of the surviving veterans, now all in their 90s, sitting upright in the front rows, Trump read excerpts from the prayer US president Franklin Roosevelt delivered by radio on D-Day."They will need Thy blessings for the enemy is strong. He may hurl back our forces but we shall return again and again," Trump read, in one of the last acts of his three-day state visit to Britain.
Queen Elizabeth, 93, also paid tribute to the sacrifices made.
"It is with humility and pleasure, on behalf of the entire country — indeed the whole free world — that I say to you all: thank you," she said.
Merkel said: "That I could participate today as German chancellor and that we jointly defend peace and liberty today is a gift from history we have to protect and to cherish."
Portsmouth, on the southern English coast, was the main staging point for 156,000 US, British, Canadian and other Allied troops who sailed for northern France.
The Battle of Normandy on June 6, 1944 led to the liberation of Europe and helped bring about the end of World War II the following year.
– Fear of being afraid –
The hour-long ceremony included theatrical productions and news reel footage watched by presidents, prime ministers and representatives from across Europe, Australia and New Zealand.
British Prime Minister Theresa May read a letter written by Captain Norman Skinner to his wife Gladys on June 3, 1944, which was in his pocket when he landed in Normandy on D-Day. He was killed the following day.
"I am sure that anyone with imagination must dislike the thought of what's coming," his letter said.
"But my fears will be more of being afraid than of what can happen to me."
At a ceremony in Caen, French leader Macron paid tribute to 70 French resistance fighters executed in prison by the Germans on June 6, 1944.
"Under the pressure from the Allied armies who landed on our shores, the Germans wanted to remove their enemies, the Resistance prisoners held in the cells of this prison," former inmate Bernard Duval said at the ceremony.
In the evening, around 250 veterans set off to retrace their journey across the Channel, sailing out of Portsmouth bound for Normandy on board the chartered cruise ship MV Boudicca, along with a flotilla of British navy vessels.
– Trump in Ireland –
The D-Day commemorations are among May's last official duties before she steps down as leader of the governing Conservatives on Friday over her failure to get Britain out of the EU on time.
She will remain as prime minister until her successor is chosen in late July. Eleven candidates intend to stand.
May's meetings with Trump have gone smoothly. The president tweeted on Wednesday that he "could not have been treated more warmly in the United Kingdom by the royal family or the people".
He reaffirmed his commitment to a "very big trade deal" with Britain after Brexit.
The US president left Britain after the D-Day ceremony for Ireland, where he met Prime Minister Leo Varadkar at Shannon Airport for talks.
Trump said he thought Brexit would work out well for Ireland, including "your wall, your border". The invisible frontier between the UK and the Irish Republic is one of the most contentious Brexit issues.
The president was then heading to his luxury golf resort near the village of Doonbeg.
He leaves for northern France on Thursday, where he will attend another D-Day ceremony alongside May and Macron.
'Thank You' – Queen Elizabeth and world leaders applaud D-Day veterans
By Dylan Martinez and Steve Holland
Reuters
Unfortunately, this video is not available in your region. By Dylan Martinez and Steve Holland PORTSMOUTH, England (Reuters) – Queen Elizabeth was joined by world leaders including Donald Trump and Angela Merkel to mark the 75th anniversary of D-Day, paying personal tribute to the veterans of the largest seaborne invasion in history which helped bring World War Two to an end.The queen, Prince Charles, presidents and prime ministers rose to applaud veterans, their coats heavy with medals, as they stood on a giant stage beside a guard of honor after a film of the Normandy landings was shown."The wartime generation – my generation – is resilient, and I am delighted to be with you in Portsmouth today," the 93-year-old queen, wearing bright pink, said."The heroism, courage and sacrifice of those who lost their lives will never be forgotten. It is with humility and pleasure, on behalf of the entire country – indeed the whole free world – that I say to you all: thank you."Prime Minister Theresa May was joined for the commemorative events in Portsmouth by U.S. President Trump, who is on the final day of a state visit to Britain, and his wife, Melania.Trump read a prayer given by Franklin D. Roosevelt in 1944: "The enemy is strong. He may hurl back our forces but we shall return again and again; and we know that by Thy grace, and by the righteousness of our cause, our sons will triumph."French President Emmanuel Macron, Canadian Prime Minister Justin Trudeau, Australian Prime Minister Scott Morrison, German Chancellor Merkel, and leaders and senior figures from 10 other countries also attended.
BLOOD AND THUNDER
In the early hours of June 6, 1944, more than 150,000 allied troops set off from Portsmouth and the surrounding area to begin the air, sea and land attack on Normandy that ultimately led to the liberation of western Europe from the Nazi regime.
By the time of the Normandy landings, Soviet forces had been fighting Germany in the east for almost three years and Kremlin chief Josef Stalin had urged British Prime Minister Winston Churchill to open a second front as far back as August 1942.
The invasion, codenamed Operation Overlord and commanded by U.S. General Dwight D. Eisenhower, remains the largest amphibious assault in history and involved almost 7,000 ships and landing craft along a 50-mile (80-km) stretch of the French coast.
Shortly after midnight, thousands of paratroopers were dropped. Then came the naval bombardment of German positions overlooking the shore. Then the infantry arrived on the beaches.
Mostly American, British and Canadian men, some just boys, waded ashore as German soldiers tried to kill them with machine guns and artillery. Survivors say the sea was red with blood and the air boiling with the thunder of explosions.
Thousands were killed on both sides. Line upon line of white crosses honor the dead in cemeteries across northern France. Even the codenames of the sectors of the invasion – Utah, Omaha, Gold, Juno and Sword – can draw tears from veterans.
"I was terrified. I think everyone was," said John Jenkins, 99, a veteran who landed at Gold Beach. "You never forget your comrades because we were all in it together."
The commemorations featured an hour-long performance recounting the wartime events and a flypast by historic, military aircraft. Afterwards, world leaders met veterans of the landings.
The queen, President Trump, Melania and Prince Charles shook hands with half a dozen veterans were waiting for them, exchanging a few words and asking them about their stories from D-Day.
"Congratulations. Thank you very much," Trump could be heard telling one of them.
Sixteen countries attended the commemorations: Australia, Belgium, Canada, Czech Republic, Denmark, France, Germany, Greece, Luxembourg, Netherlands, Norway, New Zealand, Poland, Slovakia, the United Kingdom and the United States.
They agreed a proclamation to "ensure that the unimaginable horror of these years is never repeated".
On Wednesday evening, some 300 veterans who took part on D-Day, all now older than 90, will leave Portsmouth on a specially commissioned ship, MV Boudicca, and retrace their 1944 journey across the English Channel, accompanied by Royal Navy vessels and a lone wartime Spitfire fighter plane.
Meanwhile in Normandy, British air assault troops, French army paratroopers and D-Day veterans will recreate the airborne landings. There will be further D-Day memorial events on Thursday in northern France.
(Writing by Michael Holden and Guy Faulconbridge; Editing by Frances Kerry and Toby Chopra)
1 / 6
British veterans parachute over Normandy 75 years after making D-Day jump
U.S. World War II paratrooper veteran Tom Rice, 97 years-old who served with the 101st Airbone, lands during a commemorative parachute jump over Carentan on the Normandy coast
SANNERVILLE, France (Reuters) – Two British war veterans in their mid-nineties parachuted over the fields of Normandy, northern France, on Wednesday, 75 years after they jumped behind German defences on D-Day in an operation that helped turn the tide of World War Two against Adolf Hitler.
Dressed in red jumpsuits, 95-year-old Harry Read and 94-year-old John Hutton performed tandem jumps with the British Parachute Regiment's freefall display team, the Red Devils.
Against a pinkish evening sky blanketed in dark clouds, the parachuters left swirling crimson smoke trails as one carried a giant Union Jack. Both veterans landed safely and looked up as the sky was filled with dozens of domed, khaki chutes, now as then.
Read was just 20-years old and Hutton, known to his friends as Jock, was still a teenager when they leapt out of their transport aircraft under cover of dark with the British 6th Airborne Division in the early hours of June 6, 1944.
"It was a different world then. It was a world that requires young men like myself to be prepared to die for a civilisation that was worth living in," Read said.
"So there was a very heavy necessity for young men like me to put my life on the line. My life wasn't on the line today," he added, describing the jump as "thoroughly enjoyable".
They were among more than 8,000 soldiers who were tasked with protecting the Allied left flank from counter-attack as the biggest seaborne invasion in history landed ashore and advanced inland.
Earlier, some 280 British and French paratroopers re-enacted the D-Day airdrops near the Norman town of Sannerville in honor of the airborne assaults 75 years ago.
Representing the U.S. airborne forces, American veteran Tom Ride parachuted, too, in nearby Carentan, France.
"It went perfect, perfect jump," the 97-year-old D-Day veteran said. "I feel great. I'd go up and do it all again."
The commemorations brought together the greatest number of Douglas C-47 Dakota aircraft since the Second World War, flying the same route as they did 75 years ago.
The drop zone for the events in Sannerville was one of four used by the division on D-Day.
Just past midnight that night, the 8th (Midlands) Parachute Battalion landed in the very same fields, then codenamed Drop Zone 'K'.
Their objective: destroy three German-held bridges to cut off nearby reinforcements from responding to the Allied invasion, then set up a defensive barrier in nearby woods.
But bad visibility and missed drops meant the battalion was scattered across a wide area and faced a perilous trek to the rendezvous point through ground dominated by a German tank division. They maintained their defensive front for 10 days.
(Reporting and writing by Rachel Joyner; editing by Richard Lough)
Trump unmoved by Prince Charles's appeal on climate change
Dylan Stableford Senior Editor
Yahoo News
Trump talks about his meeting on climate change with Prince CharlesDuring his three-day state visit to the United Kingdom, President Trump had scheduled a 15-minute meeting about climate change with Prince Charles, a noted environmentalist.The meeting went on for 90 minutes. And Trump, a noted climate change skeptic who once called global warming a "Chinese hoax," was apparently unmoved."I believe there is a change in weather, and I think it changes both ways," Trump told Piers Morgan in 
an interview that aired on "Good Morning Britain" Wednesday
. "Don't forget, it used to be called global warming; that wasn't working, then it's called climate change, and now it's called extreme weather."Trump cited the recent spate of deadly tornadoes in the United States. The president argued that the country has seen extreme weather before."Forty years ago, we had the worst tornado binge we've ever had," Trump said. "In the 1890s, we had our worst hurricanes."
Good Morning Britain
@GMB
Does the US President believe in climate change?Trump says he discussed climate change with Prince Charles, who he believes is 'a very good person' who 'wants to have a world that's good for future generations'.
pic.twitter.com/QNlXhiS1mO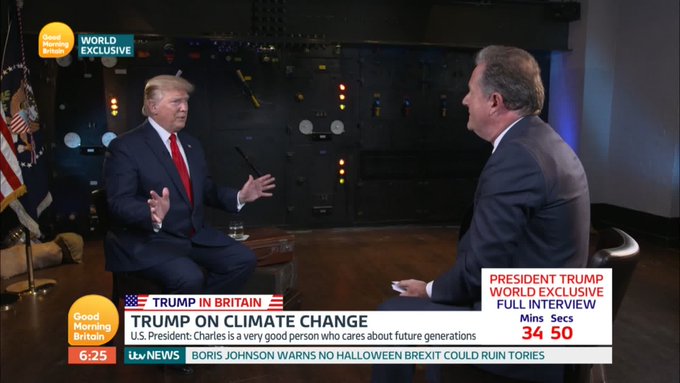 The effect of climate change on extreme weather events is still being debated by climate scientists. But there is virtually unanimous consensus about the fact of rising global temperatures, the melting of glaciers and sea ice, and the rise in ocean levels, all of which are projected to have serious and potentially catastrophic effects in future decades.The president said that during the meeting, Charles "did most of the talking.""He is really into climate change, and I think that's great," Trump said. "He wants to make sure future generations have climate that is good climate as opposed to a disaster. And I agree."
President Trump walks with Britain's Prince Charles in London on Monday. (Photo: Toby Melville/AFP/Getty Images)
According to the National Oceanic Atmospheric Administration
, 2018 ranked as fourth-warmest year since records began in 1880.But the Trump administration does not treat climate change as the economic, environmental and national security threat that both scientists and the U.S. intelligence community have concluded it is. In his first year in office, Trump pulled the United States out of the Paris climate accord.
He did not mention climate change or global warming in either of his State of the Union addresses or in his first address to a joint session of Congress in 2017.And earlier this year, the White House formed a panel of select federal scientists to reassess the U.S. government's analysis of climate science and counter the National Climate Assessment, which in November concluded that climate change will cost the U.S. economy "hundreds of billions of dollars" because of the increasing severity of natural disasters, such as hurricanes and wildfires."I don't believe it," Trump said in response to its release, adding that if "every other place on earth is dirty, that's not so good." He told Morgan that the United States is doing its part to make air and water "crystal clean" but that China, Russia and India are not."If you go to certain cities, you can't even breathe," Trump said.The air and water pollution Trump was decrying are separate phenomena from greenhouse gas accumulation in the atmosphere, which is the cause of climate change.The Trump administration has also taken several significant steps to reduce the scope and enforcement of water and air pollution regulations.Speaking to reporters before a bilateral meeting with the Irish prime minister on Wednesday afternoon, Trump defended his comments on climate change."We have the cleanest air in the world in the United States and it's gotten better since I became president," Trump said, continuing to conflate the kind of pollution that makes air dirty and unhealthful with greenhouse-gas emissions, which contribute to climate change."We're setting records environmentally," he added.
1 / 14
APTOPIX Trump
President Donald Trump speaks during a news conference with British Prime Minister Theresa May at the Foreign Office, Tuesday, June 4, 2019, in central London. (AP Photo/Alex Brandon)
LONDON (AP) — Making nice at the end, President Donald Trump eased up Tuesday on his frequent criticisms of outgoing British Prime Minister Theresa May over her handling of the tortured Brexit deal, declaring that history will remember her fondly if the United Kingdom can successfully leave the European Union.
The latest chapter in the allies' storied "special relationship" played out as anti-Trump protesters — with the infamous Trump baby balloon bobbing overhead — thronged the streets of nearby central London.
The president's unexpected compliments for May come just days before she was set to resign the leadership of her party after failing to secure a Brexit deal. She will depart as prime minister once her successor has been chosen.
"I have greatly enjoyed working with you. You are a tremendous professional and a person who loves her country very much," Trump told May at a news conference near the prime minister's Downing Street office. But he couldn't resist a slight dig, evoking the two years of broadsides he had lobbed at her by recalling that he had urged her to sue the EU rather than try to negotiate a departure.
Trump said he would have "sued and settled, maybe, but you never know. She's probably a better negotiator than I am." And he added that the deal May came away with was a good one and "perhaps you won't be given the credit you deserve."
May voiced hope her successor will be able to achieve Brexit.
"I still believe —I personally believe— that it is in the best interest of the U.K. to leave the European Union with a deal. I believe there is a good deal on the table," she said. "Obviously, it will be whoever succeeds me as prime minister to take this issue forward. What is paramount, I believe, is delivering on Brexit for the British people."
Earlier in the day, Trump jokingly suggested that May "stick around" until a new U.S.-U.K. trade deal was brokered. May and her aides chuckled at that.
Trump said Britain and the U.S. would be able to strike a "phenomenal trade deal" once the U.K. had left the EU — music to the ears of pro-Brexit Britons. But, in words sure to alarm those in Britain concerned about Brexit, he said that "everything"— including the National Health Service — would be "on the table" in future trade negotiations. In a later interview that will air Wednesday on ITV's "Good Morning Britain," Trump appeared to back away from that idea, saying he didn't envision the health service being part of the talks, adding, "That's not trade."
Most Britons are protective of the state-run NHS, which delivers free health care to all, and many worry that private U.S. health care firms could try to gain access to chunks of it as a condition of a trade deal.
On a separate issue, Trump said he anticipated "no limitations" on the future sharing of intelligence with the U.K. as the U.S. continues to press its longtime ally to ban Chinese company Huawei amid espionage and trade concerns.
Traditionally, U.S. presidents avoid injecting themselves into the domestic politics of other nations. But Trump didn't hold back — right after claiming that he would not comment on Britain's internal matters.
He renewed his praise of Conservative lawmaker Boris Johnson, who is campaigning to replace May as Conservative leader, and of another contender, Foreign Secretary Jeremy Hunt. He said he'd turned down a requested meeting from Labour Party leader Jeremy Corbyn and took new swipes at one of his most vocal critics, London Mayor Sadiq Khan.
Afterward, Brexit Party leader Nigel Farage and Trump met at the U.S. ambassador's residence, with Farage tweeting that they'd had a "good meeting."
Trump previously had voiced support for a "hard Brexit," which could have a devastating impact on the U.K. economy, according to many experts. That stands in contrast to a previous White House position that the departure should be as painless as possible. Others in the U.K. are pressing for a second referendum that could keep Britain in the EU.
As the pageantry of Trump's British state visit gave way to politics, an economic meeting between the leaders at St. James's Palace brought together 10 leading companies — five from the U.K. and five from the United States. CEOs and senior representatives from BAE Systems, GlaxoSmithKline, National Grid, Barclays, Reckitt Benckiser, JP Morgan, Lockheed Martin, Goldman Sachs International, Bechtel and Splunk were listed as attending.
While the corporate leaders gathered, protesters began to assemble across London. Leaders of Britain's main opposition party joined demonstrators at a rally in Trafalgar Square, just up the street from May's Downing Street office. Also in Trafalgar Square: a 16-foot robotic likeness of Trump seated on a golden toilet.
Trump glossed over the protests, saying he saw "thousands of people in the streets cheering" and waving U.S. and U.K. flags, but just a "very, very small" group of protesters. "There was great love," he said.
Trump and first lady Melania Trump later toured the Churchill War Rooms, the British government's underground command center during World War II. Then it was time for a fancy reciprocal dinner that the Trumps hosted at the U.S. ambassador's residence for Prince Charles, his wife, Camilla, and other dignitaries.
On the menu: heritage tomatoes with burrata, grilled filet of beef and vanilla ice cream with summer berries.
A day earlier, Trump had lunch with Queen Elizabeth II and tea with Prince Charles before a grand state dinner at Buckingham Palace.
___
Associated Press writers Gregory Katz in London and Darlene Superville and Deb Riechmann in Washington contributed to this report.
___
Follow Lemire on Twitter at http://twitter.com/@JonLemire and Freking at http://twitter.com/@APkfreking
Brussels (AFP) – European Union member states will discuss North Macedonia's bid to join their ranks at talks in Luxembourg later this month, EU Commission chief Jean-Claude Juncker said Tuesday.
Juncker, at a joint news conference with Macedonian Prime Minister Zoran Zaev, admitted some capitals have doubts, but that they would meet on June 18 to discuss them.
"The Romanian presidency has put this issue on the agenda of the General Affairs Council in June for the first debate, I would say," Juncker told reporters.
"The intention of the Commission is to do everything to have a definite decision being taken in summer."
Zaev thanked Juncker for his support, and added: "We have finished all the tasks that we asked to do and we are fully ready to start negotiating our accession."
Some members, notably France and the Netherlands, are cautious about admitting new members too quickly.
But the EU executive says Skopje is ready for talks and has made "substantial progress in the fight against corruption and organised crime."
North Macedonia has also resolved a naming dispute with EU member Greece and signed a friendship pact with Bulgaria.
"I said clearly back in 2018 that no country will join the European Union unless it has solved all its bilateral disputes. North Macedonia has heeded the call," Juncker said.
"I know that some member states have some concerns. I will do everything possible to try to convince them to follow this historical movement and I will defend North Macedonia whenever it is needed."
EU sued at International Criminal Court over Mediterranean migration policy – as more die at sea
In the same week that more migrant lives were lost at sea, the EU's migration policy in the Mediterranean has been brought to the attention of the International Criminal Court (ICC).
It emerged on June 3 that the ICC had received a legal submission calling for the EU and some of its member states to face prosecution for enacting migration policies "intended to sacrifice the lives of migrants in distress at sea".
The sharply worded submission was brought by international lawyers who have asked the ICC to open an investigation into EU migration policies and whether a prosecution could be mounted under international law.
The lawyers assessed European migration policies in the Mediterranean over recent years, paying particular attention to the end of Italy's military-humanitarian rescue operation Mare Nostrum in 2014 and the subsequent shift to policies focused on deterrence. Their submission claims that this shift toward deterring migrants from crossing the Mediterranean to reach the EU resulted in:
(i) the deaths by drowning of thousands of migrants, ii) the refoulement of tens of thousands of migrants attempting to flee Libya, and iii) complicity in the subsequent crimes of deportation, murder, imprisonment, enslavement, torture, rape, persecution and other inhuman acts, taking place in Libyan detention camps and torture houses.
According to the ICC submission, these "crimes against humanity" were consciously perpetrated by the EU and member states in the belief that sacrificing migrant lives at sea would stop other migrants from making risky voyages across the Mediterranean.
Sending migrants back to Libya
The authors assert that European authorities have "channeled their policies" of deterrence through the so-called Libyan coastguard. Interceptions of migrant boats by the Libyan authorities have resulted in tens of thousands of people being sent back, or refouled, to Libya in recent years – and my research is showing they are increasingly being co-ordinated by Italian and EU authorities from the air.
Read more: Migrants calling us in distress from the Mediterranean returned to Libya by deadly 'refoulement' industry
I've have been told by people working for NGO search and research organisations, that a greater presence of European helicopters and aeroplanes patrolling the Mediterranean, for example those of the EU military operation Eunavfor Med, have been observed over the Mediterranean in the last few months. These aircraft have reportedly informed the Libyan coastguard about the whereabouts of migrants boats so that they can intercept them.
This increased aerial involvement of Eunavfor Med aircraft and helicopters stems from a European Council decision in late March 2019 to suspend the deployment of the operation's ships, but strengthen surveillance by air and reinforce its support for the Libyan coastguard.
The result is that migrants are being forcibly returned to Libya, an active war-zone, where they are held in inhumane detention camps. NGOs have documentedthat many migrants have been exposed to systematic forms of torture, sexual violence, and extortion at these camps.
The submission to the ICC highlights clearly what migrants and their supporters continue to experience and witness on a daily basis: the violent consequences of European border and security policies that have turned the Mediterranean Sea into the deadliest border in the world.
In response to the ICC submission, an EU spokesperson highlighted the EU's respect for human rights and international and European conventions, emphasising that its: "Priority has always been and will continue to be protecting lives and ensuring humane and dignified treatment of everyone throughout the migratory routes". But the reality at sea is a different one – European non-assistance has become routine in the Mediterranean.
Spotted from the air
On June 2, a shipwreck occurred off the coast of Libya leaving dozens of people presumed dead. This will further raise the Mediterranean death toll that has surpassed 500 fatalities in 2019 already, despite a dramatic decrease in migrant crossings. On the same day, the survivors of another Mediterranean voyage testified after disembarking in Genoa, that they had lost travel companions at sea – despite the fact that Italian and other authorities had been alerted to their odyssey and were monitoring it.
After spotting the migrant boat with about 100 people on board on May 29 and relaying their distress, the civil reconnaissance aircraft Moonbird, run by the NGO Sea-Watch, observed that the Italian navy vessel P490 didn't carry out a rescue operation despite being in the vicinity of the boat in distress. In the evening that day, the Alarm Phone, an activist hotline supporting migrants in distress at sea, of which I am a member, was also alerted to this boat.
Despite raising awareness about the emergency situation in public and directly with European coastguards, it took nearly a day until a rescue operation was launched. Because of this delay, the migrants, including many children, had to endure a second night at sea.
The daily dramas in the Mediterranean are not the result of a lack of European engagement at sea. As the submission to the ICC highlights, they are the consequence of European migration policies that have actively "turned the central Mediterranean to the world's deadliest migration route."
Decades of research has shown that the unabated criminalisation of migration has led to an increase in migrant fatalities around the world as those seeking to escape by crossing borders have had to revert to longer, more expensive, and more dangerous migration routes. Those dying in the Mediterranean today are the inevitable result of Europe "protecting" its borders.
This article is republished from The Conversation under a Creative Commons license. Read the original article.
Maurice Stierl receives funding from the Leverhulme Trust. He is also a member of the network Alarm Phone.