Russian Newspapers Support Detained Journalist In Rare Joint Call For Press Freedom
Amy Russo ,HuffPost
Russian Newspapers Support Detained Journalist In Rare Joint Call For Press Freedom In a rare and bold call for press freedom, three prominent Russian newspapers used their front pages to speak up for a detained journalist.On Monday, Kommersant, RBK and Vedomosti, all of which are respected outlets in Russia, published a joint statement criticizing the arrest of investigative reporter Ivan Golunov, 36, who works for independent news site Meduza.The editorial, which was titled "I Am/We Are Ivan Golunov," raised "great doubts" that his arrest for drug dealing was legal, according to a translation by CBS News. Furthermore, it demanded that an investigation of the officers involved be launched and that its findings be given to the media.View image on Twitter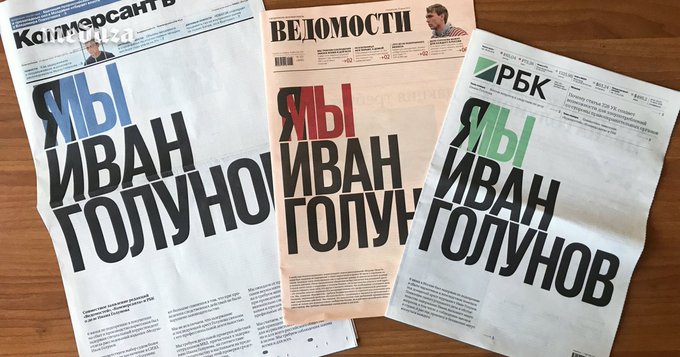 Meduza in English@meduza_en The June 10 editions of @kommersant, @ru_rbc, and @Vedomosti are making history — and selling out fast. https://meduza.io/en/short/2019/06/10/in-historic-collaboration-russia-s-three-major-business-newspapers-publish-front-pages-for-ivan-golunov … Golunov was arrested in Moscow this past Thursday and detained for two days on the drug charges, which he said are bogus. After his release, he reportedly had clear signs of physical abuse, including cuts and bruises. According to Meduza, he was not allowed to sleep or eat for more than 24 hours, and he was not provided with a lawyer or the use of a phone.A statement published by Meduza from one of Golunov's lawyers, Dmitry Dzhulai, details the journalist's injuries, which allegedly include "a concussion, two broken ribs, and multiple bruises and hematomas on the back of the head."On Saturday, Golunov was placed on house arrest. The charges against him still stand and could send him back behind bars for up to 20 years, CBS reported.Dzhulai told Reuters that he thinks the police planted drugs on his client in an effort to frame him.On Sunday, Meduza editor-in-chief Ivan Kolpakov released a statement speculating that Golunov may have been targeted because of a long-term investigative report on which he was working. While the details were not revealed, Kolpakov said the subjects of the story had been threatening Golunov for more than a year. Hours before he was arrested, he turned his piece in to his editor.The Russian newspapers that put out Monday's editorial also noted that the government may have attempted to silence Golunov, saying they "do not exclude that the detention and subsequent arrest of Golunov is related to his professional activities." Kolpakov vowed that Meduza would recruit colleagues from other news organizations to finish Golunov's work and publish it internationally across various platforms.On Monday, the Kremlin admitted that police may have made mistakes in Golunov's arrest, according to The Guardian."Mistakes can never be ruled out," said Dmitry Peskov, spokesperson for Russian President Vladimir Putin. "The important thing is to recognize mistakes so that they aren't repeated. Some issues need clarification."Love HuffPost? Become a founding member of HuffPost Plus today.This article originally appeared on HuffPost.
U.S. Warns Hong Kong on Extraditions as Fresh Protests Planned (Bloomberg) — Sign up for Next China, a weekly email on where the nation stands now and where it's going next.The U.S. expressed "grave concern" over Hong Kong legislation that would for the first time allow extraditions to mainland China, raising pressure on Beijing as the city braced for a potentially historic showdown over the proposal.The bill "could undermine Hong Kong's autonomy and negatively impact the territory's long-standing protections of human rights, fundamental freedoms and democratic values," State Department spokeswoman Morgan Ortagus told reporters Monday in Washington. Opponents of the legislation on Sunday staged one of the largest protests since the former British colony's return to China: Organizers said more than 1 million participants showed up, while police put the figure at 240,000.Tensions are only heating up, with activists calling for strikes and vowing to surround the city's Legislative Council on Wednesday, when lawmakers debate scores of proposed amendments. Hong Kong's Beijing-backed leader, Carrie Lam, defended the bill in a 45-minute news briefing Monday, saying it was necessary to prevent the city from becoming a "haven" for fugitives and vowing to press ahead with its passage. China endorsed her government's efforts later in the day.Earlier: Fugitive Tycoon Fights Hong Kong Bid to Ease China Extraditions"The two sides seem to be on a collision course, so it is hard to see a satisfying conclusion," said Jeffrey Wasserstrom, professor and China historian at the University of California, Irvine. "Whether or not the new law is enacted, the people of Hong Kong have made an important statement."Protests Reawaken The mass march signals a reawakening of a protest movement that fractured after the government successfully resisted the democracy demands of student-led demonstrators who occupied city streets for 79 days in 2014. Since then, the Chinese government and its handpicked local leadership have faced little resistance to their efforts to rein in dissent, including barring more radical activists from seeking elected office, prosecuting protest leaders and banning a pro-independence political party.But now the extradition bill could potentially affect any of the city's 7.5 million residents, including employees of the almost 1,400 multinational companies with regional headquarters there. The legislation would allow Hong Kong to enter one-time extradition agreements with jurisdictions where it lacks formal agreements, including mainland China — which often hands down lengthy prison terms to non-violent criminals such as activists and drug offenders.Earlier: Hong Kong Scales Back Extradition Law That Spooked BusinessThe extradition bill has been criticized by Western governments and international business organizations as a threat to the "one country, two systems" framework credited with maintaining Hong Kong's status as a global financial center. It's one of several moves under President Xi Jinping that have raised concern about Hong Kong's autonomous structure, which guarantees free speech, capitalist markets and British common law.Opponents are hoping for a repeat of 2003, when a demonstration of about half a million people led the city to scrap a controversial national security proposal and contributed to the eventual resignation of then-Chief Executive Tung Chee-hwa. Nine years later, mass gatherings led by high school students pressured the government to reconsider a proposal mandating a history curriculum lauding the ruling Communist Party.Unlikely Retreat Retreat seems less likely after Xi paid little price for ignoring the democratic demands of as many as 200,000 protesters during the 2014 Occupy movement. Several top Chinese officials have also publicly backed the extradition legislation, and Foreign Ministry spokesman Geng Shuang said Monday that Beijing "will continue to firmly support" the proposal, while warning against foreign interference.The local government has said the law is needed to bring fugitives to justice and was spurred by the case of a Hong Kong man who could not be extradited to Taiwan for the murder of his 19-year-old girlfriend. Lam is working to pass the measure through the city's Beijing-loyalist-legislature by the end of the current legislative session next month."It's almost certain that the law will be passed, and Hong Kong will be paying a big price," said Willy Lam, adjunct professor at the Center for China Studies at the Chinese University of Hong Kong.QuickTake: Hong Kong's Autonomy On Monday, Carrie Lam praised the protesters for expressing the views in a largely peaceful manner, but said there was "very little merit to be gained by delaying the bill." She said two previous amendments — excluding several categories of financial crimes and lengthening the maximum prison term of offenses eligible — had adequately protected human rights."The society has been closely and intensely discussing the amendment bill for four months," she said. "It should be returned to the Legislative Council, which should carry out its constitutional duty. This means after vetting the bill, legislators can amend or approve the bill or whatever. Our stand is still our stand today."'Scrapped All Together' The chief executive said she had received no order from Beijing to pursue the legislation. "It's not initiated by the central government. I have not received any instruction or mandate from Beijing," she said.Many residents aren't buying it, though. The bigger problem they say is the slow, but steady transformation of Hong Kong into just another Chinese city. And for many, now is the time to take a stand.Read more: China Fugitive Flees Again as Hong Kong Eyes Extradition Law Although the procession was largely peaceful, scuffles later broke out between demonstrators and police, who used pepper spray and batons to disperse protesters. The organizer of Sunday's protest, the Civil Human Rights Front, said it planned to hold another rally outside the legislature when hearings resume on Wednesday."We don't need any more written or verbal safeguards," opposition lawmaker Claudia Mo said Monday. "We want the bill to be scrapped all together."–With assistance from Blake Schmidt.To contact the reporters on this story: Shawna Kwan in Hong Kong at wkwan35@bloomberg.net;Carol Zhong in Hong Kong at yzhong71@bloomberg.net;Nick Wadhams in Washington at nwadhams@bloomberg.netTo contact the editors responsible for this story: Brendan Scott at bscott66@bloomberg.net, ;Bill Faries at wfaries@bloomberg.net, Karen Leigh For more articles like this, please visit us at bloomberg.com ©2019 Bloomberg L.P.
Washington (AFP) – President Donald Trump on Monday said he still expects to talk with his Chinese counterpart Xi Jinping at the upcoming G20 summit, warning he will impose new tariffs if there is no meeting.
"Yes it would," Trump told CNBC television when asked if a failure by Xi to come to the summit later this month in Japan would lead to the huge new tariffs kicking in.
But Trump said the meeting was "scheduled" and "I think he will go."
"I would be surprised if he didn't go," Trump added. "I think he's going, I havent heard that he's not. We're expected to meet."
A Chinese foreign ministry spokesman, meanwhile, said last month that he had "no information at present" on Trump-Xi talks.
Trump has been trying to strongarm China into a major change on trade policies that the president argues have for decades put the United States at an unfair disadvantage.
The two biggest economies in the world seemed to be close to striking a bargain until talks stalled last month. Washington says that Beijing walked away at the last minute, while the Chinese side has signalled it is increasingly prepared for a long fight.
Trump has already imposed 25 percent duties on $200 billion of Chinese imports. China has responded with punitive tariffs on $60 billion in US goods.
Trump says he is ready to slap tariffs on a further $300 billion in Chinese imports if no breakthrough is achieved.
The G20 summit will take place in Osaka on June 28-29.
Tehran (AFP) – German Foreign Minister Heiko Maas held talks Monday with his Iranian counterpart Javad Zarif on the future of the 2015 nuclear deal which he described as "extraordinarily important" for Europe.
The two shook hands in front of cameras before their closed-door meeting at the foreign ministry in Tehran, AFP reporters said.
The nuclear deal is "extraordinarily important" for Europe's security, Maas told reporters overnight after arriving in Tehran on the last leg of a regional tour that took him to Iraq, Jordan and the United Arab Emirates.
But he added: "We do not want Iran to have nuclear weapons."
The nuclear deal known as the Joint Comprehensive Plan of Action (JCPOA) was struck between Iran and six major powers — Britain, China, France, Germany, Russia and the United States — in 2015.
It saw Iran scale down its nuclear programme in exchange for sanctions relief.
But last year the United State unilaterally withdrew from the deal and reimposed sanction on Iran.
Tehran has urged Europe to uphold commitments made under the deal and help Iran circumvent US sanctions.
Iran has also threatened to scale down its nuclear commitments if its interests are not met.
According to Maas, Germany and its European partners "have made the greatest effort to meet (their) commitments".
He acknowledged that the economic benefits Tehran hoped for from the deal were now "more difficult to obtain" but urged Iran to fully respect the agreement.
It is in Iran's "political and strategic interest to maintain this agreement and the dialogue with Europe," he said.
Business
Europe's Data Protection Rules Failing to Boost Internet Trust, the EU Shows
Six months after a set of European Union rules aimed at better protecting online users' privacy went into effect, trust in the internet among EU member states fell to its lowest point in a decade, according to recently released data.
The data, which measured public trust of the internet from 2006 to November 2018 across the EU, was released on June 6, more than a year after the General Data Protection Regulation went into force for all EU member states.
The GDPR's core mission has been to boost public trust in the protection of personal data stored online. The new EU survey results show the law is not improving trust in the internet, say data experts.
"These results show that the General Data Protection Regulation (GDPR) — which the EU has touted as the gold standard for data protection rules — has had no impact on consumer trust in the digital economy since it came into force last May," wrote Daniel Castro and Eline Chivot of the Center for Data Innovation, a think tank in Washington, D.C., in a guest post on European Views, a European affairs publication.
The findings suggest more regulation may not be the answer when it comes to fostering consumer trust and innovation in the digital economy. Such an approach is "fundamentally flawed and should be abandoned," Castro and Chivot add.
According to data published by Eurobarometer, a series of public opinion surveys conducted on behalf of the European Commission, only 32 percent of EU respondents surveyed said they "tend to trust" the internet, 2 percentage points less from the previous year, when the GDPR was not in place. That level of public trust is the lowest reported level since 2009.
"These survey results are significant because the GDPR was intended to solve the problem of online consumer trust," Castro and Chivot wrote in European Views.
The EU survey follows other debates on the advantages and disadvantages of having internet data privacy laws in place. In a previous report, the Center for Data Innovation warned that the GDPR needs reform in order to prevent harming innovation. "The General Data Protection Regulation (GDPR), while establishing a needed EU-wide privacy framework, will unfortunately inhibit the development and use of AI in Europe, putting firms in the EU at a competitive disadvantage to their North American and Asian competitors," said in May another Center for Data Innovation report on the topic.
In a May opinion piece, Ulrich Wuermeling, an attorney who focuses on European data protection laws, said the privacy breach notifications the GDPR requires actually undercuts public confidence in the law.
Sintia Radu covers international affairs and technology for U.S. News & World Report. You can follow her on Twitter @sintiaradu and send her suggestions and ideas at sradu@usnews.com.
1 / 9
Lebanon Syrian Refugees
A Syrian family loads their belongings on a pickup, as they evacuate an informal refugee camp after a fight broke out last week between camp residents and Lebanese firefighters who arrived to put out a fire, in Deir Al-Ahmar, east Lebanon, Sunday, June 9, 2019. Dozens of Syrian refugees have dismantled their tents in a camp they lived in for years in eastern Lebanon after authorities ordered their evacuation following a brawl with locals. Lebanon hosts over 1 million Syrian refugees who fled the war next door since 2011, overwhelming the country of nearly 5 million. (AP Photo/Hussein Malla)
DEIR AL-AHMAR, Lebanon (AP) — Dozens of Syrian refugees dismantled their tents, filled trucks with belongings and left a camp they lived in for years in eastern Lebanon on Sunday after local authorities ordered them to evacuate in the aftermath of a brawl with local firefighters.
Lebanese officials say the decision to evacuate is to prevent revenge attacks and further tension after residents of the town threatened to storm the camp.
A curfew on the Syrian refugees living in Deir al-Ahmar, estimated at 6,000, was put in place for two days and police patrolled the area.
"This is to ensure their safety and to stop the bloodshed," said Jean Fakhry, a Lebanese municipality official in Deir al-Ahmar told The Associated Press.
The evacuation of more than 90 tents reflects the growing tension in Lebanon over hosting more than 1 million Syrian refugees since 2011.
A country of nearly 5 million, Lebanon's infrastructure and economy has been overwhelmed by the arrival of those fleeing the war next door.
Mostly impoverished and dispossessed, many settled in the country's east, living in squalid camps and struggling to work and survive in the area known for its harsh winters and sizzling summers.
As Lebanon deals with an economic crunch, many Lebanese politicians and groups turned to Syrians, calling for them to go home saying the violence there is winding down.
In the scorching sun of the early afternoon, Syrian men, women and children pulled down cloth and carpets covering the wooden structures that served as their temporary homes. They piled mattresses, pots and pans into trucks headed to a new location miles away. Local officials say 600 lived in the camps but U.N. estimates said it was closer to 400 people.
It is at least the second time the refugees, most of them from Idlib province, had to pack their lives into boxes to find new, safer areas.
Samar Awad, a 27-year old Syrian, said the camp's residents are being sent to a new site with no electricity or water. She said it may be equally dangerous as their reputation as troublemakers will precede them.
"We have been living here for seven years," said Awad. "It has become like home, and more."
Awad hails from Saraqeb, a town in Idlib, the last area controlled by the opposition to Syria's President Bashar Assad.
Seasonal farmers from Syria, like Awad, used come to Lebanon even before the war. But after the violence, many of them stayed, overwhelming the local communities.
Last week, a fire broke out on the hill overlooking the camp sparking panic. When firefighters arrived, residents pelted their vehicle with stones over what they said was the rescuers' late arrival. A brawl ensued and a firefighter was injured and tents were damaged.
The army arrived on the scene and arrested more than 30 Syrians. The camp residents fled and later, unknown assailants set three of the tents ablaze. The tensions led to the evacuation order and the lockdown on refugees in the area.
"There was local anger and revolt," Fakhry, the Lebanese official said. "We decided they should not come back to avoid another problem and bloodshed."
The U.N. refugee agency was on the scene Sunday as the Syrians prepared to leave. In a statement, the agency said all perpetrators should be prosecuted as an investigation is underway.
"A collective punishment of Syrian refugees in Lebanon will further escalate the situation," the UNHCR said. "All refugees in Lebanon should not be punished over one incident and outside the justice system."
On the plane ride back from his trip to Romania, Pope Francis told reporters that since "there is already Christian unity," there is no need for the faithful to "wait for the theologians to come to agreement on the Eucharist." Some progressive Catholics have considered this to be evidence that the pope may be open to granting full Eucharistic communion to non-Catholics. If that is indeed what Francis meant — what else could he have meant? — then he is forcing the Church to address a series of rather difficult and uncomfortable questions.
Not least among them: What is the Eucharist? Is it a tool to be used to facilitate a "Christian unity" that the pope insists "already" exists? Or is it an expression of full communion with the Roman Catholic Church? If the Church reverses herself and contradicts her unbroken Magisterium on the admission of schismatics and dissenters to the sacraments, what happens to her dogmatic integrity on other settled questions of faith and morals? Is the entire canon perpetually subject to the modish preferences of the current and future occupants of the Petrine chair? Most astounding, why is she unwilling to "wait for the theologians to come to agreement" before making a change of such gravity?
Theology, in St. Anselm's classic formula, is fides quaerens intellectum — faith seeking understanding. If the pope's goal is to formulate a discipline wherein faith is joined to right reason, there is nothing to fear in allowing rightly disposed "theologians to come to agreement on the Eucharist." If his goal is to unshackle the Church from her bimillennial moorings, that is another project altogether, one that might not be aided by waiting for a consensus of theological opinion.
As the liberal priest Father Thomas Reese suggests, dissolving the statutory boundaries that surround reception of the Eucharist is part of Pope Francis's broader insistence that "facts are more important than ideas." What this triumph of "facts" over "ideas" is supposed to mean for a Church that communes with an invisible God and a cautiously preserved deposit of faith is unclear.
What "facts" conceivably justify reversing the Magisterial opposition to unregulated intercommunion with schismatics? More to the point — are there any "facts" in the Catholic imaginary that can be wholly separated from the Church's "ideas" about God? And which of these free-floating "facts" are more important than the "ideas" that make them intelligible? What, for instance, is more important — the "fact" that Jesus of Nazareth was executed by Roman authorities in the first century, or the "idea" that His crucifixion was an atoning sacrifice for the sins of mankind? If it's the former, why do Catholics go to Mass?
If Catholic life is a series of brute "facts" with no broader intellectual coherence ("ideas"), then the entire practice of faith is a futile exercise. That intellectual novelty can be used to justify almost any change in the Church's Magisterium, while those who insist on the preservation of the "ideas" that buttress Catholic faith are presumed to be angry scholastics and reactionaries thwarting the springtime of Vatican II. If "facts" and the Catholic intellectual frame ("ideas") are at odds, then the entire Catholic understanding of the natural law and the broader philosophical project of the Church are a laughable sham.
This type of suggestive imprecision is not unusual for Francis. He has made a habit of using airplane press events to make what often amount to freewheeling, controversial claims about matters of Catholic faith and morality. The press corps will latch on to one or more of the pope's remarks that appear to suggest a papal willingness to change a particular Church teaching, even though the pope has never explicitly said so. These statements, inasmuch as they appear to challenge settled matters of Church teaching, have left the faithful to wrestle with a recurring series of questions about the integrity of dogma and the difference between discipline and doctrine, and existential questions about inerrancy.
The first and most fundamental such question is this: Why does the Church believe what she does about the Eucharist? For centuries the Church has held to the doctrine of transubstantiation, whereby the "accidents" of bread and wine are changed into the literal Body and Blood of Christ when they are consecrated at the altar. And, lex credendi, lex orandi, Catholic liturgical practices demonstrate the Church's belief in the reality of Christ's Eucharistic immanence. The gathered faithful kneel in unison, prostrating before what appear to be ordinary bread and wine, as the piercing toll of bells and the rising smoke of incense mark the presence of Christ at the consecration. In an even more explicit sign of this belief, before the controversial liturgical reforms that came in the wake of the Second Vatican Council, members of the Church received the Eucharist on their knees as an ordained minister placed the Host on their tongues.
Belief in transubstantiation has both scriptural and patristic bases. It was one of Christ's most polarizing teachings while on earth. Consider His words in Saint John's Gospel:
Then Jesus said to them: Amen, amen I say unto you: Except you eat the flesh of the Son of man, and drink his blood, you shall not have life in you.

He that eateth my flesh, and drinketh my blood, hath everlasting life: and I will raise him up in the last day.

For my flesh is meat indeed: and my blood is drink indeed.

He that eateth my flesh, and drinketh my blood, abideth in me, and I in him.

As the living Father hath sent me, and I live by the Father; so he that eateth me, the same also shall live by me.
Christ's followers were (understandably) shaken by these words, which seemed to insist upon cannibalizing Jesus' own Flesh and Blood. They responded in disbelief: "This saying is hard, and who can hear it?" Who can hear it indeed?
The Church Fathers themselves attest to the mystery of the bread and wine becoming the Body and Blood. Saint Irenaeus of Lyons, writing in a.d. 180, insisted that Christ "has declared the cup, a part of creation, to be his own Blood, from which he causes our blood to flow; and the bread, a part of creation, he has established as his own Body, from which he gives increase to our bodies." Saints Justin Martyr, Clement of Rome, and the Didache (The Teaching of the Twelve Apostles) all attest to this ancient belief of the Church well before the third century a.d.
Given the unique and divisive teaching about the substantive nature of the consecrated bread and wine, Saint Paul's exhortation to the Corinthians provided what would become the scriptural grounds for selective admission to the sacrament. Paul told the Corinthian church that those who received the Eucharist "unworthily" would be counted as "guilty of the body and of the blood of the Lord," a bold and forceful instruction that established a scriptural basis for future Church guidelines on admission to the sacrament.
The early Church took Saint Paul's instruction and sought to outline criteria for admission to the Eucharist. Saint Justin Martyr (c. 100–165), for instance, insisted that the Eucharist be open only to those who believe "that the things we teach are true, and has received the washing for forgiveness of sins and for rebirth, and who lives as Christ handed down to us." The Eucharist was always considered to be an expression of unity with the Church, not a tool to display ecumenical zeal or a means to "break down barriers" among the masses.
Popes throughout the centuries were undivided in their opinion on the subject. Particularly before the Second Vatican Council, popes were stark in their indiscriminate opposition to intercommunion, considering it a profanation and an abject evil to be avoided. Pope Pius IX put it rather precisely in his encyclical Amantissimus (1862), where he proclaimed that "whoever eats of the Lamb and is not a member of the Church has profaned."
Such precision is of little import to the "innovators" that Pope Pius XII warned the faithful about. Give the "innovators" of the post-conciliar Church enough time and they will wiggle their way out of even the Church's most unambiguous statements of antiquity.
Allowing any and all schismatic or heretical Christians to receive the Eucharist in non-extraordinary circumstances (circumstantial exceptions which, as it happens, are the product of doctrinal changes wrought by Vatican II) forces the Church to answer difficult existential questions, not altogether unlike others raised during Francis's pontificate. To what degree can any pope change quod ubique, quod semper, quod ab omnibus creditum est — that which has been believed always, everywhere, and by everyone?
What is a legitimate development of doctrine? Can dogma even "develop" at all?
Questions about the extent of papal authority and the ability of dogma to "develop" would seem to have been settled by the First Vatican Council, convoked in June 1868 by Pope Pius IX. It provided the following concise explanation (emphasis mine):
For the Holy Spirit was not promised to the Successors of Peter that by His revelation they might disclose new doctrine, but that by His help they might guard the revelation transmitted through the apostles and the deposit of faith, and might faithfully set it forth. . . . Hence, also, that understanding of [the Church's] sacred dogmas must be perpetually maintained, which Holy Mother Church has once declared; there must never be a recession from that meaning under the pretext of a deeper understanding.
It isn't, in other words, within the papal domain to change what is revealed in sacred scripture or in the unbroken Tradition that proceeds from the first apostles. The notion that individual pontiffs are given unchecked license to enact sweeping reforms of ancient dogmas and disciplines "under the pretext of deeper understanding" is an abuse that the prelates of Vatican Council I explicitly forbade.
This would be not only a change in discipline, which may be "modified or even abandoned under the guidance of the Church's Magisterium," according to the Catechism of the Catholic Church, but would amount to a bona fide change in doctrine. It would codify a view of the Eucharist that would be utterly foreign to the dogmatic constitution of the faith, and its proponents admit as much. Father Thomas Reese, in his article praising the pope's remarks, ultimately conceded that this move would be a genuine reversal of doctrine, noting that operating with a receive-now-ask-questions-later attitude toward the Eucharist inevitably means viewing "the Eucharist as a unifying sacrament rather than a celebration of unity." What that distinction means in practice — the "facts," if you like — is that the Church would adopt a view of sacramental life radically different from the vision it has held for over 2,000 years.
To echo the lament of Pope Pius X, "Far, far from the clergy be the love of novelty!"
More from National Review
China's exports beat gloomy forecasts to rebound in May though imports sank more than expected, official data showed Monday, as concerns lingered about the impact of its ongoing trade war with the United States.
The spat between the world's top two economies escalated last month, with President Donald Trump increasing tariffs on $200 billion in Chinese goods.
But Chinese exports to the world bounced back to rise 1.1 percent last month after falling 2.7 percent in April, according to customs data. Analysts surveyed by Bloomberg News had forecast a 3.9 percent drop.
Imports, however, plummeted 8.5 percent after rising 4.0 percent in April.
The trade surplus surged to $41.7 billion in May compared with $13.8 billion the previous month. The politically sensitive surplus with the United States was $26.9 billion, up from $21 billion in April.
Trade talks between Beijing and Washington have stalled while the two countries have threatened to slap more sanctions on each other.
Trump has blacklisted Chinese telecom giant Huawei and warned that he could impose tariffs on nearly all remaining products from China, worth more than $300 billion.
Beijing responded to Trump's latest tariff hike by increasing levies on $60 billion of US products on June 1.
China is also preparing its own blacklist of "unreliable" companies and has suggested that it could halt exports of rare earth minerals — key to the production of many high-tech goods — to the United States.
Trump is expected to meet Chinese President Xi Jinping at the G20 summit in Japan at the end of the month.
US Treasury Secretary Steven Mnuchin said at a G20 meeting of finance ministers Saturday that any potential deal with China will wait until the two presidents meet later this month, but Washington was ready to impose new tariffs if talks fail.
– Tumble expected –
Analysts said despite the rebound in exports, China's trade outlook is likely to suffer because of the turbulence ahead.
"While exports rose in May, weaker global demand and the escalating trade war suggest that they will start to fall again before long," Marcel Thieliant, senior economist at Capital Economics, said in a note.
Others attributed the bounce in May to exports being scheduled so they are shipped ahead of when tariffs kick in, pointing to a likely drop later in the year.
"The better-than-expected exports in May, which could have been helped by a depreciation in… (China's currency) and front-loading of shipments amid fears of higher US tariffs, do not change our overall cautious view on China's export look for 2019," Betty Wang, Senior China Economist at ANZ Research, said in a note.
The export turbulence ahead could prompt Beijing to intervene and stimulate the economy.
The growth of China's exports should "tumble in Q3, when we expect the threatened tariffs to be imposed," Nomura International said in a note.
"Therefore, we believe Beijing is to step up its stimulus measures to stabilise financial markets and growth."