U.S. Donald Trump defends Acosta role in plea deal involving accused sex trafficker Jeffrey Epstein
Michael Collins and David Jackson,USA TODAYWASHINGTON – President Donald Trump defended his embattled Labor Secretary Alex Acosta Tuesday after Democratic lawmakers urged his resignation over a plea agreement negotiated with accused sex trafficker Jeffrey Epstein years ago when Acosta was U.S. attorney in Florida."I feel very badly actually for Secretary Acosta because I've known him as being somebody that works so hard and has done such a good job," Trump told reporters in the Oval Office. "I feel very badly about that whole situation. But we're going to be looking at that and looking at it very closely."Trump said the plea deal was reached a "long time ago" and that there were a lot of other people also involved in the decision to reach an agreement that resulted in a lenient sentence for Epstein."I do hear there were a lot of people involved in that decision, not just him," he said. Trump called Acosta an "excellent" labor secretary.Dealing with the fallout: Jeffrey Epstein: Labor Secretary Alex Acosta 'pleased' prosecutors moving forward
President Donald Trump, left, and Labor Secretary Alexander Acosta listen during a meeting of the President's National Council of the American Worker in the Roosevelt Room of the White House in Washington, Sept. 17, 2018.Epstein, 66, was arrested Saturday on charges of sex-trafficking girls as young as 14. He pleaded not guilty in a Manhattan federal court on Monday. The indictment against him alleges he "sexually exploited and abused dozens of minor girls at his homes" in New York City and Palm Beach, Florida. In November, the Miami Herald published an in-depth look at the 2007 deal that showed that Acosta – then the top federal prosecutor in Miami – was directly involved in negotiating a deal with Epstein's lawyers in which the wealthy and influential hedge fund manager agreed to plead guilty to two state felony prostitution charges, pay restitution to his victims, register as a sex offender and serve 13-months in county jail. But Epstein was able to serve much of that sentence from his Palm Beach office as part of a work-release program. He had faced a possible life sentence if convicted on the federal charges looming over him.Conduct 'went on for years': Jeffrey Epstein pleads not guilty to sex-trafficking claims that 'shock the conscience'Top Democrats in Congress have called on Acosta to resign because of his role in the plea agreement.Meanwhile, Trump also distanced himself from Epstein, saying Tuesday that the multimillionaire was a fixture in Palm Beach and that he knew him, but he said they had a falling out about 15 years ago.In 2002, about three years before investigators opened their first probe into Epstein, Trump told New York Magazine he had known Epstein for 15 years. Trump called Epstein a "terrific guy" and said, "He's a lot of fun to be with. It is even said that he likes beautiful women as much as I do, and many of them are on the younger side. No doubt about it — Jeffrey enjoys his social life."But Trump downplayed his relationship with Epstein on Tuesday."I knew him like everybody in Palm Beach knew him," Trump said. "…He was a fixture in Palm Beach. I had a falling out with him a long time ago. I don't think I have spoken with him for 15 years. I was not a fan."Contributing: William Cummings What we know: Who is Jeffrey Epstein, the multimillionaire charged with sex trafficking girls as young as 14?
President Donald TrumpThis article originally appeared on USA TODAY: Donald Trump defends Acosta role in plea deal involving accused sex trafficker Jeffrey Epstein
Newsoriginalsstream Wisconsin could decide 2020. Inside the new Democratic plan to win it back.
This isn't some far-fetched scenario. For Democrats, Pennsylvania and Michigan are riper demographic targets than the Badger State, where the electorate is heavier on (Trump-friendly) non-college-educated whites and lighter on (largely anti-Trump) African-Americans. In the "blue wave" midterm elections of 2018, Dems swept the governorships of Pennsylvania and Michigan by double-digit margins. They flipped Wisconsin by a single percentage point. In Wisconsin's only statewide contest since then, a conservative state Supreme Court candidate upset his liberal opponent. And when Priorities USA, America's largest Democratic super-PAC, recently projected the 2020 results, it said that "if the election were held today," only one state was too close to call: Wisconsin.
"This state is fundamental to any prospect we have of electing a Democrat to the presidency in 2020," Texas Rep. Beto O'Rourke told reporters during a trip to Madison in March. "We've got to show up."
The other campaigns seem to be coming to the same conclusion. Trump rallied in Green Bay in late April; at the time, his campaign manager, Brad Parscale, tweeted that "Wisconsin is ready for #FourMoreYears." On Friday, the president will return for a Republican National Committee fundraiser in Milwaukee. Meanwhile, three Democratic candidates (Elizabeth Warren, Bernie Sanders and Julián Castro) will be in town Thursday for a League of United Latin American Citizens event, after which Warren will hold a public town hall — likely the largest Democratic gathering so far this year.
"Elizabeth's decision to forgo high-dollar fundraisers and call-time means she's doing the work of building a grassroots movement — state by state, face to face," says Warren spokeswoman Saloni Sharma. "She's looking forward to being in Milwaukee to hear from voters about the issues important to them."
Election Day is still 17 months away; a lot can and will change between now and then. But Wisconsin likely won't. Over the last decade, Republican activism funded by the Koch brothers has clashed with the state's deep progressive tradition, tipping the scales in the GOP's favor and exacerbating polarization between left and right, white and black, urban and rural. The result is perhaps America's truest bellwether: a state that parallels our divided national politics both in the tightness of its elections and the conflicts that define them.
'Wisconsin is ground zero'
Last month, the state party elected a new chair, who has a keen sense of the state's electoral importance. Ben Wikler, a 38-year old Harvard grad, edged out the party's longtime vice chair, state Rep. David Bowen, at its June convention — even though Wikler had only moved back to Madison, his childhood home, at the end of 2018.
"This is it," Wikler tells Yahoo News. "This is why I ran for chair. Wisconsin is ground zero for 2020."
Wikler's résumé was a big selling point. He attended his first political rally, for then-presidential candidate Jesse Jackson, at age 7. Four years later, he volunteered for his first congressional campaign. In high school he worked for future Sen. Tammy Baldwin; in college he founded the Student Global Aids Campaign and interned for Sen. Russ Feingold. He went on to assist Al Franken with his books and radio show, serve as Sen. Sherrod Brown's press secretary, direct climate change campaigns for Avaaz, launch his own podcast, and run MoveOn.org's D.C. operations.
But more important than Wikler's progressive CV was the recurring theme that ran through it: a winning track record of grassroots activism and organizing, from his ability to secure more public-school funding as a teenager to his successful fight at MoveOn to help prevent Trump Republicans from repealing Obamacare in 2017.
Wikler's promise — and challenge — is to stop Trump and his allies by bringing those same tactics to Wisconsin.
He has his work cut out for him. As Wisconsin-born journalist Dan Kaufman detailed in his 2018 book, "The Fall of Wisconsin: The Conservative Conquest of a Progressive Bastion and the Future of American Politics," Republicans took control of the governor's mansion, the U.S. House delegation, one U.S. Senate seat and both chambers of the state legislature in the 2010 tea party wave and immediately set about transforming the state "from a pioneering beacon of progressive, Democratic politics to the embodiment of that legacy's national unraveling." In truth, Wisconsin's proud progressive era — think Robert La Follette, workers' compensation, unemployment insurance, state income tax, and so on — was already in the past by then. But with a flood of anti-union and Koch brothers money, coupled with a compliant "populist" figurehead in the form of GOP Gov. Scott Walker, conservatives immediately set about entrenching their politics and power by smashing organized labor, slashing government services, loosening environmental protections, restricting access to voting and gerrymandering the state so aggressively that even when Democrats won 53 percent of assembly votes in 2018, Republicans still wound up with 64 percent of the seats.
Despite that lopsided outcome, last year's midterms were actually an encouraging affair for Wisconsin Dems. Trump's net approval rating in the state, which started out positive, plummeted by 19 percentage points since he took office. The backlash registered in November. Sen. Baldwin won reelection by 11 points, and Democratic educator Tony Evers narrowly defeated Walker. In fact, Democrats swept all seven statewide races, including lieutenant governor, attorney general, secretary of state, and treasurer, and even picked up Walker's old assembly seat.
Democrats continue to enjoy a polling advantage today; the most recent nonpartisan Wisconsin poll shows every single major Democratic candidate outpacing Trump in a head-to-head matchup. In a Marquette Law School poll from early April, 46 percent of respondents said that they would definitely vote against Trump if the election were held today, compared to 28 percent who would definitely vote for him.
But Wikler and others have learned to be skeptical. In 2018, the final polling average showed Evers 5 points ahead of Walker; two years earlier, Hillary Clinton led Trump by 6.5.
More recently, internal Republican polling showed the Democrats' preferred state Supreme Court candidate, Judge Lisa Neubauer, leading her controversial conservative opponent, Judge Brian Hagedorn, by 8 points a week before Election Day. Then came $1.2 million from the Republican State Leadership Committee, more than a million text messages to low-propensity GOP voters, a conservative talk-radio blitz featuring former Gov. Walker and a barrage of mailers equating Hagedorn with Trump and Brett Kavanaugh, the president's embattled Supreme Court nominee.
When the ballots were counted, Neubauer came away with 45,000 more votes in last year's Supreme Court election than the liberal candidate, who breezed to victory by 11 points. But Hagedorn won 160,000 more votes than his 2018 counterpart — and 6,000 more than Neubauer.
"That race illustrated that there's this intense polarization and interest on both sides," Wikler says. "If there was any doubt that we can't take anything for granted, it was vaporized after that."
So how will Wikler & Co. ensure that the same thing doesn't happen in 2020?
First, by out-organizing the opposition. "Given how razor-close these races have been, there's an overwhelming chance 2020 will be won or lost based on field organizing at the end," Wikler says. "That informs our battle plan. Unlike almost anywhere else in the country, we're building the ground game through the state party — starting yesterday."
The model is Obama 2008, with its infrastructure of paid field organizers, neighborhood teams and local volunteers. The field program started in the spring of 2017, before Wikler's time, and Wisconsin Democrats now have 11 field organizers on staff; in 2018, their teams knocked on 80 percent more doors than in 2016, defying the usual decline in activity from a general-election cycle to a midterm. "It was a huge part of how we defeated Walker," Wikler says.
To defeat Trump, the plan is to "double down on organizing in communities of color and rural communities — including where they overlap." If Democrats can reduce Trump's margins by 10 points in rural Wisconsin, Wikler estimates, they'll win; if they can "help organize Latino and African-American and young and Native American voters," they'll win big (and likely prevent Republicans from picking up the three state legislative seats they need for a veto-proof majority, which would allow them to dominate the post-2020 redistricting process). Helping on that front will be new state party vice chair Felesia Martin, one of former President Barack Obama's original Wisconsin organizers and co-chair of his 2012 campaign in the state.
Which leads to the second part of Wikler's strategy: issues. The broader Democratic Party is currently debating whether the best way to win in 2020 is by reaching out to white working-class voters who supported Obama before they backed Trump, or by inspiring and mobilizing base voters who either stayed home in 2016 or cast ballots for third-party candidates. Wikler thinks this is a false choice. "In Wisconsin, there are progressives and conservatives," he says. "But most of the voters who don't fit into one of those two categories aren't 'centrist.' They're conflicted. That might mean they believe in their bones in health care for everyone and the right of workers to organize — while also carrying an NRA card. The question then becomes which of their values is most salient on Election Day."
McConnell cites Obama in reparations debate: 'We both are the descendants of slave owners'
David Knowles Editor,Yahoo News9/11 First Responders Meet With Sen. Mitch McConnell
Senate Majority Leader Mitch McConnell responded Tuesday to reports that his 19th-century ancestors owned slaves by pointing out that the same was true of former President Barack Obama — and that they were in agreement on the issue of slavery reparations."You know, I find myself in the same position as President Obama," McConnell, R-Ky., told reporters on Capitol Hill when asked whether his ancestry influenced his opposition to reparations for African-Americans. "We both oppose reparations, and we both are the descendants of slave owners."NBC News reported Wednesday that two of McConnell's great-great-grandfathers, James McConnell and Richard Daley, between them owned at least 14 slaves in Alabama before the Civil War. The records were traced using Limestone County "slave schedules" in the 1850 and 1860 censuses, NBC reported.On the eve of a June hearing in the U.S. House of Representatives on whether the U.S. government should pay reparations to the descendants of slaves, McConnell threw cold water on the idea.
Mitch McConnell and Barack Obama. (Photos: Michael Brochstein/SOPA Images/LightRocket via Getty Images; Sean Gallup/Getty Images)"I don't think reparations for something that happened 150 years ago, for whom none of us currently living is responsible for, is a good idea," McConnell said.Obama has long maintained that reparations are the wrong approach for trying to level the economic playing field for African-Americans."I have said in the past — and I'll repeat again — that the best reparations we can provide are good schools in the inner city and jobs for people who are unemployed," Obama said in 2008.In his 1995 autobiography, "Dreams From My Father," Obama, whose mother was white, wrote of family lore that said he was related to Confederate President Jefferson Davis.Amateur genealogist William Reitwiesner published a history of Obama's mother's family that revealed that his great-great-great-great-grandfather George Washington Overall owned two slaves in Kentucky. His great-great-great-great-grandmother also owned two slaves in the state, according to census records.The debate over whether former slaves or their descendants should receive compensatory payments from the U.S. government has been around since 1865, when Union Gen. William T. Sherman made his famous promise of "40 acres and a mule" to freed slaves. Sherman's order was reversed by President Andrew Johnson after the assassination of Abraham Lincoln. Very few African-Americans ever collected on it.Responding to McConnell's assessment of reparations, author Ta-Nehisi Coates testified before the House committee that the issue was still very much alive."While emancipation dead-bolted the door against the bandits of America, Jim Crow wedged the windows wide open," Coates, whose article in the Atlantic advocating for reparations reignited the issue, said, "That's the thing about Sen. McConnell's 'something.' It was 150 years ago, and it was right now."
World Sister of Saudi crown prince tried in France over 'beaten workman'
Unfortunately, this video is not available in your region.
SS-100-202 Paris (AFP) – A sister of the crown prince of Saudi Arabia went on trial Tuesday in a French court over the alleged beating of a workman who was carrying out repairs in her ultra-luxury Paris apartment.Hassa bint Salman is a daughter of King Salman and a sister of powerful crown prince Mohammed bin Salman who is known by his initial "MBS" and is seen by many analysts as the de-facto leader of the kingdom.She stands accused of ordering her bodyguard Rani Saidi, who is also charged, to beat up the workman Ashraf Eid after he was seen taking a photo inside her home in September 2016.Eid, who worked in the luxury apartment block, had been called in to repair a damaged basin and told investigators he needed the pictures taken with his phone to carry out the work.The princess, who denies the allegations and was not present in court, allegedly suspected Eid of planning to sell the photo of her apartment on the Avenue Foch, long a favourite destination for foreign millionaires in western Paris.Eid, who was also not present in court, has said he was tied up and ordered to kiss the feet of the princess, who is thought to be in her 40s and is lionised in the Saudi state-run media for charity work and women's rights campaigning.He claimed he was was then beaten up and had his tools confiscated during an ordeal that lasted several hours.In an account given to the Le Point news magazine in France, the workman reported that the princess shouted "'Kill him, the dog, he doesn't deserve to live."- 'Didn't know his intentions' -The bodyguard Saidi, who accompanies the princess on her travels in Europe and the United States, was the only one of the three main protagonists present for the first hearing, surrounded by his family."When I heard the princess cry for help, I came and saw them gripping the phone," he told the court, referring to the princess and the workman."I grabbed him and overpowered him: I did not know his intentions," he said. "In 12 years of work, we had stories like that. Arabs want photos and the princess is someone very important for them."She has been charged with complicity in armed violence, complicity in holding someone against their will, and theft.Saidi has been charged with armed violence, theft, issuing death threats and holding someone against their will.The princess is subject to an arrest warrant issued in France in December 2017.- 'One against the other' -The lawyer for Saidi, Yassine Bouzrou, questioned the workman's version of events."My client contests that there was any act of violence and any act of kidnapping," he told reporters outside the court. "It is the word of one against the word of the other."He said there are elements in the case that "contradict the plaintiff's version" and called for the acquittal of his client.The workman's lawyer Georges Karouni said he would prefer comment at the end of the hearing. The Saudi princess' lawyer Emmanuel Moyne made no comment.The bodyguard has lodged a separate case for defamation against the workman.Prince Mohammed sparked hopes of major social and economic reform when he was elevated to crown prince in 2017.But his reputation was badly damaged by the murder of dissident writer Jamal Khashoggi at Saudi Arabia's consulate in Istanbul last year and he is also seen as the driving force in Saudi's military intervention in Yemen.Agnes Callamard, a UN special rapporteur on extrajudicial executions, reported "credible evidence" last month that linked the prince to the killing of Khashoggi, who was strangled and dismembered inside the consulate.
Tehran (AFP) – European powers urged Iran on Tuesday to reverse its move to increase uranium enrichment, as a French envoy arrived in Tehran to boost efforts to save a landmark 2015 nuclear deal.
The accord between Iran and world powers promised sanctions relief, economic benefits and an end to international isolation of the Islamic republic in return for stringent curbs on its nuclear programme.
But Tehran says it has lost patience with perceived inaction by European countries more than a year after President Donald Trump pulled the United States out of the agreement.
The European parties to the deal along with the EU's diplomatic chief on Tuesday called on Tehran to reverse breaches of the agreement.
"It must act accordingly by reversing these activities and returning to full JCPoA compliance without delay," said a statement from the European Union and foreign ministers of France, Germany and Britain.
According to the International Atomic Energy Agency (IAEA), tasked with inspections, while Iran consistently lived up to its commitments under the deal until recently, it is now in breach of two of them.
– Rising tensions –
French President Emmanuel Macron sent his top diplomatic advisor to Tehran after Iran announced on Monday it had passed 4.5 percent uranium enrichment — above the 3.67 percent limit under the agreement though still far below the 90 percent necessary for military purposes.
Emmanuel Bonne arrived in the Iranian capital on Tuesday afternoon, French Foreign Minister Jean-Yves Le Drian said.
A meeting with Rear-Admiral Ali Shamkhani, secretary of Iran's Supreme National Security Council, is planned for Wednesday morning.
Bonne is "to piece together a deescalation" strategy, the French presidency's office said.
The 2015 deal had been described as a triumph of diplomacy against unilateralism and a major step to counter proliferation.
But after the US withdrew in May 2018 and reimposed stinging sanctions on Iran, especially on its banking and oil sectors, the future of the accord became uncertain.
As the Iranian economy went into free fall, Tehran demanded that the other parties to the deal, especially France, Germany and Britain, deliver the promised economic benefits and help it bypass US sanctions.
However, it gradually became clear that this was no simple task, and Iran — whose economy is heavily dependant on oil sales — changed tack and said it would reshape its policy of "strategic patience".
In May, a year after Trump's withdrawal, President Hassan Rouhani said that Iran would roll back its commitments under the deal in stages every 60 days in an effort to force the other parties to deliver on their side of the bargain.
As tensions rose the United States dispatched a naval carrier, bombers and extra troops to the region to counter perceived threats from Iran.
– US, Europe 'deceiving us' –
Last month Trump said he had called off a retaliatory military strike against Iran at the last minute after Tehran shot down a US drone that it said had crossed into its airspace, a claim denied by Washington.
The US president on Tuesday said Iran is "doing a lot of bad things."
"They'd better be very careful," he told reporters at the White House.
The Trump administration placed two Lebanese lawmakers from Tehran ally Hezbollah on its sanctions blacklist Tuesday, but stopped short of carrying out an earlier threat to impose such measures on Iran's top diplomat.
"We are obviously exploring … various avenues for additional sanctions on Tehran. Obviously Foreign Minister (Mohammad Javad) Zarif is a figure of key interest," a senior administration official said on condition of anonymity.
The UN nuclear watchdog confirmed this month that Iran has exceeded a 300-kilogramme limit on enriched uranium reserves, another cap that was imposed by the deal.
Macron on Saturday held an hour-long conversation with Rouhani in which he said he wanted to "explore the conditions for a resumption of dialogue between all parties".
On Monday the White House confirmed that Macron and Trump had talked about the standoff.
The two leaders "discussed ongoing efforts to ensure that Iran does not obtain a nuclear weapon and to end Iran's destabilising behaviour in the Middle East," the White House said in a statement.
While immensely popular to begin with, the nuclear deal has now lost some of its appeal among supporters in Iran.
"The US and the European countries are deceiving us… We wasted six years investing in our relationship with Europe," Majidi, a salesman in Tehran, told AFP, adding that the best option now is to pull out of the deal immediately.
Iran's military warned it would retaliate in response to the seizure of one of its tankers by British forces in Gibraltar last week, while several European foreign ministers urged Tehran to return immediately to full compliance with the 2015 nuclear deal.
(Bloomberg) — Iran's military vowed to retaliate against the seizure by British Royal Marines of an oil tanker loaded with the Islamic Republic's crude off the coast of Gibraltar last week.
"It will be reciprocated, at a suitable time and in a suitable place," Mohammad Bagheri, the chief of staff for Iran's armed forces, was quoted as saying by the official Islamic Republic News Agency.
The warning highlights mounting risks to shipping in a region that exports about a third of all seaborne petroleum. BP Plc is keeping an oil carrier empty inside the Persian Gulf, close to Saudi Arabia, rather than risk its seizure by Iran, a person familiar with the matter said Monday. Six tankers have been attacked since early May, with the U.S. blaming Iran for the incidents, a charge Tehran denies.
The tanker seized by Gibraltar with the help of Royal Marines — the Grace 1 — was arrested on the grounds it was taking crude to a sanctioned Syrian company, according to the British overseas territory on Spain's southern tip. Iran said the tanker was in international waters, not headed to Syria, and described the U.K.'s actions as piracy.
Insurance costs soared in the aftermath of the tanker attacks and some owners initially became wary of sailing to the region.
Tensions escalated since the U.S. exited an international nuclear accord with Iran then resumed — and escalated — sanctions against nation. The Persian Gulf country has responded by suspending some of its commitments as part of the accord not to develop nuclear activities that it says are for are civilian purposes.
(Updates with context about BP oil tanker in third paragraph.)
To contact the reporter on this story: Ladane Nasseri in Dubai at lnasseri@bloomberg.net
To contact the editors responsible for this story: Alaa Shahine at asalha@bloomberg.net, Alaric Nightingale, Brian Wingfield
For more articles like this, please visit us at bloomberg.com
©2019 Bloomberg L.P.
Indiana toddler died in cruise ship fall after grandpa thought window was closed: Attorney
EMILY SHAPIRO,ABC News1-year-old girl falls overboard from cruise ship in Puerto Rico Indiana toddler died in cruise ship fall after grandpa thought window was closed: Attorney originally appeared on abcnews.go.comAn Indiana toddler had a fatal fall from a Royal Caribbean cruise ship after her grandfather put her up on a railing, thinking the glass window was closed, according to the family's attorney.Chloe Wiegand, who was 18 months old, was traveling with her grandparents and parents on the Royal Caribbean Freedom of the Seas when she fell to her death on Sunday, according to her parent's attorney, Michael Winkleman.
PHOTO: Chloe Wiegand, 18 months, from South Bend, Ind., is pictured in an undated family photo. (Family Photo via Atty Michael Winkleman)Chloe was with her grandfather in the children's water park play area when her grandfather put her on a wood railing in front of a wall of glass windows, Winkleman said at a news conference on Tuesday.Chloe is a hockey fan and loved to bang on the ice hockey rink glass wall as she watched her older brother, Winkleman said, and her grandfather put her on the railing thinking she'd bang on the glass.
PHOTO: Chloe Wiegand, 18 months, from South Bend, Ind., is pictured in an undated family photo. (Family Photo via Atty Michael Winkleman)(MORE: 1-year-old daughter of Indiana police officer dies after falling off cruise ship in Puerto Rico: Officials)However, the window was open — and she was "gone," Winkleman said, calling her death a "tragic accident that was preventable.""Why would you ever in a kids play area put windows that passengers can open?" Winkleman said. "I don't think it's unreasonable to put a child there thinking there's glass."PHOTO: Chloe Wiegand, 18 months, from South Bend, Ind., is pictured in an undated family photo. (Family Photo via Atty Michael Winkleman)The Wiegand family had not opened the window and do not know who opened it, Winkleman said.The cruise ship was docked in San Juan, Puerto Rico, at the time, according to the Puerto Rico Department of Public Safety. The Puerto Rico prosecutor has been conducting interviews.Chloe's autopsy has been completed, and her remains were sent to a funeral home selected by the family on Tuesday."The Department of Justice will continue working on the investigation of this case with the rigor it demands," a spokesperson for the Puerto Rico Department of Justice said in a statement.The investigation into the child's death is being handled by Puerto Rico Police, and the San Juan attorney general's office.Chloe was the daughter of a South Bend, Indiana, police officer, according to the department, and Chloe's parents are "beside themselves, Winkleman said.
PHOTO: Chloe Wiegand, 18 months, from South Bend, Ind., is pictured in an undated family photo. (Family Photo via Atty Michael Winkleman)(MORE: Search underway for woman who fell off cruise ship )"The South Bend Police Department offers its sincerest condolences to Officer Alan Wiegand and his family during this difficult time following the tragic loss of their child while in Puerto Rico," the department said in a statement. "The department asks the community to pray for the entire Wiegand family as they grieve and to respect their privacy."South Bend Mayor and presidential candidate Pete Buttigieg added on Twitter, "We are saddened by the terrible accident that took the life of Officer Wiegand's young daughter, and the city is holding this family in our hearts."

Pete Buttigieg@PeteButtigieg We are saddened by the terrible accident that took the life of Officer Wiegand's young daughter, and the city is holding this family in our hearts. https://twitter.com/southbendpolice/status/1148272172428922880 …South Bend Police@southbendpolice Statement from SBPD regarding the tragic news coming out of Puerto Rico involving the family of one of our officers. #southbend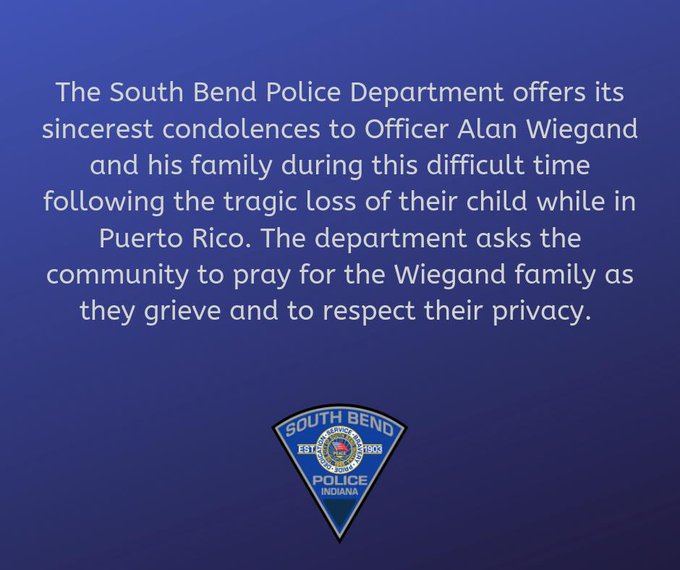 Owen Torres, corporate communications manager with Royal Caribbean, said in a statement: "We are deeply saddened by yesterday's tragic incident, and our hearts go out to the family. We've made our Care Team available to assist the family with any resources they need."Torres added on Tuesday, "We are assisting local authorities in San Juan, PR, as they make inquiries."ABC News' Joshua Hoyos and Christine Theodorou contributed to this report.