News A 2016 storm dumped 4 trillion gallons of water on Louisiana. Could Barry do the same?
Leigh Guidry,USA TODAYLAFAYETTE, La. – In August 2016, south Louisiana experienced record flooding and devastation from the more than 2 feet of rain that fell in a matter of three days and overflowed nearly every body of water.As the state prepares for Tropical Storm Barry, which is expected to strengthen into a hurricane before landfall this weekend, residents wonder if their cities once again will be flooded.Robert Miller, assistant professor of civil engineering at the University of Louisiana at Lafayette, said it's hard to compare the two events, but they could be similar."It's a similar set of circumstances," Miller said. "There is a lot of Gulf moisture and a disorganized system. It (Barry) could meander around and bring a lot of moisture. It's unfortunate for our area because we have such low topography."That was a big part of the problem in 2016. The system remained nearly stationary over areas of southwest Louisiana like Lafayette and Baton Rouge, causing torrential downpours and flooding.Tropical Storm Barry: Hurricane warning issued in Louisiana as Barry gains strength in Gulf of Mexico
Army National Guard members put down sandbags at Chalmette Refining in New Orleans, La., on Thursday, July 11, 2019.The Weather Channel estimates the total rainfall over southern Louisiana from Aug. 12-14, 2016, was equivalent to more than 4 trillion gallons of water – enough to fill more than 6 million Olympic-size swimming pools and more water than fell on New Orleans during Hurricane Katrina.The maximum rainfall total for the 2016 event was 31.39 inches in Watson, northeast of Baton Rouge. At least five other locations had observed rainfall totals in excess of two feet, all located north or east of Baton Rouge, according to The Weather Channel.Now with Barry, there's the added issue of a high storm surge potential, which is something parish emergency preparedness officials find especially concerning.Tropical Storm Barry 2019: See the track, live map updatesThe potential storm surge doesn't necessarily mean Barry would be worse for Acadiana than the 2016 flooding though, Miller explained.Then there was a lower threat of storm surge but 20 inches of rain in Lafayette. Barry could dump fewer inches of rain but have a higher storm surge. They are two different scenarios but could produce similar results.People seem to be more aware this time because the 2016 flooding left an impression, Miller said. He sees the change in himself."A few years ago if I had seen 'Category 1,' I would have thought, 'How bad can it be?'" he said. "But after 2016, it became real for me. I take it seriously. I had family that flooded. I've got people in Vermilion Parish. It brings a new dimension. I'm watching it more."He thinks others are, too. He's noticing people getting sandbags and making preparations ahead of time, perhaps more so than in 2016.Parish and state officials are prepping, with Louisiana Gov. John Bel Edwards declaring a state of emergency and parishes calling for voluntary or mandatory evacuations in some cases. A hurricane warning is in effect for the coast of Louisiana from Intracoastal City in Vermilion Parish to Grand Isle in Jefferson Parish.Making a hurricane prep kit? Here's what you need"It's really going to depend what side of the storm we end up on," Miller said, referring to Acadiana.The storm is inching westward toward the Louisiana coast at speeds of near 5 mph, and the National Hurricane Center forecasts that the storm will continue this motion into the evening. They predict a turn toward the north Saturday.The center of the storm will be near or over the central or southeastern coast of Louisiana by Friday night or Saturday.This article originally appeared on Lafayette Daily Advertiser: Tropical Storm Barry: Louisiana fears repeat of 2016's record flooding
News Hurricane warning issued in Louisiana as Tropical Storm Barry gains strength in Gulf of Mexico
Doyle Rice and Doug Stanglin,USA TODAY
Tropical Storm Barry formed in the Gulf of Mexico and is expected to hit Louisiana and already-soaked New Orleans as a hurricane Saturday.  NEW ORLEANS – A hurricane warning was issued late Thursday as Louisianans grabbed sandbags or fled to higher ground, their state threatened by Tropical Storm Barry.Barry, the second named storm of the 2019 Atlantic hurricane season, formed Thursday in the Gulf of Mexico. It could hit the Gulf Coast as a Category 1 hurricane Saturday, the National Hurricane Center said. More than 2 million people were under some level of advisory or warning as the storm approached.Louisiana Gov. John Bel Edwards declared a state of emergency, warning that the "entire coast of Louisiana is at play in this storm." "There are three ways that Louisiana can flood: storm surge, high rivers and rain," Edwards said. "We're going to have all three."He said National Guard troops and high-water vehicles would be positioned all over the state.Southeast of New Orleans, authorities handed out sandbags, and people piled into cars with their pets and cleared out.Evacuations for about 10,000 people were ordered Thursday for portions of the east bank of Plaquemines Parish, which encompasses the last 70 miles of the Mississippi River before it reaches the Gulf of Mexico. Evacuation was also ordered for parts of Lafourche Jefferson Parish, including the town of Grand Isle, on a narrow barrier island in the gulf.
People cope with the aftermath of severe weather in the Broadmoor neighborhood in New Orleans, Wednesday, July 10, 2019. xThe city of New Orleans did not plan to order evacuations because the storm was so close and because it was not expected to grow into a major hurricane. Officials advised people to keep at least three days of supplies on hand and to keep their neighborhood storm drains clear so water can move quickly.Residents in the Big Easy were stocking up on supplies. At the Tchoupitoulas Walmart, which sits across the street from the Mississippi River and a concrete flood wall, residents emptied shelves of bottled water, ramen noodles and produce. Ruby Sterling said she lives in more elevated part of the city but admitted she was feeling "a bit panicky.""I don't know if the city can hold up," Sterling said. "But I'm hopeful."A few aisles up, Asia Daniels and her husband pulled case after case of bottled water into their cart. Ordinarily, floodwater only rises to the first step of their house in uptown New Orleans. Wednesday's storms brought the water to the second. Forecasters said Louisiana – the bull's-eye of the emerging storm – could see up to 12 inches of rain by Monday, and some isolated areas could receive up to 18 inches."The slow movement of this system will result in a long-duration, heavy rainfall threat along the central Gulf Coast and inland through the lower Mississippi Valley through the weekend and potentially into next week," the weather service said.The weather service issued a rare "high risk" for flash flooding across much of southeastern Louisiana for Saturday. Heavy rain could push the swollen Mississippi River dangerously close to the top of the city's levees, officials cautioned.Ricky Boyett, a spokesman for the Army Corps of Engineers in New Orleans, said the agency did not expect widespread overtopping of the levees, but there are concerns for areas south of the city."We're confident the levees themselves are in good shape," he said. "The big focus is height."The river was expected to rise to 19 feet by late Friday at a key gauge in New Orleans. The area is protected by levees 20 to 25 feet high, Boyett said.In addition to the heavy rain, "there is a danger of life-threatening storm surge inundation along the coast of southern and southeastern Louisiana," the hurricane center warned.As of 5 p.m. EDT Thursday, the hurricane center said Barry had sustained winds of 40 mph and was crawling to the west at 5 mph. The center of the storm was about 175 miles southeast of Morgan City, Louisiana. If the storm becomes a hurricane as predicted, it would be the first one of the season, the hurricane center said.The warnings about the storm came on the same day that a National Oceanographic and Atmospheric Administration report warned Americans of a "floodier" future. Some streets in Louisiana's largest city, including in the famed French Quarter, look more like rivers.In New Orleans, an early line of thunderstorms dumped as much as 7 inches of rain within a three-hour period Wednesday morning, leaving up to 4 feet of water in some streets.After Wednesday's onslaught of heavy rain, Valerie Burton said her neighborhood looked like a lake outside her door."There was about 3 to 4 feet of water in the street, pouring onto the sidewalks and at my door," Burton said. "I went to my neighbors to alert them and tell them to move their cars."The rapidly rising waters brought memories of a flash flood in 2017 that exposed major problems – and led to major personnel changes – at the Sewerage and Water Board, which oversees street drainage.View image on Twitter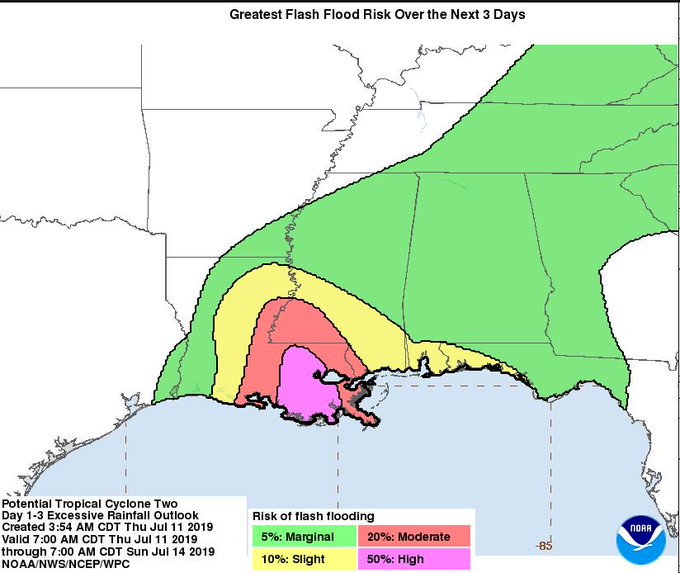 Greg Diamond
@gdimeweather
Just to underscore how serious of a flood threat future
#
Barry
could pose, early this moring
@
NWSWPC
issued a high risk for flash flooding for 3 days from now (Saturday)A high risk has only been issued this far in advance twice before
Ahead of Harvey Ahead of Florence
City officials said the pumping system that drains streets was at full capacity. The immense amount of rain in three hours would overwhelm any system, said Sewerage and Water Board Director Ghassan Korban.
Louisiana is no stranger to tropical storms and hurricanes, the Capital Weather Gang said. In the past 10 years, Tropical Storm Lee (2011), Hurricane Isaac (2012), Tropical Storm Cindy (2017), Tropical Storm Harvey (2017) and Hurricane Nate (2017) made landfall in Louisiana.  Hurricane Katrina's infamous landfall in 2005 is "still fresh on people's minds in New Orleans," the weather gang noted.After hitting Louisiana, the storm will push north over the lower Mississippi Valley this weekend, then the Ohio Valley toward the middle of next week, AccuWeather said.Contributing: Andrew Yawn and Maria Clark; The Associated PressThis article originally appeared on USA TODAY: Tropical Storm Barry forms, expected to hit Louisiana as hurricane
PHOTOS: Gulf Coast braces for possible hurricane
Yahoo News Photo Staff
Terrian Jones reacts as she feels something moving in the water at her feet as she carries Drew and Chance Furlough to their mother on Belfast Street in New Orleans during flooding from a storm in the Gulf Mexico that dumped lots of rain, July 10, 2019. (Photo: Matthew Hinton/AP)New Orleans and a surrounding stretch of the Louisiana-Mississippi-Texas coastline braced for a possible hurricane this weekend that could swamp the streets of the dangerously low-lying city and leave water lapping at the tops of levees.A disturbance in the Gulf of Mexico that unloaded as much as 8 inches of rain in just three hours Wednesday over parts of metro New Orleans, triggering flash flooding, was expected to turn into a tropical storm named Barry on Thursday and, possibly, the first hurricane of the season by Friday.Forecasters said the biggest danger in the days to come is not destructive winds but heavy rain as the slow-moving storm makes its way up the Mississippi Valley. (AP)See more news-related photo galleries and follow us on Yahoo News Photo Twitter and Tumblr.
Rain obscures the bridge across the Mississippi River into New Orleans on Wednesday, July 10, 2019. (Photo: Janet McConnaughey/AP)
David Fox makes a call from his business on Poydras Street in New Orleans after flooding in New Orleans, July 10, 2019. (Photo: Matthew Hinton/AP)
Flooding comes up the wheels of a parked car on Belfast Street near Eagle Street in New Orleans July 10, 2019 after flooding from a 100-year storm from a tropical wave system in the Gulf Mexico dumped lots of rain. (Photo: Matthew Hinton/AP)
A flooded area is seen in New Orleans, Louisiana, July 10, 2019 in this image obtained from social media. (Photo: Brent Pearson/Reuters)
Cordon tape is seen near a flooded street in New Orleans, Louisiana, July 10, 2019 in this image obtained from social media. (Photo: Brent Pearson/Reuters)Flood water is seen inside Ace Hotel in New Orleans, Louisiana, July 10, 2019 in this image obtained from social media. (Photo: Brent Pearson/Reuters)
A flooded area is seen in New Orleans, Louisiana, July 10, 2019 in this image obtained from social media. (Photo: David Mora/Reuters)
A flooded area is seen in New Orleans, Louisiana, July 10, 2019 in this image obtained from social media. (Photo: David Mora/Reuters)
Vehicles sit in high waters after heavy rain in New Orleans, Louisiana, July 10, 2019 in this image obtained from social media. (Photo: Ellen Gerstein/Reuters)
A woman stands photographing the scene in a flooded street in New Orleans, Louisiana, July 10, 2019. (Photo: Ryan Pasternak/Reuters)
A Glacier the Size of Florida Is Becoming Unstable. It Has Dire Implications for Global Sea Levels
Jasmine Aguilera,TimeA glacier the size of Florida is becoming unstable, creating dire implications for sea levels Melting ice sheets in the Antarctic, particularly one of the largest and unstable glaciers in the region, could significantly accelerate global sea level rise, according to a new report.The climate scientists who measured likely outcomes of glacial melting at the bottom of the world focused the study on the Thwaites glacier, an area as large as Florida in western Antarctica that is considered the most unstable in the continent.The study found that even if no further climate change happens in the future, more Antarctic ice sheets are likely to become unstable. It also states that as destabilization of glaciers in Antarctica continues, it's increasingly likely that sea levels will rise more rapidly."Due to our past changes in climate there is a certain amount of sea level rise that will definitely occur in the future," Alex Robel, a glaciologist and assistant professor at the Georgia Institute of Technology, tells TIME. He and two other scientists from the California Institute of Technology and the University of Washington wrote the report published by the National Academy of Sciences.Earlier this year, a NASA-led study discovered that a giant cavity, two-thirds the area of Manhattan had developed underneath Thwaites, highlighting the unexpected accelerated melting in the region."It's definitely distressing on a human level to think or realize the fact that there is a certain amount of not going back in terms of sea level rise that we've already committed ourselves to in the future," Robel added.The amount of ice flowing out of the region has nearly doubled in the last 30 years, losing 35 gigatons of ice per year between 2009-2017 alone. That amounts to 3% of the current rate of sea level rise according to Robert Larter, a Marine geophysicist at the British Antarctic Survey.Marine ice sheets, which are formed when warmer ocean water melts the area between the sea's ground floor and the ice causing a cavity, are at risk of collapsing. Scientists worry that would cause the remaining ice to melt faster."That's a 3 percent contribution that wasn't there 45 years ago," Larter tells TIME. He says all of the ice in Thwaites glacier could increase the global sea level by a bit more than two feet. "If you have collapsed a whole glacial system then you're creating a new front on the other glacial systems that were bordered to it. Things certainly won't stop there," Larter added.Sea levels are currently rising at a rate of 3.3 millimeters per year, and have risen by 91 millimeters since 1993, according to NASA.
Thwaites Glacier in West Antarctica. | NASA/OIB/Jeremy Harbeck  What did the study show exactly?Robel, along with scientists Helene Seroussi and Gerard Roe used mathematical analysis and computer models to make projections of sea levels in the future. They wanted to understand how possible scenarios of future sea level rise might change over time as a result of marine ice sheet instability."The more this marine ice sheet instability occurs, the wider the range of possible future sea level rise becomes," Robel says. "Not only that, but that range will start to skew towards scenarios of more rapid sea level rise."When they tested these predictions using a computer model of Thwaites glacier, they reached the same conclusion. The simulations confirmed what scientists like Larter have seen on field expeditions to western Antarctica and previous modeling studies of Thwaites glacier which have shown that the glacier is becoming increasingly unstable.These simulations also show that there's an important role for future expeditions to try to narrow down the possible scenarios of sea level rise from Thwaites, Robel says."There's always going to be some level of uncertainty in terms of our future projections, but that doesn't mean that we don't know some very important things," he added. For example it is certain that there will continue to be a rise in sea level because of past changes in climate, he says. "A fact that we have to keep in our minds next to that is that our future actions can significantly change how much sea level rise will occur in the future.""The bigger picture is there are some wild cards in the deck here and the more we've learned over the last few years the more the uncertainties are increasing," Larter, who has studied Antarctica for 15 years and has traveled to Thwaites on scientific expeditions with the International Thwaites Glacier Collaboration, a partnership of scientists from the U.S. and the U.K., says. "Part of the aim of what we're doing as scientists is trying to constrain the uncertainties and give better predictions, but in some ways the more we're finding out the more uncertainties we're discovering."What does ice sheet instability mean for the future of Antarctica and the world?West Antarctica has the potential to increase sea levels by 5 meters, while east Antarctica can add 50-60 meters should the continent's ice completely melt, Anders Levermann, a climate scientist at Postdam Institute for Climate Impact Research in Germany, tells TIME. To put that in perspective, there has been about 20 centimeters of sea level rise in the last 100-120 years, according to Levermann.Since 1992, satellite observations for Antarctica have found that ice sheets are contributing to global sea level rise. Most of the ice loss from Antarctica comes form western Antarctica.What is still uncertain is how fast the continent is losing ice or if the instability of the Thwaites marine ice sheet is the result of climate change, but Levermann says there simply hasn't been enough research to know for sure.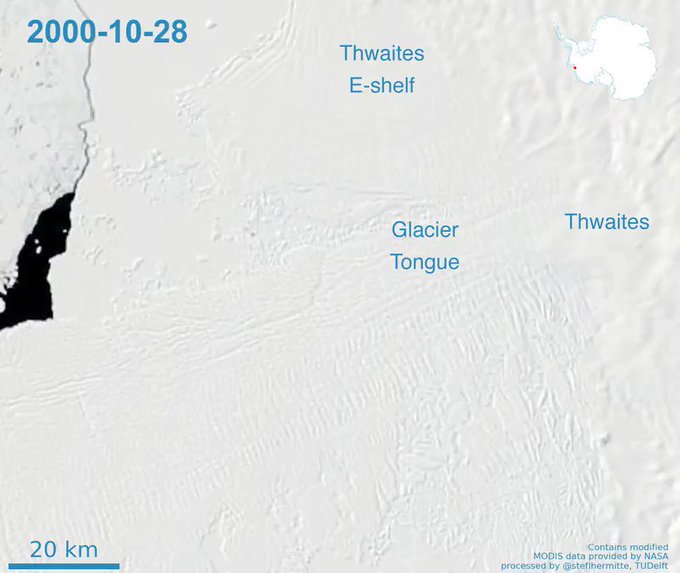 Stef Lhermitte
@StefLhermitte   
18 years of
@
ThwaitesGlacier
changes from
@
NASAEarth
#
MODIS
imagery showing the almost complete disintegration of the Thwaites Glacier Tongue
"It is very curious that for 10,000 years nothing has happened in western Antarctica, and now it's [unstable] 100 years after we started messing with the temperature of the planet," Levermann says. "The warmer we make the planet, the more ice we lose."He added that there are more marine ice sheets in Antarctica that could become destabilized if warming continues.Levermann says scientists will know much more in the next 20 years at the current rate of research, and adds that the world needs to prepare for significant sea level rise by the year 2100 and monitor changes to Antarctica and Greenland.
The Intergovernmental Panel on Climate Change predicts a rise of 0.26 to 0.77 meters in sea level by the year 2100 if warming increases by 1.5 degrees celsius above pre-industrial temperatures—the 19th century—or 2.7 degrees Fahrenheit. Global temperature has already increased by about 1 degree celsius since the pre-industrial era, Larter says, meaning there's only about 0.5 degrees left for global temperature to rise.Why does sea level rise matter? "Independent of whether this has been triggered by humans—which is a clear possibility without scientific proof yet—but apart from that, we increase the risk of sea level rise and accelerated sea level rise from Antarctica with a warming planet," Levermann says.Coastal cities throughout the world are at risk if sea levels continue to rise. Robel says there needs to be recognition by nations around the world that there will be sea level rises and they need to prepare for them by adapting infrastructure and taking actions that will prevent exacerbating the issue."Nobody has to be afraid of sea level rise. If you're not stupid, you don't die of sea level rise because it's so slow that there's time to protect against it or abandon the land," Levermann says. "Having said that, being stupid would include not taking climate change and sea level rise seriously."