'45 is a puppet': Can you spot the mistakes in the fake presidential seal behind Trump?
A historical symbol of empire and dominance, the double-headed eagle on the fake seal resembles the bird on the coat of arms of the Russian Federation, which is an adaptation of the emblem of the Russian empire under the czars. The flags of Serbia, Albania and Montenegro also feature an eagle with two heads.
Trump has a long and controversial relationship with Russian President Vladimir Putin, discussed in detail in Robert Mueller's report and the subject of much of the former special counsel's testimony to Congress Wednesday.
The Washington Post first reported the mix-up, and a reader found that a website sells items displaying what appears to be the same seal. Other merchandise sold by the site called "OneTermDonnie" also makes fun of Trump. The seller's description reads: "Dedicated to the cause of ensuring Donald Trump serves no more than one term as the President of the United States."The origin of what might have been either a prank or a mistake had not been explained as of Thursday morning. In a statement to the Post, the White House referred questions to Turning Point, which is a nonprofit organization focused on organizing young conservatives at high schools and colleges across the country. A spokesman for the group said he didn't know how the altered seal appeared on the screen."It was a last-minute A/V mistake — and I can't figure out where the breakdown was — but it was a last minute throw-up, and that's all it was," the spokesman told the Post.
Trump takes the stage at the student summit at the Marriott Marquis in Washington, D.C., on Tuesday. (Photo: Andrew Harnik/AP)
Trump appears in front of altered presidential seal saying '45 is a puppet'
Nicholas Wu,USA TODAY President Trump stands in front of altered presidential seal that appears to say '45 is a puppet'
Scroll back up to restore default view.WASHINGTON – Speaking on Tuesday at a student activist conference hosted by the conservative advocacy organization Turning Point USA, President Donald Trump walked onstage in front of a presidential seal that, upon closer examination, appears to have been altered to include symbols representing Russia and golf. The Washington Post first reported on the altered seal. As Trump walked onstage to a cheering audience, two presidential seals flashed on screen. The seal directly behind Trump was the authentic presidential seal. One of the seals, however, was not like the others. Upon closer examination, the seal on Trump's right includes a double-headed eagle, unlike the single head of the traditional presidential seal, and seems to resemble the Russian coat of arms. The seal has a complex history, notes the Victoria and Albert Museum, but one of the more common interpretations is that the two heads represent east and west, "an allegory sometimes for unity, and sometimes for absolute monarchy." It could be a reference to Trump's sometimes-controversial relationship with Russian President Vladimir Putin. More: Donald Trump, congressional Democrats reach two-year budget deal, avoid crisis on debt ceilingMore: President Trump vetoes bills that would have blocked Saudi weapons dealMore: 'It is not a witch hunt.' Robert Mueller testifies on Trump and Russian election meddling in 2016The eagle also appears to be holding several golf clubs instead of arrows in its claws, perhaps a reference to Trump's affinity for golf. Additionally, instead of "e pluribus unum," the scroll above the eagle appears to say "45 es un titere," which appears to translate from Spanish to mean "45 is a puppet."It is not clear where the image originated, though, or who was responsible for the mixup. 
President Donald Trump takes the stage at Turning Point USA Teen Student Action Summit at the Marriott Marquis in Washington on Tuesday."It was a last-minute A/V mistake — and I can't figure out where the breakdown was — but it was a last minute throw-up, and that's all it was," a Turning Point USA spokesman told the Washington Post, adding that he didn't know who was to blame or where the image was from.Turning Point USA and the White House have not yet responded to requests for comment from USA TODAY. On Wednesday, Trump tweeted a video of his appearance at the event that included a shot of the seal.

Donald J. Trump@realDonaldTrump The young leaders here today (@TPUSA) are part of a movement unlike anything in the history of our nation. It is a movement about reclaiming YOUR future, rebuilding YOUR Country, restoring YOUR destiny, and renewing the values that are the true source of American GREATNESS!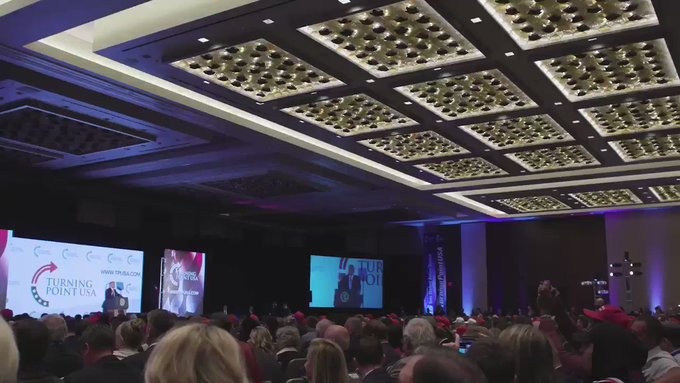 This article originally appeared on USA TODAY: Trump appears with altered presidential seal at Turning Point USA event
Chicago police are investigating an assault and possible sexual assault after a video claiming to show a brutal attack on a teenage girl with disabilities went viral this week.
The video shows a group of girls swarming and striking the girl repeatedly as onlookers laugh. The girl, who then falls to the ground, cries for help. The clip was published Monday night by an unidentified Twitter user who claimed to be a friend of the victim. The tweet said that the girl has a "mental disability."
The Twitter user did not immediately respond to USA TODAY's request for comment.
The 15-year-old victim was gone for five days before she was reported missing by her family on Tuesday, police spokesperson Jose Jara said at a news conferenceWednesday. Jara said she was found by a concerned citizen and her father and was "discovered to be the victim of some sick and disgusting crimes."
"At this point, it is believed that the victim was invited out by some girls who are so-called 'friends' who are eventually the offenders in these disgusting incidents," Jara said.
The group in the video offered to walk the victim to the subway as a ploy to jump her and videotape the attack, WLS-TV reported.
She was taken to a hospital where she was treated and released, Jara said, and she indicated to detectives she was sexually assaulted off-camera.
'Red Summer': Hundreds of black Americans were killed in Chicago. A century later, still ignored
Police spokesman Anthony Guglielmi said Tuesday on Twitter that the video "is beyond disturbing to watch and this young girl deserves far better."
The video has been forwarded to the Chicago Police Department's Special Victims Unit for further investigation, he said. Guglielmi did not immediately respond to a request for comment from USA TODAY.
One of the alleged female attackers, a student at Phillips Achievement Academy High School, originally published the video on Facebook.
Representatives for the high school did not immediately respond to USA TODAY's request for comment.
Contributing: N'dea Yancey-Bragg, USA TODAY; Associated Press
Follow Joshua Bote on Twitter: @joshua_bote
This article originally appeared on USA TODAY: Chicago police investigate viral video of teen girl beaten in public
16 Marines arrested at Camp Pendleton on charges ranging from human smuggling to drug-related offenses
16 Marines arrested at Camp Pendleton on charges ranging from human smuggling to drug-related offenses originally appeared on abcnews.go.com
Sixteen U.S. Marines were arrested on Thursday morning for their alleged involvement in activities ranging from human smuggling to drug-related offenses, the Marine Corps said.
The arrests were carried out by officials from 1st Marine Division and the Naval Criminal Investigative Service during an 800-person battalion formation at Camp Pendleton in California.
(MORE: 2 Marines charged after trying to smuggle undocumented immigrants: Court records)
"Information gained from a previous human smuggling investigation precipitated the arrests," the Marines said in a statement.
A spokesperson for 1st Marine Division confirmed to ABC News that a case of two Marines charged with human smuggling earlier this month "identified the allegations" against the individuals involved in Thursday's arrests.
The 16 Marines were part of 1st Battalion 5th Marines, an infantry battalion that was preparing for deployment overseas, the spokesperson said. The Marines arrested were all low-ranking enlisted males, ranging between private first class and corporal.
Eight additional Marines were taken in for questioning on their possible involvement in alleged drug offenses, unrelated to Thursday's arrests.
(MORE: Marine Corps to consider extending maternity leave to up to 1 full year)
"1st Marine Division is committed to justice and the rule of law, and we will continue to fully cooperate with NCIS on this matter," the statement said. "Any Marines found to be in connection with these alleged activities will be questioned and handled accordingly with respect to due process."
The Marines said that none of the 16 Marines who were arrested were part of the Defense Department's deployment of troops to the southern border.
Earlier this month, two Marines were charged after allegedly trying to smuggle undocumented immigrants for "financial gain," according to court documents from the U.S. District Court for the Southern District of California.
Byron Darnell Law II and David Javier Salazar-Quintero were arrested on July 3 after Border Patrol agents intercepted them transporting three Mexican citizens without immigration documents in their vehicle approximately seven miles north of the U.S.-Mexico border and 20 miles east of the Tecate, California, port of entry. Two of the immigrants later told agents they were going to pay $8,000 to be smuggled into the U.S. with destinations of Los Angeles and New Jersey, officials said.
Law and Salazar-Quintero are among several active-duty service members who have been charged in recent years in connection with helping immigrants cross the border in exchange for financial benefit, according to the Washington Post.
Kyle Mizokami
Security, Middle East
A bad plan?
Trump Might Launch an Amphibious Assault Against Iran If a War Starts
If tensions with Iran continue to heat up, one option would be to stage an amphibious raid against a land or sea-based Iranian military facility.
One of the greatest truisms of life is that land wars in Asia are futile. The continent's vastness allows defenders to trade space for time, extending the logistical lifelines of invaders to the breaking point. This argument holds for Iran, which at a population of one quarter that of the United States and the size of the West Coast is too large for even the largest of modern armies to occupy. But what about an amphibious raid against select targets on Iran's coastline? Military action against the Islamic Republic is by no means imminent or even on the horizon, but it's important for the public to understand the tools the Pentagon—and the White House—believe they have in their toolboxes.
As The National Interest noted last week, Iran has a sprawling coastline. At 1,550 miles, Iran's southern coastline is longer than that of California, Oregon and Washington combined. While such a long sea border is useful for projecting power into the narrow Persian Gulf, it is also a double-edged sword. The downside is that Iran has 1,550 miles of coastline it must defend from a highly capable amphibious force such as the U.S. Marine Corps.
(This first appeared in July 2019.)
LONDON—British Prime Minister Boris Johnson has been in the job a matter of hours, but he is already short on time to deal with not one, but two full-blown international crises—and they may yet collide into each other. This September pinch point, which could see a rapid escalation in tensions between Tehran and Washington, will come just as Britain enters a two-month race to meet its latest Brexit deadline—the country is set to leave the European Union on October 31, but no agreement setting the terms of its withdrawal has yet been approved by London. The two crises pose enormous, intermingled questions for both Johnson and his country, exposing the raw dilemma at the heart of Brexit: Will the U.K. remain principally a European power, aligned with its continental neighbors on trade, foreign policy, and defense, or will it feel compelled to move much closer to the U.S. in the aftermath of an acrimonious breakup?
Three issues Boris Johnson's new government must tackle – none of which is Brexit
Now that Boris Johnson has moved into 10 Downing Street and appointed his new cabinet, the real work begins. He's got a lot on his plate, not least of which is Brexit. But leaving the EU should not be his sole focus if he wishes to re-engage with those disaffected voters he will need to bring on side in a future general election.
Brexit may be a mess but, when it comes to Britain's economy, Johnson has inherited a positive record. Employment at record levels and unemployment at the lowest rate for a generation. The nation's finances under control. Low interest rates. Real wages starting to rise. Low inflation.
Read more: Will Boris Johnson call an early election? What new prime minister will be thinking as he weighs up whether to take the plunge
Johnson has an economic foundation many governments would cherish. And all this despite the much talked-about uncertainty around leaving the EU.
Yet there is no "feel good" in Britain. There is, of course, a flip side to all these positive statistics. Rising inequality, a housing shortage, overcrowded and expensive public transport, lack of infrastructure investment, cuts to education and public services.
This is why Johnson must first tackle the concerns of the "squeezed middle". Then, he has to reach out to hardworking low-income voters. Those forgotten by the political classes over the past two decades. Hit by increased council tax. Facing arduous and expensive journeys to work. Who have taken on ever-growing amounts of private debt to maintain their consumption. I'm going to focus on three examples.
1. Transport
I'll begin with the bus. A difficult one for Conservatives who have historically never championed the bus industry. It has also been neglected by the left who are ideologically opposed to private bus operators. But the bus is key to solving urban congestion and air quality. And a vital lifeline in rural communities.
Urban planners must design bus routes into new developments and create effective bus priority measures in existing areas. We must also find ways of making multiple transport operators work for passengers. All areas of the country must see investment in electronic price capping systems, which limit the amount you can spend on a journey, in the same way this is done in London. There must be coordinated planning to ensure that all areas are covered and not just the most profitable. This involves putting passengers (not operators) first and potentially subsidising less profitable feeder services or evening provision.
Then there is the tram. Out of all public transport options, the electric tram is the best for getting people to choose public transport over the car. There needs to be ambitious extension of existing tram systems in cities such as Sheffield and Manchester, as well as new systems in other urban areas, and accelerated planning provision to enable rapid development.
Finally, railways. It is barely believable that it is cheaper to fly between many major UK cities than to take the train. Not to mention the capacity constraints and ageing infrastructure that cause overcrowding and delays on trains.
As with bus services, there is nothing wrong with private provision – nationalisation is not the answer. But it has to be made to work for the passenger. Again, simple ticketing with price caps to make travel affordable must be central to any solution. But more importantly, there needs to be massive investment in infrastructure, particularly in the north of England. The triangle between Leeds, Manchester and Sheffield should be the priority. Not as sexy as HS2, but capable of delivering much better value.
2. Housing
Housing is much more in the Tory comfort zone. It should not be difficult for Johnson's party to sell a programme of private house building. This has to prioritise brownfield development and bring back into use vacant buildings (for example, above shopfronts on high streets). But it will also involve new developments on greenfield sites.
Public transport provision has to be at the heart of larger developments. Quality of build also needs improving: better environmental quality, reduced density, sustainability of community.
3. Tax
While headline tax rates have been protected over the last two decades, politicians have increased tax by the back door. The greatest stealth tax of all has to be council tax, which has little relation to ability to pay. This needs to be addressed.
Many ordinary people have found themselves paying higher tax rates as income tax thresholds have not shifted upwards in line with inflation. Here I think Boris Johnson has taken the right approach in seeking to raise the threshold for paying the higher rate of income tax from £50,000 to £80,000. This is a much greater priority than corporation tax reductions, and electorally much more savvy.
A fresh look also needs to be taken at pensions. At a time when we should be saving more, it is disappointing that those good pension schemes that do exist are constantly under attack. The incentives need to be reversed to encourage greater private provision and safeguards put in place so that risk does not fall on the individual.
All-in-all, however, the UK economy is in remarkably good shape and is well positioned to take advantage of the opportunities that a clean exit from the EU may provide. But the domestic agenda has been neglected, and attention must be devoted to addressing issues of concern to those who may have once been inclined to vote Conservative but who feel forgotten. Until these are addressed, it is probably too early for Johnson to consider calling a general election just yet.
This article is republished from The Conversation under a Creative Commons license. Read the original article.
W David McCausland does not work for, consult, own shares in or receive funding from any company or organisation that would benefit from this article, and has disclosed no relevant affiliations beyond their academic appointment.
By Huw Jones
LONDON (Reuters) – Direct access for Britain's financial sector to the European Union after Brexit is increasingly under threat as political will for an industry deal fades and the bloc toughens requirements for recognising other countries' financial rules.
The EU is the City's biggest customer, with financial services exports worth 26 billion pounds in 2017. Ensuring the UK's large financial industry could still operate across the bloc from its home base was one of the central issues during early divorce talks after Britain voted to leave the EU in June 2016.
But as the EU and Britain quashed the industry's hopes of largely unfettered access to the bloc, banks began moving around a trillion pounds of assets from London to new EU hubs, while trading worth around 240 billion euros a day in euro zone government bonds has moved to Milan and Amsterdam.
Despite the preparations, maintaining direct access would mean the sector could continue to leverage cross-border efficiencies of scale and avoid passing on the costs to customers of maintaining two hubs, one in Britain, the other in the EU.
Any access would be through "equivalence" – whereby the EU deems Britain's rules to be aligned closely enough to its own – but Brexit has already prompted Brussels to toughen up equivalence conditions.
"You can ask for whatever you like in equivalence, but the chance of the EU going down that line is zero until they decide they need it," said Sharon Bowles, a former chair of the European Parliament's economic affairs committee.
Equivalence is used by firms much further afield in the United States, Singapore and Japan, but was never designed for a whole global financial centre on the EU's doorstep and does not cover core financial activities like banking.
The preparations already undertaken by financial institutions in the wake of the political impasse have to some degree lessened the need for alignment and some are keen to break free of what they consider restrictive rules.
UK insurance firms, for example, have long complained that EU capital rules are too inflexible, but despite pressure from lawmakers, the Bank of England has been loathe to make any unilateral changes while in the bloc.
"I think that City opinion is more divided than a year ago on the merits of equivalence because of the reality of what it will look like in practice," said Jonathan Herbst, global head of financial services at Norton Rose Fulbright law firm.
Given that any EU-UK trade deal would likely be based on a series of compromises across all sectors, like fishing rights and autos, a divided but well resourced financial sector may give Britain's finance ministry less incentive to push for equivalence-based access to EU capital markets.
GOLDEN THREAD
Brussels has said it will grant temporary equivalence for the London Stock Exchange's unit LCH to continue clearing euro derivatives until March next year to avoid disruption if there is a no-deal Brexit in October, something seen as more likely under Boris Johnson, who becomes Britain's Prime Minster on Wednesday.
That has helped London to retain the bulk of euro clearing, ironically the main thing that EU politicians said they wanted moved out of Britain after Brexit.
But it is unclear if that will be for the long term, or if there will be equivalence for investment services like trading stocks and bonds, which are regulated by EU MiFID securities rules.
"Investment services under MiFID is the golden thread that would allow you to keep sales in London," a fund industry official said.
The EU's markets watchdog has ruled that under a no-deal Brexit, euro shares must be traded inside the bloc, a signal that Brussels may want to deepen its own capital markets union by being tougher in granting equivalence.
Three UK-based pan-European platforms in London, Aquis, Turquoise and Cboe have already opened hubs in Amsterdam and Paris for EU customers to trade shares listed on other exchanges.
A hard Brexit would damage the prospects for equivalence by eroding goodwill in Brussels, said Nicolas Mackel, head of Luxembourg for Finance.
It could even prompt the bloc to review its temporary reprieve for euro clearing.
"The EU might very well decide that past derivatives inventories stay where they are, but mandate the clearing of all new business to the EU," said Xavier Rolet, former London Stock Exchange chief executive and now head of fund management firm CQS.
The decision by the EU to allow equivalence for the Swiss stock exchange to lapse last month showed markets can adapt to major changes without disruption, added Christian Voigt, senior regulatory advisor at trading software company Fidessa.
"It would be a step back for the City and increase costs for users, but it would not kill the industry," Voigt said.
It would be hard for the EU to suddenly cut off London when it comes to bond underwriting for companies and governments, said Simon Gleeson, a financial lawyer at Clifford Chance.
PIE IN THE SKY
The Bank of England and Financial Conduct Authority of Britain have warned Britain must not become a permanent "taker" of EU rules to obtain market access, tying the hands of UK regulators, a sentiment share by the government.
To mitigate this risk, Britain has called for the EU's equivalence system to be "enhanced" or made more transparent and predictable to make it more acceptable.
Bowles said it was "pie in the sky" to expect the EU to radically reform equivalence to Britain's liking in the short term.
In a reminder to London of what's at stake, the European Commission is due to announce that it has scrapped equivalence based access for the first time because countries refused to keep up with EU rules.
"It is going to be difficult not to be closely aligned with EU rules," said David Wright, the former top civil servant for financial services at the European Commission and now with Flint Global consultants.
($1 = 0.8937 euros)
(Reporting by Huw Jones; Editing by Kirsten Donovan)
London (AFP) – British police on Thursday charged four teenage boys over an alleged homophobic attack on a lesbian couple who refused to kiss in front of them on a London night bus.
Melania Geymonat, 28, said she and her girlfriend Chris were robbed and left covered in blood after the incident in the trendy Camden Town area on May 30.
The four boys, aged between 15 and 17, were all charged with committing "an aggravated hate crime", London's Metropolitan Police said in a statement.
Some of the group also face other charges including theft, handling stolen goods, and possession of cannabis, the force added.
They are all set to appear in a London youth court on August 21.
Geymonat earlier told the BBC that the gang surrounded the couple while aboard the top deck of the bus.
"They started saying really aggressive stuff, things about sexual positions, lesbians and claiming we could kiss so they could watch us," she said.
"They started throwing coins. The next thing I know Chris is in the middle of the bus and they are punching her.
"So I immediately went there by impulse and tried to pull her out of there and they started punching me. I was really bleeding."
Both women were taken to hospital for treatment to facial injuries.
Geymonat is from Uruguay while British newspapers reported that her girlfriend is from the US.
She told the BBC she has previously experienced "a lot of verbal violence" but had never been assaulted before because of her sexuality.
"I was and still am angry," she said.
"It was scary, but this is not a novel situation."
Britain's then prime minister Theresa May had condemned the violence.
"This was a sickening attack and my thoughts are with the couple affected," she said at the time.
"Nobody should ever have to hide who they are or who they love and we must work together to eradicate unacceptable violence towards the LGBT community."
Kiev (AFP) – Ukraine on Thursday seized a Russian tanker it said was used in a naval confrontation last November amid sensitive prisoner swap talks between the two countries who have been at loggerheads since 2014.
Kiev's SBU security service said it stopped the tanker, the Neyma, as it entered the port of Izmail in the southern Odessa region. Investigators seized documents onboard and questioned crew members, an SBU statement said.
Moscow responded by threatening Kiev with unspecified "consequences" although it later confirmed the tanker crew had been released without charge.
The move comes two weeks after Ukraine's new leader Volodymyr Zelensky and Russia's Vladimir Putin discussed a possible prisoner swap during their first phone call.
The ex-Soviet neighbours have been caught up in hostilities since 2014 when Moscow annexed Crimea and supported an insurgency in eastern Ukraine. Some 13,000 people have been killed in the conflict.
Russia has held 24 Ukrainian sailors since it seized three Ukrainian vessels in the November confrontation — the most dangerous clash between the two countries in years.
Following the tanker seizure Thursday, a representative of the Russian foreign ministry told AFP that Moscow was "looking into what happened to take appropriate measures."
Later on Thursday, Russia's foreign ministry confirmed to AFP that the 10 Russian tanker crew members had left Ukrainian territory and would soon be in Russia.
In a new statement, the SBU said the ten sailors had been released because they had not violated Ukrainian and international law.
Ukraine "scrupulously respects the international law of the sea and the decisions of the UN tribunal on the law of the sea," the Ukrainian security services said.
Russian officials said Ukraine released crew members without charge but kept the Neyma.
"The crew is headed home… the vessel is in Izmail," said Russian embassy spokesman Denis Golenko to Interfax news agency.
– Name changed –
According to the SBU, the tanker participated in an operation by Russia to seize the three Ukrainian vessels off Crimea last November. The Neyma had changed its name painted on the hull to "conceal its involvement in the act of aggression," it said.
The SBU released a video showing Ukrainian officials on the tanker, which had a Russian flag on it.
Ukrainian analyst Sergiy Solodky told AFP that the move likely took Russia by surprise, saying Moscow had hoped for Kiev to have a softer position on Russia after Zelensky took office in May.
"This will provoke an angry reaction from the Russian leadership," he said.
Last week Russia prolonged the detention of the 24 Ukrainian sailors, who remain imprisoned in Moscow.
The International Tribunal for the Law of the Sea, a UN-established organisation overseeing maritime disputes based in Hamburg, has urged Russia to release the sailors and return them to Ukraine.
Moscow has accused the sailors of violating its maritime borders.
1 / 4
Iran's Revolutionary Guards said they seized a British-flagged tanker in the Strait of Hormuz for breaking 'international maritime rules'
Iran's Revolutionary Guards said they seized a British-flagged tanker in the Strait of Hormuz for breaking 'international maritime rules' (AFP Photo/HO)
Tehran (AFP) – Iran warned Sunday that the fate of a UK-flagged tanker it seized in the Gulf depends on an investigation, as Britain prepared for an emergency security meeting on Tehran's action.
Iranian authorities impounded the Stena Impero with 23 crew members aboard off the port of Bandar Abbas after the Islamic Revolutionary Guard Corps seized it Friday in the highly sensitive Strait of Hormuz.
Video footage released by Iran showed the Stena Impero tanker being surrounded by speedboats before troops in balaclavas descend a rope from a helicopter onto the vessel.
In an audio recording of a radio exchange, an Iranian officer can be heard ordering the tanker to change course "immediately".
"If you obey, you will be safe," he said.
The British frigate HMS Montrose intervenes to inform the Stena its "passage must not be impaired, impeded, obstructed or hampered" under international law.
The Iranians then tell the British warship: "No challenge is intended… I want to inspect the ship for security reason."
The authenticity of the recording, obtained and released by London-based maritime security risk analysts Dryad Global, was confirmed by Britain's defence ministry.
London has warned its ships to avoid the Strait of Hormuz, a chokepoint for about a third of the world's sea-borne oil.
Tensions in the Gulf have escalated since May this year, when the US boosted its military presence in the region in response to what it called indications of a "credible threat" by Iranian regime forces.
Prime Minister Theresa May will hold a meeting of Britain's emergencies committee on Monday to discuss the seizure. The cabinet briefings usually include ministers, security, intelligence and military chiefs at a secure London facility.
UK Foreign Secretary Jeremy Hunt on Sunday also spoke to his French and German counterparts who agreed safe passage for vessels through the Strait was a priority for European nations.
On Sunday evening, Iran's English-language Press TV broadcast live footage from the deck of the seized ship, flying an Iranian flag.
"IRGC forces manage to lead tanker to Iran shores despite UK warship's interference," said a news ticker on the channel.
– Crew in 'safe place' –
Iran opened the probe after detaining the ship on allegations it failed to respond to distress calls and turned off its transponder after hitting a fishing boat.
Its crew is made up of 18 Indians, including the captain, three Russians, a Latvian and a Filipino.
"All of them are in full health… anchored in a safe place," said Allah-Morad Afifipoor, of the Hormozgan province port and maritime authority.
The ship's owner said it had asked Iranian authorities for permission to visit the crew, and was waiting for a response.
Latvia's foreign ministry said because it has no embassy in Iran, it had asked the Finnish embassy to help the detained Latvian first mate. It said so far Iranian officials had denied requests for contact.
A top British representative to the United Nations rejected Iran's version of events, accusing Tehran of "illegal interference" and saying there was no evidence of a collision.
In a letter to the UN Security Council, British charge d'affaires Jonathan Allen wrote that the vessel had been in Omani waters with its transponder switched on when it was approached.
It was "exercising the lawful right of transit passage in an international strait", he wrote.
Tehran has been at loggerheads with Washington since May 2018, when President Donald Trump unilaterally withdrew the US from a landmark 2015 deal putting curbs on Iran's nuclear programme in exchange for sanctions relief.
The US administration reimposed tough sanctions on Iran, which retaliated by increasing its enrichment of uranium beyond limits set in the nuclear accord.
Trump called off air strikes against Iran at the last minute in June after the Islamic republic downed a US drone, one of a string of incidents including attacks on tankers in the Gulf.
– 'Dangerous path' –
Britain summoned Iran's charge d'affaires on Saturday and urged his country to de-escalate tensions and release the tanker.
Hunt said the seizure showed "worrying signs Iran may be choosing a dangerous path of illegal and destabilising behaviour".
The incident began hours after a Gibraltar court extended by 30 days the detention of an Iranian tanker seized by UK authorities two weeks ago on allegations of breaching sanctions against Syria.
Iran has remained defiant.
Foreign Minister Mohammad Javad Zarif tweeted that Trump's national security adviser John Bolton "is turning his venom against the UK in hopes of dragging it into a quagmire".
Nearby Oman, which maintains strong ties with Iran, joined calls for the release of the Stena Impero and urged London and Tehran to resolve the dispute.
Separately, Iran said one of its tankers held in its regional rival Saudi Arabia since being forced to seek repairs in the kingdom is returning home.
The Happiness 1 "has been released following negotiations and is now moving toward Persian Gulf waters," said transport minister Mohammad Eslami, quoted by state news agency IRNA.
Brussels (AFP) – It really wasn't the day to get trapped in a shipping container full of cocaine in the port of Antwerp.
Wednesday was the hottest ever recorded in Belgium, and somehow two men got stuck in the metal box.
As the heat rose, they feared they would suffocate and made a desperate call to the police emergency line, Antwerp prosecutors said.
It took officers two hours to find the container in the huge port, western Europe's main gateway for smuggled drugs.
Guns drawn, police opened the door and the exhausted pair, stripped to the waist gratefully gave themselves up.
A social media video of the arrests shows port employees pouring water on the suspects to cool them as afternoon temperatures skirted 40 degrees Celsius (104 Fahrenheit).
According to a statement from Antwerp prosecutors the men, aged 24 and 25, had entered the container "to remove drugs".
The pair appeared in court on Thursday and were remanded in custody.
Officials have not confirmed the size of the cocaine haul found in the container, but local Antwerp newspaper the Gazet said it could have been hundreds of kilos.
The suspects were from the Antwerp area.
More than 50 tonnes of cocaine from Latin America were seized in Belgium's biggest port last year, the largest volume ever recorded.
1 / 2
Canada Couple Murdered
Security camera images recorded in Saskatchewan of Kam McLeod, 19, and Bryer Schmegelsky, 18, are displayed as Royal Canadian Mounted Police Assistant Commissioner Kevin Hackett steps away from the podium after speaking during a news conference in Surrey, British Columbia, on Tuesday, July 23, 2019. RCMP say two British Columbia teenagers who were first thought to be missing are now considered suspects in the deaths of three people in northern British Columbia. The bodies of Australian Lucas Fowler, his girlfriend Chynna Deese, of Charlotte, N.C., and an unidentified man were found a few kilometers from the teens' burned-out vehicle. (Darryl Dyck/The Canadian Press via AP)
TORONTO (AP) — Police said Thursday there have been two sightings of the suspects in the slaying of an American woman, her Australian boyfriend and another man in the Gillam area of Manitoba and they are believed to still be nearby.
Royal Canadian Mounted Police Cpl. Julie Courchaine said authorities have corroborated the sightings of 19-year-old Kam McLeod and 18-year-old Bryer Schmegelsky. She said the sightings were prior to Monday evening's discovery of a burned-out vehicle the suspects were driving.
Courchaine said there have been no reports of stolen vehicles that could be attributed to the suspects and that is why authorities believe the men are still in the Gillam area.
Gillam is more than 2,000 miles from northern British Columbia, where another burned vehicle was found Friday and where the three people were found slain in two places.
The victims have been identified as American Chynna Deese, 24, Australian Lucas Fowler, 23, and Leonard Dyck, 64, of Vancouver. McLeod and Schmegelsky have been charged with second-degree murder in Dyck's death, whose body was discovered a week after Deese and Fowler were found shot dead.
McLeod and Schmegelsky themselves had originally been considered missing persons and only became suspects in the case Tuesday.
Schmegelsky's father, Alan Schmegelsky, said Wednesday that he expected the nationwide manhunt to end in the death of his son, who he said is on "a suicide mission."
The separate discoveries of three bodies and burning cars have shaken rural northern British Columbia.
During the investigation, police found Dyck's body roughly a mile (about 2 kilometers) from the first burned-out vehicle.
That was about 300 miles (500 kilometers) from the spot along the Alaska Highway near Liard Hot Springs where Deese and Fowler were found over a week ago.
Fowler, the son of a chief inspector with the New South Wales Police Department, was living in British Columbia and Deese was visiting him.
They met at a hostel in Croatia and their romance blossomed as they traveled in the U.S., Mexico, Peru and elsewhere, said the woman's older brother, British Deese. He said the couple was visiting Canadian national parks when they were killed.
Residents of Gillam were locking their doors, something that is unusual in the remote Canadian town.
Authorities in the neighboring province of Ontario were also warning the public about the suspects, who were described as armed and dangerous.
1 / 5
Demonstrators protest in front of the mansion of Puerto Rico's Governor, Ricardo Rossello, before he announced his resignation
Demonstrators protest in front of the mansion of Puerto Rico's Governor, Ricardo Rossello, before he announced his resignation (AFP Photo/Ricardo ARDUENGO)
San Juan (AFP) – Puerto Ricans waved flags and danced to thumping drum beats Thursday as they celebrated the resignation of the US territory's governor, who is embroiled in a scandal over homophobic and misogynistic messages he and his aides exchanged.
After staying up to welcome Ricardo Rossello's midnight announcement on Facebook that he would step down on August 2, hundreds headed into the streets of San Juan to express their jubilation.
The announcement — which Rossello put into writing Thursday — capped two weeks of popular anger against the 40-year old leader.
Rossello is to be replaced by justice secretary Wanda Vazquez, who is considered close to the governor.
While many in the Caribbean territory of more than three million people now want completely new leadership, saying those with close ties to Rossello are tainted, for now the protesters are celebrating.
"We've rescued our island," said singer Ricky Martin, who is gay, Puerto Rican and one of those ridiculed in the hundreds of pages of leaked Rossello chats.
"We demanded respect and we were heard. And we did it in peace. With no guns, like Gandhi," Martin, who has been a leader of the protest movement, said in a video he posted on Instagram.
Martin urged Puerto Ricans to "go and celebrate" but warned them to "not drop the ball" and to keep their eyes "wide open from now on."
"It is now we need to work more than ever. We succeeded today because we were united," Martin said.
This is the first time a leader of Puerto Rico has pledged to step down before the end of his term.
– Last straw –
The rallies started on July 13, when the Center for Investigative Journalism released 889 pages of text chats on the encrypted messaging app Telegram in which Rossello and 11 other male administration members made fun of women, gays, victims of Hurricane Maria in 2017, journalists and other politicians.
This was widely seen as the last straw for people fed up with years of economic stagnation, corruption, government mismanagement and a slow and sloppy recovery effort after Maria, which killed nearly 3,000 people and forced some to go months without running water or electricity.
Three days before the release of those chats, prosecutors charged six former government officials with embezzling $15 million in hurricane reconstruction money.
The island was already a financial mess; it was under bankruptcy protection, with billions in debt, when the hurricane hit with devastating effect, the second in a matter of days.
As the recent protests grew in strength, Rossello apologized and said he would not run for re-election next year but initially refused to resign.
But as pressure against him mounted, and he received word from congress that he would be impeached, he finally gave in late Wednesday.
Marilyn Negron, a 36-year-old waitress, agreed that a new leadership team must take over.
"People have had enough. It's time for politicians to get scared, to understand that people cannot take any more and need someone honest to come in and represent Puerto Rico," said Negron.
The speaker of the lower house of the Puerto Rican congress, Carlos Mendez, said he did not trust Rossello and wanted to see an actual resignation letter, which he got on Thursday.
"People do not trust him, so we have to be sure," Mendez told Radio Isla.
– Post-hurricane exodus –
Mendez said the legislature had commissioned a panel of three lawyers to study the chat exchange and assess whether Rossello may have committed any crimes.
The attorneys came back and said as many as five offenses might have been committed, Mendez said.
These include ethics violations and evidence of embezzlement, Mendez said, adding that he had warned Rossello that an impeachment drive was effectively under way.
"I did it in person, looking him right in the eye. I spoke to him clearly. I told him the impeachment process had begun," Mendez told another radio station, NotiUno.
More than a dozen other government officials have already resigned in the wake of the scandal.
Prior to the devastation wrought by Hurricane Maria, Puerto Rico suffered a serious fiscal crisis that forced the government to file for bankruptcy in May 2017.
Budget cuts prompted many Puerto Ricans to flee. Combined with the post-hurricane exodus, Puerto Rico lost four percent of its population.