World Crocodiles hunt in flooded Indian city
About 5,000 people were evacuated from their homes as water from the overflowing crocodile-infested Vishwamitri River spread through the city of 1.2 million people.A video of one crocodile emerging from the flood to attack a dog went viral on social media. The reptile was caught by animal rights activists.Police said other two other incidents involving crocodiles in populated areas were reported.Many bridges over the river were closed, cutting off whole districts of the city.Officials said two people were electrocuted and two labourers died when a wall weakened by the floods fell on them. The body of a 60-year-old man was found floating in the water but the cause of death was not immediately known.Medical teams from other cities in the western state were to be sent to Vadodara to launch operations to contain infections and disease, officials said.Power engineers were struggling in the floods to reconnect electricity supplies. Long queues of people formed outside food shops.More than 250 people have died in monsoon floods across India in the past few weeks, with Assam and Bihar states in the north the worst hit.
Water has been discovered inside the summit crater of Hawaii's Kilauea volcano, a development which could make future explosive eruptions more likely.
Researchers confirmed the presence of water on Thursday.
"The question is what does this mean in the evolution of the volcano?"said Don Swanson, a scientist emeritus at the US Geological Survey.
When water reacts with lava it can cause explosive eruptions.
Scientists are unsure exactly how the water's appearance will change the volcano's behaviour.
It is possible that the lava could heat up the water, eventually leading to a lava lake.
Smaller explosions are also possible.
"The other possibility is that magma rises rapidly," Mr Swanson said. "That could produce a larger explosion."
USGS officials stressed that there is currently "no reason to think hazards at the summit have increased or decreased" because of the discovery of water.
Kilauea has a history of alternating between long periods of explosive eruptions and times of slower, so-called effusive phases.
Scientists believe the next explosive period will come before a massive collapse of Kilauea's crater floor.
Mr Swanson said none of this will happen overnight.
"I've been stressing that the current activity at Kilauea, or lack thereof, can go either way," he said.
"We can either return to what was going on before, or this could be the preamble to some more significant change in the volcano that leads to explosive activity."
Additional reporting by agencies
Greenland ice sheet loses 11 billion tons of water in one day amid historic heat
CONOR FINNEGAN and JULIA JACOBO,ABC NewsJuly possibly going down as hottest month in recorded history Greenland ice sheet loses 11 billion tons of water in one day amid historic heatoriginally appeared on abcnews.go.comGreenland, home to the world's second largest ice sheet, is melting at such an alarming rate that scientists are warning it's on track with worst-case scenario models for the year 2070.On Wednesday alone, the island lost 11 billion tons of ice, according to the Danish Meteorological Institute (DMI). That's enough water to fill 4,400,000 Olympic-size swimming pools.Video from science journalist Laurie Garrett went viral, showing melt water gushing under a bridge in Kangerlussiauq, a small town in western Greenland at the eastern end of a deep fjord.
Laurie Garrett@Laurie_Garret
This is a roaring glacial melt, under the bridge to Kangerlussiauq, Greenland where it's 22C today and Danish officials say 12 billions tons of ice melted in 24 hours, yesterday.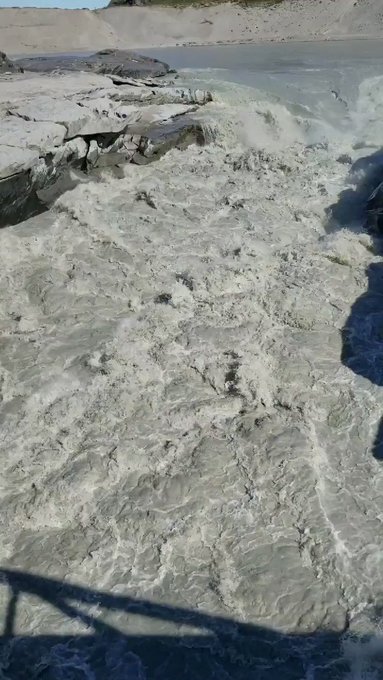 Greenland has been enduring the heat wave that last week baked Europe, breaking temperature records in five countries. Now, it is accelerating the annual summer melt of the ice sheet and causing massive ice loss."The current melt rate is equivalent to what the model projects for 2070, using the most pessimistic model," Xavier Fettweis, a Belgian climate researcher at the University of Liège, said.
(MORE: What to know about the rapid melting of the Greenland ice sheet, a significant contributor to rising sea levels)
PHOTO: Water from melting ice flows into the fjord near Kangerlussaq in western Greenland, Aug. 1, 2019. (Caspar Haarlov/AP)There is ice melt every year in the Arctic with slightly warmer months. But temperatures across the ice sheet have reached above freezing, even climbing into the 70's Fahrenheit on parts of the coast, and warmer winter months mean that the ice is less likely to recover.Since June, 240 billion tons of ice have melted, per DMI. In comparison, 290 billion tons were lost in all of 2018, and August, the last month in peak melting season, has just begun. Melting season also began a month earlier than usual this year, according to DMI.(MORE: Ice shelf in Antarctica could face melting risk)Scientists are noticing that these kinds of heat waves are becoming "more and more frequent," Marco Tedesco, a polar scientist specializing in Greenland for the Lamont-Doherty Earth Observatory at Columbia University in New York, told ABC News in June. At the time, another pocket of air led to clear skies and therefore more solar radiation, baking the eastern part of Greenland and melting 2 billion tons of the ice sheet.
PHOTO: Greenland Melt Extent 2019 (National Snow and Ice Data Center)While that melt was shocking, it pales in comparison to the one on Wednesday, as evident in the chart above.Researchers believe these events are connected to the jet stream, or polar vortex, becoming less stable, which creates high-pressure systems that can be sustained for longer periods of time and leads to the "exceptional melting," Tedesco said.(MORE: Watch billions of tons of ice collapse at once: How climate change is impacting Greenland's glaciers)A study published in the Proceedings of the National Academy of Sciences in April found that the melting of the Greenland ice sheet has contributed to more than a half-inch of rising ocean waters since 1972, making it the largest contributor of new water into the ocean every year.The warming has accelerated so much in recent years that about a quarter inch of the additional water occurred in the last eight years, the study found.
PHOTO: An iceberg floats in Disko Bay behind houses during unseasonably warm weather, July 30, 2019, in Ilulissat, Greenland. (Sean Gallup/Getty Images)(MORE: Pompeo cancels trip to Greenland after saying climate change presents economic 'opportunities')On average, the Greenland ice sheet produces about 270 gigatons of discharge in the oceans per year, Tedesco said. Since 2003, the ice sheet has contributed about 10 millimeters over the last 15 years, and scientists expect that number to increase as the earth continues to warm, which would equate to about a 1 meter sea rise by the end of the century, said Martin Stendel, senior climate and arctic researcher with DMI.President Donald Trump has continually cast doubt on the science behind climate change and rather than address it, has relaxed environmental regulations and withdrawn the U.S. from the Paris climate accord.During the Arctic Summit in April, his Secretary of State Mike Pompeo heralded the melting of the sea ice as an economic opportunity: "Steady reductions in sea ice are opening new passageways and new opportunities for trade," he said during a speech on the sidelines of the summit in Finland. "Arctic sea lanes could come before — could [become] the 21st Century Suez and Panama Canals."Pompeo was scheduled to visit Greenland, but he canceled hours before to fly back to Washington for White House meetings.
PHOTOS: An ocean of plastic
Yahoo News Photo Staff
A boy swims as he collects recyclable plastic bottles drifting with garbage along the coast of Manila Bay at the slum area in the Baseco Compound in metro Manila, Philippines. (Photo: Romeo Ranoco/Reuters)Globally, public awareness is growing about the harm being done by plastic, which hurts marine life and instead of biodegrading breaks down into ubiquitous micro-plastics. According to science writer Mike Berners-Lee, of the 9 billion tons of plastic ever produced, 5.4 billion has been dumped onto land or into the sea — enough to shrink-wrap the entire planet. (Reuters)See more news-related photo galleries and follow us on Yahoo News Photo Twitter and Tumblr.
A plastic bag is seen at the bottom of the sea, off the island of Andros, Greece. (Photo: Stelios Misinas/Reuters)
Plastic items from a whale's belly are seen in Wakatobi, Southeast Sulawesi, Indonesia. (Photo: Stringer/Reuters)
Plastic items and other debris are seen on Vridi beach in Abidjan, Ivory Coast. (Photo: Thierry Gouegnon/Reuters)
Men fish as plastic items and other debris are seen on the shore in Abidjan, Ivory Coast. (Photo: Thierry Gouegnon/Reuters)
A cat is seen among rubbish at a shoreline in Jakarta, Indonesia. (Photo: Willy Kurniawan/Reuters)