A New Hurricane Forecast Says to Expect a Lot of Severe Storms This Year
In April, AccuWeather released its 2019 Atlantic hurricane forecast for the upcoming season, which runs from June 1 to November 30.
A below-average season was originally predicted, but now researchers at Colorado State University suggest we may see as many as 12 more storms this year.
Summer means longer days, more outdoor time, and…hurricanes. Yep, the official start of Atlantic hurricane season kicked off June 1, and if the predictions are correct, we have a handful of tropical storms still to come.As evidenced by Hurricane Michael and Hurricane Florence, 2018 saw its fair share of severe weather, raking in 15 storms and eight hurricanes. When AccuWeather released its first forecast for 2019 in April, it predicted 12-14 tropical storms, adding that 5-7 of these storms could have hurricane potential. Two-to-four had the possibility of developing into major hurricanes (Category 3, 4, or 5).Researchers at the Colorado State University Tropical Meteorology Project, however, predicted a slightly below-average season, with 13 storms and 5 hurricanes. But in August, the CSU team released an updated forecast, and, unfortunately, they've increased their original numbers.Though AccuWeather claims the first few weeks of August will see a "lull," the peak is still to come—and it may bring an additional 12 named storms. According to the CSU site, "Of those, researchers expect six to become hurricanes and two to reach major hurricane strength."If CSU's updated findings are correct, that comes out to 14 storms, and seven hurricanes for the entire season (including Hurricanes Andrea and Barry from earlier in 2019). The original prediction of two major hurricanes remains the same.

Philip Klotzbach@philklotzbach Updated seasonal #hurricane forecast from @ColoradoStateU continues to predict near-average season: 14 named storms, 7 hurricanes and 2 major hurricanes. These numbers include Andrea and Barry that formed in May and July, respectively.https://tropical.colostate.edu/media/sites/111/2019/08/2019-08.pdf …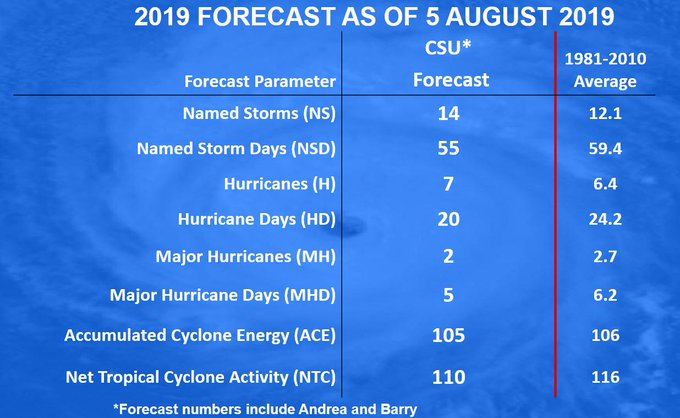 So, where does this insight come from? Forecasters have been pulling data from past years that show similar weather patterns (AKA analog years). This year, for example, bears resemblance to 1969 weather-wise, during which the Category 5 Hurricane Camille wreaked havoc on the Gulf coastline.That doesn't necessarily mean another natural disaster of equal caliber will make a comeback in 2019, but it does indicate that intense weather is a high possibility. "This year, at least the climate pattern has the capability to produce several very strong storms and so people should not let their guard down," explained AccuWeather Atlantic Hurricane Expert Dan Kottlowski. He added that "just about all coastal areas look like they have equal chances" in the upcoming season.All in all, no matter how the tropical weather pans out, Kottlowski advises that everyone living in hurricane-prone areas generate a safety plan. Stock up on storm essentials ASAP!Stay updated on the latest science-backed health, fitness, and nutrition news by signing up for the Prevention.com newsletter here. For added fun, follow us on Instagram.
News Atlantic hurricane forecast revised higher -U.S. agency
Reuters
News Taiwan braces for typhoon hours after earthquake strikes
Reuters
TAIPEI, Aug 8 (Reuters) – A powerful typhoon will hit Taiwan later on Thursday, bringing the risk of landslides and high seas, weather forecasters said, hours after a 6.0-magnitude earthquake struck the island.Typhoon Lekima, categorised at the strongest typhoon level by Taiwan's weather bureau, was expected to approach off the island's northeastern coast late on Thursday. It was moving across the ocean in a north-northwesterly direction at 15 km per hour (9 mph), weather officials said.Lekima was carrying maximum winds of 227 km per hour (141 mph) as it approaches Taiwan, the weather bureau said.The bureau issued wind and rain warnings for greater Taipei, the northern port city of Keelung and other northern counties. It also put out a warning to seafarers off the south and east coasts.A 6.0-magnitude earthquake struck off Taiwan's northeastern coast earlier on Thursday, prompting warnings of landslides as the weather bureau forecast rainfall of up to 900 millimeters (35 inches) in the island's northern mountains."An earthquake struck when we are making preparations for the typhoon, which is a rare event," premier Su Tseng-chang told a meeting at a national emergency center, urging authorities to stay on alert when the storm approaches.The earthquake cut power to more than 10,000 buildings and a woman was killed by a falling wardrobe.More than 1,500 people were moved to safety, most of them tourists on islands off its east coast, while troops were deployed in some areas amid fears of floods.The storm will proceed to China, approaching its eastern city of Shanghai over the weekend, the weather bureau said.Typhoons regularly hit Taiwan, China, the Philippines and Japan in the second half of the year, gathering strength from the warm waters of the Pacific Ocean or South China Sea before weakening over land. Typhoon Morakot devastated the island in 2009, killing nearly 700 people, most of them in landslides. (Reporting By Yimou Lee; Editing by Simon Cameron-Moore)
News El Nino fades so forecasters expect busier hurricane season
SETH BORENSTEIN,Associated PressWASHINGTON (AP) — Government meteorologists say this year's hurricane season may be busier than initially expected now that summer's weak El Nino has faded away.The National Oceanic and Atmospheric Administration's Climate Prediction Center said Thursday the Atlantic season looks more active than normal as peak hurricane season begins. Forecasters now expect 10 to 17 named storms, with five to nine hurricanes and two to four major ones.In May, they forecast a normal season, one or two fewer named storms and hurricanes. Forecaster Gerry Bell says the end of El Nino means more hospitable hurricane conditions. El Nino is the periodic warming of parts of the Pacific that affects weather worldwide and dampens storm activity.Hurricane season is June through November. So far, there have been two named storms, with one hurricane.
News Closer to average weather patterns to prevail through winter as El Niño fades: U.S. CPC
Reuters(Reuters) – Amid waning El Niño conditions, weather patterns are expected to be closer to average through the Northern Hemisphere winter of 2019-20, with "ENSO-neutral conditions" having a 50%-55% chance of continuing during the season, a U.S. government weather forecaster said on Thursday.ENSO-neutral conditions refers to those periods in which neither El Niño nor La Niña is present, and they bring equatorial Pacific Ocean temperatures, rainfall patterns and winds closer to average, according to the National Weather Service's Climate Prediction Center (CPC)."While forecasters favor ENSO-neutral conditions, the odds of El Niño (at about 30%) are roughly twice that of La Niña for next winter," CPC said in its monthly forecast.The El Niño pattern brings a warming of ocean surface temperatures in the eastern and central Pacific every few years.El Niño emerged in 2018 for the first time since 2016 and has been linked to crop damage, fires and flash floods.It is the opposite of La Niña, characterized by unusually cold temperatures in the equatorial Pacific Ocean. (Reporting by Swati Verma in Bengaluru; Editing by Bernadette Baum)
News Taiwan orders markets, schools closed on Friday as super typhoon approaches
Reuters
TAIPEI (Reuters) – Authorities in Taiwan have ordered markets, businesses and schools to close on Friday as a super typhoon approaches the island, forcing flight cancellations and landslide warnings shortly after an earthquake of magnitude 6 struck.Typhoon Lekima, which is packing maximum winds of 234 km per hour (145 mph), is expected to hit the island late on Thursday, after gaining in strength to become a super typhoon, weather officials said."An earthquake struck when we are making preparations for the typhoon, which is a rare event," premier Su Tseng-chang told a meeting at a national emergency center, urging officials to stay on alert for its approach.The strongest storm to hit the island this year is expected to approach off the northeastern coast, after moving across the ocean in a northwesterly direction at 19 kph (12 mph), Taiwan's weather forecasters said.Taiwan's weather bureau issued wind and rain warnings for greater Taipei, the northern port city of Keelung and other northern counties. It also put out a warning to seafarers off the south and east coasts.Thursday's earthquake off the northeast coast prompted warnings of landslides as the weather bureau forecast rainfall of up to 900 mm (35 inches) in Taiwan's northern mountains.The earthquake cut power to more than 10,000 buildings and a woman was killed by a falling wardrobe.More than 2,000 people were moved to safety, most of them tourists on islands off the east coast and residents of mountainous areas, while troops fanned out in some areas amid fears of floods.The storm will continue towards China, approaching the eastern commercial hub of Shanghai over the weekend, the weather bureau said.Typhoons regularly hit Taiwan, China, the Philippines and Japan in the second half of the year, gathering strength from the warm waters of the Pacific Ocean or South China Sea before weakening over land.Typhoon Morakot devastated the island in 2009, killing nearly 700 people, most of them in landslides.(Reporting by Yimou Lee; Editing by Clarence Fernandez and Simon Cameron-Moore)
New Mexico faces extreme water scarcity on par with the United Arab Emirates. Experts warn more 'day zeros' are looming.
Morgan McFall-Johnsen,Business Insider
Rio Grande drought Susan Montoya Bryan/Associated Press
A global water crisis looms, and US states are not immune to it.New Mexico faces the same degree of water stress as the United Arab Emirates — the 10th most water-stressed country in the world — according to a new reportfrom the World Resources Institute. That means that industries and municipalities in the state use about 95% of New Mexico's available annual water supply, leaving little in the reserves for droughts and dry spells.California, Arizona, Colorado, and Nebraska face similar challenges."Our populations and economies are growing and demanding more water, but our supply is threatened by climate change, by water waste, and by pollution," Betsy Otto, director of WRI's Global Water Program, said in a call with reporters. "Water stress, which occurs when demands rival annual supply, is a manifestation of those issues."The researchers behind the report said they expect to see more "day zeros," the term for the moment when a city's taps run dry, as populations grow and continue to draw from dwindling water resources. In January 2018, Cape Town, South Africa got dangerously close to reality: The government announced the city was three months from day zero. Residents successfully limited their water use enough to make it to the next rainy season, however.New Mexico also faced severe drought last year (along with much of the Southwest). The threat led farmers to plant more drought-resistant crops like beans, or to abandon their fields altogether. Some farms were allotted just 10 inches of water from the Rio Grande, compared to the normal 36. With no grass to feed their herds, ranchers sold cattle to pay for hay. The USDA declared disaster areas across the state, qualifying ranchers for federal loans to cover financial losses."Most of us have drinking water," Cassidy Johnston, a New Mexico rancher, told Water Deeply. "But all the drinking water in the world doesn't change anything if your cattle don't have anything to eat. We count on rain. We count on rain for everything."The state's largest reservoir ran as low as 2.9% capacity. After rescuing 10,000 endangered silvery minnows from drying up with the river, the federal government had to lease $2 million of groundwater from Albuquerque in order to keep the Rio Grande flowing."Drought makes the situation worse, but usually the underlying indicators have been flashing red for a while and we just haven't been paying attention," Otto said.'Water stress' is a comparison of supply and demand To measure water stress, WRI looked at the amount of water that gets withdrawn each year from the total supply of renewable, available water. (Withdrawal isn't the same as water consumption, since some withdrawn water is later returned to the source.)The group evaluated the water-stress levels of 189 countries and the regions within them, including US states.
US states water stress World Resources Institute In regions that face "extremely high" water stress — like New Mexico — industry, agriculture, and municipalities are withdrawing at least 80% of available surface and groundwater each year. That puts them in a precarious position, with little leftover water to serve as a buffer in dry spells.In total, the WRI report identified 17 countries facing this level of extreme water stress: Qatar, Israel, Lebanon, Iran, Jordan, Libya, Kuwait, Saudi Arabia, Eritrea, the United Arab Emirates, San Marino, Bahrain, India, Pakistan, Turkmenistan, Oman, and Botswana. Those countries are home to a quarter of the world's population.New Mexico's risk is on par with that of the UAE, the report found. It also suggested that four US states — California, Arizona, Colorado, and Nebraska — face high water stress, which means they're withdrawing between 40% and 80% of available water annually.
2016 03 31T120000Z_1783706554_GF10000367625_RTRMADP_3_CALIFORNIA DROUGHT.JPG Mike Blake/Reuters With the exception of Nebraska, these states all draw water from the Colorado River, which for the last 19 years has experienced its worst drought in 100 years. In July, water levels in Lake Mead, the Colorado River reservoir that supplies water and energy to much of the Southwest, dropped to just 7 feet above the official shortage level. Below that mark, the federal government would significantly reduce each state's water allocationt.The Bureau of Reclamation projects that Lake Mead will hit that shortage level by 2020.In New Mexico, the drought let up this year, but ranchers in the southeast part of the state are still buying supplemental feed for herds given the lack of grass and selling cattle to cover the extra costs, the Carlsbad Current-Argus reported.
colorado river Julie Jacobson/AP In other countries, water stress is even more dire The world is on track to warm by 1.5 degrees Celsius as early as 2030. That would increase the likelihood of extreme drought in the Mediterranean, reduce rainfall across Southern Africa, and causing longer and more frequent heat waves in many parts of the globe.According to the WRI report, 27 countries face high water stress around the world: Chile, Cyprus, Yemen, Andorra, Morocco, Belgium, Mexico, Uzbekistan , Greece, Afghanistan, Spain, Algeria, Tunisia, Syria, Turkey, Albania, Armenia, Burkina Faso, Djibouti, Namibia, Kyrgyzstan, Niger, Nepal, Portugal, Iraq, Egypt, and Italy.
chennai india water day zeroP. Ravikumar/Reuters Chennai, India's sixth largest city, reached "day zero" in late June. (Taps across the city ran dry, though officials have not formally declared day zero.) Last year, the city saw less than half its normal rainfall, and the summer brought temperatures up to 108 degrees Fahrenheit. Wells and reservoirs dried up, and the city's population of over 8 million was left without water. Residents still rely on trucks to bring in water each day, the Financial Times reported.Climate models indicate that situations like this will become more common in the next 50 years, as rainfall continues to decrease, temperatures continue to rise, and world population grows. The International Panel on Climate Change (IPCC) projects severe reductions in water resources for 8% of the global population from 2021 to 2040. By 2071, the problem will affect 14% of people around the world.Climate change impacts the demand side of the water equation, too."Crops will draw more water up during dry periods. People will use more electricity to run their air conditioners," Otto said. (Energy production accounts for 10% of water withdrawals worldwide, according to the International Energy Agency.)
drought sunflowers heat wave germany Heinz-Peter Bader/Reuters Distributing water also requires energy — globally, this process uses as much energy as the entire country of Australia. Creating that energy, of course, involves burning fossil fuels, which emits the heat-trapping greenhouse gas responsible for climate change.The IEA projects that the water sector's energy use will double by 2040, as more water sources run dry. Industries and municipalities will have to pump water from further away and deeper in the ground, or opt for extremely energy-intensive desalination. At least one water manager in New Mexico reportedly considered diverting water from the Mississippi River after last year's drought.
chennai india day zero water tanker P. Ravikumar/Reuters Preventing 'day zeros' Otto said better planning and water-management practices can help mitigate water crises — she suggested more water-efficient irrigation systems, better recycling of wastewater to water crops or use in industrial processes, and more simple infrastructure maintenance like fixing leaks.Seven states that pull from the Colorado River are trying to implement such practices, including New Mexico. In March, they signed onto a management plan that asks each state to cut their water use and plan ahead to prevent reservoir depletion, The New York Times reported."The picture is alarming in many places around the globe, but it's very important to note that water stress is not destiny," Otto said. "All of those approaches can help us change the trajectory that we're on. What we can't afford to do any longer is pretend that the situation will just resolve itself, or throw up our hands and say that there's nothing we can do."
Cambodian rescued after 4 days wedged in mountain rocks
SOPHENG CHEANG,Associated PressCambodian man rescued after 4 days wedged in mountain rocks PHNOM PENH, Cambodia (AP) — A man who became wedged between rocks while collecting bat droppings in the Cambodian jungle was rescued after being trapped for almost four days.Police said Sum Bora slipped Sunday while trying to retrieve his flashlight, which had fallen in the small rocky hollow.Bat droppings — guano — are used as fertilizer and sold for supplementary income by poor farmers, who sometimes try to attract bats to their property.His worried family began searching for Sum Bora when he didn't return after three days, Cambodia's Fresh News reported. His brother found him and alerted authorities to his location in the Chakry mountain jungle in the northwestern province of Battambang.About 200 rescue workers carefully extricated the trapped man by destroying bits of the rock that had pinned him in an effort that took about 10 hours, Police Maj. Sareth Visen said.The 28-year-old man was freed at about 6 p.m. Wednesday, looking extremely weak, and was taken to a provincial hospital, the police official said.The rescue was spearheaded by specialists from Rapid Rescue Company 711, which is connected to Prime Minister Hun Sen's elite military bodyguard brigade. The group also was prominent in rescue efforts when a seven-story building collapsed in June in the southern city of Sihanoukville, killing 24 people.Cambodia is one of the poorest countries in the world, with 35% of its 15.2 million people living in poverty, according to a U.N. Development Program report last year.
World Mega-Trees Are the New Weapon Against Climate Change
"If trees are harvested, it doesn't take carbon out of the atmosphere for long before it's put right back," Richard Houghton, an expert in forest science at the Wood Hole Research Center, tells The Daily Beast.David Milarch is a co-founder of the Archangel Ancient Tree Archive. This organization clones the largest and oldest trees from many different tree species around the world. They've cloned trees from over 130 different countries since the organization was founded 25 years ago, including the coast redwood, and they aim to "propagate the world's most important old-growth trees before they are gone."Milarch tells The Daily Beast that if you want to get serious about tackling climate change, you need to be planting large trees that will be around for hundreds of years or more. He says planting smaller trees that will be harvested in the near future is "not doing anything for sequestering carbon.""You plant the right tree in the right place. You plant the strongest, hardiest natives state-by-state and region-by-region," Milarch says. "You have to go about this very intelligently."Gordon Bonan, a senior scientist at the National Center for Atmospheric Research, tells The Daily Beast that reforestation and planting new trees are "essential components of climate change mitigation." He says forests act as a "carbon sink to remove CO2 from the atmosphere."That said, some worry focusing too much on planting trees and restoring forests to fight climate change could be harmful. A study that was published in the journal Science in July claimed planting a trillion new trees would have a tremendous impact in the fight against climate change and could theoretically be accomplished. Many articles were written about what looked to be exciting news, but even the study's lead author said this would not likely happen and shouldn't be seen as a silver bullet in the fight against climate change."Reforestation is one possible way to address climate change, but the main thing we have to be doing is reducing greenhouse gases," Karen Holl, a professor of environmental studies at the University of California, Santa Cruz, tells The Daily Beast. "It's not a substitute."Holl says people shouldn't get the idea that we can "plant our way out of climate change." She says restoring forests and planting new trees are important parts of the equation, but reducing our greenhouse gas emissions is the top priority. Furthermore, she says we need to put a stop to the large amount of deforestation that's taking place in the United States, Brazil and beyond."The most important thing is to be protecting existing forests, because they hold a huge amount of carbon both above ground and in the soil," Holl says.The planet lost over half a million square miles of forest between 1990 and 2016. President Trump issued an executive order at the beginning of this year that allows for more logging on public lands, and President Bolsanaro of Brazil has begun a logging campaign that will likely decimate the Amazon rainforest. New data shows the Amazon is losing roughly three football fields of forest per minute to deforestation.Houghton says that reforestation and planting new trees are things that the U.S. should be doing much more actively, and he thinks we could stop subsidizing fossil fuels and use that money to pay for a large forest restoration project. It's extremely unlikely this will happen during the Trump administration, but the experts we spoke with said it could be accomplished after 2020 if Democrats controlled the White House, both houses of Congress, and made it a priority."Getting off fossil fuels and getting into renewable energy will take some years, so in the interim, we could use some new forest," Houghton said.Read more at The Daily Beast.  Get our top stories in your inbox every day. Sign up now!  Daily Beast Membership: Beast Inside goes deeper on the stories that matter to you. Learn more.