News Quarter-size hail, 65-mph gusts, isolated tornado expected with Charlotte area storms  Joe Marusak,Charlotte Observer
Quarter-size hail, 65-mph gusts, isolated tornado expected with Charlotte area stormsSevere storms could deliver quarter-size hail, 65-mph gusts and an "isolated tornado" to parts of the Charlotte region and the NC foothills and mountains Tuesday afternoon and evening, according to National Weather Service warnings.Storms moved into parts of the mountains at about 2 p.m., NWS meteorologists tweeted.Mecklenburg and surrounding counties were under a "severe thunderstorm watch" until 7 p.m.At 3 p.m., a severe thunderstorm eight miles southwest of uptown Charlotte packed 60 mph gusts and dumped penny-size hail, according to a tweet by SC Weather Alerts.The storm knocked out power to at least 300 Duke Energy customers near South Tryon Street and Carowinds Boulevard in Charlotte's Steele Creek section, according to Duke Energy's online outage map. Power was restored by 5 p.m.Storms cut electricity to far more Duke Energy customers elsewhere in the Carolinas, including 7,000 in the Winston-Salem area, 3,000 in Greenville-Spartanburg, S.C., and 600 in the Hickory area. An estimated 15,370 Duke Energy customers were without power at 5 p.m. across North Carolina.A severe storm in the Alexander County community of Bethlehem blew the glass out of a pharmacy and toppled a tree into the dining room ceiling of a home, the Hickory Daily News reported. No one was injured, according to the newspaper.The chance of precipitation at Charlotte Douglas International Airport stood at only 30 percent Tuesday afternoon, with the chance increasing to 60 percent until about 8 p.m., according to the latest NWS forecast.At 5 p.m., another storm barreled through parts of north Mecklenburg and Iredell, Cabarrus and Rowan counties, according to the NWS office in Greer, S.C., which oversees weather for the Charlotte area and parts of the mountains.Just before 5:30 p.m., NWS meteorologists urged boaters on Lake Norman and Mountain Island Lake to get off the water due to an approaching storm with 60-mph gusts.The high neared 95 in the Charlotte metro area on Tuesday afternoon, with a heat index value up to 105, NWS forecasters said. The heat index measures "how hot it really feels when relative humidity is factored in with the actual air temperature," according to the NWS.A 60 percent threat of "severe thunderstorms" remained until about 8 p.m. Tuesday and a 40 percent chance of showers and thunderstorms through Wednesday and early Thursday at Charlotte's airport, according to the NWS.


 South Carolina Weather Alerts@SimpleWeatherSC NWS Alert> Severe Thunderstorm 8 Miles SW of Uptown Charlotte or Near SW Charlotte Moving SE At 20 MPH. 60 MPH Wind Gusts, Penny Size Hail. Expect Damage to Trees & Power Lines. Locations Impacted Include Centra… #scwx http://www.simpleweatheralert.com/cgi-bin/weatherdetail.py?l=SC125D0A3F65DC.SevereThunderstormWarning.125D0A3F8904SC.GSPSVRGSP.2c9d5045e79d415f1b5303f899c9f45d&a=045&t=0 …
See 

 South Carolina Weather Alerts's other Tweets

NWS GSP
@NWSGSP
A severe thunderstorm watch has been issued for parts of GA, NC, SC, TN, VA until 7 PM EDT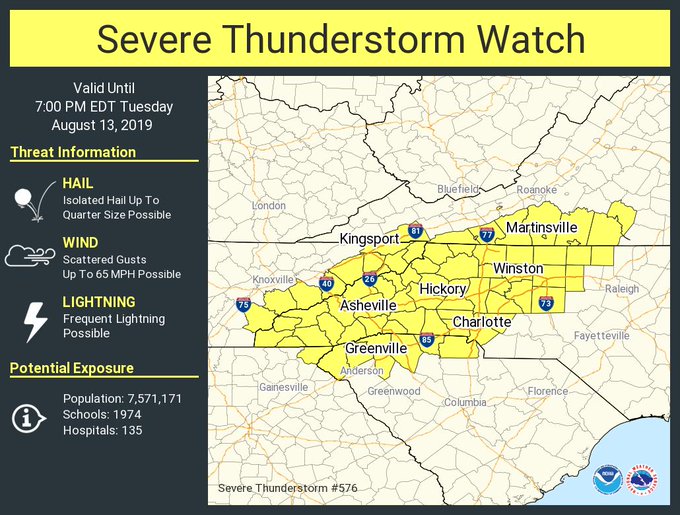 NWS GSP
@NWSGSP
Strong thunderstorms will impact the following areas through 02:30 PM: Madison-NC Yancey-NC Mitchell-NC Swain-NC Haywood-NC
#
ncwx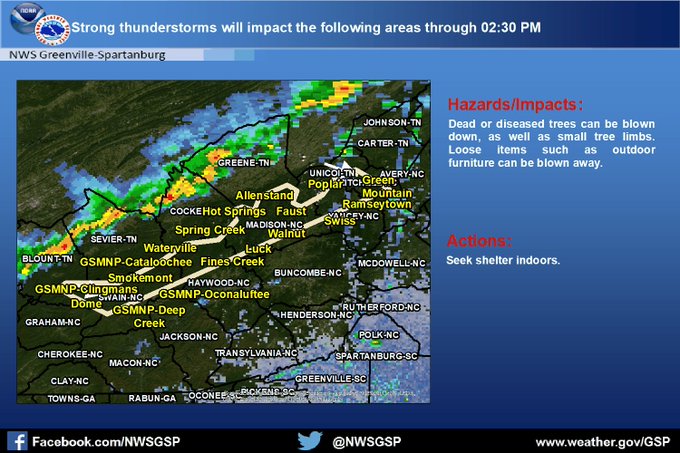 See NWS GSP's other Tweets
News Dreadful heat, humidity invade South as misery continues
Construction worker Dineose Vargas wipes his face at a construction site on the Duncan Canal in Kenner, La., Tuesday, Aug. 13, 2019. Forecasters say most of the South, from Texas to parts of South Carolina, will be under heat advisories and warnings as temperatures will feel as high as 117 degrees. (AP Photo/Gerald Herbert)ATLANTA (AP) — Stifling heat smothered states from Texas to South Carolina on Tuesday with temperatures that felt like 120 degrees (49 Celsius), making it difficult to be outside for long, much less work or play.As the entire Southeast baked amid heat warnings and advisories that reached from central Texas to coastal Georgia, construction workers toiled under a blazing sun in Louisiana. Alabama's largest city opened its auditorium as a refuge for anyone needing to cool down.Some schools and coaches limited football practice for players getting ready for the upcoming season, and social media was dotted with photos showing automobile thermometers with triple-digit readings.Forecasters said a cold front and storms could lead to a slight midweek cool down, but for the meantime it was just too hot.The National Weather Service said the afternoon heat index, a combination of temperature and humidity, climbed to 120 degrees (48.8 Celsius) in Clarksdale, Mississippi, nearly hitting the 121 degrees (49.4 Celsius) it 
felt like Monday
 . Readings were nearly as high in cities including Dyersburg, Tennessee, and West Memphis, Arkansas.In downtown Birmingham, Alabama, a piano-playing sidewalk evangelist sought refuge from the sun with two umbrellas — one over his head and the other on his sunny side.Around the corner, artist Henry L. McShan sold his watercolor landscapes in a shady spot beside a park. Temperatures in Birmingham were already in the 90s Tuesday morning and topped 100 degrees later.
"I'm going to be here all day. I've got several bottles of water. I'm ready for it," said McShan, his face glistening with sweat.
It was just as sizzling along the Gulf Coast in south Alabama and along the Florida Panhandle. The heat index hit 117 (47 Celsius) before noon Tuesday in the Mobile, Alabama, area. Pensacola saw a heat index of 115, also before noon.
The heat index in the hottest areas should be 15 to 20 degrees cooler Wednesday, according to the weather service.
Heat exhaustion and heat stroke are prime threats during heat waves, according to the federal Centers for Disease Control and Prevention.
In Kansas, a 2-year-old boy died after he was found alone in a parked car in the afternoon heat Sunday. It appears heat played a role in the child's death, Lawrence Police Chief Gregory Burns Jr. said in a statement Monday. The heat index was 96 (36 Celsius) at the time, the weather service said.
In Texas, managers of the state's main electric grid declared an energy conservation emergency and asked its customers to dial back their thermostats between 3 and 7 p.m. Tuesday because of the extreme heat. The Electric Reliability Council of Texas took the action a day after it set an all-time peak demand record.
At the Dallas Zoo, where $1 admission day was expected to draw large crowds, misting tents were set up for visitors to cool down. Elephants will be soaked with water cannons and offered frozen treats, said spokeswoman Chelsey Norris.
In Louisiana, road workers were urged to take precautions to protect themselves from the heat, said Erin Buchanan, a spokeswoman with the Louisiana Department of Transportation and Development.
"Every summer, we know we're going to encounter some extreme heat," she said. "They know to take multiple breaks. They know to stay hydrated."
Heat alerts stretched as far east as the Upstate area of South Carolina.
In Spartanburg, South Carolina, the Carolina Panthers and Buffalo Bills practiced together before a preseason NFL game in Charlotte, North Carolina. Over the weekend, Panthers coach Ron Rivera had some fun with Bills coach Sean McDermott, sending a screenshot of the heat index in Spartanburg, South Carolina. It showed 110 degrees (43 Celsius) along with an orange emoji face dripping with sweat.
"A psychological game," Rivera joked.
___
Reeves reported from Birmingham, Alabama. Associated Press writers Diana Heidgerd in Dallas; Rebecca Santana in New Orleans; and Steve Reed in Spartanburg, South Carolina, contributed to this report.
1 / 4
Heat Wave
Kai Frazier and Chance Seawright, brothers visiting from Aiken, South Carolina, cool off while playing in the Fountain of Rings in Centennial Olympic Park, Monday, Aug. 12, 2019, in Atlanta. (AP Photo/Andrea Smith)
ATLANTA (AP) — The Latest on the heat wave spreading across the U.S. South and Midwest (all times local):
4 p.m.
The operator of the electric grid that serves most of Texas has declared an energy conservation emergency as temperatures across much of the state approached or exceeded 100 degrees (38 Celsius).
The Energy Reliability Council of Texas appealed to all of the state's consumers of electric power to limit and reduce their usage during the peak demand hours of 3 to 7 p.m. Tuesday after reserve capacity fell below 2,300 megawatts.
No rotating power outages were immediately reported.
ERCOT suggests setting thermostats 2 to 3 degrees higher, set pool pumps to shut off from 4 to 6 p.m., turn off and unplug nonessential lights and appliances, and avoid using large appliances such as ovens and washing machines during peak hours.
A megawatt is about enough electricity to power roughly 200 homes running air conditioners during hot weather.
___
11:55 a.m.
The Dallas Zoo prepared for large crowds Tuesday during $1 admission day even as forecasters predicted triple-digit temperatures and issued a heat advisory.
Zoo spokeswoman Chelsey Norris says a typical summer weekday would attract 2,000 guests. Norris says a Dallas Zoo dollar admission day in July drew more than 30,000 visitors, with temperatures in the 90s.
Norris advised visitors Tuesday to be prepared for hot weather by using sunscreen and drinking lots of water.
Misting tents were set up throughout the Dallas Zoo to provide visitors with another way to cool down.
Norris says zoo personnel closely monitor the animals and move them to cooler indoor areas as needed.
She says elephants would be soaked with water cannons and offered frozen ice treats.
___
9 a.m.
Forecasters say most of the South — from Texas to parts of South Carolina — will be under heat advisories and warnings as temperatures will feel as high as 117 degrees (47 Celsius).
The most intense heat Tuesday is expected in Mississippi, Arkansas, Louisiana, and Alabama; and in areas near Memphis, Tennessee.
The warnings come one day after the temperature and humidity combined for a Monday heat index of 121 degrees (49.4 Celsius) in Clarksdale, Mississippi. It was only a few degrees cooler in West Memphis, Arkansas.
In Alabama, the highest reported heat indexes Monday were 112 degrees (44.4 Celsius) in Florence, Tuscumbia and Gurley.
Forecasters say the heat index is what the temperature actually feels like.
A break from the heat is expected by Wednesday as a front pushes through.
News
Quarter-sized hail, gusts up to 65 mph possible in Triangle as storms move through NC
The Triangle and much of central North Carolina are under a severe thunderstorm watch or warning, the National Weather Service says.
A warning is in effect for Wake, Durham and Chatham counties until 5:15 p.m. Tuesday, the weather service says, and the watch is in effect until 9 p.m. for other counties in central North Carolina. Areas could see wind gusts up to 65 mph and hail the size of quarters, the weather service says.
The chance for central North Carolina storms comes mostly after 3 p.m. and continues until midnight, according to the National Weather Service. Rainfall could reach a quarter inch, with more rain possible overnight, the service says.
Strong winds could pose the biggest risk, and an "isolated tornado can't be ruled out," forecasters say.
There could also be hail and "flash flooding of low lying and poor drainage areas," according to the weather service.
The rain chances come as the heat index could make the Raleigh area feel up to 102 degrees, forecasters say.
Rain is expected to continue through Friday, according to the weather service.
'The saddest dive of my life': A diver's before-and-after photos reveal the death of a coral reef
Luiz Rocha, California Academy of Sciences
As greenhouse-gas emissions continue to concentrate in the atmosphere and heat up the planet, the oceans are warming faster than ever.
That's devastating for coral reefs, since warmer temperatures prompt coral bleaching — when coral expels its algal food sources and turns ghostly white, increasing its risk of death.
A diver photographed a coral-bleaching event over two months in Tahiti to show the stark contrast between before and after.
When Luiz Rocha, a diver from the California Academy of Sciences, explored a reef near Tahiti in March, he had no idea that it would be the last time he'd see the coral alive and healthy.
Rocha spent two weeks diving in reefs around the island of Moorea, while based at a research station run by the University of California, Berkeley. He told Business Insider that he was pleasantly surprised by the reef's health, which he captured in the photo below.
Luiz Rocha, California Academy of Sciences
But the water, he recalled, was quite warm.
Just weeks after he returned to the US, disaster struck.
In late April, reports come in from Tahiti that the reef was bleaching, and fast.
Coral bleaching happens when warm waters cause corals to expel the algae living in their tissues and turn white. It's an increasingly dire problem, given that oceans absorb 93% of the extra heat that greenhouse gases trap in the atmosphere. Recent research revealed that the world's oceans are heating up 40% faster (on average) than the prior estimate. In 2018, the world's oceans were the hottest ever in recorded history.
Read More: The oceans are the hottest they've been since we started measuring — which means we should prepare for more disastrous flooding and storms
At present rates, it's expected that 60% of all coral reefs will be highly or critically threatened by 2030, and 98% of reefs will be exposed to potentially fatal conditions every year. As of last year, more than half of Australia's Great Barrier Reef was dead as a result of bleaching.
The consequences of coral bleaching extend beyond the reef itself, since a quarter of all fish species spend some part of their life cycle in reefs, despite the fact that reefs cover less than 1% of the ocean floor.
REUTERS/Handout
Rocha, who's been diving since 1986, is no stranger to sights of dead coral reefs, with their bleached, pearly skeletons devoid of fish and marine life. He decided to return to the Tahiti research station in mid May to observe what was happening to the coral there in real time.
When he arrived, the reef wasn't quite dead yet — it had expelled its algae and was suspended in a state of slow, inevitable decay.
"When corals are bleaching, they can still survive for a few weeks," Rocha said. "It's only if water temperatures don't go back to normal and they don't re-acquire algae that they die."
He took the photo below eight weeks after his initial March visit.
Luiz Rocha, California Academy of Sciences
"It struck me this time because I've never seen it bleaching, I've only seen the aftermath of dead coral," he said, adding, "I've seen pictures of coral mid-bleaching before, but it's not the same thing as seeing it up close like that. You're swimming, swimming, swimming and it's the same thing reef after reef."
For the last couple weeks of May, Rocha watched helplessly as the coral colonies around him died.
Luiz Rocha, California Academy of Sciences
Following a dive on May 17, Rocha posted this message to his Twitter account: "After more than 7,000 hours underwater, today I did the saddest dive of my life."
Now, he said, between 50% and 70% of the coral on the entire island of Moorea is bleached and dead.
"It was like seeing the immediate aftermath of a car crash versus coming upon a wrecked car left on side of road," he said. "Seeing the wreck isn't the same as seeing a car with the victims still inside."
NOW WATCH: Ocean 'dead zones' exist — and there are more of them than scientists thought
The 360 shows you diverse perspectives on the day's top stories.
What's happening:
Damage caused by human exploitation of natural resources and by climate change may combine to create a global food crisis in the future, according to a new report released by the United Nations.
The report, prepared by more than 100 experts from 52 countries, warns that current land use practices — including deforestation, chemical fertilizers and destructive farming techniques — have already made massive swaths of the planet unsuitable for food production. Even more land mass will either be dried out or rendered unusable by severe weather due to climate change, the report states.
As a result, there may not be enough fertile land for mankind to produce the food it needs to feed its expanding population. The report warns that food scarcity may be concentrated in certain areas, which could cause a massive immigration crisis in number of places around the globe.
Why there's debate:
Although the warnings in the report are dire, a number of remedies have been proposed to prevent a global food crisis. Most of them require enormous changes in how humans use land and produce food.
One of the most frequently suggested solutions is for people, particularly those in developed nations, to switch to a plant-based diet. Raising livestock for meat, especially beef, is inefficient, destructive and adds carbon to the atmosphere, experts argue.
Other potential methods of avoiding a food crisis include using biotech to develop more resilient crops, changing how cities are designed, decreasing food waste and rebuilding forests and other ecosystems that take carbon out of the atmosphere.
These solutions would require major changes in how humans interact with the planet. They would also likely face intense resistance from business and political interests that oppose them.
Perspectives
Humans must change to a plant-based diet that is more efficient and less destructive.
"To really succeed, [the solution] will require hundreds of millions of affluent people in the Northern Hemisphere to change their diet, eating many more plants and much less meat—and especially much less red meat—than they do now." — Robinson Meyer, The Atlantic
The world's agricultural methods need to be changed.
"The biggest hurdle we face is to try and teach about half a billion farmers globally to re-work their agricultural model to be carbon sensitive." — Agriculture expert André Laperrière to Nature
Scientists can develop new crops that can survive in increasingly harsh conditions.
"The biotech world will need to provide more drought-resistant crop varieties for dry regions at risk of losing their farmland to desertification, for example, or insect-resistant varieties to combat changes in the geographic ranges of pest species." — Scott K. Johnson, Ars Technica
Redesign cities to encourage more people to live in city centers instead of the suburbs.
"Pro-density development plans that limit the outward growth of urban areas to avoid destroying natural landscape should be a crucial first step." — Patrick Sisson, Curbed
Wealthy countries need to prioritize solutions that will benefit areas with the most vulnerable people.
"While most people in the Western world are still only beginning to see and feel the effects of climate change, they must continue to commit resources to those most vulnerable and worse-off communities, who are often invisible to them." — Morten Fibieger Byskov, The Conversation
No one-size-fits-all solution exists.
"The vast scale of this crisis can only be tackled through massive, perhaps unparalleled cooperation—everyone needs to find the solutions that work for their corner of the world. But by tailoring solutions to a community, researchers can capitalize on particular customs." — Matt Simon, Wired
Humans must dramatically decrease the amount of food they waste.
"There's a fundamental problem in our food system: Up to 30 percent of the food we produce is wasted. … This waste has huge environmental costs. Food lost to waste accounts for upward of 10 percent of global greenhouse gas emissions. If the world were to drastically limit food waste, farmers would need less land, less fuel, less water, and less fertilizer, all of which would translate to a smaller environmental footprint." — Umair Irfan, Vox
Individual behavior can only go so far. Governments must lead the change.
"Governments can take the new report and use it as a guide for planning new policy, but businesses also play a key role—particularly food businesses and any companies that use materials from forests." — Adele Peters, Fast Company
Mankind must fundamentally change its relationship with the planet.
"Until we realize that we exist as part of an ecosystem, that we are part of a living planet, we will continue to destroy the soil that makes our existence possible." — Eric Holthaus, Rolling Stone
People will have to elect leaders who prioritize solving the problem.
"We have to make sure that we elect politicians who will vote in our interest, who will act in our interests rather than polluting interests who too often fund their campaigns and have them in their hip pockets." — Penn State University professor Michael Mann to CNN
Is there a topic you'd like to see covered in The 360? Send your suggestions to the360@yahoonews.com.
Trump overhauls Endangered Species Act
Endangered species rules that helped save bald eagles, grizzly bears and dozens of other animals and plants are being changed, and more animals are at risk of extinction, environmentalists say. The Trump administration announced a major overhaul Monday to the Endangered Species Act: It will end blanket protections for animals newly deemed threatened and let federal authorities consider the economic cost of protecting a particular species. The changes will push more animals and plants to extinction because of threats from climate change and human activities, environmentalists say. "For animals like wolverines and monarch butterflies, this could be the beginning of the end," said Noah Greenwald, endangered species director for the Center for Biological Diversity.
Greta Thunberg's sailing adventure no pleasure cruise
Skipper Boris Herrmann works on the boat Malizia as it is moored in Plymouth, England Tuesday, Aug. 13, 2019. Greta Thunberg, the 16-year-old climate change activist who has inspired student protests around the world, is heading to the United States this week – in a sailboat. (AP Photo/Kirsty Wigglesworth)PLYMOUTH, England (AP) — Greta Thunberg's two-week voyage to the United States will be no pleasure cruise.The 16-year-old climate change activist who has inspired student protests around the world will leave Plymouth, England, later this week bound for New York in a high-tech but decidedly low-comfort sailboat.Highlighting the urgency of cutting carbon emissions, the young Swede last month announced that while she would not fly to environmental conferences, she'd found a way to get there without hurting the planet. Pierre Casiraghi, the grandson of Monaco's late Prince Rainier III and American actress Grace Kelly, and fellow yachtsman Boris Herrmann offered her passage on a racing yacht as she travels to U.N. climate summits next month in New York and in Santiago, Chile, in December."It's not very luxurious, it's not very fancy but I don't need that. I need only a bed and just the basic things," Thunberg told The Associated Press. "So I think it will be fun, and I also think it will be fun to be isolated and not be so limited."Sailing on the 60-foot (18-meter) Malizia II, outfitted with solar panels and underwater turbines to generate electricity, Thunberg will make a zero-carbon trans-Atlantic journey.But to call it a no-frills passage would be an understatement. The sailboat is built for high-speed, offshore racing, with weight kept to a minimum. The only alterations for the voyage are fitting curtains in front of the bunk and adding mattresses for comfort. There is no toilet or fixed shower. There's a small gas cooker and the food will be freeze dried.Inside, the yacht resembles the interior of a tin can. It is dark and gray, with no windows below deck.Herrmann, who is skippering the boat, will take turns with Casiraghi steering the craft. He described life on board as a mixture of camping and sailing, with a thin mattress and sleeping bag the only comforts."It's a very simple life and then the rest of the day depends on the wind," Herrmann told the AP. "It can be calm and smooth and going along and you can read a book, or it can be really rough and you hold on and try to fight seasickness and can be really hard."Casiraghi and Herrmann's Team Malizia was founded to sail the biggest ocean races — the Vendee Globe 2020 and The Ocean Race 2021. They also developed the Malizia Ocean challenge, a science and education project aimed at teaching children about climate change and the ocean. Their vessel has an onboard sensor that measures CO2 levels in seawater, a measure of how atmospheric carbon is changing the oceans.Thunberg became a global celebrity last year when she refused to go to school in the weeks before Sweden's general election to highlight the impact of climate change and to put pressure on politicians to do something about it. She continued her school strike on Fridays after the election, spurring thousands of young people around the world to follow suit. Since then, she's met the pope, spoken at Davos and attended anti-coal protests in Germany.She is now taking a year off school to attend the events in North and South America and meet with some of the people most affected by climate change. She decided not to fly to New York because of the emissions caused by air travel and plans to use the least carbon-intensive methods of travel available as she continues her trip."By this journey I hope to increase awareness among people, to spread information and communicate the science about what is really going on so people can understand what is really going on with the climate and ecological crisis," she said. "That is what I am hoping to achieve with everything and that will also lead to international opinions so that people come together and put pressure on the people in power so that they will have to do something."Rising levels of greenhouse gases, primarily carbon dioxide, are already increasing global temperatures, according to the UN. This will lead to shifting weather patterns that threaten food production and rising sea levels, though scientists hope that by curbing emissions catastrophic consequences can be avoided. Thunberg will be accompanied on her trans-Atlantic voyage by her father, Svante, and filmmaker Nathan Grossman of B-Reel Films, who will document the journey. She's brought audiobooks and has notebooks to fill.Beyond that, everything depends on the wind.The Atlantic Ocean in hurricane season can be a rocky place. Herrmann plans a southern route since three of the five sailors on board have no experience. During a trial run in the Bay of Plymouth on Monday, Thunberg said she was seasick for "five minutes" when the boat stood still.  "Of course, I will be a little bit seasick," she said. "But I don't think I will be very seasick."