Trump refuses to concede he was wrong about hurricane forecast
"In the early days of the hurricane, when it was predicted that Dorian would go through Miami or West Palm Beach, even before it reached the Bahamas, certain models strongly suggested that Alabama & Georgia would be hit as it made its way through Florida & to the Gulf," Trump tweeted on Thursday morning. "Instead it turned North and went up the coast, where it continues now. In the one model through Florida, the Great State of Alabama would have been hit or grazed. In the path it took, no. Read my FULL FEMA statement. What I said was accurate! All Fake News in order to demean!"[Photos: Hurricane Dorian's destruction of the Bahamas captured from above]"Alabama was going to be hit or grazed, and then Hurricane Dorian took a different path (up along the East Coast)," the president added. "The Fake News knows this very well. That's why they're the Fake News!"Trump's focus on the initial forecast comes as the now-Category 3 storm — which is being blamed for at least 20 deaths in the Bahamas — is moving up the Carolina coast, where it could make landfall later Thursday.
President Trump talks with reporters after receiving a briefing on Hurricane Dorian on Wednesday. (AP photo/Evan Vucci)During a hurricane briefing at Federal Emergency Management Agency headquarters in Washington, D.C., on Sunday, Trump mentioned Alabama as one of the states that could be affected by Dorian."I will say, the states — and it may get a little piece of a great place: It's called Alabama," Trump said. "And Alabama could even be in for at least some very strong winds and something more than that, it could be. This just came up, unfortunately. It's the size of — the storm that we're talking about. So, for Alabama, just please be careful."The National Weather Service quickly refuted that claim.
NWS Birmingham@NWSBirmingham Alabama will NOT see any impacts from #Dorian. We repeat, no impacts from Hurricane #Dorian will be felt across Alabama. The system will remain too far east. #alwx At the same briefing, Trump said that he had never heard of a Category 5 hurricane before, despite Dorian being the fourth storm of that strength on the Saffir-Simpson Hurricane Wind Scale during his presidency.During another storm briefing in the Oval Office on Wednesday, Trump showed reporters an enlarged map displaying what he said was the initial forecast path of the storm. The map, which was displayed on a posterboard, appeared to have been altered with a marker, extending the storm's path to include Alabama.(In official photos of an Aug. 29 Oval Office FEMA briefing released by the White House, Trump views what appears to be an unaltered version of the map showing the storm affecting Florida and Georgia, but stopping short of Alabama.)
President Trump receives a briefing on Hurricane Dorian last Thursday. (Official White House photo: Shealah Craighead)Later, when asked if he knew the map had been altered to include Alabama, Trump said he did not."No," the president replied. "I just know, I know Alabama was in the original forecast. They thought they would get it as a piece of it. It was supposed to go — actually, we have a better map than that, which is going to be presented, where we had many lines going directly, many models, each line being a model, going directly through. And in all cases, Alabama was it."On Wednesday night, Trump tweeted another map, from Aug. 28, showing the projected paths of the storm, with several touching Alabama, though most turning north before reaching the state.

Donald J. Trump@realDonaldTrump This was the originally projected path of the Hurricane in its early stages. As you can see, almost all models predicted it to go through Florida also hitting Georgia and Alabama. I accept the Fake News apologies!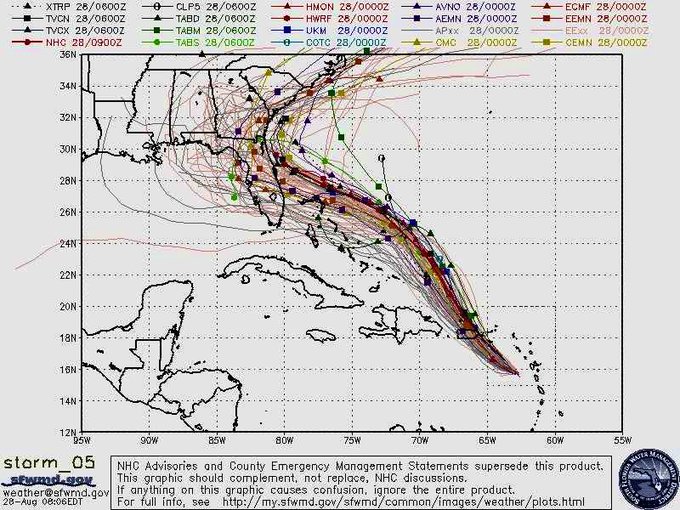 But the map — which was created by the South Florida Water Management District — itself states that forecasts from the National Hurricane Center should be considered more accurate and that "if anything on this graphic causes confusion, ignore the entire product."
NEW YORK (AP) — Arrests totals in New York City have plunged in the two weeks since the police department fired an officer for the 2014 chokehold death of Eric Garner, pointing to a possible slowdown amid a heated response to the firing from the officers' union.
Felony arrests are down about 11% and misdemeanor arrests are down about 17% since Officer Daniel Pantaleo's Aug. 19 firing, compared with the average daily totals for the rest of the year, Police Commissioner James O'Neill said Wednesday. At the same time, the NYPD has seen a 32% drop in moving violations, he said.
O'Neill stopped short of saying the declines were the result of an intentional slowdown. He said he and other department leaders are studying data such as sick time usage, response times, radio backlogs and enforcement activity to pinpoint where and why fewer arrests are occurring.
"We have expectations that our officers perform," O'Neill said.
The head of the officers' union hinted at a possible slowdown following Pantaleo's firing for using what a department administrative judge deemed a banned chokehold. Garner's dying words after the confrontation with the white officer, "I can't breathe," became a rallying cry for the Black Lives Matter movement.
Pat Lynch, the president of the Police Benevolent Association, said in the wake of the firing that officers would continue to uphold their oath to serve and protect the public, but not "by needlessly jeopardizing our careers or personal safety."
Lynch said it was time for each officer "to make their own choice" and that the union urged them to "proceed with the utmost caution in this new reality, in which they may be deemed 'reckless' just for doing their job."
A few weeks earlier, when an administrative judge recommended that Pantaleo be fired, Lynch urged officers to "take it a step slower" when responding to 911 calls and to wait for a supervisor instead of using physical force on an uncooperative suspect.
Last week, Lynch's union approved no confidence resolutions calling for O'Neill's immediate resignation and Mayor Bill de Blasio's removal from office.
De Blasio, who earlier said the city wouldn't accept a slowdown, said Wednesday: "Our officers are keeping people safe and they're acting like professionals. And if there are some sporadic issues, they'll be dealt with."
The city has been seeing a systematic drop in summons and arrest totals since 2014 amid an overall reduction in crime, but enforcement activity after Pantaleo's firing has declined at a rate greater than the annual decline police see in each category of enforcement, the NYPD said.
Before Pantaleo's firing, the city was averaging about 237 felony arrests and 373 misdemeanor arrests per day this year. Since then, it's averaging 210 felony arrests and 311 misdemeanor arrests per day.
Part of the drop in misdemeanor arrests of late may be the result of a marijuana decriminalization law that went into effect in the state on Aug. 28, O'Neill said.
The friction surrounding Pantaleo's firing comes amid a rash of incidents involving members of the public attacking police officers. On Friday in Queens and Monday in Brooklyn, officers shot and killed men who had fired guns at their vehicles.
On Tuesday in the Bronx, people displaced from a burning apartment building starting fighting with officers in the street, including a woman who was arrested for allegedly tearing off an officer's body camera. That was after videos posted on social media in July showed people in various parts of the city pouring buckets of water on patrol officers.
"This is not a new thing," O'Neill said. "This happens, and when it happens there have to be consequences for it. As police officers, we have to take action."
__
Follow Michael Sisak at twitter.com/mikesisak
Did the Obama administration commit 'the biggest accounting fraud in history' with student loans? Experts weigh in
The Wall Street Journal's editorial board (WSJ) recently suggested that the Obama administration pulled off "the biggest accounting fraud in history" with student loans when eliminating the role of private lenders in the federal student lending market.
Experts who spoke with Yahoo Finance acknowledged the issue with the general policy in hindsight, though they disagreed on who exactly is to blame.
In 2010, Democrats "nationalized the market to help pay for Obama Care," WSJ asserted. "The Congressional Budget Office at the time forecast that eliminating private lenders would save taxpayers $58 billion over 10 years. This estimate was pure fantasy, and now we're seeing how much."
The WSJ op-ed also highlighted the rising number of severely delinquent student loans since then and blamed the Obama administration for expanding plans in 2012 for new borrowers "to reduce defaults, buy off millennial voters and disguise the cost of its student-loan takeover."
The editorial board then added: "This may be the biggest accounting fraud in history."
'There's no way around that'
WSJ argued that eliminating private lenders from the student loan market severely hurt Americans and that by using fair-market accounting, it becomes clear that student loans will actually cost taxpayers nearly $307 billion over the next 10 years.
Douglas Holtz-Eakin, former director of the Congressional Budget Office (CBO) during the George W. Bush administration and currently president of the center-right American Action Forum, agreed that the accounting discrepancy manifested because of the "technique" used by the CBO to evaluate the cost of these loan programs.
"A widely known deficiency of the Federal Credit and Reform Act is that it does not allow the CBO to incorporate [market risk] into assessments," Holtz-Eakin told Yahoo Finance. "So the loans, when they're evaluated are evaluated as safer than they truly are, and thus, the losses are smaller than they may truly be. And there's no way around that — the techniques force you to do that."
He added that "that's why when you when they switched from the private loans to the government loans, it appeared to save money… that is misleading. I don't disagree, but it's not the CBO's fault — those are the rules."
Sheila Bair, the chair of the U.S. Federal Deposit Insurance Corporation (FDIC) from 2006 to 2011, agreed that the WSJ was "right to call out the government" on the accounting issue and stressed that it is "a huge problem with federal budgeting and transparency generally."
Income-based repayment plans were 'poorly designed'
The WSJ argued that the key catalyst for the student debt crisis today — $1.48 trillion student loans outstanding, with 35% of the consumer loans in the "severely derogatory" category — was a result of the Obama administration's policies regarding income-driven repayment (IDR) plans.
IDR plans allow borrowers to cap monthly student loan payments based on how much money they are making at a given time. As of September 2018, "almost half of the $898 billion in outstanding federal Direct Loans [were] being repaid by borrowers using IDR plans," according to the Government Accountability Office.
Holtz-Eakin agreed with WSJ, arguing that the CBO "cannot anticipate a future action of either the Congress or the administration."
If the government chooses "to move to a whole bunch of loan forgiveness and income-based repayment models, they can't anticipate that and both of those things bring in less money," he explained. "The money goes out and it doesn't come back and they're bigger losses."
Holtz-Eakin added that the Obama administration "did that on a regular basis — there was nothing CBO could have done about it."
Former FDIC Chair Bair, who headed the agency during part of both the Bush and Obama administrations, argued that the issue arose from the poor design of the repayment plan system.
"This has been a couple decades in the making, frankly," said Bair. "I think that the concept of a payment based on income is a good one — it's not a bad one. But the way these things have been designed, it's like the worst of all possible worlds."
With borrowers often in thousands of dollars in student debt, IDR plans are seen as an alternative for borrowers with high debt and low income. But the current income-based repayment plans is "very poorly designed… [and] confusing," Bair said.
The WSJ pointed out that borrowers end up owing more than they borrowed even though they're repaying their loans — called negative amortization — which Bair acknowledged.
"With a true income share, you have higher earners paying more and lower earners paying less, but you let the higher earners pay more to help with the cross-subsidization of the lower earners, and also just to mitigate the budget impact," said Bair. "But what the government does do now is they cap you out."
In other words, if a borrower decides that they want to increase their monthly repayment amounts, instead of being able to pay back loans quickly, they're capped out because the repayment structure is based on their income. Hence, the borrower — despite being able to increase payments — is stuck with a loan that's accruing interest for possibly 20 or 25 years.
'Recreated the worst aspects of the subprime… crisis'
The other issue was underwriting.
Previously, the government guaranteed student loans that borrowers took out from private lenders. Today, it controls more than 90% directly.
When the Obama administration "got rid of the guarantee program with the private sector out of the process and made it a direct federal loan, they got rid of all underwriting," Holtz-Eakin noted.
"And so they recreated the worst aspects of the subprime mortgage lending crisis," he stated. "They gave anyone who walked up a loan, without any notion of their capacity to repay."
—
Aarthi is a writer for Yahoo Finance. Follow her on Twitter @aarthiswami.
MANILA, Philippines (AP) — The Philippine president has acknowledged he's short of solutions to press China to adhere to Manila's arbitration victory in their South China Sea disputes after he said Chinese President Xi Jinping told him flatly: "We will not budge."
President Rodrigo Duterte spoke for the first time about his talk with Xi about the thorny disputes in a televised news conference Wednesday night where he was asked what move he would take next. Duterte, who has nurtured friendly ties with China, met Xi in Beijing last week.
"They're claiming it as their own and the bad part is that they are claiming it as their historical right and they have the control over the property," Duterte said. "That's our problem… If you can help by suggesting, is there any other suggestion? Or have you heard of any sane solution short of going to war with China saying, 'we will not budge"'?
The Philippine leader has long been criticized by nationalists and left-wing groups for not immediately demanding Chinese compliance with a 2016 ruling by an arbitration tribunal in The Hague that declared China's claims to virtually the entire South China Sea invalid under the 1982 U.N. Convention on the Law of the Sea.
The ruling also upheld the Philippines' sovereign rights over a wide stretch of waters called the exclusive economic zone, where Chinese territorial claims have delayed for years Manila's plan to explore and extract potential undersea deposits of oil and gas.
Duterte said he raised the arbitration ruling in a meeting with Xi and other Chinese officials and he quoted the Chinese leader as replying almost in a whisper: "You know, our statement was 'We will not budge.' We don't want to discuss that because it's ours. We own the property. Why should we talk to you?"
Duterte said he reacted by telling Xi that, "It will remain a problem. It will be … just like a sore thumb that sticks out painfully every day."
Xi at that point tried to shift from the topic, and Duterte said he did not press on, knowing the Chinese president has been preoccupied by anti-government protests in Hong Kong.
"Out of courtesy, I said, 'Well, I will not, maybe, insist on your answer now. I am not satisfied with your answer, but I will not ask for any other answer. I'll just remain where I am, where I started considering that you are under stress by the incidents in Hong Kong.'"
"They have a problem so he's hot-headed. We should time it. You know, the art of diplomacy," Duterte said. "If a person loses a child or is left by his girlfriend, he'll really be hot-headed."
Duterte then again said he only inherited the problem of the Chinese taking over the Scarborough Shoal from the previous administration, which he said had withdrawn Philippine ships from the contested shoal after a long standoff and allowed Chinese ships to take control of the territory.
"This is not my problem. Who withdrew?" he said.
China refused to participate in the arbitration case that Duterte's predecessor, Benigno Aquino III, initiated after China seized Scarborough Shoal in 2012. Beijing ignored and has continued to defy the arbitration ruling.
1 / 2
Ukrainian Vladimir Tsemakh is suspected of involvement in the downing of Malaysian Airlines flight MH17 in 2014
Ukrainian Vladimir Tsemakh is suspected of involvement in the downing of Malaysian Airlines flight MH17 in 2014 (AFP Photo/Sergei SUPINSKY)
Kiev (AFP) – A court in Ukraine on Thursday released from detention a man suspected of involvement in the downing of flight MH17, prompting concern from the Netherlands that he may avoid questioning.
The release of Vladimir Tsemakh, an alleged air defence specialist for pro-Russian separatists, comes amid speculation he might be part of a high-profile prisoner swap with Russia.
Russian President Vladimir Putin on Thursday confirmed for the first time the "large-scale" prisoner exchange with Ukraine was being finalised.
Ukraine captured Tsemakh, accused of fighting for pro-Russian separatists, in June, but he is believed to also be a person of interest in the downing of MH17.
The Malaysia Airlines passenger plane travelling from Amsterdam to Kuala Lumpur was shot down by a Russian-made BUK missile in 2014 over eastern Ukraine, with the loss of all 298 people on board.
European lawmakers described him as a "key suspect" and asked Kiev to make him available for testimony in the probe.
On Thursday, judge Yury Sliva of the Kiev appeals court ruled to release Tsemakh, cautioning him to remain available for questioning and not attempt to flee.
Tsemakh was promptly whisked out of the courtroom before making any comment.
– 'We are very concerned' –
Tsemakh is a Ukrainian who was reportedly in charge of air defence in the forces of the separatist Donetsk People's Republic near Snizhne in eastern Ukraine.
This is where MH17 came down. Most of those killed were Dutch citizens.
Though his involvement in MH17 has never been confirmed by Ukraine, 40 European lawmakers on Wednesday asked President Volodymyr Zelensky to make sure he was available to be grilled by the Dutch-led Joint Investigation Team (JIT).
A spokeswoman for the JIT, Brechtje van de Moosdijk, said that investigators would like to question Tsemakh, but doing that now will be more difficult.
"We would have wanted him to be available for the investigation, and of course we would regret it if we can't because he's being released," she told AFP.
"We are very concerned that he will simply disappear," added Piet Ploeg, chairman of the Dutch MH17 victims foundation.
International investigators said in June that they are going to put three Russian nationals and one Ukrainian on trial in the Netherlands in March, although they will likely be tried in absentia.
Russian and Ukrainian media have reported that Moscow wants Tsemakh to be handed over to Russia as part of an expected prisoner swap in which several high-profile Ukrainian prisoners are to be released from Russian jails.
The process has stalled following reports that several Ukrainians have been moved to Moscow.
– 'Ukraine breaching commitment' –
A Ukrainian source close to the talks told AFP that the exchange was expected "soon," possibly this week.
The source however refused to comment on whether Tsemakh was among those to be handed over to Russia.
Dutch MEP Kati Piri said swapping Tsemakh with Russia would be "breaching its commitment to the investigation."
The Boeing jet was shot down by a BUK anti-aircraft missile.
Dutch investigators say the projectile originated from the Russian military's 53rd anti-aircraft missile brigade after it was transported to Snizhne from Russia's south-west Kursk region.
Tsemakh's release also provoked strong criticism in Ukraine.
Some suggested that Tsemakh might be killed in Russia while Zelensky's attempts for closer ties with the West could take a hit.
"It's one thing when Ukraine makes concessions that only concern itself, but giving up Tsemakh concerns many countries," wrote pro-Western Ukrainian MP Svitlana Zalishchuk.
"Ukraine is becoming a de-facto co-conspirator in the MH17 crime," wrote journalist Petro Shuklinov on Facebook.
Some 13,000 people have been killed in Ukraine's war with Russian-backed separatists in eastern Ukraine, which broke out shortly after Moscow annexed Crimea in 2014.
Washington (AFP) – A Russian with government ties and an Italian aerospace expert have been charged with the theft of jet engine technology from leading American manufacturer GE Aviation, the US Justice Department announced Thursday.
Alexander Yuryevich Korshunov, 57, and Maurizio Paolo Bianchi, 59 were charged in a just-unsealed criminal complaint with stealing trade secrets in the latest case involving theft of US aviation industry intellectual property.
The Justice Department said that from 2013 to 2018, Korshunov hired Bianchi, a former director for GE Aviation's Italian subsidiary, to help with the design of jet engine gearboxes for Aviadvigatel, a subsidiary of Russian state-owned aerospace company United Engine Corp.
Korshunov worked for United Engine and was formerly an official with the Ministry of Foreign Affairs, the charges said.
Bianchi recruited several GE employees to do the work for a smaller engine, after which Korshunov asked if they could also provide "know-how" for larger engines suitable for the wide-body aircraft that GE specializes in.
In 2018, Bianchi recruited a second team of retired GE Aviation engineers to work on gearboxes for a larger engine.
The Justice Department alleged that throughout the work, Bianchi's employees used trade secrets owned by GE Aviation, and that both Korshunov and Bianchi knew that.
"The new group must not know about the previous team. Those people are working for (GE) and cannot be exposed," Korshunov wrote in an email in early 2018, according to the charges.
The department said that Korshunov was arrested on August 30 at the airport in Naples, Italy, while Bianchi is still at large.
The charges of attempted trade secret theft and conspiracy can carry up to 10 years in prison.
The case follows several involving Chinese theft of US aerospace secrets, including from GE Aviation, that were driven in part by Chinese government intelligence agents.
By Idrees Ali
LONDON (Reuters) – U.S. Defense Secretary Mark Esper said on Thursday he currently had no plan on his desk to seize the Iranian oil tanker Adrian Darya 1, which is at the center of a dispute between Tehran and Western powers.
The tanker, which is loaded with Iranian crude oil, appears to have turned off its transponder in the Mediterranean west of Syria.
The vessel, formerly named Grace 1, was detained by British Royal Marine commandos off Gibraltar on July 4 as it was suspected to be en route to Syria in violation of European Union sanctions.
Gibraltar released the Iranian vessel on Aug. 15 after receiving formal written assurances from Tehran that the ship would not discharge its 2.1 million barrels of oil in Syria.
"We do not talk about plans, but currently I have no plan right now sitting on my desk to do such a thing," Esper told reporters in London when asked if there was any plan to seize the ship.
Washington has warned any state against assisting the ship, saying it would consider that support for a terrorist organisation, namely, Iran's Islamic Revolutionary Guard Corps.
U.S. officials have told Reuters that taking any military action like boarding the vessel was not being seriously considered by the United States as it would likely lead to an escalation that would increase tensions.
Esper said he was in favor of efforts by France and other countries to get Iran to hold talks.
"My personal view, but I'm not the lead for this, it's the State Department, is if the French and others can get the Iranians to come to the table to talk, that would be a good thing," he said.
U.S. President Donald Trump on Wednesday left the door open to a possible meeting with Iranian President Hassan Rouhani at the upcoming U.N. General Assembly in New York.
The United States has been pressing Iran with sanctions since last year, when Washington abandoned the Joint Comprehensive Plan of Action, often referred to as the Iran nuclear deal.
While European countries, including France, have been trying to push Iran to remain in compliance with the deal, offering proposals such as a $15 billion credit line for Iran to do so, Trump administration officials said on Wednesday they were skeptical of such maneuvers.
(Reporting by Idrees Ali; Editing by Peter Cooney)
Washington (AFP) – A senior US official personally offered several million dollars to the Indian captain of an Iranian oil tanker suspected of heading to Syria, the State Department confirmed Wednesday.
The Financial Times reported that Brian Hook, the State Department pointman on Iran, sent emails to captain Akhilesh Kumar in which he offered "good news" of millions in US cash to live comfortably if he steered the Adrian Darya 1 to a country where it could be seized.
"We have seen the Financial Times article and can confirm that the details are accurate," a State Department spokeswoman said.
"We have conducted extensive outreach to several ship captains as well as shipping companies warning them of the consequences of providing support to a foreign terrorist organization," she said, referring to Iran's elite Revolutionary Guards.
The Adrian Darya 1 was held for six weeks by the British overseas territory of Gibraltar on suspicion that it was set to deliver oil from Iran to its main Arab ally Syria — a violation of European Union sanctions on President Bashar al-Assad's iron-fisted regime.
Gibraltar released the ship, formerly called the Grace 1, on August 18 over US protests after receiving written assurances that the vessel would not head to countries sanctioned by the European Union.
Iranian Foreign Minister Mohammad Javad Zarif mocked Hook's initiative as he pointed to the Financial Times story.
"Having failed at piracy, the US resorts to outright blackmail — deliver us Iran's oil and receive several million dollars or be sanctioned yourself," Zarif tweeted.
State Department chief spokeswoman Morgan Ortagus hit back using Zarif's exact words, accusing Iran of "outright blackmail" with its call for $15 billion from European powers to be paid back from Iran's future oil sales.
Iran says that, if it receives the credit line, it will come back into full compliance with a 2015 nuclear accord from which US President Donald Trump withdrew.
– No reply from captain –
US authorities said that Kumar, 43, took over as captain in Gibraltar. After he apparently did not respond to the US offer, the Treasury Department on Friday imposed sanctions both on the ship and on Kumar himself, freezing any assets he may have in the United States and criminalizing any US financial transactions with him.
"Any US or foreign persons that engage in certain transactions with designated persons or entities may themselves be exposed to sanctions," the first State Department spokeswoman said.
The Adrian Daya 1 has been elusive since sailing off from Gibraltar, with monitors reporting that it has been moving in the eastern Mediterranean near Lebanon.
The United States also announced Wednesday that it was imposing sanctions on a shipping network alleged to be tied to the Revolutionary Guards — and offering up to $15 million for information that could disrupt the unit's finances.
The shipping network sold more than $500 million this spring, mostly in Syria, according to the Treasury Department.
After pulling from the nuclear accord, the United States has unilaterally threatened sanctions aimed at ending all oil sales by Iran in a bid to diminish the clerical regime's regional influence.
WASHINGTON (Reuters) – The U.S. Commerce Department said on Wednesday it imposed duties on Chinese and Mexican structural steel after making a preliminary determination that producers in both countries had dumped fabricated structural steel on the U.S. market at prices below fair market value.
The department said it imposed duties of up to 141% on Chinese structural steel and up to 31% on Mexican structural steel and will begin collecting cash deposits for imports based on those rates.
Commerce said it had found that imports of Canadian fabricated structural steel did not violate U.S. anti-dumping laws.
Most Chinese steel products have largely been excluded from the U.S. market by prior Commerce Department anti-dumping duties and President Donald Trump's 25 percent punitive tariffs. The latest order seeks to prevent Chinese downstream structural steel assemblies from skirting those duties and entering the United States.
Commerce found that one Chinese producer, Modern Heavy Industries (Taicang) Co Ltd, did not dump product into the United States, but it imposed dumping rates of 52% on Wison (Nanton) Heavy Industry Co Ltd and up to 141% on other Chinese fabricators.
The department is scheduled to release final anti-dumping duties in its fabricated structural steel investigation on or about Jan. 24, 2020. The U.S. International Trade Commission needs to find that American steel fabricators suffered injury from Chinese and Mexican imports for the duties to be locked in place for a five-year period.
Mexico's Economy Ministry said the duties imposed on some Mexican structural steel are part of a "normal investigation … when an industry feels it is being affected by imports that use unfair practices, such as dumping or subsidies."
The Economy Ministry said it would continue to support the affected Mexican firms.
It also underscored that the new duties have no relation to 25% tariffs on imported steel and 10% tariffs on imported aluminium that Trump imposed in March 2018 based on national security grounds. Mexico was exempted from those tariffs in May.
In 2018, U.S. imports of fabricated structural steel were valued at from $722.5 million from Canada, $897.5 million from China, and $622.4 million from Mexico, Commerce said.
The products covered by the investigation are prefabricated from beams, girders, columns plates and flanges for erection or assembly into structures, such as buildings, parking decks, hospitals, arenas and ports. The investigation excludes concrete reinforcing bar structures, steel bridge sections, pre-fabricated steel buildings and steel utility poles, among other products.
(Reporting by Eric Beech and David Lawder; Editing by Mohammad Zargham and Leslie Adler)
U.S.
Woman sets herself on fire after being charged for illegally entering football match in Iran
An Iranian woman has set herself on fire outside a court in Tehran after being tried for resisting arrest by morality police for trying to enter a football stadium disguised as a male spectator.
According to Rokna news agency, the woman, named only as Sahar, has been taken to a local hospital with life-threatening burns.
A spokesperson for Iran's judiciary has said the woman "had been engaged in a physical confrontation with security forces in February" after resisting arrest on charges of and insulting police and bad-hejabi, refusing to abide by strict Muslim dress codes.
She had been detained but later released to appear in court on charges of "insulting the public by defying the dress code for women", according to court papers.
Ahead of a court hearing on Monday she says she was told by a source that she faces six months in prison. She asked the judge to postpone her trial so she could attend a funeral. When she came out of the building she set herself on fire in front of the usually crowded complex that houses several courts.
Since the Islamic Revolution in 1979 Iranian women have been banned from attending football stadiums as the clerical regime regards watching men playing football in shorts "promoting promiscuity".
Dr. Mustafa Dehmardi, the head of accident and emergency at Motahari hospital in Tehran, told Rokna news agency that Sahar had burns caused by petrol fire on 90 per cent of her body. She is currently in the hospital's intensive care unit.
Iranian women's rights activists have long been campaigning to enter sports stadiums, and in recent years they have been allowed to attend volleyball matches only if accompanied by their spouses in designated areas.