California To Launch Statewide Earthquake Warning Alert System Sarah Ruiz-Grossman,HuffPost
California To Launch Statewide Earthquake Warning Alert SystemOn Wednesday, California officials announced the launch of the nation's first statewide early warning system for earthquakes.The system, called ShakeAlert, will officially debut on Thursday, according to the California Governor's Office of Emergency Services. The date marks the 30th anniversary of the deadly Loma Prieta earthquake in San Francisco, which killed 63 people, injured nearly 4,000 and left thousands more homeless.The system will use sensors to detect earthquakes before people feel them, and notify potentially affected residents through a smartphone app called MyShake.While scientists cannot predict the timing or location of earthquakes, the system is meant to detect an earthquake once it starts and warn affected residents before stronger shaking hits. The warning time would be a matter of seconds, according to the ShakeAlert website.Officials advised residents who get warnings to "drop, cover and hold on." Alerts will only go out if the quake is of a high enough magnitude and would be likely to produce significant damage.Several earthquakes shook California in recent days, including a 4.5 magnitude quake in the San Francisco Bay Area on Monday. (There was no significant damage reported.)
Cal OES@Cal_OES Last night's M4.5 earthquake in Pleasant Hill is another reminder of the hazards we face in California. Plan now for the next disaster. Be prepared and stay alert. (Photo: 2019 Ridgecrest Earthquake) https://www.caloes.ca.gov/individuals-families …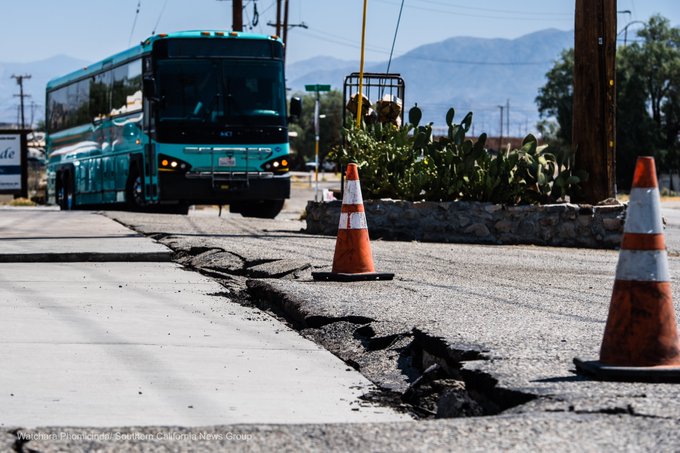 There are limits to the warning system, its website warns, noting that "no system is perfect." It specifies that "significant" warning would be hard at the epicenter of a quake, and it could fail to send warnings or send some for earthquakes that are too small to cause any real damage.Researchers have been developing the early warning system for the state for more than a decade. Los Angeles began using a related app earlier this year but did not send out alerts after big quakes in the area over the summer, as the estimated damage wasn't high enough to meet the warning threshold.Researchers have been developing the early warning system for the state for more than a decade. Los Angeles began using a related app earlier this year but did not send out alerts after big quakes in the area over the summer, as the estimated damage wasn't high enough to meet the warning threshold. Two strong quakes shook Southern California in July: A 6.4 magnitude earthquake on the Fourth of July near Ridgecrest, followed by a 7.1 magnitude event in the same area the next day. The shakes were felt by millions, including people in Los Angeles and Las Vegas, but caused minor damage. Californians are always on alert for quakes and are particularly wary of the notorious "big one" predicted to one day hit the Los Angeles or San Francisco Bay area. "It is a certainty that California will experience large and potentially damaging earthquakes in the coming years," Robert Graves, a research geophysicist at the USGS, told HuffPost in July, noting that there are multiple active faults in California along which quakes can occur. If you live in California, prepare before the next earthquake hits by building an emergency kit and practicing how to "drop, cover and hold on."
US weather: 'Bomb cyclone' expected to lash northeast with fierce winds and rain Lily Puckett,The Independent
Getty Images A potential bomb cyclone is expected to hit the Northeast of the US Wednesday, according to the National Weather Service in Boston.New York City, Boston, and Maine will be affected, among other New England locations. It follows last week's storm in the same area, which brought strong winds to beach's along the East Coast.The storm began intensifying Wednesday morning, and the pressure of its system is expected to drop more than 30 millibars in 24 hours, creating the aptly named bomb cyclone.A potential bomb cyclone is quickly taking shape along the eastern seaboard and is getting ready to wallop the Northeast. The storm is expected to begin rapidly intensifying later Wednesday morning.Winds could reach tropical-storm force, with particularly high gusts in Boston and New York City.Some areas are at risk of winds reaching over 60 miles per hour, which could potentially bring down trees and power lines.Strong winds are expected to hold through Friday evening.Extreme rainfall is also probable, and may lead to flooding. In parts of New England, 2-4 inches of rain are expected. Rain will diminish on Thursday.Flight delays and cancellations are expected throughout New England on Thursday and Friday.Despite the time of year, some snow may also appear in upstate New York.Read more What is a bomb cyclone?
One of the most highly anticipated astronomical events of the year is less than a month away, and if you want to see it with your own eyes, you will need to start preparing for it now.
A rare astronomical alignment known as a Mercury Transit will occur on Monday, Nov. 11, and will be visible across almost all of North America, South America, Europe, Africa and western Asia.
Similar to a solar eclipse, a transit is when a planet passes directly between the Earth and the sun. Transits are rare and only occur about 13 times every 100 years, with the next one not happening until Nov. 13, 2032.
However, to see the transit of Mercury next month, spectators will need the proper solar filter to safely look at the sun, as well as cloud-free weather.
This composite image of observations by NASA and the ESA's Solar and Heliospheric Observatory shows the path of Mercury during its November 2006 transit. On Monday, May 9, 2016, the solar system's smallest, innermost planet will resemble a black dot as it passes in front of the sun. NASA says the event occurs only about 13 times a century. (Solar and Heliospheric Observatory/NASA/ESA via AP)
Looking at the sun without the proper protection can lead to permanent eye damage, including distorted vision or loss of vision all together.
Following the 2017 total solar eclipse, there were reports from people across the country that their eyes hurt from looking at the sun, including one woman who had her retinas burned from observing the event without protective eyewear.
"This damage can be temporary or permanent and occurs with no pain. It can take a few hours to a few days after viewing the solar eclipse to realize the damage that has occurred," Prevent Blindness explained on their website. Prevent Blindness is an organization that works to prevent blindness and preserve sight by informing the public.
Similar to a total solar eclipse, onlookers will need specially made solar filters, such as eclipse glasses, to safely observe the Transit of Mercury.
People should order these solar filters now from a reputable vendor that meets the international safety standards so that they arrive in time for the transit on Nov. 11.
A new radar system will track 250,000 tiny pieces of space junk. It may help prevent snowballing collisions that could cut off our access to orbit.
LeoLabs
A new radar array in New Zealand will track an estimated 250,000 tiny objects that orbit Earth at high speeds and could threaten satellites and astronauts.
It will be the first commercial system to track bits of space debris smaller than 10 centimeters wide, and as small as 2 centimeters.
Tracking these objects can help prevent catastrophic collisions and stave off a potential series of snowballing crashes known as a Kessler event. Such a disaster could cut off human access to space for hundreds of years.
The data could also eventually support debris clean-up efforts.
For the first time, space companies can track tiny bits of dangerous space junk that orbit the planet and menace satellites.
A new radar system from the company LeoLabs is expected to track an estimated 250,000 dangerous objects smaller than 10 centimeters (4 inches) wide that orbit Earth. It's the first commercial device to track debris that small, though it joins a larger radar network that LeoLabs runs to provide real-time data about objects in low-Earth orbit. (That's the zone where most human-made space objects are clustered.)
That data that LeoLabs collects can help satellite operators and government agencies, like NASA and JAXA (Japan's space agency), avoid catastrophic collisions with space debris.
It could also help prevent a scenario in which the orbital junk gets out of control and cuts off our access to space for hundreds of years.
"Nobody is telling you where the debris is, what's the likelihood it's going to hit your satellite. So we wanted to create that service," Dan Ceperley, LeoLabs' co-founder and CEO, told Business Insider. "If it hits your satellite, it can shatter your satellite. So not only is your satellite gone, but now you've got a cloud of debris that is threatening your other satellites and threatening other people's satellites."
LeoLabs is based in Menlo Park, California, though its new device is in New Zealand. It will make data about an estimated 250,000 bits of tiny space junk available to private companies for the first time.
Scientists discovered a phenomenon in which a strong storm causes seismic events in the seafloor – some of which are as strong as a magnitude 3.5 earthquake.
"We're calling them 'stormquakes,' " said Florida State University atmospheric scientist Wenyuan Fan, the lead author of a new study about them.
"During a storm season, hurricanes or nor'easters transfer energy into the ocean as strong ocean waves, and the waves interact with the solid earth, producing intense seismic source activity," he said in a statement.
The shaking of the seafloor during a big storm can last for hours or even days, according to the study, which was published this week in the journal Geophysical Research Letters.
The quakes are fairly common, but they weren't noticed before because they were considered seismic background noise. They aren't dangerous.
"This is the last thing you need to worry about," Fan said.
'Bomb cyclone' coming: Powerful coastal storm known as a 'bomb cyclone' will blast the Northeast from New York to Maine
Fan and his colleagues studied seismic and oceanographic records from 2006 to 2019 and found a connection between strong storms and intense seismic activity near the edges of continental shelves or ocean banks.
Researchers found evidence of more than 10,000 stormquakes during those years offshore of New England, Florida and in the Gulf of Mexico in the USA, as well as offshore of Nova Scotia, Newfoundland and British Columbia in Canada.
One example the researchers cited was Hurricane Bill, an Atlantic storm in 2009 that strengthened into a Category 4 hurricane and struck Newfoundland as a tropical storm. When the hurricane arrived, numerous seismic events were located off the New England and Nova Scotia coasts
The study said Hurricane Ike in 2008 and Hurricane Irene in 2011 also produced stormquakes.
There is still more to learn about stormquakes, Fan said.
"We have lots of unknowns. We weren't even aware of the existence of the natural phenomenon. It really highlights the richness of the seismic wave field and suggests we are reaching a new level of understanding of seismic waves," he said.
Contributing: The Associated Press
NEW ORLEANS (AP) — A tropical disturbance over Mexico's Yucatan Peninsula was being eyed Tuesday by New Orleans authorities, who fear it could become a tropical depression or storm that would topple a partially collapsed building and two huge construction cranes onto neighboring buildings at the edge of the city's historic French Quarter.
It was the latest grim news delivered near the site where two people died Saturday morning as the upper floors of a hotel under construction came tumbling down in a cloud of blinding dust. One body remained in the rubble Tuesday evening and hopes that a missing worker will be found alive in the wreckage were dimming after four days of risky searches.
Fire Chief Tim McConnell said searchers using dogs and high-tech equipment were able to get a partial view of the body known to be in the building but were unable to reach it or find the missing worker. Searchers found an unidentifiable fluid in the area that they collected. It will be tested to determine if it was from a human body and whether it could be used to identify either victim.
Meanwhile, a viable plan remained elusive for stabilizing the remains of the building and two badly damaged cranes towering over the site — one McConnell estimated at close to 270 feet (82 meters) high, the other around 300 feet (91 meters) .
The city's initial plan to bring in other huge cranes to try to remove the existing ones was nixed by engineers, McConnell said. An idea to try to attach one of the cranes back to the building to try to stabilize it also was rejected. "They were against moving it in any way, shape or form and didn't believe it was safe enough to even work around it," he said.
McConnell, accompanied by New Orleans Homeland Security Director Collin Arnold, Mayor LaToya Cantrell and other city officials, said authorities are satisfied that a blocks-long evacuation area around the damaged structures is sufficient, if obeyed, to keep anyone else from being harmed if the structures fall.
But, if no way is found to stabilize the building and cranes, neighboring buildings and infrastructure at the intersection of usually busy Canal and Rampart streets are in danger of disastrous damage.