Massive winter storm packing 'heavy' snow targets Upper Midwest, Great Lakes and Northeast  byDoug Stanglin, USA TODAY,USA TODAYA massive winter storm that halted all flights in and out of Chicago's O'Hare airport for hours was expected to produce moderate to heavy snow and dangerous travel conditions over much of the Upper Midwest, Great Lakes and Northeast into Sunday.The National Weather Service warned of a "widespread footprint of heavy snows" up to a foot as the storm spread into central and northern New England."This storm has the potential to produce widespread hazardous conditions across much of the northeastern quarter of the nation over the next day and a half," the weather service said.Winter storm warnings were in effect in parts of upstate New York, Massachusetts and northern Connecticut, including some Boston suburbs to the west and northwest.Snow was forecast along the Interstate 95 corridor from Washington to Boston on Saturday, shifting to freezing rain and some sleet, with most precipitation south of New York City expected to end by Saturday night.A swath from Northern Rhode Island to northeastern Massachusetts was expected to get from 2 to 4 inches of snow through Sunday afternoon, according to the NWS in Boston.As the storm hovered over the nation's mid-section, up to 7 inches of snow had accumulated in parts of Iowa by Friday night and up to 5 inches fell in parts of central Nebraska, western Iowa and  Missouri.In western Iowa, a pickup truck slid off the road and barreled toward a delivery truck. No one was injured in the heart-stopping incident that was captured on video by a camera inside the delivery truck.
Iowa State Patrol@iowastatepatrolShocking video today from a delivery truck on I-80 in Western Iowa. The AMCON Distributing driver, State Trooper, & occupants in the pickup truck were not seriously injured.If you have to be out driving during inclement weather- slow down and be aware of the road conditions.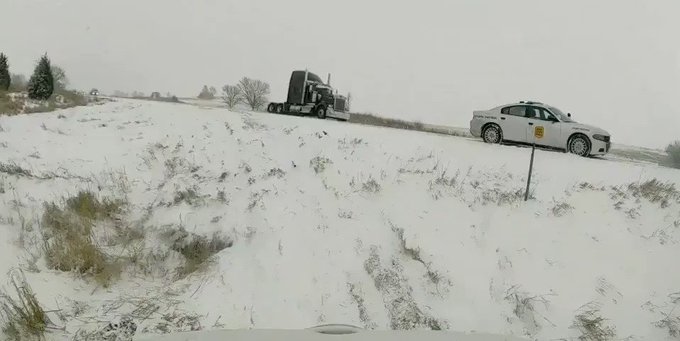 One leg of the storm brought a wintry mix to parts of the mid-Atlantic early Saturday, producing slick driving conditions.Strong winds on the northwest side of this storm were expected to produce blizzard conditions into Saturday afternoon across the eastern half of North Dakota, the eastern half of South Dakota, far western Minnesota and northwest Iowa.The winds could gust to over 50 mph, producing considerable blowing and drifting of snow and life threatening travel conditions, forecasters said.In Kansas, Gov. Laura Kelly closed state offices in the Topeka area, urging people in a news release to "stay safe and warm, exercise caution and allow road crews to do their job."Weather: Delta plane slides off taxiway amid winter storm; airlines issue travel advisories into weekendIn Chicago, the Federal Aviation Administration lifted the flight stoppage at O'Hare on Friday night, but not before hundreds of flights were canceled at one of the nation's busiest airports.At 9 p.m., the Chicago Department of Aviation reported nearly 690 flights had been canceled at O'Hare, with 169 flights canceled at Midway, the city's other international airport. A winter weather advisory was issued for the Chicago area through early Saturday, with 2 to 5 inches of snow expected.The icy conditions also caused a plane to slide off a taxiway at Kansas City International Airport earlier Friday as it was taxiing to be de-iced before flying to Detroit. There were no reports of injuries aboard the plane.Nearly 90 flights to or from Kansas City International Airport were canceled Friday afternoon before of the wintry conditions.Contributing: Associated Press
This article originally appeared on USA TODAY: Winter storms hit Chicago, Iowa; warnings in effect New York, Boston
U.S.
Puerto Rico disaster agency boss sacked over discovery of unused Hurricane Maria supplies  by
Peter Stubley
The Independent
Residents take shelter in Ponce, Puerto Rico, after the powerful earthquakes in January: AFP via Getty Images The head of 
Puerto Rico
's emergency agency has been sacked following the discovery of a warehouse filled with supplies dating back to 
Hurricane Maria
.Governor Wanda Vazquez said the goods had sat unused since the September 2017 disaster, which killed an estimated 3,000 people.She ordered an investigation and described the inaction of Carlos Acevedo, the director of the office of emergency management (NMEAD), as "unacceptable"."There are thousands of people who have made sacrifices to help those in the south, and it is unforgivable that resources were kept in the warehouse," the governor said.Ms Vazquez nominated Jose Reyes, who oversees the National Guard in Puerto Rico, as the new commissioner for the agency.A group of angry citizens broke into the warehouse in the southern coastal city of Ponce before the governor made the announcement.Hours before his dismissal, Mr Acevedo had rejected claims that supplies were being wasted after a video showed thousands of bottles of water stacked in the warehouse."The citizen who entered today to share the images on social networks, violated the security perimeter, which represented a risk for him," he said in a statement."For this reason, our colleagues instructed him to leave the area."The US territory is still recovering from 6.4 magnitude 
earthquake
 earlier this month which left one person dead and caused an estimated $200m (£154m) in damage.More than 7,000 people remain in shelters since the quake, which is said to have been the biggest to hit the island in a century.
Additional reporting by Associated Press 
A plane slid off the runway and more than 800 flights were canceled as winter weather hit the Midwest
Winter storms wreaked havoc on airports and roads throughout the Midwest into the weekend.
Chicago's O'Hare International Airport saw nearly 700 canceled arriving and departing flights Friday night before around 200 flights were canceled Saturday morning.
Authorities issued alerts for areas across the Northeast as blizzard conditions were forecasted to move across the Great Lakes to New York and New England over the weekend.
A plane slid off the runway at Kansas City International Airport on Saturday as dicey conditions struck airports and roads across the Midwest.A Delta Airlines A319 slid off the runway while preparing to take off, but none of its 123 passengers were hurt, Kansas City's KMBC reported, in one of the most dramatic incidents to come out of the weekend's winter weather. The conditions at the airport came after storms interrupted flights at airports in Chicago and Kansas City before blizzard conditions were forecasted to move through the Midwest to dump up to a foot of snow in patches across the Northeast through the weekend, according to the Associated Press.Authorities halted flights at Chicago's O'Hare International Airport after the hub saw nearly 700 canceled arriving and departing flights Friday night. The chaos continued into the weekend as around 200 flights were canceled Saturday morning.The National Weather Service issued a series of winter weather advisories advising travelers to avoid hazardous travel conditions from the Plains into the Northeast through the weekend.
National Weather Service@NWSA sprawling winter storm will continue to produce blizzard conditions, areas of moderate to heavy snow and freezing rain through Saturday. Check http://weather.gov  for local impacts.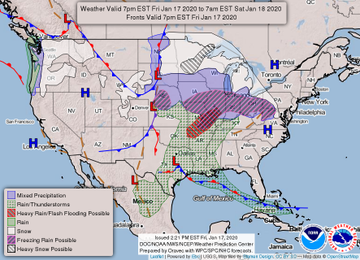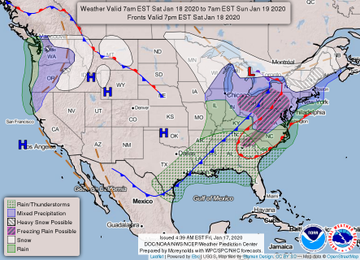 Winter weather advisories were also issued for New York City and southeastern New England as authorities expected heavy snow, with areas of Connecticut, Rhode Island, and Massachusetts expecting around six inches and parts of New York predicted to see around one foot, according to the AP.As the East Coast gears up for freezing conditions, forecasters also warned of blizzard conditions and high winds expected to hit parts of North Dakota, South Dakota, Minnesota, and Iowa Saturday afternoon. The storm came on the heels of a bomb cyclone that initially struck the Northwest with heavy snow and rain, pounding areas around Seattle, Washington, and Portland, Oregon.
Newfoundland reeling after blizzard buries capital  by Associated Press
Winter Weather Canada A man walks down the middle of New Gower St. as snow falls in St. John' Newfoundland on Friday, Jan. 17, 2020. The city has declared a state of emergency, ordering businesses closed and vehicles off the roads as blizzard conditions descend on the Newfoundland and Labrador capital. *Andrew Vaughan/The Canadian Press via AP)ST. JOHN'S, Newfoundland (AP) — Canada's weather agency ended a blizzard warning for the St. John's, Newfoundland, area on Saturday, but a rare state of emergency and storm surge warning remained in effect following a monster storm that buried Newfoundland's capital city.The intense snowfall that brought St. John's and many other communities to a standstill on Friday slowed overnight, according to Environment Canada.At the peak of the storm, which some described as being like a blizzard in a hurricane, even snowplows were pulled off roads due to near zero visibility conditions. However, plowing operations in St. John's resumed overnight.But with more than 70 centimeters (2.3 feet) of new snow on the ground in some areas, and strong winds piling up drifts, roads were likely to remain treacherous.Blizzards are common in Newfoundland but strong winds and the amount of snow that fell and the fact that there was already a lot snow on the ground made this unique.There have also been widespread power outages. Overnight Newfoundland Power said its crews were working to restore electricity for about 21,000 customers.The city of St. John's, as well as several nearby communities, declared states of emergency late Friday morning, ordering businesses closed and all non-emergency vehicles off the roads.A statement issued by the city of St. John's on Saturday morning said the state of emergency "will remain in effect until further notice."Digging out from the monster storm is likely to take several days, if not longer, and Prime Minister Justin Trudeau has tweeted that the federal government stands ready to help Newfoundland and Labrador "if needed."St. John's Mayor Danny Breen thanked the federal government for receiving short term permission to dump snow in St. John's harbor.Blizzard and storm surge warnings remain in effect in other areas of eastern Newfoundland and Labrador.Air traffic in the region was shut down Friday, and all but a handful of flights at St. John's International Airport remained cancelled Saturday morning.Municipal officials had advised residents of St. John's to prepare emergency kits with enough supplies to last for at least 72 hours.Authorities have also been urging residents to keep in contact with elderly neighbors and to continuously stay in touch with people if travelling in case of an emergency.