Democrats Demand White House Turn Over Ukraine Testimony From Pence Aide  by Nick Visser,HuffPost
Democrats Demand White House Turn Over Ukraine Testimony From Pence Aide Democrats on Wednesday demanded the White House declassify a document from one of Vice President Mike Pence's aides who listened in on his call last year with the president of Ukraine, arguing that the public would be able to learn more about White House attempts to pressure the country for a political favor if the document is made public.The party's House impeachment managers argued Wednesday before the Senate that the document — supplemental material provided to the House by Jennifer Williams, a special adviser on Europe and Russia to Pence — should not be classified and alluded that the vice president's office was attempting to conceal it because it was embarrassing."This supplemental testimony will allow the Senate to see further corroborative evidence as it considers articles of impeachment," a Democratic official working on the Senate trial said in a statement to reporters. "If declassified, it would provide the public further understanding of the events in question."Pence spoke with Ukrainian President Volodymyr Zelensky on Sept. 18, and Williams testified that it was a "very positive" follow-up to a meeting the pair had earlier that month. But House Intelligence Committee Chairman Adam Schiff (D-Calif.) said in December that Williams provided lawmakers additional classified evidence about the Pence phone call after that deposition. Schiff called on Pence at the time to make public the document, saying there was "no legitimate basis" for the vice president to assert it was classified.

House Intelligence Committee@HouseIntel Despite repeated Congressional requests, Vice President Pence has refused to declassify his aide Jennifer Williams' additional testimony.
"I've read that testimony. And I'll just say: A cover up is not a proper reason to classify a document." –@RepZoeLofgren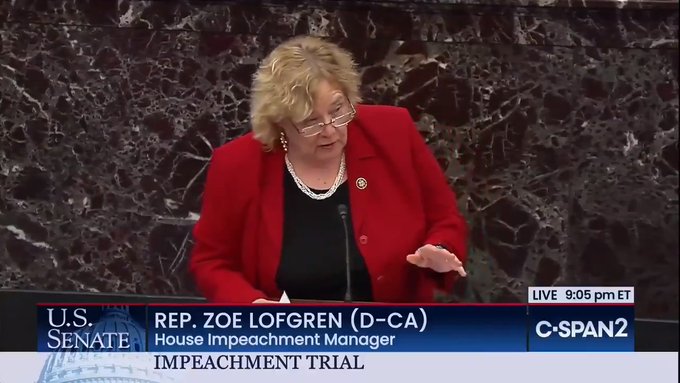 It's unclear what is in the document, but Rep. Zoe Lofgren (D-Calif.), one of the party's impeachment managers who has reviewed it, alluded that its contents contained damaging information about the call between Pence and the Ukrainian president."Now I've read that testimony. Now I'll just say: A cover-up is not a proper reason to classify a document," Lofgren said during the Democrats' oral arguments on Wednesday. "We urge the senators to review it, and we ask again that the White House declassify it. There is no basis to keep it classified, and again, in case the White House needs a reminder, it's improper to keep something classified just to avoid embarrassment."Lofgren continued to note that Pence has said he has no objection to the White House releasing the full transcript of his call with Zelensky. But despite that assertion, his office has refused multiple times to declassify Williams's supplemental testimony about the call.At the end of the Democrats' first day of oral arguments, Chief Justice John Robert said a "single one-paged classified document identified by the House managers for filing with the secretary of the Senate" would be made available to all senators to review in a classified setting.But Democrats have continued to call for its public release.Trump's pressure campaign was the basis for two articles of impeachment passed by the House last month charging abuse of power and obstruction of Congress. The Senate is holding a trial on those articles to determine if he should be removed from office.As part of the House investigation, lawmakers heard from a parade of current and former White House officials who described Trump's demand that the Ukrainian leader announce an investigation into a political rival, Joe Biden, and his son Hunter.Williams was one of a handful of national security aides who listened in on Trump's July 25 call with Zelensky in real time, and she told House lawmakers in closed-door testimony that she believed President Donald Trump's pressure campaign was "unusual and inappropriate.""I found the specific references to be — to be more specific to the president in nature, to his personal political agenda, as opposed to a broader … foreign policy objective of the United States," Williams told House investigators, according to a transcript from her deposition.
Trump minimizes severity of head injuries in Iran attacks  BY  JILL COLVIN,Associated PressTrump downplays brain risk of 11 U.S. service members in Iran's recent attack WASHINGTON (AP) — President Donald Trump on Wednesday minimized the severity of head injuries sustained by U.S. troops during an Iranian missile strike on an Iraqi air base as he was pressed on why he'd claimed no troops had been injured in the attack."I heard they had headaches and a couple of other things … and I can report it is not very serious," Trump said at a press conference in Davos, Switzerland, arguing that potential traumatic brain injuries are less severe than, say, missing limbs."No, I don't consider them very serious injuries relative to other injuries that I've seen," the Republican president said. "I've seen what Iran has done with their roadside bombs to our troops. I've seen people with no legs and with no arms. I've seen people that were horribly, horribly injured in that area, that war.""No, I do not consider that to be bad injuries, no," he added.In addition to the 11 service members who were flown out of Iraq on Jan. 10 and Jan. 15 for further examination of concussion-like symptoms, defense officials said that about 10 more were flown to Germany in recent days. Most were being treated for symptoms related to possible traumatic brain injury; a smaller number may have been suffering from psychological trauma, according to two defense officials who discussed the matter on condition of anonymity.The exact nature and severity of the apparent brain injuries has not been publicly released.Trump has repeatedly claimed that no Americans were harmed in the Iranian missile strikes on Jan. 8, which came in retaliation for a U.S. drone strike that killed Qassem Soleimani, Iran's most powerful military generaThe question of American casualties was especially significant at the time because Trump cited the fact that no Americans were killed or inured as driving his decision not to retaliate further and risk a broader war with Iran.But in the days following the attack, medical screening determined that some of the U.S. troops who took cover during the attack were suffering from concussion-like symptoms. Last week, 11 U.S. service members were flown from Iraq to U.S. medical facilities in Germany and Kuwait for further evaluation of concussion-like symptoms.
Iran uses violence, politics to try to push US out of Iraq by DAVID RISING,Associated PressBEIRUT (AP) — Iran has long sought the withdrawal of American forces from neighboring Iraq, but the U.S. killing of an Iranian general and an Iraqi militia commander in Baghdad has added new impetus to the effort, stoking anti-American feelings that Tehran hopes to exploit to help realize the goal.The Jan. 3 killing has led Iraq's parliament to call for the ouster of U.S. troops, but there are many lingering questions over whether Iran will be able to capitalize on the sentiment.An early test will be a "million-man" demonstration against the American presence, called for by influential Shiite cleric Moqtada al-Sadr and scheduled for Friday.It is not clear whether the protesters will try to recreate a New Year's Eve attack on the U.S. Embassy compound in Baghdad by Iran-supported militias in the wake of U.S. airstrikes that killed 25 militiamen along the border with Syria. Iran might simply try to use the march to telegraph its intention to keep up the pressure on U.S. troops in Iraq.But experts say Iran can be counted on to try to seize what it sees as an opportunity to push its agenda in Iraq, despite an ongoing mass uprising that is targeting government corruption as well as Iranian influence in the country."Iran is unconstrained by considerations of Iraqi sovereignty, domestic public opinion, or legality when compared to the Western democracies," said David Des Roches, an expert with The Arab Gulf States Institute in Washington. "This is Iran's strategic advantage; they should be expected to press it."A withdrawal of U.S. troops from Iraq would be a victory for Iran, and Tehran has long pursued a two-pronged strategy of supporting anti-U.S. militias that carry out attacks, as well as exerting political pressure on Iraqi lawmakers sympathetic to its cause.Despite usually trying to keep attacks at a level below what might provoke an American response, Iran-backed Kataib Hezbollah fired a barrage of rockets at a military base in Kirkuk in December, killing a U.S. contractor and wounding several U.S. and Iraqi troops. The U.S. responded first with deadly airstrikes on Iran-affiliated militia bases in western Iraq and Syria, then followed with the Jan. 3 drone attack that killed Gen. Qassem Soleimani, Iran's most powerful military officer, along with Iraqi militia commander Abu Mahdi al-Muhandis as they left Baghdad's airport.The severity of the U.S. response surprised Iran and others, and it had the unanticipated result of bolstering Tehran's political approach by prompting the Iraqi parliament to pass the nonbinding resolution pushed by pro-Iran political factions calling for the expulsion of all foreign troops from the country. In response, President Donald Trump has threatened sanctions on Iraq."What they want to do is get rid of U.S. troops in what they see as a legitimate political manner," said Dina Esfandiary, a London-based expert with The Century Foundation think tank. "If Iraqis themselves are voting out U.S. troops, it looks a lot better for Iran than if Iran is a puppet master in Iraq trying to get rid of them — and on top of that it would be a more lasting decision."The legitimacy of the resolution is a matter of dispute. Not only was the session boycotted by Kurdish lawmakers and many Sunnis, but there also are questions of whether Prime Minister Abdel Abdul-Mahdi has the ability to carry it out. Abdul-Mahdi resigned in November amid mass anti-government protests but remains in a caretaker role.U.S. Secretary of State Mike Pompeo bluntly rejected the call for the troops' removal, instead saying Washington would "continue the conversation with the Iraqis about what the right structure is."Abdul-Mahdi strongly supported the resolution, but since then has said it will be up to the next government to deal with the issue, and there are indications he has been working behind the scenes to help keep foreign troops in the country.After closed-door meetings with German diplomats last week, German Foreign Minister Heiko Maas said the prime minister had assured them that he had "great interest" in keeping the Bundeswehr military contingent and others part of the anti-Islamic State coalition in Iraq.The U.S., meantime, said it had resumed joint operations with Iraqi forces, albeit on a more limited basis than before.Trump met Iraqi President Barham Saleh on Wednesday on the sidelines of the World Economic Forum in Davos Switzerland, and said Washington and Baghdad have had "a very good relationship" and that the two countries had a "host of very difficult things to discuss." Saleh said they have shared common interests including the fight against extremism, regional stability and an independent Iraq.Asked about the plan for U.S. troops in Iraq, Trump said, "We'll see what happens."In a sign that bodes well for NATO's continuing mission in the country, Iraq's deputy foreign minister went to Brussels last week for talks with Secretary General Jens Stoltenberg on the alliance's presence in Iraq.The mixed message of publicly calling for the troops to go but privately wanting them to stay is an indication of Iran's strong influence, particularly among its fellow Shiite Muslims, Des Roches said."For any Iraqi politician in Baghdad — particularly a Shia politician — to defy Iran openly is to risk political as well as physical death," he said. "So we shouldn't be surprised if the public and the private lines espoused by Iraqi politicians differ."American forces withdrew from Iraq in 2011 but returned in 2014 at the invitation of the government to help battle the Islamic State after the extremist group seized vast areas in the north and west of the country. A U.S.-led coalition provided crucial air support as Iraqi forces, including Iran-backed militias, regrouped and drove IS out in a costly three-year campaign. There are currently some 5,200 American troops in the country.Even before the drone strike, there were growing calls in nationwide protests across sectarian lines, which started in October centered in Baghdad's Tahrir Square, for the end of all foreign influence in the country. The demonstrations also targeted government corruption and poor public services.The rejection of Iranian influence over Iraqi state affairs has been a core component of the movement, and pro-Iranian militias have targeted those demonstrations along with Iraqi security forces, killing hundreds and injuring thousands. Protesters fear that with the focus on the push for the U.S. troop withdrawal in response to the attack that killed Soleimani, they may be even easier targets for those forces and that their message will be lost."I think Iraq has had enough of having to deal with the Americans and the Iranians alike," Esfandiary said. "But the assassination of al-Muhandis, almost more so than Solemani, was such a glaring oversight of sovereignty and of all agreements they had signed on to with the U.S. in terms of the U.S. presence in Iraq, that it has kind of taken some of the attention away from Iran, to Tehran's delight."Friday's march called for by al-Sadr is expected to redirect the focus onto the U.S. troops. The cleric, who also leads the Sairoon bloc in parliament, derives much of his political capital through grassroots mobilization.The Tahrir Square protesters initially rejected that call, saying they want the escalating conflict between Iran and the U.S. off of Iraqi soil.Since then, al-Sadr has reached out to them directly, saying the demonstrations against the government and against the American troops are "two lights from a single lamp," and it is not yet clear whether that might convince them to participate in the march._Associated Press writers Darlene Superville in Davos, Switzerland, and Samya Kullab in Baghdad contributed to this story.
Prince Harry and Meghan Markle will relinquish royal duties starting this spring and plan to split their time between the UK and Canada.
That means their son, Archie, will likely grow up around peers and playmates who have primarily Canadian accents.
Archie will likely have a Canadian accent, an expert told Insider, although it's possible he could develop a hybrid Canadian/English accent.
Since even before Prince Harry and Meghan Markle announced their plans to step back from the royal family and split their time between Canada and the UK, the public has wondered about their son's voice.
Would Archie speak the Queen's English? Could he inherit his mother's California accent? Would it be possible for Archie to sound like a mix of both his parents?
Now that Archie will likely spend a significant amount of his childhood in Canada, a linguistic expert said it's become more complicated.
"There are many variables," Jack Chambers, a Canadian linguist and professor of linguistics at the University of Toronto, told Insider. "But one thing is certain — Archie will sound different from both his mom and his dad."
DANIEL LEAL-OLIVAS – WPA Pool/Getty Images
If he spends significant time in Canada, Archie will likely "sound" Canadian
Chambers told Insider that factors like place of schooling, friends' accents, and whether or not Archie receives elocution training will have large roles in the evolution of his accent. With Canadian, English, and American accents all at play, according to Chambers, there are a few accents Archie could end up speaking with, although a Canadian accent is most likely.
And while speculation before Harry and Meghan's bombshell announcement of their move to Canada was that Archie would probably have an English accent similar to his father's, now, Chambers said, Archie is more likely to sound like Meghan.
"If their son, Archie, is mainly raised in Canada and attends playgroups, schools, birthday parties, and sports activities with mainly Canadian kids, he will sound like them," Chambers said. This means that Archie will say "aboot" for "about" and "oot" for "out," which is known as Canadian raising.
Unlike his British father, but like his American mother, Archie will be likely to say the "t" sound in words like "metal" and the "r" sound in words like "car," Chambers told Insider.
He added that if Archie goes to school in Canada and spends time with Canadian peers, it's likely that he'll use Canadian vocabulary, which is identical to his mother's American vocabulary,  instead of British vernacular. For example, Archie would be more likely to call the front of a car the "hood" instead of the "bonnet" and say "sidewalk" instead of "pavement."
If Archie has speech training, he may speak with a slight English accent
Chris Allerton/ Getty Images
Chambers added that if Archie is raised in Canada but has speech lessons to sound more "British" during his public duties, he could sound Canadian but with some English features. For example, "rather" will come out "RAH-ther" and "whales" will have an "h" sound at the start.
If Archie were to attend school in England, Chambers said he would develop a standard Southern English accent, like that of his cousins, George, Charlotte, and Louis.
"If his best friends are his cousins," Chambers said, "he will probably have a posh version of that accent, at least in public." He said that the indication, though, is that Archie will not be raised among Prince William and Kate Middleton's children.
But Chambers said there's still another way Archie's accent could develop.
It's also possible that Archie could learn to switch between English and Canadian accents
"If Archie is smart enough," Chambers said, "he might even be bidialectal so that when he's in Canada, he sounds more Canadian and when he's in England, he sounds more British."
Chambers said under normal circumstances, a child sounds like their classmates and playmates, which in Archie's case, seem likely to be Canadian. "Nobody can guarantee that our kids going to grow up in normal circumstances," Chambers said. "He's got a pretty good chance, though, in Canada."
U.S.
Seattle shooting leaves one dead, seven wounded; suspects at large
1 / 4
Seattle shooting leaves one dead, seven wounded; suspects at large
Police block a road following a shooting in Seattle
By Steve Gorman
(Reuters) – A violent altercation that escalated into gunfire in downtown Seattle left one woman dead and six other bystanders wounded outside a fast-food restaurant on Wednesday, and police said they were searching for at least two suspects.
The precise circumstances of the shooting, what precipitated the bloodshed and the number of people involved remained murky hours after the incident, which unfolded in a busy shopping district during the evening rush-hour.
The violence, which investigators deemed was "not a random incident," grew out of a dispute in front of a McDonald's restaurant, Seattle Police Chief Carmen Best told reporters at a briefing near the crime scene.
"People pulled out guns, shots rang out, people ran in various directions," she said.
The chief added there were "multiple people involved as shooters" who apparently fled the scene, but she declined to specify how many suspects police believed were at large.
"We've locked down the scene. We have no active shooting at this point … so everything is safe for the night."
Seattle television station KOMO-TV, citing witness accounts, reported that two men were seen arguing on the street before pulling guns on each other and opening fire as pedestrians around them scattered for cover.
All of those hit by gunfire were believed to have been bystanders, authorities said.
A Fire Department spokesman described the lone fatality as a woman about 40 to 50 years of age, who was found dead at the scene. Seven other victims were brought to Harborview Medical Center's emergency room, a hospital spokeswoman said.
One of those patients was a woman in her 50s who was listed in critical condition as she underwent emergency surgery, according to Seattle Fire Chief Harold Scoggins. Another was a 9-year-old boy in serious condition, he said.
An office worker identified only as Bill told KOMO-TV he heard gunfire and saw scores of people running away in terror as he watched the scene unfold from an upstairs office window .
"It was sheer panic," he said. "I've never seen anything like it."
(This story corrects time element in paragraph 1 to Wednesday)
(Reporting by Dan Whitcomb and Steve Gorman in Culver City, California; Editing by Stephen Coates & Kim Coghill)