Trump complains Democrats pushed his impeachment defense to Saturday. Republicans are actually responsible. by Kathryn Krawczyk,The Week
President Trump is complaining about the rules his own party made.On Friday morning, Trump launched yet another complaint about his impeachment trial in the Senate. This time around, he took issue with the fact that his lawyers will have to begin their arguments in his defense on Saturday, "which is called Death Valley in TV."

Donald J. Trump@realDonaldTrumpAfter having been treated unbelievably unfairly in the House, and then having to endure hour after hour of lies, fraud & deception by Shifty Schiff, Cryin' Chuck Schumer & their crew, looks like my lawyers will be forced to start on Saturday, which is called Death Valley in T.V.Looking beyond the getting-old nicknames for Trump's Democratic enemies, there's also a big factual error in his tweet. Democrats didn't overstay their time on the impeachment stage; they were allotted up to 24 hours for arguments on Wednesday, Thursday and Friday under Senate Majority Leader Mitch McConnell's (R-Ky.) rules. And while Democrats suggested stretching that time further to wrap up their own arguments on Saturday and prevent extra-long days for everyone, 52 Republicans voted for and passed McConnell's abbreviated version anyway.More stories from theweek.com
Trump debuts official Space Force logo — and it's literally a ripoff of Star Trek
Trump is winning the impeachment battle — but losing the war
Despite apparent preference for 'moderate' candidate, Iowans back Sanders in latest poll
IDEAS 
Why Journalists Believe Mary Louise Kelly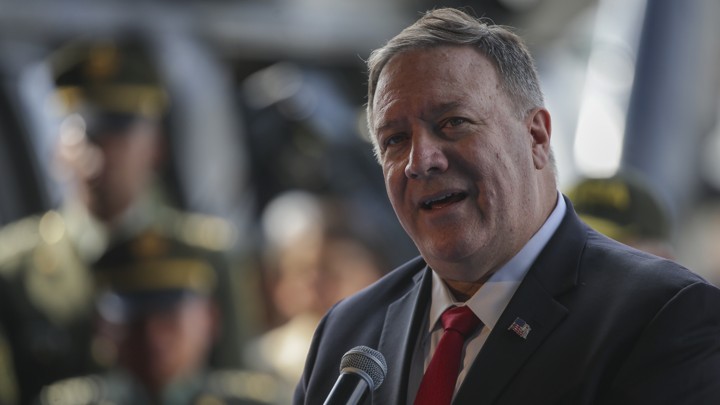 Yesterday, Secretary of State Mike Pompeo bungled an interview with NPR's Mary Louise Kelly and stormed out instead of answering her last questions. (You can listen to their exchange here.) Then Pompeo's aide made one of the most desirable entreaties a journalist can hear after an interview: Would Kelly speak with the secretary again, and leave her recording device behind? This invitation is always attractive, because it often means that the interview subject is emotional, bereft of judgment, and ready to say something even he knows he shouldn't say. According to Kelly, who is a contributor to The Atlantic, Pompeo berated her, used profanity, and at one point directed his aide to get a map. He challenged Kelly to identify Ukraine, the largest country wholly within Europe. Pompeo issued a statement today all but confirming Kelly's account.

Pompeo's only substantive complaint was that Kelly "lied" to him by saying they could speak off the record after their interview. This accusation is almost certainly nonsense.

To nonjournalists unfamiliar with the press, the accusation probably sounds plausible—that Kelly betrayed Pompeo or, at a minimum, that she allowed him to think they had agreed that their conversation was off the record, and is now cravenly abusing a technicality to expose that conversation to the world. Under the latter theory, a journalist might let a source think he is off the record (perhaps because he has invited her to a private space, or asked her to leave her recorder behind), but because he never secured an explicit agreement, the journalist keeps the whole conversation on the record. Call it the "You didn't say 'Simon says'" theory.
Pompeo ended his response by saying, archly, that "Bangladesh is NOT Ukraine"—implying that Kelly misidentified Bangladesh as Ukraine. This stupid, completely implausible dig against Kelly shreds his credibility in two ways. First, it asks us to believe that Kelly, a veteran foreign correspondent, knows less geography than an attentive high-school social-studies student. Second, by implying this lie rather than stating it, Pompeo sounds like exactly the type of coward who would whine that he had been wronged, to shirk responsibility for his unforced errors.Pompeo is sophisticated. He is an intelligent man who 10 years ago left his job selling oil-rig parts, and who has now served the United States as director of the Central Intelligence Agency and as secretary of state. He is therefore in a special (but not small) category of interview subjects who employ people to do nothing but manage their media requests and brief them on how their interviews and media relations should go, and who therefore are expected to know how journalists work. If I interview a person who has never spoken with a journalist before, I am ethically obliged to make sure that person knows that I am a writer and will use any details of our interview for my report, unless we agree to keep those details off-limits. I'll give a short explanation of what "on the record" means, and how to ask to go off the record. But when I interview a politician who has had a tape recorder thrust under his chin hundreds of times before, I assume he knows I am there on behalf of my readers, and will not be chatting privately with him unless we agree, explicitly, to do so.

Mary Louise Kelly undoubtedly has dozens of techniques for making a sophisticated interviewee reveal more than he wishes, just as Pompeo has dozens of techniques for parrying her questions. On the air, he resorted to the worst of these techniques, which is simply to flee the interviewer. But his subsequent assumption that she would consent to being browbeaten in private, that he could just stop the interview like a child calling a time-out in a game of street hockey, was both foolish and arrogant. Even kids know that you can call a time-out to let a car pass, but not to stop your opponent from scoring a goal—let alone to stop him from scoring a goal and then give him a noogie.

Pompeo says Kelly's conduct shows why Americans "distrust many in the media." One can see why Pompeo might distrust the media: We want him to reveal more than he wants to reveal. (And we seek these revelations routinely, from sophisticated sources of all parties.) But he was the one who scrambled for cover when asked a question, and whose scrambling was revealed, with total transparency, on the air.

He could prove his case by producing messages confirming that NPR agreed to an off-the-record conversation after the interview. These agreements, even if they were worked out orally with NPR, may have been preserved in dated memoranda by his staff, preparing him for the conversation. But I suspect that his presumption of secrecy, and of his ability to upbraid a reporter without her telling the world about his indiscretion, is yet another instance of incompetence and arrogance mixed together. Pompeo, not Kelly, is making us all drink this familiar and bitter brew.
We want to hear what you think about this article. Submit a letter to the editor or write to letters@theatlantic.com.
GRAEME WOOD is a staff writer at The Atlantic and the author of The Way of the Strangers: Encounters With the Islamic State.
GREEN VILLAGE MILITARY OUTPOST (AP) — U.S. troops at military outposts ín eastern Syria asked variations of the same question to their top commander Saturday: What is our future here? What are the goals we need to think about?
Gen. Frank McKenzie, the U.S Middle East commander, knows the future is not certain. But at least for today, he said, "this is an area where we made a commitment. I think we're going to be here for a while."
In an unannounced tour of five military bases in Syria stretching from the northeastern part of the country to the Middle Euphrates River Valley, McKenzie offered reassurances that the U.S. remains committed to its mission in Syria. And he said that operations against Islamic State militants are on the rise again, after the U.S. cut back due to the increased tensions with Iran and the need to concentrate on increasing security.
But these are uncertain times. And America's mission to train and partner with Syrian Democratic Forces in the fight against the Islamic State group has been tested.
Just last year President Donald Trump ordered U.S. troops to withdraw from Syria – part of his vow to bring forces home and halt the endless wars. Over time, his military commanders, members of Congress and other leaders convinced Trump to keep a scaled-back force in Syria to protect an expanse of Kurdish-controlled oil fields and facilities from falling into IS hands.
So while some troops did leave Syria, the Pentagon ordered others to move into the east, with armored vehicles and security forces to help the SDF guard the oil.
McKenzie, who met with the SDF's commander, Mazloum Abdi, at an undisclosed military base in eastern Syria Saturday morning, said the Kurdish leader wanted assurances that the U.S. would continue to help his fighters.
His answer, McKenzie said, was that the U.S will continue to conduct anti-IS missions, partner with the rebel forces and help protect the oil fields. But, he said, he did not put a deadline on it.
"He knows, and I agree, that we're not going to be here for 100 years," McKenzie said during a stop at Green Village military outpost, east of Deir el-Zour. "I frankly don't know how long we're going to be here and I have no instructions other than to continue to work with our partner here."
McKenzie criss-crossed the east, flying by helicopter over long stretches of desert flecked with intermittent patches of green and scattered villages. It was his first trip to the five bases.
The U.S. declared an end to the Islamic State's physical caliphate last March. But in recent months there have been growing concerns that the insurgents are regrouping, particularly in the west where U.S. forces are not present.
Operations against IS, however, were interrupted in recent weeks, in the aftermath of the U.S. drone strike that killed a top Iranian general in Iraq. Fearing reprisals by Iran and Iranian-backed proxy forces, the U.S. paused or slowed operations to beef up security in Iraq and Syria. Iran, after several days, launched ballistic missiles at two military bases in Iraq where U.S. troops are stationed. Several dozen were diagnosed with traumatic brain injury, but no one was killed in the attacks.
According to officials, US operations against the Islamic State group in Syria were reduced by half over that time. But as McKenzie took stock of the situation during his day-long sprint across eastern Syria he said that has now changed.
"Certainly, the pace of operations went down earlier in the year, based on events in Iraq" McKenzie told two reporters from The Associated Press and The Washington Post traveling with him into Syria. "We're now back up to, I think, probably three or four operations a week with our partners here — so that pace is beginning to pick up and we are very pleased with that."
Maj. Gen. Eric Hill, commander of the special operations forces in Iraq and Syria, was with McKenzie for most of the day. He said his forces continue to train and conduct operations with the SDF to root out IS insurgents who are "hiding in the valleys, in the caves, in the desserts, trying to regroup."
Hill spoke to reporters at the military base located at the Conoco gas field near Deir el-Zour, where military trucks and aircraft sit alongside looming plant buildings and old homes that have been turned into high-tech operations centers and barracks.
According to officials, there are now about 750 U.S. troops in eastern Syria, spread across a swath of land that stretches more than 90 miles (150 kilometers) from Deir el-Zour to the border region east of al-Hassakeh.
The U.S.-Syrian Kurdish relationship, which dates back to 2014, was strained after Trump last month ordered American troops out of northern Syria, making way for a Turkish invasion of Kurdish-held towns and villages along a stretch of the border.
Kurdish and American forces are now operating in a region that is more complicated and crowded with troops since the Turks began their attack on northeast Syria in early October, aimed at pushing the Kurdish fighters away from the border.
While talking to troops on Saturday, McKenzie warned that Iranian proxy forces in Syria continue to be a significant risk to them.
He said that while Iran appears to be deterred right now from launching another attack against the U.S, "you always worry about their ability to command and control their proxy elements which they have equipped very well."
Wuhan (China) (AFP) – The death toll from a virus in China has risen to 56 and the number of people infected across the country is nearing 2,000, authorities said Sunday.
Fifteen more people have died and at least 688 new cases of the coronavirus have now been confirmed, according to the National Health Commission.
Among the new deaths, 13 were in Hubei, the province at the heart of the outbreak, while Shanghai reported its first death.
At least 52 people have now died in total in Hubei, two in central Henan province, one in Heilongjiang in the northeast and one in Hebei in the north.
Hubei's health authorities separately reported 323 new confirmed cases of the virus, which first emerged in the provincial capital, Wuhan, in late December.
Chinese authorities have so far reported 1,975 cases nationwide.
President Xi Jinping warned Saturday that China faced a "grave situation" as authorities raced to contain a respiratory illness that has caused the widespread abandonment of Lunar New Year celebrations nationwide and overwhelmed health facilities in Hubei.
The contagion remained centred on the Hubei provincial capital of Wuhan, which accounted for seven of the new deaths and 46 of the new confirmed cases, said the Hubei Health Commission.
Wuhan and more than a dozen other cities in the province have been locked down in a rapidly expanding quarantine effort marked by transport shutdowns and other restrictions on movement.
The previously unknown virus has caused global concern because of its similarity to the SARS (Severe Acute Respiratory Syndrome) pathogen, which killed hundreds across mainland China and Hong Kong in 2002-2003.
It also has struck at possibly the worst time for China, when hundreds of millions of people are travelling across the country or overseas to celebrate the Lunar New Year holiday, China's most important festival.
Hundreds of military doctors have been sent to Hubei and authorities are rushing to build a pair of field hospitals to deal with the crisis as patients swamp local medical facilities.
The virus has spread nationwide in China and cases have been reported in several other countries as far away as the United States, France and Australia.