Watch: Pelosi tears Trump State of the Union speech in half  by David Knowles Editor,Yahoo News
House Speaker Nancy Pelosi of Calif., tears her copy of President Donald Trump's s State of the Union address after he delivered it to a joint session of Congress on Tuesday, Feb. 4, 2020. (AP Photo/Patrick Semansky)House Speaker Nancy Pelosi had a wordless reaction to President Trump's combative State of the Union Speech Tuesday — she tore her copy of it in half at the end of the address.The extraordinary gesture of disdain exemplified the partisan divide lingering over Washington as the Senate prepares to vote Wednesday on the two articles of impeachment passed by the Democratic House. Republicans, who hold a 53-47 majority in the Senate, are considered certain to acquit him. I

Yahoo News@YahooNews House Speaker Nancy Pelosi tears up her copy of #SOTU at the conclusion of the speech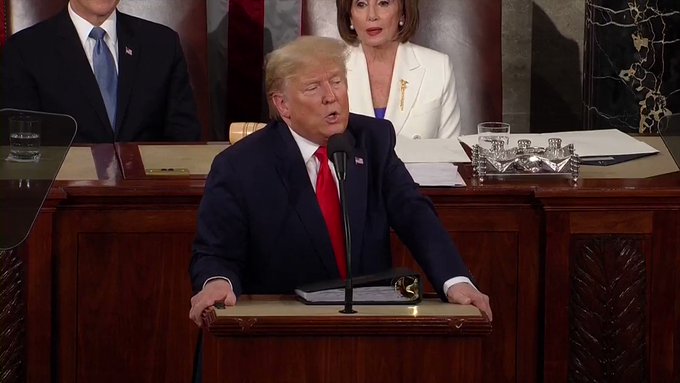 Trump handed Pelosi a copy of his speech before he read it, but turned away from the Speaker when she reached to shake his hand. Pelosi and Trump have reportedly not spoken since October, when the House began its impeachment inquiry over Trump's efforts to coerce Ukraine to investigate former Vice President Joe Biden.
Except for a few passages, Trump's speech was met with silence and occasional groans from the Democratic side of the chamber, while Republicans applauded loudly and enthusiastically.
"I tore it up," Pelosi said as she was leaving the chamber. "Because it was a courteous thing to do considering the alternative. It was such a dirty speech."
The White House responded with a tweet mocking Pelosi:
Speaker Pelosi just ripped up:
One of our last surviving Tuskegee Airmen. The survival of a child born at 21 weeks. The mourning families of Rocky Jones and Kayla Mueller. A service member's reunion with his family.That's her legacy.

Michael Isikoff@Isikoff Its pretty clear Trump sees this speech as his punishment for the Dems for impeaching him.
Trump boasts of economic gains on eve of impeachment verdict By Jonathan Lemire, Associated Press,PA Media: World NewsUS President Donald Trump declared America is "stronger than ever before" in his State of the Union address on the eve of his probable impeachment acquittal.Mr Trump, the first president to run for re-election after being impeached, received a partisan welcome to the House of Representatives, with some Republicans chanting "Four more years" while Democrats stood silently."America's enemies are on the run, America's fortunes are on the rise and America's future is blazing bright," Mr Trump declared."In just three short years, we have shattered the mentality of American decline and we have rejected the downsizing of America's destiny.
President Donald Trump delivers his State of the Union address as Vice President Mike Pence and Speaker Nancy Pelosi look on (Leah Millis/Pool via AP)"We are moving forward at a pace that was unimaginable just a short time ago, and we are never going back."Setting a measure for success and then contending he had surpassed it, Mr Trump has gone from an inaugural address that decried "American carnage" to extolling the "Great American comeback", claiming credit for the nation's economic success as a chief rationale for a second term.Republican members of Congress applauded nearly every sentence of Mr Trump's speech, often leaping to their feet to cheer him.In the nationally televised speech, Mr Trump was speaking from the House of Representatives, on the opposite side of the Capitol from where the Senate is expected to acquit him on Wednesday, largely along party lines.Mr Trump aimed to spend the first part of his speech highlighting the economy's strength, including low unemployment, stressing how it has helped blue-collar workers and the middle class, though the period of growth began under his predecessor, Barack Obama.And what Mr Trump calls an unprecedented boom is, by many measures, not all that different from the solid economy he inherited from Mr Obama.Economic growth was 2.3% in 2019, matching the average pace since the Great Recession ended a decade ago in the first year of Mr Obama's eight-year presidency.Mr Trump had promised much higher.In delivering his speech, Mr Trump stood before the politicians who voted to remove him from office – and those who are expected to acquit him when the Senate trial comes to a close.Over his shoulder, visible in nearly every camera shot, was House Speaker Nancy Pelosi, a frequent thorn in Mr Trump's side who authorised the impeachment proceedings that charged the president with abusing the power of his office to push Ukraine to investigate political foe Joe Biden.
President Donald Trump delivers his State of the Union address to a joint session of Congress, as Vice President Mike Pence and House Speaker Nancy Pelosi listen (Alex Brandon/AP)Ms Pelosi created a viral image with her seemingly sarcastic applause of the president a year ago.When Mr Trump entered the chamber this time, he did not take her outstretched hand but it was not clear he had seen her gesture.Later, as Republicans cheered, she remained in her seat.In advance of his address, Mr Trump tweeted that the caucus chaos in Iowa showed Democrats were incompetent and should not be trusted to run the government.Michigan Governor Gretchen Whitmer was to deliver the Democratic Party's official response to Mr Trump's address and, in excerpts released before the speech, was to draw a contrast between actions taken by Democrats and the president's rhetoric."It doesn't matter what the president says about the stock market," Ms Whitmer says."What matters is that millions of people struggle to get by or don't have enough money at the end of the month after paying for transportation, student loans, or prescription drugs."
Trump awards Rush Limbaugh presidential medal of freedom at State of the Union address
,
Yahoo News
President Trump used Tuesday's State of the Union address to award Rush Limbaugh, the fiercely conservative talk radio host who has just announced he has advanced lung cancer, with the Presidential Medal of Freedom.
"Almost every American family knows the pain when a loved one is diagnosed with a serious illness. Here tonight is a special man. He's loved by millions of Americans, who just received a stage 4 advanced cancer diagnosis," Trump said in a portion of his speech that focused on health care. "This is not good news, but what is good news is that he is the greatest fighter and winner that you will ever meet. Rush Limbaugh, thank you for your decades of tireless devotion to our country."
Limbaugh, sitting next to first lady Melania Trump in the House balcony, stood and was applauded by Republican lawmakers. A resident of Florida, Limbaugh is a frequent visitor to Trump's Mar-a-Lago resort.
"And Rush, in recognition of all that you have done for our nation — the millions of people a day that you speak to and that you inspire, and all of the incredible work that you have done for charity, I am proud to announce tonight that you will be receiving the nation's highest civilian honor, the Presidential Medal of Freedom."
Though the news of the award had broken hours earlier, Limbaugh seemed surprised at the president's words, his mouth agape, tears welling up in his eyes.
Melania Trump then affixed the medal around his neck.
House Speaker Nancy Pelosi and Democratic lawmakers remained seated and did not applaud.
Business
Ex-Fox News journalist Gretchen Carlson calls on Michael Bloomberg to release women from NDAs they signed as his employees
Rich Polk/Getty Images
Gretchen Carlson, a former Fox News anchor, has asked Democratic presidential hopeful, Michael Bloomberg, to release women from the NDAs they signed while working for him.
She raised the issue on Twitter, in response to a question by journalist Kirsten Powers about whether people see Bloomberg as the candidate to "beat Trump."
"Giving women their voices back is a must for our next prez," Carlson said.
Bloomberg has been accused repeatedly of making sexist remarks and propagating a toxic workplace culture, but all those who have leveled allegations at him are bound by NDAs.
Gretchen Carlson, a former Fox News anchor, is issuing a call to action to billionaire and former New York City mayor, Michael Bloomberg.
She is urging the Democratic presidential candidate to free women of the non-disclosure agreements (NDAs) they signed as his employees at Bloomberg LP.
Last year, Carlson joined Julie Roginsky and Diana Falzone, who also worked at Fox News, to establish a nonprofit called Lift Our Voices. The trio sued their company — and chairman and CEO at the time, Roger Ailes — for sexual harassment and workplace discrimination. NDAs were part of each of their settlements.
The goal of this new organization, they said, is to empower women to speak out publicly about unfair workplace practices that they experienced while bound by mandatory NDAs.
This issue arose on Monday when journalist Kirsten Powers asked her Twitter followers a question.
Carlson's reply said in part that she can't support Bloomberg until "he gets on board to eradicate NDAs he made women sign" when they worked for him at Bloomberg LP.
Laurie Evans, who spent six years on Bloomberg LP's sales team, sued the company for creating a "culture of discrimination" in the workplace, according to a Business Insider investigation.
In all, Business Insider found nearly 40 employment lawsuits from 65 plaintiffs that have been filed against Bloomberg LP and the man himself in both state and federal courts, dating back to 1996. Most cases allege discrimination over gender, race, and disability status, as well as pregnancy discrimination and wage theft.
A follow-up article by ABC News found that three of the 17 women who have filed suits against Bloomberg LB named Bloomberg himself for the treatment meted out to them. One woman has accused Bloomberg of saying "kill it" when he heard that she was pregnant.
A common thread between Carlson, Roginsky, and Falzone as well as the women who have directed allegations at Bloomberg, is that they're all constrained by NDAs.
Lift Our Voices sent a letter to all the presidential hopefuls in December, asking them to condemn NDAs. The letter says in part: "These NDAs are a driving force in silencing workers and promulgating a culture where employers are able to cover up toxicity, including issues of sexual harassment and gender discrimination, rather than address it and end it."
The nonprofit has called on candidates to "demonstrate that they are on the side of the women and men who have been silenced for too long from discussing the hostility they have encountered by speaking out loudly and publicly against NDAs."