After the fires come the floods as Australia's wild summer continues By AP Reporter,PA Media: World News
After the fires come the floods as Australia's wild summer continuesAustralia's wild summer weather has continued over the weekend with torrential rain lashing the east coast, extinguishing a major wildfire but causing widespread flash flooding.Rain put out the Currowan Fire south of Sydney late on Saturday after it destroyed 312 homes and razed 1.2 million acres over 74 days, the New South Wales state Rural Fire Service said.Commissioner Shane Fitzsimmons said he hoped the heavy rain would move inland from the coast and drench more major fires that have burned for months.

NSW SES@NSWSES  @BOM_NSW have issued a Severe Weather Warning for HEAVY RAINFALL, DAMAGING WINDS, ABNORMALLY HIGH TIDES and DAMAGING SURF, plan your weekend activities with an understanding of the current weather conditions #storms #floods https://bit.ly/2OBEhOU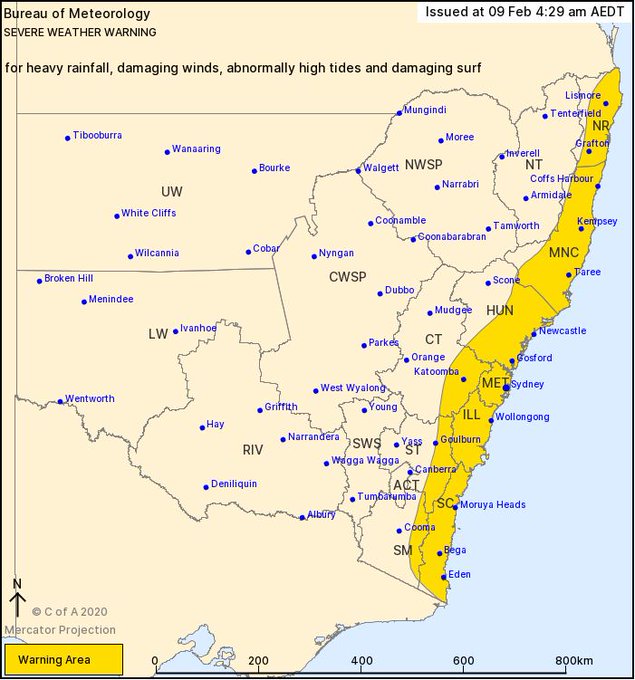 Fitzsimmons said farewell at a Sydney Airport hotel on Sunday to 21 American and 21 Canadian firefighters heading home after their deployment battling Australian blazes.A severe weather warning was in place on Sunday along most of the New South Wales coast and parts of Queensland to the north, with heavy rain, damaging winds, abnormally high tides and damaging surf forecast.The State Emergency Service reported six flood rescues overnight near Grafton, north of Sydney. They were mostly people who became stranded while attempting to drive through floodwater.
Bureau of Meteorology, New South Wales@BOM_NSWFLASH FLOODING NORTHERN #SYDNEY NEXT FEW HOURS: A band of very heavy #rain is forecast to affect Sydney's Northern Beaches, possibly extending to the North Shore in the next few hours. Flash #flooding is possible. Monitor conditions. Call NSW #SES 132 500 for emergency help.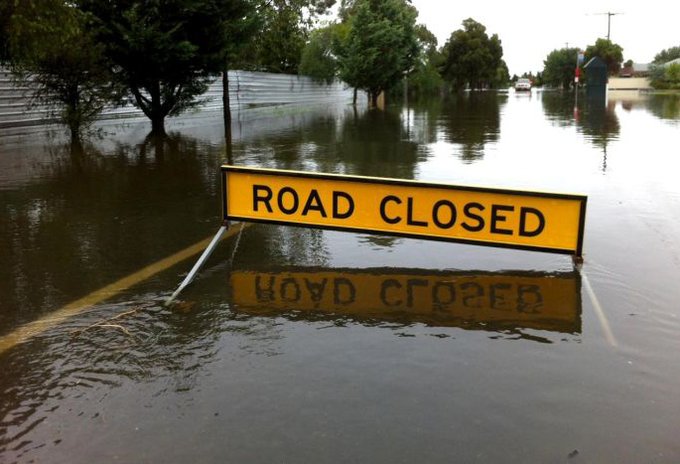 Some east coast towns have received their heaviest rainfall in five decades over recent days.The impact of the rains has been exacerbated due to the recent wildfires.The New South Wales Bureau of Meteorology said there was now an increased risk of poor water quality in fire-ravaged areas as the rains wash ash and debris into streams, while there was also an increased risk of flash flooding due to water moving more quickly through burnt-out areas.
Bureau of Meteorology, New South Wales@BOM_NSWAs the rain falls, what is the impact of rainfall on our bushfire affected waterways?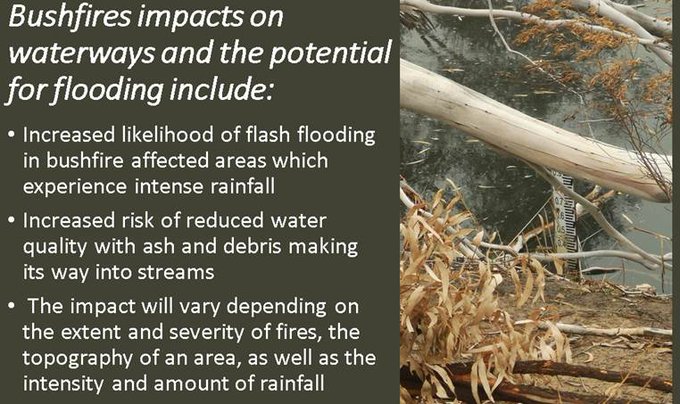 On Australia's northwest coast, Tropical Cyclone Damien made landfall late on Saturday as a category 3 storm. It weakened as it moved inland.Several buildings lost roofs but authorities had yet to asses the full extent of the damage on Sunday.Australian wildfires have killed at least 33 people and destroyed more than 3,000 homes in an unprecedented fire season that began amid dangerously arid conditions late in a record-dry 2019.
World Rain extinguishes Australian wildfire and causes flooding by ROD McGUIRK,Associated PressYour Severe Storm Forecast
11 tornadoes reported across South as deadly storm causes power outages, major flooding
by Doug Stanglin, USA TODAY,USA TODAYHeavy rain storms, strong winds, floods and tornado watches and warnings hit the SoutheastA powerful winter storm that roared out of New Mexico three days ago was pushing through New England on Saturday, leaving floods, twisters, heavy snow and power outages along its 1,500-mile path. At least five deaths were blamed on the fast-moving storm in Alabama, South Carolina, North Carolina and Tennessee.The storm, which generated at least 11 tornadoes in three states, knocked out power to more than 400,000 homes, as winds gusts up to 60 mph knocked down trees and power lines along its path.North Carolina and Virginia, where hundreds of people had to be pulled from flooded homes, had the most customers without electricity, according to poweroutages.us. In North Carolina, a driver later identified as Terry Roger Fisher was killed when his vehicle hydroplaned and plunged down a 25-foot embankment, WBTV reported, citing the State Highway Patrol.In South Carolina, one unidentified driver died when a tree toppled onto his car in York County, according to local media reports.
Several trees fell on a home and property on Overbrook Drive in New Windsor, Md., Friday, Feb. 7, 2020, following a winter storm.An unidentified man died and two others were injured Thursday when a car hydroplaned in Knoxville, Tennessee, and hit a truck, police said in a news release.And in Tennessee, 36-year-old teacher Brooke Sampson was killed d and four people were injured when a rain-soaked tree fell on a van carrying Sevierville city employees, officials said.At least four tornadoes touched down around Charlotte, North Carolina, on Friday, including one packing 130-mph winds that was "snapping and uprooting trees" and knocked down high tension lines, according to the National Weather Service.The National Weather Service was using radar data and making damage assessments to confirm many reports of twisters touching down in Virginia and Maryland, near the nation's capital, meteorologist Isha Renta told the Associated Press. With water levels rising rapidly, the Tennessee Valley Authority said it began making controlled releases from some of its 49 dams in Tennessee, Georgia, Alabama and North Carolina. People living near the rivers downstream were cautioned to look out for additional flooding, said James Everett, senior manager of the TVA's river forecast center in Knoxville, Tennessee.In Alabama's Buck's Pocket State Park, rangers in near freezing temperatures walked along a swollen Souty Creek in a vain search for a car carrying one person that had disappeared under the surface two days earlier, WHNT-TV reported."The weather is better, but the water is not. The water is several feet higher than normal. It's extremely high and fast," Alabama Trooper Chuck Daniel said. "Until that water slows down, nobody's going to get in that water."In Kentucky, Gov. Andy Beshear declared a state of emergency in eight counties on Friday because of  flooding in the southeastern part of the state, while in Virginia, Gov. Ralph Northam declared a state of emergency as more than 500 people had to be rescued from their homes due to rising water.Likewise in West Virginia, Gov. Jim Justice declared a state of emergency in seven counties because of flooding and mobilized the state's National Guard.In Florida's Pinellas County, high winds sent a crane sprawling across I-275, shutting down the roadway overnight.The tumbling tower of iron almost hit one driver, Chris Ellington, who told WFLA-TV that it left him "absolutely terrified.""Here it is about an hour and a half later and my knees are still shaking a bit because I just narrowly missed being crushed,"  he said.In the Tampa area, tornadoes blew a tree onto a mobile home, trapping an elderly woman.The storm also brought heavy snow along the trail from New Mexico to New England. El Paso, along the Texas border with Mexico, got 3.3 inches of snow, breaking a record for the day.Heavy snow was also reported in Wichita Falls and Oklahoma City as the storm rolled toward the northeast.In New England, heavy snow forced some businesses, schools and government offices to close early Friday across Vermont, New Hampshire and Maine. Heavy snow knocked out power to more than 26,000 people in New Hampshire, WMUR reported.Contributing: Associated Press This article originally appeared on USA TODAY: US weather: Deadly winter storm causes 11 tornadoes, flooding; 5 dead
South Africa and England were frustrated by rain as the second ODI in their three-match series was abandoned on Friday.
A succession of downpours in Durban delayed play, then interrupted the action after South Africa began their innings, and finally brought about a soggy end to the contest.
England were seeking victory at Kingsmead to make up for their thumping seven-wicket defeat at Newlands on Tuesday, while the hosts were aiming for a win to seal a series success.
Play began almost two hours later than planned due to the wet weather, and South Africa reached 37-1 in 6.3 overs – Joe Root bowling dangerman Quinton de Kock for 11 – before heavy showers forced the players off.
A no-result outcome looked inevitable as the outfield took a drenching, but an early-evening inspection saw the umpires give the go-ahead for play to resume, with the match cut to 26-overs-a-side.
South Africa pressed on and Reeza Hendricks reached an unbeaten 35, but the fall of Temba Bavuma lbw to Chris Jordan for 21 – leaving the home side 71-2 – coincided with the return of rain.
Confirmation of the abandonment came just over 20 minutes later, with the teams now heading to Johannesburg for Monday's final match in the rubber.