Politics Trump backs idea to 'expunge' impeachment by Dylan Stableford Senior Writer,Yahoo NewsTrump says 'hoax' impeachment should be expunged President Trump on Friday endorsed an idea floated by some congressional Republicans that his impeachment be "expunged" if the GOP retakes control of the House of Representatives next year.In front of the White House on Friday, Trump was asked by a reporter whether he believed the House should expunge his impeachment from the congressional record."They should, because it was a hoax," he responded. "That's a very good question. Should they expunge the impeachment in the House? They should because it was a hoax. It was a total political hoax."House Minority Leader Kevin McCarthy, R-Calif., and Rep Lee Zeldin, R-N.Y., two of Trump's most fervent supporters on Capitol Hill, raised the possibility of expungement shortly before the president's acquittal in his Senate trial."This is the fastest, weakest, most political impeachment in history," McCarthy told the New York Post. "I don't think it should stay on the books.""The House of Representatives should EXPUNGE this sham impeachment in January 2021!" Zeldin tweeted. "This was absolutely disgusting what Pelosi and Schiff just dragged our country through. The end is near not only for impeachment but hopefully also for their abusive grip on their gavels."
Patrick Semansky/AP Since Trump was acquitted in the Senate, the effect of such a vote in the House would be entirely symbolic. While there is historical precedent — the House voted to expunge the censure of Andrew Jackson in 1837 — there is no expungement clause in the Constitution."There's nothing in the Constitution that provides for a procedure of expungement," James Gardner, a law professor at the State University of New York at Buffalo, told the Independent. "It would be of no significance — certainly of no legal significance."He added: "It might be of political significance."On the eve of Trump's Senate impeachment trial last month, House Speaker Nancy Pelosi said it would be a stain on his record, regardless of the outcome."He will be impeached forever," Pelosi said on ABC's "This Week With George Stephanopoulos."   On Friday, the House speaker said Republicans won't ever be able to "expunge" impeachment from the historical record."If they don't want to honor their oath of office, then they have to expunge from their own souls the violation of the Constitution," she said.
'Saturday Night Live' Delivers Democratic Debate Cold Open Ahead of New Hampshire Primary (Watch) by Danielle Turchiano,Variety
The Senate acquitted Donald Trump, ending the impeachment trial earlier this week, so "Saturday Night Live" turned its attention away from the current president and onto who might become the president — by delivering a new democratic debate cold open sketch.The special guest star gang was all back — from Jason Sudeikis as Joe Biden, to Rachel Dratch as Amy Klobuchar and Larry David as Bernie Sanders. And the "SNL" regular cast members took their usual posts, as well: Colin Jost as Pete Buttigieg, Bowen Yang as Andrew Yang and Kate McKinnon as Elizabeth Warren. Pete Davidson took on Tom Steyer.
More from Variety
The sketch started with some jokes at the Iowa primary's expense. "Losing Iowa was a real kick in the nuts but I'm not worried at all," said Sudeikis' Biden. This was because he likes to "creep up from behind. As he put it, "my numbers are going to surprise you with a nice, sweet kiss on the neck."Meanwhile, David's Sanders couldn't believe "all of this mess happened in Iowa because of an app. Hey, I have an idea for an app — it's call no apps," he said. Instead he advocated for people showing "up to your polling place, take a number like you do at your butcher."McKinnon's Warren wanted to turn attention to the next primary, though, taking place on Feb. 11. She said she felt "very confident about my chances in New Hampshire. I tend to really connect with New England moms who own big dogs and rock a fleece vest."Meanwhile, Dratch's Klobuchar was out to remind the audience that Warren is "not the only sensible candidate standing here before you. You are looking at the other half of the New York Times endorsement. Elizabeth is J. Lo and I'm Shakira."After a brief word from their sponsor — Fred Armisen as Mike Bloomberg — it was time to hear the candidates' takes on how to win the black vote."It's simple, if you want black people to like you, you give them $1,000. It's been working for me since high school," offered Yang's Yang.For closing statements, Dratch's Klobuchar just wanted to know "why am I not doing better? I'm the most reasonable person on stage. Instead of tearing everyone down, I get along with everyone up here." She went on to give a number of the other candidates nicknames before signing off, "I'm Amy Klobuchar, I'm here, I'm square, get used to it."McKinnon's Warren said she knows "a lot of people like me but they worry if I'm electable and I have a great solution for that — elect me. It's that simple."David's Sanders had to address that he doesn't know "how or why it happened" but he has "internet trolls" Bernie Bros. "Can I stop them in their tracks? Of course. Should I? Yes. Will I? Eh," he said. "Hillary Clinton says nobody likes me. Let me ask you this: then how come I'm the most popular guy on 4Chan?"Jost's Buttigieg talked about corruption and "how big business controls too much of Washington." He also said he knows he sounds "like a bot that has studied human behavior by watching 100 hours of Obama speeches. So let's get white Obama trending and not ironically."There was an attempt to also get the "Yang Gang" trending, and then Davidson's Steyer said he didn't come here to make friends but he did make some great ones and "it's been an honor." Sudeikis' Biden was told he had 60 seconds for the closing remarks, to which he replied that doctors told him he had "six to eight months."Watch a clip from the Feb. 8 "SNL" cold open below:
Saturday Night Live – SNL@nbcsnlThe candidates talk Iowa at the New Hampshire Democratic Debate. #SNL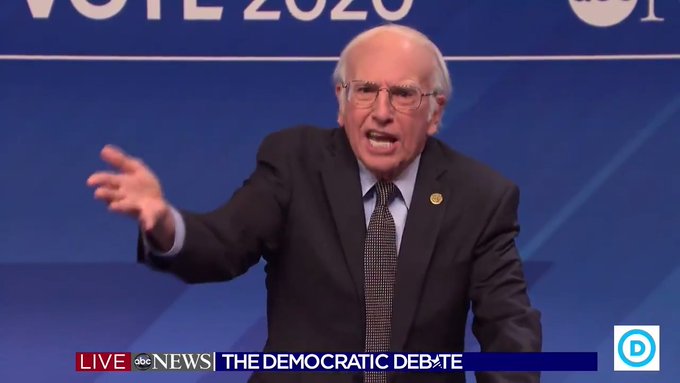 "Saturday Night Live" airs live coast-to-coast Saturdays at 11:30 p.m. ET / 8:30 p.m. PT on NBC.
Two U.S. service members were killed Saturday after a firefight broke out in Afghanistan, officials tell CBS News. A government official in eastern Afghanistan told CBS News the incident occurred in the Sherzad district of eastern Nangarhar province.
USFOR-A Spokesman Colonel Sonny Leggett said in a statement that, "Upon completing a key-leader engagement at the district center, current reports indicate an individual in an Afghan uniform opened fire on the combined U.S. and Afghan force with a machine gun."
Six other U.S. service members were wounded. They are receiving medical care at a U.S. facility, Leggett said.
"We are still collecting information and the cause or motive behind the attack is unknown at this time," the statement added. "The incident is under investigation."
A U.S. military official told The New York Times there were Afghan causalities as well. The number of causalities was unclear. An Afghan official tells CBS News three Afgahn commandos were wounded.
It's estimated there are more than 10,000 U.S. troops in Afghanistan. In President Trump's State of the Union speech on Tuesday, he said the U.S. is "working to finally end America's longest war and bring our troops back home."
Mr. Trump said "peace talks are underway," and he said it is not the "function" of the U.S. military "to serve other nations as  law enforcement agencies."
This is a developing story. It will be updated.
Make-a-Wish fan shares story of how he met NBA legend Kobe Bryant
N.Y. governor to sue Trump administration over banning New Yorkers from "trusted traveler" programs