Biden pulls off historic Super Tuesday comeback by David Knowles, Brittany Shepherd, Andrew Romano and Hunter Walker,Yahoo NewsBiden addresses supporters at rally on Super Tuesday   
SAN FRANCISCO — Joe Biden appeared to pull off one of the greatest comebacks in political history Tuesday, racking up convincing wins in at least eight of the 14 states holding primaries and staying close in others. Biden's big night comes after a rough several months for the former vice president, who struggled in the first three Democratic nominating contests. "It's a good night, and it seems to be getting even better. They don't call it Super Tuesday for nothing," Biden told his supporters in Los Angeles, adding, "We were told, when you get to Super Tuesday, it'll be over. Well you'd better tell that to the other guy." As recently as a week ago Biden seemed to be headed for defeat at the hands of frontrunner Bernie Sanders. His comeback began Saturday with a huge win in the South Carolina primary, where he was buoyed by an endorsement from House Majority Whip Rep. James Clyburn and a powerful turnout by African-American voters.When polls closed Tuesday in two states at 7 p.m. ET, Biden was promptly declared the winner in Virginia, a state the polls showed was virtually tied only a week ago. Thirty minutes later, Biden was projected the winner in North Carolina when the polls closed there, a sign that the former vice president would notch a lopsided victory and add to his delegate lead over Sanders.Biden went on to win in Alabama, Arkansas, Oklahoma, and Tennessee and also scored surprise wins in Minnesota and Massachusetts, where Sanders had been favored. Sanders claimed victory in Colorado, Utah and Vermont. The Associated Press projected that the Vermont senator would win in California, the night's single biggest prize. As of 11:30 p.m. ET, Sanders clung to a narrow lead in Texas, but the state was too close to call. Maine, the other state to vote, was also a dead heat.Los Angeles Mayor Eric Garcetti told Yahoo News that Biden's resurgence was based on the familiarity and affection the former vice president enjoys with Democratic voters."It's been breathtaking, but it's also to me a reflection that people know him and love him," Garcetti said at Biden's Super Tuesday celebration in Los Angeles. "They just had to reconnect with him. They were waiting to come back. They just had to feel it again."
"Presidential campaigns are often about the newest and shiniest thing out there. It's about aspiration," Garcetti said. "And Joe reminded people that he isn't just about experience and competence. He's actually about decency and humanity and a vision."Biden had done relatively little organizing in California, and his victory party was held in an unassuming basketball court in a Los Angeles recreation center.Dana Douglas, 64-year-old attorney at the Biden party, was among the voters who made up their mind to support Biden in the past two weeks. "It was only recently that I finally for sure settled on Biden. It was shortly before the South Carolina primary," Douglas said. "He looked dead in the water. People were just waiting for him to catch fire. I felt that he is best positioned to beat Trump. He has the gravitas and the broad coalition to do that."Turnout was heavy in most states, and early indications were that the vote went fairly smoothly, despite fears of possible foreign hacking to interfere with the process."We don't have any reports of any malicious cyberactivity across the states today," said a senior official with the Cybersecurity and Infrastructure Security Agency of the Department of Homeland Security during a media briefing for journalists on Tuesday evening. He also said there had been no reports of ransomware attacks against election systems.While Sanders had achieved frontrunner status following impressive victories in New Hampshire and Nevada, he struggled on Super Tuesday. After polls closed in Vermont at 7 p.m., Sanders was declared the winner in his home state, yet with just 16 delegates at stake, he failed to offset the gains Biden made in the South."We are going to win the Democratic nomination, and we are going to defeat that most dangerous president in the history of this country," Sanders assured his supporters at a victory party in Essex Junction, Vt.Sanders criticized Biden for voting for the war in Iraq and portrayed him as favoring cuts to Social Security. "Now I don't know what's going to happen later tonight," Sanders said, adding that he was "cautiously optimistic" he would win in California. 
But Eric Davis, a 36-year-old Vermont state government analyst who attended the event, said he'd hoped for a better night for Sanders. "I think some of the results coming across the Mid-Atlantic and so forth, even in the Northeast, have been a little less than I would have hoped for," Davis said, "I'm looking for the results across the West to be much better."The big question at the start of the night for Mike Bloomberg, the billionaire former New York mayor who has so far spent $500 million of his personal fortune thrusting his candidacy onto American television and computer screens, was whether his spending would pay off on Super Tuesday. While Bloomberg was declared the winner in American Samoa, the U.S. territory only awards six delegates.Bloomberg did rack up delegates in Arkansas, Oklahoma and Texas but failed to capture any states. "The polls are still open in a number of Super Tuesday states and as the results come in, here is what is clear: no matter how many delegates we win tonight we have done something nobody else thought was possible," Bloomberg said at an event in West Palm Beach, Fla. "In just three months we've gone from 1 percent in the polls to a contender to the Democratic nomination for president." Minutes after Bloomberg addressed his supporters, however, NBC News reported that the former mayor would reassess whether to remain in the race.Elizabeth Warren, meanwhile, was unable to carry her home state of Massachusetts, finishing third behind Biden, the winner, and Sanders. Warren, once a leading contender for the nomination, was unable to notch any victories on Tuesday night, continuing a losing streak that began in February's Iowa caucuses. However, at a rally in Detroit, Warren indicated she would stay in the race. "You don't get what you don't fight for," she told supporters. "I am in this fight." 
After disappointing finishes in Iowa and New Hampshire, Biden began his comeback in the Nevada caucuses on Feb. 22, when he notched a solid second-place finish behind Sanders. And thanks to strong support from African-American voters, South Carolina's primary brought Biden's campaign back to life. He trounced Sanders by nearly 30 points, a victory capped by a rousing speech that helped convince voters and donors that he wasn't such a long shot after all.While Biden had raised just $8.9 million this year through Feb. 20 — compared to $25.2 million for Sanders and $11 million for Warren — he raked in $5 million more following his South Carolina victory. That win also garnered plenty of free media attention for the candidate, and by Monday he had surged in numerous polls of Super Tuesday states.

Andrew Romano@AndrewRomanoThey're just setting up the Biden event in LA — on a single basketball court. A striking contrast w/ Bernie's 15K-person rally here Monday, & a reminder, given tonight's early results, that nothing (not crowds, not organization, not ads) is as valuable as momentum & earned media.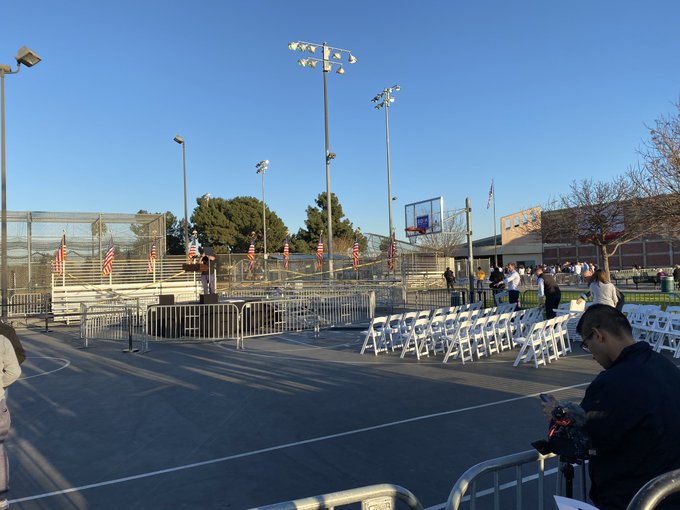 On Monday, Amy Klobuchar and Pete Buttigieg, two of Biden's leading rivals among moderate Democratic voters, dropped out of the race and endorsed him. Beto O'Rourke, who left the race in early November, also endorsed Biden. But Biden's reemergence as a frontrunner has also increased the likelihood that no candidate will cross the threshold of 1,991 pledged delegates required to claim the nomination at the Democrats' July convention in Milwaukee. Heading into Super Tuesday, Sanders led Biden in the delegate race by 60-54.As early results started coming in, it became apparent that Sanders would not run away with the lion's share of the 1,344 pledged delegates at stake Tuesday. The website FiveThirtyEight projects that the most likely outcome of the primary season is that no candidate will amass enough delegates to claim the nomination on the first ballot in Milwaukee, a result that could open the door to the first contested Democratic convention since 1952. 
The question now is whether Biden can ride his newfound momentum through the remaining contests. Six states — Idaho, Michigan, Mississippi, Missouri, North Dakota and Washington — will vote in primaries on March 10. That slate of states may benefit Biden, who has performed well so far in Republican-leaning states and states with large African-American populations. The next Democratic presidential debate will be held on March 15 in Phoenix. Two days later, Arizona, Florida, Illinois and Ohio will cast ballots.If none of the candidates achieve a majority of delegates in the primaries, the nomination might be worked out in a contested convention.While the race is far from settled, Biden and his supporters are feeling a lot better about their chances of winning the nomination than they were before Super Tuesday. Nevertheless, Sanders gave a rousing speech to a cheering crowd in Essex Junction, a suburb of Burlington, Vt., on what he noted was the anniversary of his first electoral victory — for mayor of Burlington, by 10 votes — in 1981. One of the subtexts of the race has been the loyalty of Sanders's supporters — and fears by some in the party that die-hard Sanders voters might stay home if someone else wins the nomination
The Vermont senator captures the hearts of Golden Staters, early results show, as voting machines serve as expensive, non-functional accessories. And demands grow for an independent investigation into how Los Angeles County Sheriff's leaders handled disturbing photos taken at the Kobe Bryant helicopter crash scene.
It's Arlene Martínez, packing some stories and information for your Super Tuesday.
Let's take a look, shall we?
In California brings you daily news, features and interviews from across USA TODAY Network newsrooms and beyond. Click here to get this straight to your inbox.
This time, it's Bernie
Early voting opened nearly a month ago in California, so you can forgive some people for feeling like they wasted a vote because their candidate dropped out. Why, just since Saturday's South Carolina primary alone, California businessman Tom Steyer, former Mayor Pete Buttigieg of South Bend, Ind., and Sen. Amy Klobuchar all left the Democratic presidential race.
I'd commiserate with you but I voted in person Tuesday on paper. But, I also voted on more than six other races and contests, and I'm guessing you did too. If all politics really are local, then you played an important role in your community today — regardless of which presidential candidate you chose. I hope we can all feel good about that.
And now onto results (which you can follow live at USA Today).
There were 1,344 delegates at stake on Super Tuesday (and another 13 delegates representing Americans abroad). As this goes out, here's who topped which state and the number of delegates per state.
California = 415 (Sen. Bernie Sanders)
Texas = 228 (not enough info)
North Carolina = 110 (Fomer Vice President Joe Biden)
Virginia = 99 (Biden)
Massachusetts = 91 (too close)
Minnesota = 75 (Biden)
Colorado = 67 (Sanders)
Tennessee= 64 (Biden)
Alabama= 52 (Biden)
Oklahoma = 37 (Biden)
Arkansas = 31 (Biden)
Utah = 29 (Sanders)
Maine = 24 (too close)
Vermont = 16  (Sanders)
American Samoa = 6 (Michael Bloomberg 5, Tulsi Gabbard 1)
In non-presidential results, the only statewide measure on the ballot, a $15 billion school bond was losing with 1,242 of 20,346 precincts reporting. Track it here.
Wondering why your ballot still had 20 presidential nominees? And what happens to your vote if your pick has since dropped out? Desert Sun political correspondent Sam Metz explains.
Coronavirus may have extended your wait time to vote: Some poll workers stayed home because of fears related to coronavirus.
Anyone have problems with the new voting machines? There were issues. Expensive issues, considering Los Angeles County alone spent $280 million on its system.
Tuesday across California: What's at stake, who are its voters and why it might take a while to get the full results.
And now onto some non-election news:
O.C. man who cyber-stalked Parkland victims' families, friends is sentenced
An Orange County man convicted in connection with sending threatening messages to families and friends of victims of a Florida mass shooting was sentenced to 66 months in federal prison for cyberstalking and sending a kidnapping threat on social media.
On Valentine's Day 2018, 17 students and staff were killed when a gunman opened fire at Marjory Stoneman Douglas High School in Parkland. Students responded by forming Never Again MSD, an organization that pushes for tighter gun regulations.
A criminal complaint filed in federal court says that Brandon Michael Fleury, 22, who is on the autism spectrum, used Instagram to harass or "troll" those he considered to be activists with a heavy online presence. He was arrested and charged last January.
A thwarted shooting: Sunnyvale police arrest a UPS worker accused of threatening to carry out a mass shooting, and a search of his home reveals a stockpile of ammunition and weapons.
Don't try this at home
He's 9, in third grade and fearless, and ESPN has noticed this San Diego County BMX aerialist.
A new "dry fasting" diet making the influencer rounds could make you very, very sick.
Did L.A. County Sheriff's leadership engage in a cover-up re: Kobe photos?
The Los Angeles County Sheriff's leadership tried to keep quiet revelations its deputies had obtained gruesome photos at the Kobe Bryant helicopter crash scene. Now some are calling for an independent investigation into whether Sheriff Alex Villanueva's order to delete the photos amounts to destruction of evidence.
Meanwhile, forget a new department policy, Villanueva said he would like to see a state law making it illegal to take unauthorized photos of accident scenes with dead bodies.
Vanessa Bryant said she was "absolutely devastated" deputies may have taken and shared graphic photos from the crash that killed her husband, daughter and seven others.
A public arts school seemingly for the rich; and historic preservation groups … friend or foe?
Orange County School of the Arts is in a school district that's 93% Latino, but only about one in five Latino students gets the privilege of attending the prestigious charter school. So whom does this publicly funded charter high school actually serve?
Historical preservation — architectural protector or project stifler? This coastal community is the latest to have the discussion.
Coronavirus found in Berkeley; WHO holds tight on declaring a pandemic
As the U.S. confirmed its ninth coronavirus death Tuesday, and the first case of coronavirus was reported in Berkeley, World Health Organization officials defended their controversial decision not to declare a pandemic, citing nations such as Brazil that have few or no confirmed cases.
Michael Ryan, a physician who heads the agency's emergencies program, said containment efforts such as contact tracing can't be eased at the expense of mitigation. "One of the dangers of using the pandemic word is that you would want containment to continue," he said.
Amesh Adalja, a senior scholar at Johns Hopkins Center for Health Security, said it's time to shift away from "this idea that this can be contained."
Adalja told USA TODAY that resources must be focused on "best use, which is not contact tracing. Which is not quarantining. Which is not travel screening. Which is not travel bans. It's actually getting people on the ground to help with diagnostics. To help with public health communication. To help with hospital preparedness."
The feds cut the interest rate between scheduled meetings, a rare move not seen since the financial crisis of 2008.
See every confirmed case of coronavirus in California, mapped.
Get daily updates delivered straight to your inbox with our new "Coronavirus Watch" newsletter.
In California is a roundup of news from across USA TODAY Network newsrooms. Also contributing: Lompoc Record, Los Angeles Times, San Diego Union-Tribune, San Francisco Chronicle, Vox, Associated Press.
This article originally appeared on USA TODAY: Super Tuesday, Sanders, Biden, Kobe Bryant, coronavirus: Tuesday news