Trump considers travel restrictions to California and Washington in attempt to stop coronavirus spread by David Knowles  Editor,Yahoo NewsHow will the coronavirus travel ban work? Yahoo News Explains
President Trump said Thursday that travel restrictions to California and Washington, two states hit hard by the coronavirus outbreak, were possible "if an area gets too hot."One day after announcing a 30-day suspension of travel from the European Union to the United States, Trump was asked by a reporter in the Oval Office whether domestic restrictions were also possible."Is it a possibility?" Trump responded. "Yes, if somebody gets a little bit out of control, if an area gets too hot."Trump canceled his own trip to Nevada and Colorado minutes after announcing the EU travel restrictions.Of the more than 1,400 cases of coronavirus confirmed in the United States, the largest number, 341, are in Washington state. New York has reported 327 cases, the second-highest, and California currently has 201.Trump's use of international travel bans has been criticized by public health officials who say the virus is already in the United States and spreading rapidly.
Connecticut's chief epidemiologist said Thursday that 10 to 20 percent of the state's population could contract coronavirus over the next month. Given Connecticut's population of 3.75 million, that translates to between 357,300 and 714,600 infected residents. To date, only three people in Connecticut have tested positive for the coronavirus.Amy Acton, Ohio's health department director, made an equally dire assessment about her state, saying data indicate that 1 percent of the state's population is likely already infected with the coronavirus. That means 117,000 people could be walking around with the virus at the present time. Just six cases have been reported in Ohio so far.
Tyler Buchanan@Tylerjoelb This is huge: Ohio Health Dept. Director Amy Acton is saying that evidence of community spread indicates that 1% of Ohioans are currently carrying coronavirus. That's *117,000* people.
Only 5 in Ohio have actually tested positive to this point.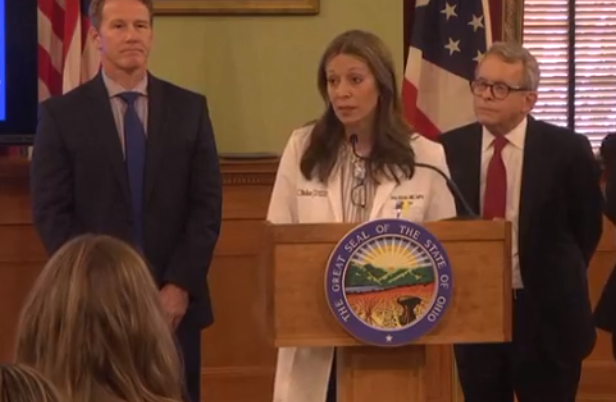 Coronavirus mapped on the globe in augmented reality Coronavirus 2019-nCoV data presented in augmented reality by Yahoo News. Updated March 9th, 2020. This story has augmented reality! Tap the video above to see how it looks and download the Yahoo News app to launch the full experience. Augmented reality is currently available to iPhone users (iPhone 8 and later) with the latest version of iOS.
U.S.
Coronavirus is 10 times more lethal than the seasonal flu, Trump's task force immunologist says
by Tim O'Donnell
The Week
Dr. Anthony Fauci, director of the National Institute of Allergy and Infectious Diseases, told lawmakers during a House Oversight Committee hearing Wednesday that COVID-19 — the disease caused by the novel coronavirus — is probably about 10 times more lethal than the seasonal flu.President Trump has often compared COVID-19 to the flu, which affects tens of thousands of Americans each year, in an effort to calm people down, but Fauci clearly wasn't trying to downplay the seriousness of the virus' spread. Fauci is a member of the White House's coronavirus task force.At the same time, he did clarify that 10 times figure actually brings the new coronavirus' fatality rate lower than official estimates, which hover around 3 percent. The flu has a mortality rate of about 0.1 percent, so, when considering the likelihood that there are many asymptomatic or very mild cases that have gone undiagnosed, Fauci places the new coronavirus' lethality rate at somewhere around 1 percent. While that's a good deal lower than the current data suggests, it still would lead to significant numbers of fatalities, and makes the flu comparisons seem pretty questionable.

Erick Fernandez 
@ErickFernandez
· 
Replying to @ErickFernandez
Rep. Maloney: "Is the worst yet to come, Dr. Fauci?"Dr. Fauci: "Yes, it is…Bottom line it's going to get worse."

Erick Fernandez 
@ErickFernandez
Q: How does COVID-19 compare to other previous health situations — SARS, H1N1?
Dr. Fauci: "…It is 10 times more lethal than the seasonal flu. I think that's something that people can get their arms around and understand."
After urging from President Trump, Dana White says he'll keep holding UFC events despite coronavirus  by Jack Baer Writer,Yahoo Sports
NEWEST CORONAVIRUS BANNER As sports leagues around the world suspend seasons and cancel events, UFC president Dana White told ESPN on Thursday that his promotion will continue holding events over the next month.Some events will be moved to UFC's 1,500-capacity Apex facility in Las Vegas, while Saturday's UFC Brasilia event in Brazil will be held without spectators due to local measures taken against COVID-19.
439 people are talking about this
White added that he had received counsel from President Donald Trump and Vice President Mike Pence to not change his promotion's schedule too much.
"[The UFC] always go overboard with health and safety, and that's what we're going to do here," White said. "I talked to the president and the vice president of the United States today about this. They're taking this very serious. They're saying 'Be cautious, be careful, but live your life and stop panicking.'"
"Everybody is panicking, and instead of panicking, we're actually getting out there and working with doctors and health officials and the government to figure out how we keep the sport safe and how we can continue to put on events."
White has a long history, both in politics and business, of ties to Trump. His company was arguably saved by Trump in its early days when local regulations made it difficult to hold events, leading to UFC 28, 30 and 31 to be held at the Trump Taj Mahal in Atlantic City. White has since appeared at multiple campaign events for Trump.
UFC nearly alone in holding events with fans despite COVID-19 outbreak
Sports leagues that have suspended/delayed their seasons or canceled events include the NBA, NHL, MLB, NCAA, MLS, Spain's La Liga, Italy's Serie A and France's Ligue 1. The English Premier League, in the same country that White plans to hold an event as scheduled, seems on the verge of joining that group after a player and coach on separate teams tested positive for the virus.
One notable exception is the PGA Tour, whose president said it would continue hosting tournaments without spectators after consulting with Trump. Less than a day later, one of the Tour's premier events, The Players Championship, was canceled after one round.
The advice of many experts and authorities has been to shut down events or severely limit attendance while the outbreak continues. That includes the governments of Ohio and Oregon, states that were supposed to host UFC events until they banned large gatherings.
How UFC is responding to the coronavirus
Here's how the UFC's schedule for the next month will shake out, according to White:
White did not discuss the status of the event after Portland, UFC 249. Lightweight champion Khabib Nurmagomedov remains scheduled to face challenger Tony Ferguson at the Barclays Center in New York City, where gatherings of more than 500 people were banned on Thursday.
Three of the nation's largest organizations representing hospitals, physicians, nurses and health care providers called on the Trump administration to declare the spread of COVID-19 a national disaster or emergency on Thursday, saying the designation could free up needed resources to help treat the growing number of Americans infected with the new coronavirus.
"Preventing the spread of COVID-19 is crucial to the health of our nation," the chiefs of the American Hospital Association, the American Medical Association and the American Nurses Association wrote in a letter to Vice President Mike Pence on Thursday. "It is of upmost importance that any concerns about costs for testing and care be removed so that individuals can be screened and if necessary treated."
Pence is currently leading the nation's response to the rapidly spiraling coronavirus outbreak.
33 people are talking about this
The call comes as coronavirus infections continue to spread throughout the United States. At least 1,600 people in the country have been diagnosed with the COVID-19 disease, and states have taken dramatic measures to try to curb infections. New York banned most gatherings of more than 500 people, Disneyland and Disney World are closed until at least the end of the month, and both the NBA and NCAA have scuttled future games.
Trump has so far declined to issue a national emergency declaration over the coronavirus outbreak, which was declared a pandemic by the World Health Organization this week. Politico reported the president has worried that doing so would stoke further panic and batter the already plummeting financial markets.
During an address to the nation Wednesday, Trump instead rolled out a ban on some travel from Europe and said he was working with lawmakers to develop a fiscal package to avert any lasting financial crisis. But he failed to address difficulties in getting tested for the virus, which have been widely reported.
The White House has worked with American health care companies, which will cover testing to determine if people are infected with the coronavirus. Treatment is not covered without copayments, and the costs could leave the sick with high medical bills.
The health associations on Thursday pointed to the urgency of expanded testing and said that a disaster or emergency declaration would cut red tape and let "hospitals, physicians and other health care providers … share resources in a coordinated effort to care for their community."
"America's health care system must be there to help communities face an emergency from a natural disaster, a manmade disaster, or a virulent contagious disease," the groups wrote. "Our members are prepared to do our part to help patients and our communities. This requested action will provide the support we need in our collective mission to support the well-being, health and safety of patients by allowing flexibility at a time when it is needed most."Hospitals around the county are reportedly preparing for an onslaught of patients should the outbreak continue to spread, and some are worried about their capacity to treat everyone who comes through the doors.Related…Trump Not Planning To Get Coronavirus Test After Meeting Aide Who Tested Positive
The Saudis have long been watching anxiously as demand for oil ratcheted down and new energy sources, particularly from the United States, have come online. With the onset of the coronavirus pandemic, demand for oil has plunged even further.To hold prices in line, the Saudis called an emergency meeting last week of the OPEC oil cartel to lower production quotas. Russia balked at OPEC's demand, led by Saudi Arabia, to cut 1.5 million barrels a day in output and stabilize prices at $40 a barrel. Putin has no problem with low oil prices, since Russia's cost of production is under $20 a barrel. But he would like to see America's fracking efforts — an already costly proposition to — become uneconomical.
Without a deal, Saudi Arabia said it would sell oil to China for a discount and potentially raise its own output by as much as 2 million barrels a day — moves that would result in flooding the market with oversupply. Oil prices around the world plummeted more than 25 percent Monday to $31 a barrel. Since oil still underpins the Saudi economy, accounting for 50 percent of its GDP and some 70 percent of its export earnings, this is a serious gamble for the crown prince, who has pledged to modernize and diversify his country's financial future.And then along came the coronavirus. Here the crown prince has been forced to make some of the toughest decisions of his career. The one that has already sent shock waves through the Islamic world was his decision to suspend the year-round umrah pilgrimage in which as many as 20 million faithful — most from Saudi Arabia itself — take part every year. This has also raised the question of whether the annual hajj pilgrimage, which attracts millions Muslims more from every corner of the globe, would be allowed at the end of July.Throughout, criticism of the crown prince has quietly been mounting at home. He wants desperately to succeed his father on the throne; King Salman is now 84 and said to be frail. Still, the day after the arrest of the four princes stunned the kingdom, the king was shown in photos released by the royal palace to be in good health, receiving foreign ambassadors and reading state documents. Perhaps the king is anxious to remain in power to welcome world leaders to the G-20 summit in Riyadh in November.What has allowed the crown prince such a free hand? Certainly he has benefited from the unalloyed support of his father, who seems to accept his son's overt power grabs. Unanimity is vital since the next king is not chosen until the previous one has died. The crown prince clearly wants nothing left to chance.But he also has innumerable enablers — world leaders and business leaders alike — who have repeatedly failed to confront the leader. Amazon's Jeff Bezos was photographed beaming next to him not long before the crown prince was revealed to have ordered the disastrous hacking of Bezos' cellphone.
Trump is a particularly bad offender. Trump has never fully accepted the conclusions of his own intelligence system that the crown prince personally ordered the savage murder and dismemberment of Khashoggi. Not surprisingly, Trump said nothing about the arrest of the four senior royals this past weekend.But the crown prince's manipulations — and Trump's inaction — have a price. In the early morning hours on Tuesday, the prince and Trump talked on the phone, according to a White House official. Hours later, the Saudi prince flooded the oil market, hammering world stock, bond and currency markets.This price war, of course, has implications for Trump's own re-election in November — especially if it threatens the American oil industry, which employs some 9.8 million American workers and is projected to add as many as 1 million more U.S. fracking jobs in the next five years.The crown prince and Trump are currently facing a very similar set of challenges: The coronavirus threatening Americans at home and Muslims in Mecca and Medina; oil price and supply disruptions affecting the economies of both nations; unresolved and increasingly expensive wars respectively in Afghanistan and Yemen.Perhaps now is the time to begin to break that circle of dependency before an impending crisis becomes a real crisis.
Canada PM's wife positive for new coronavirus  by Michel COMTE,AFP
Canada PM's wife positive for new coronavirus by Michel COMTE