Heeding calls for action, Trump invokes Defense Production Act by Jon Ward Senior Political Correspondent,Yahoo NewsTrump to invoke the Defense Production Act in response to the coronavirus  
WASHINGTON — President Trump on Wednesday invoked the Defense Production Act (DPA), a set of emergency powers that will give the federal government the ability to ramp up the production of medical supplies such as masks, ventilators, gloves and other equipment to help the U.S. medical system respond to coronavirus cases."We will be invoking the Defense Production Act," Trump said at a midday White House news conference. "We have targets for certain pieces of equipment.""We've ordered millions of masks, but we need millions more," he said. "We need ventilators. … It's a complicated piece of equipment."Trump's announcement came one day after he said he preferred not to use the DPA. "We hope we don't need it. It's a big step," he said Tuesday.The White House was reported to be discussing using DPA powers around three weeks ago, but at that time the president was downplaying the risk of the coronavirus.Asked why it took so long for the administration to invoke the DPA, Trump said the current crisis was "a very unforeseen thing.""It snuck up on us," he said at another point in the news conference.Asked about warnings from medical professionals who have been saying for weeks that they need more ventilators, masks and other pieces of crucial equipment, Trump said that in the "worst case" that was accurate, but in the "best case not at all."
President Trump at a coronavirus task force news briefing on Wednesday. (Evan Vucci/AP)Vice President Mike Pence said that on Tuesday, Trump had spoken with "all the top companies in our industrial and medical supply chain.""We're hearing a tremendous spirit among industry leaders who are ready to step in and add to that volume," Pence said.But Trump did not provide any specifics and at one point suggested he was not yet ready to use DPA powers. "If we need to use it, we'll be using it," he said.Medical experts have cited the possibility that hospitals and medical providers will be overwhelmed by coronavirus patients in the coming weeks. The U.S. medical system does not have enough hospital beds, respirator masks for medical workers or ventilators to assist sick patients with breathing to meet the number of cases expected to emerge over the next few weeks.The number of cases in the United States, over 5,881 by Wednesday afternoon in all 50 states, is on the same trajectory as in many other countries, including Italy, which now has more than 31,000 cases.The Defense Production Act was enacted during the Cold War to allow the president to cajole — and even coerce — industry into producing products deemed necessary for national defense. In this case, the DPA would allow the U.S. government "to incentivize a company who already makes [emergency medical supplies] to make more of them," said Jeff Bialos, a veteran Washington attorney who served as deputy undersecretary of defense for industrial affairs in the Clinton White House.The DPA would allow the federal government to offer loans and loan guarantees to companies that currently manufacture emergency medical supplies, enabling them to dramatically increase their production of those items. The U.S. medical system has about 30 million N95 respirators for medical workers to wear while caring for the sick. One estimate is that the actual need in a worst-case scenario would be 300 million masks. The manufacturer 3M, which makes them, is already increasing its production.Yet even with the DPA, it would typically take industry time to ramp up production. Dov Zakheim, the Pentagon's comptroller under President George W. Bush, told Yahoo News in an interview Tuesday that Trump should have invoked the DPA long before now."We're behind the eight ball, because we've been reactive. Here's an opportunity to be proactive — if you even want to call it proactive at this point," Zakheim said.Coronavirus mapped on the globe in augmented reality
  Video Not Available Unfortunately, this video is not available in your region.RS-100-202 This story has augmented reality! Tap the video above to see how it looks and download the Yahoo News app to launch the full experience. Augmented reality is currently available to iPhone users (iPhone 8 and later) with the latest version of iOS.
2020 Time Capsule #5: The 'Chinese Virus'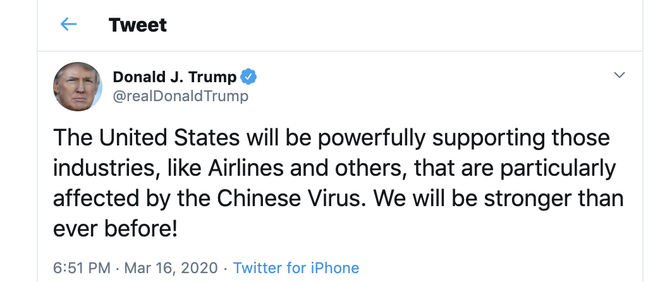 This afternoon, at the now-daily press presentation about the virus and disease, Trump was asked why he used this term—given the bitter public and governmental response it has evoked in China, and recent reports of racist anti-Chinese reactions inside the United States. (For instance, the starting entry of a widely shared Twitter thread yesterday from Jiayang Fan, a writer for the New Yorker, is below.)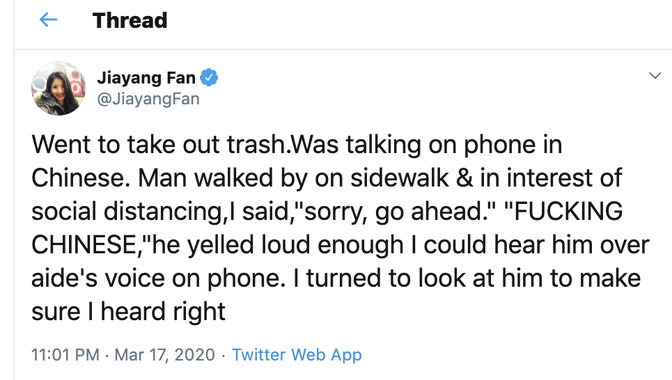 At today's conference, Cecilia Vega, of ABC, mentioned the possibility of racist backlash to "Chinese Virus." She directly asked Trump, "Why do you keep using this?" (You can see the exchange starting at time 1:44 of this video.)
Trump snapped back with what amounted to two points: First, that he was just calling things by their real name, and second, that he was getting back at China for suggestions that the U.S. was really to blame.
Why keep using the term?
Because it comes from China. That's why. It's not racist at all. I want to be accurate.

I have great love for all of the people from our country. [sic] But as you know, China tried to say, that it was caused by American soldiers.

That can't happen. It's not going to happen. As long as I'm president.
My purpose for the moment is not to review the full history of pejorative names for diseases—for instance, why syphilis was called "the French disease" by 16th-century Italians, to which the French responded by calling it "the Neapolitan disease." Nor about the acute sensitivity in China to being seen as a source of filth and disease—something that would be an insult anywhere, but which in China comes with a distinct historical background that makes it particularly inflammatory. (Rough parallel: Think of any familiar defamatory stereotype used against Africans, or Latin Americans, or Jews, or any other group. Then think of a U.S. president using that in tweets and statements.) Nor about the point my colleague Graeme Wood astutely makes: that the real scandal is what the administration does (and fails to do), more than what it says. Nor the likelihood that the animal-human transfer that gave rise to this pandemic probably occurred in wild-animal markets in China. (Evidence suggests that the transfer that gave rise to the H1N1 "Swine Flu" epidemic a dozen years ago took place somewhere in North America, but the disease was not generally known as "the American Flu" or "the Mexican disease.")Rather it is to note this moment in the United States's relationship with its most consequential foreign partner-and-competitor. While the combined public-health and economic catastrophes of the moment are commanding attention, the China-U.S. interaction may have moved in a distinctly darker direction.Neither the United States nor China is big and dominant enough to force the other country—also big, also dominant—to do something its leadership or public genuinely does not want to do.
But both the United States and China play a large enough role in the other's economic, strategic, environmental, cultural, and overall situation that each can make life significantly better, or worse for the other—not to mention effects on the rest of the world.
The story of the past nearly five decades, starting in the Nixon-Mao era, is of U.S. and Chinese public and private leaders generally looking for ways to work together as wary partners, more frequently than they looked for ways to confront each other as outright foes. (I described this dynamic in an Atlantic article, "China's Great Leap Backward," four years ago.) And the story of the past five years, as I described in that same article, is of sharper and sharper differences between the countries. That was even before the trade-war confrontations of the past three years.
Now the leadership of each country is acting, in public, as if it has nothing to lose by insulting and provoking the other. Witness the accusations from Chinese officials that the U.S. may have intentionally engineered the virus and unleashed it on an unsuspecting Chinese public, or the public use of "Chinese Virus" by a president, in full awareness that it is a flash point on the other side, and the reported private use of "Kung-Flu" by a White House staffer.
Yesterday the Chinese government took a step that even the most grizzled China hands found shocking: It revoked the press credentials for U.S.-citizen reporters from the three leading U.S. newspapers—the Washington Post, the New York Times, and the Wall Street Journal—and began the process of expelling them from the country.
During the long ups and downs of U.S.-China relations—with the lows of Tiananmen Square in 1989, the U.S. bombing of a Chinese embassy in 1999, the Chinese military jet that ran into a U.S. Navy surveillance plane in 2001, the recurring trade disputes, plus the assorted highs—Chinese officials had never taken this step before.
As with most things in China, the logic of this move is probably mostly internal, as part of the ongoing years-long domestic crackdown underway in the time of Xi Jinping. (Alex Dukalskis of The Wilson Center and University College Dublin laid out internal-Chinese dynamics in a tweet thread today.) But it is a very significant escalation of the U.S.-Chinese showdown — and one that, as best I can tell, went unmentioned by the U.S. president yesterday, and today until the press-questioning part of his presentation today.
Late in the press conference, a reporter asked Trump what he thought of the Chinese move, and "what is your message to the Chinese about transparency." (You can see it starting at time 2:08 here.)
"I'm not happy to see it," Trump said, as if he were talking about the latest fall in the stock market, or problems for the cruise industry. Then:
I have my disputes with all three of those media groups. I think you know that very well.

But I don't like seeing that at all. I'm not happy about it at all.
And then he moved on. Just looking at the words, you might imagine it was a Voltaire-like "disagree with what you say, but will defend to the death your right to say it." But if you watch you'll see that it came across as a minor issue—an occasion for registering his unhappiness with these same three papers, and to shift to something more interesting.
I hope that this most consequential relationship for the U.S. will not be another casualty of the pestilence. But as I write, on March 18, it appears to have taken an under-publicized turn for the worse.
Coronavirus response: Trump is delaying tax payments but you still have to file by April 15
On Tuesday, the White House announced some details on how taxpayers will be able to defer any tax payments they might have.
"If you owe a payment to the IRS, you can defer up to $1 million as an individual," said Treasury Secretary Steve Mnuchin, adding that the payments would be "interest free and penalty free for 90 days."
"All you have to do is file your taxes; you'll automatically not get charged interest in penalties," Mnuchin said during a coronavirus briefing with President Trump looking on.
But another tax-day ritual isn't changing: You still have to file by April 15.
Texas Congressman Kevin Brady, the ranking Republican on the House Ways and Means Committee, made that clear in a press release: "Taxpayers should file by April 15 as normal and the deferral will be applied automatically."
The process for getting an extension remains the same as any other year: You have to file form 4868, giving taxpayers until October 15 to file a return and pay anything owed.
The IRS provided some details Wednesday about how the deferral will work. The notice underlined the fact that "This guidance does not change the April 15 filing deadline." The notice also defines "any person with a Federal income tax payment due April 15, 2020" as being affected by coronavirus.
A continued push to delay the filing deadline
Getting clarity on the issue has been challenging. On March 10, Democratic lawmakers on the Ways and Means Committee sent a letter to the IRS to try find out more about any changes for the filing season. "We request your continued evaluation of whether there is any need to extend the tax filing season beyond the April 15 deadline," they wrote. A spokesperson for the committee confirmed Wednesday morning that it had yet to receive a response.
On Monday, Congressman Tom Suozzi, a Democrat who represents parts of Long Island and Queens, followed up in a statement. "I am now calling on the Treasury Secretary Mnuchin and IRS Commissioner Rettig to extend the deadline to file tax returns," they added, saying we need to ensure financial security "by giving people the extra resources they need during this difficult time."
Caroline Bruckner, a professor at American University, noted in an email that the delay is helpful not only for people who owe but also for "low-income folks who rely on volunteer income tax assistance programs to do their taxes, many of which have been temporarily shut down."
Policymakers are encouraging taxpayers who are expecting a refund to file as soon as possible. IRS data through March 6 shows that almost 68 million Americans — roughly half of all filers based on previous years – have taken that advice. Nearly 53 million Americans (at least) have already gotten their refunds.
As for those who remain, on Wednesday, Bruckner had succinct advice in an interview with Yahoo Finance to those who expect a refund: "File right now."
Update: This story has been updated with additional details released by the IRS on Wednesday.
Ben Werschkul is a producer for Yahoo Finance in Washington, DC.
Read more:
Washington is debating extending the tax season. One expert's response: 'File right now'
'Americans need cash now': Washington debates how to spend $850B on coronavirus stimulus
Breaking down the $8.3 billion emergency spending bill Trump signed
Read the latest financial and business news from Yahoo Finance
Follow Yahoo Finance on Twitter, Facebook, Instagram, Flipboard, LinkedIn, YouTube, and reddit.
World National Security Council Ties China's Expulsion of American Reporters to Coronavirus Outbreak
Chinese premier Xi Jinping is "terrified of a free and independent press because he doesn't want to be challenged when his government regularly spews insane propaganda," Senator Ben Sasse (R., Neb.) said in a statement on Wednesday. "Chairman Xi can expel all the real journalists he wants, but he can't change the fact that his coronavirus cover-up killed thousands of his own people and put the world at risk."
Chinese medical authorities reportedly put a gag order on Wuhan labs that discovered the new coronavirus in December, and Wuhan government officials have reprimanded doctors who tried to warn friends and family of the virus. Meanwhile, Chinese propagandists have recently begun pushing a theory that the Wuhan coronavirus may have originated in the U.S.
More from National Review