Trump keeps talking during market hours; stocks keep tanking by AAMER MADHANI,Associated Press
WASHINGTON (AP) — When President Donald Trump speaks, financial markets gyrate and quiver in real time.
But that hasn't stopped the president from holding forth almost daily about the coronavirus pandemic and its economic implications without waiting until markets have closed for the day.
While many of his predecessors worked consciously to not affect the markets, Trump has overtly made market movements and performance a measure of his effectiveness and central to his argument for a second term.
Earlier this week, public health officials announced a surge of infections in the U.S. as leading economists predicted unemployment spiking to 10% or more. Trump, meanwhile, took the White House podium in the middle of the trading day to offer an optimistic take on his administration's response to the crisis.
"One of the elements that is being worked on very much so on the Hill is to keep the jobs going so that when we do get rid of the virus, we're going to be able to just really…go like a rocket," said Trump on Thursday as at the market spiked more than 300 points, then dove into negative territory and then inched back into positive territory over the course of his 77-minute press conference. "I think the economy is going to be fantastic."
The president headed to the same place again on Friday while the markets were open for an even longer news conference, where he vacillated between expressing optimism and lashing out about "nasty" journalists' negativity.
Amid more difficult news—the number of confirmed infections around the globe surpassed 250,000 cases—the Dow Jones industrial average closed down more than 4.5 percent on Friday.
At the end of the market's heaviest losses in more than 30 years, the market closed at 19,173.98, below where it stood on the day before Trump was inaugurated and erased the so-called "Trump bump" that he's pointed to throughout his presidency as evidence of his prowess as the economic steward.
Nevertheless, in the midst of one of the most volatile moments ever for the U.S. economy, Trump has wagered that his voice is the daily balm needed to soothe investor concerns.
Over the course of the last eight days–all on which he held extended news conferences about the coronavirus response in the midst of trading — his comments haven't stopped the bleeding. The Dow has lost more than 17% since March 13, and has plummeted more than 34% since the market hit an all-time high Feb. 19.
The president's decision to offer daily affirmations to the health of the stock market, and the economy writ large, is not surprising. But no president has tied his fortunes to Wall Street more closely than Trump, who until the market crash bragged that the rising stock market was evidence of his success leading the economy.
"Maybe, he should take it offline,"' said Mark Zandi, chief economist for Moody Analytics. "But this president? He's not going to do that."
Jimmy Carter, George H.W. Bush, and George W. Bush avoided talking about the stock market with substance, let alone trying to impact the market in the midst of trading. Bill Clinton took to heart his economic adviser Robert Rubin's advice that markets go up and markets go down.
Barack Obama was ridiculed as the stock-picker-in-chief less than two months into office when he suggested in the midst of a market slide that it was a good time to buy undervalued stocks.
For much of his next six years in office, the 44th president was often measured when even talking about the improved health of the economy: his first term started in throes of the Great Recession but he left office with 75 straight months of job growth. By the latter part of his presidency, Obama began claiming credit for the bull market on occasion.
"The stock market is booming," Obama declared in a speech in a July 2014 speech in Kansas City.
Those close to Trump said he was fully aware that the coronavirus posed an enormous threat to the very same once-booming markets he touted as the calling card of his presidency, even as he was publicly downplaying concerns about the virus.
In the weeks that the pandemic ballooned into a public health emergency, Trump had become increasingly frustrated as he privately expressed concerns to his advisers about the effect the virus could have on the markets and ultimately his reelection effort, according to White House officials and Republicans close to the West Wing.
Trump throughout his presidency has viewed the market's performance as his "daily report card" of his job performance, Zandi said. With the pandemic thrusting the economy toward a recession, Zandi said that Trump now appears to be turning to the market for an "hourly report card" to gauge the effectiveness of his response.
"In the past, sometimes it worked and sometimes it doesn't," Zandi said of the president's years-long cheerleading of the market. "Recently, it hasn't. He's in fact, as of late, done less to instill confidence and more to upset investors. They don't view his actions as very productive in terms of this crisis. It's worked against him."
Throughout his presidency, Trump has used off-the-cuff diatribes to try to shame major, publicly-traded companies whose business dealings are at odds with his political interests, tapped out timely, friendly tweets about China's Xi Jinping to calm market concerns about trade wars, and repeatedly berated Federal Reserve Chairman Jerome Powell about the central bank's policies during market dips.
Trump has repeatedly made clear that the battered market is top of his mind, as trillions of dollars in wealth and nearly all the gains for the Dow Jones Industrial tallied since his inauguration have been erased. He has sought to will a comeback with his daily updates about his administration's efforts to contain the virus in the midst of trading day, Zandi said.
It mostly hasn't worked.
Trump held a Rose Garden press conference on March 13, just before the New York Stock Exchange closed for the weekend, to declare a national emergency, to announce greater availability of virus testing kits were in the pipeline, and to declare he was ordering the purchase of oil for the Strategic Petroleum Reserve.
Later that weekend, he boasted during another news conference that the market responded to his performance with its biggest single-day gain ever. Left unsaid by the president was the fact that market had its single-worst day since the 1987 Black Monday the day before the record gain.
"I think we should do one of them every day, perhaps. How about five times a day?" Trump remarked. "We'll do one five times a day. But that was something to watch and — I had no idea."
The huge Friday gains that Trump bragged came from his market-whispering were followed by a wipe-out Monday that saw a historic, nearly 3,000-point slide for the Dow.
Investors dumped stocks after the Fed's surprise move on Sunday evening to cut interest rates to near zero, a move that appeared to only exacerbate investor worries about a global recession. The Fed rate cut came the day after Trump again publicly berated Powell over lending rates.
Jason Furman, a Harvard University economist who served as Obama's chief economic adviser, said Trump should provide important coronavirus updates whenever he and his team sees fit. But Furman also advised that Trump should "let the stock market take care of itself."
Diane Swonk, chief economist at Grant Thornton, said the "genie is out of the bottle" with Trump's consistent attempts to shape the market through Twitter and the media. And with the global nature of the marketplace, when Trump makes his comments remains less important than the substance of his remarks, she said..
"This is where facts matter, information matters and very focused communication matters," Swonk said. "His experts should be all the focus. His job should be to be the steward right now. Often, the alpha dog isn't the first one in the pack."–Associated Press writer Zeke Miller contributed reporting to this article.
Trump is making himself the victim during the coronavirus pandemic that's killing Americans every day
,
Business Insider
Analysis banner Business Insider
President Donald Trump speaks during press briefing with the coronavirus task force, at the White House, Thursday, March 19, 2020, in Washington. Vice President Mike Pence, left, and Surgeon General Jerome Adams at right.
Evan Vucci/AP
President Donald Trump presented himself as a victim during Thursday's press conference on coronavirus, complaining the media has not treated him "fairly."
He accused the media of "siding with China" at the end of briefing intended to inform the US public on the viral outbreak and the response to this health and economic crisis.
Trump has been widely criticized over his response to the coronavirus pandemic, particularly for repeatedly downplaying the threat and for not getting involved earlier on preparations in the event it reached the US.
Public health experts have said that Trump's refusal to take coronavirus seriously early on has put the US way behind much of the world.
Throughout his presidency, Donald Trump has exhibited a remarkably consistent ability to make virtually any situation about him.This tendency was on display once again on Thursday, as the president presented himself as a victim during a White House press conference meant to focus on an escalating crisis made worse by his disastrous response to a pandemic that's killing more Americans every day. Rather than taking responsibility for early failures, or admitting that he downplayed the threat, Trump wrapped up Thursday's press briefing by complaining the media has not treated him "fairly."The US is well behind the rest of the world in testing for the novel coronavirus, which is due to faulty test kits sent out by the Centers for Disease Control and Prevention (CDC) last month. Though it's clear the US is still struggling to make up for lost time due to these early stumbles, Trump on Thursday insisted the government was always prepared."We were very prepared," Trump said. "The only thing we weren't prepared for was the media. The media has not treated it fairly."

CSPAN@cspan Q: "Why was the United States not prepared with more testing?"
President Trump: "We were very prepared. The only thing we weren't prepared for was the media. The media has not treated it fairly."
Full video here: http://cs.pn/2IVDkxM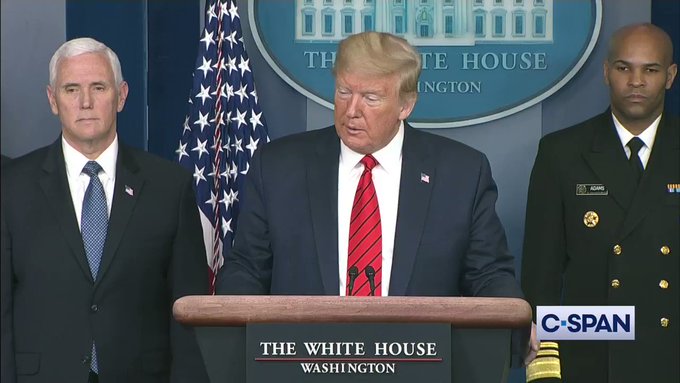 As of Thursday, the US had conducted a little less than 100,000 tests nationwide, according to the COVID Tracking Project. Comparatively, South Korea, which reported its first case of coronavirus the same day as the US and has a much smaller population, has tested nearly over 290,000 people.   South Korea took a far more serious approach to the novel coronavirus early on, and it's paid off — new cases have dropped sharply in hard hit areas; the country has reported 7,500 cases and 53 deaths. Meanwhile, the number of people infected with and killed by coronavirus in the US has consistently moved up each day. As of Thursday, the virus was in all 50 states, with well over 11,000 infections and 165 deaths.Public health experts have excoriated Trump's general response to the novel coronavirus, warning that his lack of urgency early on could lead to deaths that were preventable. "The Trump administration's response has been abysmal. It's hard to imagine how they could've done it worse," Dr. Ashish Jha, the director of the Harvard Global Health Institute, told Insider earlier this week."I don't use these words lightly, and it's incredibly painful for me to say it," Jha said, adding: "The cost of all of this is that tens of thousands of Americans are going to die unnecessarily … It was wholly preventable, and not just preventable in hindsight — it was preventable in foresight. Everybody said this is how it was going to play out if they didn't act."While Trump has shifted in tone somewhat over the past week since declaring the pandemic a national emergency, he has still continued to spread disinformation and is now attempting to rewrite the history of his response. And at the end of Thursday's press conference, his big focus was not on what's being done to prevent more Americans from being killed by this pandemic, but on how poorly Trump feels he's been treated.
Dan Diamond@ddiamond Trump calls on @OANN reporterTRUMP: O-A-N…They treat me very nicely.OANN reporter asks whether "Chinese food" is racist term. Trump says no.
OANN: Is it alarming that major media players… are consistently siding with foreign state propaganda, Islamic radicals, Latin gangs?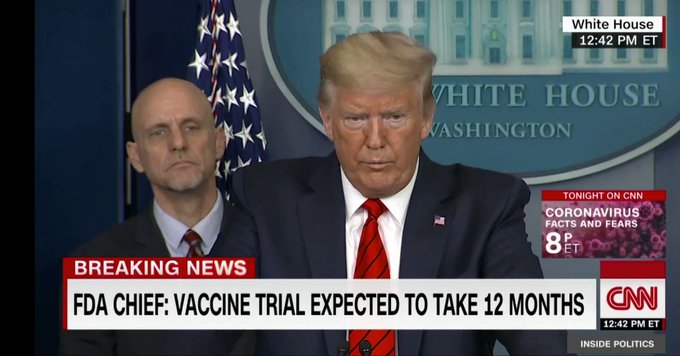 Dan Diamond@ddiamondTRUMP then attacks media outlets like WaPo and WSJ as dishonest.OANN reporter: "They're more than dishonest. They're siding with state propaganda."
TRUMP: "If we had an honest media in this country, our country would be an even greater place."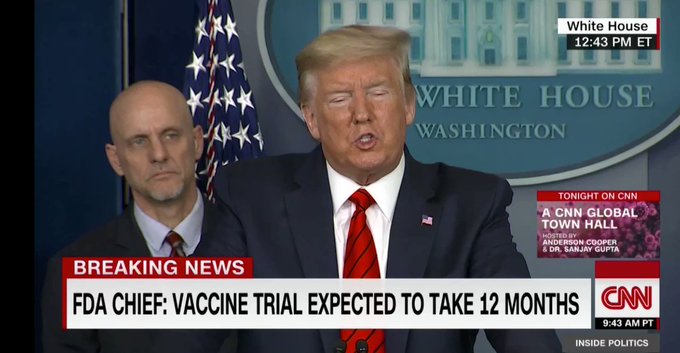 The president baselessly accused the media of being "dishonest" and "siding with China" in its coverage of coronavirus. "It amazes me when I read the things that I read. It amazes me when I read The Wall Street Journal, which is always so negative. It amazes me when I read the — I don't even read The New York Times, we don't distribute it in the White House anymore and the same thing with The Washington Post," Trump said. These remarks came two days after the Chinese government announced it was expelling US journalists working for the New York Times, Wall Street Journal, Washington Post.Trump described these outlets as "corrupt news," and went on to say only he knows the truth. "Because you see, I know the truth," Trump said. "And people out there in the world, they really don't know the truth. They don't know what it is." Read the original article on Business Insider