Hurricane-force storm in Iowa flattens 10 million acres of crops by Summer Meza August 12, 2020, 10:49 PM GMT+3
A powerful derecho storm that swept through the Midwest on Monday has left thousands of acres of crops completely devastated, and officials say more than half a million people could be without power for quite a while.Iowa Gov. Kim Reynolds (R) said the storm, which had hurricane-force winds up to 112 mph, destroyed at least one-third of the entire state's crops. More than 10 million acres were completely flattened, leading Reynolds to say she thinks the storm should qualify for federal disaster declaration. The Washington Post reports between 180 and 270 million bushels of corn were likely damaged, shortly before harvesting usually begins in September.The storm left one man dead in Iowa and one woman in Indiana. Teams are working to restore power, though USA Today reports full recovery could take weeks.Photos demonstrate just how dramatic and widespread the damage was:
More stories from
Monday's derecho damaged 10M acres of crops in Iowa; 600K still without power in Midwest
More than 600,000 customers remained without power Wednesday in the Midwest due to the powerful derecho that roared across the region on Monday. Iowa was especially hard hit, as the potent windstorm devastated the state's power grid and flattened valuable corn fields.
Officials said full recovery from the storm will take several weeks.
The storm had winds of up to 112 mph near Cedar Rapids, Iowa – as powerful as an inland hurricane – as it tore from eastern Nebraska across Iowa and parts of Wisconsin, Indiana and Illinois, including Chicago and its suburbs.
Of the 600,000 powerless as of Wednesday, some 330,000 were in Iowa, according to poweroutage.us. Iowa's three largest metropolitan areas of Des Moines, Cedar Rapids and Davenport still had widespread outages as of Wednesday morning.
Early estimates say the derecho flattened at least one-third of Iowa's crops – about 10 million acres, according to Iowa Gov. Kim Reynolds. In addition, tens of millions of bushels of grain that were stored at co-ops and on farms were damaged or destroyed as bins blew away.
And it rocked Marshalltown, Iowa, where an EF-3 tornado destroyed the town's business district just two years ago. With winds of 99 mph, Monday's storm damaged some businesses that had recently recovered, even damaging the scaffolding being used to repair the historic courthouse dome.
Scott Blackstock, manager at a Casey's General Store on Marshalltown Boulevard, rode out the storm with eight customers inside a windowless beverage cooler."It was the only place to hide," he said. "It was pretty bad." With power still out Tuesday at his store, Blackstock went through his inventory to see what food could be salvaged. The store's sign was bent and hanging upside down, and Blackstock wasn't sure whether a piece of sheet metal wrapped around a nearby electric pole was part of the store's siding or roof.Iowa weather: Effects of Monday's derecho will linger for thousands of Iowans Reynolds said the storm left behind more widespread damage than a typical tornado. She issued emergency declarations in 20 counties and expects more will seek state aid.Iowa ultimately may meet the criteria for a federal disaster declaration, Reynolds said. "I will be shocked if we don't because it is just about across the entire state, very widespread and significant, significant damage that has been done," she said.
Major damage was also reported in Cedar Rapids, Iowa, the second-most populous city in the state. A wind gust of 100 mph was clocked in Hiawatha, which is just a few miles north of Cedar Rapids, AccuWeather reported.
The hurricane-force winds ripped the roofs off of some structures, adding to the debris strewn across town.
The only known death in Iowa was a 63-year-old bicyclist who was hit by one of several large trees that fell on a bike path outside of Cedar Rapids. And in Fort Wayne, Indiana, the storm killed a 73-year-old woman who was found clutching a young boy in her storm-battered mobile home.
In all, the derecho covered a nearly 800-mile stretch of the U.S. over the course of 14 hours, AccuWeather said. By definition, a derecho is a long-lived complex of intense thunderstorms that travels at least 250 miles.
Additionally, wind gusts along its path must exceed 58 mph with at least several reports of gusts over 75 mph, according to the National Weather Service's Storm Prediction Center.
Contributing: The Associated Press; Philip Joens, Ian Richardson and Kim Norvell, The Des Moines Register
This article originally appeared on USA TODAY: Derecho storm: 10M acres of crop damage in Iowa; Midwest power outages
East Pacific to 'go wild with tropical activity' as latest hurricane fades
The tropical East Pacific could be about to enter its most active phase of the 2020 season yet.
Although the East Pacific season began on May 15, it is currently behind the pace of its Atlantic counterpart, which is on the verge of producing its 10th named system of the year despite its season officially starting June 1.
The basin was mostly dormant following the departure of Hurricane Douglas, which patrolled the basin for about a week before narrowly missing the Hawaiian islands in late July. That changed when a new tropical depression emerged last Saturday, Aug. 8, and eventually grew into Hurricane Elida on Monday, the East Pacific's fifth named storm of 2020.
Elida appears to be just the start of a significant uptick in tropical activity. The storm, which was never a direct threat to land, briefly hit Category 2 status on Tuesday, but it soon began to weaken several hundred miles west of Baja California, Mexico. Forecasters say large swells created by Elida will create rough surf as well as dangerous rip currents along the western coast of Baja California and even perhaps up into the coast of Southern California.
Elida weakened to a tropical storm early Wednesday and rapidly weakened into a post-tropical system on Wednesday evening. As Elida falls apart, it will soon have company as forecasters have pinpointed at least three separate areas where new tropical systems could form in the basin, plus one farther west in the Central Pacific.
These burgeoning systems are situated in a part of the ocean where environmental conditions are conducive for tropical systems to strengthen.
AccuWeather Hurricane Expert Dan Kottlowski said a large area of disorganized thunderstorms is located just offshore of the southwest coast of Mexico. This cluster of storms, known as a tropical wave, could eventually evolve into a tropical depression on Thursday or Friday. This system has been given a medium chance for development by AccuWeather meteorologists.
Upon formation, this depression will likely track to the northwest and remain away from the Mexico coast.
Another area of low pressure is located about 1,300 miles southwest of the southern tip of Baja California. This tropical feature is producing a broad area of cloudiness as well as disorganized thunderstorm activity. This system has been given a high chance to develop into an organized tropical system Thursday or Friday.
By this weekend, a third area of concern will appear off the south coast of Mexico. A tropical wave is expected to move across Central America on Friday and then into the East Pacific over the weekend, according to Kottlowski.
This satellite images shows two areas of interest that could become tropical depressions in the coming days.
"Low pressure developing along this tropical wave could become an organized tropical system by early next week," Kottlowski said.
Kottlowski is expecting the eastern Pacific to "go wild with tropical activity over the next several weeks" and the Atlantic may follow suit toward the end of August and into the autumn months.
The next storm names for the 2020 East Pacific season are Fausto, Genevieve and Hernan.
In the Central Pacific, an area of interest, designated as Invest 92E, could eventually become a tropical storm or even a hurricane by early next week, according to Kottlowski. However, this system only has a low chance for development over the next several days.
This Central Pacific feature is forecast to stay well south of Hawaii.
Keep checking back on AccuWeather.com and stay tuned to the AccuWeather Network on DirecTV, Frontier and Verizon Fios.
Train derailment in Scotland kills 3, leaves several others injured
Smoke was seen billowing into the sky after a passenger train derailed Wednesday morning near the town of Stonehaven, Aberdeenshire, in eastern Scotland, leaving at least three dead and at least six others injured.
Officers with the British Transport Police stated that they responded to the incident at 9:43 a.m., local time, adding that they would remain at the scene to assist paramedics and the fire brigade.
Around 30 emergency vehicles, including air ambulance support, were already at the accident site with more expected to arrive as smoke could be seen following reports of an engine fire.
According to the BBC, there are reports that the lead locomotive and three of the four passenger cars had left the tracks and are sitting on an embankment.
Nicola Sturgeon, the First Minister of Scotland, described this as an "extremely serious incident" and confirmed that there are early reports of serious injuries, reported The Guardian. Sturgeon added that her thoughts are with those involved in the accident.
United Kingdom Prime Minister Boris Johnson also shared his condolences. "I am saddened to learn of the very serious incident in Aberdeenshire and my thoughts are with all of those affected. My thanks to the emergency services at the scene," he said.
The incident occurred in Carmont, located to the west of Stonehaven, in an area that is "a very difficult location for emergency services to access," stated Sturgeon.
CLICK HERE FOR THE FREE ACCUWEATHER APP
According to AccuWeather Meteorologist Tyler Roys, this area was hard-hit by a complex of thunderstorms that moved through late Tuesday night into Wednesday morning.
"Rain was reported at Stonehaven from 4 to 10 a.m., local time, with the heaviest falling around 7 a.m.," he added.
Around 54.6 mm (2.15 inches) of rain was reported at Stonehaven between Tuesday and Wednesday morning. The River Carron was reported to have burst its banks in the town center. Schools, which were set to open this week after shuttering earlier this year due to the pandemic, were closed due to flooding, reported The Guardian.
The BBC reported one train that was scheduled to leave from Aberdeen to Glasgow around 6:30 a.m. local time was initially "halted" due to flooding on the railway.
Network Rail Scotland shared pictures and videos of train lines impacted by flooding on Wednesday morning. Just minutes after officers began responding to the derailment, Network Rail tweeted a video of rails covered with flood water and debris from a landslide in Carmont.
Replying to @BBCScotlandNews
UPDATE: About 30 emergency vehicles, including an air ambulance, are at the scene with more continuing to arrive.
http://bbc.in/2XRCryj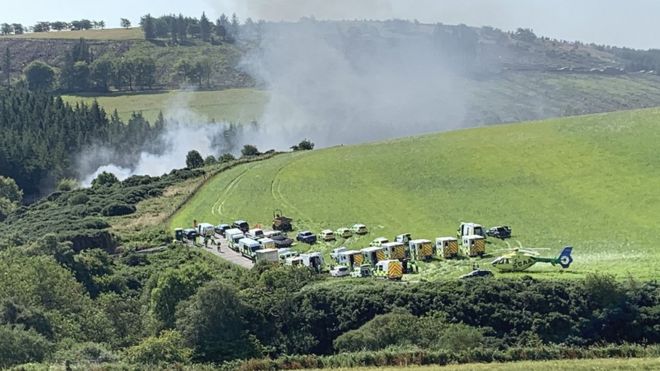 The track that runs through Carmont has been prone to landslides in the past. According to the BBC, the Aberdeen to Dundee line was closed due to a landslide at Carmont during torrential rain and gales on 22 October, 2002.
In addition, a Network Rail report from 2014 included Carmont in a "list of sites which in recent years have been greatly affected by earthslips".
Unsettled conditions have been building across the British Isles since Monday as a slow-moving storm system moved over the region.
Heavy thunderstorms developed across parts of the Midlands, southern England and Wales on Monday, producing torrential rain, gusty winds and isolated hail. Storms became more widespread on Tuesday and spread spread north into Scotland.
As the storm system lingers over the area on Wednesday, thunderstorms will return to much of the United Kingdom. The strongest storms will once again pose the threat of flooding downpours, strong wind gusts and isolated hail.
While the heaviest rain is mainly expected across western areas, an isolated downpour cannot be ruled out for eastern Scotland as recovery efforts continue.
With several days of downpours set for the region, flooding will be a growing concern into the second half of the week. Any location that receives more than 20 mm (0.79 of an inch) of rain in one day will be particularly susceptible to flash flooding when rain arrives the following day.
Water will first be most likely to pool in low-lying and poor-drainage areas. Some water could settle on roadways after heavy downpours and restrict visibility for drivers for a short time, so motorists should use caution driving through some of these thunderstorms.
Lingering heat over the eastern British Isles is helping to fuel these locally heavy thunderstorms. Last Friday, London recorded the hottest day for August since 2003 as the temperature climbed to 37 C (98 F) in the afternoon.
Stormy weather will also push into northern France into the middle of the week, bringing the threat for thunderstorms to Paris. Like London, Paris has had record-challenging temperatures on and off this summer and reached a sweltering 38.9 C (102 F) on Sunday afternoon.
Keep checking back on AccuWeather.com and stay tuned to the AccuWeather Network on DirecTV, Frontier and Verizon Fios.