Executive, son believed killed in Calif. jet crash
View gallery
JUSTIN PRITCHARD 14 minutes agoSANTA MONICA, Calif. (AP) — A construction company CEO and his son were believed to be aboard a jet that slammed into a hangar and burst into flames after landing at a Southern California airport, in what fire officials described as an unsurvivable accident, an official with the firm said Monday.Mark Benjamin and his son, Luke Benjamin, were apparently on the twin-engine Cessna Citation that crashed Sunday evening, Morley Construction Vice President Charles Muttillo told The Associated Press.Luke Benjamin was a senior project manager at Santa Monica-based Morley Construction, Muttillo said.Investigators awaited the arrival of a crane at Santa Monica Municipal Airport, but they did not expect to find any survivors on the flight from Idaho, officials said."This was an unsurvivable crash," Santa Monica Fire Department Capt. John Nevandro said Sunday night at a media briefing.View gallery."
Firefighters work to extinguish fire at the site of a plane crash in Santa Monica, Calif., on Sunday …Because the hangar collapsed in flames around it and a crane would be required before the plane could be reached, investigators had been unable to determine how many people were aboard the twin-engine Cessna Citation designed to hold eight passengers and two crew members, officials said.It had taken off from Hailey, Idaho, and landed in Santa Monica when it went off the right side of the runway at about 6:20 p.m. on Sunday and struck the hangar, Federal Aviation Administration spokesman Ian Gregor said.The blaze destroyed the hangar and did minor damage to two other buildings."It was a total loss," Fire Department spokeswoman Bridgett Lewis said.News helicopters showed all but the tail of the plane trapped under a collapsed section of the small building.View gallery."
Firefighters work to extinguish fire at the site of a plane crash in Santa Monica, Calif., on Sunday …Investigators could not immediately say whether anyone was inside the hangar at the time of the crash.A plume of smoke rising above the airport could be seen in the twilight sky over the neighborhoods surrounding the airport in the hours after the crash.After hearing a loud boom, several neighbors ran toward the airport and saw the fire."It was very, very terrifying, it was sad to see just so much smoke, and the building collapse and the loud boom, you just put it all together and it's scary," witness Alyssa Lang told KABC-TV.Witness Charles Thomson told the TV station the plane appeared to make a "perfectly normal landing" before veering off course.View gallery."
Firefighters work to extinguish fire at the site of a plane crash in Santa Monica, Calif., on Sunday …The jet, a Cessna 525A manufactured in 2003, was registered to a Malibu, Calif., address and its corporate owner, Creative Real Estate Exchange, is based in Birmingham, Ala., and Atlanta, according to FAA public records. The plane had no record of accidents or incidents, the FAA said.According to the website flightaware.com, the plane made 12 flights in September, mostly within Idaho and between Idaho and Southern California.Phone messages left after hours at the real estate company's two offices were not immediately returned.The National Transportation Safety Board took over the investigation and a briefing was expected later Monday.Santa Monica Airport, located in the coastal tourist destination known for its trendy bars, restaurants and wooden-pier carnival, is home to many private jets, many of them used by wealthy Southern Californians from the entertainment industry.The airport in Hailey serves Idaho's Sun Valley resort area, which is a frequent destination for many celebrities, and the rich and powerful alike.__Associated Press writers Christopher Weber and Andrew Dalton contributed to this report.
Chicago trains collide, dozens injured
View gallery
16 minutes agoCHICAGO (Reuters) – A Chicago Transit Authority train collided with a standing train at a station in a western suburb of Chicago during Monday morning's rush hour, leaving at least 33 people injured, according to an official with the CTA.The collision happened at about 7:45 a.m. local time at the ground-level Harlem Station in Forest Park west of Chicago, CTA spokeswoman Catherine Hosinski said.Thirty-three people were transported to nine area hospitals with what appeared to be non-serious injuries, including the operator of the standing train, Hosinski said.The National Transportation Safety Board said it was sending investigators to Chicago to investigate the collision. The CTA also is investigating to see whether there was an operator or anyone else on the colliding train, which had no customers.Forest Park Mayor Anthony Calderone gave a slightly higher number of those injured saying forty-eight people had been transferred to 10 area hospitals, adding that none of their injuries was life threatening.View gallery."
This image from video provided by NBC Chicago shows the aftermath of a crash involving two Chicago T …"Most of the people were complaining of either neck pain or back pain," Calderone told the CLTV news station.Service had resumed across the affected line by midday, but trains are not stopping at the station where the collision occurred, according to the CTA.Robert Kelly, president of the union which represents train operators, told reporters the moving train was apparently empty and safety mechanisms should have stopped it automatically before it entered the station."Right now it is starting to look like a mechanical malfunction," Kelly said.Calderone said Forest Park police were treating the station as a crime scene as a precaution to preserve evidence, though they were not saying any crime had occurred.View gallery."
Emergency personnel work at the scene where two Chicago Transit Authority trains collided during rus …(Reporting by Mary Wisniewski; Editing by David Bailey, Jim Marshall and Diane Craft)
No survivors in crash of small jet at Santa Monica, California, airport
Dana Feldman 1 hour ago
View galleryFirefighters carry equipment through foam sprayed on a fire that erupted after a twin-jet Cessna Citation …By Dana Feldman SANTA MONICA, California (Reuters) – The fiery crash-landing of a small jet at the Santa Monica, California, airport killed all aboard, though the number of victims has yet to be determined, airport and federal safety officials said on Monday.The twin-engine Cessna Citation swerved off the right side of the runway on landing at Santa Monica Municipal Airport at about 6:20 p.m. local time on Sunday, slammed into a hangar and burst into flames, airport manager Stelios Makrides said.The hangar structure collapsed around the plane, and investigators have not been able to reach the aircraft to determine how many people were on board, Makrides said. He said it was not known whether anyone was inside the hangar just before the crash.The plane had departed from Hailey, Idaho, according to Ian Gregor of the Federal Aviation Administration. The Cessna Citation family of jets has a seating capacity for between five and nine people.An investigation team from the National Transportation Safety Board arrived at the scene on Sunday night, NTSB spokesman Keith Holloway said. Makrides said the NTSB returned to the crash site on Monday morning to resume its probe.Makrides and Holloway both said there were no signs of survivors. Captain John Nevandro of the Santa Monica Fire Department said it was "an unsurvivable crash."Makrides said something occurred as the plane touched down that made it veer to the right, but that the cause was under investigation.Witness Charles Thomson told local television station and CNN affiliate KCAL-TV that a tire on the plane's landing gear appeared to burst as it touched down."It wasn't an emergency landing," Thomson said. It was just a landing, and the tire popped afterwards."News pictures taken shortly after the crash showed billowing black smoke curling up over aircraft at the airport, which serves communities west of downtown Los Angeles. Subsequent images showed the tail of an aircraft protruding from the partly collapsed hangar, flanked by fire trucks.(Writing and additional reporting by Steve Gorman; Editing by Cynthia Johnston and Leslie Adler)
Insurance crews help protect well-heeled from wildfires
Laura Zuckerman September 29, 2013 12:12 PM
View galleryFlames are visible near a home in the evacuated Golden Eagle subdivision as the Beaver Creek wildfire …By Laura Zuckerman SALMON, Idaho (Reuters) – Bill Potter wasn't eager to abandon his high-end house last month during evacuations forced by a massive Idaho wildfire, but he felt reassured when his insurance company sent a team to protect his home near the world-class ski resort of Sun Valley."I was more than impressed," he said of the water tanker truck and crew privately contracted by his insurer to patrol his road and keep watch over his family's home, custom-crafted from parts of antique barns.Potter is a member of the AIG Private Client Group, which is geared toward wealthy policyholders and offers a personal wildfire-protection program for customers in select areas in the western United States.The program, still considered a novel service in a niche market, operates under the premise that it is cheaper to defend multimillion-dollar homes against fire than to replace them.Companies such as AIG, Chubb and Fireman's Fund are competing to offer extra layers of protection to "gold-plate" properties owned by the well-heeled, said Jim Whittle, assistant general counsel with the American Insurance Association.Services range from clearing trees and brush from around a home before a fire can start to applying flame-retardant chemicals to the perimeter of a property in the midst of a blaze, according to industry literature.Jack Dies, head of Sun Valley Insurance and an AIG broker, said premiums for such policies average up to $7,000 a year but those costs are dwarfed by the value of properties at stake.Whittle could not quantify how widespread privately funded wildfire protection has become since first emerging less than a decade ago. But insurance plans offering such services have grown more popular as homes increasingly encroach on the "wildland-urban interface," where the fringes of communities meet undeveloped, often rugged terrain.Between 2000 and 2010, 10 million U.S. homes were built in or bordering fire-prone wild lands, representing two-thirds of all houses built during that period, according to research conducted by the U.S. Forest Service and others."It's entirely likely it will be a continued pattern and approach," Whittle said of private fire protection.The presence of private firefighters gained greater attention this summer as dozens of large blazes raging across the drought-parched West strained traditional government firefighting resources at the local, state and federal levels.Property losses are estimated to have run into the hundreds of millions of dollars.AFFLUENT MOUNTAIN COMMUNITIES-Potter was one of thousands of residents forced in August to flee a wildfire in Idaho's Sawtooth Mountains that threatened a scenic river valley whose homeowners included celebrities such as actor Tom Hanks. Land and properties in the area are collectively valued at up to $8 billion.Hundreds of federal firefighters fought the blaze, battling flames door to door with support from water-dropping helicopters and airplane tankers. By the time it was over, the so-called Beaver Creek blaze had blackened 112,000 acres of tinder-dry pine forests and sagebrush flats.Just one home was lost in the blaze.None of several insurers – including AIG – that underwrite multimillion-dollar homes in fire-prone regions agreed to interviews about wildfire protection services.On its website, AIG Private Client Group pledges to use a proprietary wildfire mapping system to determine which of its insured homes are most vulnerable and to automatically send crews to take measures such as blanketing a house with fire-resistant foam. Homeowners are not required to alert the company or even be on the premises for the emergency fire protection clause to kick in.Potter said he was unaware that his policy provided for such services until the AIG private fire crew arrived on his street."It must have been in the fine print of the contract. But I was duly impressed with their presence," Potter said.COSTLY POLICIES-Dies said crews hired by the company consist mostly of trained firemen with extensive fire-protection backgrounds."The theory is, if they can save one house, their bottom line is a whole lot better," he said.Firefighting experts still are evaluating how to best integrate insurance-hired resources.Private crews out to protect specific individual properties in the midst of mass evacuations can pose a challenge to federal fire managers trying to marshal manpower and resources over a wide area, said Steve Gage, assistant operations director for fire and aviation management for the U.S. Forest Service.He said the agency has sought to accommodate insurance company contract crews and engines in recognition of the valuable services they provide for certain homeowners. But tactics and objectives sometimes differ between traditional wildland firefighters and private asset-protection operations.In some cases, the industry can end up competing with the government for a limited supply of contract fire engines and residents become concerned about what seems to be government crews working their neighbor's home but not theirs, Gage said."The industry is about profit and loss and they're in business to make money," he said.(Writing and reporting by Laura Zuckerman in Salmon, Idaho; Editing by Cynthia Johnston, Steve Gorman and Bill Trott)
South Carolinians raising millions to protect centuries-old Angel Oak
Harriet McLeod 1 hour ago EnvironmentNatureSouth Carolina
View gallery
By Harriet McLeod JOHNS ISLAND, South Carolina (Reuters) – A group trying to preserve the centuries-old Angel Oak near Charleston, South Carolina, is racing against a fall deadline to raise the $3.6 million needed to protect surrounding land from development that environmentalists contend would harm the tree.The Angel Oak, with a massive canopy stretching more than 1,889 square yards (1,580 square meters) and trunk of more than 25 feet in circumference, has drawn generations of visitors to Johns Island near historic Charleston.In less than two months, the Lowcountry Open Land Trust has collected almost $700,000 from more than 9,000 donors. With local governments contributing additional money toward the purchase, the land trust still has about $500,000 left to raise by November 21.Many donations were dropped into jars at local Piggly Wiggly grocery stores, Director Elizabeth Hagood said, but some funds have come from as far away as South America.View gallery."
Resurrection ferns grows on the massive branches of the Angel Oak tree in Charleston, South Carolina …"It's amazing the connection people have to this tree," she said. "It's very passionate."Named for 19th-century rice and cotton plantation owner Justus Angel, the oak stands 65 feet high and is estimated to be between 400 and 500 years old.While it is not the oldest or the biggest tree in South Carolina's low country, the grandeur of its weighty branches draws about 36,000 people from around the world each year, said Cam Patterson, director of special facilities for the city of Charleston, which owns the Angel Oak and the small park around it.The tree also has historical significance, Hagood said."All during segregation, the Angel Oak was the only public place on Johns Island that was not segregated," she said. "People didn't have air conditioning then, and it was a cool place for a church picnic."View gallery."
Samantha Siegel, 31, organizer behind the grass roots Save the Angel Oak petition, poses next to the …The fundraising effort is part of a fight that began in 2008, when about 40 acres of forest land around the tree and park were slated to become a large commercial and residential village.Development pressure is strong on the once-rural island, whose roads lead to multimillion-dollar beach houses, Hagood said.'MY SANCTUARY'–Samantha Siegel, a 31-year-old waitress, said she decided to try to stop the building plan when it appeared to threaten the tree she visited each day on her way to work."This was my happy place, my sanctuary, the only place that ever felt like home," she said.View gallery."
Tourists take photos around the trunk of the Angel Oak tree in Charleston, South Carolina September  …Siegel co-founded a nonprofit organization called Save the Angel Oak, began a petition drive against the development and called on city leaders and environmental groups to take action."Nobody really listened to me at first," she recalled as she sat on a bench near the tree last week. "They all said it's a done deal, there's nothing we can do, good luck. It was the penniless nature girl versus the rich developers."Her nonprofit and the Charleston-based Coastal Conservation League sued to block developer Robert DeMoura's application to fill wetlands for the project. A botanist with the conservation group said filling the wetlands and cutting surrounding forest would alter the water table and disturb the oak's shallow, wide-spreading root system.As part of a settlement last spring after the property fell into foreclosure, the bank that took ownership, Coastal Federal Credit Union, agreed to let a local trust buy 17 acres of land near the Angel Oak, said Dana Beach, executive director of the Coastal Conservation League.Charleston County voted in July to contribute $2.4 million toward the purchase. The city of Charleston and the nearby beach islands of Seabrook and Kiawah have also donated.View gallery."
Resurrection fern grows on the the Angel Oak tree in Charleston, South Carolina September 24, 2013.  …The land trust learned late last week that it has until November 21 to secure the remainder of the money, after the bank granted an extension from the original deadline of Monday.Hagood said the land trust also hoped to conserve another 17 acres that the bank has optioned to a new developer but has not yet begun raising money for that effort. The trust's planned Angel Oak Preserve would be a forested park and site of educational programs, she said."The Angel Oak is emblematic of the history of the Lowcountry," Beach said. "It takes constant, persistent and long-term effort to preserve this landscape."(Editing by Colleen Jenkins and Lisa Von Ahn)
Northwest Pounded by Storm
Northwest pounded by record rainfall, more storms to … Play video .
Storms Hit Pacific Northwest Play video .
Storms Slam Pacific Northwest With Record Rainfall Play video .
More Storms Play video .
Wind and Rain Slam Washington, Oregon Play video .18 hrs ago 2:45 ABC News Videos Record rain slams Northwest with hurricane gusts of wind and widespread flooding.
By
Sydney Lupkin
|
ABC News Blogs
 – 1 hour 50 minutes ago
Florida Man Dies of Bacterial Infection After Crabbing in River (ABC News)Florida health officials have warned beach-goers to avoid wading into the water with open wounds and eating raw or undercooked seafood after a man died of a bacterial infection hours after crabbing.Henry "Butch" Konietzky, 59, was crabbing in Halifax River when he was exposed to vibrio vulnificus, a bacterium normally found in warm seawater, according to the
Daytona Beach News-Journal.
"I am actually really shocked," nearby resident Kamryn Eversole told
WFTV
, ABC News' affiliate in Orlando and Daytona Beach, Fla. "I'm in this water all the time and I guess I would have been more careful if I had known this earlier."
Read about 7 foods most likely to make you sick.
The bacteria causes blood infections in people who go into the water with open wounds or who eat raw or undercooked seafood, according to the U.S. Food and Drug Administration. More than 70 percent of people who become infected have "distinctive bulbous skin lesions," and about half of vibrio vulnificus infections are fatal.In Konietzky's case, he became infected when he waded out into the water with open wounds, according to the Daytona Beach News-Journal. His daughter told the newspaper that Konietzky had lesions on his legs a few hours after crabbing, prompting his wife to take him to the hospital. But it was too late and he died hours later of kidney failure.There have been 26 cases of vibrio vulnificus statewide this year, including nine deaths, according to WFTV.
Raw: Typhoon Batters Vietnam Coast 
HANOI, Vietnam (AP) — Tropical storm Wutip lashed central Vietnam on Monday after sinking at least two Chinese fishing boats near the Paracel Islands, leaving 75 fishermen missing, officials said.The storm uprooted trees, cut power lines and damaged more than 1,000 houses. There was no immediate word of injuries, flooding or major structural damage.Vietnam's national weather center said Wutip had weakened from a typhoon to a tropical storm by the time it made landfall. It was packing sustained winds of 117 kilometers (73 miles) per hour, it said.Officials evacuated tens of thousands of people from the storm's path over the previous day.Schools in five central provinces closed and the coast guard told 61,000 fishing boats with 303,000 crew members to take shelter.By nightfall, Wutip had blown the roofs off of more than 1,000 houses in one district alone, local government official Pham Huu Thao said. TV footage showed uprooted trees and deserted city streets in central towns close to the storm's center.Wutip sank at least two Chinese fishing ships as it neared the coast near the Paracel Islands, leaving 75 fishermen missing, according to the website of the Hainan government in south China. Two vessels sank Sunday and contact with a third has been lost, it said.Wutip was the strongest typhoon to gather off Vietnam this season. The most powerful Asian storm this year was Typhoon Usagi, which caused at least 33 deaths in the Philippines and China earlier in September.Vietnam is prone to floods and storms which kill hundreds of people and cause millions of dollars in damage each year.
Mud volcano likely formed new island off Pakistan's coast
By Scott Sutherland | Geekquinox – 40 minutes ago
Last week, a deadly earthquake shook the mountains of southern Pakistan, leveling buildings and claiming the lives of over 400 people. In the aftermath, though, people living along the country's coastline reported that a new island had sprung up from the water, and scientists believe that it may have been caused by a mud volcanoThe new island, measuring around 90 metres wide and reaching about 20 metres above the water line, formed a little over 2 kilometres from the shoreline. Initial reports of the new land-mass were met with some skepticism, however NASA's
Observing-1 satellite
captured images of it on September 26th, and comparing them to
Landsat-8 satellite
imagery from April 17th clearly shows that it is definitely something new.
[ Related: Pakistan earthquake may have created a new island off coast ]
Left: Landsat-8 image from April 17, 2013. Right: Earth Observing-1 image from Sept 26, 2013.
The ideas for what caused this island to form vary, but the one that has gained the most support so far, it seems, is that it was a mud volcano — the earth of the ocean floor was loosened by the earthquake, which allowed a trapped deposit of methane gas to push up to the surface, carrying the mud and earth with it. These
mud volcanoes
are fairly common in Pakistan, with 80 active ones currently known to be in Balochistan province, where the earthquake occurred.Shortly after the island formed, local residents went out to explore it, recording this video. Towards the end of the video, you can see the methane gas burbling up through the surface of the island, and the people lighting the gas on fire:
[ More Geekquinox: Astronomers near milestone of 1,000 confirmed alien worlds ]
This island hasn't been named yet, but it's likely not going to be around long enough to earn one. These mud volcano islands aren't very stable, and this one will be eroded away by the ocean tides within a few years at most.
(Photos courtesy: National Institute of Oceanography, NASA)
Tornado Confirmed Near Seattle: High Winds Damage Industrial Area
weather.com Published: Sep 30, 2013, 3:18 PM EDT Associated Press
A storm system dumped a record amount of rain in the Pacific Northwest, knocked out power to thousands and likely churned up a rare tornado Monday that ripped a hole in the roof on an industrial plant near Seattle.
The most dramatic damage was at an industrial park in Frederickson, south of Tacoma. As thunder and lightning flashed, the wind uprooted trees and tore a jagged hole in the roof of the Northwest Door manufacturing plant.
"It looked from the inside like a wave going along. You could actually see the roof flexing," Northwest Door President Jeff Hohman said.
(MORE: Seattle's Tornado Warning Drought Nears 6,000 Days)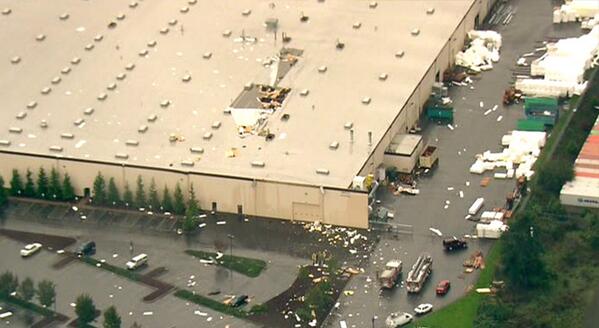 Witnesses reported seeing a tornado in the area at the time, and the Weather Service sent a team to Frederickson to investigate.
Washington may get a tornado or two every year, but they are usually small. One of the largest was an F3 in 1972 in Vancouver that killed six people.
No one was injured in Monday. About 100 employees evacuated and the business closed while inspectors assess a 40-by-40-foot hole in the roof.
The wind also caused damage at a nearby Boeing plant, mostly in the parking lot, spokesman Doug Alder said. The storm blew out the windows of about two dozen cars and knocked down fences, power lines and trees. Some tiles were blown off the Boeing roof. Nobody was injured and there wasn't any damage to airplane parts or equipment.
(MORE: Powerful Northwest Storm | Seattle Forecast)
Several thousand employees work at the Frederickson site, which makes parts and sections for just about every Boeing airplane, including the vertical tails for the 777 and 787.
Parts of the Northwest got more rain in a day or two over the weekend than typically falls in the entire month.
"We basically had conditions well off shore that were very reminiscent of late fall-early winter," said Dana Felton, meteorologist at the National Weather Service office in Seattle.
With Mondays' precipitation still to be added, it's been the wettest September on record in Olympia and the second-wettest in Seattle.
Nearly 8 inches fell in Olympia, topping a 1978 record and swamping the usual 1.7 inches that fall in that time, the National Weather Service said. Sea-Tac Airport's September total of 5.6 inches came second to a 1978 record, while downtown Portland saw 6.2 inches — the most since record-keeping began in 1872.
Puget Sound Energy had about 12,000 customers out of service late Sunday, the Bellevue-based utility reported. Seattle City Light reported it had about 3,200 customers out of service overnight. Portland General Electric had more than 90,000 customers out of power since the storm began.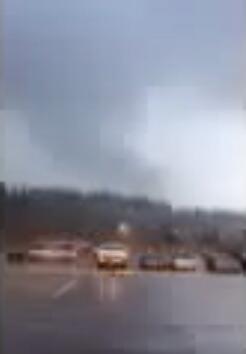 Possible tornado near spanaway!!! Wow..

Tornado damages buildings in Frederickson

By

Scott Sistek

Published: Sep 30, 2013 at 8:32 AM PDT Last Updated: Sep 30, 2013 at 12:14 PM PDT

FREDERICKSON, Wash. — A small tornado touched down in Frederickson Monday morning, causing some damage to a building's roof, tipping over rail cars, and causing debris-blown damage to cars in a nearby parking lot.

The twister hit near the Boeing plant and the NW Doors building on 190th Street and East Canyon Road around 7:20 a.m.

Central Pierce Fire and Rescue tweeted a photo of the roof damage of that building and says no one was injured. Another witnesses at the nearby Boeing plant told KOMO News workers trees and power lines were down, some windows were blown out and they were told to shelter in place.

"I could see it, I could hear it," said Mark McNeil who was outside about a block or so away. "I looked over and I could see it coming from my right front as I looked through my windshield — and it was a little one and I could see some debris flying in it, and it came over and took off part of the building to my left."

He said he could feel the strong gusts while inside his vehicle that weighed over 78,000 pounds.

"The wind rocked me around pretty good," McNeil said.

A National Weather Service team of meteorologists are on the scene to determine the tornado's strength, path and time on the ground.

Tornadoes aren't unheard of in Western Washington — there have been 16 in King, Pierce and Snohomish County since the 1950s, almost all very weak, although this one that struck Kent in 1969 sure turned heads.

Statewide, Washington averages about two tornadoes a year, most in the weak F0 to F1 category. That average recently was declared up from one a year — most likely helped by our 1997 season that had a record 14 tornadoes.

See list of all tornadoes to strike Washington

Only four tornadoes ever officially injured anyone (including the aforementioned Kent one in 1969). There has only been one deadly tornado in recorded history in Washington — an F3 tornado that touched down in Vancouver on April 5, 1972. Six people were killed and 300 were injured in that tornado.

Updates to follow as more information becomes available