TaiwanPlay VideoTaiwan earthquake caught on cameraPhilippines quake toll rises Play video .Australians spared mega-fire Play video .
Strong quake rocks Taiwan
9 hrs ago 0:44
Reuters Videos
 A magnitude 6.6 earthquake shakes Taiwan but no casualties reported. Paul Chapman reports.
Shooting reported at LAX International Terminal
By Eric Pfeiffer, Yahoo News 7 minutes agoView gallery
View galleryThe scene at Los Angeles Airport as passengers were being evacuated from a terminal on Friday, Nov. 1, 2013.At least two people and possibly as many as four were shot Friday morning at Los Angeles International Airport (LAX).NBC News is reporting that one Transportation Security Administration (TSA) agent was allegedly killed in the incident and that a second agent was wounded. A third individual, possibly the gunman, was reportedly also injured in the incident.A male suspect is reported to have opened fire on a Transportation Security Administration (TSA) employee at Terminal 3 at 9:20 a.m. PT. The TSA agent was reportedly shot in the leg at the security checkpoint area but not inside the actual terminal. TSA spokesman Nico Melendez confirmed that one TSA officer was shot during the incident.According to multiple reports, a 45-year-old male and a 29-year-old male were shot. Authorities reportedly quickly detained the suspect, who was also hit with gunfire, according to NBC News. CBS Los Angeles added that as many
as four people may have been shot
in the incident.The Los Angeles Fire Department also has announced it is currently handling a "multi-patient incident," though no specifics on injuries have been revealed at this point.Officials have announced that authorities now have full control of security at LAX and that the incident is believed to be over. However, full details are still emerging from the incident. There have been conflicting reports as to whether one or two suspects are in custody.The Federal Aviation Administration (FAA) announced a full ground stop until the incident has been officially resolved.Eyewitness Nick Pugh told local affiliate KNBC-TV, "I had a total of maybe 8 to 10 shots fired in maybe two bursts," Pugh said. "Everyone dropped to the floor and started crawling along the crowd."Another witness, Tory Belecci, said the suspect appeared to be carrying a rifle, possibly an assault rifle.A White House official said that, "The President has been briefed about the shooting at LAX. We will continue stay in touch with our federal and local partners. The LAPD is leading the response and investigation.  We urge citizens to listen to the authorities and follow directions from the first responders on site. The President will continue to receive briefings throughout the day."Access to the airport has been temporarily shutdown on Century Boulevard, the main road leading into LAX. In addition, all flights are reportedly delayed.Another eyewitness, Brian Adamick, 43, told the
Los Angeles Times
that the TSA officer who was shot did not appear to be seriously injured. "I got shot, I'm fine," the unnamed TSA agent reportedly told Adamick and other witnesses on the scene. Remarkably, the agent reportedly reassured witnesses by telling him that he had been shot before and that the wound was not life-threatening.
Los Angeles airport shooting: TSA agent downThis is a developing story: One TSA agent was shot and killed, another was shot and wounded, NBC is reporting in Los Angeles. As many as four people were reported injured after a man opened fire at a TSA security checkpoint at LAX Terminal 3.Refresh this page for live updates. We are also live updating here: http://yhoo.it/1h6cPUs 2.
Multiple patients are being treated at the Los Angeles International Airport where witnesses reported hearing numerous gunshots near Terminal 3 about 9:30 a.m. The nature of any injuries is unknown at this time, but an alert from the Los Angeles Fire Department said medics are assisting law enforcement at a "multi-patient incident."CNN reports that the suspect was shot and is in police custody. An eyewitness told the Los Angeles Times that shooter was a young, white male who walked calmly as he made his way through Terminal 3 with a rifle-type firearm.Flights at the airport have been suspended, and security has increased at neighboring Los Angeles airports.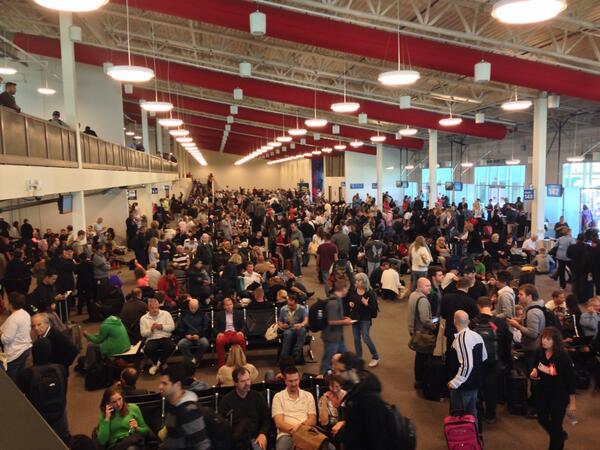 slumberparty @slumberpartyLA 
@StoryfulMalachy
yep and here is one from in the terminal we're all being bussed to
#lax
#emergency
#evacuation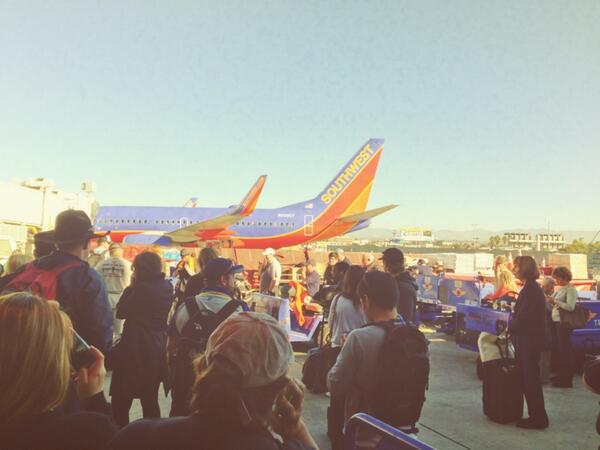 Chase Cain @ChaseCainTV 
Rifle on the floor @ LAX being guarded by police: "
@pascaljosh
: Better shot of the rifle.
#LAX
pic.twitter.com/CZzGo0vF3q
"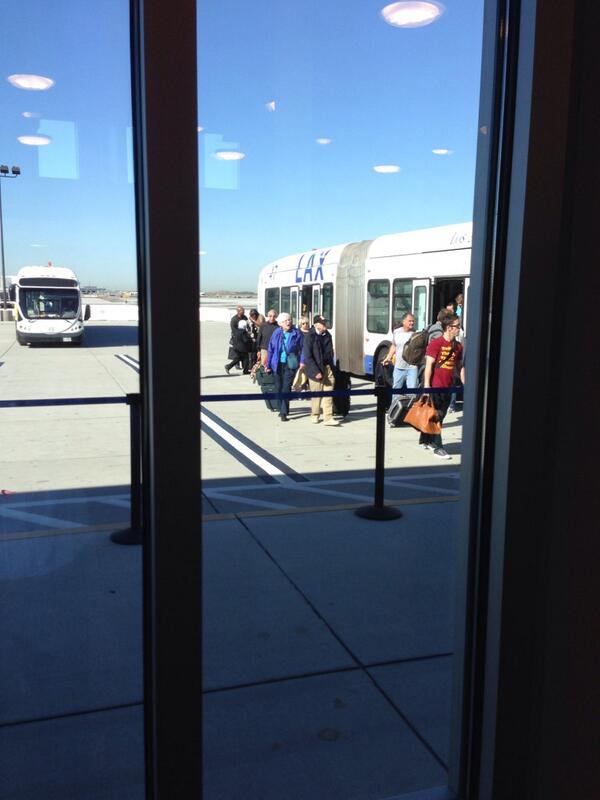 John Forstrom @jforstrom 
#lax
buses keep bringing more people to holding area at in Bradley terminal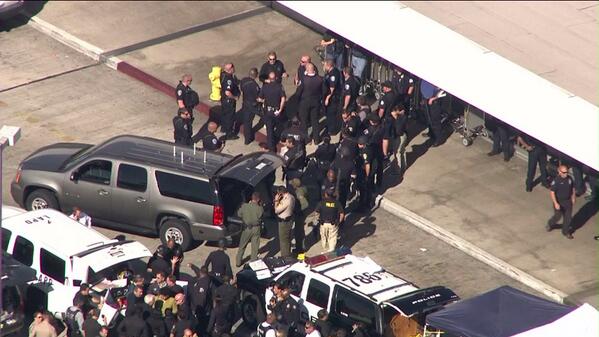 Tara Wallis @tarawallis 
#BREAKING
LA Mayor Eric Garcetti & LAPD Chief Beck now at LAX. Mass lawenforcement assembling outside terminal 3.