River closed at New Orleans after barge spills oil
View gallery
NEW ORLEANS (AP) — A 65-mile stretch of the Mississippi River remained closed at New Orleans on Monday following a weekend collision that resulted in crude oil spilling from a barge.Authorities involved in the cleanup and investigation planned a Monday morning conference call as they worked on estimates of how much oil spilled and when the river would re-open, a Coast Guard spokesman, Petty Officer Bill Colclough, said.At last count Sunday night, the river closure affected 26 vessels — 16 waiting to go downriver and 10 waiting to go upriver.Officials reported only a light sheen following the accident but river traffic was halted to avoid contaminating passing vessels and to prevent oil from spreading downriver.No injuries were reported in Saturday afternoon's accident involving the barge being pushed by a tugboat and another tugboat near Vacherie, 47 miles west of New Orleans. The other tugboat was pushing grain barges.Public drinking water intakes on the river were closed as a precaution in nearby St. Charles Parish, officials said. "The water supply in St. Charles Parish remains safe," parish officials said in a news release Sunday afternoon.The closure included the Port of New Orleans. However, both the Carnival Sunshine and the Norwegian Jewel cruise ships were able to leave the port Sunday to begin their scheduled cruises, said Petty Officer Craig Woerhle at the Coast Guard Vessel Traffic Service in New Orleans.
Winter Won't Give Up: Bitterly Cold Finish to February
By Chris Dolce Published: Feb 24, 2014, 7:27 AM EST weather.com
Share
More Snow on the Way for Northeast?
More Snow on the Way for Northeast?
Weekly Planner
 The start of March is a week away, so visions of shedding your heavy coat and placing it into storage might be entering your mind.Unfortunately, the weather pattern for the final week of February won't cooperate with that thought process, particularly if you live along the northern tier of the United States.Winter's Frigid Temperatures Hang On
Monday's Highs
Monday AM Lows
Tuesday's Highs
Tuesday AM Lows
Wednesday's Highs
Wednesday AM Lows
Thursday's Highs
Thursday AM Lows
It's a weather pattern that residents of the central and eastern states are very familiar with this winter, and also probably frustrated with. Once again the polar jet stream will plunge southward, tapping bitter cold air directly from the Arctic Ocean. The latest frigid plunge will push into the nation's northern tier through most of the week. And by the middle of the week, much of the South will join in on the shivering, as well. Let's step through the details of the forecast.
Where: Below-average temperatures will spill eastward into the Northeast on Monday, before making a more dramatic southward plunge Tuesday through Thursday. By Wednesday, much of the Midwest, South and Northeast will see temperatures 10 to 30 degrees colder than late-February averages.
Midwest Region Details: High temperatures in the single digits and teens will dominate from eastern Montana through the Upper Midwest to parts of the Great Lakes; subzero highs will return to parts of the Upper Midwest at times, especially Thursday. Lows will be in the single digits above and below zero. However, teens or 20s below zero are likely near the Canadian border (North Dakota, northern Minnesota, northern Wisconsin, the U.P. of Michigan). Teens below zero may surge as far south as northern Iowa on Wednesday and Friday.
City Forecasts: Chicago | Detroit | Fargo, N.D. | Minneapolis | St. Louis | Your Location
Northeast Region Details: Highs will be in the 20s and 30s along the I-95 corridor from Boston to Philadelphia much of this week. Lows may fall into the teens by late week. Elsewhere, highs in the teens and 20s will take over locations from northern New England to western New York and eventually western Pennsylvania.
City Forecasts: Burlington, Vt. | Boston | Buffalo | New York | Philadelphia | Your Location
South Region Details: Highs in the 40s and 50s will take over a large part of the South by Wednesday. Some 30s are possible in the Mid-South and southern Appalachians. Widespread lows in the 20s and 30s building into the Mid-South and Southern Plains Wednesday, then spreading into the Deep South and Carolinas by Thursday morning, lingering into Friday morning. Below-freezing low temperatures may reach the Gulf Coast of Mississippi and Alabama Thursday morning.
City Forecasts: Atlanta | Charlotte | Dallas | Little Rock | Nashville | Your Location
As we enter the first week of March, the latest long-range outlook from NOAA's Climate Prediction Center shows that below-average temperatures may continue across much of the country east of the Rockies.How Cold Has this Winter Been?According to NOAA, the overall temperature for the Lower 48 in January was near average. This is because we had above-average warmth in the West balancing out the well below-average temperatures east of the Rockies. A total of 18 states from Michigan and Wisconsin to the Southeast recorded a top 15 coldest January.
February 2014Departure from average temperatures Feb. 1 to Feb. 22, 2014. Darker blue and purple shaded areas in the Midwest have had temperatures the farthest below average. Image credit: NOAABelow-average temperatures have dominated much of February as well from parts of the Midwest and Plains to the Northeast. This is illustrated by the graphic to the right which shows locations the farthest below average in the dark blue and purple shadings over the Midwest.In fact, several cities in the Midwest have seen a top 15 coldest February based on the monthly average temperature through Feb. 23, including Chicago, Green Bay, Wis. Dubuque, Iowa. and Moline, Ill.Duluth, Minn. has already broken its record of 60 days with subzero lows this winter, including a record streak of 23 straight days with subzero lows from January 20 through February 11. Green Bay, Wis. is also nearing its record number of days with subzero lows in any winter season, 48 days in 1976-77. The tally stands at 45 days through February 23. For Minneapolis-St. Paul, the coming cold spell will likely push the Twin Cities into the top 10 for the most subzero temperatures ever recorded in a season. Through Feb. 243, temperatures have been subzero on 43 days this winter. Only two more subzero days are needed to push them into a tie for 10th place. Six more subzero days would tie for fifth place.Conversely, above-average temperatures have dominated parts of Nevada, Utah, Arizona, New Mexico and California.Of course, eastern North America accounts only for a small part the globe. When looking at the bigger picture, January was Earth's fourth warmest on record dating to 1880,
according to a report from NOAA.
 This past December was the third warmest on record.
MORE ON WEATHER.COM: Most Extreme Temperatures in Each State
1 / 5050: Hawaii
Hawaii has the nation's narrowest temperature range of any state thanks to is tropical location surrounded by water. The state record high was set in April 1931, and the state record low was set in May 1979 at an elevation of 13,733 feet.
Wet Weather Returns to the West Coast: Beneficial Rains to Soak California, Nevada, Oregon and Washington
By Chrissy Warrilow Published: Feb 24, 2014, 7:24 AM EST weather.com
Share
Good News, Rain in the Forecast
Good News, Rain in the Forecast
Dealing with Drought 
 After weeks of dry conditions and above average temperatures, wet weather is finally in the forecast for a region of the nation that needs it the most.
(MORE: Water Shortage Puts Communities on the Brink of Running Dry)
Pacific Jet Set Up
Throughout the next several days, a dip in the jet stream will set up over the eastern Pacific, allowing moisture to flow into California, Oregon and Washington.In addition, two different storm systems are poised to develop over the Pacific and drench the West Coast later this week, providing the parched region with beneficial rainfall.
(MORE: Record Driest Year in California, Parts of Oregon)
The Return of the Rain and Mountain Snow
Wednesday's Forecast
Thursday's Forecast
Friday's Forecast
The first system arrives on the West Coast Wednesday.Periods of moderate to heavy rainfall can be expected with this round, especially late Wednesday into Wednesday night. Some locations in northern California, including
Eureka
and
Redding
, may see as much as an inch of rain from this first round.In addition to the rain, gusty winds will blow from the south at times during this storm.
(FORECAST: Medford | San Francisco | Sacramento)
By Thursday, the initial low pressure system continues to push east, bringing rain to eastern Oregon, southern Idaho, and much of Nevada and Utah. In higher elevations, snow will fall throughout the Sierra Nevada east into the Rocky Mountains.On Friday, a second and potentially more potent system pushes toward the California coast.This system will bring rain as far south as
Los Angeles
, which is already running 6 inches below normal rainfall this year, on top of an 11.33-inch deficit from 2013. For the combined 2013-14 period to date, only 18 percent of normal rainfall has fallen. While as much as 2 inches of rain may fall in L.A. during this second storm system, it will only be a drop in the proverbial bucket.Beneficial snowfall will blanket the Sierra Nevada. But again, the amounts aren't likely to be enough to bolster the snowpack – currently only 30 to 50 percent of average – to seasonal norms.
(FORECAST: San Diego | Fresno | Las Vegas)
The storm will spread into the Rockies on Saturday, however more beneficial rain and mountain snow will linger in California for the start of the weekend.Will This Be a Drought Buster?While the rain and snow are certainly welcome, and some locations may receive as much as 3 inches of rain before the two systems move through, it will unfortunately not be enough to eradicate the persistent drought that has been plaguing much of the West.
Western Drought Monitor
Precip. Needed to End Drought
According to this week's
U.S. Drought Monitor
, 78 percent of the western states are experiencing, at best, abnormally dry conditions. Even worse, 40 percent of the western states are experiencing severe drought conditions. In California alone, nearly 15 percent of the state is experiencing exceptional drought conditions, a dire situation.
(MORE: California Drought Reaches New Level of Severity Never Recorded on U.S. Drought Monitor in the State)
As a result of the exceptional drought, watersheds and lakes are running low, not just because of the warm temperatures and dry weather conditions, but also due to the water needs commanded by agriculture and human activity.
According to the U.S. Drought Monitor
,
Lake Cachuma (located in Santa Barbara County) is currently at 39% capacity, which is an issue because it provides 90% of the water supply for the cities of Santa Barbara and Goleta. Potential mitigation plans include installing a floating barge and pipes to get lake water to the outlet portal.
The City of Santa Barbara is considering re-establishing a desalination plant built in the late 1980s that was shut down in the early 1990s.
The Twitchell Reservoir, which is located along the Santa Barbara/San Luis Obispo County line, is at less than 1% capacity. Ranchers are reducing their herds due to the lack of water and food sources.
(MORE: Stunning Before and After Photos of California's Lakes Depleted by Extreme Drought)MORE ON WEATHER.COM: Desalination in California1 / 6Tapping the Ocean
Associated PressRobert James of the California American Water company looks over water samples at a desalination plant in Sand City, Calif. The idea of squeezing salt from the ocean to make clean drinking water was once embraced warmly in California, with its cycles of drought and growing population. But it has not panned out the way many hoped. (AP Photo/Eric Risberg)
Why Is Great Lakes Ice Nearing a Record High, While Arctic Ice Hits a Record Low?
By Terrell Johnson Published: Feb 24, 2014, 6:50 AM EST weather.com
Share
Tweet
WUWA: Great Lakes Sport Icy LookThis winter in the Arctic has been dramatically different from the season we've experienced so far much of the central and eastern U.S., and it's fueling an equally dramatic debate within the scientific community about climate change and whether global warming is playing a role – or not.Across the Great Lakes, striking images have been captured of near-record amounts of ice covering the lakes' surface, especially in places like Lake Superior's Apostle Islands National Lakeshore, whose majestic shoreline ice caves
opened recently for the first time in five years
.Nearly 90 percent of the Great Lakes has been
covered in ice
thanks to this year's bitterly cold winter, a number that's up dramatically from last year's ice cover maximum of 38.4 percent and way up from 2012's cover, which reached a maximum of just 12.9 percent.
NASA Earth ObservatoryA NASA satellite photo of Lake Superior, taken Feb. 19, 2014. Ice cover on the North American Great Lakes this winter has neared 90 percent, approaching the all-time high of 95 percent, last reached back in 1979.But in the Arctic, ice amounts have followed the opposite trajectory as this winter has brought record low amounts of sea ice, the kind that grows and retreats seasonally every year in response to warming (or cooling) air and ocean temperatures.On Feb. 18 – during the month when it normally reaches its highest amount for the year – Arctic sea extent measured about 8.93 million square miles, down roughly 7,000 square miles from the previous record low for the same date since satellite measurements began in the late 1970s.Much warmer-than-normal Arctic temperatures are believed to be the
main cause
, as temperatures during the first half of February ranged from 7.2 to 14.4°F above average across the polar region.This illustration, created by the Boulder, Colo.-based
National Snow and Ice Data Center
, shows how this February's Arctic sea ice looks compared to the 1981-2010 average: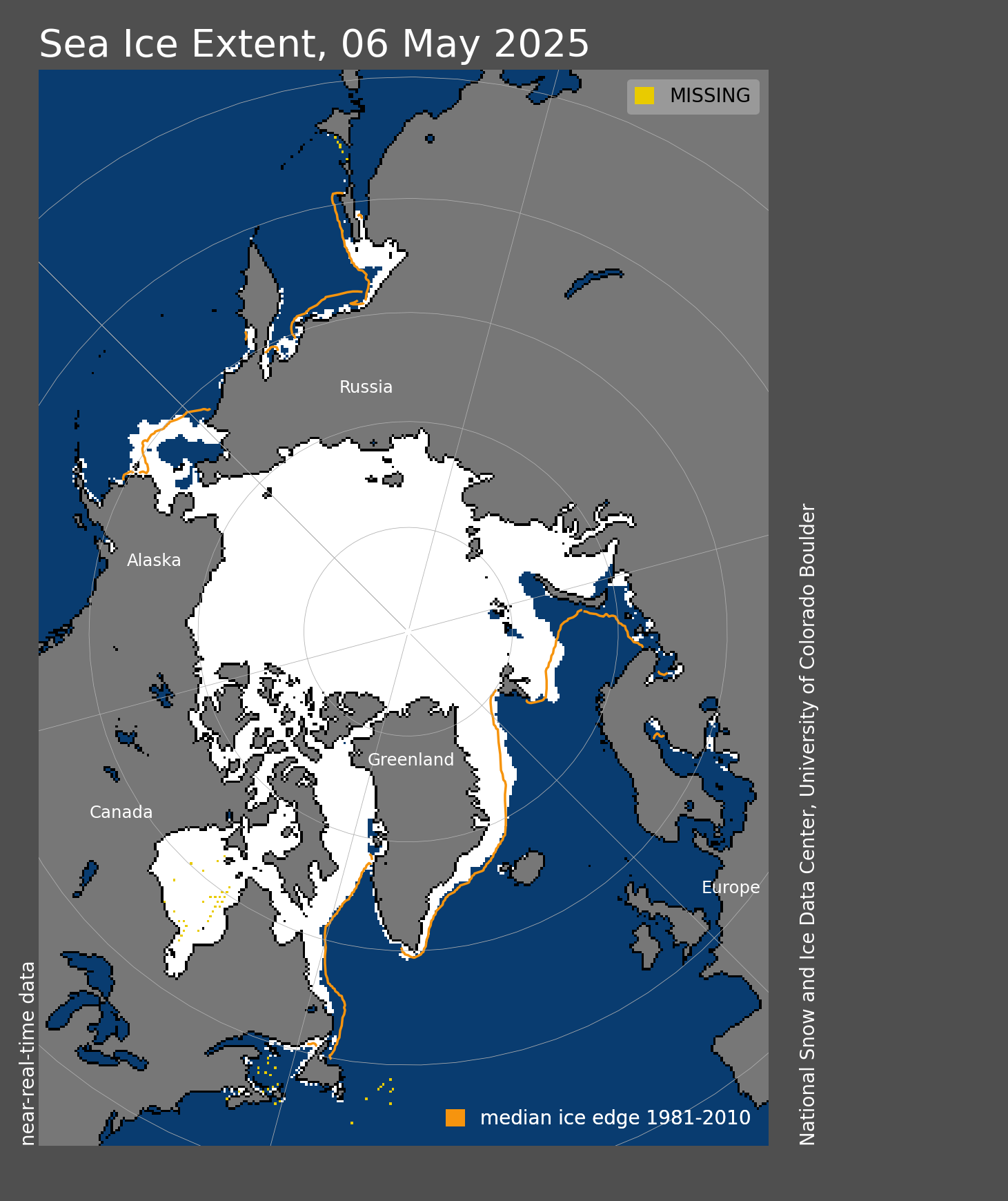 Changes in the jet stream due to climate change?To scientists like Dr. Jennifer Francis, a research professor at Rutgers University's Institute of Marine and Coastal Sciences, the reason why this is happening – why unusually warm conditions in the Arctic can occur at the same time there's record cold at lower latitudes – likely lies in the jet stream.This fast-moving river of air – which flows high above the Earth's surface and marks the boundary between cold, polar air to the north and warm, moist tropical air to the south – drives the weather we experience in the middle latitudes, the region in which the U.S. lies.Over the past few decades, the Arctic has warmed at a much faster pace than the rest of the planet, resulting in dramatic losses of summertime sea ice. With more open water that absorbs sunlight (rather than ice, which reflects it), the Arctic Ocean in turn stores more heat.Francis's research suggests that as the Arctic gets warmer, and the temperature difference between the North Pole and the equator gets smaller, the jet stream's west-to-east winds get weaker. "As those winds get weaker, the jet stream tends to take a wavier path, more northward and southward around the Northern Hemisphere," she explained in a conference call last week.Why is this important? Because when it moves more in a north-south direction, the jet stream's waves get bigger and slower, she added. "And so the weather they create also moves more slowly, and it tends to feel like on the surface that we're in a pattern that just seems to get stuck."This would seem to explain why weather events like this year's persistent cold spells across the eastern U.S. have lasted so long. Though Francis is careful to add that "we can't say the rapidly warming Arctic caused this pattern this year," she says it's "a great example of the kind of pattern we can expect to see happen more often as the globe, and the Arctic in particular, continue to warm."'Highly controversial'–Francis's ideas linking what happens in the Arctic to what happens further south caught fire in the media, as they suggested that global warming could cause extreme cold events by changing the jet stream so that it could pull frigid polar air from the Arctic southward.Even John Holdren, President Obama's science advisor, said as much in this January YouTube video, explaining the polar vortex:However, this view is "highly controversial" and "not very convincing" according to the University of Exeter's
Dr. James Screen
, who is leading a three-year project to study the impacts of climate change in the Arctic on the middle latitudes.Studies show large disagreement in how Arctic sea ice loss impacts the jet stream, he said in an email interview with weather.com, adding that "it is impossible to attribute any single event to climate change."Pointing to the floods that have swamped the U.K. this year, Screen said there is evidence to suggest certain kinds of extreme weather will become more likely in the future, such as more intense rainfall thanks to more water vapor in the atmosphere."What is harder to predict is how the atmospheric circulation will change, for example the storms or the jet stream," he added. "So whilst more intense rainfall is consistent with expectations under climate change, the exact contribution of human activities to this winter's rainfall is unclear. In the case of the cold winter in the U.S., this is harder to explain due to climate change."That's a view shared by Dr. Kevin Trenberth, a scientist with the National Center for Atmospheric Research who co-authored a
Feb. 15 letter in the journal Science
that noted cold air outbreaks "even more severe than occurred this winter" hit the U.S. in the 1960s, 1970s and 1980s – "back when the Arctic sea ice was thicker and more extensive than it is today."Role of natural variability 'very strong here'There's a likelier explanation for the changes in the jet stream, Trenberth added. It's the phenomenon known as the Northern Annular Mode, which shifts "from stronger westerlies and a stronger jet stream to one where there's much weaker westerlies and a much weaker jet stream."It's a highly natural mode in the atmosphere, it doesn't require changes in sea surface temperatures or the Arctic, or the sun or anything else to activate it," he added. "Whether the Arctic or anything else nudges it in a particular direction or not remains to be seen. But the role of natural variability is I think very strong here."With too many other possibilities like this – and because scientists are more sure of global warming's impacts on things like heat waves, drought and precipitation patterns – James Overland, an oceanographer with NOAA's Pacific Marine Environmental Laboratory, agreed that "it's very hard to prove" a connection between the jet stream and the Arctic."But the potential, if there were a connection, the impact would be huge – which is why I think there's so much interest," he added.That's because the Arctic is changing faster than anyplace else on Earth, with temperatures rising there two to three times faster than lower latitudes. "If it was proven that Arctic warming is or will impact mid-latitude weather, then this would have profound implications," said Screen. "But at the moment that link is far from clear."The key message at the moment, he added is that "the climate system is very complex and we still don't fully understand if and how the jet stream is changing due to global warming. Warmer and possibly wetter winters are the general expectation in a warming climate, but natural variability will continue cause extremes of all kinds."A similar note was sounded by the five co-authors of the Feb. 15 letter in Science: "Even in a warming climate, we could experience an extraordinary run of cold winters," it concludes. "But harsher winters in future decades are not among the most likely nor the most serious consequences of global warming."
MORE FROM WEATHER.COM: The Great Lakes, Almost Completely Frozen
1 / 20