Northern California Applegate Wildfire Threatens Homes The Associated Press Published: Oct 9, 2014, 8:17 PM EDT weather.com The Northern California Applegate Wildfire destroyed five homes and threatened hundreds more on Thursday as fire crews fought to keep it from a canyon. Crews fought the wildfire along an interstate northeast of Sacramento. Crews were trying to keep the fire from spreading to a nearby canyon where dry brush would only make the blazes worse, the Associated Press reported.  KCRA in Sacramento reports seven small fires started in the same area Wednesday and merged into the larger blaze along I-80. That's the same day California's air tanker fleet was grounded due to a crash that killed an air tanker pilot fighting a separate blaze in Yosemite National Park. According to CalFire, the Applegate fire has burned about 420 acres and is 20 percent contained. (MORE: Tropical Cyclone Hudhud Forecast)While California's tanker fleet is grounded, crews fighting the small fires along the interstate about 40 miles northeast of Sacramento were relying on air tankers from the U.S. Forest Service and helicopters to drop fire retardant on the blaze, California Department of Forestry and Fire Protection spokesman Daniel Berlant said."We're really aggressively hitting this fire," Berlant said. "There's still a lot of work to be done for our crews."Berlant said a decision to lift the safety stand-down on the department's own 22 S-2T air tankers will depend in part on preliminary results from the investigation into the crash."Once we determine that there is no clear mechanical issue with the entire fleet, then we will feel more comfortable having them in the air," Berlant said. "There's nothing that points us in that direction, but we need to ensure that first."The fires along Interstate 80 were threatening 1,000 structures around the community of Applegate in Placer County, with many homes under mandatory evacuation orders.Crews were focusing on protecting homes and keeping the fires out of the American River canyon, where another fire this year showed explosive growth, Berlant said.It was not immediately clear what caused the fires, but officials said they were looking into the possibility that human activity was to blame. At least two callers reported seeing several car tires burning along the eastbound shoulder of the interstate, California Highway Patrol officer Mike Martis said.Dustin Andrews, a concrete fabricator from Sacramento, said he saw flames lapping at the roadside."We realized it was right up against the highway in four or five different areas," he said. "It happened so fast, but over such a wide area."The eastbound lanes of I-80 were closed for several hours. A single lane was opened when the blaze was 10 percent contained, and the two remaining eastbound lanes remained closed.Meanwhile, the National Transportation Safety Board had two investigators at the site of Tuesday's plane crash on the western edge of Yosemite National Park. The investigators were examining parts of the aircraft that they could reach, though the 250-acre fire was limiting access to other parts of what was described as a nearly quarter-mile-long debris field, NTSB spokesman Keith Holloway said.By week's end, the investigators planned to take the wreckage to a secure facility for more examination. They will then interview witnesses and examine radar data and radio communications.Holloway said a final determination on the cause of the crash could take a year or more. A preliminary report could be available next week.Fire officials said the air tanker crashed into a steep canyon wall north of the Merced River.The body of pilot Geoffrey "Craig" Hunt was recovered Wednesday. Hunt, 62, of San Jose, had worked with CalFire for 13 years after serving as a U.S. Navy pilot from 1975-1984 and another 20 years in the Navy reserves."My dad died a hero," his daughter, Sarah Hunt Lauterbach, said in a statement released through CalFire. "There was not a day that went by that I didn't talk to my dad. He was my best friend."Hunt piloted one of two air tankers flying out of CalFire's base in Hollister, 150 miles south of Sacramento.He had master's degrees in business and biochemistry and taught chemistry at the University of Santa Cruz."He did math equations for fun. That's what he did in his spare time," recalled CalFire Battalion Chief Joshua Nettles, who is in charge of the Hollister base.Since his death, community members have left flowers and notes of condolence at the base's gate."Everybody here at the air attack base has been affected by this unexpected tragedy. We're all working through this as a family," Nettles said.

YubaNet @YubaNetFollow ApplegateFire CAL FIRE confirms 5 homes destroyed, over 1,000 homes remain threatened. http://bit.ly/1qkfoB2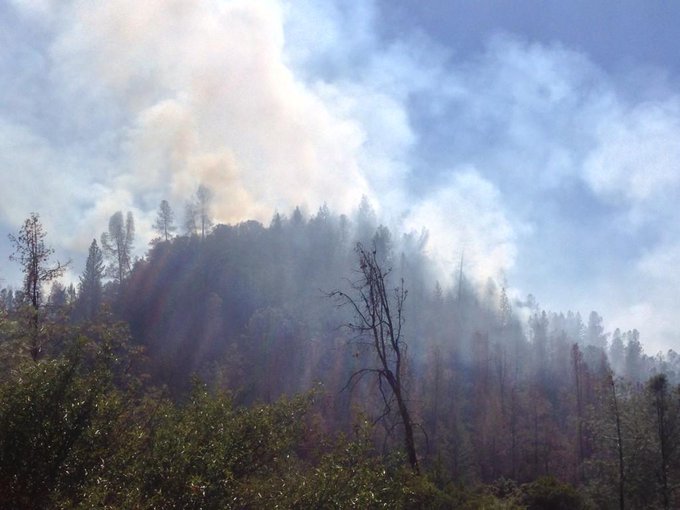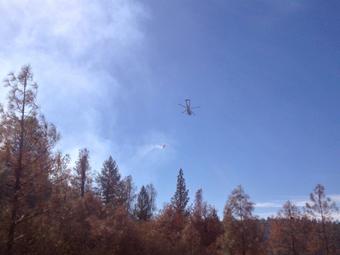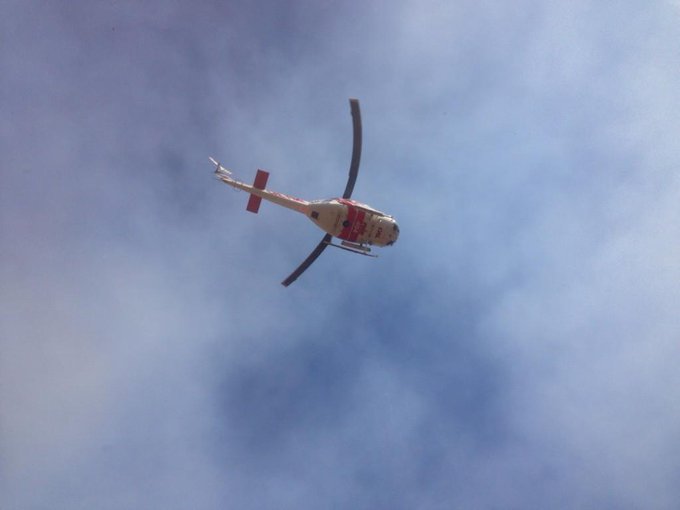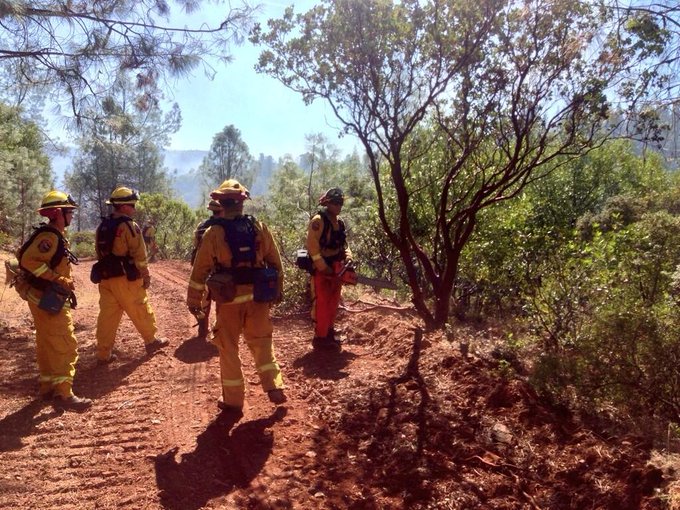 Carlos Saucedo @Carlos_SaucedoFollow More images from the destructive ApplegateFire @News10_CA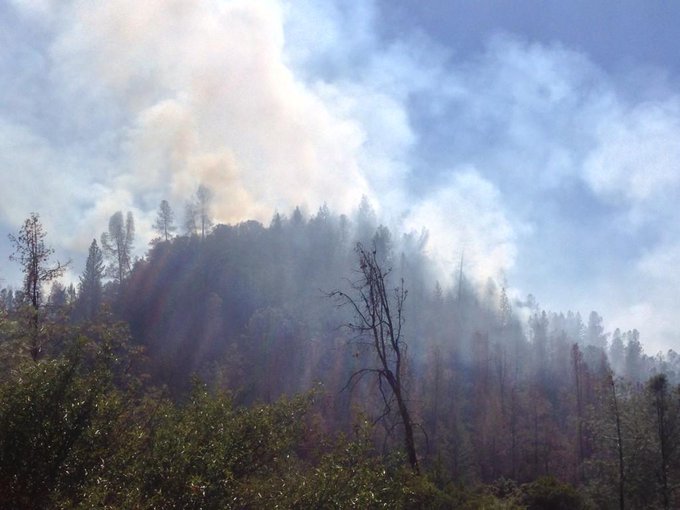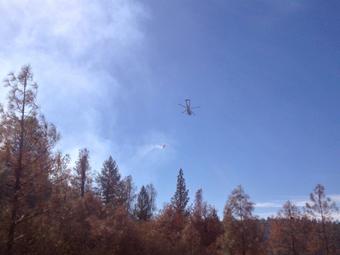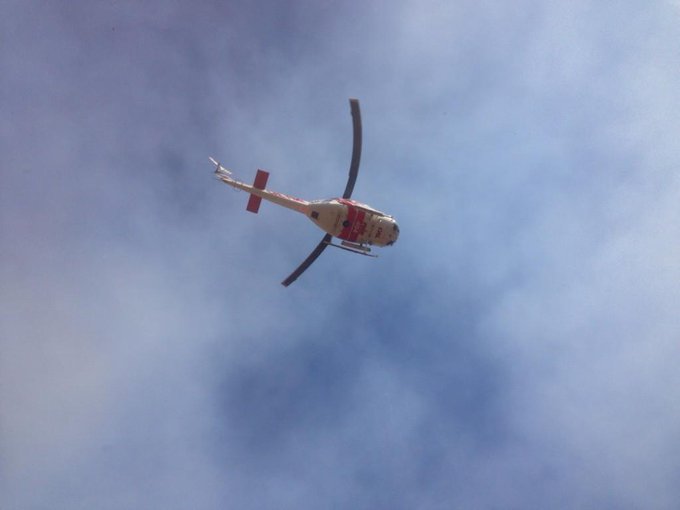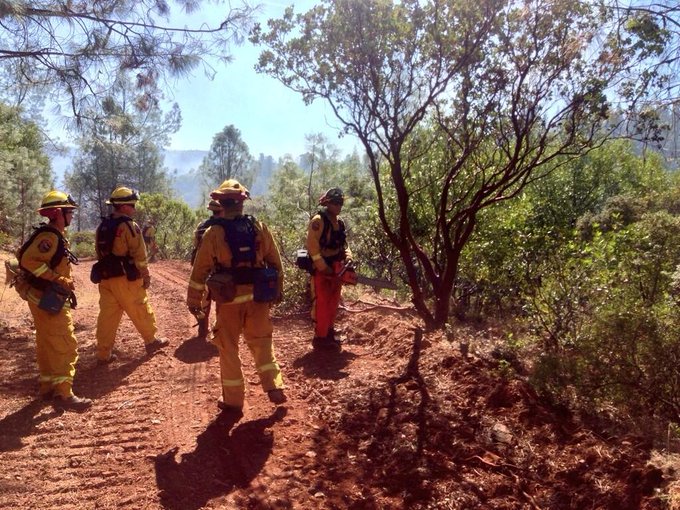 Carlos Saucedo @Carlos_SaucedoFollow More images from the destructive ApplegateFire @News10_CA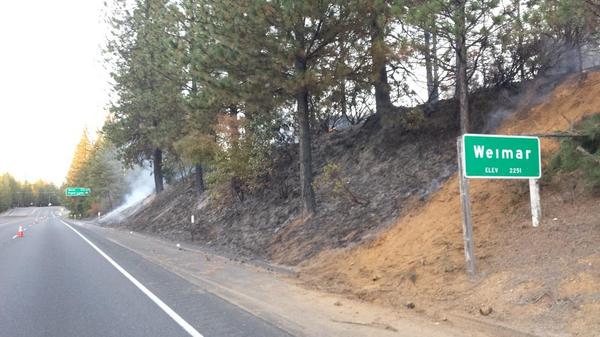 CAL FIRE PIO Berlant @CALFIRE_PIOFollow With fire along the roadway, eastbound I-80 remains closed in the Applegate and Weimar area.
MORE ON WEATHER.COM: Western Wildfires 
Exhausted Firemen
ASSOCIATED PRESS Under a fog of heavy smoke, fire crews get ready for a night of sleep Thursday, Sept. 13, 2012, at Confluence State Park in Wenatchee, Wash., where a camp has been set up to house and feed personell here to fight fires in North Central Washington.
Odisha, Andhra Pradesh in India Brace for Impacts from Cyclone Hudhud Zain Haidar Published: Oct 9, 2014, 12:10 PM EDT weather.com India Braces for Destructive Storm A year after Cyclone Phailin made landfall in India's Odisha state and took 44 lives, millions in the area are bracing for the impact of another massive threat.​Tropical Cyclone Hudhud picked up strength as it crossed the Andaman and Nicobar islands on Wednesday, according to weather.com meteorologists. As Hudhud continues its west-northwest course, the Indian Meteorological Department has issued a cyclone alert for the states of Odisha and Andhra Pradesh, both on the eastern coast of India.(MORE: Hudhud Forecast) The U.S. military's Joint Typhoon Warning Center predicts that Hudhud will be as strong as a Category 3 hurricane by the time it reaches Odisha and Andhra Pradesh on Sunday.Although last year's Phailin claimed 44 lives, Odisha's preparedness efforts were considered a resounding success; Over 1 million residents were evacuated before Phailin made landfall on Oct. 12. In comparison, a cyclone with similar power killed 10,000 people in 1999.This year the state government of Odisha has set a "zero casualty" target, according to The Indian Express."The Government will strive for zero casualty. District collectors must prepare immediately and keep the evacuation plan in respect to their districts ready, giving highest priority to most vulnerable villages/habitations," a spokesman of the special relief commissioner said.As well as keeping updated evacuation plans, the state government is making arrangements to deal with the deadly flash flooding associated with cyclones of this magnitude. Officials are monitoring dam and irrigation water levels and preparing safety boats, according to The Indian Express. (MORE: 3 U.S. Airmen Lost in Typhoon Phanfone Identified by Robins Air Force Base Officials) The Odisha Disaster Rapid Action Force will carry out search and rescue operations in the event of disastrous flooding and heavy damage.Even with Odisha's level of preparation, however, many still fear Hudhud's landfall."The damage caused by Phailin is yet to be repaired. The Hudhud will break our economy's backbone,"K. Rameya, a fisherman of Gopalpur town in Odisha, told the Hindustan Times.The Times of India reports that Hudhud is named after the national bird of Israel at the suggestion of Oman.MORE ON WEATHER.COM: Cyclone Phailin October 2013
An Indian fisherman looks at boats destroyed by Cyclone Phailin at the Gopalpur Port on October 14, 2013. (MANAN VATSYAYANA/AFP/Getty Images)
Twelve incredible images of most powerful storm of the year, Super Typhoon Vongfong BY ANGELA FRITZ October 9 at 1:45 pm
Infrared satellite image of Super Typhoon Vonfong's massive eye on Wednesday. (CIMSS via Facebook)Imagery from satellite (and astronauts) illustrates what a powerful storm Super Typhoon Vongfong became this week.Vongfong is churning north in the western Pacific on Thursday, with winds of 150 mph and a massive, well-defined eye. The super typhoon is not only powerful but large, with gale-force winds covering around 340,000 square miles — about 70,000 square miles larger than the state of Texas.The Joint Typhoon Warning Center forecasts Vongfong to continue north toward Japan over the next two to three days. The dangerous typhoon is expected to weaken as it tracks north, though it will still be packing winds around 115 mph — the equivalent of a category 3 hurricane — as it impacts Japan's Okinawa Prefecture, home of Kadena Air Base.From there, Vongfong is forecast to move into southern Japan from Sunday into Monday with 90 mph, category 1 winds. While Vongfong is expected to make a quick departure from Japan as it transitions to a non-tropical system, it will still bring heavy rain to Japan. Eight to 12 inches of rain is possible from the typhoon in the far southeast prefectures, with widespread totals of three to five inches across the southern half of the country.Astronaut Reid Wiseman shared this incredible image of Vongfong from the International Space Station.
Super Typhoon Vongfong as seen from the International Space Station on Thursday. (Reid Wiseman via Twitter)Super Typhoon Vongfong's eye was estimated to be around 50 miles wide.
Infrared satellite imagery of Super Typhoon Vongfong on Thursday. (NOAA)
Enhanced satellite image of Vongfong on Thursday. (Copyright: 2014 EUMETSAT)
High resolution visible satellite image of Super Typhoon Vongfong on Thursday from NASA's MODIS instrument. (NASA)
High resolution imagery of Vongfong's eye on Wednesday. (NASA)
Animated infrared satellite imagery of Super Typhoon Vongfong on Thursday. (NOAA)
Image of Vongfong using the VIIRS "day-night" band — this image is lit entirely by moonlight. (NOAA/NASA and RAMMB/CIRA)Vongfong's cloud bands stretch from the northern Pacific east of Japan south into the Philippines.
Visible satellite imagery of Super Typhoon Vongfong seen. (NASA/Google Earth)
Super Typhoon Vongfong as seen from the VIIRS satellite instrument on October 7. (NOAA/NASA and RAMMB/CIRA)
High resolution satellite image of the eye of Super Typhoon Vongfong.(NOAA/NASA)
Triple whammy. The remnants of Typhoon Phanfone in upper right, Super Typhoon Vongfong south of Japan, and Tropical Cyclone Hudhud in the Bay of Bengal. (NWS Ocean Prediction Center)
Satellite sees hot spot of methane in US Southwest
 By SETH BORENSTEIN5 hours ago
This undated handout image provided by NASA/JPL-Caltech/University of Michigan, shows The Four Corners area, in red, left, is the major US hot spot for methane emissions in this map showing how much emissions varied from average background concentrations from 2003-2009 (dark colors are lower than average; lighter colors are higher. Satellite data spotted a surprising hot spot of the potent heat-trapping gas methane over part of the American southwest. Those measurements hint that U.S. Environmental Protection Agency considerably underestimates leaks of natural gas, also called methane. In a new look at methane from space, the four corners area of New Mexico, Colorado, Arizona and Utah jump out in glowing red with about 1.3 million pounds of methane a year. That's about 80 percent more than the EPA figured and traps more heat than all the carbon dioxide produced yearly in Sweden. (AP Photo/NASA, JPL-Caltech, University of Michigan)WASHINGTON (AP) — A surprising hot spot of the potent global-warming gas methane hovers over part of the southwestern U.S., according to satellite data.That result hints that the U.S. Environmental Protection Agency and other agencies considerably underestimate leaks of methane, which is also called natural gas.The higher level of methane is not a local safety or a health issue for residents, but factors in overall global warming. It is likely leakage from pumping methane out of coal mines. While methane isn't the most plentiful heat-trapping gas, scientists worry about its increasing amounts and have had difficulties tracking emissions.A satellite image of atmospheric methane concentrations over the continental U.S. shows the hot spot as a bright red blip over the Four Corners area of New Mexico, Colorado, Arizona and Utah. The image used data from 2003 to 2009.Within that hot spot, a European satellite found atmospheric methane concentrations equivalent to emissions of about 1.3 million pounds a year. That's about 80 percent more than the EPA figured. Other ground-based studies have calculated that EPA estimates were off by 50 percent.The methane concentration in the hot spot was more than triple the amount previously estimated by European scientists.The new study, done by NASA and the University of Michigan, was released Thursday by the journal Geophysical Research Letters.The amount of methane in the Four Corners — an area covering about 2,500 square miles — would trap more heat in the atmosphere than all the carbon dioxide produced yearly in Sweden. That's because methane is 86 times more potent for trapping heat in the short-term than carbon dioxide."It's the largest signal we can see from the satellite," said study lead author Eric Kort, a University of Michigan atmospheric scientist. "It's hard to hide from space."There could be some areas elsewhere in the country where more methane is emitted if it is dispersed by wind, Kort said.Kort said the methane likely comes from leaks as workers extract natural gas from coal beds, and not from hydraulic fracturing, called fracking, because the data were collected before fracking really caught on.The results were so initially surprising to the scientists that they waited several years and then used ground monitors to verify what they saw from space, Kort said.Several methane experts said the research makes sense to them and that the detected methane amount is disturbing."That is immense," Terry Engelder, a scientist at Pennsylvania State University, wrote in an email._NASA's Earth science research: http://www.nasa.gov/earthrightnow_Seth Borenstein can be followed at http://twitter.com/borenbears
1901 Boston time capsule yields small red book
 By BOB SALSBERG7 hours ago
WOBURN, Mass. (AP) — A 113-year-old, shoebox-sized time capsule was removed Thursday from the head of a lion statue where it had long sat, hidden in plain sight, atop one of Boston's most famous landmarks.When the copper box was carefully pried open, it revealed at least one mystery: a red, hardcover book with no visible title or markings. The contents of the book — and the rest of the items in the box — will remain a mystery for a bit longer, as they were deemed too fragile to remove immediately.The time capsule's presence at the Old State House had only recently been confirmed. The Bostonian Society, which oversees the building, had expected it to contain a potpourri of photographs and newspaper clippings from the period, along with a missive to future generations penned by a group of Boston journalists."I'm absolutely delighted by the conditions inside the box," said Brian LeMay, the society's president, noting little sign of mold or water damage. Historians had feared the contents could have been destroyed had the box been improperly sealed.The time capsule was placed inside the lion's head in 1901 and then forgotten, even as waves of tourists visited the building that once served as a fulcrum of British rule in the northern colonies and later as the first seat of Massachusetts state government.In 1770, British soldiers opened fire on a crowd of protesters outside the building, killing five in what came to be known as the Boston Massacre.
A the contents of a 113-year-old time capsule, found inside a lion statue, and the lion's crown are  …The society first learned of the possible existence of the time capsule three years ago from the great-great-granddaughter of Samuel Rogers, a craftsman who had worked on renovations to the building and was believed to have placed the box in the lion's head and catalogued its contents. A 1901 article from The Boston Globe surfaced later, alluding to contents of a copper box "which will prove interesting when the box is opened many years hence."The box was removed Thursday by Robert Shure, president of Skylight Studios in suburban Woburn, where the copper and gold-leaf lion statue had been brought for refurbishing.Shure placed the box on a table and used a drill and other tools to cut it open. The bright red book was the first object seen inside.Elizabeth Roscio, archivist for the Bostonian Society, speculated that the book could be a Rogers' family history, but LeMay was less certain."I'm as anxious as anyone in this room to just grab it and look inside," he said. But Roscio explained that to avoid possible damage, the contents must be removed and examined in a temperature-controlled setting. They could go on public display at the Old State House later this year.In accepting the gift from the past, the society has also decided to leave one for the future.A new time capsule, made of titanium, will be inserted back into the head of the lion. Suggestions on what to include are still being solicited, LeMay said, but one item will be a medal from the 2013 Boston Marathon, a symbol to future generations of the city's resiliency in the face of tragedy.
MH17 victim found with oxygen mask: Dutch FM
 7 hours ago Wochit MH17 Passenger Was 'found Wearing Oxygen Mask'
Wochit The Hague (AFP) – One of the people on the Malaysia Airlines flight MH17 shot down in Ukraine in July was found wearing an oxygen mask, the Dutch foreign minister and prosecutors said, raising the possibility that some passengers might have known their plane was doomed."You know that somebody was discovered wearing an oxygen mask and had time to put it on," Foreign Minister Frans Timmermans told a talk show on national television late Wednesday.Dutch prosecutors confirmed on Thursday they were investigating after the oxygen mask was discovered draped around the person's neck."How and when the mask ended up around the victim's neck is unknown," the prosecutors stressed."The Dutch Forensics Institute examined the mask looking for fingerprints, saliva and DNA, but the probe has not revealed any result," they said in a letter to victims' families which was published online.None of the other victims of the fatal crash that killed all 298 on board — 193 of them Dutch — was wearing an oxygen mask, they added.
Debris at the crash site of the Malaysia Airlines flight MH17 near the Ukrainian village of Hrabove  …The Malaysia Airlines Boeing 777 was shot down on July 17 while flying over insurgent-held territory in conflict-wracked eastern Ukraine.The findings of an initial report by a Dutch-led team of air crash investigators appear to back up claims that the plane was hit by an anti-aircraft missile.Kiev and the West have accused Moscow-backed separatists of shooting it down with a surface-to-air BUK missile supplied by Russia. Moscow denies the charge and has pointed the finger back at Kiev.Forensics experts suspended their search for bodies due to clashes between Kiev and the pro-Russian rebels near the crash site northeast of Donetsk, but said they hoped to return once the fighting died down.Timmermans, the new incoming vice-president of the European Commission, on Thursday said he regretted making the announcement before victims' families had been informed by prosecutors.
Flowers and soft toys left at a monument for the Malaysia Airlines Flight MH17 crash in the village  …"The last thing I wanted to do was increase their pain," he said."I should not have said it," Timmermans said in a press release after relatives reacted with horror to his comment.Prosecutors, who sent their letter in reaction to Timmermans' comment, said they were still investigating the circumstances of the found oxygen mask.Currently, "no conclusions can be drawn from the discovery," prosecutors said.Meanwhile, the Dutch cabinet said chances of returning to the MH17 crash site were becoming increasingly remote.
A man standing at the crash site of the Malaysia Airlines Flight MH17 near the village of Hrabove (G …"It seems impossible to return to the crash site in the short term given the continuous unstable and unsafe situation," it said in a letter to parliament.Efforts to retrieve victims' personal belongings and handing them back to relatives also continued, said the letter, signed by the Dutch justice, defence and foreign ministers.Pages in Russian have been set up on both Facebook and the VKontakte social networking sites urging people to report the discovery of belongings or body parts from the crash, the letter said.It also called for the crash site to be made secure to help in further identifying the bodies."Furthermore, the aim is also to retrieve the wreckage from the area. To do this, access is essential and needed the cooperation from separatists controlling the area."