Strong typhoon batters Japan; 35 hurt
 47 minutes ago
Hotel employees and a guard secure its entrance door with a plywood board in preparation for approaching typhoon Vongfong in Naha, Okinawa, Saturday, Oct. 11, 2014.(AP Photo/Kyodo News) JAPAN OUT, CREDIT MANDATORY TOKYO (AP) — A powerful typhoon poured heavy rains over Japan's southern island of Okinawa and was aiming at the next island of Kyushu on Sunday, becoming the second severe storm to hit in a week.At least 35 people have been reported injured in Okinawa and Kyushu, where authorities told 150,000 people to evacuate, as the typhoon toppled trees, flooded streets and cut power to more than 60,000 homes.Typhoon Vongfong, packing winds of up to 180 kilometers (110 miles) per hour, has been downgraded from a "super-typhoon" and was on course to reach Kyushu by Monday. Japan's Meteorological Agency said it could reach the Tokyo area Tuesday, gradually losing strength as it moves up the archipelago.Authorities issued landslide warnings and strong winds knocked out power lines, temporarily halting bullet train service for several hours on Kyushu.Last week's typhoon killed three U.S. airmen who were washed out at sea in Okinawa, home to about half of the roughly 50,000 American troops stationed in Japan.The U.S. military instructed service personnel and their families to remain indoors Sunday until strong winds and rain subsided and said crews were out to assess damage, including broken glass and toppled power lines.
Powerful typhoon churns towards Japan 19 hours ago
Cars drive past a potted plant, blown onto the road by strong wind caused by Typhoon Vongfong, in Naha, Japan's southern island of Okinawa, on October 11, 2014Read more at: http://phys.org/news/2014-10-powerful-typhoon-churns-japan.html jCp Powerful Typhoon Vongfong churned towards Japan on Saturday, injuring at least a dozen people as it pounded the southern Okinawan islands with ferocious winds and driving rain.The monster storm was about 200 kilometres (125 miles) southeast of Naha City in Japan's southernmost area of Okinawa at 0300 GMT, according to the nation's meteorological agency.The Joint Typhoon Warning Center has downgraded the storm from a super typhoon, but Japanese officials said it remained "large and very strong" and warned of gusts, high waves, torrential rain and landslides.Packing gusts of up to 234 kilometres (145 miles) per hour, the typhoon was moving north very slowly, at 10 kilometres (six miles) per hour.Vongfong is expected to reach near Japan's southern main island of Kyushu by early Monday after brushing off Okinawa.It may then slam into the archipelago, the meteorological agency said.Okinawa has already been experiencing gusts and heavy rain, which caused a blackout in more than 17,000 households.At least 12 people have been injured in the prefecture, including a man whose finger was chopped off after being caught in a door slammed shut by strong winds, a municipal official said.Public broadcaster NHK said several more had been injured, including a nine-year-old girl who also caught a finger in the door.
This NASA satellite image shows Super Typhoon Vongfong, in the Philippine Sea, seen on October 10, 2014 Satellite images of Vongfong show a perfectly formed eye in the middle of a gigantic swirling disc of cloud.The typhoon came just a week after another strong tropical storm whipped through the country, leaving 11 people dead or missing in the nation prone to natural disasters.A 6.1 earthquake shook northern Japan on Saturday, two weeks after a volcano in the central part of the archipelago erupted without warning, killing at least 55 hikers.In late August a downpour in western Japan's Hiroshima triggered massive landslides and killed more than 70 people.
Japan Flight Cancellations Mount Amid Typhoon Vongfong By Craig Trudell and Emi Urabe  Oct 12, 2014 5:26 AM GMT+0300  ANA Holdings Inc. and Japan Airlines Co., the nation's two largest carriers, canceled more flights today as typhoon winds disrupted travel for a second week.Typhoon Vongfong prompted ANA to cancel 76 flights, affecting about 13,800 passengers as of 9 a.m., the airline said in a faxed statement. Japan Airlines halted 21 flights as of 8:30 a.m., it said by fax. The storm turned northeast after crossing Okinawa, Japan's southernmost prefecture, with winds gusting to 75 knots (140 kilometers per hour), according to the U.S. Navy's Joint Typhoon Warning Center.The cancellations add to at least 229 flights that were scratched yesterday and more than 200 disrupted last week by Typhoon Phanfone. Vongfong is expected to make landfall on the southern main island of Kyushu tomorrow, then skirt the Pacific coast of Shikoku before moving inland through central Honshu, the JTWC forecast shows.Okinawa Prefecture reported 23 injuries as of 7 a.m. in a statement on its website. Almost 210,000 people in about 90,000 homes were advised to evacuate, according to the prefecture. Okinawa Electric Power Co. reported 46,600 homes were without electricity as of 10 a.m.Blackouts also affected Kyushu, with 54,700 homes having no power, Kyushu Electric Power Co. reported, while Kyushu Railway Co. halted bullet train service between Hakata and Kagoshima Chuo, according to its website.Japan averaged more than 11 typhoons per year, most occurring between July and October, over the 30-year period ended in 2010, according to the Japan Meteorological Agency. Three airmen from a U.S. base in Okinawa were killed last week after being swept out to sea during Phanfone.To contact the reporters on this story: Craig Trudell in Tokyo at ctrudell1@bloomberg.net; Emi Urabe in Tokyo at eurabe@bloomberg.netTo contact the editors responsible for this story: Stanley James at sjames8@bloomberg.net Dave McCombs,Jim McDonald
Cyclone Hudhud Lashes Odisha and Andhra Pradesh, India; Tens of Thousands Evacuated, One Death Reported Published: Oct 11, 2014, 10:48 PM EDT weather.com India Bracing for Destructive TyphoonA year after Cyclone Phailin made landfall in India's Odisha state and took 44 lives, millions in the area are bracing for the impact of another massive threat.​ Tropical Cyclone Hudhud picked up strengthand will likely make landfall as the equivalent of a Category 3 (major) hurricane with 125 mph winds on Sunday, according to weather.com meteorologist Chrissy Warrilow.  As Hudhud continues its west-northwest course, the Indian Meteorological Department has issued a cyclone alert for the coastal states of Odisha and Andhra Pradesh, both on the eastern coast of India. The storm was expected to make landfall near Visakhapatnam around noon local time on Sunday. The Indian Meteorological Department has classified the storm as 'very severe,' according to the BBC. The Indian Meteorological Department was predicting a five-to-ten-foot storm surge in low-lying areas in Andhra Pradesh, according to the latest reports. (MORE: Check the Forecast for Cyclone Hudhud)As of Sunday, 7:46 a.m. IST, Cyclone Hudhud's Impacts are as follows.Damage and Casualties NDTV reported that sea water overwhelmed and damaged the Kakinada-Uppada highway in the East Godavari district. The storm has already killed at least one person: On Saturday, a nine-year-old girl was killed and an 11-year-old boy was reported missing after a boat evacuating people from a seaside village capsized, the Times of India reports. The boat was carrying 25 people from the Magarakanda village, mostly women and children. India's weather office told Reuters they expect the storm will seriously damage thatched homes, road and rail service, as well as electricity and telephones. As of Saturday, there were reports of roads washed away and collapsed walls, The Times of India said.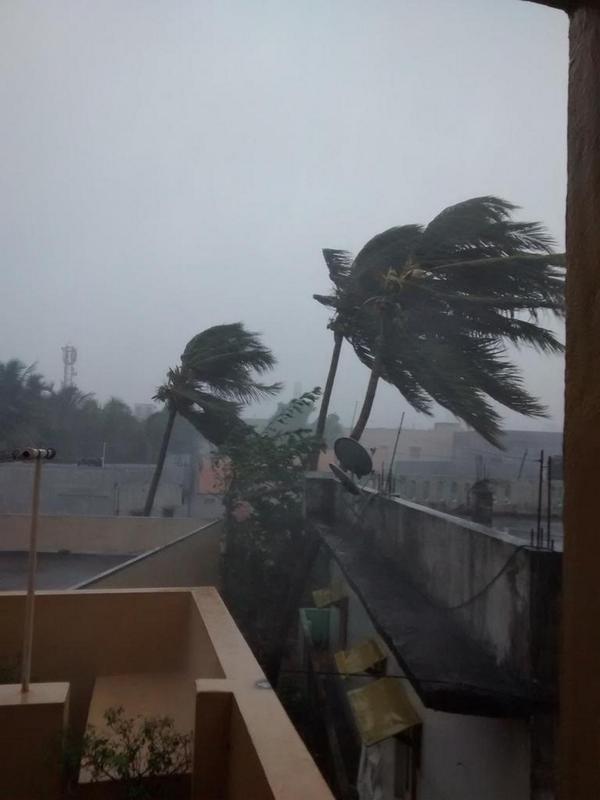 suriya @suriya8827 Follow Visakhapatnam in Danger. HudHud Transportation The Ichapuram-Kakinada national highway was closed to all traffic by authorities.According to The Times of India, train, air, road and sea transport services were greatly impacted on Saturday. Impacts included 16 canceled flights at Vizag Airport, 52 trains canceled, 35 diverted and eight short-terminated by the Waltair division of the East Coast Railway and vessels from the outer berths of Visakhapatnam Port Trust were vacated. These effects were expected to continue into Sunday. NDTV reported evacuations of more than 150,000 people in five coastal districts of Andhra Pradesh Sunday morning. According to The Times of India, authorities plan to have 500,000 residents temporarily relocated by Sunday morning across 370 relief camps. The majority of these evacuees will come from Srikakulam and East Godavari, which are expected to take the hardest hits from Hudhud.Evacuations and Shelters Late Saturday night, some districts began to urge residents to evacuate via public announcements, according to eOdisha.org. In the hills of Bhudaneswar, authorities evacuated a vulnerable tribal group, the Bonda people, many of whom have never left the hills that they call home, according to eOdisha.org. "We have appealed to all people staying in thatched and kutcha houses in inaccessible areas of the district to move to nearby cyclone shelters", an official in the Malkangiri district told eOdisha.org. Rations have been stockpiled in shelters in preparation for evacuations as Hudhud closes in on India, according to Reuters.Rescue and Relief Operations According to NDTV, the National Disaster Relief Force has increased the number of its relief teams on standby to 44, consisting of more than 2,000 rescuers and 220 boats. The NDRF is also airlifting several large wood and metal cutters to Andhra Pradesh and Odisha in preparation for impacts. The Times of India reports that 54 naval boats, 689 swimmers, 30 rescue teams, one column of the army and 16 NDRF teams are on standby to conduct rescue and relief operations if necessary. National and State Disaster Response Forces are being sent to coastal areas to assist with evacuations and the possibility of search and rescue efforts, NDTV reports. The Navy and Coast Guard are also on alert to provide aid. The Odisha Disaster Rapid Action Force will carry out search and rescue operations in the event of disastrous flooding and heavy damage. Four naval ships and nine air force helicopters are also on standby for potential rescue efforts. (MORE: 3 U.S. Airmen Lost in Typhoon Phanfone Identified by Robins Air Force Base Officials)Preparations As of Sunday, fishing operations were suspended, NDTV reported. Although last year's Phailin claimed 44 lives, Odisha's preparedness efforts were considered a resounding success; Over 1 million residents were evacuated before Phailin made landfall on Oct. 12. In comparison, a cyclone with similar power killed 10,000 people in 1999.This year, the state government of Odisha has set a "zero casualty" target, according to The Indian Express."The Government will strive for zero casualty. District collectors must prepare immediately and keep the evacuation plan in respect to their districts ready, giving highest priority to most vulnerable villages/habitations," a spokesman of the special relief commissioner said.As well as keeping updated evacuation plans, the state government is making arrangements to deal with the deadly flash flooding associated with cyclones of this magnitude. Officials are monitoring dam and irrigation water levels and preparing safety boats, according to The Indian Express.Even with Odisha's level of preparation, however, many still fear Hudhud's landfall."The damage caused by Phailin is yet to be repaired. The Hudhud will break our economy's backbone," K. Rameya, a fisherman of Gopalpur town in Odisha, told the Hindustan Times.The Times of India reports that Hudhud is named after the national bird of Israel at the suggestion of Oman.
Tropical Cyclone Hudhud Lashes India (FORECAST)By Nick Wiltgen Published: Oct 12, 2014, 12:53 AM EDT weather.com Deadly Cyclone Heads for India Tropical Cyclone Hudhud is maintaining strength as it churns over the Bay of Bengal and inching closer to the coast of India.As of 11 p.m. EDT Saturday, Hudhud's center of circulation was located about 70 miles southeast ofVisakhapatnam, India and exhibited maximum sustained winds of 125 mph, making it the equivalent of a Category 3 hurricane.Hudhud continues to move toward the northwest at 8 mph, and it is closing in on the coast of India in eastern Andhra Pradesh or Odisha (Orissa) states. It is expected to make landfall midday Sunday, local time. (Eastern India is 9.5 hours ahead of U.S. Eastern Daylight Time).(MORE: Expert Analysis | Hurricane Central)Evacuations are being carried out ahead of Hudhud and on Saturday, the Times of India reported that a nine-year-old girl was killed and an 11-year-old boy was reported missing, after a boat evacuating people from a seaside village capsized. 
Storm Information
Hudhud, also known by its alphanumeric designation 03B, formed in the evening hours Tuesday (U.S. time) near the Andaman Islands, about 400 miles southwest of Yangon, Myanmar. The developing cyclone dumped torrential rainfall on those islands, with Port Blair reporting 248 millimeters (9.76 inches) in the 48-hour period ending at 0300 GMT Wednesday (11 p.m. EDT Tuesday).(
INTERACTIVE: Hudhud Satellite Loop
) 
Infrared Satellite
(MORE: India Braces For Impacts)
Near the center of the projected path of Tropical Cyclone Hudhud is the port city of 
Visakhapatnam
, the third largest city on India's Bay of Bengal coast with a population of over 2 million.(
INTERACTIVE:
Hudhud Forecast Path
)
Projected Path
The India Meteorological Department warns of wind gusts up to 120 mph at landfall. However, the primary threat is storm surge flooding, which is expected to be three to seven feet above astronomical high tide in low lying areas of north coastal Andhra Pradesh, with locally up to 10 feet possible. Torrential rain with over 10 inches in some spots, generally along and to the northeast of the path of Hudhud, will trigger dangerous flash flooding.Below is a forecast model rainfall map over the next five days, depicting the general area of rainfall flood threat.
Model Rainfall Forecast
It was exactly a year ago that Cyclone Phailin moved over roughly the same stretch of water, making landfall in India's Odisha state on Oct. 12. The storm claimed 44 lives, but was considered an overwhelming success in India's attempts to implement emergency preparedness plans. Over one million people were evacuated ahead of the storm, and the death toll was far smaller than that of a similar tropical cyclone in 1999, which claimed some 10,000 lives.(MORE: Cyclone Phailin Strikes India, 2013 | Bay of Bengal's Deadly History)MORE ON WEATHER.COM: Cyclone Hudhud October 2014
An Indian man holds an umbrella to protect himself from the heavy rains near Gopalpur, in Ganjam district, 87 miles south of Bhubaneswar, India, Oct. 11, 2014. (AP Photo/Biswaranjan Rout)
Northern California's Applegate Wildfire: 400 Homes Threatened 
Seven small wildfires that merged into one larger blaze were further contained on Saturday. Only 400 homes were threatened, down from 1,000 structures previously.The blaze burned at least six northern California homes and four outbuildings.According to CalFire, by Saturday night, the Applegate fire has burned about 459 acres and is 67 percent contained.Crews fought the wildfire along Interstate 80 to the northeast of Sacramento in Placer County, California. KCRA in Sacramento reports seven small fires started in the same area Wednesday and merged into the larger blaze along I-80. That prompted the closure of eastbound lanes on Interstate 80 on Wednesday as crews fought to tame the blaze, but all lanes have since been reopened.
Like Page Placer County Sheriff's Office inApplegate, CA Government Organization · 6,304 Likes October 9 at 9:37pm · Edited · Current ‪ApplegateFire‬ map from Cal Fire.Homes in Weimar, California, were destroyed by the flames, KCRA reports. Hundreds of others were evacuated from Applegate, California, where the flames threatened to destroy their homes as well. Some of those mandatory evacuations were lifted Friday afternoon. For a full list of evacuation orders, click here.Fire officials were investigating the cause of the blaze, but suspect that foul play might be involved. Cal Fire spokesman Daniel Berlant told the Sacramento Bee that the seven individual fires near Interstate 80 started at almost the exact same time on Wednesday, indicating potential human involvement.While the investigation continues, some 1,419 firefighting personnel took to the ground and the air to fight the fire. Cal Fire announced Friday that the department's air tanker fleet, which was groundedafter a crash in Yosemite National Park that killed air tanker pilot Geoffrey "Craig" Hunt, was back in service Friday after safety investigation concluded."Earlier today the National Transportation Safety Board notified CAL FIRE that their investigation into the Tanker 81 accident has found no structural failures or aging aircraft issues involved in the crash," a Cal Fire press release said. "Airbase personnel have returned to routine daily safety inspections and will be permitted to resume normal flight activities today."MORE ON WEATHER.COM: Western Wildfiresmen
ASSOCIATED PRESS Under a fog of heavy smoke, fire crews get ready for a night of sleep Thursday, Sept. 13, 2012, at Confluence State Park in Wenatchee, Wash., where a camp has been set up to house and feed personell here to fight fires in North Central Washington.
Russia's Embargo On Pork And Beef Hurting Food Prices, Turns To Crocodiles During Food Crisis
Over the past months or so, Russia has been in the news because of their involvement with the Ukraine. The Inquisitr reported with up-to-date articles on the situation between both countries in which the latest news includes Russia calling the United States a global bully and blaming the Ukraine situation on them, and that 215 Russian trucks crossed over into Ukraine allegedly carrying humanitarian aid.Nevertheless, Russia's actions against Ukraine have left a sour taste in the mouths of many Western nations, including the United States. Therefore, many of the countries imposed sanctions on Russia in which Russian authorities responded by clamping an embargo on Western food imports such as beef and pork. As a result, Russia is turning to another source for their protein: crocodiles.According to an article by The Moscow Times, Russia's food safety watchdog has given approval for the import of crocodile meat from the Philippines to replace beef and pork, which is banned under Moscow's embargo on Western countries' food imports. The veterinary and sanitary inspection agency, Rosselkhoznadzor, added a Filipino produce of frozen crocodile meat, Coral Agri-ventures Farm, to its list of companies allowed to supply food to the Russian market. It should also be reported that Russia is also visiting India to consider importing buffalo meat, lifting its dismissal for many years because of quality concerns.To help push the selling of crocodile meat, the government's official daily paper recently published an article praising the culinary qualities of exotic meats in an article titled "Grilled Crocodiles and Hippos on a Skewer." This article also included other forms of meat considered exotic to Russia such as kangaroo, shark, and ostrich.However, The Blaze reports that the reason for the country's sudden interest in exotic meats is because the embargo on Western food products is hurting the Russian market by sending grocery prices soaring and greatly worsening inflation. DW was one of the sources used in which they reported details on the embargo's backfire. For example, wholesale prices for chicken legs on Sakhalin Island in Russia's Far East skyrocketed by 60 percent. The cost of meat in the nearby Primorsky region rose by 26 percent. Finally, fish prices went up 40 percent. Overall, meat prices in general have gone up.Now that you've read the report on Russia looking to crocodiles as a way to counter the rising prices of other meats in their market, what are your opinions? Does this give Russia the chance to expand their internal sources for food to lower prices? Is it better to go to outside sources for the country? Please let everyone know in the comments below.[Image via freestockphotos.biz]Read more at http://www.inquisitr.com/1534137/russia-embargo-pork-beef-food-prices-crocodiles/#djrei6az83xODR5h.99
Ebola outbreak in West Africa
Women react while volunteers (unseen) take away the body of a woman who died of Ebola, in Waterloo, Sierra Leone, on October 7, 2014 (AFP Photo/Florian Plaucheur)
A man pushes a wheelbarrow containing a woman thought to be a victim of the Ebola virus at the Ebola treatment centre at Island hospital in Monrovia on October 2, 2014 (AFP Photo/Pascal Guyot)
A man thought to be suffering from the Ebola virus waits to receive attention from medical staff at the Ebola treatment at Island hospital in Monrovia on October 5, 2014 (AFP Photo/Pascal Guyot)Ebola has killed nearly 4,000 people in West Africa since March. In Europe, there has only been one confirmed case of the disease being contracted on European soil. However, how a Spanish nurse got Ebola while working in a secure facility has led to finger-pointing and blame in Madrid, raising concerns that other European nations could see similar cases without strict precautions. (CSM)
UFO over Florida hovers over Carnival Cruise ship, witnesses claim [Video] Use your key for the next articleNext: Gun found on Mars by NASA rover? (Video) October 11, 201411:18 AM MST
PlayA Carnival Cruise dream vacation took a shocking turn when surprised vacationers spotted a UFO in the sky over the Florida coast thirdphaseofmoon/YouTubeA UFO spotted from a Carnival Cruise Lines ship is making the rounds today, Oct. 11, 2014. A passenger aboard the ship off the coast of Florida was able to record the sighting on video, and that video was shared with popular YouTube channel Thirdphaseofmoon, which posted the footage online.
A UFO recorded from a Carnival Cruise Lines ship thirdphaseofmoon/YouTube Blake Cousins of Thirdphaseofmoon explained that the UFO was spotted by a woman named Maureen and her friend while they were aboard the Carnival Cruise Lines ship. He said that the woman apologized via email for the quality of the video, saying she was "shaky and nervous" when she recorded the strange sighting.The Carnival Cruise Lines UFO video was spotlighted byWake Up The Masses, leaving at least one viewer speculating that the unidentified flying object could be something as simple as a drone purchased at Radio Shack. Joshua Edwards wrote, "In this day and age with all the drones flying around I think U.F.O. sightings pretty much lose all credibility. I think that just looks like one of those drone kits you can buy at radio shack [sic]."At the start of the UFO video, the sight of the flying object is met with screams and excited chattering. Then the object itself comes into view, and it becomes clear why the women are so excited. The oddly shaped UFO can be seen moving slowly and steadily across a blue sky. Although there are several clouds in the sky, they do not interfere with the view of the object.The startling UFO video of the object flying over a Carnival Cruise Lines ship in broad daylight is arousing plenty of attention. Nearly 100 people have weighed in on the conversation on YouTube. The following quotes comprise two of the most thorough and compelling commentaries on the unidentified flying object."….What if military are using drones and making them look like ufo's, (alien piloted craft) so they can spy on other countries without stirring up trouble? Only thing is, if it gets shot down, then the material etc can be traced back to the country who manufactured it, unless they got that untraceable drone material down to a T without anyone having a clue of it. Just could be that countries are taking advantage of the real alien craft phenomena and are copying other countries in disguising their drones to look like alien craft. The worlds truly messed up; it seems to get weirder as we progress in evolution." ~YouTube user silversurfers7."Suspect to be a man-made craft… one could observe underneath carriage shows 2 turbine engine ports and along the central fuselage topside appears to have a blended winglet or fins that would create less drag like modern aircrafts have along the wing tips and/or along the body of exotic craft that are out there and proposed future designs to travel faster that is more stable having less drag sleek overall design… There is a central fuselage having a blended broad wing as this would give away to have aerodynamics; designed to fly in atmospheric conditions rather than space flight…even though it may have a dual purpose propulsion system that is unknown? or having anti-gravity propulsion system?… But then the 2 turbine engine ports would not make sense to have if indeed it has anti-gravity capability? Doubtful that it would be a extraterrestrial vehicle IMHO…" ~YouTube userJohn Baldwin.What do you think? Could the UFO experienced by the passengers of the Carnival Cruise Lines ship be nothing more than a drone, or was it something a bit more extraterrestrial in nature? Comments are welcome.