Cyclone Hudhud Hammers Odisha and Andhra Pradesh, India; Damage May Top $1 Billion By Allie Goolrick Published: Oct 12, 2014, 11:05 PM EDT weather.com Millions at Risk from Cyclone Cyclone Hudhud roared across India's eastern seaboard on Sunday leaving widespread damage to trees and buildings and killing at least six people despite a massive evacuation effort in the coastal states of Andhra Pradesh and Odisha. Andhra Pradesh Chief Minister Chandrababu Naidu was urging India's Prime Minister, Narendra Modi, to declare the storm a national calamity, India Today reports.The state government has not officially determined the cost of damage, but estimations are saying it could be at least Rs 10,000 crore,' or 100 billion rupees (around ​$1.632 billion U.S. dollars), The Times of India reported. According to the BBC, Hudhud brought winds of 127 mph as it passed near Visakhapatnam, uprooting hundreds of trees and bringing down power lines. The storm has since weakened but continues to deliver high winds and drenching rain. Authorities say it is too early to know the full extent of damage, partly because communications are out for many areas. Damage assessments will start on Monday, Reuters reports. s Odisha largely escaped Hudhud's grips, Odisha Chief Minister Naveen Patanik promised aidto Andhra Pradesh. According to The Times of India, a spokesperson said, "Teams to clear rods, cut trees and restore power will be sent immediately along with mega generator sets. The special relief commissioners of both states will be in constant touch." "We are asking people not to come out of their houses," N. Chandrababa Naidu told Headlines Today television. "We are mobilizing men and material immediately."
Sreyansh Giri @sreyansh93 Follow@ibnlive HudhudAP Vishakhapatnam, Andhra Pradesh, India(MORE: Check the Forecast for Cyclone Hudhud)The busy port city of Visakhapatnam, known locally as Vizag, was hammered as the storm made landfall, Reuters reports. Images on social media show trees and power lines snapped like twigs and debris strewn across city streets. At least six people were killed on Sunday, three in Andhra Pradesh and three in Orissa, according to the BBC. One death was attributed to a wall collapse and the two others to fallen trees. According to The Times of India, a fisherman died trying to save his boat. On Saturday, a nine-year-old girl was killed and an 11-year-old boy was reported missing after a boat evacuating people from a seaside village capsized, the Times of India reports. The boat was carrying 25 people from the Magarakanda village, mostly women and children. In Vizag, several shops were destroyed and some roads were blocked by debris, according to NDTV.com. Winds were so strong that an store spewed appliances and electronics onto the streets as windows were blown, according to NDTV. Several hotels in the city also sustained damage, Reuters reports. Visakhapatnam Airport sustained severe damage and all flights in and out of were canceled, according to reports on social media.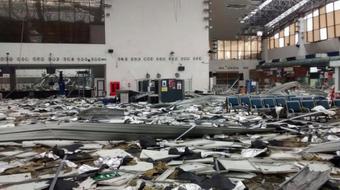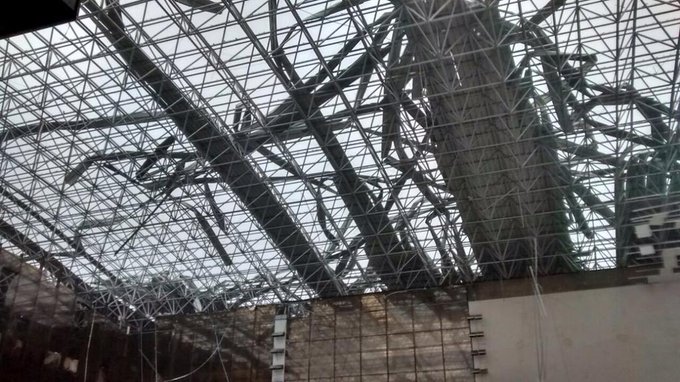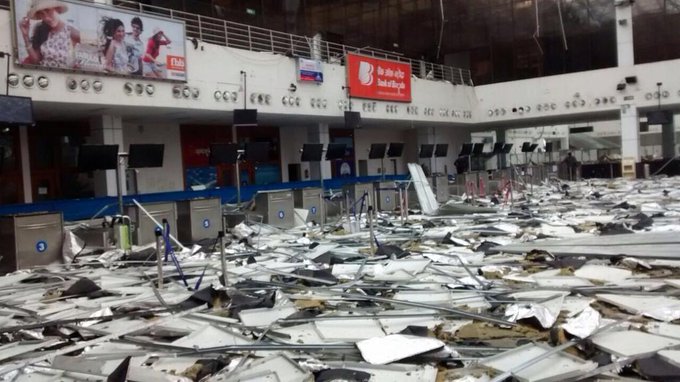 Chutzpah @AAPlogical Follow Rooftop of Vizag airport fell due to Hudhud According to The Times of India, the Eastern Naval Command was dealt a blow and sustained damage to the naval base, naval air base INS Dega and residential quarters. Transportation continued to remain on hold. Trains were canceled, and National Highway-16, which connects Chennai to Kolkata and passes through the Port City, remained shut down from Saturday evening, The Times of India reported. Port operations were suspended and property in several ports was damaged. Widespread power outages were reported and telecommunications were down throughout the region. The Associated Press reports that electricity lines were disconnected to avoid electrocutions by downed lines. Some residents were reporting being without water, Reuters reports. At least 350 students were stranded without food or water at a hostel in Vizag, disaster management officials said. NDTV reported that sea water overwhelmed and damaged the Kakinada-Uppada highway in the East Godavari district. The Ichapuram-Kakinada national highway was closed to all traffic by authorities.The National Disaster Response Force has sent in 42 teams consisting of more than 2,000 rescuers and 220 boats for search and rescue operations, the BBC reports. The NDRF is also airlifting several large wood and metal cutters to Andhra Pradesh and Odisha in preparation for impacts. Authorities say that aircraft will start to do fly-overs of the area on Monday morning. National and State Disaster Response Forces are being sent to coastal areas to assist with evacuations and the possibility of search and rescue efforts, NDTV reports. The Navy and Coast Guard are also on alert to provide aid. The Times of India reports that Hudhud is named after the national bird of Israel at the suggestion of Oman.MORE ON WEATHER.COM: Cyclone Hudhud October 2014
A man, left rescues a woman who fell in water due to strong tidal waves prior to a cyclone on the Bay of Bengal coast at Gopalpur, Orissa, about 285 kilometers (178 miles) north east of Visakhapatnam, India, Sunday, Oct. 12, 2014. T(AP Photo/Biswaranjan Rout)
Eastern China set for record-hot summers
 5 hours ago
People gather to cool off on a beach in Qingdao, in eastern Shandong province, as a record-setting summer heat wave hit much of China, on August 8, 2013 (AFP Photo/)By 2024, more than half of summers in eastern China will be as hot as in 2013, when the region was hit by a record-busting heatwave and devastating drought, a study said Sunday.Based on current global warming trends, the big heat will happen even if rising greenhouse gas emissions are braked over the next decade, it said.The summer of 2013 was the hottest on record in eastern China — a massive 1.1 degrees Celsius (two degrees Fahrenheit) above the long-term average.On 31 days, the temperature reached or exceeded the heatwave benchmark of 35 degrees Celsius — more than double the usual June-August tally.Nine provinces, with half a billion inhabitants, were affected. Direct economic losses, in China's most populated and economically developed region, have been put at 59 billion renminbi ($9.6 billion).Reporting in the journal Nature Climate Change, scientists in Beijing, Canada and the United States said the probability of a 2013-like summer in eastern China had increased by a factor of 60 since the early 1950s.Adding to the risk is the region's rapid urbanisation, they said.They pointed to an effect called the urban heat island, in which concrete buildings and tarmac roads store heat during the day but fail to shed it all at night, thus ratcheting up the daytime temperature bit by bit.The team, led by Xuebin Zhang of Environment Canada in Toronto, extrapolated temperatures on the basis of the region's weather from 1955 to 2013 and on internationally-used simulations for global warming."By 2024, at least 50 percent of summers will be as hot as the 2013 summer," they wrote.The estimate holds for the lowest greenhouse-gas emissions, which yields a warming scenario called RCP4.5, and for the highest emissions, called RCP8.5."The increase in summer heat would inevitably lead to more widespread, long-lasting and severe heatwaves in the region," the paper warned."(…) Combined with the region's rising population and wealth, (it) would produce higher risks for human health, agricultural systems and energy production and distribution systems if sufficient adaptation measures are not in place."
Boston hospital monitoring patient for possible Ebola case
 3 hours ago
Kwan Keu Lai (C), a doctor with Beth Israel Deaconess Medical Center, waits as she receives guidance from Centers for Disease Control and Prevention (CDC) instructor Rupa Narra (R) on October 6, 2014. REUTERS/Tami Chappell (UNITED STATES – Tags: HEALTH DISASTER POLITICS EDUCATION) By Kevin Murphy(Reuters) – A man in Massachusetts who recently returned from Liberia is being evaluated at a Boston hospital for a potential case of Ebola after complaining of a headache and muscle aches, health officials said on Sunday.The patient is at Beth Israel Deaconess Medical Center but there is no confirmation of Ebola, said Dr. Kenneth Sands, chief quality officer at Beth Israel.The response in Massachusetts demonstrates the high state of alert medical facilities are under since a Texas health worker became the first person on Sunday to contract the disease in the United States. She had treated a Liberian man who died of the deadly virus last week."We are taking all necessary precautions in collaboration with the city of Boston and the department of public health for the potential that this is suspected Ebola," Sands said at a news conference. "We are only at the stage where we are doing an assessment."Sands said if Ebola is suspected, doctors will test him for the disease, possibly with the help of the Centers for Disease Control and Prevention in Atlanta. Testing would take 24 to 48 hours, he said.There have been several Ebola scares in the United States in the past week. A plane was briefly quarantined at a Las Vegas Airport on Friday after a passenger reported feeling unwell. Health officials around the country have fielded scores of possible cases that were false alarms.The Massachusetts patient first reported to the Harvard Vanguard Medical Associates hospital in Braintree, Massachusetts, and was then transferred to Beth Israel, said Ben Kruskal, a physician and chief of infectious disease at Vanguard, in a statement.Kruskal said the Braintree building was closed briefly but reopenedThe current Ebola outbreak, the worst on record of the disease, has killed more than 4,000 people, mostly in Liberia, Sierra Leone and Guinea in West Africa.(Reporting by Kevin Murphy in Kansas City, Peter Cooney in Washington and Frank McGurty in New York; Editing by Lisa Shumaker and Eric Walsh)
Siberia craters cause: Massive holes in Russia 'linked to Bermuda Triangle' Use your key for the next article Next: Thomas Curry coffin mystery: Investigators make a shocking discoveryOctober 12, 20142:45 PM MST
This is the Navy Warship of the Future
 By Keith Griffin15 hours ago John F. Kennedy became famous because of his heroics on the PT 109. Maybe he could have become commander of the universe if he piloted the Navy warship of the future. It's called The Ghost.Built by Juliet Marine Systems, a private company in Portsmouth, N.H., it's designed to fight swarm attacks, water-born IEDs, and, aargghh, piracy. According to Business Insider, "Ghost is intended to have zero radar signature, and the vessel is supposedly difficult for the enemy to spot, let alone target. The ship is nonmagnetic and hard to detect via sonar, making it ideal for infiltration and surveillance of enemy areas."RELATED: See the 10-ton Military Marauder
The vessel is pulled along by two underwater torpedo-like engines. These engines surround the entire submersed structure of the boat in gas, reducing friction and creating a more stable ride. When configured it can handle 20mm gatling guns as well as rockets and missile systems.According to Juliet, deployed, Ghost would have the capability to conduct long duration patrols and missions. Two squadrons of Ghost's operating from Bahrain or Djibouti would effectively provide protection to the destroyers or cruisers operating within the littoral region. JMS President and CEO Gregory Sancoff stated, "No country would be able to keep Iran from closing the Straits of Hormuz without conflict with Iran's small high-speed boats. These swarm attacks are the Navy's equivalent of the IED. GHOST is the counter-IED solution to this hit and run attack weapon."RELATED: See the Unmanned Navy Swarm Boat"Ghost gets the warrior to battle fit to fight" is the best line from the accompanying video. Apparently the flexible hull eliminates debilitating injuries caused by planing hullcraft. Who knew something as benign sounding as hullcraft could injure the troops?And the best part? As the manufacturer points out, it has a hybrid powertrain with materials that mean lower operational costs. It's green and saves you green. Is this not the best Navy warship ever built?RELATED: See amphibious vehicles from WWII to present
Then again it may not get built. With a $10 million price tag, the price might be too steep for the current administration. To that we say, bring back Dick Cheney.For More, Follow BoldRide on Twitter and Sign Up for our Newsletter
Large mosaic in ancient tomb uncovered in Greece
 By DEMETRIS NELLAS10 hours ago
ATHENS, Greece (AP) — Archaeologists digging through a vast ancient tomb in Amphipolis in northern Greece have uncovered a floor mosaic that covers the whole area of a room seen as the antechamber to the main burial ground.The mosaic, 3 meters (10 feet) long and 4.5 meters (15 feet) wide, depicts a horseman with a laurel wreath driving a chariot drawn by two horses and preceded by the god Hermes. According to a Culture Ministry announcement on Sunday, Hermes is depicted here as the conductor of souls to the afterlife.The mosaic is made up of pebbles in many colors: white, black, gray, blue, red and yellow. A circular part, near the center of the mosaic, is missing, but authorities say enough fragments have been found to reconstruct a large part.The ministry says that archaeologists have dated the mosaic to the last quarter of 4th century B.C. (325-300 B.C.), consistent with their belief the grave contains the remains of a contemporary of Alexander the Great, the ancient Greek King of Macedonia, who conquered the Persian Empire and reached present-day India, Afghanistan and Uzbekistan in a whirlwind campaign, from 334 to 323 B.C. The grave may be that of a relative or general of Alexander's, archaeologists have speculated.Alexander himself, who died in Babylon in present-day Iraq at age 32, in 323 B.C., is believed to have been buried in Egypt. But his tomb hasn't been found.
Typhoon Vongfong Injures Dozens, Reaches Japanese Mainland Published: Oct 12, 2014, 11:07 PM EDT weather.com Vongfong Now a Tropical Storm Just days after Typhoon Phanfone left three American servicemen dead on Japan's Okinawa Island, Typhoon Vongfong battered its shores once again with ferocious winds and drenching rain before weakening overnight on Sunday. Dozens have been injured and at least one fisherman is missing. One American is among the injured, according to some Japanese media reports.The storm reached the southwestern tip of the four main Japanese islands Monday and should reach Tokyo by Tuesday. Authorities issued landslide warnings and told at least 375,000 people to evacuate on Kyushu as Vongfong approached.At least 46 people have been injured nationwide, according to NHK. Both a man in his twenties and a nine-year-old girl had fingers severed when high winds slammed doors shut."These are two separate cases, but in both cases they lost one of their fingers as the door closed violently due to the strong winds," a local official told the Japan Times. Several elderly people In Okinawa City and Uruma sustained injuries in falls, according to the Okinawa Times. More injuries were reported in Ginowan, Yomitanson and Yaese-cho. (MORE: Vongfong Continues to Sweep Through Japan)The Asahi Shimbun, a national newspaper, said three Chinese fishermen were swept into the Pacific Ocean by high waves in Shizuoka Prefecture, well east of Vongfong's core, on Sunday morning. Two of the fishermen were rescued, but the third remains missing.Farther north, Fuji TV showed the aftermath of a light plane crash in the city of Ibusuki in Kagoshima Prefecture, near the southernmost tip of the main island of Kyushu. The video report, posted to its YouTube page Saturday, said the 39-year-old American man who piloted the plane was slightly injured. It gave no other specifics.Local website 373news.com said a "foreign man" in the one-seater plane suffered a head injury and was taken to the hospital.In all, Fuji TV says seven people were injured in Kagoshima Prefecture after falling in the high winds. Gusts up to 70 mph were reported in the prefecture early Monday.Transportation companies are expecting disruptions, while others have already experienced them. According to NHK, 370 domestic flights scheduled for Monday morning were canceled, and the storm was predicted to cause substantial delays for Shinkansen (Japanese bullet) trains.The West Japan Railway Co. announced some train services would shut down starting Monday, and that disruptions could continue into Tuesday, the Associated Press reported. The Associated Press also said that Kyushu experienced knocked out power lines and downed traffic signals and signposts on Sunday due to strong winds from Vongfong. NHK reported that 53,000 households in Okinawa and more than 50,000 in Kagoshima experienced blackouts at the height of the storm.  (WATCH: Here's What To Expect From the Tropics in the Coming Weeks)Areas of Japan have received massive amounts of rainfall in past months, and the slow, plodding nature of Vongfong could raise the risk of deadly landslides and flooding yet again, Reuters added.Last week at Kadena Air Base, three airmen were killed by the raging seas off the coast of Okinawa in the wake of Typhoon Phanfone. The bodies of all three men have been recovered.MORE ON WEATHER.COM: Typhoon Vongfong Photos
Roadside trees are blowed by strong wind caused by strong typhoon Vongfong at Naha in Japan's southern island of Okinawa on Oct. 11, 2014. (Jiji Press/AFP/Getty Images)
Typhoon Vongfong hits southern Japan, moving to main island
 14 minutes ago
Waves crash as Typhoon Vongfong approaches Japan's main islands in Kuroshio Town, Kochi prefecture, …TOKYO (Reuters) – Typhoon Vongfong hit Japan's southern island Kyushu earlier on Monday and was expected to bear down on the main island Honshu later in the day, forcing the cancellation of hundreds of flights, Japan's NHK broadcaster said.The strongest storm to hit Japan this year has forced the evacuation of about 450,000 people on the islands of Kyushu and Shikoku, as well as Okinawa which was hit by Vongfong on Sunday, according to NHK.Vongfong battered the southern Japanese island of Okinawa, 600 km (1,000 miles) south of Tokyo, as well as Kyushu and Shikoku islands, injuring 52 people, NHK said.On Sunday, wind-speeds weakened significantly on Saturday's peak of 234 kmh hour (146 mph), which had made Vongfong into a "super typhoon".Japan Airlines Co spokesman said 92 flights connecting Japan's western cities and the eastern cities of Osaka and Tokyo had been canceled.ANA Holdings Inc also canceled flights flying in and out of the southern cities, according to ANA website.A major baseball game in Osaka city between the Orix Buffaloes and the Hokkaido Nippon-Ham Fighters for the Pacific League playoff was also postponed, the first time a Nippon Professional Baseball playoff game was canceled due to a typhoon.(Reporting by Junko Fujita; Editing by Michael Perry)