Météo : cinq départements en vigilance La fin de l'épisode météorologique prévue à 16h.
Par M6 Info | M6info – il y a 22 heures CONTENUS ASSOCIÉS
Voir la vidéoCrues dans le Gard : un pont vieux de 150 ans s'effondre M6info – Vidéos  0:34
Afficher la galerieInondations : les environs de Nîmes sous les eaux
Afficher la photoDans le Gard, les intempéries ont été moins importantes que prévues
Voir la vidéoIntempéries : la priorité à la sécurité M6info – Vidéos  2:43 Les intempéries persistent lundi dans cinq départements du Sud. Les Bouches-du-Rhône, la Drôme, le Var et le Vaucluse sont toujours placés en vigilance orange aux orages tandis que l'Ardèche, où il continue de pleuvoir abondamment ce matin, reste menacée d'inondations. L'alerte devrait être levée à 16 heures.Météo France prévoit une "accalmie généralisée à partir de lundi soir". "De nouveaux orages se développent en Méditerranée. Ils seront localement forts avec de brusques rafales de vents, une activité électrique soutenue, voire de la grêle. Ponctuellement, les départements alpins seront concernés par ces phénomènes", ajoute l'institut météorologique.Un dimanche très calme Après une journée de dimanche très calme, la nuit de dimanche à lundi a été "globalement calme", selon les pompiers des différents départements concernés. Malgré l'alerte, l'Hérault est resté sec.Dans le Gard, la situation a été bien moins critique que prévue. Les Gardois étaient nombreux à s'étonner du contraste entre alerte maximale et faiblesse des précipitations. Dans la ville d'Uzès, certains commerçants jugeaient "aberrante" voire "grotesque" la "surmédiatisation" de cette attente des pluies.
Increíble: las mismas fotos de la inundación en un pueblo de Bosnia, hace 6 meses y ahora En mayo de 2014, el pueblo de Topcic Polje sufrió las peores inundaciones de Bosnia en más de un siglo: las fuertes lluvias llevaron al río a desbordarse, enterrando carreteras y casas bajo metros de lodo y escombros.El fotógrafo de Reuters Dado Ruvic ha visitado de nuevo el lugar, para mostrar el constraste entre el momento en el que se produjeron las inundaciones y cómo se encuentra ahora el pueblo. Ya han pasado seis meses, pero sus habitantes todavía están inmersos en las tareas de limpieza y de recuperación de sus hogares.Relacionados: Las peores inundaciones en Los Balcanes de los últimos 100 años | Las emergencias que han destruido más vidas de ni previ
nextFoto de DADO RUVIC/REUTERSjue, 9 oct 2014
Increíble: las mismas fotos de la inundación en un pueblo de Bosnia, hace 6 meses y ahora
El volcán del monte Sinabung cubre Sumatra de ceniza
Las portadas falsas que alertan sobre nuevos casos de ébola en EspañaTodavía no hay comentariosFoto combinada del momento de las inundaciones y del estado actual del pueblo. En la imagen superior se pueden ver las tareas de evacuación por parte de los servicios de rescate, el 16 de mayo.Foto: REUTERS/Dado Ruvic
 7.4 magnitude earthquake off El Salvador coast
 18 minutes ago
A powerful earthquake of magnitude 7.4 struck in the Pacific off El Salvador late Monday, prompting a tsunami warning, US government agencies said (AFP Photo/Nicolas Asfouri)San Salvador (AFP) – A powerful earthquake of magnitude 7.4 struck in the Pacific off El Salvador, prompting a brief tsunami warning, US government agencies said.The quake hit 170 kilometers (105 miles) southeast of the capital San Salvador, at a depth of 70 kilometers (44 miles), the USGS said.It was felt along the Central American coast, stretching south to Nicaragua and Costa Rica and inland to Honduras.Civil Protection authorities in El Salvador said there were not immediate reports of injuries or damage in that country.The US Pacific Tsunami Warning Center issued a warning for coasts located within 300 kilometres (190 miles) of the epicenter.But minutes later it said it had lifted the warning."Any remaining threat should be evaluated by local authorities in impacted areas," the US agency said.Electricity was knocked out in some eastern provinces of El Salvador, Radio YSKL reported.The shaking of the earth was felt for a few seconds in the Nicaraguan capital Managua and other cities, but no immediate injuries or damage were reported, officials said.Electricity and cell phone service in some areas were cut off. The government urged coastal residents to move inland.A 5.3 magnitude aftershock was felt in Costa Rica.
Workers clear debris after Indian cyclone kills 24
 By MOHAMMED SHAFEEQ1 hour ago
HYDERABAD, India (AP) — Rescue workers and soldiers cleared uprooted trees and electrical poles blocking roads in eastern India after a tropical cyclone killed at least 24 people and demolished tens of thousands of mud huts. In Japan, a tropical storm killed at least one person and injured 75 before heading out to sea Tuesday morning.As weather improved in India on Monday, the air force used planes and helicopters to drop food packets in affected places in and around Visakhapatnam, the city hit worst by Sunday's severe cyclone, said a statement by India's Home Ministry.Rescuers reached several coastal areas battered by the cyclone and evacuated 11,853 people in Andhra Pradesh state and 1,403 in Orissa state to safer places, the statement said.Weather forecasters warned that heavy to very heavy rainfall would lash parts of six states as the remnants of the cyclone moved further inland.Cyclone Hudhud's winds demolished about 80,000 thatched huts belonging to poor tribal people across Orissa state, said P.K. Mahapatra, the state's special relief commissioner.More than 6,500 homes were damaged in Andhra Pradesh state, said Parkala Prabhakar, a state government official.
Travelers ask station staff for the alternative transportation after the train service all around th …Twenty-four deaths were counted as of late Monday, 21 in Andhra Pradesh state and three in Orissa, mostly because of injuries from collapsed walls and falling trees, officials said.Andhra Pradesh government official Parkala Prabhakar said 15 were killed in Visakhapatnam, one of the largest cities in southern India and a major naval base. Television footage showed downed electrical poles, uprooted trees and debris strewn in the streets. Train and cellphone services were disrupted.Electricity was disconnected in parts of Andhra Pradesh to avoid electrocutions, said Arvind Kumar, a relief and rescue official.At least 400,000 people were evacuated from coastal areas of the two states ahead of the storm, and hundreds of shelters were set up to house them, helping to reduce casualties.While India has a disastrous record of response to natural calamities, it safely evacuated nearly a million people before Cyclone Phailin hit Orissa state last October. The strongest tropical storm to hit India in more than a decade, Phailin destroyed hundreds of millions of dollars' worth of crops but claimed only about 25 lives.The Indian Ocean is a cyclone hotspot. Of the 35 deadliest storms in recorded history, 27 have come through the Bay of Bengal and have landed in either India or Bangladesh. In 1999, a cyclone devastated Orissa's coastline and killed at least 10,000 people.In Japan, the body of a 90-year-old man who went missing while checking a persimmon orchard in the southwestern prefecture of Tottori was found in an irrigation canal. At typhoon strength earlier, the storm, named Vongfong, battered the southern islands of Okinawa before reaching the mainland._Associated Press writers Ken Moritsugu in Tokyo and Ashok Sharma in New Delhi contributed to this report.
Hurricane Gonzalo strengthens in Caribbean
 By ANIKA KENTISH4 hours ago
This NOAA satellite image taken Monday, Oct, 13, 2014, at 01:45 AM EDT shows Tropical Storm Gonzalo over the Antilles producing strong winds, thunderstorms and heavy rain. A few more thunderstorms have developed over Hispaniola and the southern Bahamas as well from the tropical flow. (AP Photo/NOAA via Weather Underground)ST. JOHN'S, Antigua (AP) — Hurricane Gonzalo formed Monday in the Caribbean and was on course to move out over open ocean after buffeting Antigua and nearby islands with heavy rain and dangerous wind.Gonzalo passed near Antigua as a tropical storm, tearing roofs from people's homes and knocking down trees, then gathered enough force near the tiny territories of St. Martin and Anguilla to be reclassified as a hurricane."It's intensified at a pretty brisk pace since yesterday and we expect it to strengthen," said Michael Brennan, a senior hurricane specialist tracking the system from the U.S. National Hurricane Center in Miami.The center of the strengthening hurricane was on track to pass near or just east of the U.S. and British Virgin Islands. It was not expected to reach the U.S. mainland but forecasters said it could develop into a major hurricane over open ocean and pose a threat to Bermuda later in the week."It's certainly something that people in Bermuda will want to pay attention to," Brennan said.As of 8 p.m., the center of Gonzalo was about 5 miles (10 kilometers) north of St. Martin and 125 miles (205 kilometers) east of St. Thomas in the U.S. Virgin Islands. It had maximum sustained winds of 80 mph (130 kph) and was moving toward the northwest at 12 mph (19 kph).Airports, government offices and school were shuttered in the British Virgin Islands as strengthening Gonzalo steamed toward the tiny territory of roughly 30,000 residents. Premier Orlando Smith called on people to secure their homes and businesses.But Merlyn Brown, a resident of the British territory's 8-square -mile (20-square-kilometer) island of Virgin Gorda, said she had lived through many storms and hurricanes through the years and wasn't doing much to prepare for Gonzalo other than latching her windows and hoping for the best."I've been through a lot of these things so I just take them as then come. I don't get too worked up about the storms," said Brown, who works at a local gas station where more concerned residents were stocking up on fuel.In the three-island territory of the U.S. Virgin Islands, the international airport on St. Thomas shuttered at 7 p.m. after airlines cancelled flights. All seaports were closed. With rain-heavy Gonzalo bearing down, all burials were postponed until further notice.For several hours on Monday, heavy rain and strong winds lashed Antigua, which bore the brunt of the storm as it cut through the northern Leeward Islands. Downed trees already blocked many island roads and many people lost power or reported that the storm damaged, or in some cases destroyed, the roofs their homes.Condell Maurice, a 36-year-old teacher, said his roof sprung at least nine leaks during the storm. "You should have seen us with our buckets, jugs and bowls trying to chase down those leaks," he said, surveying the damage, which also included several downed trees in his backyard.Sherrod James, deputy director of the National Office of Disaster Services, said the agency has received reports of damaged homes but no injuries or deaths from the storm.Gonzalo is expected to produce up to 8 inches (20 centimeters) of rain across the Leeward Islands, the U.S. and British Virgin Islands and Puerto Rico. Some areas could get as much as 12 inches, according to the U.S. National Hurricane Center.Over the weekend, Tropical Storm Fay knocked out power to thousands in Bermuda before moving out over open ocean._AP writer David McFadden contributed from Kingston, Jamaica.
Storms Tear Through the Southeast and Ohio Valley, Killing 2 As Multi-Day Outbreak Begins By Allie Goolrick Published: Oct 13, 2014, 10:28 PM EDT weather.com Millions Under Severe Threat Note: Tune in to The Weather Channel TV network to watch live coverage on the severe weather outbreak and Tropical Storm Gonzalo. To keep you safe and informed of the latest breaking news, our regular programming will be suspended until the threat has passed.A multi-day severe weather outbreak began with tragic news Monday morning, as a tornado in southwestern Arkansas killed a Marine and father of three. Eddy Withem, 33, died after an EF2 tornado struck his house in Ashdown around 5:30 a.m. Monday morning. On Monday night, a 75-year-old woman was killed in Dora, Alabama, after a tree fell on her home, according to law enforcement in Walker County.Multiple tornadoes were reported on Monday afternoon and evening across several states. Aside from the EF2 tornado in Ashdown, EF1 tornadoes were confirmed in Stone County, Missouri, and Lonoke County, Arkansas, and an EF0 was confirmed in Lawrence County, Missouri. This was just the start of what is expected to be a long 48 hours for Dixie Alley, as severe weather will continue to move through the Deep South on Monday night and into Tuesday. Damaging winds, frequent lightning and hail could also come with these storms as they push east.(MORE: Track This Severe Weather Outbreak)Here's a state-by-state rundown of this severe weather outbreak's effects. Arkansas One person is dead and at least four others were sent to a nearby hospital in Little River County when a tornado swept through the county in southwestern Arkansas. The National Weather Service surveyed the damage and found it to be consistent with an EF2 tornado Monday afternoon.The tornado was in progress at about 5 a.m. local time Monday morning, damaging at least two homes and destroying one, according to the Little River County Sheriff's Office. Eddie Withem, a father of three, was killed after he and his wife, Roxanne, were blown out of their home in Ashdown. Withem didn't survive, and Roxanne remains in critical condition after surgery. The couple's three children sustained minor injures and have since been released from the hospital. 
Eddie Withem, 33, was killed when a tornado tore through his home in Ashdown, Arkansas.An EF1 tornado carved a three-mile path through an area just north of England, leaving damage to structures – including a few that were damaged by an Oct. 2 twister, they said.Arkansas Office of Emergency Management spokesman Rick Fahr told The Weather Channel at least two house fires in northwestern Arkansas were believed to be started by lightning Monday morning as the storms rolled through."These fires are in the extreme northwest parts of the state, at least 150 miles from where the possible tornado was," said Fahr.Severe weather pushed through the Natural State Monday, and conditions remained dangerous while the line of storms moved east.The town of Osceola reported damage from a possible tornado later Monday afternoon, though there were no immediate reports of injuries. Two city buildings were destroyed, according to the National Weather Service.Alabama Storms caused widespread damage in Central Alabama that left one person dead, al.com reports. 
Angie Hardman @Agh9701Follow @spann 150 year old pecan tree down in Cullman A woman was killed when a tree fell on her home in Dora in Walker on Monday, according to Myfoxal.com. Shirley Hicks, 75, was in her living room when a tree fell on the home. Her husband was also in the home and sustained minor injures. Alabama Power reports that nearly 40,000 people were without power in Birmingham, Tuscaloosa and Walker Counties. Trees and power lines were down and buildings were damaged in Huntsville, Haleyville, Cullman and Shottsville, according to the National Weather Service.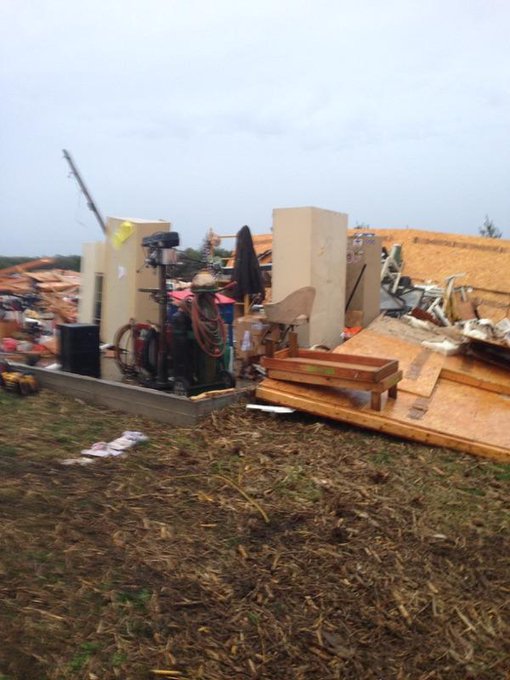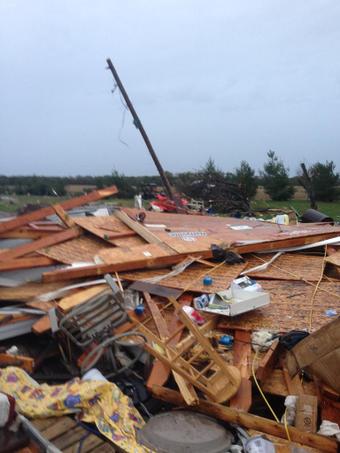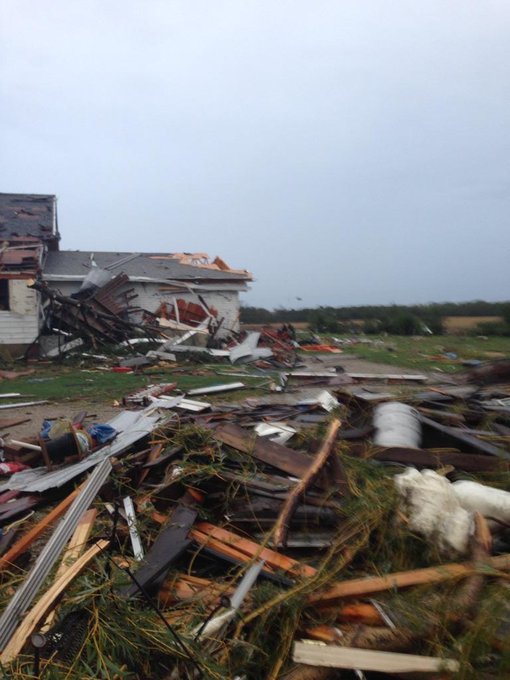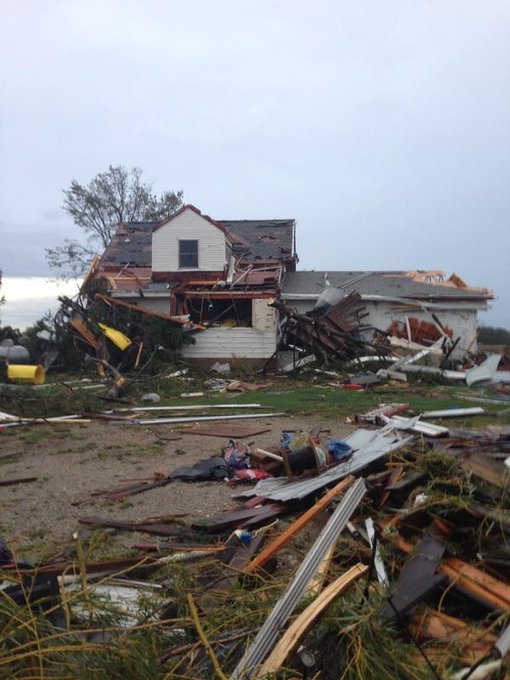 Derick Fabert @WCIA3Derick Follow Here's the house damage from near Moweaqua. cILwxThe University of Alabama in Hunstville and Northeast Alabama Community College canceled evening classes on Monday night. Florida Three homes and two barns were damaged by storms Monday night near Cantonment, Florida. At least three possible tornadoes were spotted on radar, one in Hays Place, one in Sumatra and another in Apalachicola. Illinois Strong winds from a storm system moving across the nation's mid-section caused damage in Belleville. A reported tornado with 'visible debris' was spotted in Long Creek, Illinois, according to the National Weather Service.  Assistant Fire Chief J.P. Penet told the News-Democrat firefighters responded Monday to damage to homes and uprooted trees. There were no reports of injuries.WCIA reports that trees were down and a home was destroyed near Moweaqua after a reported tornado.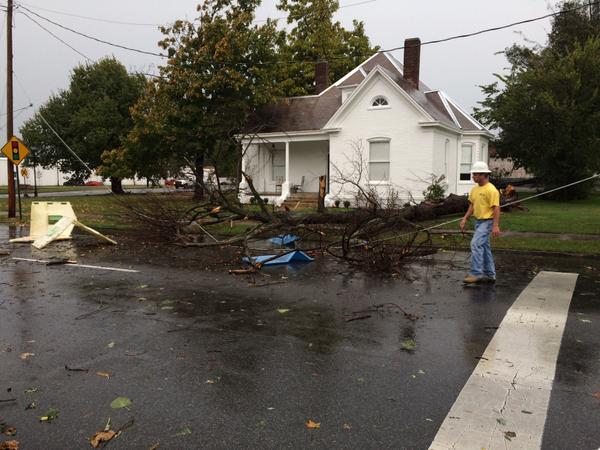 Briana Conner @BConnerWPSD Follow Storm damage in Paducah at 8th and MLK. In northeastern Illinois, weather conditions caused 30-minute delays and flight cancelations at Chicago's airports.Minor damage was also reported in Decatur, Illinois. Kentucky A funnel cloud was spotted north of Dawson Springs on Monday night, according to the National Weather service. Storms in Paducah and Wickliffe brought down trees and power lines and damaged at least one home, according to the National Weather S Louisiana Louisiana Gov. Bobby Jindal has declared a state of emergency for the state after strong storms produced possible tornadoes. Monroe is reporting the worst damage from a possible tornado. According to social media posts, some businesses lost roofs, while several homes and automobiles were damaged by falling trees. The hardest-hit areas were the Garden District and Louisville Avenue. Several streets in the area are blocked, the News Star reports.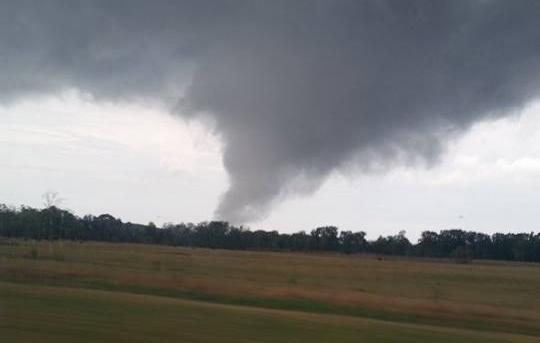 WBBJ7News @WBBJ7News Follow Brittney Wilson submitted this photo via Facebook and said it was taken eight miles south of Selmer. tnwx A gas leak forced the evacuation of West Monroe High School, according to the News Star.Over 45,000 customers were without power in Ouachita, Jackson and Morehouse Parishes, the News Star reports. Monroe Public Works Director Tom Janway said that power is out at most of the pump stations, and crews were working to get water service restored. Several highways were closed because of downed trees and power lines. Roderick Worthy of Entergy said it might be Wednesday before all power is restored."We've had significant infrastructure damage with the bulk of that in Monroe and West Monroe," he told the Associated Press. "There's stuff down everywhere."University of Louisiana at Monroe spokeswoman Kiwana Sutton says several downed trees prompted officials to cancel all classes on Monday. The campus will reopen Tuesday morning. A concrete plant in Monroe was also damaged. Monday morning's severe weather was the second wave of nasty storms to hit Louisiana; Sunday evening, there were multiple reports of downed trees after a round of storms moved through northern portions of the state.Mississippi A strong line of storms caused damage across Mississippi as it moved through the state.A fertilizer warehouse in Greenville lost much of its roof around Monday, but Washington County Emergency Manager David Burford says no one was injured.Widespread tree damage and some property damage was also reported as a squall line moved through Starkville.More than 10,000 electrical customers lost power at various times. Some of the worst outages were concentrated in Noxubee, Rankin, Simpson and Warren counties.A Delta flight headed from Atlanta to Jackson was forced to turn back because of storms. A possible microburst in Starkville brought trees down on cars and power lines. At last one house was severely damaged when a tree fell, according to reports from social media. The MSU department of meteorology reported wind gusts of up to 80 mph. Missouri Officials with the National Weather Service in Springfield confirmed an EF0 tornado touched down Monday morning in Lawrence County. The tornado was in progress just before 7 a.m. local time, had maximum wind speeds of 75 mph and stayed on the ground for less than one minute, the NWS confirmed through a damage survey.Later Monday afternoon, a second tornado was confirmed near Lampe. The NWS rated it EF1 with maximum winds of 80 mph. That tornado damaged several outbuildings and left minor damage at several homes. The ALCS playoff game between the Kansas City Royals and Baltimore Orioles has been postponed until tomorrow night. Oklahoma Damaging winds and large hail were reported Sunday night and early Monday morning in Oklahoma as severe weather moved through the state. In Kiowa County, a mobile home was destroyed, and homes were left damaged in Cotton, Jackson and Stephens counties, according to Storm Prediction Center.Interstate 40 in Washita County was closed for about an hour Sunday night after strong winds knocked two tractor-trailers onto their side, according to NewsOK. Winds gusted as high as 80 mph Sunday night in parts of the state, according to local storm reports.No tornadoes or injuries were reported from the storms, the AP added.Tennessee A reported tornado with a debris signature was seen on radar near Clarksville on Monday night. Law enforcement officials in Dyersburg reported a possible tornado with a path a quarter mile long and 200 feet wide. Trees and power lines were down in Sardis, and hail the size of a half dollar fell in Milledgeville, according the National Weather Service.A reported tornado was also spotted near Parsons in Perry County, and EMS officials also reported a tornado in Ramer.A tree fell on a home in Waverly, causing major damage, and four houses were damaged in Clay County, WSMV reports. Damage was also reported in Perry, Lawrence, Hickman and Humphreys Counties. No injuries have been reported so far. TexasPower outages were numerous across North Texas early Monday morning as a line of damaging storms brought down power lines. According to the Dallas Morning News, electric company Oncor reported 20,000 outages across the state Monday morning, with 8,000 of those occurring in Dallas.(MORE: Lightning Sets Oil Well on Fire in Texas)In the Dallas-Fort Worth area, severe storms left some street flooding and downed power lines, according to the Associated Press. No injuries have been reported in Texas from the storms so far.Winds gusted as high as 74 mph Sunday evening near the town of Dozier, according to local storm reports.In Dallas and Houston, flights were delayed for hours due to high winds and storms. 
New Orleans, Louisiana, during a severe weather outbreak on Monday, October 13. (Twitter/remy_blu)
Tropical Storm Fay Batters Bermuda; Thousands Left without Power, Airport Flooded Zain Haidar Published: Oct 13, 2014, 12:13 PM EDT weather.com Hurricane Gonzalo To Hit Bermuda\Tropical Storm Fay brought down power lines, damaged buildings and uprooted trees as it passed over Bermuda Sunday morning. The ferocity of the storm, which escalated quickly on Sunday morning, took many Bermuda residents by surprise. (MORE: Tropical Storm Fay Forecast) "I've never seen anything like it in my 82 years," Spanish Port resident Charles Rebello told the Royal Gazette.  "I thought it was going to be an ordinary wind, but it turned into much more. Trees were bent double. All kinds of trees were coming down. It's going to take me weeks to clean it up."According to Bermuda Electric Light Company, around 27,000 customers were without power Sunday morning. The company has asked residents to withhold calls for several hours so that crews can restore power as quickly as possible.The Royal Gazette reports that the terminal building of LF Wade Airport has experienced major flooding. Though runways are open for emergency flights, most flights have been on 'rolling delays' and passengers aren't being allowed through the airport. Several roads on the island are blocked due to downed trees and debris and officials are urging residents to stay off the roads until crews are able to clear them. Two cruise ships that were scheduled to dock in Bermuda today have been delayed. The island archipelago of Bermuda has 65,000 inhabitants and enforces strict building codes to ensure that homes and buildings can withstand bad weather, the Associated Press reports. MORE ON WEATHER.COM: Tropical Storm Fay PhotosDamage from Tropical Storm Fay in Bermuda. (Photo: Instagram/terence.luk)MORE ON WEATHER.COM: Tropical Storm Fay Photos
Damage from Tropical Storm Fay in Bermuda. (Photo: Instagram/terence.luk)
Magnitude 7.4 offshore quake hits Central America
 8 minutes ago Related Stories
NEW YORK (AP) — The U.S. Geological Survey is reporting that a magnitude 7.4 underwater earthquake has struck off the coast of El Salvador.The quake, whose epicenter was in the Pacific Ocean about 169 kilometers (105 miles) southeast of San Salvador, occurredk at 9:51 p.m. local time (10:51 EDT; 0251 GMT) Monday. The U.S. G.S. measured its depth at 70.5 kilometers (43.8 miles).Local reports indicate the quake was felt throughout Central America, but there are no immediate reports on injuries or damag
'Tsunami waves' possible after El Salvador quake, warning center says
 6 minutes ago (Reuters) – A magnitude 7.4 quake struck late on Monday off the coast of El Salvador, and there was a risk of "hazardous tsunami waves", the Pacific Tsunami Warning Center said in a revised alert.The quake struck 66 miles (106 km) south-southeast of the city of Usulutan, the U.S. Geological Survey said.The area of a possible tsunami included the coasts of Nicaragua, Honduras and El Salvador within 300 km (180 miles) of the epicenter, the warning center said.(Writing by Nick Macfie; Editing by Robert Birsel)
Nina Pham identified as Dallas nurse diagnosed with Ebola CDC 'doubling down' on training at Texas hospital and others
 By Jason Sickles, Yahoo11 hours agoYahoo News
A hazardous materials worker looks up while finishing cleaning outside nurse Nina Pham's Dallas apartment. (AP  DALLAS — The Texas nurse who contracted Ebola while caring for the first person to die of the virus in the U.S. has been identified as 26-year-old Nina Pham.Health officials have not released the nurse's name, but Yahoo News identified Pham through public records and a state nursing database.Then on Monday, Pham's family confirmed her identity to Dallas ABC News affiliate WFAA.
Dallas nurse Nina Pham contracted Ebola. (Facebook)Pham, a critical care nurse at Texas Health Presbyterian Hospital, is one of at least 50 to 70 people who cared for Thomas Eric Duncanbefore he died last Wednesday.Pham has been in isolation since late Friday. The CDC confirmed her Ebola diagnosis on Sunday. It is the first time the deadly virus has been transmitted in the United States.The Dallas resident graduated from Texas Christian University's accelerated nursing program in 2010, the school said in a statement. State records show Pham received her nursing license in June 2010.The CDC director, Dr. Thomas Frieden, said Pham is in stable condition at Texas Health Presbyterian."Our team lead in Texas has spoken with her on multiple occasions," Frieden said. "She's been extremely helpful."An unidentified person Pham had close contact with last week is also being monitored, but Frieden said that individual has shown no symptoms of Ebola.Investigators have not determined how Pham specifically contracted the disease from Duncan, who died on his 10th day of intensive care at the hospital."If this one individual was infected and we don't know how within the isolation unit, then it is possible that other individuals could have been infected as well," Frieden said during a press conference. "We consider them to be at risk, and we're doing an in-depth review and investigation."[Related: About 70 hospital staffers cared for Ebola patient Thomas Eric Duncan]A day earlier, Frieden characterized the transmission from Duncan to Pham as a possible breach in safety protocols. On Monday he apologized for those remarks."Some interpreted that as finding fault with the hospital or the health care worker, and I'm sorry if that was the impression given. That was certainly not my intention," Frieden said. "What we need to do, is all take responsibility for improving the safety of those on the front lines. I feel awful that a health care worker became infected in the care of an Ebola patient. She was there trying to help the first patient survive."Tom Ha, a longtime friend of Pham's family, told the Dallas Morning News that it is in the nurse's genes to go out of her way to assist others."I expect, with the big heart that she has, she went beyond what she was supposed to do to help anyone in need," Ha told the newspaper.Pham, a Fort Worth native, graduated from Nolan Catholic High School and still attends Our Lady of Fatima Catholic Church with her family. Parishioners there held a prayer service for the nurse on Sunday.
Texas Health Presbyterian Hospital employees pray during a staff meeting on Monday. (Courtesy: Texas Health Re …In light of what happened to Pham, Frieden said the CDC will be "doubling down on the amount of education, training, outreach and support we provide not just to this hospital but to other hospitals and other health care settings that are concerned appropriately about the possibility of detecting Ebola and safely caring for it."In addition to retraining in infection control, other immediate changes at Texas Health Presbyterian include a buddy system so Ebola caregivers spot one another while dressing and undressing in protective gear. The type and amount of protective gear is being reviewed to see if the removal might be too cumbersome and prone to mistakes. The number of health care workers treating an Ebola patient will be reduced as will the number of repetitive procedures, both of which might help reduce the risk of worker exposure. Staff will also wear respiratory protection in an Ebola patient's room when carrying out procedures that increase exposure to bodily fluids."Care for a patient with Ebola requires meticulous attention to detail, and we're looking at every aspect to see how we can make it safer and easier," Frieden said.National Nurses United, the largest union of registered nurses in the country, plans to host a national call-in on Wednesday to discuss concerns about hospital readiness for Ebola. The group said more than 80 percent of its membership surveyed report they have not been given adequate training on the deadly virus.In a statement, the Texas Nurses Association said it plans to react swiftly if it learns members don't have the equipment and training needed to protect themselves and others."The facts are not known about how the nurse in Dallas was exposed," wrote the Texas association. "It is incorrect to assume that the nurse failed to follow protocols. Just like in the case of Mr. Duncan, it is critical that we approach these cases objectively and learn from a full account of what happened."The hospital held a series of town hall meetings with employees on Monday. A minister prayed with staffers while Texas Health Resources CEO Barclay Berdan assured workers that the company is  cooperating fully with the CDC."We're working closely to provide information about precautions, care and treatment that are consistent and understandable for patients, caregivers, family members and all Americans who are concerned about how this disease is transmitted and treated," Berdan told employees, according to a written statement from the hospital.Last month, Dallas officials were slow to decontaminate the apartment that Duncan had been living in. But on Monday, a hazardous materials team was already on its second day at Pham's apartment, located in a popular urban neighborhood close to restaurants and shopping.Dallas Animal Services removed Bentley, Pham's Cavalier King Charles spaniel, to an undisclosed location where it will be cared for.  Dallas County Judge Clay Jenkins told WFAA that Bentley would not be euthanized like Excalibur, the dog belonging to a Spanish nurse with Ebola."When I met with her parents, they said, 'This dog is important to her, judge. Don't let anything happen to the dog,'" Jenkins said. "If that dog has to be "The Boy in the Plastic Bubble," we're going to take good care of that dog."Jason Sickles is a reporter for Yahoo. Have a story tip? Email him at jsickles@yahoo-inc.com. Follow him on Twitter (@jasonsickles).
Earthquake Forecast: 4 California Faults Are Ready to Rupture
 By Becky Oskin, Senior Writer7 hours ago
With several faults slicing through the San Francisco Bay Area, forecasting the next deadly earthquake becomes a question of when and where, not if.Now researchers propose that four faults have built up enough seismic strain (stored energy) to unleash destructive earthquakes, according to a study published today (Oct. 13) in the Bulletin of the Seismological Society of America.The quartet includes the Hayward Fault, the Rodgers Creek Fault, the Green Valley Fault and the Calaveras Fault. While all are smaller pieces of California's San Andreas Fault system, which is more than 800 miles (1,300 kilometers) long, the four faults are a serious threat because they directly underlie cities. [Photo Journal: The Gorgeous San Andreas Fault]"The Hayward Fault is just right in the heart of where people live, and the most buildings and the most infrastructure," said Jim Lienkaemper, lead study author and a research geophysicist at the U.S. Geological Survey's Earthquake Science Center in Menlo Park, California. "But it's not just one fault, it's the whole shopping basket. If you are in the middle of the Bay Area, you are near a whole lot of faults, and I'm concerned about all of them."Lienkaemper and his colleagues gauged the potential for destructive earthquakes by monitoring tiny surface shifts along California faults. Certain faults are in constant motion, creeping steadily by less than 0.4 inches (1 centimeter) each year. These slow movements add up over time, cracking sidewalk curbs and buildings. They also serve as clues to what's happening deep below ground, where earthquakes strike."If you figure out where faults are creeping, it tells you where they're locked and how much they're locked," Lienkaemper told Live Science.
Map of Bay Area earthquake faults and creep measurement sites.Fault creep varies, with some faults sliding at a snail's pace and others barely budging. Models suggest that the diversity comes from locked zones that are 3 to 6 miles (5 to 10 km) below the surface, where the fault is stuck instead of sliding. For example, the relatively fast-creeping southern Hayward Fault is only about 40 percent locked, on average, while the slow-creeping Rodgers Creek Fault is 89 percent locked, the study reports. When these locked areas build up a critical amount of strain, they break apart in an earthquake.Lienkaemper and his co-author estimated a fault's future earthquake potential by combining creep measurements with mathematical fault models and other regional data, such as the time since the last earthquake.The Hayward Fault has banked enough energy for a magnitude-6.8 earthquake, according to the study. The Rodgers Creek Fault could trigger a magnitude-7.1 earthquake, and the Green Valley Fault also has the potential to unleash a magnitude-7.1 shaker. The Northern Calaveras Fault is set for a magnitude-6.8 temblor.Of all Bay Area faults, the Hayward Fault is most likely to spawn a damaging earthquake in the next 30 years, scientists think. Its 1868 earthquake was called the Big One until the great 1906 San Francisco quake came along. The Hayward Fault has ruptured about every 140 years for its previous five large earthquakes. The probability of a magnitude-6.7 earthquake on the Hayward Fault is 30 percent in the next 30 years.Though 146 years have now passed since the last Hayward earthquake, that doesn't mean the fault is overdue for another quake, Lienkaemper said. "The average is 160 years, but the uncertainty is plus or minus 100 years, which is almost as big as the time [interval] itself." The 160-year average comes from an analysis of data collected from trenches dug across the fault that revealed evidence of earthquakes over thousands of years.The Rodgers Creek and Green Valley Faults are also closing in on their average repeat times between earthquakes.Email Becky Oskin or follow her @beckyoskin. Follow us @livescience, Facebook & Google+. Original article on Live Science.
The World's New Tallest Tower, Plus 9 Insane Buildings You Have to See to Believe Mental FlossBy Adam D'Arpino If these wild, under-construction buildings are any indication, the future is near, and it will be extremely tall and draped in glass.1. Kingdom Tower
(Photo: Wikimedia Commons)Set to dwarf the world's tallest building—the United Arab Emirates' Burj Khalifa—by over 550 feet, Saudi Arabia's Kingdom Tower will be the planet's first building to top a kilometer in height. The $1.2 billion project, located in Jeddah, will house luxury condos, office space, an observatory, a Four Seasons hotel, and feature the world's highest sky terrace on the 157th floor (still quite a ways from the top, FYI). Construction on the project officially started last year, and the building is due to be completed in 2019. 2. Shanghai Tower
(Photo: Wikimedia Commons)In the works since 1993, China's $4.2 billion, 121-floor Shanghai Tower was topped out earlier this year and is now wrapping construction. It is currently the world's second tallest building, but the Tower isn't officially set to open until 2015. Still, millions of people have already seen the view from the top thanks to vertigo-inducing snaps and videos, shot by two Russian daredevils who illicitly climbed to the top, which went viral last year. The mixed-use Tower is composed of nine distinct vertical zones and is surrounded by a layer of transparent glass skin to filter weather and provide natural ventilation.Related: WATCH: Daredevil Takes Dangerously Epic Selfie From the Top of a Skyscraper 3. The Dubai Pearl
(Photo: dubaipearl.com)
Severe Storms Hit North Texas; Lightning Sets Oil Well on Fire; Thousands Without Power Zain Haidar Published: Oct 13, 2014, 11:56 AM EDT weather.com  Severe Storms Rock Texas Note: Tune-in to The Weather Channel TV network to watch live coverage on the severe weather outbreak and Tropical Storm Gonzalo. To keep you safe and informed of the latest breaking news, our regular programming will be suspended until the threat has passed.Heavy rains and powerful winds hit North Texas early Monday morning, toppling power lines, leaving thousands without power, and causing a home and oil well to catch fire. In Longview, about two hours east of Dallas, a lightning strike caused a large oil well fire, leading police to evacuate the nearby area, according to KETK NBC.KLTV-7 reports that the oil well fire was brought under control at 8:30 a.m. Monday morning and the 20 households and 13 businesses evacuated were allowed to return. No injuries have been reported from the fire.Lightning struck a home in Denton County around 2 a.m. Monday and caused a fire that left the home significantly damaged, according to NBC DFW. The couple living in the home made it out safely. The Dallas Morning News reports that over 20,000 homes and businesses are without poweracross the Dallas-Fort Worth metroplex. Dallas saw the bulk of the outages with 8,000 powerless. Several roads were closed across the metroplex after high winds blew down power lines. NBC DFW reports that authorities closed down a section of a major highway after a two-car wreck blamed on the storms. There have been no reports of injuries in the Dallas-Forth Worth metroplex, but the same outbreak of severe weather killed at least one person in southwestern Arkansas. Severe weather is expected to continue moving throughout the Deep South, possibly generating damaging winds, lightning and hail. MORE ON WEATHER.COM: Severe Weather – Oct. 13, 2014
New Orleans, Louisiana, during a severe weather outbreak on Monday, October 13. (Twitter/remy_blu)
Former Super Typhoon Vongfong Turns Post-Tropical After Sweeping Japan, Guam (RECAP) Jon Erdman and Nick Wiltgen Published: Oct 13, 2014, 11:30 PM EDT weather.com Typhoon Vongfong Wreaks Havoc On JapanAfter strengthening to the year's strongest storm on Earth as a super typhoon last week, Vongfong has now become a strong post-tropical cyclone after sweeping across mainland Japan. However, it continues to bring torrential rain and gusty winds to parts of the country.(MORE: Expert Analysis | Hurricane Central)According to the Japan Meteorological Agency, Vongfong made landfall on the Japanese mainland as a minimal typhoon at about 8:30 a.m. JST Monday (7:30 p.m. EDT Sunday in the U.S.) near the city of Makurazaki in Kagoshima Prefecture on the main island of Kyushu. The pressure there bottomed out at 975.6 millibars (28.81 inches) as the center passed overhead.By early Monday afternoon local time, the center of Vongfong had reached the southwestern tip of Shikoku, another of Japan's four main islands. Vongfong's center of circulation moved along the length of that island, then crossed onto the island of Honshu, passing very close to Osaka and then directly over Nagoya. By the wee hours of Tuesday morning, the center crossed the northern suburbs of Tokyo.The track was eerily similar to that of Typhoon Phanfone less than a week earlier.Tokyo's Haneda International Airport, southwest of the city center on Tokyo Bay, reported sustained winds as high as 37 mph with gusts to 58 mph late Monday night. Winds dropped dramatically Tuesday around Greater Tokyo as the storm  moved away.According to JMA bulletins, Vongfong became a post-tropical cyclone at 9 a.m. JST Tuesday (8 p.m. EDT Monday in the U.S.), just off the Pacific coast of Iwate Prefecture in northern Japan. The transition happened as Vongfong tangled with a frontal system and interacted with the upper-atmospheric westerly winds typical of the mid-latitudes.While Vongfong has become post-tropical, it should remain a formidable low pressure system. Heavy rain warnings and high wind warnings remained in effect as of Tuesday morning for much of northern Japan, including the Pacific coast of Hokkaido and parts of Honshu (the Tohoku region).Eventually the post-tropical version of Vongfong is forecast to make it all the way to Alaska's Aleutian Islands. The National Weather Service in Anchorage, in a technical forecast bulletin Monday, said the system will be "fairly vigorous, but nothing out of the ordinary for this time of year."Okinawa Impact As of 10:25 p.m. Sunday (local time), Kadena Air Base on Okinawa had returned to Tropical Cyclone Condition of Readiness 4, the base's normal status of readiness during the hurricane season.(MORE: Okinawa Impacts From Vongfong)According to JMA bulletins, the center of Typhoon Vongfong made landfall on the central part of Okinawa Island around 12:30 a.m. JST Sunday, Oct. 12 (11:30 a.m. EDT Saturday, Oct. 11 in the U.S.). The center quickly moved back over water as it churned to the northwest, as the central part of Okinawa Island is only 2 to 6 miles wide.Ahead of the center's arrival, wind gusts as high as 111 mph were measured at Itokazu, on the southern end of Okinawa Island, with a peak sustained wind of 78.5 mph reported on nearby Miyagi Island per the Japan Meteorological Agency.Wind gusts peaked at 85 mph at Naha for about 6 hours before the air pressure dropped to a minimum of 955 millibars.Heavy rainfall has been seen as well. As of midday Monday local time, the highest rainfall total from Vongfong anywhere in Japan has been found in Kunigami (on the northern end of Okinawa Island) where 21.95 inches (557.5 millimeters) of rain were reported.Okinawa is no stranger to typhoons packing strong winds. In July 2014, Typhoon Neoguri produced a peak gust to 101 mph. In late Sept. 2012, a 115 mph gust was clocked during Typhoon Jelawat. Typhoon Songda yielded a peak gust to 109 mph in late May 2011.In fact, the strongest wind gust ever recorded in Japan outside of Mount Fuji occurred on the island of Miyakojima in Okinawa Prefecture. That island recorded a gust of 190.8 mph in a typhoon on Sept. 5, 1966.However, Vongfong's large size and slow movement meant Okinawa was subject to an unusually long period of tropical storm-force winds, leading to more tree damage.
Jonathan Erdman @wxjerdmanFollow HT @michaelrlowry Outer eyewall forming in Vongfong. Max winds will fall, but wind field grows. Image via UW-CIMSS: http://ow.ly/i/7aXd0 Strongest in 2014 With low vertical wind shear (change in wind speed and/or direction with height), impressive outflow (winds in the upper levels spreading apart from the center, favoring upward motion and thunderstorms) and warm western Pacific water, Vongfong intensified explosively. According to the Japan Meteorological Agency, Vongfong surpassed Genevieve for the most intense western Pacific typhoon of 2014 by estimated central pressure (900 millibars) on October 7. On the JMA typhoon intensity scale, Vongfong is the third "violent typhoon" of 2014, following Genevieve and Halong."It's safe to say Vongfong was the strongest storm on earth since Haiyan last year," said Michael Lowry, storm specialist for The Weather Channel. Haiyan killed over 6,000 people when it slammed into the Philippines in November 2013 with maximum sustained winds estimated at 195 mph by JTWC.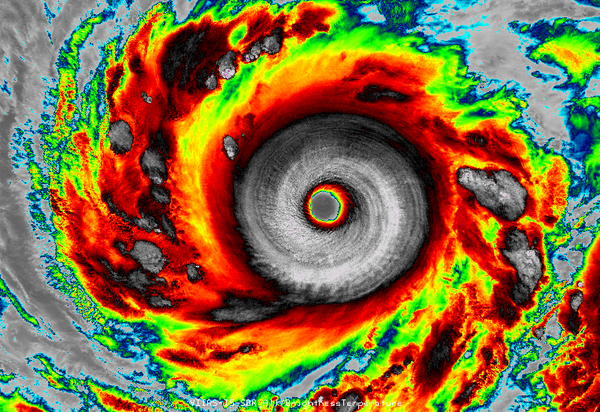 Michael Lowry  @MichaelRLowryFollow I mean c'mon MT @DanLindsey77 Super Typhoon Vongfong #VIIRS Infrared image today at 1:03 PM ET Guam Recap Based on data from the National Weather Service Doppler radar on Guam, the eye of Typhoon Vongfong passed near or over Rota Island, which is about 45 miles north-northeast of Guam, between 3 and 4 a.m. local time Monday, Oct. 6 (1 and 2 p.m. EDT Sunday, Oct. 5).(MORE: Flights Canceled, Schools Closed as Vongfong Strikes)
Hurricane Central  @twc_hurricaneFollow Rota Island, just north of Guam is about to be slammed by the eyewall of #Typhoon Vongfong http://ow.ly/Ciu86 In a series of statements issued Sunday, Oct. 5, the NWS office repeatedly warned that "devastating damage [was] expected" on the island of Rota, which lies in the Northern Mariana Islands, a U.S. commonwealth.The bulletin, eerily reminiscent of one issued by the NWS New Orleans office before Hurricane Katrina in August 2005, included these ominous descriptions of potential destruction from winds that were forecast to gust as high as 140 mph:"Collapse of some residential structures will put lives at risk. Airborne debris will cause extensive damage. Persons or animals struck by the wind blown debris will be injured or killed. Electricity and water will be unavailable for days and perhaps weeks after the storm passes. Most trees will be snapped or uprooted. Fallen trees may cut off residential areas for days to weeks."The bulletin said the islands of Tinian and Saipan to the north, as well as Guam to the south, could expect damage of a less extreme nature.Fortunately, damage was much less severe than expected on Rota. While 70 percent of the island lost power, there had been no reported injuries.Guam experienced sustained tropical storm force wind with typhoon strength gusts at times. Flash flood warnings were issued for Guam due to heavy rain.Vongfong was first designated a tropical depression early Thursday, Oct. 2, local time, and steadily gained strength as it approached Guam and the Northern Mariana Islands. According to the U.S. military's Joint Typhoon Warning Center, Vongfong strengthened into a typhoon Saturday, Oct. 4.(MORE: Typhoon vs Hurricane – What's the Difference?)MORE ON WEATHER.COM: Typhoon Vongfong Photos
People wearing raincoat make their way through heavy wind and rain caused by typhoon Vongfong in Naha, Okinawa, Oct. 11, 2014. (AP Photo/Kyodo News)
Typhoon Vongfong Update: One Dead, Two Missing and Dozens Injured; Transportation Disrupted in Tokyo As Storm Batters Japan 
Published: Oct 13, 2014, 9:52 PM EDT weather.com Typhoon Vongfong Wreaks Havoc On Japan Typhoon Vongfong, now considered post-tropical by the Japan Meteorological Agency, battered Kyushu and Shikoku, Japan, on Monday with ferocious winds and drenching rain. Along with dozens of injured people, one person is dead and at least two are missing. One American is among the injured, according to some Japanese media reports.According to NHK, a 90-year-old man was found dead in a canal in Tottori Prefecture. Heavy rain was falling in Tokyo on Monday, leaving thousands without power and causing extensive travel delays at the end of a three-day national holiday. Conditions are expected to deteriorate there overnight.Authorities issued landslide warnings and told at least 820,000 residents across the country to evacuate.At least 93 people have been injured nationwide, according to NHK. Both a man in his 20s and a 9-year-old girl had fingers severed when high winds slammed doors shut."These are two separate cases, but in both cases they lost one of their fingers as the door closed violently due to the strong winds," a local official told the Japan Times. Several elderly people In Okinawa City and Uruma sustained injuries in falls, according to the Okinawa Times. More injuries were reported in Ginowan, Yomitanson and Yaese-cho. (MORE: Vongfong Continues to Sweep Through Japan)The Asahi Shimbun, a national newspaper, said three Chinese fishermen were swept into the Pacific Ocean by high waves in Shizuoka Prefecture, well east of Vongfong's core, on Sunday morning. Two of the fishermen were rescued, but the third remains missing.Farther north, Fuji TV showed the aftermath of a light plane crash in the city of Ibusuki in Kagoshima Prefecture, near the southernmost tip of the main island of Kyushu. The video report, posted to its YouTube page, said the 39-year-old American man who piloted the plane was slightly injured. It gave no other specifics. Local website 373news.com said a "foreign man" in the one-seater planesuffered a head injury and was taken to the hospital.Transportation was disrupted Monday. According to NHK, more than 500 domestic flights were canceled, and the storm caused substantial delays for Shinkansen (Japanese bullet) trains. Disruptions could continue into Tuesday, the Associated Press reported. NHK reported that 53,000 households in Okinawa and more than 50,000 in Kagoshima experienced blackouts at the height of the storm.  (WATCH: Here's What To Expect From the Tropics in the Coming Weeks)Areas of Japan have received massive amounts of rainfall in past months, and the slow, plodding nature of Vongfong could raise the risk of deadly landslides and flooding yet again, Reuters added.Last week at Kadena Air Base, three airmen were killed by the raging seas off the coast of Okinawa in the wake of Typhoon Phanfone. The bodies of all three men have been recovered.
Flash Flood Threat Targets South, Ohio Valley, East This Week By Jon Erdman Published: Oct 13, 2014, 11:38 PM EDT weather.com Heavy Rain Threat Through Early WeekFlash flooding, yet again, will be a threat this week in parts of the South, Ohio Valley, and East not to mention the threat for severe thunderstorms.
Tuesday's Rain Forecast
Wednesday's Rain Forecast
(MORE: Early Week Severe Weather Outbreak)A deep southward dip in the jet stream, or trough, will trudge east though mid-week. Tapping deep moisture ahead of its attendant cold front, bands of thunderstorms with locally heavy rainfall will lead the front's advance from the southern Plains, Ozarks and Mississippi Valley Monday to the East Coast by Wednesday.Given a soaking rainfall late last week, the threat of additional flash flooding includes parts of the northern Gulf Coast, Mississippi Valley, Ohio Valley, Mid-South and Tennessee Valley through Tuesday.Parts of these areas reported spotty flash flooding Monday night, particularly in Middle Tennessee and north Alabama.The heavy rain threat then should arrive in the Mid-Atlantic states by Wednesday and persist in parts of New England into Thursday.The map below shows a five-day rainfall forecast from one of our computer models, indicating which areas could see the most rain. Keep in mind locally heavier amounts may fall where thunderstorms repeatedly track over the same areas or when a line of thunderstorms moves slowly. 
Five-Day Model Rainfall Forecast
Keep in mind the most dangerous thing you can do in a flash flood is drive your vehicle into flood waters. Don't become a statistic. Turn around, don't drown.(RELATED:  WeatherREADY flood tips | 6 Incredible U.S. Rain Records | 10 Wettest U.S. Cities)Check back with us at weather.com and The Weather Channel for updates to this flood outlook.MORE ON WEATHER.COM: Memphis, Tennessee Flooding Sept. 11, 2014
Flooding is seen near Memphis, Tenn., on Sept. 11, 2014. (WMC-TV Memphis/Personal Photo)
About 70 hospital staffers cared for Ebola patient
 By MARTHA MENDOZA4 hours ago
DALLAS (AP) — They drew his blood, put tubes down his throat and wiped up his diarrhea. They analyzed his urine and wiped saliva from his lips, even after he had lost consciousness.About 70 staff members at Texas Health Presbyterian Hospital were involved in the care of Thomas Eric Duncan after he was hospitalized, including a nurse now being treated for the same Ebola virus that killed the Liberian man who was visiting Dallas, according to medical records his family provided to The Associated Press.The size of the medical team reflects the hospital's intense effort to save Duncan's life, but it also suggests that many other people could have been exposed to the virus during Duncan's time in an isolation unit.On Monday, the director of the Centers for Disease Control and Prevention said the infection of the nurse means the agency must broaden the pool of people getting close monitoring. Authorities have said they do not know how the nurse was infected, but they suspect some kind of breach in the hospital's protocol.The medical records given to the AP offer clues, both to what happened and who was involved, but the hospital said the CDC does not have them.A CDC spokeswoman said the agency reviewed the medical records with Duncan's care team and concluded that the documents were not helpful in identifying those who interacted directly with the patient.
FILE – This undated file image made available by the Centers for Disease Control (CDC) shows the Ebo …"This is not something we can afford to experiment with. We need to get this right," said Ruth McDermott-Levy, who directs the Center for Global and Public Health in Villanova University's College of Nursing.Until now, the CDC has been actively monitoring 48 people who might have had contact with Duncan after he fell ill with an infection but before he was put in isolation. The number included 10 people known to have contact and 38 who may have had contact, including people he was staying with and health care professionals who attended to him during an emergency room visit from which he was sent home. None is sick.The CDC has not yet established a firm number of health care workers who had contact with Duncan."If this one individual was infected — and we don't know how — within the isolation unit, then it is possible that other individuals could have been infected as well," said Dr. Tom Frieden, director of the CDC. "We do not today have a number of such exposed people or potentially exposed health care workers. It's a relatively large number, we think in the end."Caregivers who began treating Duncan after he tested positive for Ebola were following a "self-monitoring regimen" in which they were instructed to take their temperatures regularly and report any symptoms. But they were not considered at high risk.Protect Environmental workers move disposal barrels to a staging area outside the apartment of a hea …Typically, the nurses, doctors and technicians caring for a contagious patient in isolation would be treating other people as well and going home to their families after decontaminating themselves. The hospital has refused to answer questions about their specific duties.The 1,400-plus pages of medical records show that nurses, doctors and other hospital employees wore face shields, double gowns, protective footwear and even hazmat suits to avoid touching any of Duncan's bodily fluids. Ebola spreads through direct contact with those fluids, usually blood, feces and vomit. The virus has also been detected in urine, semen and breast milk, and it may be in saliva and tears.CDC officials said there were chinks in that protection at Texas Presbyterian, but they have not identified them and are investigating."Patient had large, extremely watery diarrhea," a nurse wrote in a report filed the day Duncan tested positive.Another nurse noted that Duncan's urine was "darker in color with noted blood streaks."
Graphic shows how to carefully remove protective gear used when treating ebola infected patients; 3c …It was unclear from the records released to the AP how many of the approximately 70 individuals involved in Duncan's care had direct contact with his body or fluids.Dr. Aileen Marty, a World Health Organization doctor who recently returned to Florida International University after a month fighting Ebola in Nigeria, said no amount of protection is going to help if hospital workers do not put on and take off their protective layers carefully."The first thing in caring for someone with Ebola is to do everything in your power to never become a victim," she said.And tracking all contacts, even within the medical setting, is complicated.Generally, the first step in locating care providers for isolated infected patients is a personnel log on the door, "that should have everyone going in and out, signing in and out," said Dr. Lisa Esolen, Geisinger Health System's Medical Director of Health Services and Infection Prevention and Control. Medical records indicate the Dallas hospital had a log.On the day before Duncan died, records indicate that at least nine caregivers entered and exited the room.A spokesman for Texas Health Resources, the hospital's parent company, said the CDC probably has a log from the room door that would list everyone who got close to Duncan.Dr. Christopher Ohl, who heads Wake Forest Baptist Medical Center's infectious-disease department and has worked with the CDC in the past, said the expanding monitoring "is an abundance of caution that's probably beyond what needs to be done" because medical caregivers will notice if they're getting a fever, and they're not contagious until that point."You start to know when you get those body aches and headaches, most people know that," he said. "It's not like you're surprised by it. Most people can figure out what to do when that happens."_Associated Press writers Maud Beelman and Jamie Stengle contributed to this report.
Typhoon Vongfong heads off Japan coast; 1 dead, 2 missing
 7 hours ago
Waves crash as Typhoon Vongfong approaches Japan's main islands while surfers try to ride a wave …TOKYO (Reuters) – A large storm was heading off Japan's northeast coast early Tuesday, leaving one person dead, two missing and 93 injured even as it weakened sharply from what had been the strongest typhoon to hit Japan this year.Related Stories
Vongfong, downgraded to a tropical storm, was moving northeast at 65 km per hour (40 miles per hour), heading off the coast of the Tohoku region devastated by the 2011 earthquake and tsunami, according to the Japan Meteorological Agency.The storm had maximum sustained winds 110 kph (70 mph) and gusts up to 145 kph (90 mph), the agency said on its website.After the storm passed through western Japan, a 90-year-old man in Tottori prefecture was found dead in a field irrigation ditch, while one person each was missing in Ehime and Shizuoka prefectures, public broadcaster NHK said.Vongfong brought heavy rain to Tokyo through the night and snarled traffic for much of the nation on the last day of a three-day holiday weekend. More than 600 flights were canceled nationwide on Monday and more than 60 cancellations were expected on Tuesday, NHK said.In Tokyo on Tuesday morning the sun had returned and commuter train service was largely returning to normal.More than 800,000 people nationwide had been urged to leave their homes, while more than 150,000 homes lost power, NHK said.Tokyo Electric Power Co, the operator of the crippled Fukushima nuclear power plant, said on Monday it had increased water transfer and storage capacity to prevent an overflow of radioactive water being stored at the plant.A Monday baseball playoff game in Osaka for Japan's Pacific League, between the Orix Buffaloes and the Hokkaido Nippon-Ham Fighters, was postponed. It was the first time a Nippon Professional Baseball playoff game was canceled because of a typhoon.(Reporting by Junko Fujita and William Mallard; Editing by Lisa Shumaker)
Inde : le cyclone Hudhud fait plusieurs morts Un cyclone violent a frappé ce week-end l'est de l'Inde. Hudhud a fait de nombreux dégâts sur son passage et entraîné la mort de 5 personnes.
Par Mathieu Faure | M6info – il y a 21 heures
Afficher la photoLe cyclone Hudhud en Inde
Afficher la galerieCyclones, ouragans, typhons : ces tempetes meurtrieres Catastrophe naturelle en Inde. Un violent cyclone a frappé l'est du pays ce week-end. Le cyclone Hudhud a fait d'importants dégâts et provoqué la mort d'au moins 5 personnes dans des chutes d'arbres et de maisons. Les vents ont soufflé jusqu'à 200 km/h. Le cyclone a également touché l'Etat voisin de l'Orissa. Cette partie de l'Inde avait déjà souffert en octobre 2013. Le cyclone Phailinavait tué au moins 18 personnes et causé d'importants dégâts matériels. Le bilan aurait pu être bien plus lourd si les autorités n'avaient pas fait évacuer près de 800.000 personnes en amont. Des mesures de précautions prises Le pays s'était préparé au cyclone Hudhud. Par précaution les autorités avaient organisé l'évacuation de 370.000 personnes. La marine indienne avait annoncé dans un communiqué être à « un haut niveau de préparation ». « Des médecins, des canots pneumatiques gonflables, des hélicoptères et du matériel de secours » avaient été positionnés pour venir en aide aux habitants en difficulté.Retour en images sur les cyclones et ouragans les plus meurtriers du siècle…
Le 16 août 1992, l'ouragan Andrew balaie les Bahamas, la Louisiane et la Floride avec des vents de 240 km/h. 65 personnes meurent et des centaines de milliers de maisons sont détruites sur son …
El Salvador Earthquake 2014: Magnitude-7.4 Temblor Strikes 66 Miles Off The Coast The Huffington Post  | By Jade Walker Posted: Updated: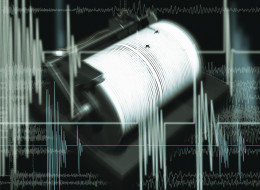 A powerful earthquake hit early Tuesday off the coast of El Salvador, the U.S. Geological Survey reported.The temblor was recorded about 66 miles south-southeast of the city of Usulutan with a preliminary magnitude of 7.4 An earlier report from the NWS Pacific Tsunami Warning Center said"hazardous tsunami waves" were possible along the coasts of Nicaragua, Honduras and El Salvador. That report was later amended to note that there was "no longer a tsunami threat."The USGS also issued a "yellow alert" for possible shaking-related fatalities and economic losses.At the time of this writing, there have been no reports of injuries or deaths. Usulutan was badly damaged by earthquakes in February 2001, Reuters reported.RELATED ON HUFFPOST:Devastating Earthquake Photos 1 of 41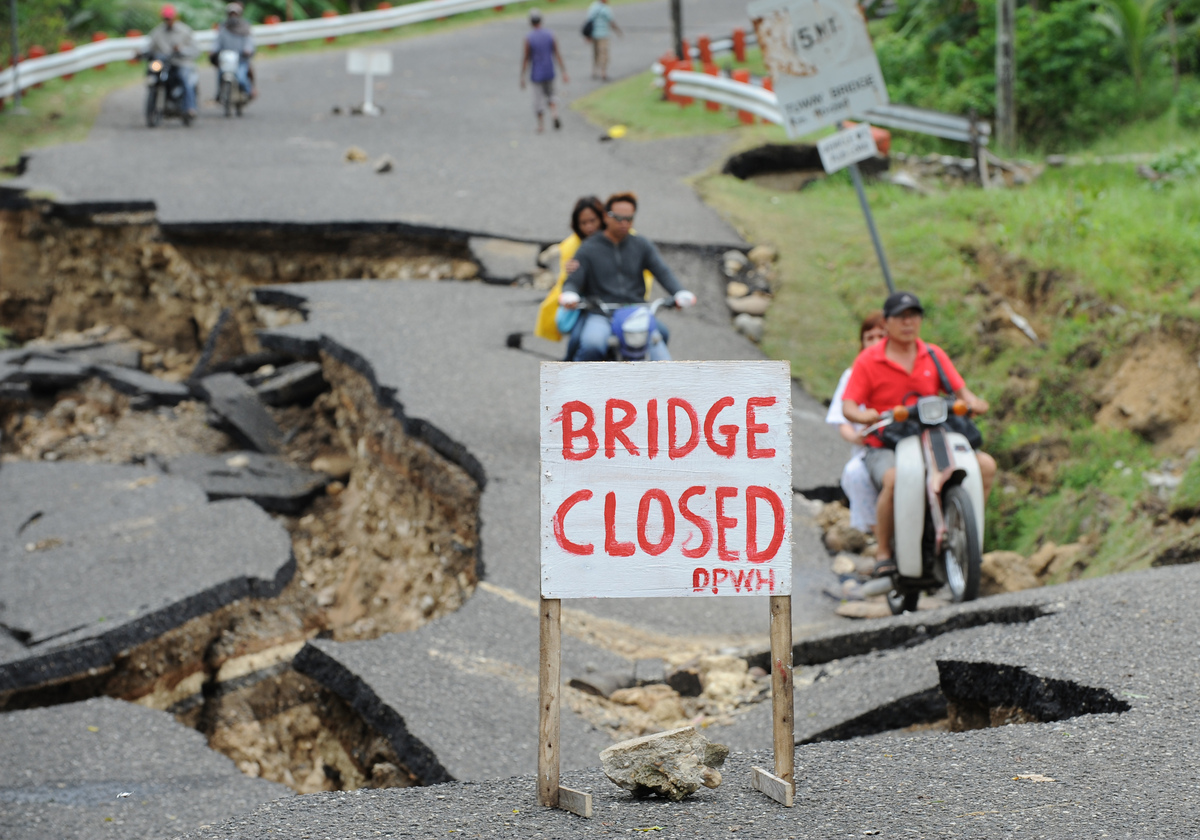 Getty Images







Potential hurricane to impact Hawaii with rain and gusty winds by late week Use your key for the next articleNext: Fracking fuels global warming: Fractivists protest worldwideOctober 13, 20147:07 PM MST
PlayAs Hurricane Iselle and Julio barrel towards Hawaii, as Matt Sampson explains, it brings to mind an eerily similar image from the past. A date that marks the last time Hawaii w hit.on.aol.comEarlier today in the central Pacific Ocean, Tropical Depression 2C developed and is expected to track toward Hawaii by late week and into this weekend. Warm water and low wind shear ahead of the developing cyclone will contribute to strengthening this week, with the system likely becoming a hurricane by mid-week. Once the depression reaches tropical storm status, it will be named Ana.
Photo by NASA/Getty ImagesView all10 photos
Tropical Depression 2C developed earlier today and is forecast to track toward Hawaii by late week, potentially strengthening into a hurricane and bringing heavy rains, strong winds, and dangerous surf.Photo courtesy of AccuWeather.com, used with permissionResidents and travelers to Hawaii, particularly the Big Island, should pay close attention to the track and strength of this system.At the very least, there will be a surge of rain and gusty winds that reach the Big Island later Friday night into Saturday, along with dangerous surf on the shorelines. Numerous showers and heavy downpours will then expand into the remainder of the islands throughout the upcoming weekend, including in Honolulu. Clouds and rain may linger into early next week as the system nearly stalls over the islands.This latest tropical threat to Hawaii follows on the historic landfall of Tropical Storm Iselle back in August. Hurricane Iselle was the strongest tropical cyclone to make landfall on the Big Island of Hawaii in recorded history. The last time a hurricane made a direct landfall on the state of Hawaii was way back in 1992 whenHurricane Iniki made a direct landfall on the island of Kauaʻia as a category 4 storm. At this time, it appears that Ana would be a category 1 storm at landfall on the Big Island of Hawaii, potentially surpassing the impact felt from Iselle.Ana would be the second formation in the central Pacific this season. Wali formed in July, but failed to reach Hawaii as a tropical system. Both Iselle and Julio originated in the eastern Pacific, eventually threatening Hawaii as they moved into the central Pac
1000-year old Viking treasure hoard found in Scotland
 20 hours ago
LONDON (Reuters) – A hoard of Viking gold and silver artifacts dating back over 1,000 years has been discovered by a treasure hunter with a metal detector in Scotland, in a find hailed by experts as one of the country's most significant.Derek McLennan, a retired businessman, uncovered the 100 items in a field in Dumfriesshire, southwest Scotland, in September.Amongst the objects is a solid silver cross thought to date from the 9th or 10th century, a silver pot of west European origin, which is likely to have already been 100 years old when it was buried and several gold objects."Experts have begun to examine the finds, but it is already clear that this is one of the most significant Viking hoards ever discovered in Scotland," Scotland's Treasure Trove unit said in a statement.The Viking hoard is McLennan's second significant contribution to Scotland's understanding of its past. Last year, he and a friend unearthed around 300 medieval coins in the same area of Scotland."The Vikings were well known for having raided these shores in the past, but today we can appreciate what they have left behind," said Scotland's secretary for cultural and external affairs, Fiona Hyslop.
FILE: Darren Webster examines a silver arm-ring he discovered dating from 900 AD which is part of th …The Vikings, of Scandinavian origin, made successive raids on Britain from the 8th to the 11th centuries, burying their valuables for safe-keeping, which have gradually been discovered by generations of treasure seekers.A 10th-century Viking hoard was found in 2007 in northern England, while in 1840 over 8,600 items were found in northwest England.The latest find, also containing a rare silver cup engraved with animals which dates from the Holy Roman Empire, and a gold bird pin, is the largest to be found in Scotland since 1891 and could be worth a six-figure sum, the BBC said.(Reporting by Sarah Young; editing by Stephen Addison)