Gonzalo's Remnants Thrash United Kingdom; Europe Up Next By Eric Zerkel Published: Oct 22, 2014, 2:27 PM EDT weather.com Gonzalo's Impacts in Europe? The remnants of Hurricane Gonzalo combined with another system over the North Atlantic earlier this week and are now moving into Western Europe after sweeping across the United Kingdom Tuesday, bringing high winds that disrupted travel and downed trees, killing at least two people.While the U.K. primarily experienced strong winds and rain, Germany, France and areas of the Alps will experience a dramatic temperature drop, according to The Weather Channel U.K.'s Chief Meteorologist Leon Brown."Switzerland will go from summer to winter with blizzards and heavy snow over the Alps Wednesday, spreading to Austrian Alps later," Brown said.Areas of northern Holland will likely experience strong winds, similar to those experienced in the U.K. yesterday.Wind gusts in the United Kingdom reached 88 mph Tuesday, the BBC reports, and the U.K. Met Office to issued a "yellow warning" — signaling residents to be aware of potential impacts — for windy conditions.
There were multiple reports of trees downed by high winds across the region, and in central London, gusty winds caused a tree from foliage-rich Hyde Park to land on a woman walking across the street from Hyde Park Barracks. The woman was pronounced dead on the scene, according to the London Ambulance Service.
The second death happened midday in Essex. The UK Telegraph reports high winds collapsed a car jack, sending the van it was holding onto the man underneath it.At least four other people were injured by different falling trees, one in Southwick, England, and another in London.(MORE: Hurricane Gonzalo Recap)In addition to gusty winds, the U.K. Environment Office issued flood warnings for coastal areas in the Anglian region of the U.K., warning of high tides, amplified by tidal surge and strong winds, that could flood residences. The office also issued more than 20 flood alerts for northern, southern and eastern portions of the U.K. throughout the day Tuesday.Hundreds of homes were without power across the U.K. at the peak of the storm. Up to 100 homes were without power in Moffat, Scotland, due to "extensive damage" from Gonzalo's remnants, the BBC notes. Additional power outages were reported throughout Scotland from energy provider SSE Power Distribution. More than 400 homes in Wales were also without power after high winds and rain first impacted the area.(PHOTOS: Gonzalo's Remnants Lash the U.K.)Gonzalo's remnants also had a big impact on travel across the United Kingdom. More than 100 flights have been canceled at Heathrow airport, although the BBC reports that some of the cancelations weren't weather related.Ferry service has also been disrupted across the U.K. due to high waves. Multiple bridges and roads were closed and at at least two trucks were blown over due to strong gusts of wind. Trains also reported delays, complaining of an inability to grip the tracks in the face of high winds.Gonzalo made landfall on Bermuda as a Category 2 hurricane last Friday, ripping roofs off buildings, downing hundreds of trees and knocking power out to nearly all of the island's residents.Gonzalo's Remnants Hit Germany
A car is covered in snow near Oberjoch, southern Germany, on October 22, 2014. (KARL-JOSEF HILDENBRAND/AFP/Getty Images)
Nor'easter Floods Jersey Shore; Trees Down in Massachusetts, Power Outages Reported By Sean Breslin Published: Oct 22, 2014, 10:19 PM EDT weather.com
The beginnings of a nor'easter expanded its reach Wednesday, stretching from the Jersey Shore into New England, where heavy rain and high winds brought patches of flooding and downed trees. Air travel was also a hassle at some of the nation's busiest airports.
The New Jersey coast felt the impacts first. Tuesday, roads flooded so much that some people had to be rescued from their cars. At least one waterspout was spotted. Hail as large as three-quarters of an inch fell in Brick Township, according to local National Weather Service reports.
By Wednesday, the impacts crept into New England. The National Weather Service reported trees and powerlines were down in several Massachusetts counties. In Cohasset, some of those trees had fallen over train tracks. Bristol and Essex counties reported fires due to sparking or downed powerlines, as well as houses impacted by fallen trees or tree limbs. In Middlesex County, a tree fell on four unoccupied cars.
A downed tree was reported to be blocking Memorial Drive near Harvard University.
Power outages were reported in Connecticut, Maine, Massachusetts, New Hampshire and Rhode Island. Over 67,300 customers of various electric companies were without power Wednesday night.
(MORE: Here's Where the Nor'easter Is Expected to Hit)
The nasty weather also factored in long arrival delays at LaGuardia Airport and Philadelphia International Airport Wednesday.
"The heavy rain that was seen Tuesday in New Jersey was from an area of low pressure that was moving southeastward from the Great Lakes and moved off the coast," said weather.com meteorologistLinda Lam. "This coastal low will continue to strengthen as it slowly tracks northeastward and is expected to develop into a nor'easter."Below are some social media reports from the affected areas Tuesday evening and Wednesday. Be sure to stay with The Weather Channel and weather.com as this coastal low moves into New England.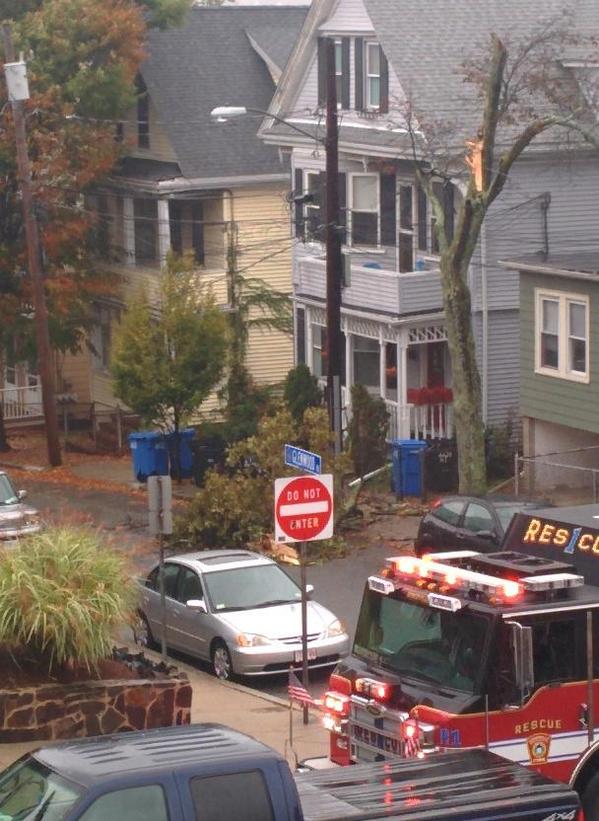 Corey Frang @gnarfFollowThis morning I watched the wind rip a tree in half and deposit it on the street. No visible damage beyond the tree.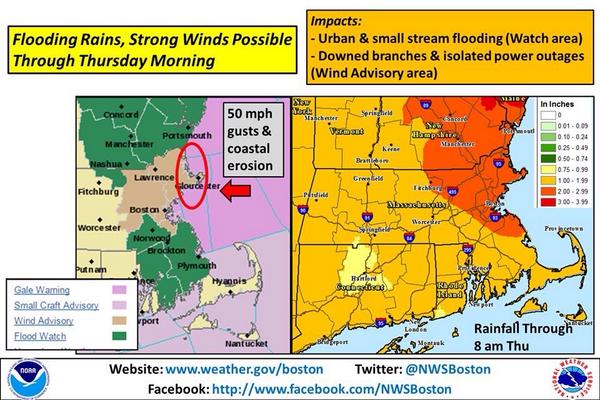 Cohasset Police @CohassetPoliceFollowWe are expecting heavy rain and wind tonight. Call 911 if you see any downed power lines/trees. Treat them as LIVE.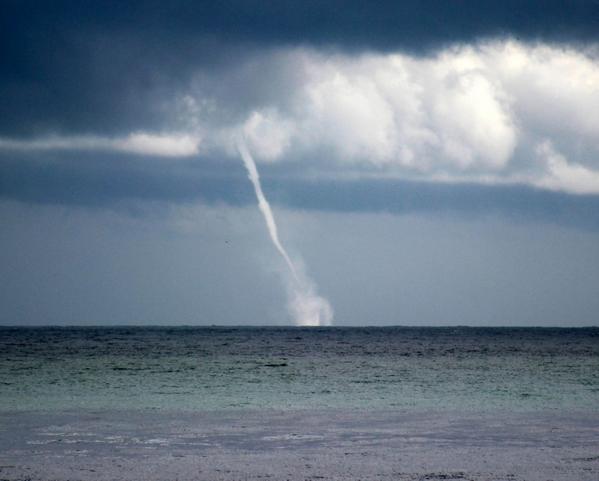 JSHurricaneNews @JSHurricaneNews Follow Gallery: Waterspout forms just offshore from Ocean County Tuesday afternoon >> http://goo.gl/wexD9d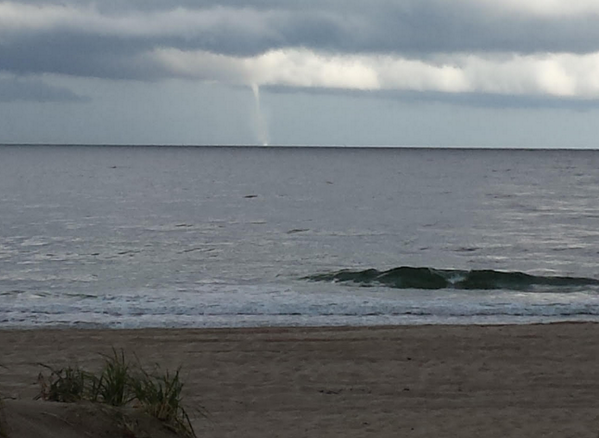 JSHurricaneNews @JSHurricaneNewsFollowSmall waterspout off Lavallette shortly after 2:00 p.m. by JSHN contributor Matt Burk.MORE ON WEATHER.COM: Stunning Sunsets Along the Jersey Shore
Long Beach Island (fPat/Flickr)
EU nations threaten to block green energy rules at summit talks
View phoSmoke billows from the chimneys of Belchatow Power Station, Europe's largest coal-fired power plant, …By Barbara Lewis BRUSSELS (Reuters) – EU leaders face a long day on Thursday as they seek to agree on a new decade of climate and energy policy at a summit in Brussels, with nations from Poland to Portugal threatening to block a deal.If the European Union can manage an accord, including a more ambitious greenhouse gas cut, it will be the first major economic bloc to set an emissions target for 2030 and would set the tone ahead of United Nations talks next year in Paris on a global pact to manage climate change.Poland, whose economy depends on highly polluting coal, has always been at the forefront of objectors, but Portugal says it too would oppose the outline deal on the table so far. No one will rule out an all-night sitting into Friday morning.An EU diplomat speaking on condition of anonymity said a preparatory meeting on Wednesday had been "a grand theater that showed the huge differences between countries"."Poland is not the main problem, or at least not the only problem, because several countries have declared that they would die for their position. What we have now … shows it is high time to cool down and adopt a more conciliatory approach."Portugal is among the nations to have pushed for ambitious climate goals but is also holding out for a firm commitment to encourage investment in new pipeline and grid infrastructure across EU borders."We will not support a deal that does not include a binding (infrastructure) target because we need to create a stable, predictable regulatory framework in order to attract private investment," Bruno Macaes, Portugal's secretary of state for Europe, told Reuters.EU sources say Spain has a similar stance because, like Portugal, it has a surplus of energy that it cannot export to the rest of Europe because it cannot move it over the Pyrenees and then across France.Beyond Poland, poorer east European states are also wary of committing to new cuts in carbon output without more compensation for efforts to modernize their economies. Since the collapse of their communist-era industries, they already emit much less pollution than in the global benchmark year of 1990."We're hearing that it's time to forget about the past," one east European diplomat said. "Come on, let's be fair. We won't accept any solution that ignores past performance."
PROBLEMS CAN BE OVERCOME 
EU officials predict that ultimately there will be a deal, but the finer details will be left for future debate, notably when legislation has to be drafted."There should not be problems that could not be overcome," European Climate Commissioner Connie Hedegaard told Reuters in an interview."It should be feasible to agree on a 40 percent domestic greenhouse gas target and a very strong signal on efficiency and renewables," she said.The European Commission, the EU executive, has laid out three 2030 targets.They are to cut greenhouse gas emissions by 40 percent versus 1990, increase green fuel to 27 percent of energy used and improve energy efficiency, through measures such as better insulation, to 30 percent compared with business as usual.The draft policy would replace three 2020 goals, all of 20 percent.The outgoing European commissioners, who step aside for a new team from the start of November, see a deal this week as part of their legacy achievement.Oinvolving member states and the European Parliament.The 2020 goals were agreed in outline in March 2007, finalised in December 2008 and formally published as EU law in April 2009.Some business leaders and some member states – notably Britain – object to the idea of multiple targets and say the fragile EU economy would be best served by one binding emissions target plus a strengthened Emissions Trading System, the EU carbon market.Others argue that only a set of binding targets will make any difference. They say firm renewable and efficiency goals are needed if Europe is to maintain its lead in green technology and curb its dependency on imported oil and gas, especially from Russia.Companies including Spain's Acciona, Coca-Cola Enterprises and Unilever, issued a joint statement this week in support of cutting greenhouse gases by at least 40 percent, plus a 30 percent renewable target and an energy savings objective of at least 30 percent."We know that the economic cost of inaction is now greater than action," Paul Polman, CEO of Unilever, said."Without the right policy frameworks and political signals, even the most determined business action will not reach the scale we need to make a real difference."Climate campaigners say the EU 2030 goals under discussion lack ambition. A group of non-governmental organizations including Greenpeace have called for targets of 55 percent for cutting emissions, 45 percent for renewable energy and 40 percent for energy efficiency.(Additional reporting by Jan Strupczewski, Adrian Croft and Alastair Macdonald; Editing by William Hardy/Ruth Pitchford)
Head of sphinx discovered at mysterious Greek tomb
 20 hours ago
Thessaloniki (Greece) (AFP) – The head of a near-intact marble sphinx has been discovered in the largest tomb ever unearthed in Amphipolis, northern Greece, the culture ministry announced.Discovered in the fourth chamber of a burial mound at the site in the northern region of Macedonia, the sphinx is more than half-a-metre (18 inches) high and was marked by "traces of red", according to a statement from the ministry.Archaeologists also found fragments of the sphinx's wings within the same burial mound."The sphinx's head belongs to the body of a sphinx which was found previously," said the statement released Tuesday.It was the latest find by archaeologists who unearthed the enormous tomb dating back to fourth century BC and the time of Alexander the Great of Macedonia in early August.Previously they have discovered the mosaic of a man driving a chariot, carved caryatids — columns of female figures that serve as architectural support — and a large mosaic depicting the abduction of Persephone by Pluto.Since discovery of the site, deemed to be of huge historical importance and visited by Greek Prime Minister Antonis Samaras, there has been widespread speculation over who was buried there: from Roxana, Alexander's Persian wife, to Olympias, the king's mother, to one of his generals.However, despite high hopes among some historians, it is highly unlikely that the tomb is that of Alexander the Great.
Japan prosecutors set to rule on possible Fukushima indictments
 October 21, 2014 10:07 PM
A man walks near a damaged power pole at an area that was devastated by the March 11 earthquake and tsunami, …TOKYO (Reuters) – Japanese prosecutors must decide this week whether to charge Tokyo Electric Power Co executives for their handling of the 2011 Fukushima disaster, in a process that could drag the operator of the stricken nuclear plant into criminal court.Related Stories
The judicial review is unlikely to see Tepco executives go to jail, legal experts say, but rehashing details of the meltdowns and explosions that followed an earthquake and tsunami will cast a harsh light on the struggling utility and will not help Prime Minister Shinzo Abe's unpopular effort to restart Japan's nuclear reactors.The Tokyo's District Prosecutors Office last year declined to charge more than 30 Tepco and government officials after investigating a criminal complaint from residents, who said officials ignored the risks to the Fukushima Daiichi plant from natural disasters and failed to respond appropriately when crisis struck.But a special citizens' panel opened another legal front in July, asking prosecutors to consider charges of criminal negligence against three executives over their handling of the world's worst nuclear disaster since Chernobyl in 1986.Under the review system, the prosecutors must respond by Thursday.If they again decline to take up the case, as some experts expect, the 11-member panel of unidentified citizens can order prosecutors to indict, if eight members vote in favor.Prosecutorial Review Commissions, made up of citizen appointees, are a rarely used but high-profile feature of Japan's legal system introduced after World War Two to curb bureaucratic over-reach. In 2009, they were given the power to force prosecutions.A panel in 2011 forced the prosecution of former opposition leader Ichiro Ozawa over political funding. He was acquitted in 2012 and remains an opposition figure.Tepco already faces a string of civil suits, a decades-long, multibillion dollar decommissioning Fukushima Daiichi and a struggle to restart a separate undamaged power station, the world's biggest.NOT LIKELY All 48 of Japan's reactors have been idle for more than a year under a safety regime that incorporated the lessons of Fukushima, where 160,000 people were forced to flee from a huge plume of radioactive material that left large areas uninhabitable for decades.Backed by Abe's pro-nuclear government, Kyushu Electric Power Co recently won approval from safety regulators to restart a plant in southwest Japan but faces opposition from some neighboring communities.Nationwide, a majority of people has consistently opposed restarting nuclear power, according to opinion polls since the disaster.The citizens' panel said Tsunehisa Katsumata, Tepco chairman at the time of the disaster, and former executive vice presidents Sakae Muto and Ichiro Takekuro failed to take protect the Fukushima plant despite warnings it faced big tsunamis.The prosecutors are unlikely to change their minds, said Shin Ushijima, an attorney and former public prosecutor."Prosecutors exhaust all means in their investigations and certainly would have in a special case like this, so if they were convinced they could not prosecute Katsumata and the others earlier, they will not reach a decision to indict now," he said."There is a 50 percent chance that some or all of the three ex-Tepco executives will be indicted and 99.9 percent chance those indicted will be found not guilty," Ushijima said."How can you prove one person, Katsumata for example, is liable or guilty, when such a big organization was behind such a large accident?"Tepco faces huge compensation claims and has set aside just a fraction of the funds needed to decommission the Fukushima plant.A court recently ordered the utility to pay compensation to the family of a woman who killed herself after being forced from her home because of the disaster. A group of Fukushima workers is also suing the company for unpaid wages.(Reporting by James Topham and Aaron Sheldrick; Writing by Aaron Sheldrick; Editing by Robert Birsel)
Tourists watch solar alignment in Egypt temple
 By TAYMOUR EL-ALFY9 hours ago
ABU SIMBEL, Egypt (AP) — Hundreds of visitors have gathered at the Great Temple of Ramses II in Egypt to watch the sun illuminate colossal statues, a rare 3,200-year-old astronomical ceremony that happens twice a year.At dawn at Abu Simbel, local dignitaries and tourists on Wednesday waited for the sun to send a beam of light into the ancient temple's dark inner chamber for over 10 minutes, lighting three of four enormous, 22-meter (72-feet) -high statues.Thirty-two centuries ago, the temple was precisely built to align with the sun twice a year, celebrating the pharaoh's birthday and coronation. It is considered one of the most beautiful of Egypt's ancient monuments, well-known for its four colossal statues.Egyptian authorities are working hard to revive the tourism industry, collapsed in the wake of the 2011 uprising.
U.S. Greenhouse Emissions on the Rise Despite Obama Administration's Plans By Eric Zerkel Published: Oct 22, 2014, 4:19 PM EDT weather.com Combating Carbon Emissions U.S. power plants released more greenhouse gases in 2013 than 2012 despite recent efforts by the Obama administration to drastically cut such pollution by 2030, a new report from the U.S. Energy Information Administration (EIA) shows, and the brutal winter of 2013 shoulders a large part of the blame.The EIA reports that from 2012 to 2013 carbon dioxide emissions from energy-related sources rose by 2.5 percent, the fourth largest increase in such emissions since 1990. This marks the first time energy-related carbon dioxide emissions rose year-to-year since 2010, which was the single largest jump in emissions (3.7 percent) since 1990.So then, why the increase? One massive factor was winter 2013, which as the EIA notes, resulted in a more than 18 percent increase in what are known as heating degree days, or days where more energy is required to heat your home.That jump in heating degree days is pretty representative of the brutal cold a large portion of the U.S., in particular the Midwest, braved from December to February. Winter 2013/2014 was the one of thetop 10 coldest winters on record for residents of seven Midwestern states.When it's freezing out (quite literally) people crank up the heat to stay warm. And that takes electricity, a lot of it. Power plant emissions tied to residential energy consumption rose dramatically in 2013, contributing to 48 percent of the total increase in emissions from 2012 to 2013.Now a bit of simple economics kicks in. Both coal-fired power plants and natural gas power plants, two competing sources of greenhouse emissions, experienced price changes in 2013. The price to deliver natural gas to electric generators at power plants increased at the same time the price of coal decreased. When price goes up, demand goes down. Similarly, when price goes down, demand goes up. So, naturally, energy production shifted to the cheaper energy source, in this case coal-fired power plants.As a result, coal-fired power plants generated 4 percent more electricity from 2012 to 2013, while natural gas's electricity generation contribution dropped by some 10 percent. Even so, because of increases in solar, wind and nuclear energy, the carbon footprint of electricity generators rose less than 1 percent.Still, the overall increase in carbon emissions is  pretty terrible news for the Obama administration, which just this June, unveiled a plan to cut greenhouse emissions from the U.S.'s power plants by 30 percent by 2030. The first step in the plan called for a 17 percent cut in carbon emissions by 2020, but the EIA's findings are an obvious setback to accomplishing that.For a look at all of the factors that contributed to the increase in carbon emissions, access the Energy Information Administration's full report by clicking here.MORE ON WEATHER.COM: Alaska's Glaciers in Retreat Muir Glacier and Inlet (1895)
In the photo above, the west shoreline of Muir Inlet in Alaska's Glacier Bay National Park & Preserve is shown as it appeared in 1895. Notice the lack of vegetation on the slopes of the mountains, and the glacier that stands more than 300 feet high. See the glacier as it looked in 2005 on the next page. (USGS/Bruce Molnia)