US Delivers Counter-Mortar Radar Systems To Ukraine Following Russia's Warning Against Aiding Kiev By Kukil Bora@KukilBora on November 22 2014 2:46 AM
Germany's foreign minister expressed concerns that Russia is seeking to split up Ukraine by supporting separatists in the east as President Vladimir Putindefended his stance in the conflict."I'm taking Russia at its word that it doesn't want to destroy the unity of Ukraine," Der Spiegel magazine cited the German minister, Frank-Walter Steinmeier, as saying in an interview. "The reality, however, is speaking a different language."More from Bloomberg.com: Putin Looks to Pakistan as Cold War Friend India Buys U.S. ArmsThe conflict in the Luhansk and Donetsk regions of Ukraine along the Russian border has claimed more than 4,300 lives and laid much of the local infrastructure to waste. The European Union and the U.S. accuse Russia of not abiding by a September truce signed in Minsk, Belarus, and Ukraine says Russian troops and vehicles continue to cross the frontier. Russia denies it's fomenting the war.Putin defended Russia's annexation of Ukraine's Crimea peninsula this year and its sympathy for the separatist cause in eastern Ukraine in an interview with Russia's Tass news agency published yesterday.Related QuotesMAS24.07+0.92%Masco CorporationWatchlist24.07+0.22(0.92%)NYSEFri, Nov 21, 2014 4:05 PM EST
Those Photos Of Superflankers And Advanced SAMs In Crimea Are Bogus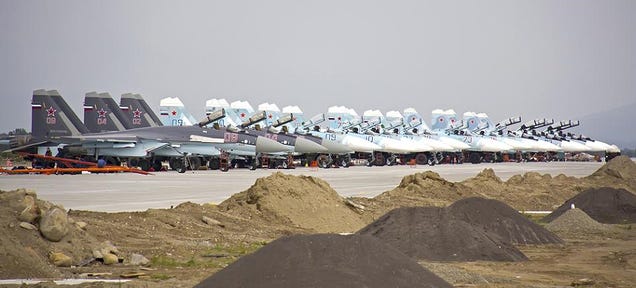 The buildup of Russian air combat capability in Crimea has been announced but only seen in glimpses. Yesterday, Twitter posts showed this militarization in vibrant color. The most stunning being a shot of Belbek AB. Once the home to mostly broken down Ukrainian MiG-29s, it now appears to bristle with Su-30 and Su-35 fighters, but this tweet is inaccurate.Even before hostilities erupted last winter, Russia had maintained a dizzying array of anti-access naval capabilities in the region. After the invasion of Crimea, the Kremlin made it clear that both sea and air defenses would be bolstered and greatly upgraded.

Putin's Game Of Battleship: The Black Sea Fleet And Why It Matters Vladimir Putin may or may not have lost his grip on reality, but his desire to tighten his grip on…Read morePart of this initiative was the disclosed deployment of SU-30s to the commandeered Belbek Air Base, but the picture above would be the first confirmation that the single seat SU-35 Super-Flanker derivative is also deployed there. The truth is the picture was taken at another Russian air base from earlier this year. If it were authentic, it would give one of the first clear insights as to how many Russian Flankers of any type were deployed to the Crimean base.
Russia Orders More Su-30SM Fighters The recent contract brings to 72 the Russian defense ministry's order for Su-30SM fighters.Read more ainonline.​comIn addition to the photo supposedly from Belbek Air Base, what appears to be S-300PMU surface to air missile systems were spotted on the move in northern Crimea, along the border with Ukraine. It is widely assumed that S-300s were deployed to Crimea earlier this year, but setting up these long-range SAMs on the border would allow Russia to reach many miles into south central Ukraine during a time of expanded conflict. In other words, they could deny access to Ukrainian combat aircraft acting in support of

lennutrajektoor @lennutrajektoor Follow Russia has brought S-300 AA complex rockets to Crimea. Fresh picture from this week. Ukraine.Ukrainian ground troops, in effect sterilizing the airspace within many dozens of miles from the border.Combined together, S-300s and SU-30 Flanker fighters, whether pictures here or not, give Russia a robust ability to defend Crimea from external attack and to project power beyond its own borders. Maybe more importantly, they, along with Russia's armada of anti-ship platforms, will work as a strong deterrent when it comes to curious NATO aircraft and ships venturing close to Crimea's border. But like almost all information trickling out of the region, we have to take it with caution, as misinformation, both deliberate and indeliberate continues to be a major obstacle when trying to create a clear view of this shadowy conflict.An original version of this post presented both pictures for debate, since then information has come in that has invalidated the Belbek Air Base photo, the post was subsequently updated with this information.
Putin Woos Pakistan as Cold War Friend India Buys U.S. Arms By Natalie Obiko Pearson and N.C Bipindra  Nov 24, 2014 6:03 AM GMT+0200  
Photographer: Sasha Mordovets/Getty Images Russian President Vladimir Putin plans to visit India next month to meet with Prime… Read More Russian President Vladimir Putin is seeking to build military ties with Pakistanas India buys more weapons from the U.S., changing an approach toward the nuclear-powered neighbors that has endured since the Cold War.Sergei Shoigu, making the first visit by a Russian defense minister to Pakistan since the Soviet Union's collapse, last week signed a "milestone" military cooperation agreement. The world community "wants to do business with Pakistan now," Shoigu said, according to a Pakistan government statement.The move comes as Putin seeks to expand relations with Asia in the face of growing isolation from the U.S. and its allies over his support for separatist rebels in Ukraine. The U.S. overtook Russiaas India's biggest weapons supplier in recent years, prompting leaders in Moscow to reassess their strategy toward South Asia."We're seeing a new Russia," C. Uday Bhaskar, director of the Delhi-based Society for Policy Studies. "With India now widening its search for defense supplies to the U.S. and Israel, Russia too wants to expand the market for its equipment. Both Russia and India are reviewing their policies."Putin plans to visit India next month to meet with Modi as Russia seeks to counter sanctions from the U.S. and others. Russia this month announced plans to build a second gas pipeline to China, an ally of Pakistan, in a move that would cement Putin's policy of tilting energy exports toward Asia.Ruble Tumbles "China and Russia are also allying themselves, so it's also one factor why Russia is looking toward Pakistan more cooperatively," retired Lieutenant General Talat Masood, a former chairman of Pakistan Ordnance Factories, said by phone from Islamabad. "It's important to be an ally of an ally."Russia's gross domestic product will contract by 1.7 percent next year after stalling in 2014, with inflation rising to 8.4 percent from 7.6 percent, IHS Inc. forecasts. The ruble has fallen about 28 percent against the U.S. dollar this year, the worst performance among 24 emerging market currencies tracked by Bloomberg.Russia and the Soviet Union have been India's biggest weapons suppliers, accounting for about 70 percent of its arms imports since 1950, according to data compiled by the Stockholm International Peace Research Institute. Pakistan, by contrast, has received only 2 percent of its weapons from Russia and the Soviet Union in that time, with the majority provided by the U.S. and China, the data show.'Critical Juncture' Russia and Pakistan plan to increase port calls of warships, cooperate in fighting terrorism and help stabilize Afghanistan, Russian state news service Tass reported. Shoigu also met Pakistani Prime Minister Nawaz Sharif, who said steps were needed to boost the $542 million of bilateral trade between the two nations, according to the state-run Pakistan Broadcasting Corp."Shoigu's visit has come at a very critical juncture when U.S.-led NATO forces are drawing down from Afghanistan by the end of 2014," Pakistan's government said in a statement. "Apart from promoting bilateral defense relations, the visit will enable both countries to join hands in bringing peace and stability in the region."It's important for countries to balance ties between India and Pakistan, which have fought three wars since they were split after British rule ended in 1947. U.S. President Barack Obama called Pakistani leader Sharif last week, shortly after accepting an invitation from Modi to attend India's Republic Day parade on Jan. 26.U.S. Weapons The U.S. surpassed Russia as India's top supplier of defense equipment in the three years to March, according to figures submitted to parliament in August. They were followed by France and Israel.Prime Minister Narendra Modi is seeking to modernize India's armed forces and shift toward more domestic production to reduce reliance on imports.Two days ago, India approved a 158 billion-rupee ($2.5 billion) purchase of artillery, the first acquisition of large-caliber guns since the 1980s. If a foreign manufacturer wins the tender, the first 100 pieces will be imported and the remaining 714 will be made in India through technology transfer.Alexander Kadakin, Russia's ambassador in New Delhi, told the Press Trust of India last month that "there is zero technology coming from the U.S. to India," whereas Russia is building a nuclear power plant and fighter jets with India.He has also questioned India's fairness in awarding defense contracts, telling the Hindustan Times last year "we know what gimmicks are used to manipulate deals." He said that Russia has always stood by India and losing its position as the country's top weapons supplier "causes damage to our reputation."Kadakin earlier this year dismissed concerns that Russia was changing its policy toward India in discussing the sale of Mi-35 defense helicopters to Pakistan. "Nothing will be done that will be detrimental to the deep relationship with India," Press Trust of India quoted Kadakin as saying.To contact the reporters on this story: Natalie Obiko Pearson in New Delhi at npearson7@bloomberg.net; N.C Bipindra in New Delhi at nbipindra@bloomberg.net To contact the editors responsible for this story: Daniel Ten Kate at dtenkate@bloomberg.net Jeanette Rodrigues
Aleppo, Syria, could soon be under siege by government troops
Syrians at a bus station in Aleppo on Nov. 16, 2014. Passengers risk their lives to cross the divided city in a 10-hour journey that involves long detours into the desert and passing through territory under the control of Islamic State militants. (Joseph Eid / AFP/Getty Images)By RAJA ABDULRAHIMcontact the reporter Aleppo, Syria, could soon be under siege by government troops Syrian troops are on the brink of surrounding the rebel-held portion of Aleppo, a major setback for the opposition, which has increasingly found itself on the defensive and losing territory in the war.The outgunned antigovernment fighters are pessimistic about their ability to stave off an advance by troops in the northern city. A siege would cut off an estimated half a million people from access to food, medicine, fuel and other basic necessities.
A man carries a young girl who was injured in a barrel-bomb attack by government forces in June 2014 in in Aleppo, Syria. (Baraa Al-Halabi / AFP/Getty Images)For more than two years, Aleppo, once Syria's commercial hub, has been divided between rebel and government forces. Only a small stretch of land, less than a mile wide, and one road connect the opposition-held portion of the city to the countryside and highway leading to Turkey."To retake the areas, we need supplies and bullets and arms and mortars; without that we can't do it," said Aadil "Abu Assad" Nasir, the Aleppo military commander for the Islamic Front, one of the major rebel groups. "It's a matter of being sick and not having medicine."In early October, Syrian forces cut off one of only two open roads leading into rebel territory. Government airstrikes are a regular danger on the remaining open route.lRelated
MIDDLE EAST Kurds say Islamic State militants near defeat in Kobani SEE ALL RELATED On Tuesday, local journalists reported that 20 people, several of them children, were killed when two barrel bombs struck cars and buses along the road. Video from the aftermath showed a familiar scene of scorched bodies and burning shells of vehicles.Residents and rebels in Aleppo have been worried for months about the prospect of being surrounded by government forces. During the summer, dozens of people a day fled the city, fearing a siege was imminent.Those still in Aleppo either have nowhere to go or lack the money to leave."All Aleppo residents here know that they can go to sleep and wake up the next morning to find Aleppo suddenly under siege," resident Ali Hamdi said. "If you ask a little kid in the street, he knows and he will tell you that Aleppo could be besieged. It is a clear possibility."
Related story: In Syria, struggling to shine a light on victims of sexual violence Raja Abdulrahim The fate of Aleppo has at times reflected the fortunes of the rebels and the trajectory of the conflict, with the two sides taking turns holding the upper hand. Last year it was the rebels who briefly had the government-held neighborhoods surrounded, cutting off supply routes for both the military and civilians."Aleppo is very important," said Col. Abdulrazzaq Abu Bilal, a commander with the Islamic Front. "It is the main outlet for the Syrian revolution in northern Syria…. It is important militarily and strategically."For more than two years, the government has employed siege tactics — what the opposition calls "kneel or starve" — to retake or pacify areas it was unable to seize militarily.Early this year, the government reached truces with opposition-held communities around Damascus, the capital, and in Homs, Syria's central city, once called "the capital of the revolution," which had been under siege for months. Before the deals were made, some residents had died for lack of food or medicine, local activists reported.
Related story: Syrian rebels, increasingly desperate, turn to tunnel warfare Raja Abdulrahim The cease-fire agreements were seen as a blow to the rebels and a victory for President Bashar Assad in that they pacified individuals and groups who had called for his ouster. Whereas the government portrayed the deals as part of a broader effort at national reconciliation, the opposition viewed them as an effort to undermine its support among the population.The United Nations estimates that nearly 250,000 Syrians are cut off from food and other necessities, mostly by the government but also by rebels. Valerie Amos, the U.N. humanitarian chief, has called the use of such sieges a "weapon of war."Hamdi, who manages a nongovernmental organization for children based in Aleppo, said his and other humanitarian groups had been stockpiling food and medicine in preparation for a siege. Residents there are frightened, having seen what happened elsewhere. In some places, trapped residents resorted to eating leaves, cats and dogs to avoid starvation."People have grown accustomed to the barrel bombs; we are nearing a year of this regular bombardment," Hamdi said, referring to the near-daily government airstrikes using a particularly indiscriminate weapon. "But people fear the thought of siege, the thought of hunger, the thought of being cold — this is what people fear the most."The rebels are also getting ready, storing extra ammunition in case they need it to break a siege from within the city, said Col. Abu Bilal.Rebels in the countryside are also preparing. They have begun digging a 2.5-mile-long tunnel — a relatively recent tactic adopted by the rebels — to smuggle people out of the city, said Nasir, the Islamic Front commander It will take at least a month to complete.
California Indian casinos embroiled in turmoil Flood of big bucks and tortured history spell turmoil for California's Indian casinos
 By Scott Smith, Associated PressNovember 22, 2014 11:45 AM
This photo taken Thursday, Nov. 20, 2014, shows the shuttered Chukchansi Gold Resort and Casino in Coarsegold, Calif. Federal officials closed the casino in October citing safety reasons when an armed faction of the Picayune Rancheria of Chukchansi Indians launched a raid, attempting to take control of the casino. Experts say historical factors and a recent influx of money, which provides income, jobs, housing and benefits to many tribal members, has helped spark such internal friction among tribes. (AP Photo/Scott Smith)COARSEGOLD, Calif. (AP) — When it comes to controlling California's flashy Las Vegas-style casinos, the stakes are enormous for tribes who own the gambling operations that collectively generate billions of dollars a year to sustain Native Americans up and down the state.With this backdrop, several tribes in the past two years have fallen into nasty, sometimes violent, power struggles pitting factions and families against one another.The most recent case, involving the Picayune Rancheria of Chukchansi Indians near Yosemite National Park, climaxed in an armed raid on Oct. 9 by one faction that caused gamblers to flee, leaving their chips on the table.The National Indian Gaming Commission, which regulates Indian casinos, and a federal judge shut down the Chukchansi Gold Resort and Casino, citing safety concerns. Charges have been filed against 15 men — two tribal council members, the tribal police chief and a hired security team that included a former sheriff's deputy and onetime Marine, and a former Navy Seal.The casino remains closed — with estimated losses in the millions each week — because rivals have yet to diffuse what U.S. District Judge J. Lawrence O'Neill of Fresno called an "explosive keg" of emotions."It's a classic struggle over money and tribal rights and control for what everybody recognizes is a very lucrative enterprise," said Denise Runge, a gambling industry researcher at Helena College University of Montana.Congress passed the Indian Gaming Regulation Act in 1988, setting the stage for sovereign Native American governments to open full-blown casinos.Indian casinos generated $28 billion last year from 449 casino operations in 28 states, according to the National Indian Gaming Commission.About 65 Indian casinos in California took in one-quarter of those earnings at nearly $7 billion. California outperformed the Las Vegas Strip, which drew $6.5 billion last year, says a University of Nevada, Las Vegas, Center for Gaming Research report.Experts say this influx of money, which provides, jobs, housing and benefits to many tribal members, has helped spark friction."All of a sudden, you've got a government with a lot of responsibility and a lot of clout that didn't develop over decades like a lot of our other government institutions," said Phil Hogen, former chair of the National Indian Gaming Commission.Simmering tensions erupted last month at Chukchansi when a security team led by former tribal leader Tex McDonald stormed the casino. They were armed with firearms and stun guns and detained security officers.Madera County Sheriff's deputies intervened. Prosecutors filed charges, including kidnapping, false imprisonment and assault against the men. Most have been arrested or have surrendered. McDonald is in jail with bail set at $2.4 million. His attorney did not respond to requests for comment.Meanwhile, Chukchansi's financial losses are unclear because Indian casinos are not required to disclose earnings.But its 1,800 slot machines could generate over $130 million annually, not including table games, hotel stays, food and drink sales, estimated Cheryl Schmit, director of Stand Up for California, which pushes for gambling laws to be properly followed.Chukchansi's turmoil isn't unique. Sheriff's deputies earlier this year headed off a standoff among armed and masked members of the Paskenta Band of Nomlaki Indians and their hired security forces. The confrontation at the Rolling Hills Casino, north of Sacramento, emerged in a struggle for control of the business and the tribe's assets, including a $3 million jet, 162 ounces of gold and $3,300 monthly payments to adult tribal members. One faction accused the other of launching a cyberattack.In Oroville last year, a group at the Berry Creek Rancheria protesting their disenrollment barricaded themselves inside tribal headquarters next to the Gold Country Casino & Hotel. An 11-hour standoff ended when sheriff's deputies threw in a grenade and arrested 20 people.Both Northern California casinos remained opened.Tribal clashes are rooted in history, Schmit said. The U.S. government broke its promises to give Indians land, she said, and sanctioned tribal groups with members who were not affiliated. Schmit said the government sowed the seeds of conflict and hasn't helped resolve modern disputes."Certainly, tribes in California have suffered generational trauma for it," Schmit said.O'Neill, citing concern for the casino's out-of-work employees, expressed exasperation with the leadership vacuum of the Chukchansi tribe, the Indian Gaming Commission and his court, which has limited jurisdiction over tribal affairs.The federal Bureau of Indian Affairs and the Indian Gaming Commission did not respond to requests seeking comment.Tribal affairs attorney Gabriel Galanda said some lawyers are exploiting casinos to run up fees."It's all by design, lawyers and lobbyists taking advantage of a void of law and order in Indian country," said Galanda, who represented an ousted faction of the Paskenta tribe. "This is happening in too many places, too frequently. I guarantee you that Chukchansi is not the last of them."