UN weather agency: 2014 on track for hottest year
 By KARL RITTER6 hours ago
LIMA, Peru (AP) — With temperature data showing 2014 currently tied for the hottest year on record, the U.N. weather agency on Wednesday rejected claims that global warming has paused.The World Meteorological Organization said the global average temperature in January-October was 0.57 Celsius (1.03 Fahrenheit) above average, the same as in record hot year 2010.The ocean temperature set a new record in the nine-month period, while land temperatures were the fourth or fifth highest since record-keeping began in the 19th century, the WMO said in a report released at U.N. climate talks in Lima and at its headquarters in Geneva."The provisional information for 2014 means that 14 of the 15 warmest years on record have all occurred in the 21st century," WMO Secretary-General Michel Jarraud said in a statement. "There is no standstill in global warming."Climate skeptics point to a perceived hiatus in the temperature rise since 1998, an exceptionally hot year, to support their claims that man-made warming is not a big problem. Most climate scientists reject that idea. Michael Oppenheimer of Princeton University said the long-term warming trend is combined with natural variations that tend to be cyclical, with a period of lower-than-average warming followed by a period of rapid warming."Whether such a period is about to begin, we cannot say but the warm 2014 is a reminder that the warming never stopped and the long term trend is up, up, up," Oppenheimer said.
Julio Mejia, 56, prepares sacks of peas in Yungay, Peru, Tuesday, Dec. 2, 2014. Mejia claims that du …Parts of the planet were cooler than average, including large areas of the U.S., Canada and central Russia. But most of the world experienced temperatures above average, with heat waves in South Africa, Australia and Argentina in January and in large parts of South America in October, according to the WMO assessment, which was based on two global data sets from the U.S. and one from Europe.Ocean temperatures were particularly high in the northern hemisphere from June to October."Around 93 percent of the excess energy trapped in the atmosphere by greenhouse gases from fossil fuels and other human activities ends up in the oceans. Therefore, the heat content of the oceans is key to understanding the climate system," the WMO said.While scientists are now 95 percent certain that the temperature rise since the middle of the 20th century is mostly man-made, they can't say with the same confidence how the warming affects different parts of the climate system, including the frequency of tropical storms or hurricanes.By Nov. 13 there had been 72 tropical storms, well below the average of 89.
The Huascaran glacier is seen in the Huascaran National Park in Huaraz, Peru, Tuesday, Dec. 2, 2014. …Arctic sea ice shrunk to the sixth lowest level on record in September, while Antarctic sea ice grew to a record extent for the third straight year.The concentration in the atmosphere of carbon dioxide, a key greenhouse gas, rose to a new high of 396 parts per million last year, the WMO said, 42 percent above the level before the industrial revolution, when people started burning fossil fuels for energy.Figures for 2014 were not yet ready.In Lima, delegates from more than 190 countries are trying to lay the groundwork for a global emissions pact that's planned to be adopted next year. Divisions between rich and poor countries have slowed the negotiations over the years, but a U.S.-China emissions deal last month has injected new hope into the talks.U.N. climate chief Christiana Figueres said temperature data added urgency to the talks, but noted that you don't have to be a scientist to realize that the climate is changing."Every single one of us can just look out the window, open the door and see the effects of climate change," she said. "Because there is not one country that is exempt."_Karl Ritter on Twitter: http://twitter.com.karl_ritter
Sinkhole Opens In San Francisco After Days of Heavy Rain Published Dec 3 2014 04:02 PM EST weather.com
 Raw Video: Sinkhole In S.F.'s Richmond District SFGate.com Rain is making an absolute mess in San Francisco. Street flooding has been reported. Public works says manhole covers are floating off sewers. Now a gaping sinkhole has formed in the city's Richmond district.The large hole opened Wednesday morning at 6th and Lake, closing the intersection and causing an old water main to give way.CBS San Francisco reports the main was built in 1905 and survived the city's killer 1906 earthquake, but the heavy rain was "finally too much.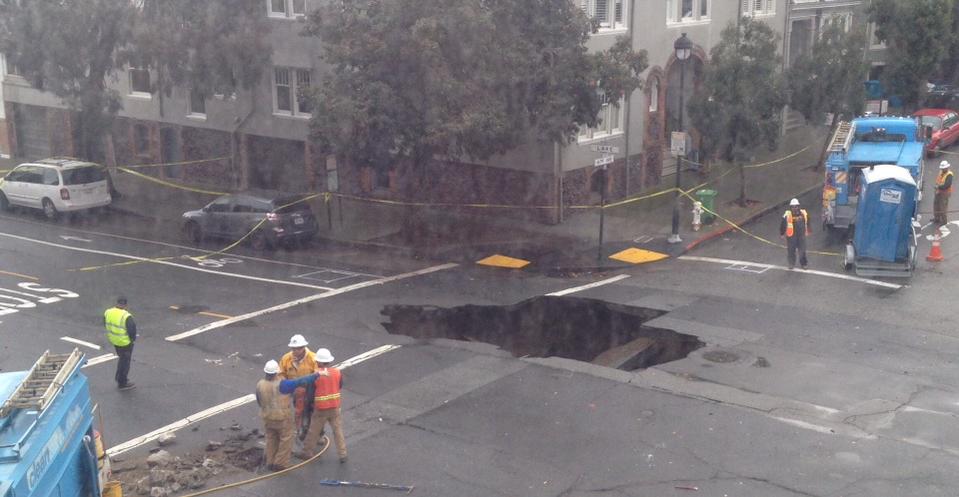 KGO Radio @kgoradio Follow Updated photo of sinkhole at 6th/Lake in SF. @McCallisterKim reports pavement fell onto lines, causing rupture "The Associated Press reports the hole is at least 10-feet-wide and 8-feet-deep. Investigators are concerned it could expand.A photo posted to Twitter by KGO Radio shows workers trying to asses the situation during a heavy downpour.The Bay Area has already seen more rain in the last week than during all of 2013, which was the city's driest year on record. More rain is in the forecast through the weekend.California Gets Needed Rain
Ukraine energy minister says 'no threat' from accident at nuclear plant
 11 hours ago
An exterior view of the Zaporizhzhya nuclear power plant is seen in the town of Enerhodar, eastern Ukraine, …KIEV (Reuters) – An accident at a nuclear power plant in Zaporizhzhya in southeastern Ukraine poses no danger to health or the environment, energy authorities said on Wednesday, an assessment later corroborated by the French nuclear institute IRSN.Energy Minister Volodymyr Demchyshyn said the accident occurred on Friday in one of the six blocks at Zaporizhzhya, Europe's largest nuclear power plant, and was caused by a short circuit in its power outlet system. The incident was "in no way" linked to power production, he told a news conference."There is no threat … there are no problems with the reactors," said Demchyshyn, who took up his post in a new government only on Tuesday. He added that he expected the plant to return to normal operations on Dec. 5.An explosion and fire at Ukraine's Chernobyl power plant in 1986, the world's worst nuclear accident, was caused by human error and a series of blasts sent a cloud of radioactive dust billowing across northern and western Europe.France's public nuclear safety institute IRSN said it had not detected any unusual radioactivity in Ukraine after Friday's accident and that it presented no danger to the nearby population or environment.The U.N. nuclear agency (IAEA) said it had been told by Ukraine that a reactor at the Zaporizhzhya plant remained safely shut down after a short circuit in its transformer yard last week, and that no radioactive materials had been released.
Ukraine's Energy Minister Volodymyr Demchyshyn speaks to the media during a news conference in K …Ukraine, Belarus and Russia estimated the death toll from the disaster at Chernobyl at a few thousand while environmental group Greenpeace says the accident will eventually cause up to 93,000 extra cancer deaths worldwide.Demchyshyn said the stricken block at Zaporizhzhya had been provisionally disconnected from the electro-energy system though its reactor continued to work normally. "Its power output is not being used. I think the problem will be resolved by Friday."Later on Wednesday, Ukraine's largest private energy firm DTEK said it had curbed power supplies to some industrial consumers and households in the Dnipropetrovsk and Donetsk regions in the east and to some in the capital Kiev in the west."The reason is a shortage of electricity" exacerbated by the Zaporizhzhya shutdown and dwindling coal reserves at Ukrainian thermal power plants, DTEK said in a statement. It said residential areas could be without power for several hours.(Reporting by Natalia Zinets and Pavel Polityuk in Kiev, Fredrik Dahl in Vienna and Michel Rose in Paris; Writing by Richard Balmforth; Editing by Mark Heinrich)This year may be hottest on record; adds urgency to climate talks: U.N.
 By Alister Doyle11 hours ago
A drought-related cactus installation called "Desert of Cantareira" by Brazilian artist and activist Mundano is seen at Atibainha dam, part of the Cantareira reservoir, during a drought in Nazare Paulista, Sao Paulo December 2, 2014. Sao Paulo, Brazil's drought-hit megacity of 20 million, has about two months of guaranteed water supply remaining as it taps into the second of three emergency reserves, officials say. REUTERS/Nacho Doce (BRAZIL – Tags: DISASTER ENVIRONMENT SOCIETY TPX IMAGES OF THE DAY) By Alister DoyleRelated Stories
LIMA (Reuters) – This year is on track to be the hottest on record, or at least among the very warmest, the United Nations said on Wednesday in new evidence of long-term warming that adds urgency to 190-nation talks under way in Lima on slowing climate change.Including this year, 14 of the 15 most sweltering years on record will have been in the 21st century, the U.N.'s World Meteorological Organization said of the findings presented during the Dec. 1-12 climate negotiations in Peru."There is no standstill in global warming," WMO Secretary-General Michel Jarraud said in a statement. "What is particularly unusual and alarming this year are the high temperatures of vast areas of the ocean surface."The WMO said average sea surface temperatures hit record highs in 2014. On land, it listed extremes including floods in Bangladesh and Britain and droughts in China and California.Reliable global temperature records date from about 1850.If temperatures stay similarly above normal for the rest of the year, "2014 will likely be the hottest on record, ahead of 2010, 2005 and 1998," the WMO said, based on temperatures for January to October. A cool finish would push 2014 down the list.Christiana Figueres, head of the U.N.'s Climate Change Secretariat, called the heat "bad news" that showed a need for action to limit rising greenhouse gas emissions."The urgency is actually to get, … hopefully within this decade, to the turning point" to start cutting emissions, she said. The Lima talks are working on a deal to limit climate change, due to be agreed in Paris in a year's time.The global average air temperature over land and the sea surface for January to October was 0.57 degree Centigrade (1.03 Fahrenheit) above the average of 14C (57.2F) for 1961-1990, the WMO said.Skeptics who doubt climate change is mainly man-made often note that temperatures have not risen much since 1998, despite surging greenhouse gas emissions.But Figueres said the underlying temperature trend was up, decade by decade. "Every single one of us can look out the window and see the effect of climate change where we live," she said. "There is not one country that is exempt."they care about climate change," said Samantha Smith, head of the WWF conservation group's Global Climate and Energy Initiative.Still, some experts advised caution."Advocates should be wary of over-claiming, because if you see a record one year, you probably won't see another one the following year due to natural variability," said Richard Black, director of the Energy and Climate Intelligence Unit, a London-based private consultancy.Among other WMO findings, Arctic sea ice was the sixth smallest on record in summer 2014 while Antarctic sea ice paradoxically expanded to a record large extent, apparently because of changing wind patterns.In good news, the WMO counted just 72 tropical storms until mid-November 2014, against a long-term average of 89 a year.(Reporting by Alister Doyle; Editing by Chizu Nomiyama and James Dalgleish)
Yacht Collides With Florida DrawbridgeBy ABC NEWS11 hours agoGood Morning America This video is not available in your location due to provider license restrictions. Play Video ABC News Videos Yacht Collides With Drawbridge A Miami causeway was shut down for hours after a $20 million yacht with 15 people aboard collided into a drawbridge.The 161-foot mega-yacht, named "Rockstar," was being towed by two tug boats when it came in contact Tuesday with a drawbridge on the Broad Causeway, the thoroughfare that connects North Miami with Bay Harbor Islands.Investigators said the 4:30 p.m. accident occurred after the tow boat captain asked the bridge tender to raise both sides of the drawbridge, according to local ABC station WPLG.Investigators are now trying to determine what went wrong, whether the bridge was not raised in time, not raised at all or if inclement weather or a mechanical failure was to blame.None of the 15 people aboard the yacht were injured, WPLG reports.The extent of the damage to the yacht is still being determined.The Broad Causeway was reopened to traffic by 9:30 p.m. Tuesday.
California Rain, Mountain Snow: Flood Threat Lingers, But Drought Relief Limited (FORECAST) By Linda Lam and Nick Wiltgen Published Dec 3 2014 10:52 PM EST weather.com It's Finally Raining in California Meteorologist Ari Sarsalari talks about rain that has finally come to many parts of California, especially welcomed after a severe drought. Rain and high-elevation snows will let up over California Thursday after dumping up to 10 inches of rain on parts of the state. The welcome rain and snow will not, however, be enough to make a significant dent in the state's multi-year drought.
Enlarge California Rain Setup
Enlarge Selected rainfall totals for the 7-day period ending Wednesday afternoon, Dec. 3, 2014. Spotty rain began over the weekend in parts of California, and it was enough to bring three separate mud/rockslides in the Malibu area Sunday, prompting the closure of a nine-mile stretch of the Pacific Coast Highway in Ventura County.(MORE: Evacuations Ordered In Southern California Neighborhoods)More widespread rain arrived Tuesday and continued into Wednesday, causing flooding around the San Francisco Bay Area as well as the mountains east of Los Angeles.Flash flood watches remain in effect through late Wednesday night for portions of southern California and parts of the Sierra Nevada. Winter storm warnings have been posted for the higher elevations of the Sierra.Deep Pacific Moisture Boosts Rainfall A spiraling area of low pressure aloft in the eastern Pacific Ocean has swung into the West Coast, briefly piping into a tap of deeper moisture at times. Weather balloons released Tuesday morning showed more than twice as much moisture in the atmosphere was over California as there is on an average December day.This system brought heavier rainfall to a much wider area of the Golden State, and a few thunderstorms as well.San Francisco International Airport has reported 4.26 inches of rain from Saturday through Wednesday afternoon. This is more rain than they had all of last year when they only saw 3.38 inches.Just to the south, in Santa Cruz County, 9.94 inches of rain fell near the summit of Ben Lomond during the 7-day period ending 3 p.m. PST Wednesday.
Enlarge California Radar and Lightning Strikes
Enlarge Thursday's Forecast
Enlarge Rainfall and Snowfall Forecast Rainfall amounts of 2 to 4 inches were common across the mountains of Southern California from this multi-day storm system, with 1 to 2 inches across the Los Angeles metropolitan area.The rain will begin to diminish and become more scattered overnight into Thursday, as the primary atmospheric disturbance causing the rain moves east into the Desert Southwest. A weaker system will bring the chance for rain on Friday as well.(FORECAST: San Francisco | Los Angeles | Lake Tahoe)However, in areas that see additional heavy rain, there remains some concern for mud and debris flows, as well as flash flooding, especially in recent burn scar areas.(MORE: How Long Does It Take Burn Scars to Heal?)Mountain Snow And Drought Relief… Or Lack ThereofThe rain and snow have been welcome in California where, as of Nov. 26, 80 percent of the state is in either extreme or exceptional drought, which are the two highest categories in the U.S. Drought Monitor. At the start of January only 28 percent of California was in extreme drought.However, while the rains in California have been generous, they are far from enough to put a big dent in the drought.Many locations, including downtown Los Angeles, broke daily rainfall records for Dec. 2 dating back to the 1960s. However, those records are among the easiest to beat in the winter months. The Weather Channel analyzed Los Angeles daily rainfall records for December, January, and February, and found that only six of the other 90 days had lower (and therefore easier-to-break) daily rainfall record amounts.Los Angeles County Water tweeted Wednesday morning that their system had captured 1.16 billion gallons of water, enough to supply 28,000 people for a year. However, Los Angeles County has over 10 million residents.Even with the recent rain, Los Angeles has had less than half its average rainfall since July 1, 2011 — 24 inches short of the average of 47 inches. San Francisco is also about two feet behind, with 52 inches compared to an average of 76 inches in that same time period.Sierra Nevada snows are another crucial piece of the puzzle that is California's water supply. Unfortunately, this storm was a relatively warm storm, so snow was confined mostly to elevations above 7,000 feet.As of Wednesday afternoon, the top reported snowfall total was 24.5 inches at Agnew Pass, near Yosemite National Park in Madera County.(MORE: What Will Winter Hold For Drought-Plagued California)According to the California Department of Water Resources, the amount of water locked up in Sierra snowpack has only increased slightly, from 1.0 inch of water on Monday to 1.7 inches on Wednesday. That is still only 34 percent of average for this time of year, up from 24 percent Monday.Much more snow will have to fall for the Sierra to catch up to normal; Wednesday's snowpack water content is only 6 percent of the April 1 average, roughly representing the peak snowpack before melt season kicks into high gear.Travel Difficulties Linger The snow has fallen at elevations just low enough to cause travel difficulties on Donner Summit along Interstate 80. Chain requirements are in effect for truckers. Check with Caltrans for specific road conditions if you have travel plans through the mountains.(MORE: Expert Analysis | Winter Storm Central)Rain has led to flooded roadways in some areas, particularly in Marin County just north of San Francisco.Locally gusty winds are also possible near the central and northern coasts with some of the stronger bands of rain. This has led to major delays out of San Francisco International Airport.